Room designers have free reign when it comes to finding the best lights for bedroom spaces. However, the usage of a bedroom, i.e. whether it is a parent's room or a child's, typically dictates the best type of lighting to use in the space.
In children's spaces, the options tend to veer on the side of functionality, with an overhead pendant light, with a single additional lamp, often on a desk, providing the only light sources other than the window. However, when parents break away from these norms or allow children to make decisions, we increasingly see creative bedroom lamp ideas, LED strips and changing colour bulbs all being explored.
For parents, beyond the main light, there are options for wall sconces, bedside lamps, and floor lamps to provide ample light for reading or other activities. The general guideline is that various light sources at different levels should create an ambient, warm and inviting space.
Here are some great ideas for different types of bedrooms and how to light them perfectly!
1. Recessed lighting complimented with bedside lamps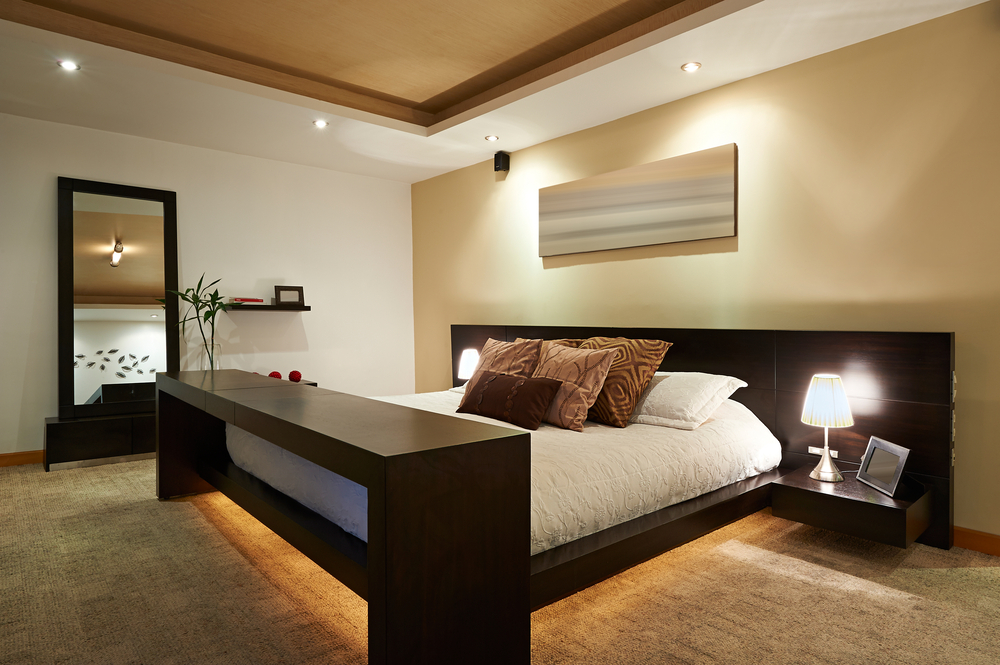 While some people might prefer the sleek and modern look of recessed lighting in their bedrooms, this fixture can make the room feel smaller and more closed in. If your bedroom already feels small, you may want to try a different type of light. Instead, go for table lamps, floor lamps, or wall sconces to add extra light to the room without making it feel smaller. However, in this large bedroom, the downlights are complemented by clever under-the-bed lighting and simple bedside lamps that create a play of warm lighting.
2. Pendant lights taking the role of bedside lamps
In terms of overhead lighting, pendant lights are a great option as they provide both ambient and task lighting. However, in this fun subversion of regular pendant light usage, a pendant light descends on each side of the bed to act in the capacity of bedside lamps rather than overhead lighting. This is one of the more cool lighting ideas for bedroom themes we've seen lately.
3. Asymmetrical hanging lights add playfulness to the space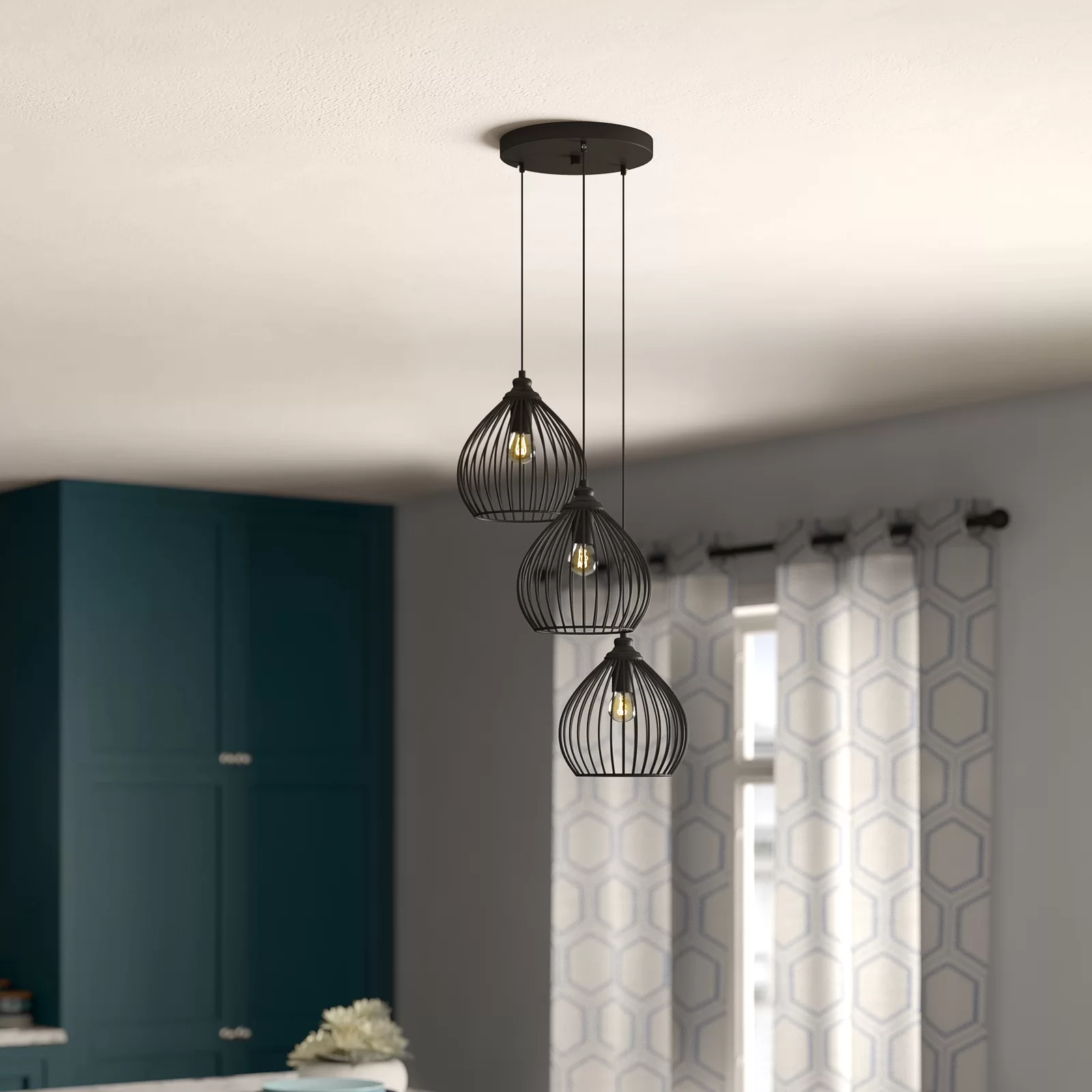 In this lush green bedroom, the additional lighting provided by wall-hugging, mid-level pendant lights creates a pool of light over the key sleeping area but creates uneven lighting in the room. The lighting and the matching but different fittings in the room are playful and inviting while providing functional light where needed in a bedroom. Clearly, this is a space intended for one primary task, sleeping rather than studying.
4. Substitutes to the traditional nightstand light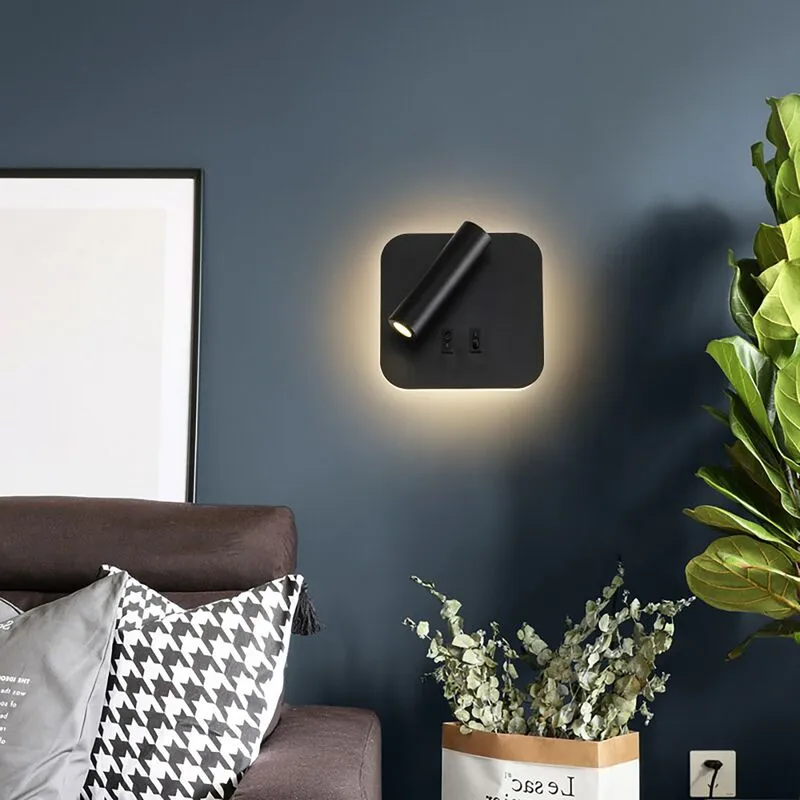 Placing a lamp on the nightstand is a good option, however, the current bedroom lighting trends offer much more than a traditional reading lamp. One popular idea is to hang a pendant light next to the bed's headboard – this can make reading in the evening more enjoyable.
FYI: When hanging a ceiling light, it's best to position the fixture over the most prominent item in the room, like a bed, instead of directly in the middle of the room. Additionally, be sure to select the appropriate type of light bulbs for the chandelier.
5. Playful strings of light illuminate bare brick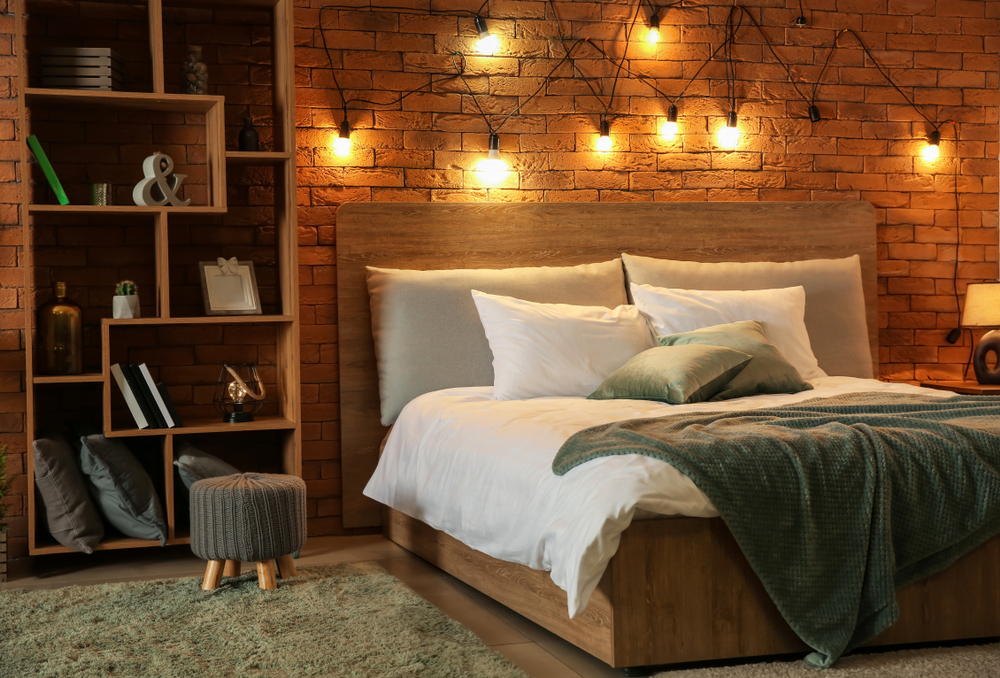 While this room no doubt has other sources of light available, and certainly some sunlight, the exposed brickwork risks creating a very dark space. The owner has tackled this with a playful string of warm lights to highlight texture and warmth in the brickwork while improving the room's overall ambience. It also happens to look incredibly cosy!
6. Bedroom chandeliers disrupt the otherwise cool feel of downlights
Any room can benefit from having a chandelier, regardless of whether the decor is rustic or a much more simplified style like a white bedroom. Chandeliers don't always have to be large and glamorous with glass crystals hanging from the ceiling; there are plenty of more contemporary designs, such as globe light designs that will fit perfectly in a mid-century modern space, or beaded chandeliers that provide a relaxed, bohemian atmosphere.
7. With on-bed lighting, there's no longer the need to feel around in the dark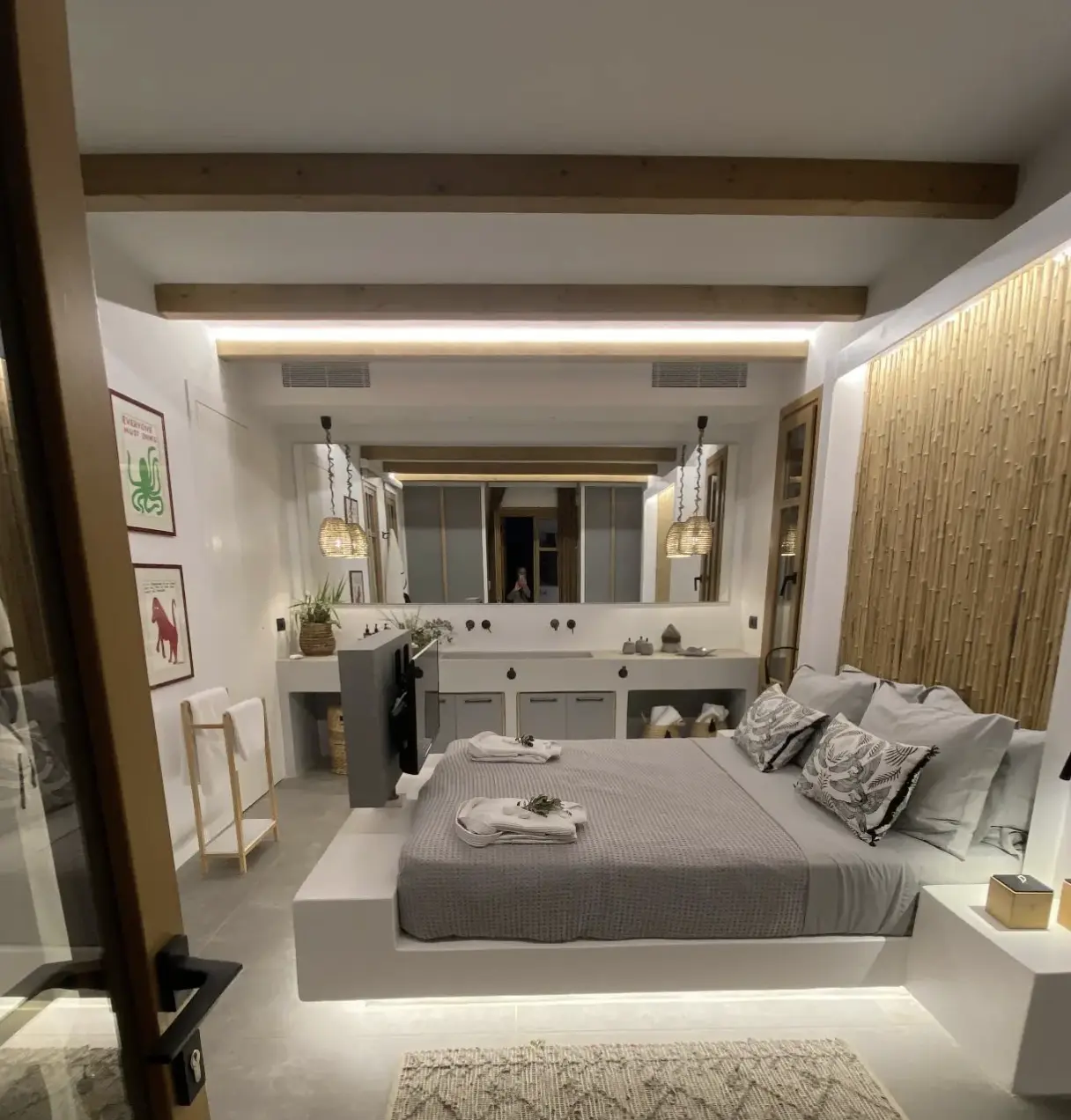 The moment your foot touches the floor after getting out of bed, the lights will turn on. This is possible by having an array of illuminated strips and small lamps installed on the underneath of the bed which can sense movement within the area of a carpet placed near the bed. This way, you don't have to fumble around in the dark to locate the light switch when you need to go to the bathroom.
8. Incorporate elements from the natural world to add depth to your design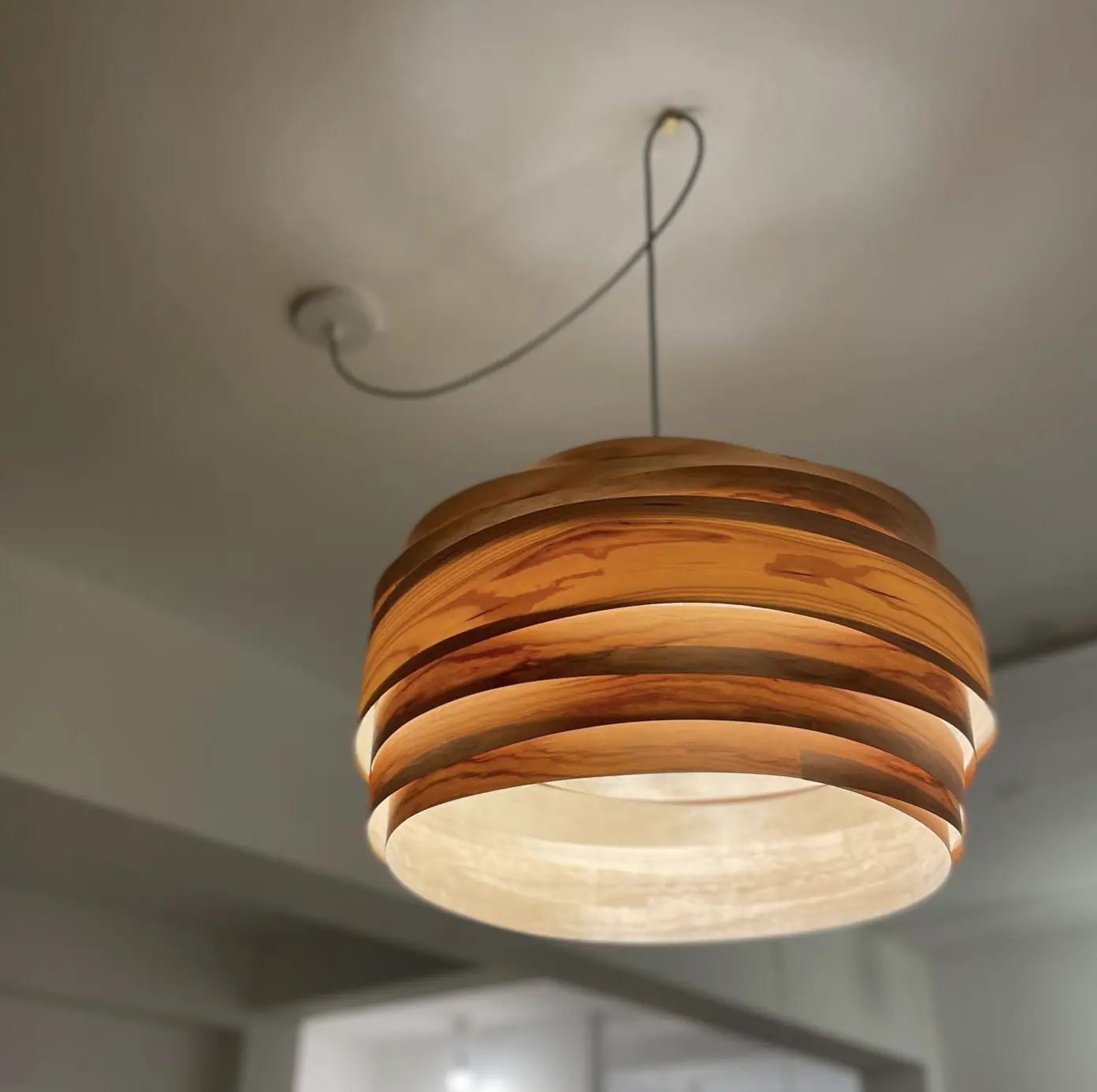 We enjoy the concept of lighting up a bedroom for an extra dimension. A bedroom should be full of comfortable, welcoming, and tactile items that should not only include the lighting. If you are a fan of a classic bedroom style with plenty of linens and rough fabrics, you can also replicate that in your lampshades.
9. Room with LED strips to make the most of a reflective white ceiling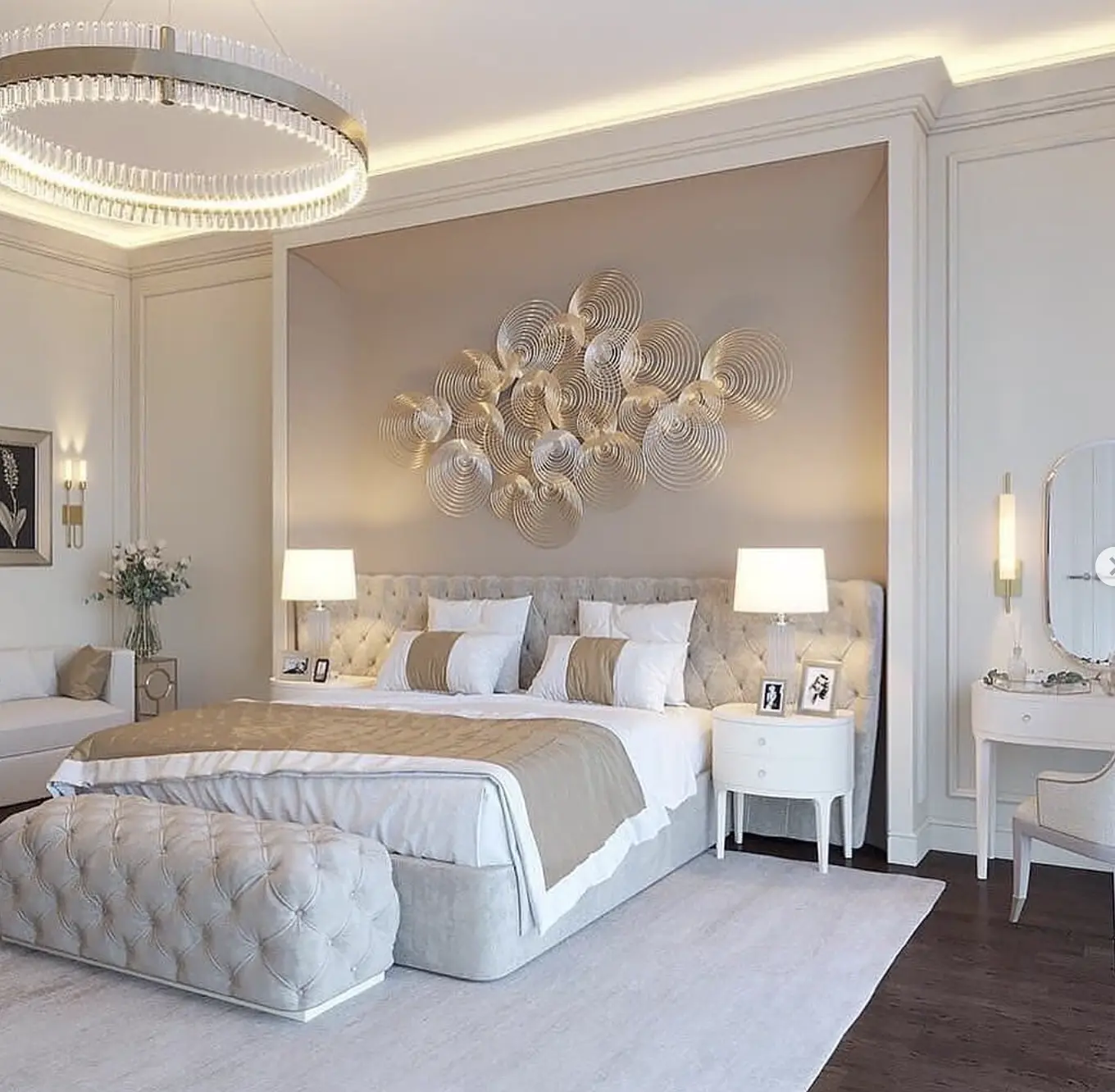 This fun mix of new and old. With its exposed brick walls and ultra-modern half-false wall that hides a powerful LED strip, we love the mix of themes. Individually an LED light is quite hard, but as a long bank of LED lights, the effect can be incredibly diffuse and soft. As this light is directed up to the ceiling, it bounces from the white paint. This gentle light fills the room effectively. Directional spotlights allow task lighting to be thrown where needed, and another short LED light strip is fitted where the clothing hangs. Very trendy!
10. Large free-standing lamps work with the overhead pendant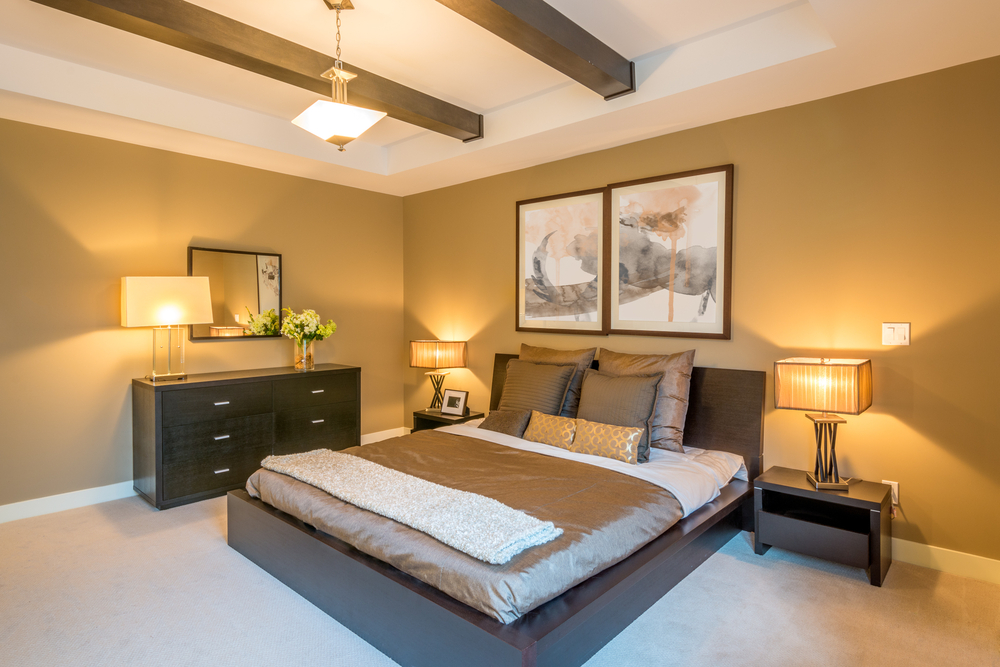 This room features a trio of great-looking, free-standing lamps that comfortably illuminate the floors and ceilings of this bedroom. It's a great, warm feeling room, with a single overhead pendant that compliments the lamps. This is one of the easiest bedroom lampshade ideas to implement from our list, but while the lighting design is simple to achieve, the results are effective and homely.
11. Don't overlook the floor lamp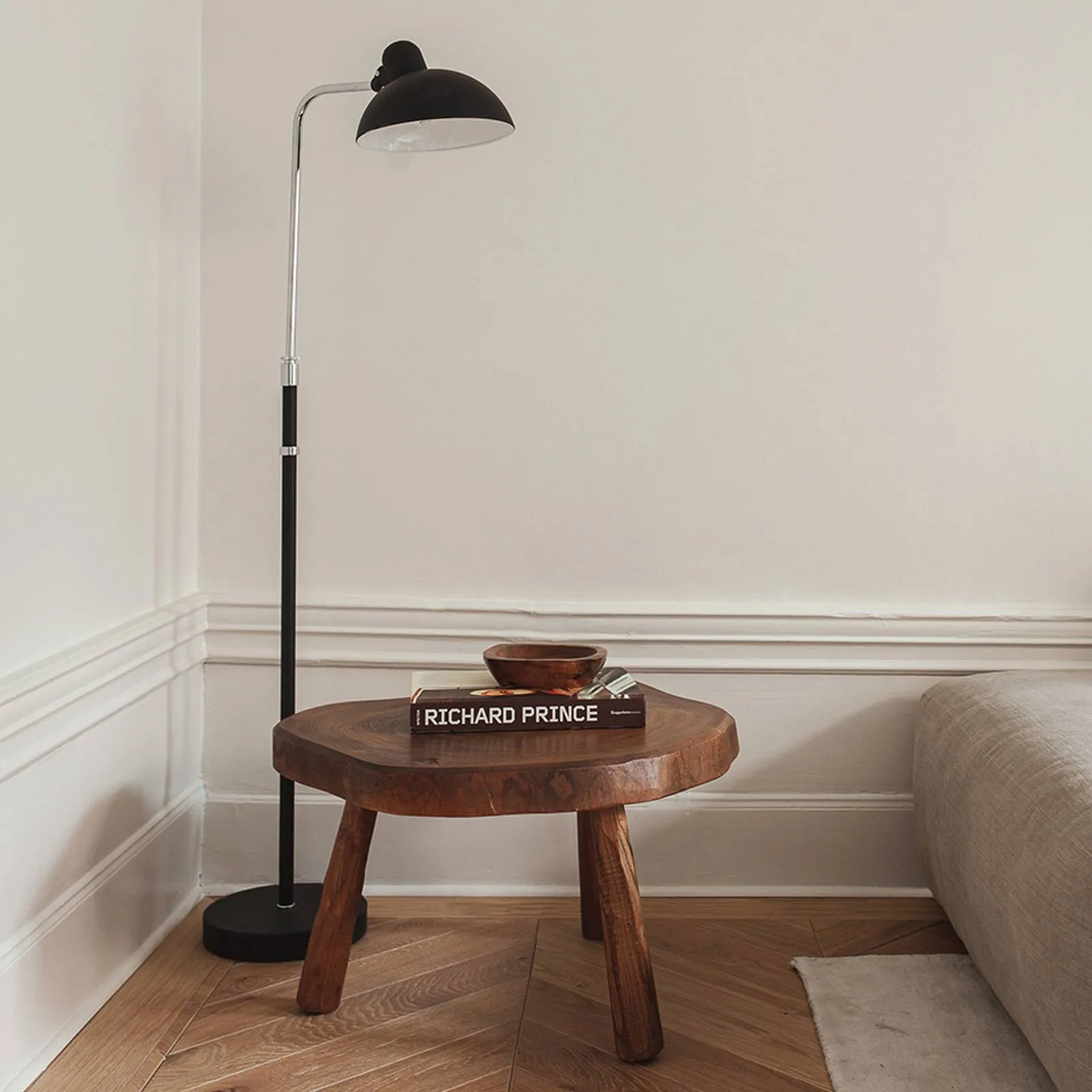 Bedroom floor lamps provide your bedroom with plentiful illumination, giving it bright corners. These soft lighting sources are ideal for bedrooms and living rooms, creating a pleasant ambiance. They are great for dressing tables as well as seating spaces in the bedroom.
12. Create a gentle atmosphere with fabric-based lighting fixtures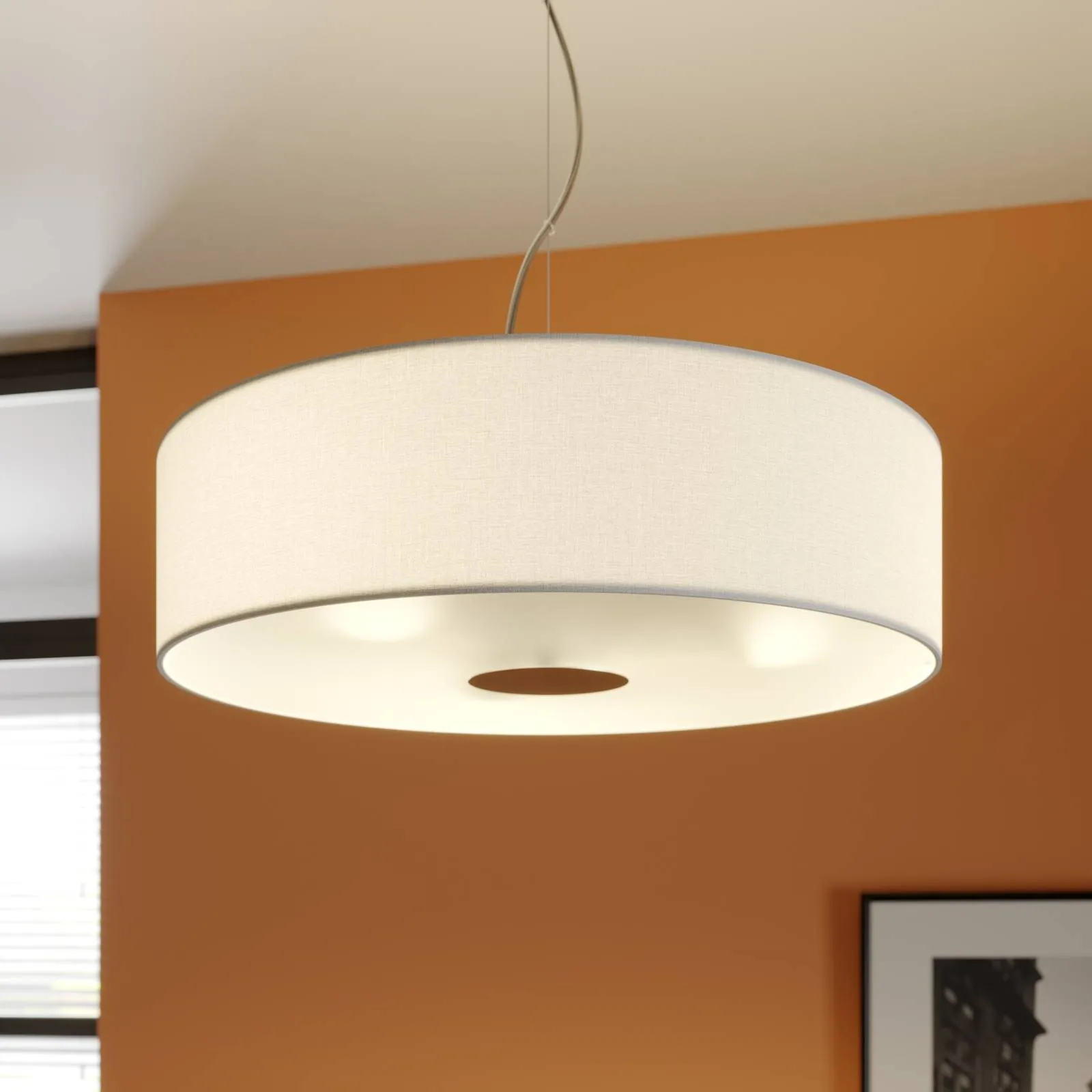 When outfitting a bedroom, you should consider using materials that are pleasant to the touch and visually appealing. Incorporating fabric into your lighting design can help to achieve a romantic, peaceful environment. He believes that fabric shades can impart a classic, lavish look, as well as generate a cozy feeling.
13. Using exposed light bulbs is an easy way to decorate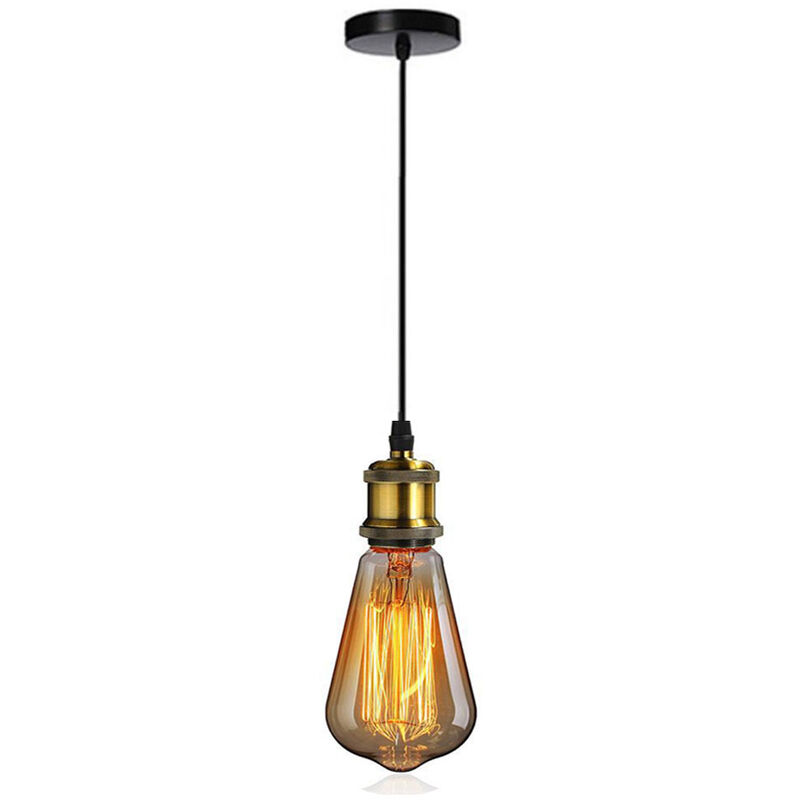 When considering bedroom lighting, sometimes a single light fixture can be just as impactful as a larger elaborate chandelier. This style of design can easily be incorporated into a variety of styles from industrial to rustic. It is important to select the bulb thoughtfully as an overly bright bulb may be too harsh for the space; choose a tinted LED bulb to create a warm and inviting atmosphere. If possible, opt for a dimmable bulb to provide the flexibility to switch from task lighting to more ambient lighting.
14. Put up a wall light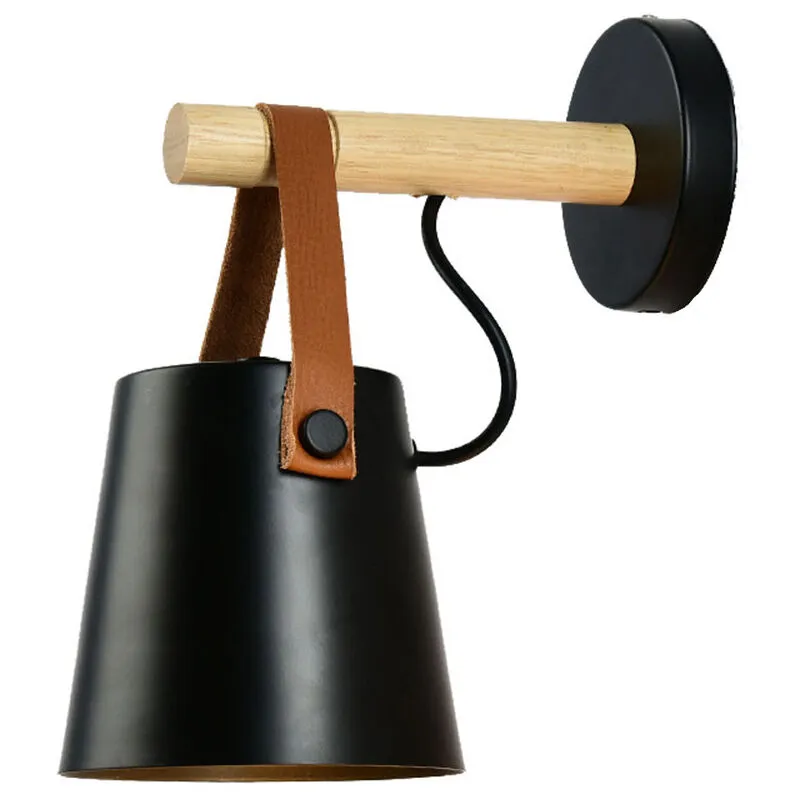 When considering bedroom illumination, wall lighting should not be forgotten. Downlighters have become particularly fashionable currently and they come in numerous types. Such lighting is great for giving a wall a unique atmosphere and ambiance.
15. Select lighting that is fashionable and oversized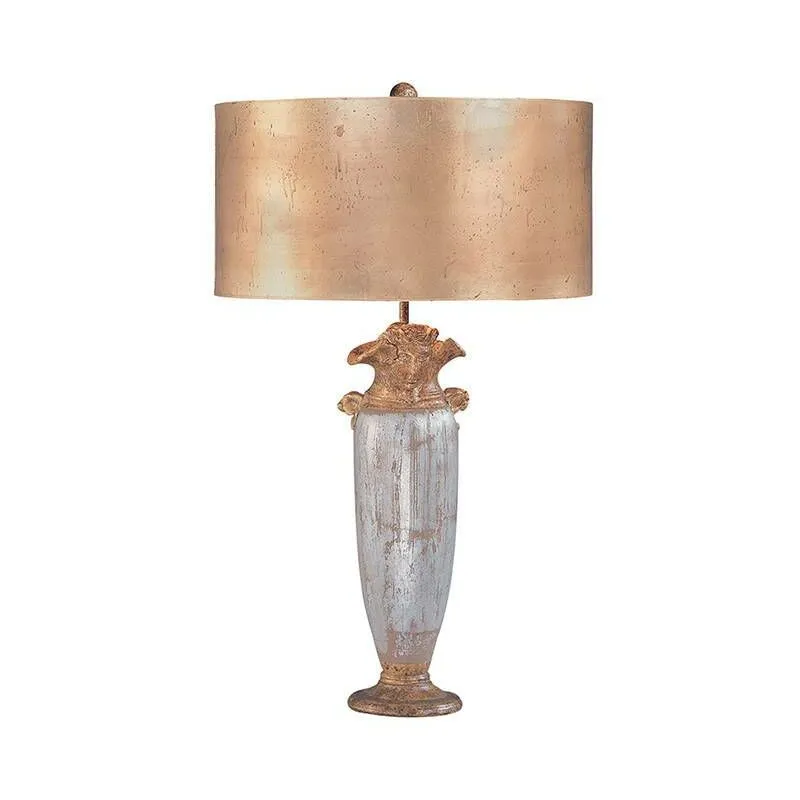 Statement lighting injects an element of surprise and in the case of pendant lights, assists in moving the gaze upwards to give the impression of spaciousness and opulence. The Isma pendant lamp, presenting a contemporary interpretation of a chandelier with its bold, sculptured shape, is ideal for introducing a decorative flair to a white bedroom.
16. Create an impact with a glass lamp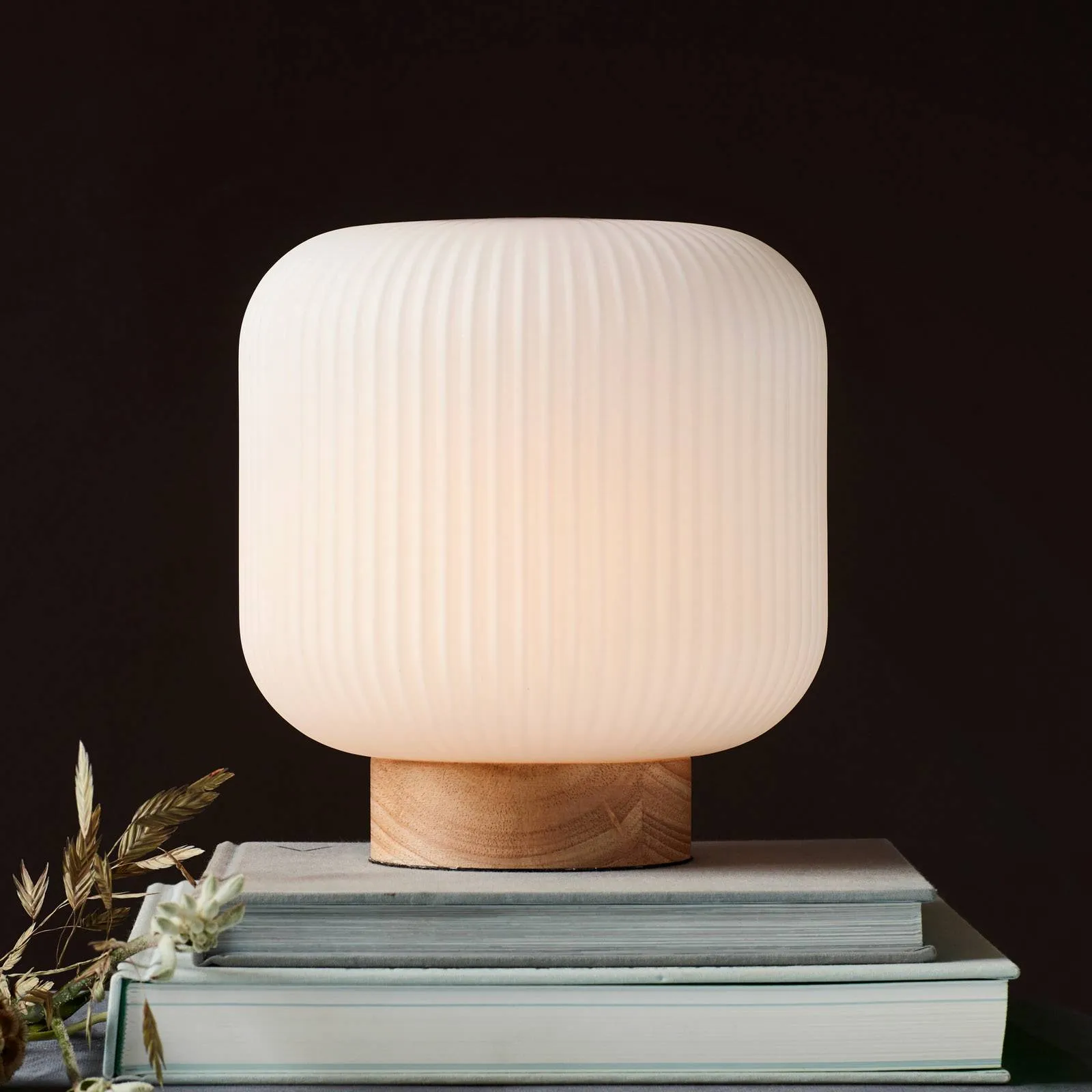 When it comes to bedside lighting, you don't have to settle for dull and boring; a glass lamp can help you make a stylish statement while also saving you from having to buy decorative vases! This one here has a neutral colour scheme, while this vibrant design would be perfect in a maximalist room.
17. Natural light in a master bedroom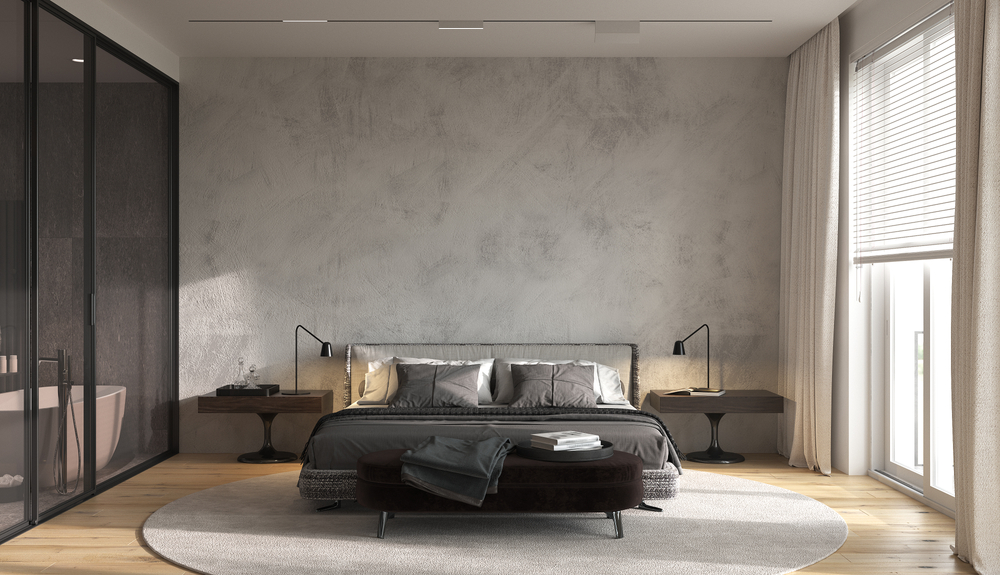 Ample natural light marks this room as a bright, pleasant place. While two small bedside reading lamps help with lighting to read by in the evening, the natural light can cross through the room, illuminating the adjoining bathroom, thanks to the glass dividing wall. Spotlights in the bathroom and a lighting track on the ceiling help add additional lighting on overcast days or at night.
18. Wooden table lamps can bring a bit of nature to your bedroom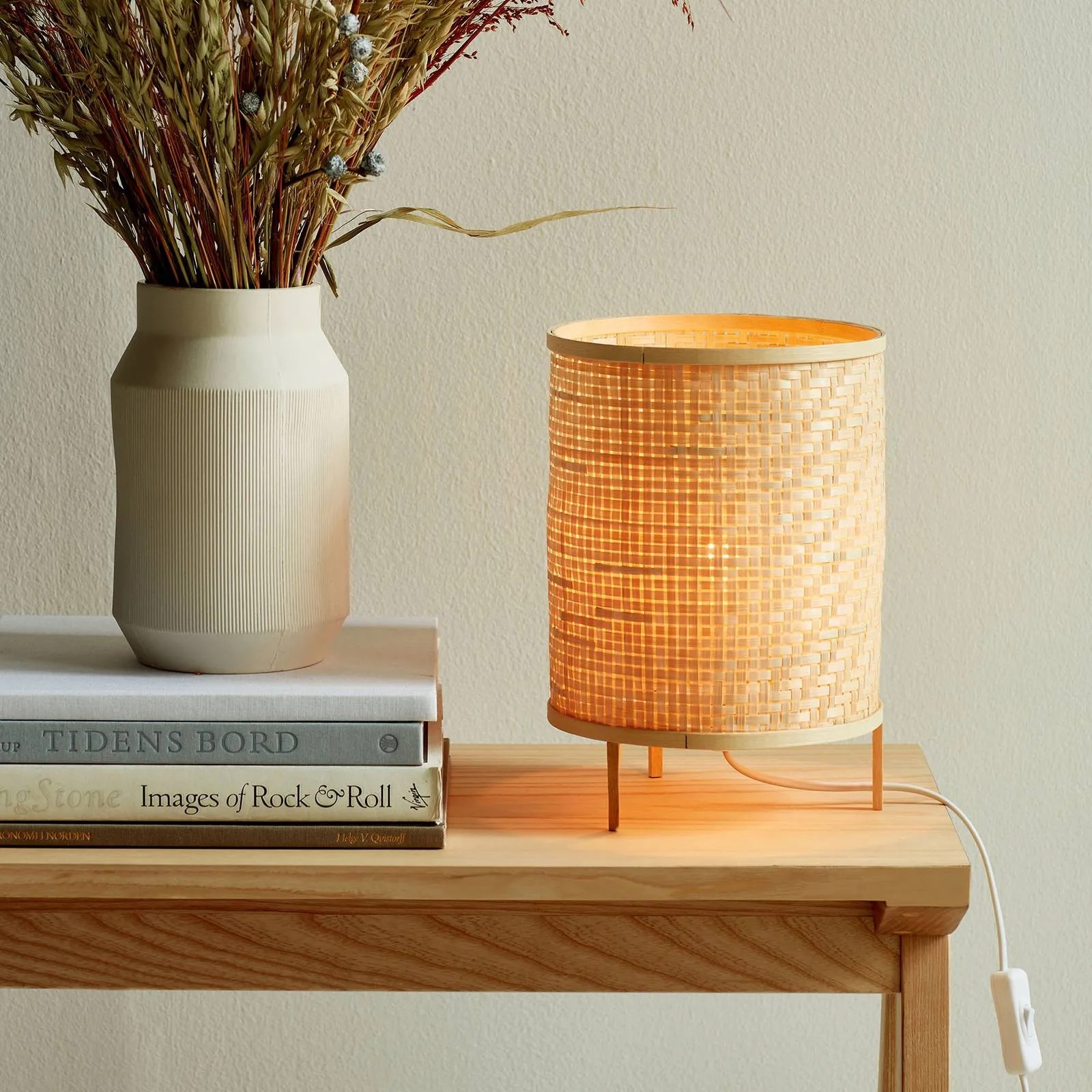 The Trinidad table lamp has a strong focus on simplicity. It features a large cylindrical shade made of bamboo, which is set on three small wooden legs. The bamboo stems are woven together manually to form a mesh, producing delightful light patterns when illuminated. This lamp is perfect for lending a natural atmosphere to the bedroom or living room.
19. Keep your bedroom comfortable with the right spotlights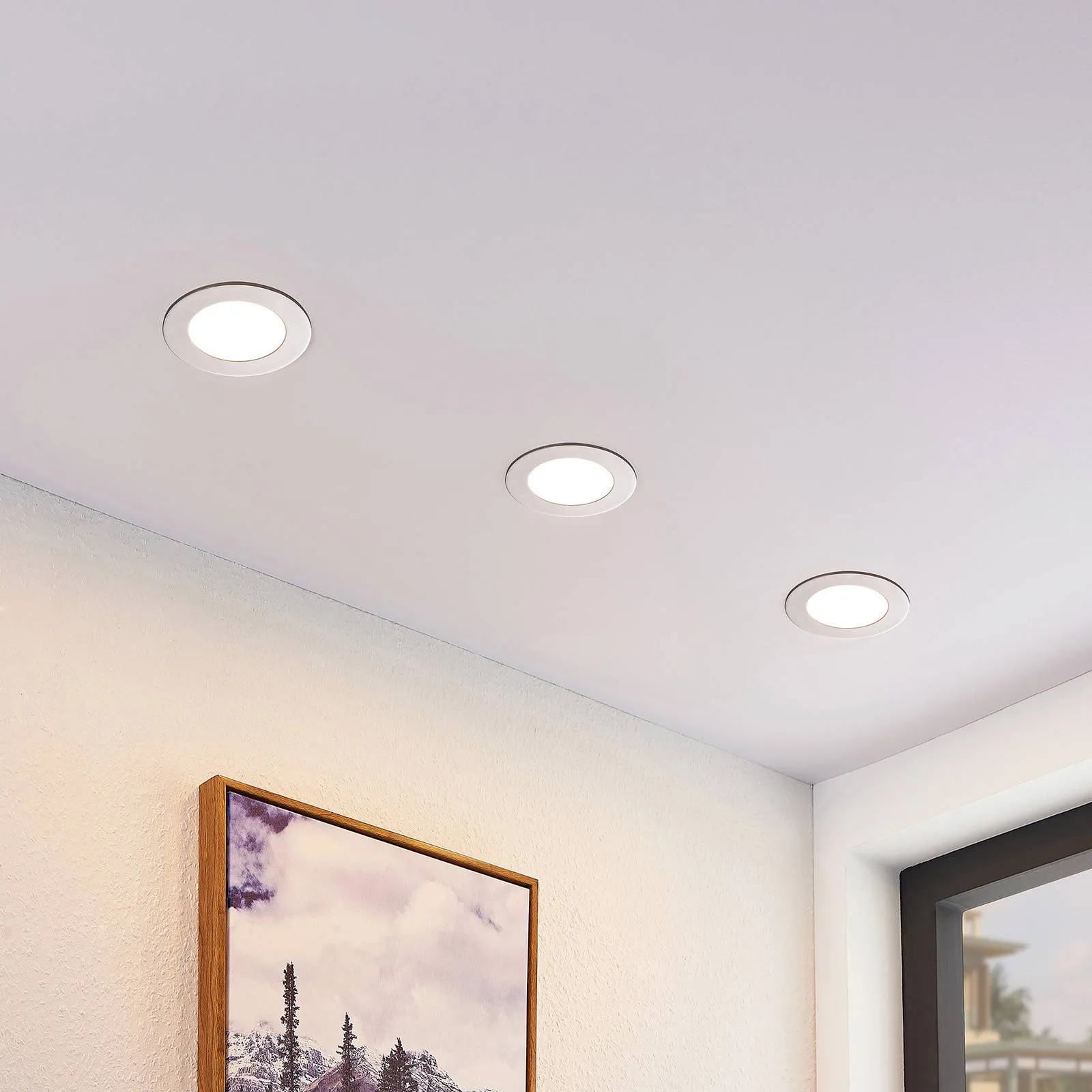 This mini Jupiter recessed light is outfitted with glaring, comfortable white LEDs that radiate dependably. It is the perfect option for installing in ceilings, making it a great choice for living rooms, hallways, or bedrooms. The LED driver and the necessary cabling are included. The three downlights, with their up-to-date lighting technology, are incredibly energy efficient, and cast a pleasant, warm white glow that creates a cozy atmosphere in any space.
Conclusion
When it comes to bedroom lighting, there are many things to consider. The first thing to think about is the purpose of the room. What do you want to use it for? Do you want it to be a place where you can relax and unwind, or do you need it to be bright and functional for when you're getting ready in the morning? Once you know what you want, you can start thinking about the best way to achieve that.
One of the most important things to think about is natural light. If you have a window in your bedroom, make sure you make the most of it. Use lighter colours on the walls and ceiling to reflect as much light as possible. Avoid putting anything in front of the window that will block the light. If you need extra light in the evening, consider adding floor or table lamps or installing recessed lighting.
Of course, none of this is a set of hard and fast rules. Room design is always deeply personal. If you're looking for something more creative, why not use wall sconces in unusual locations or LED lights to create a fun and funky effect? Whatever your style, there are plenty of options available to you. So don't be afraid to get creative and experiment until you find what's right for you.
FAQs
What lighting is best for bedrooms?
The bedroom lighting options are as varied as in any other room. You can pick from wall sconces, pendants, recessed spotlights, ceiling-mounted domes, chandeliers, or LED strips. The trick is knowing which one is right for your room.
Part of knowing which lighting is best for your bedroom is to understand the creation that you want to make. Will it have functional vibes, like a hotel room, where visitors might need to perform a range of tasks, or cosy like an old farmhouse bedroom, where you'll just relax in the bed with a book before sleep? Do you have a personal preference for a minimalist scheme, or are nik-naks and detail that you love most?
Once you figure out what you want from the room, designing the right lighting for the space will come easily.
How do I add better lighting to my bedroom?
There are two main routes to adding better lighting to your bedroom. Firstly, you could look at your existing fixtures and arrange new light shades on existing pendants, complemented by new floor or table lamps. Doing so is budget-friendly and quick to do. In addition, it gives you the power to change your lighting design every time you paint the walls.
For most people, bedroom light fitting ideas can seem like a significant and daunting change, but if you're feeling up to the task, you can look at installing an entirely new set of lights. If you are confident with electricity, check out our guide to installing downlights if that's the way you'd like to go. If you're unsure, plan what you want, and then ask an electrician to take a look and provide a quote.
How do you light a master bedroom?
There is no one answer to this. The master bedroom is your quiet place, where you come to relax, unwind, and lay in repose with any significant others in your life. What suits you is deeply personal. Try to think about spaces you've been in the past, such as hotel rooms, tours of other people's homes, etc. What features could you take away from those experiences that felt like you connected with them?
Their interpretation of what is cosy will be the desired endpoint for most people. It takes all the bedroom elements, including the blinds, paint, furniture, and lights, to design a place where you want to spend time.
Should you put spotlights in a bedroom?
Spotlights come in a variety of types, and some of them give off a very harsh light. For this reason, it's crucial to consider your bedroom's usage before deciding on spotlights. They can be perfect if you want a space to read or work in. However, spotlights might not be the best option if you're looking for a relaxing oasis away from the hustle and bustle of daily life.
If you are tempted to add spotlights to a bedroom, we advise making them one part of a multiple-light source strategy. Use bedside lamps to create pools of light, and then use your spotlights to highlight specific areas. Doing this will allow you to change the atmosphere of your bedroom by simply altering which lights you have on.
Is LED light good for bedroom?
Yes, LED lights are a good choice for bedrooms. They are energy-efficient, have a long lifespan, and can be adjusted to provide different levels of brightness and color temperatures, which can create a relaxing atmosphere in the bedroom. Additionally, many LED lights are dimmable, which allows you to adjust the lighting to your personal preferences.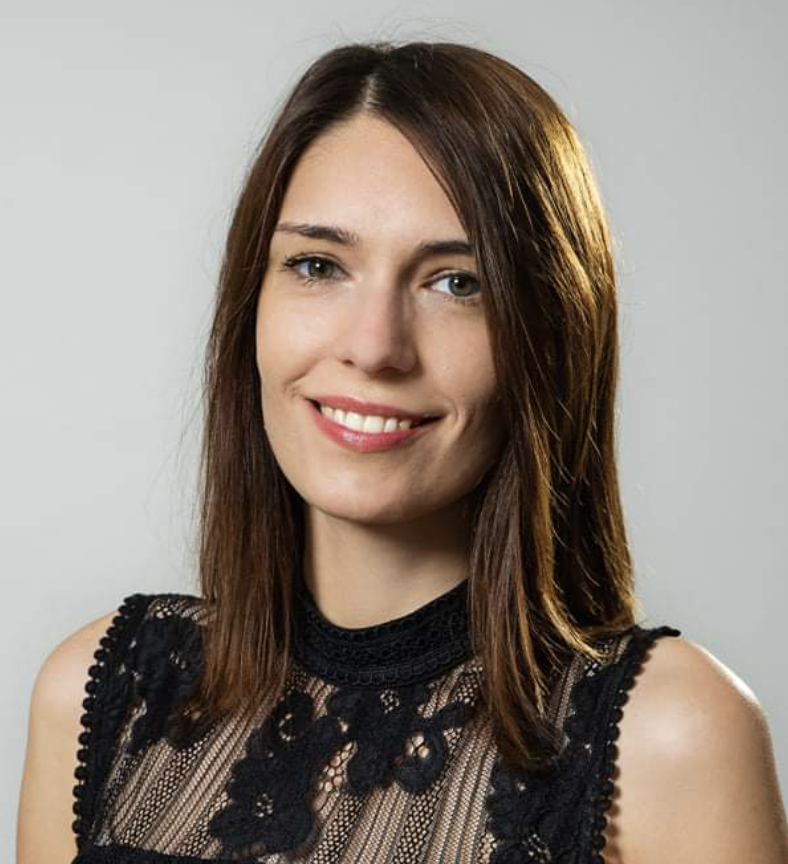 Andrea is a garden and DIY enthusiast. She always comes up with great ideas and the latest trends in the interior or outdoor design.