The downstairs toilet can be a challenging area to decorate, as it is typically tucked away in a difficult to access corner. These spaces may be tiny, dim and oddly formed, so they are generally disregarded when it comes to interior design.
It is not necessary to stay content with an unpleasant downstairs bathroom. There are many ways to brighten and make it more inviting.
Maximise the space with a dual toilet and basin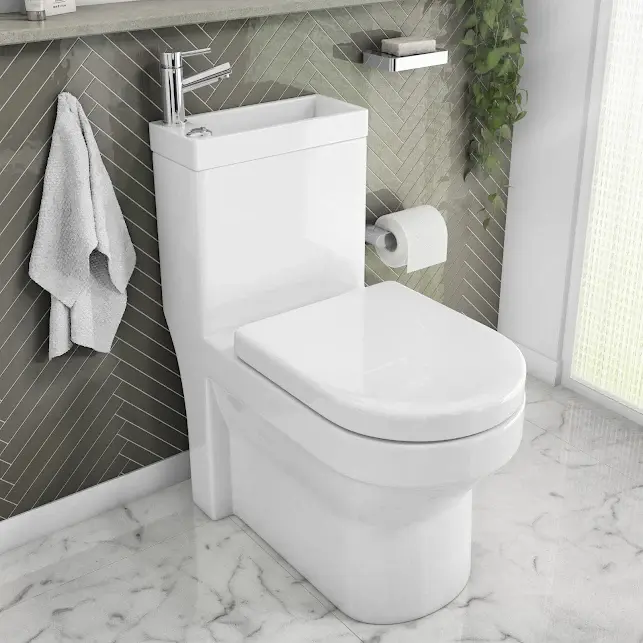 Many older homes have had a downstairs restroom added in a much later stage, which typically means it's been put in a cramped corner or under the stairs. With a toilet and integrated sink from Plumbworld, such as this one, you can save space while also being more water-efficient, giving your lavatory a modern look while contributing to the preservation of the environment.
How can I make my downstairs toilet look nice?
Start by giving the walls a fresh coat of paint in a light, neutral color to create a clean and inviting space
Consider adding some wall decor such as framed artwork or shelving to display plants or decorative items
Replace the toilet seat and cover with something stylish and modern, and add a new bathroom rug for added comfort
Consider installing dimmer lights or sconces for a cozy and intimate atmosphere, and replace the bathroom fixtures with updated, polished ones
Don't forget to add some personal touches such as candles, soaps, and hand towels in coordinating colors to complete the look
Under the stairs toilet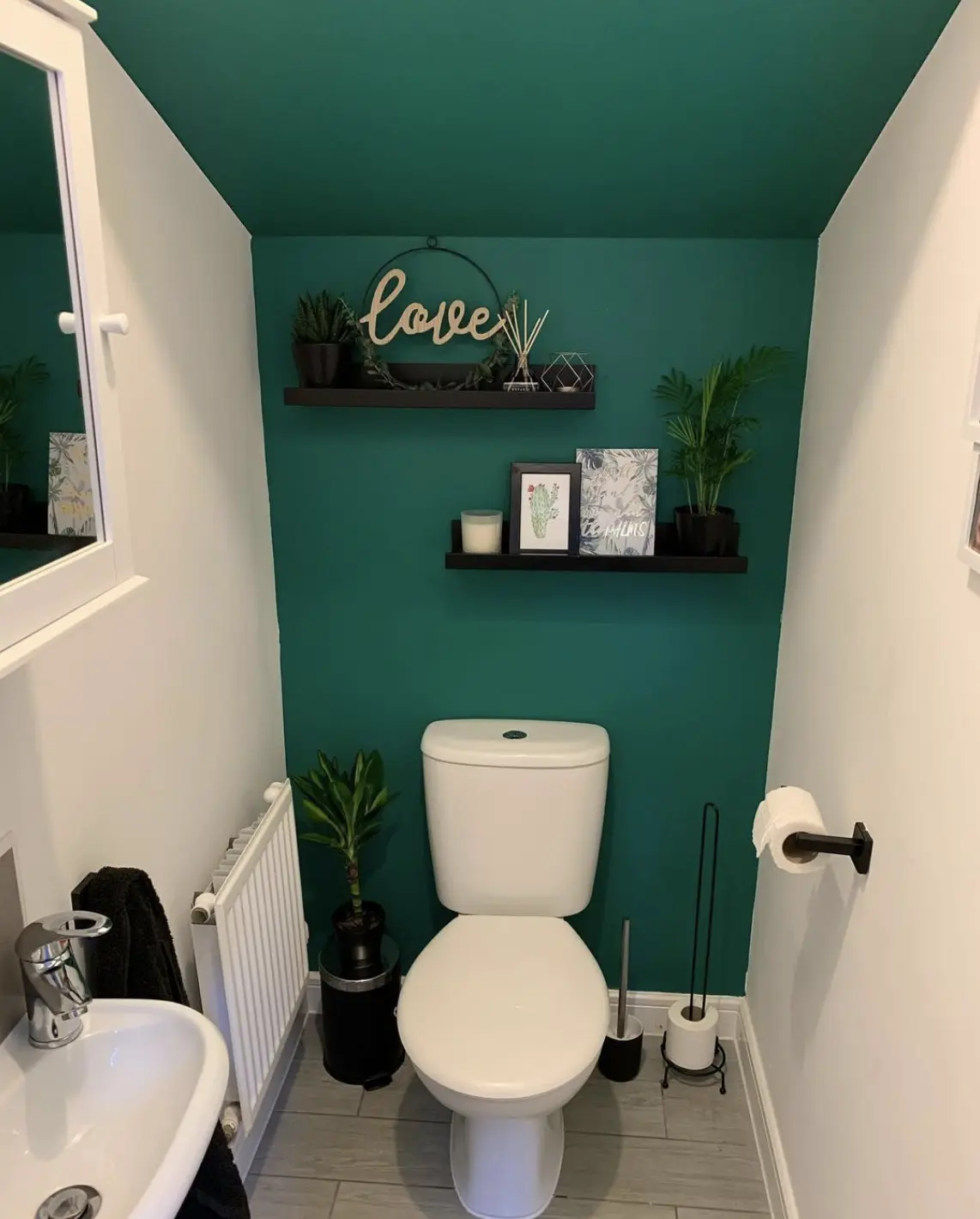 Building a downstairs toilet under the stairs can be a great way to utilize the often underutilized space. This is especially useful in homes where there is a lack of bathrooms, and can add convenience and value to your home. When designing the downstairs toilet, it's important to consider plumbing, ventilation, and access, as well as making sure the space is functional and aesthetically pleasing. Working with a professional contractor can help ensure the project is executed properly and to code. Overall, building a downstairs toilet under the stairs can be a smart solution for maximizing space and improving the functionality of your home.
The owner Rachel and Luke from @renovatingonthehill says "We wanted to transform our small under the stairs toilet to make it feel bigger, it was a new build property so we left it a couple of year before decorating. With the bulkhead from the stairs we wanted to add something a little bit dramatic so went for the bold emerald glade colour and thought the black accessories complemented it well."
Utilising mirrors can create the appearance of a larger area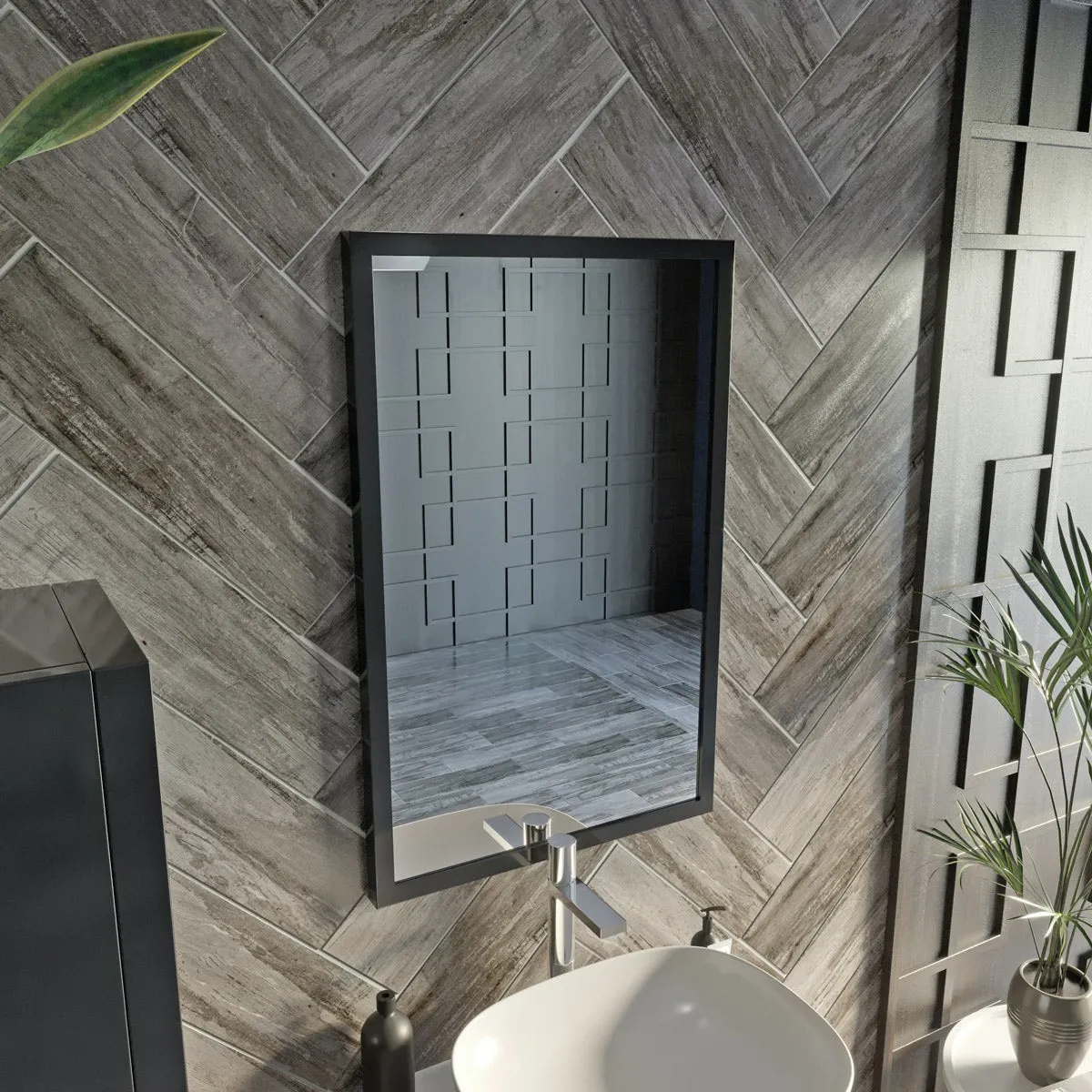 When you are decorating your downstairs bathroom, consider incorporating mirrors. Not only do they have a practical use, but they also have the ability to make the area look bigger. This is especially beneficial in dark, cramped spaces. The addition of a mirror will help reflect light to multiple surfaces, which can be especially beneficial for bathrooms that do not have natural light sources. Additionally, if the downstairs restroom has the luxury of a window, the mirror can amplify the daylight and make the room appear brighter and more inviting. This rectangle mirror is sold by Victoria Plum. Check the latest offer at Buildiro.com.
What is the smallest space for a downstairs toilet? The smallest permissible dimensions for a downstairs loo is 70 cm in width and 130 cm in length. For a practical and pleasant experience, however, a room of 80 cm width and 140 cm length is recommended. In either case, the door must open outwards.
Install wall-hung toilet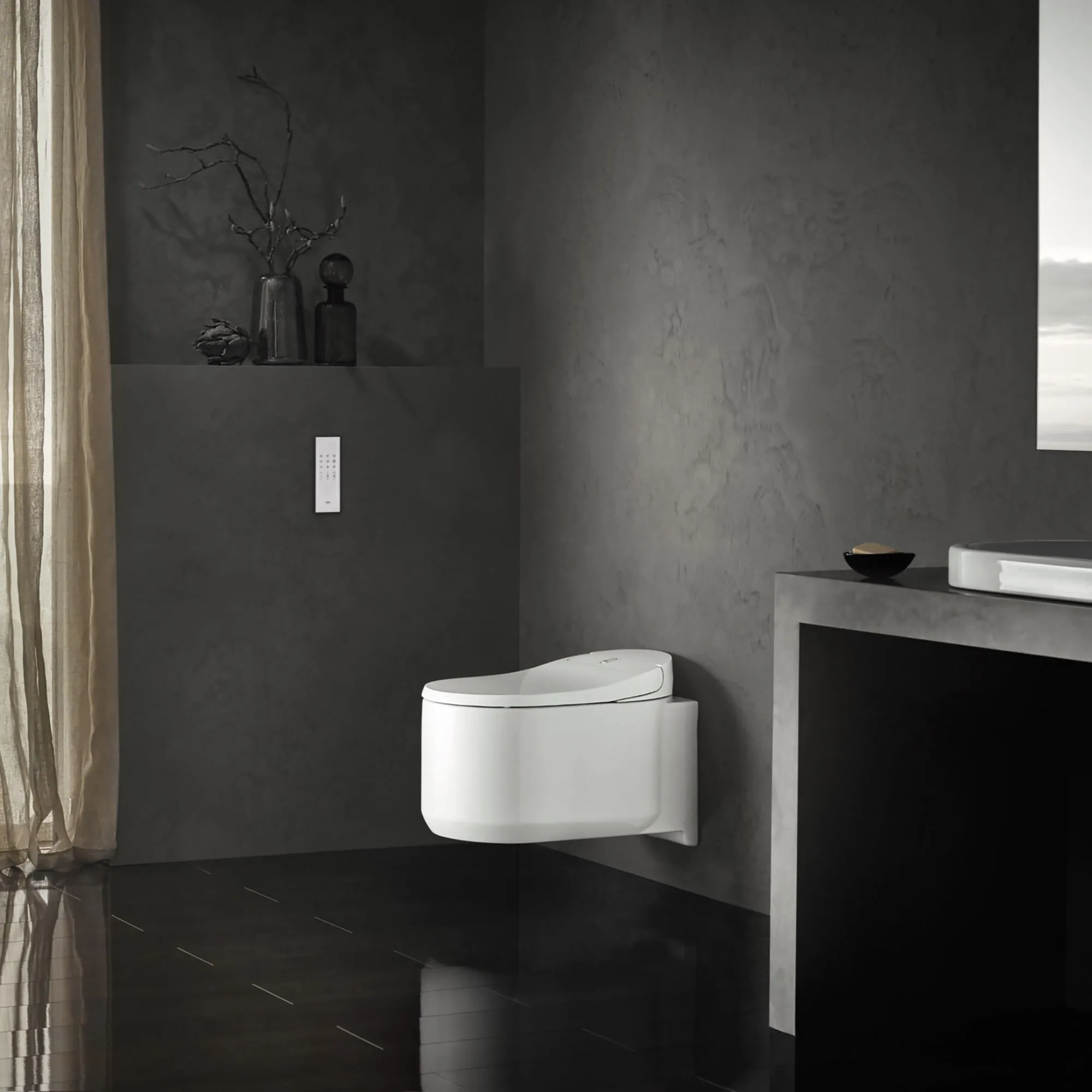 In order to get the most out of your downstairs toilet ideas, take advantage of the available floor area to the fullest. Wall-mounted units and toilets are not only visually pleasing, but are typically more compact, which allows them to blend in with the room without taking up too much space. Additionally, as they are placed on the wall, they are easier to clean, and you can use storage baskets underneath to keep any mess out of sight. Check the latest offer of Grohe Sensia Smart Toilet.
Consider using classic wall paneling to add a timeless touch to your downstairs toilet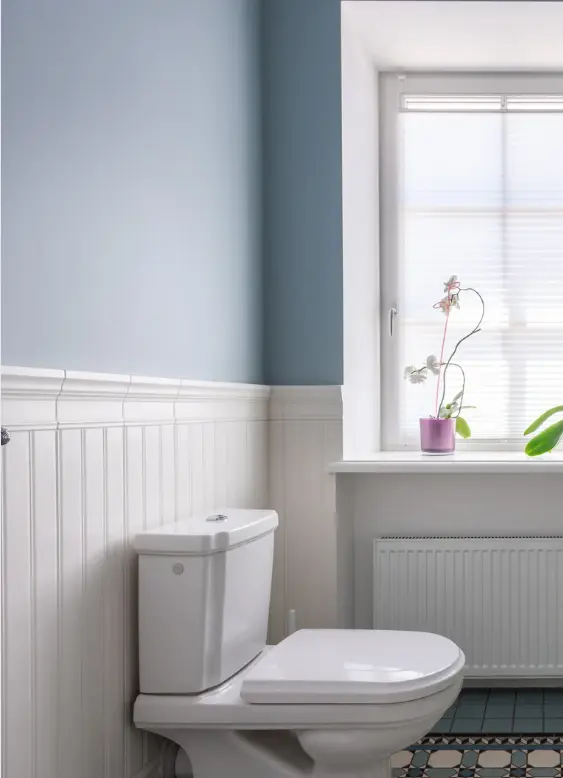 If you prefer classic styles, using paneling is a great way to give your downstairs bathroom a brand new look. Using tongue and groove paneling is especially favored for bathrooms like cloakrooms, as they have a pleasant aesthetic. Wooden panels offer a convenient alternative to tiling, eliminating the need for difficult grout maintenance. The panels connect seamlessly for a polished look, and if you decide to change the hue in the future, painting wood is a much simpler process.
Where is the best location for a downstairs toilet? In order to reduce expenses and minimize inconvenience, choose a spot that is close to the current water supply and sewage – an ideal place is underneath the stairs or you could isolate the end of a long corridor. Professionals suggest that for a lavatory and sink, a minimum of 80cm x 140cm is required.
Enjoy the beauty that tiles can bring to a space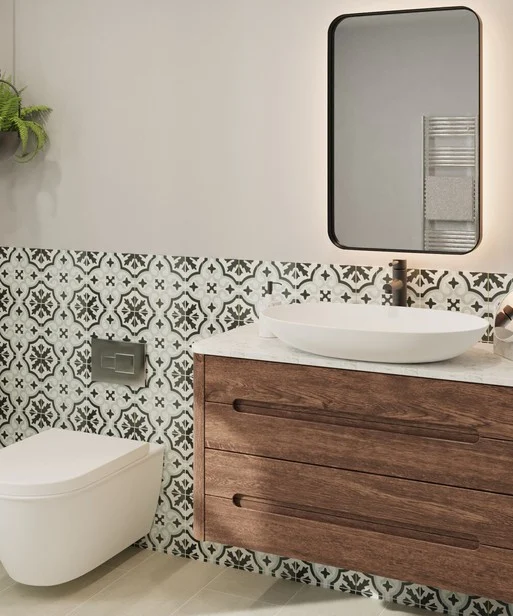 Not everyone enjoys heavily adorned walls and loud colors in a room, so why not opt for something different by introducing eye-catching elements? You can find some gorgeous choices, ranging from classic encaustic tiles to porcelain tiles that pay homage to old styles. Check ToppsTiles.
Be yourself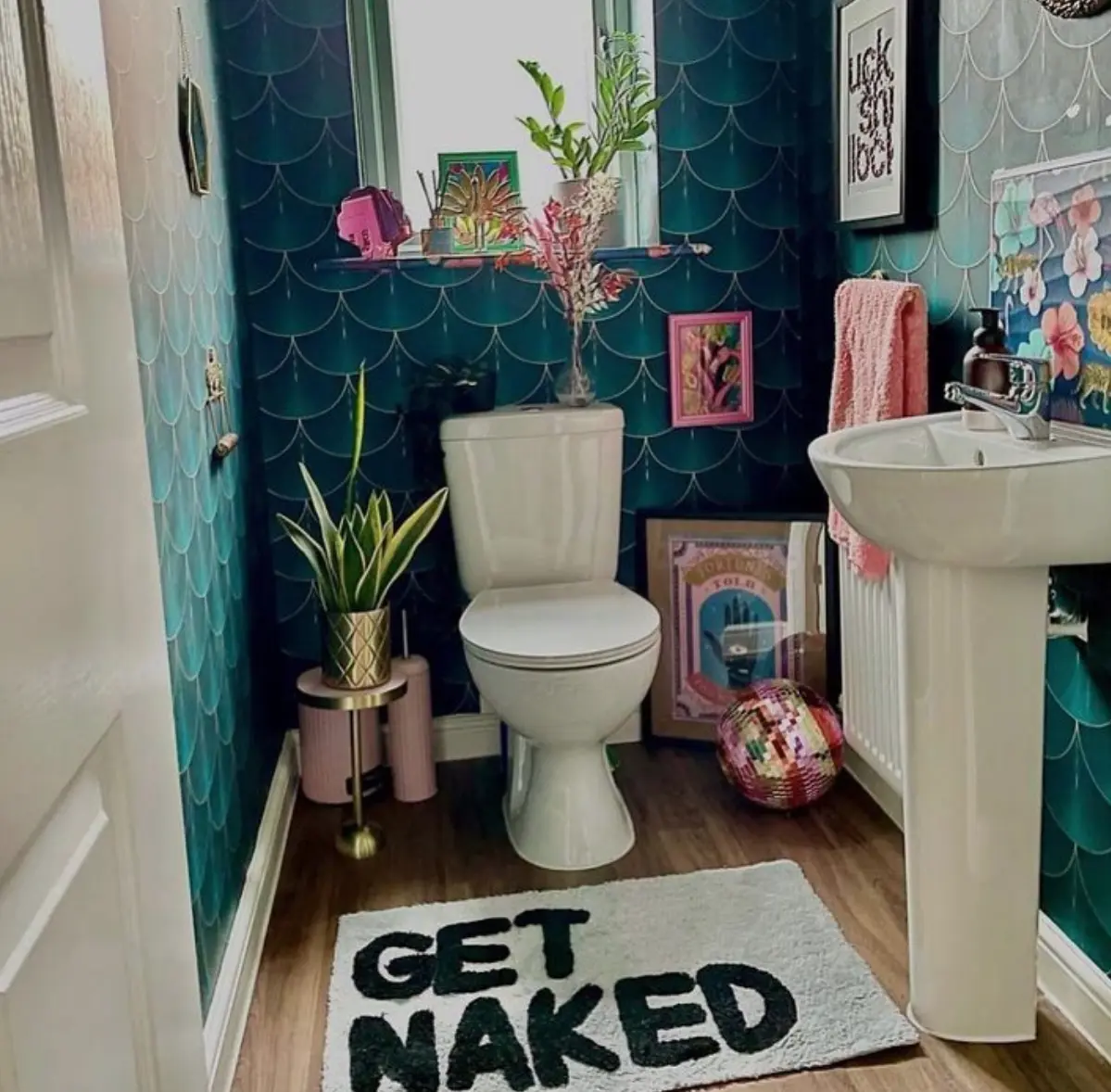 This downstairs toilet is what its owner is immensely pleased with it and we think it looks great too! The shades work together in perfect harmony. The green ceramic tiles and pink accents make it incredibly attractive. The pedestal basin really elevates the significance of this tiny space.
Ella, the owner of this lovely small room says: "I love my downstairs toilet, it's a pretty potty 💙😆 It's the first room in this house I had fully planned out before I moved in & haven't changed since 💙🦚"
Consider including unique elements in the layout of your downstairs toilet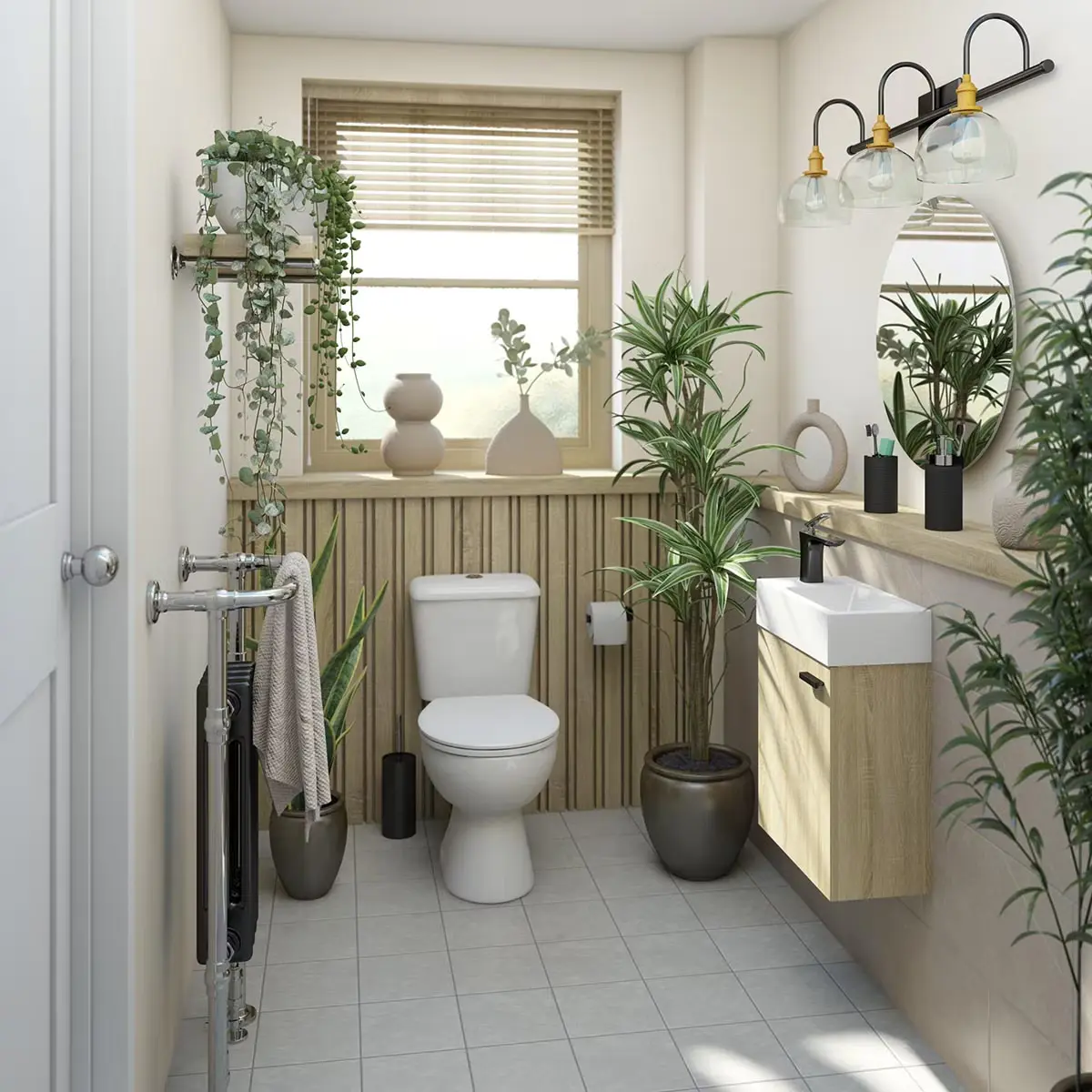 When designing the layout of your downstairs toilet, it's important to consider incorporating unique elements to make the space both functional and aesthetically appealing. This could include adding an eye-catching backsplash, selecting an unusual sink or faucet, or incorporating decorative tiles or wall art. Choosing statement pieces can help elevate the look of the room, making it feel like more than just a functional space. Another way to make the toilet feel unique is by incorporating practical elements, such as a space-saving cabinet or floating shelves for additional storage. With a little creativity and attention to detail, your downstairs toilet can become a standout feature in your home.
Use wallpaper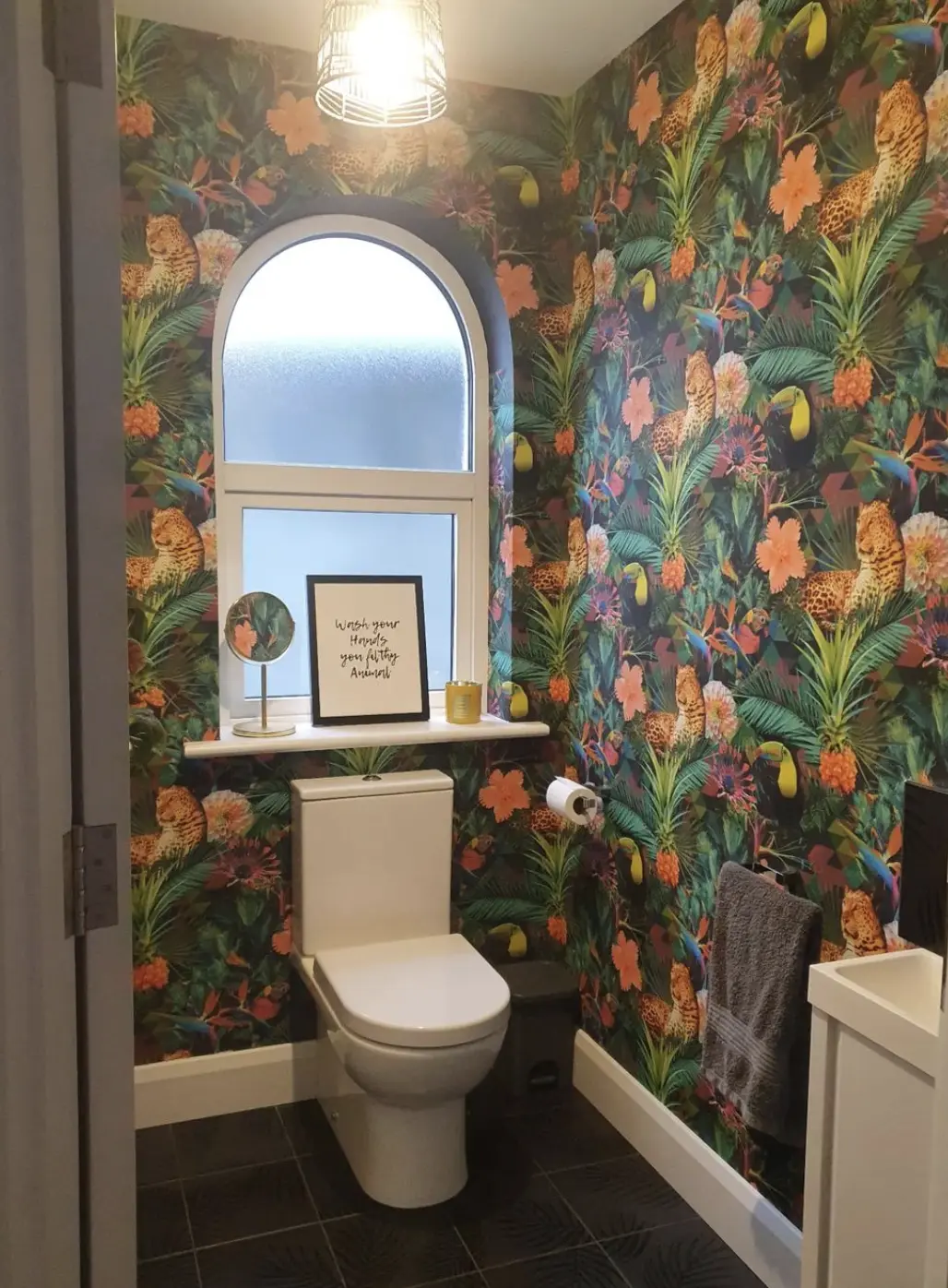 If you want to give your downstairs restroom a makeover, you don't have to be concerned about steam and moisture in the same way as you would in the bathroom. Therefore, why don't you take full advantage of this opportunity and use the wallpaper you've been wanting to try? Feel free to unleash your imagination!
The owner @buyinghomeonyourown says about it: "I always loved the idea of wallpaper for my small toilet, I love colour and feel your house should show parts of your personality. I feel a small toilet is where you can have a bit of fun in a small space. I spotted this wallpaper online and fell in love. It might not be for everyone but I think be bold you won't regret it!"
The photo made by @buyinghomeonyourown, wallpapered by @gerrykeanewallpapers
Conclusion
Most people view the downstairs toilet as just a necessary evil, and it does not get much attention from homeowners. That's a shame because there are many ways to make an underutilized space look fantastic and even add value to your home. Here are some tips on how to maximize your downstairs bathroom:
How do I fill the gap between my toilet and floor?
Use a consistent layer of caulk along the bottom of the toilet to conceal the space between the floor and the shims. If needed, make the caulk even with your finger and wipe it off often with a paper towel or cloth.
Can I put a toilet under my stairs?
If you're looking for a way to make use of the area under your staircase, why not consider installing a WC? With the right building work, ventilation, and components designed for smaller spaces, you can have a toilet in this space.
Should the toilet be in a separate room?
Some individuals feel that the toilet should be located inside the restroom, while others advocate for having it in its own space. Various factors have to be taken into account when deciding this, but most people prioritize cleanliness, seclusion and room size when making their choice.
Does a toilet need a window?
Generally, it is not necessary to have a window in a bathroom, however, it does need a good ventilation system. Every state has its own guidelines and regulations, so installing a ventilation system is a necessity.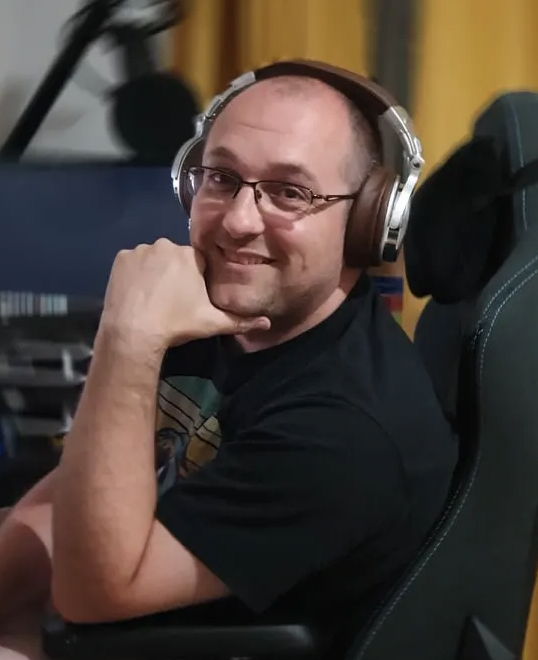 Matt is a professional copywriter and researcher over at https://sucklessatcontent.com/. When he can be prised away from his PC, his wife enjoys setting him DIY tasks around the house.