Thinking about some kitchen extension ideas? Struggling to come up with some inspiration as to how exactly you're going to end up doing that?
Don't worry, we've got you! This case study will explore an actual kitchen extension, as it happened.
We'll show you the planning, the thought process, and what you've got to look out for when going ahead and opening up that space for your extension!
Every so often, the only thing standing between you and a much bigger kitchen, is a wall.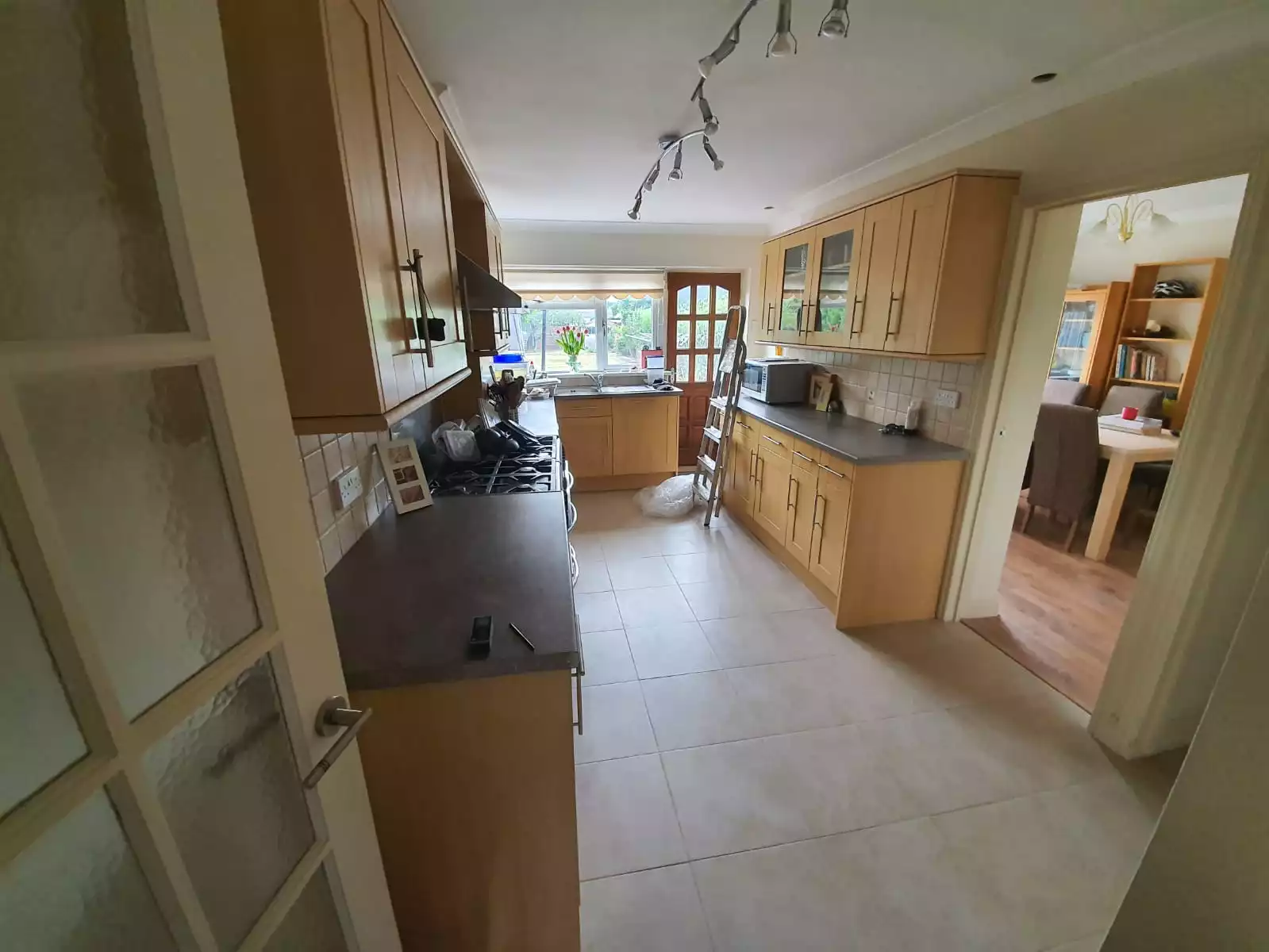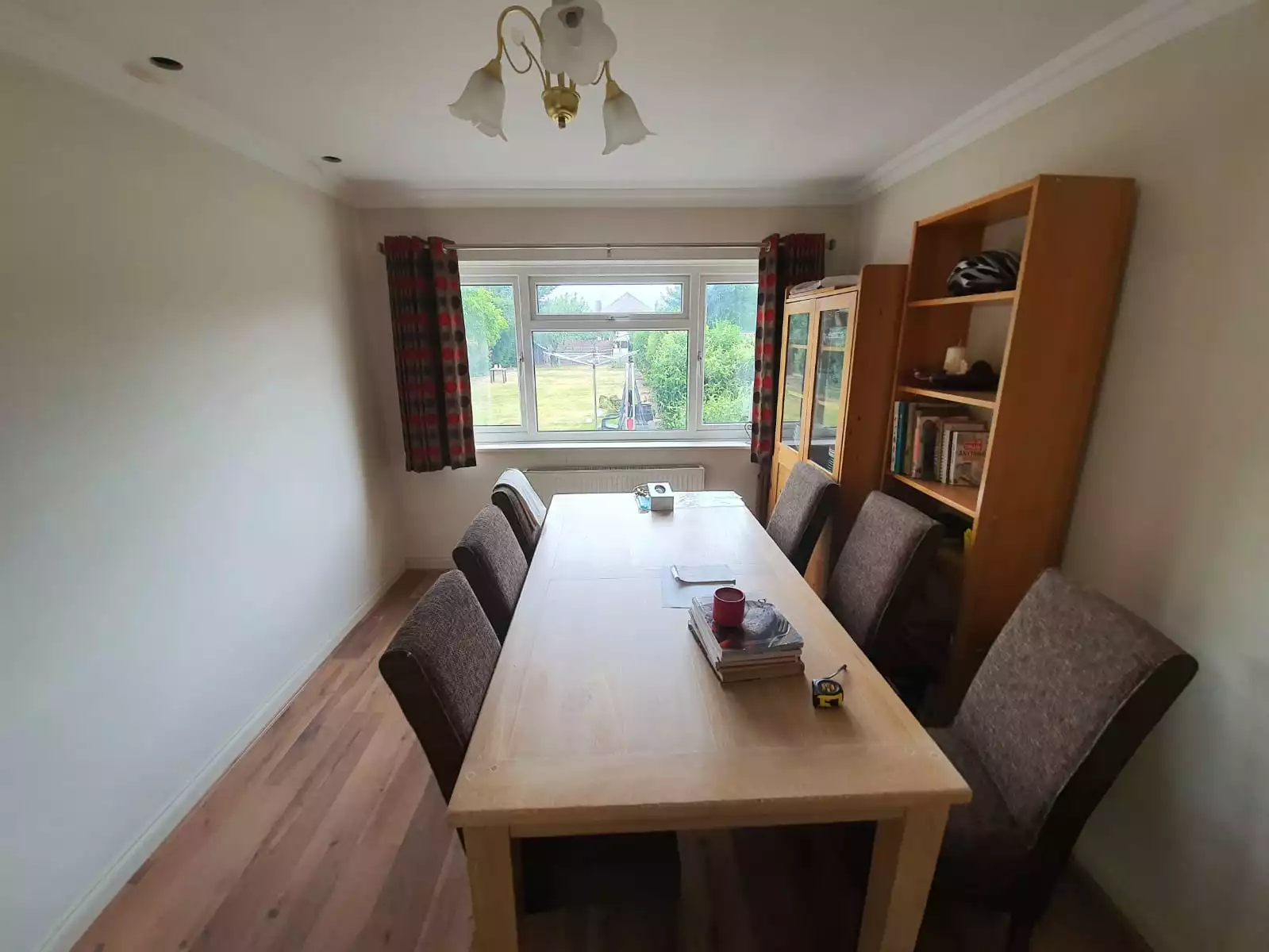 But you can't exactly just tear it down! There might be pipes, electronics, and other nifty little things stowed away inside, and damaging them can be catastrophic!
So, here's how a team of professionals handled a kitchen extension for a client. Put on your building hats!
The Plan
What Can Be Done For This Kitchen Extension?
Here, we have a kitchen that's horizontal in design. Narrow, with counters placed to maximize storage and not get in the way of walking space. It's your standard, run-of-the-mill kitchen.
So, how exactly can this kitchen extension take place? Well, if you'll look to the right, you'll see a conveniently placed dining room, with the only separation being a wall. Are you thinking what I'm thinking?
The wall can be dismantled to increase the overall space of the room itself, moving the kitchen into the dining area.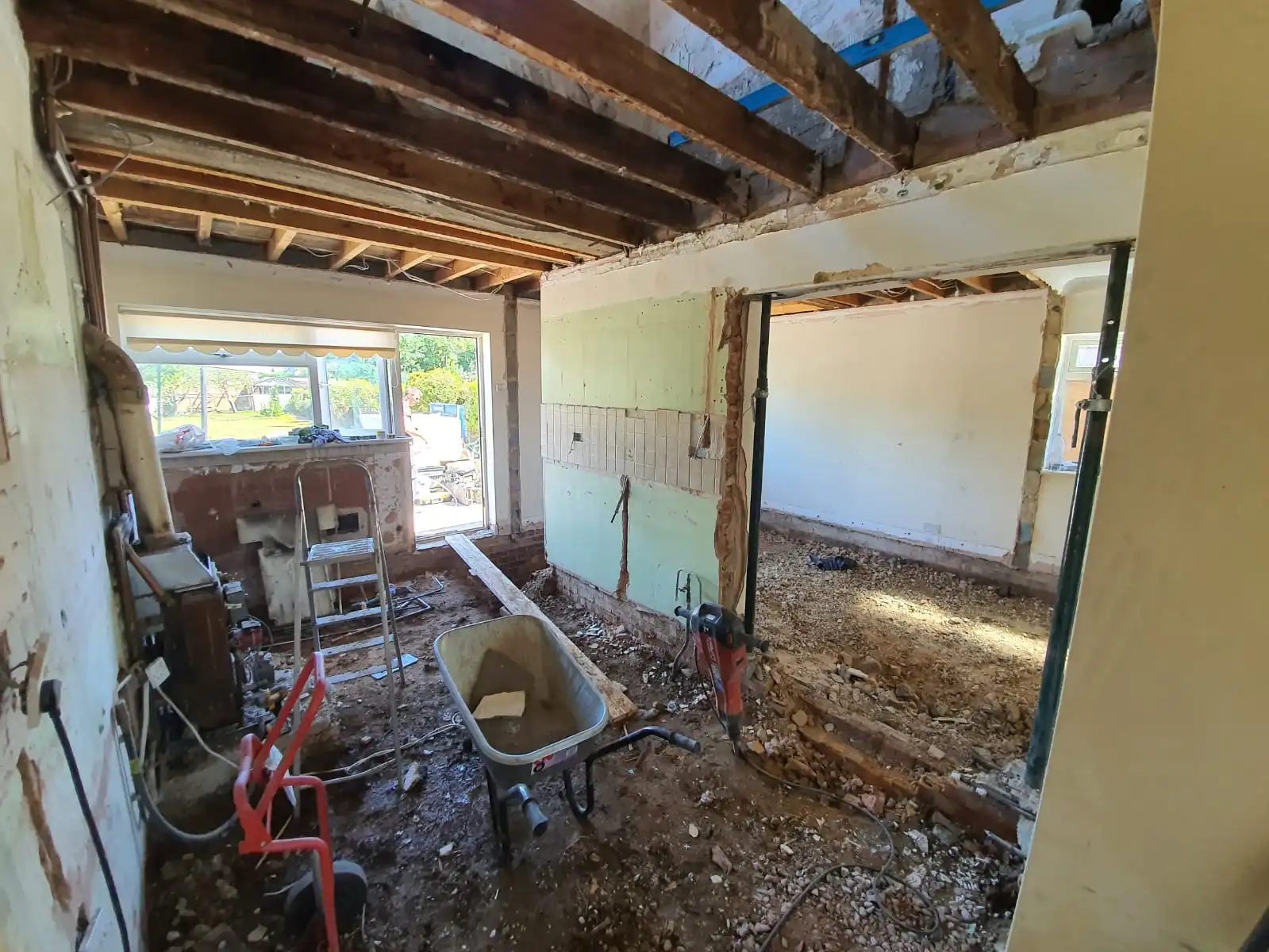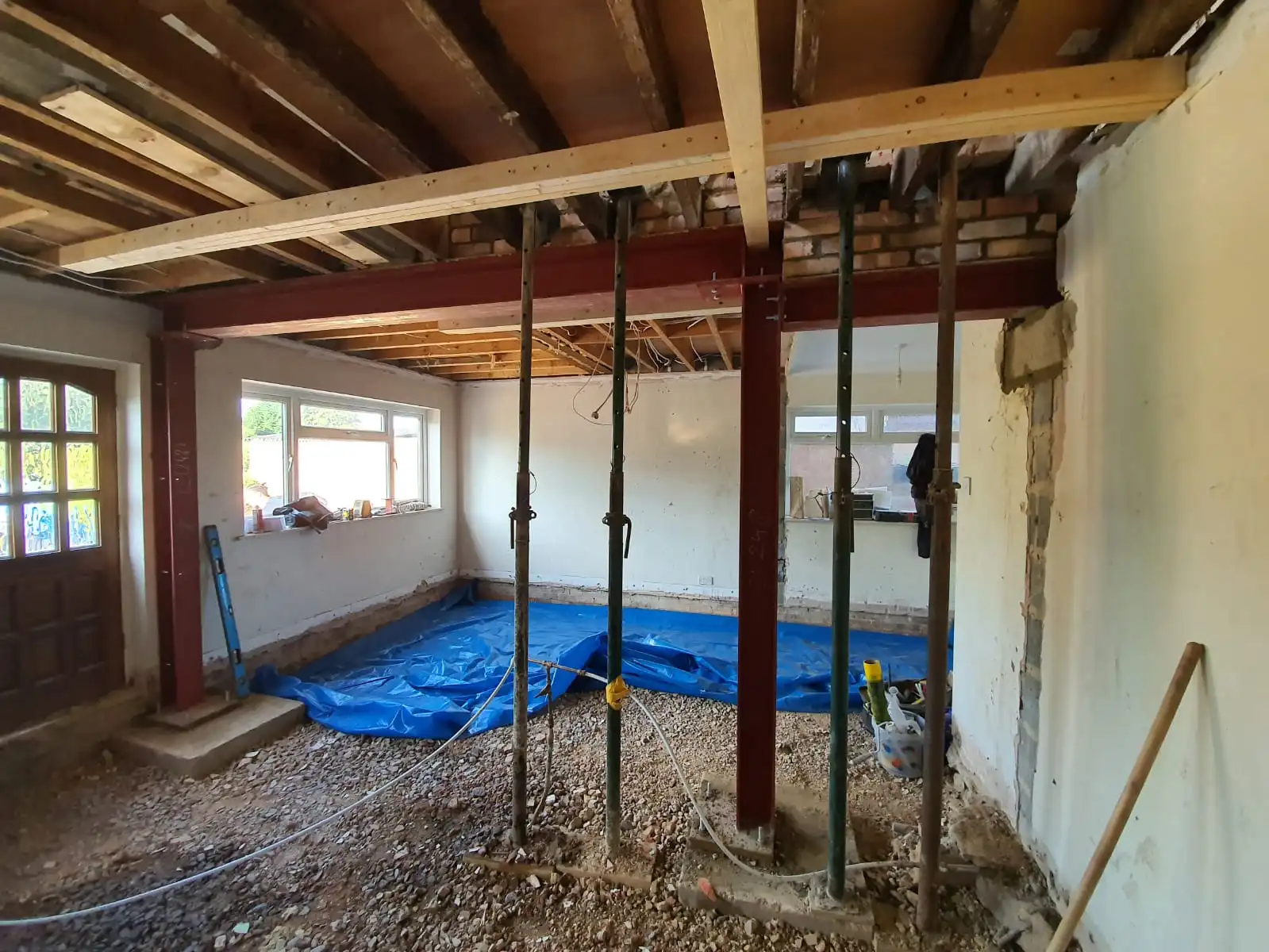 The wide window will lend itself well to making the kitchen look inviting and welcoming.
Have a look at Snapadu builders, if you're in the market for a kitchen extension (or any part of the house for that matter).
Don't Forget The Design!
Just because the main focus of this kitchen extension is, well, the extending part, it doesn't mean we'll be forgetting about the design itself!
Factoring in the natural light, this can enhance certain colour palettes. There's also the functionality of the kitchen to consider, as well as not removing any existing value that was in the old kitchen.
If you've seen our previous kitchen posts, you'll know how important kitchen design is, from colour psychology, to quality of life changes.
With this brand new open area that will be created, the design must be consistent throughout. And every bit of space that can be used to benefit the client, must be used.
The Process
Strip It All Down!
With any extension, you begin by removing everything you can. This is done to not only get things out of the way and stay fresh, but it can give exact dimensions for you to work with, to size your materials properly.
The floor tiles in the kitchen, and the wooden flooring in the dining area, have also been removed. It'll become one room after all, can't have 2 different types of floor if we're aiming for a consistent design!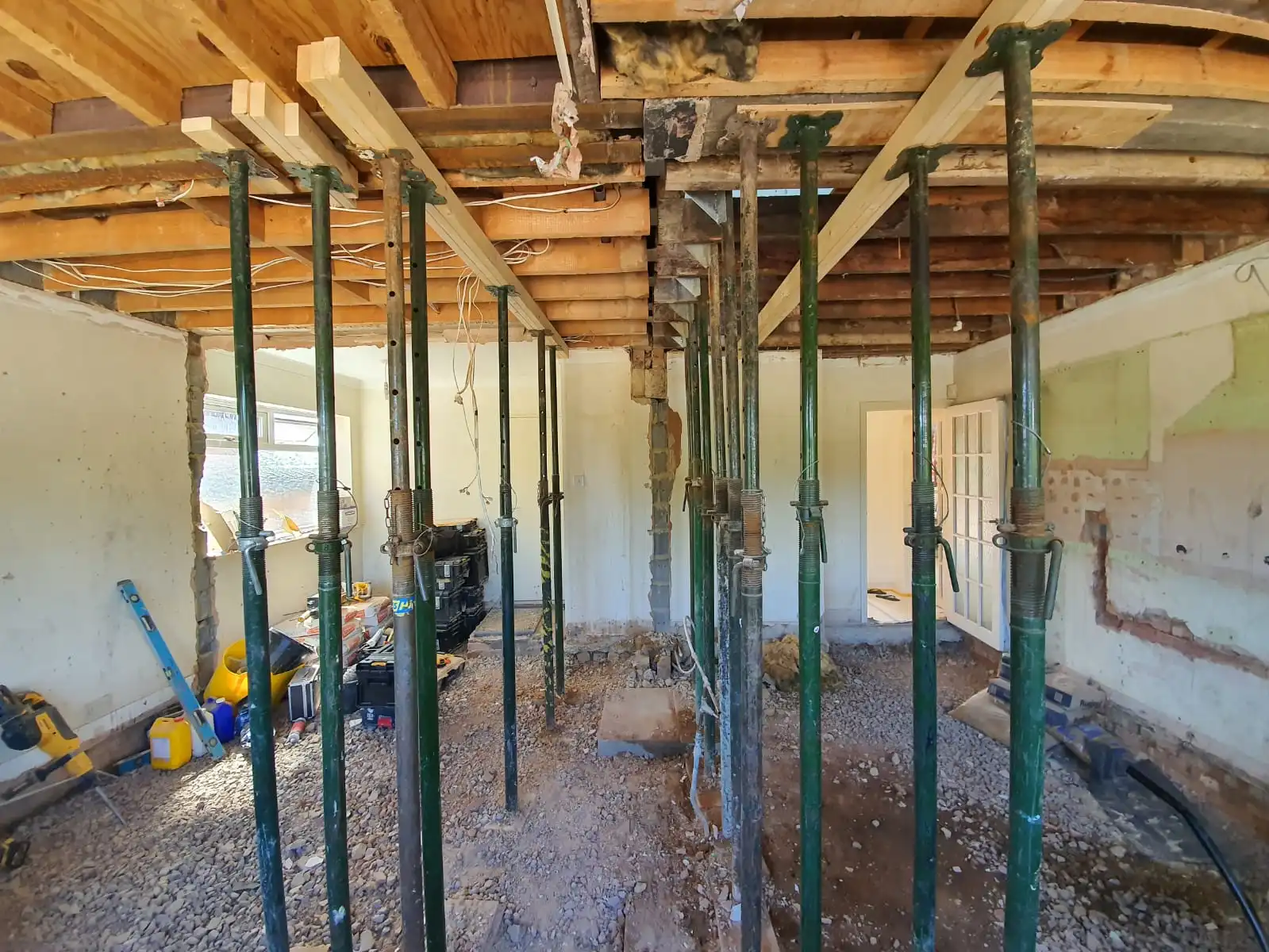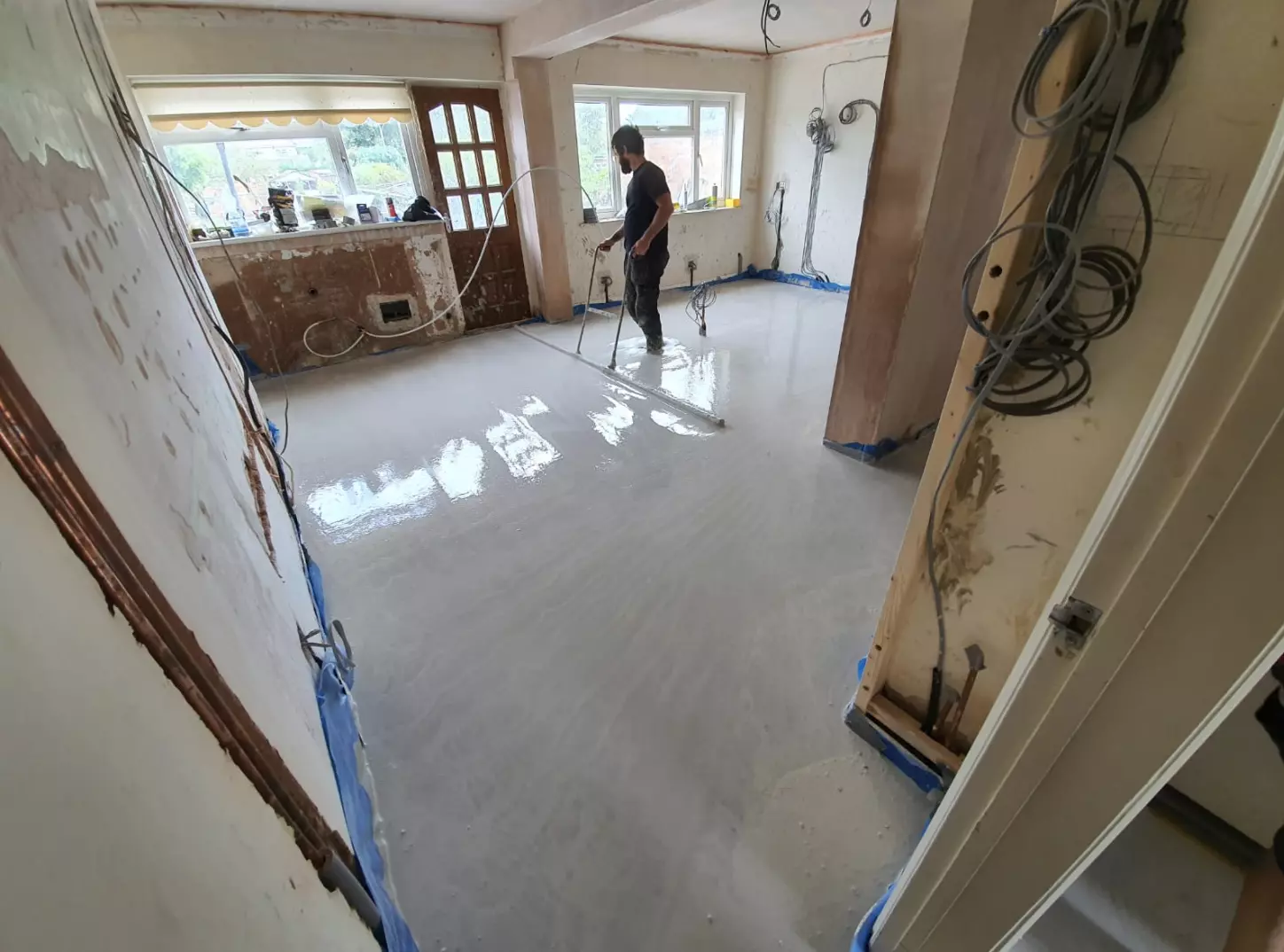 Removing the kitchen amenities was the easy part. The harder part was removing the wall, without bringing the ceiling down.
Considering The Ceiling Support
The wall acts as a support beam, and was built with that function in mind. If you've planned correctly, you'll have brought support beams, to make sure you don't get buried, and the client's second floor doesn't become the first floor.
Placement is key, and you have to be mindful of what's above, to know where the extra weight is being applied. A well constructed ceiling should already disperse the weight evenly to its support brackets, but this isn't a risk you should play around with.

It's not only supporting the second floor, it's supporting the next ceiling, and the roof of the building itself. Gravity works that way, and no matter how much you fight it, you'll be taught a lesson if you don't do a risk assessment and calculate the weight properly.
Behind The Scenes
Electronics & Wires
One of the most dangerous things to work with, when dealing with kitchen extensions, is electronics.
Just to make doubly sure, as you never know, turn off all fuses when working with electrical devices. There's a high chance that you won't recover from a nasty shock!

Any wires and cords that exist within a wall you plan to tear down, will need to be reconfigured.
There could be a chance that the wall doesn't house its own circuit loop, and it's all in one singular line. It's extremely unlikely that this will be the case, but make sure of this.
Leave this up to an electrician, or if you already know what to do, you'll know the best way to proceed with this endeavour.
Of course, sockets will have to be removed from where the previous kitchen stood, as the location of the kitchen will now change, along with socket placement. But this goes without saying!
And finally, a kitchen island will be installed, complete with stovetops. So wires will also have to be included within the floor themselves. But if this is part of your plan already, you'll have accounted for the wiring before installing it!
Plumbing
Pipes are everywhere. You never know which wall they'll pop out from when you do your extension!
Of course, the team already knows where they are, but you can use a wall scanner, stud finder, or a borescope camera. There are plenty of methods to make sure you don't end up with an indoor flood.
With the kitchen moving places, new plumbing will have to be installed into a different part of the wall, but it's not that huge of a problem for a professional. Neither is removing existing plumbing.
Trust your experts, they'll get the job done!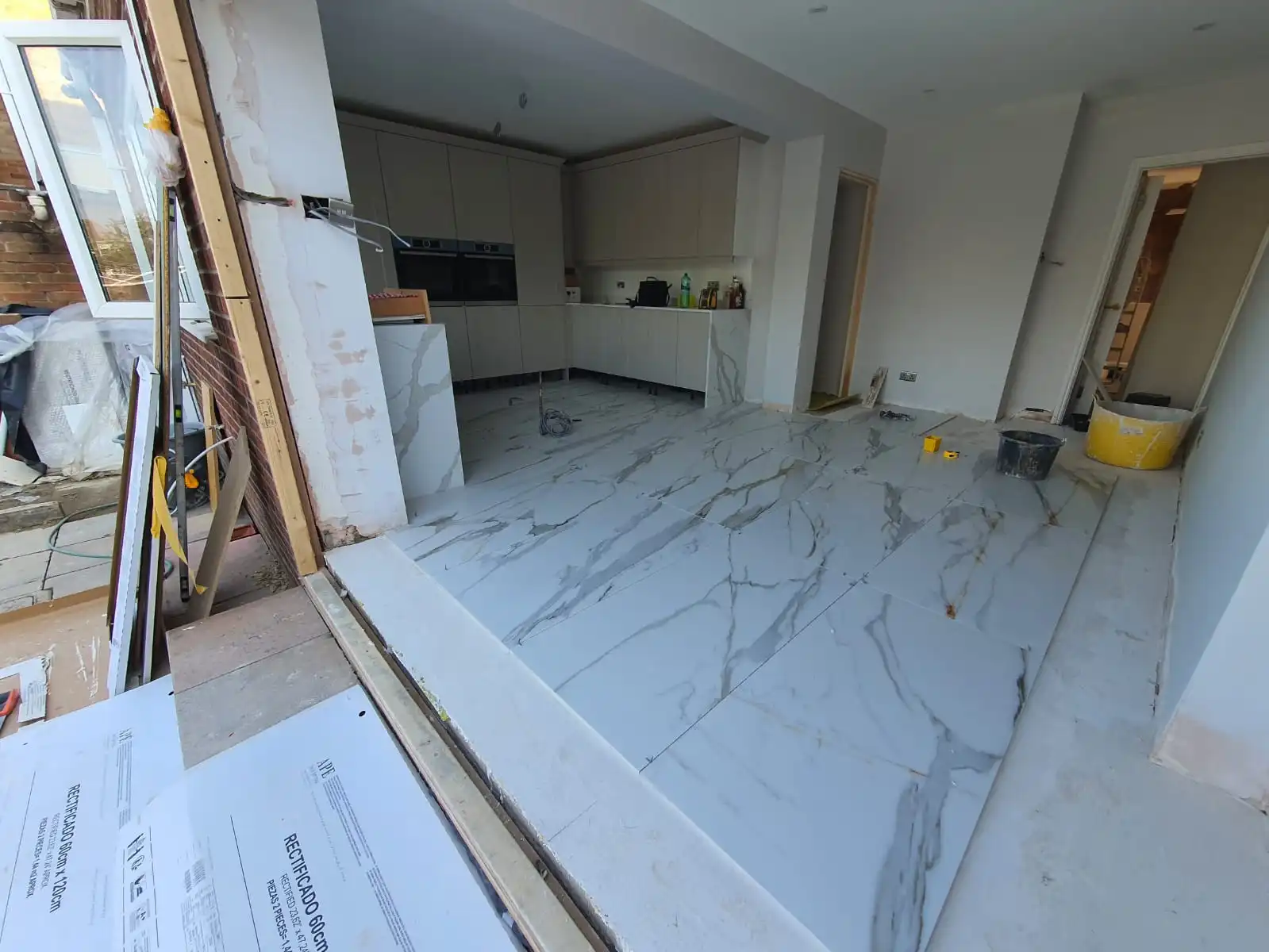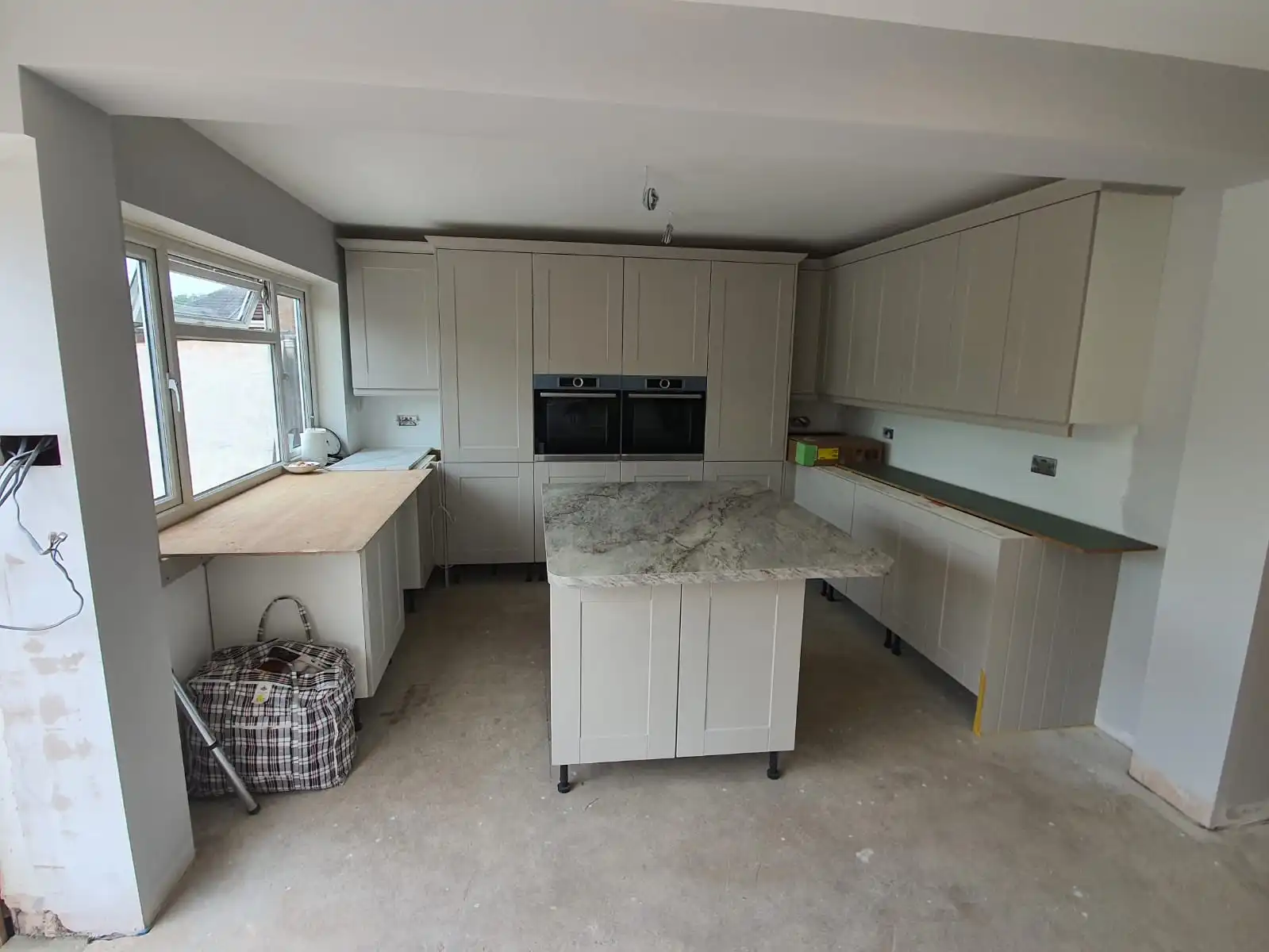 Design Not Left Behind
Natural Light
Once the walls have been finalized, with new plumbing and electronics, the design of the kitchen has to be looked into!
As mentioned, we now have a window that pools in natural light into the kitchen. So, a colour scheme that lends itself well to light, is the best course of action to take!
Colour Scheme
A white kitchen is something you can never go wrong with in this case.
Accentuated with black highlights, to bring the overall scheme a dynamic feeling of modernity, it looks great, and nothing feels out of place.
The floor, counter surfaces, and even the visible sides of the counters, all match a singular, tiled design. You'll notice the tiles are bigger than normal, and we call them large-format tiles. You can see how psychologically effective they are in one of our previous posts.
The last thing to mention is the new patio doors.
With the new wall space, it'd be a shame to not use that effectively, to let even more natural light into the room! So now, even the new dining area can benefit from sun beams and daylight.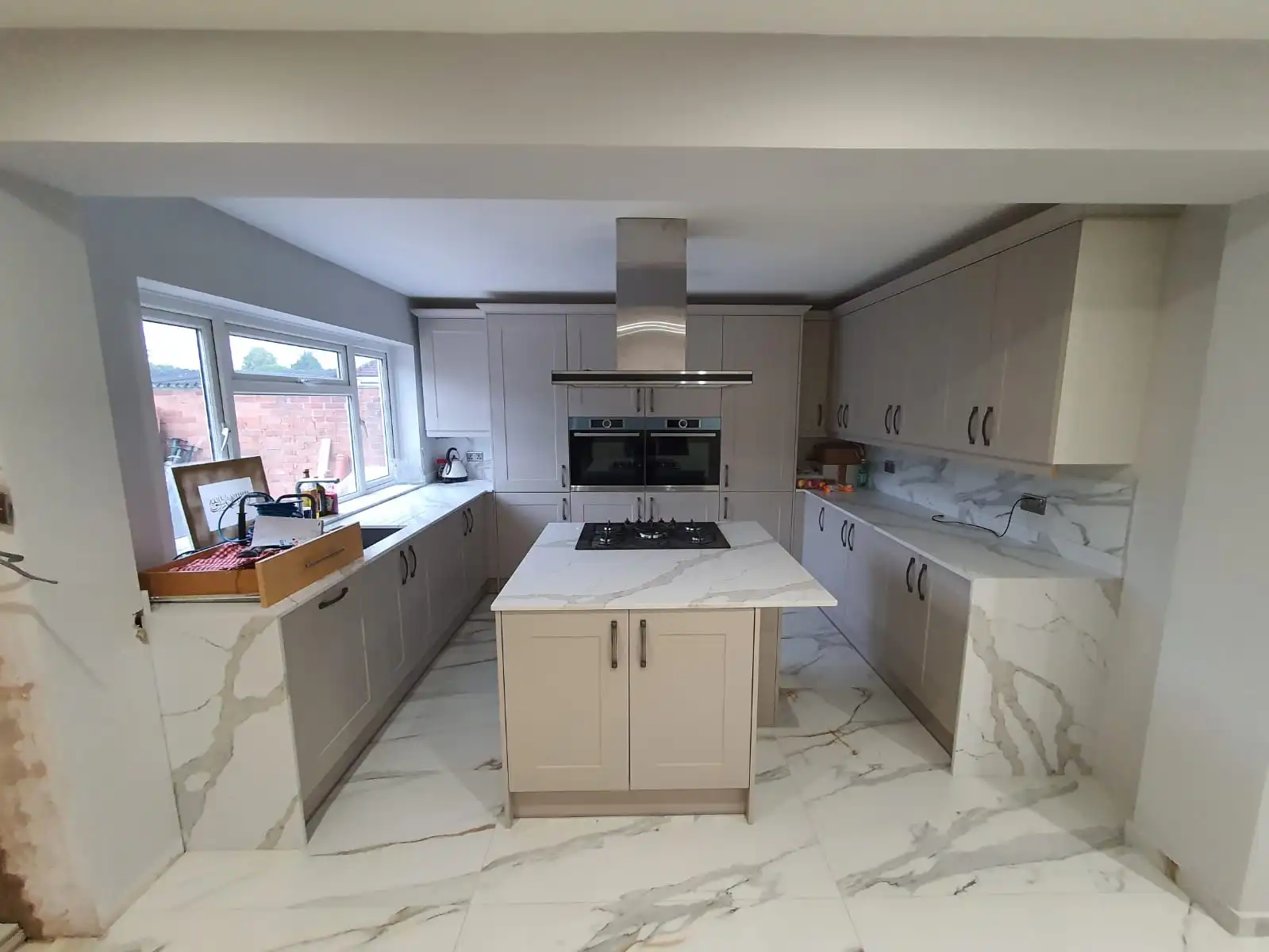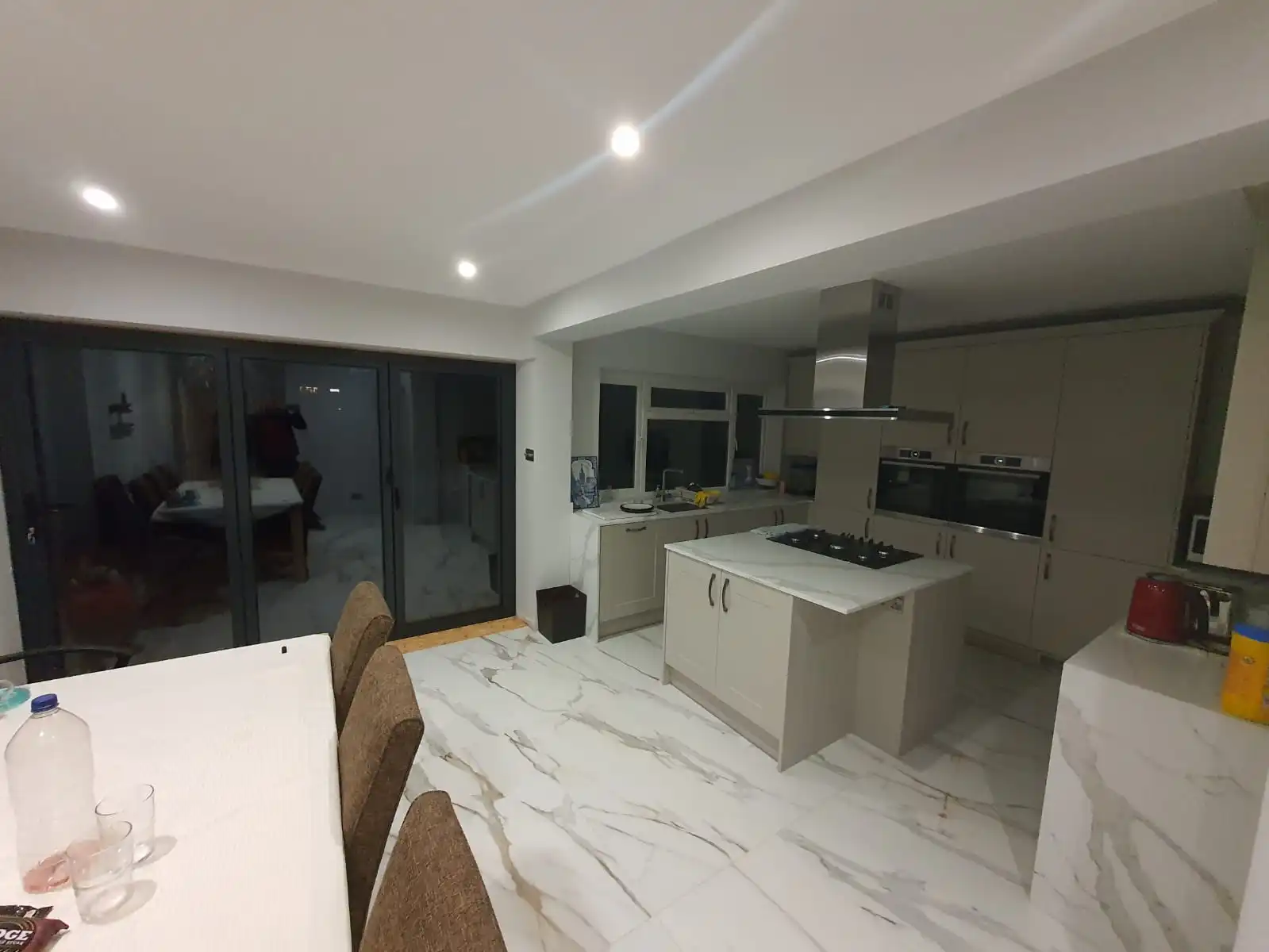 Materials Used
Electrical
Plumbing
Walls & Ceiling
Summary
Increasing Space Works
And there you have it! A spacious, beautifully designed kitchen, with natural light filling every crevice.
If you were looking for kitchen extension ideas, we hope this opened your mind a little on what you can do, and how you can do it.
Make sure to consult an expert before you make any changes. Buildiro lists top quality products from approved vendors, so you don't have to worry about what you're buying. Start your search for the product you require here, and leave the rest to us. We've got you covered.
Previous Kitchen Remodels:
Small Kitchen Design: Making Space Better With Functionality
Kitchen Design: How Small-Scale Alterations Can Create A Monumental Affect
Project made by: LM Solutions Ltd.
Proud of your new kitchen? Bathroom got a makeover? Send us an email about it at magazine@buildiro.com, and we'll write about it in our magazine!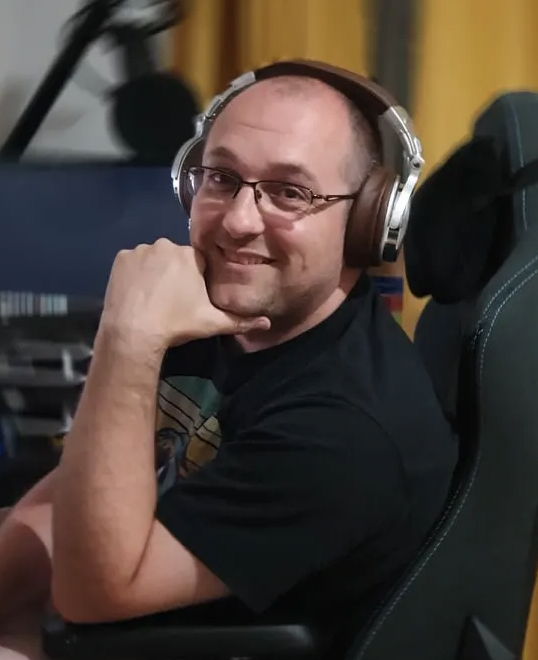 Matt is a professional copywriter and researcher over at https://sucklessatcontent.com/. When he can be prised away from his PC, his wife enjoys setting him DIY tasks around the house.