If you have a small kitchen, it won't take long before things get cramped. Small kitchen design has improved over the years, making the space a bit more usable and functional. However, depending on your circumstances, it may seem like a dead end in ever getting it right.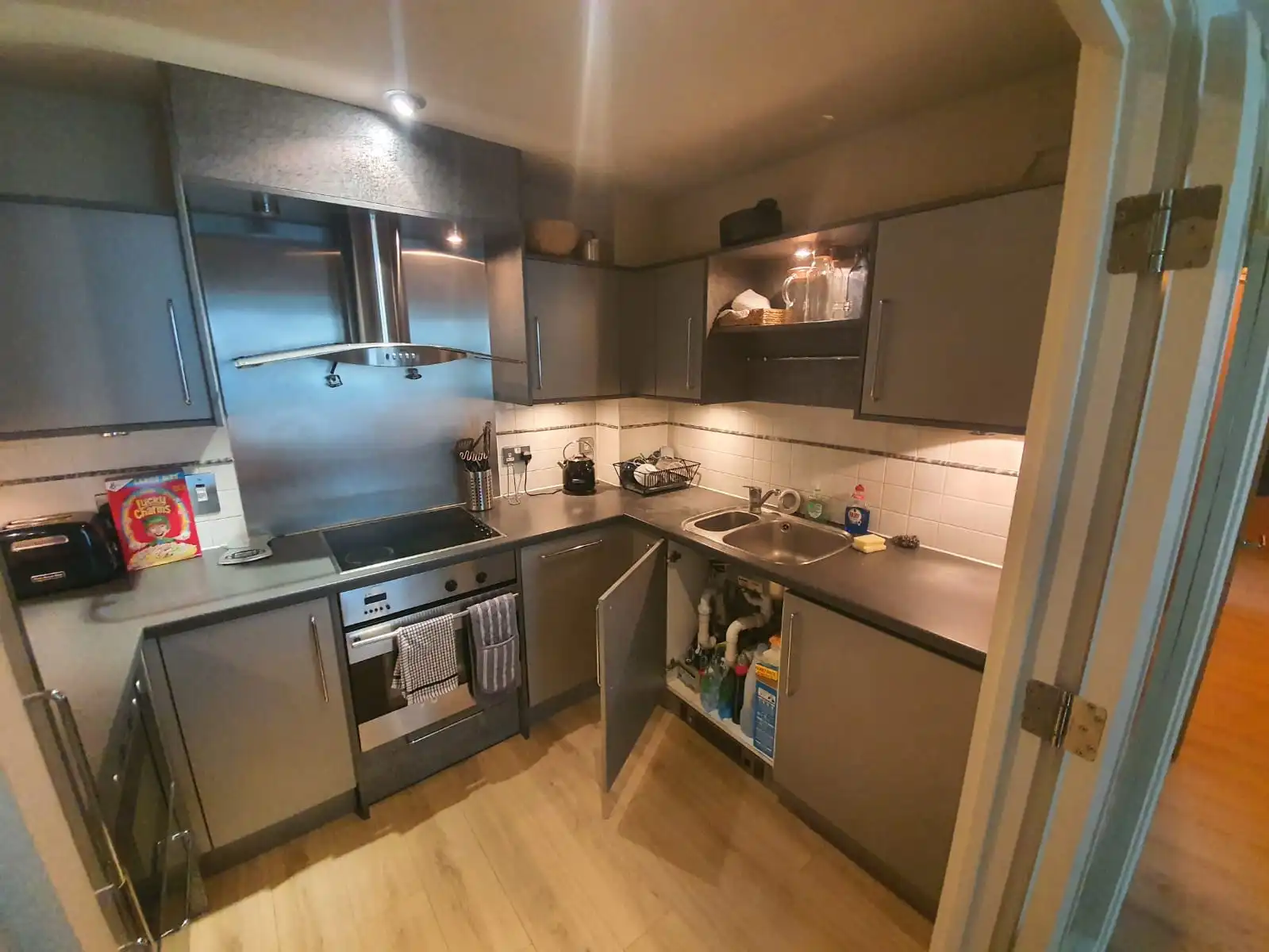 But don't worry, small kitchens aren't all doom and gloom. Minimalistic design has been incredibly innovational, making the best use of small spaces. It's also no stranger to interior design and remodelling, and can truly surprise you in the way it can change up rooms.
For this case study, we have a small kitchen. The design can still be considered quite modern, and it's not an ugly kitchen by any means. But as you can see, it's crowded, and looks cramped. So let's see what the team did with this one.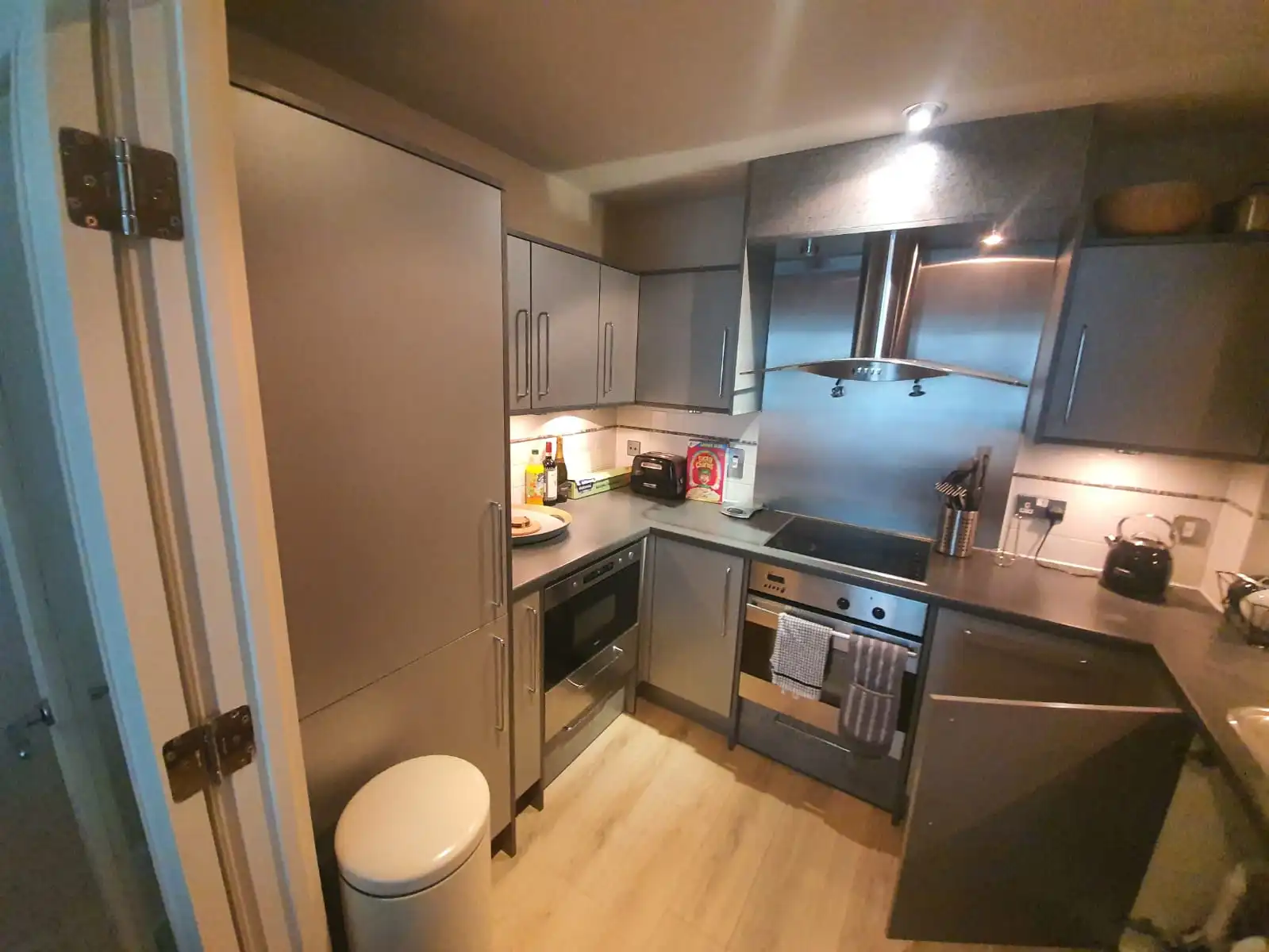 The Plan For This New Small Kitchen Design
With any small kitchen, the main goal of a remodel is freeing up as much space as physically possible.
You'll notice the appliances stick out quite a bit, and the colour scheme does nothing to compliment the rigid and cold looking metal.
So, like what happened in our previous kitchen design post, we plan to hide those appliances behind cabinets, to remove them from the overall look of the kitchen.
The oven can't be hidden for fire risks and ventilation purposes, so one will be fitted to match the scheme and design. A microwave with a similar design will follow the same rule.
If you've seen the after picture, you may be thinking, "It's not THAT impressive". But it doesn't always have to be.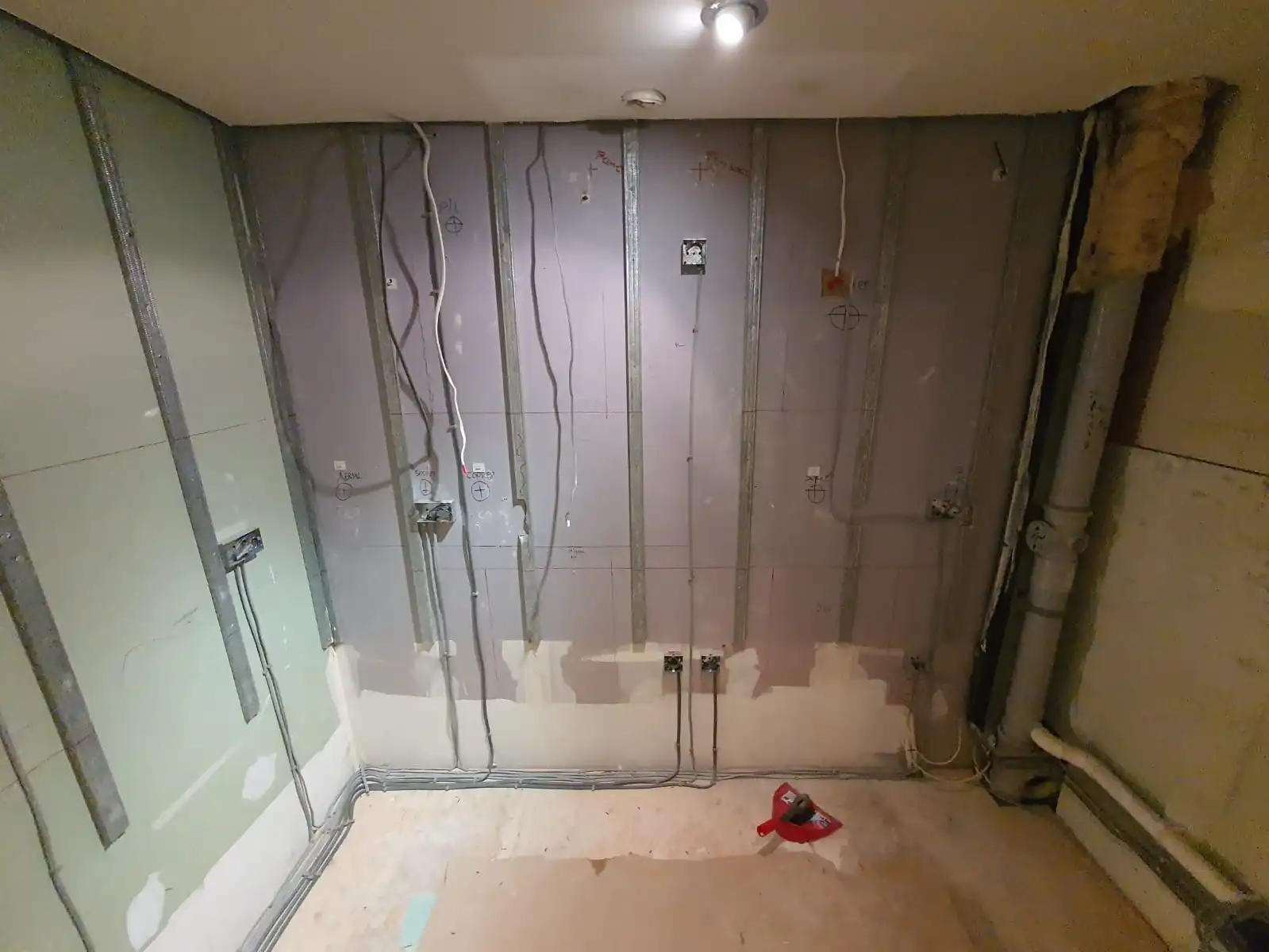 Kitchen design can have a functional purpose, and in this case, space is the more important reason to remodel, rather than just flair.
Stripping The Kitchen
We can't make an omelette without cracking a few eggs, after all.
To update the kitchen design, everything must be removed, so we can then replace it with fresh new counters, new cabinets, appliances, outlets, and tiles.
As lighting was essential in the previous kitchen design, we decided to keep that element for the new design, so the client doesn't lose out on any positives that existed before.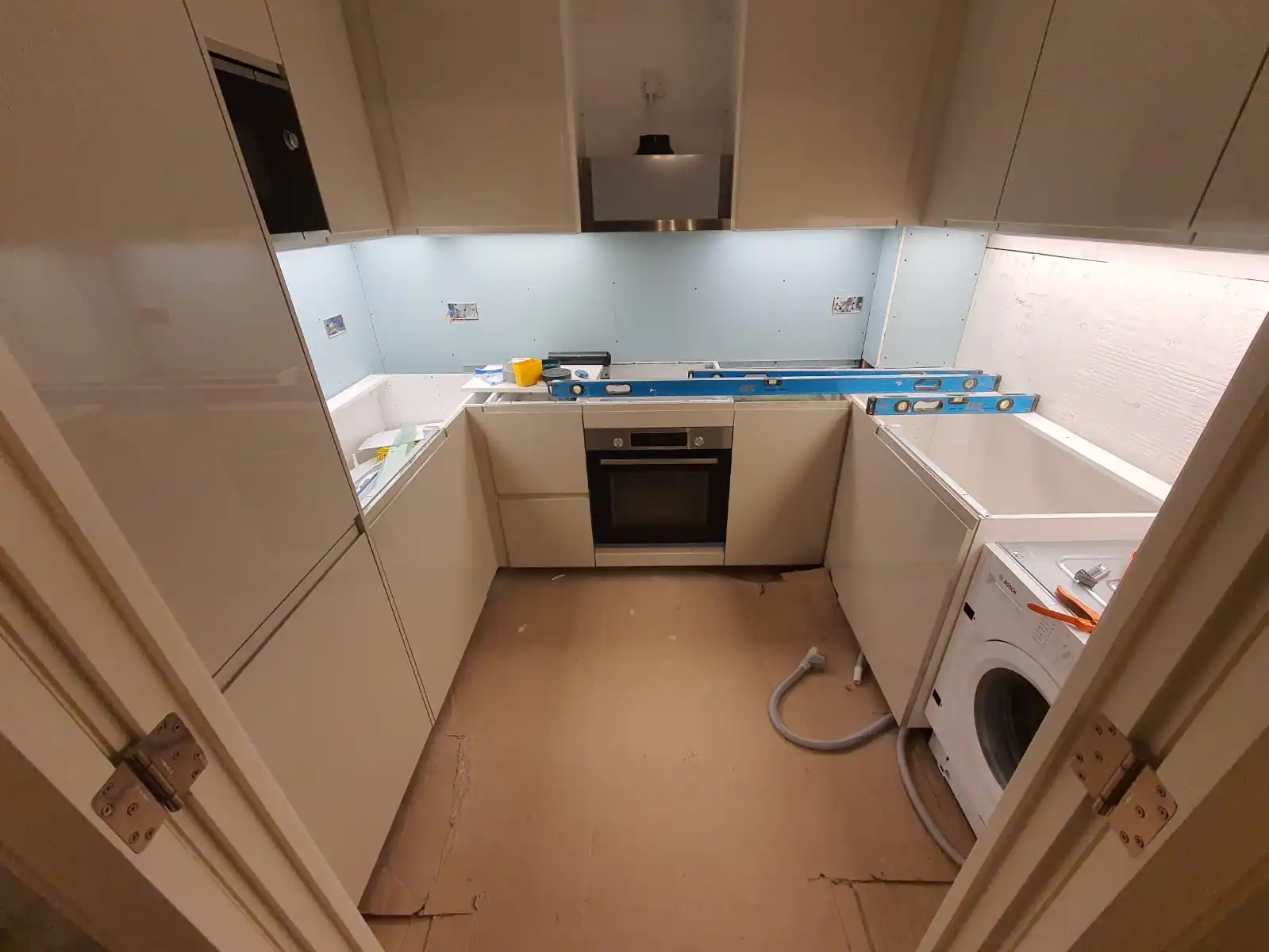 We want to add value, never remove.
We even went further on the lighting concept, by factoring it into the overall design of the entire kitchen.
There are numerous reflective surfaces, especially with the ceiling light bouncing off the extravagantly shaped ventilator, so more thought than usual has to be considered when choosing the right materials.
Being aware of how the light could create a blinding distraction, is paramount to this operation.
The team stripped down all cabinets, removed appliances, as well as the flooring, so they knew the exact dimensions they will be working with.
The ceiling was left alone, as there was no need to create more work beyond the goal of the remodel, and it fitted in well with the planned design anyway.
The fittings and pipes remained in the same areas for the same reason above. The plug sockets will be upgraded to increase functionality, but the placement, again, is still in the same place.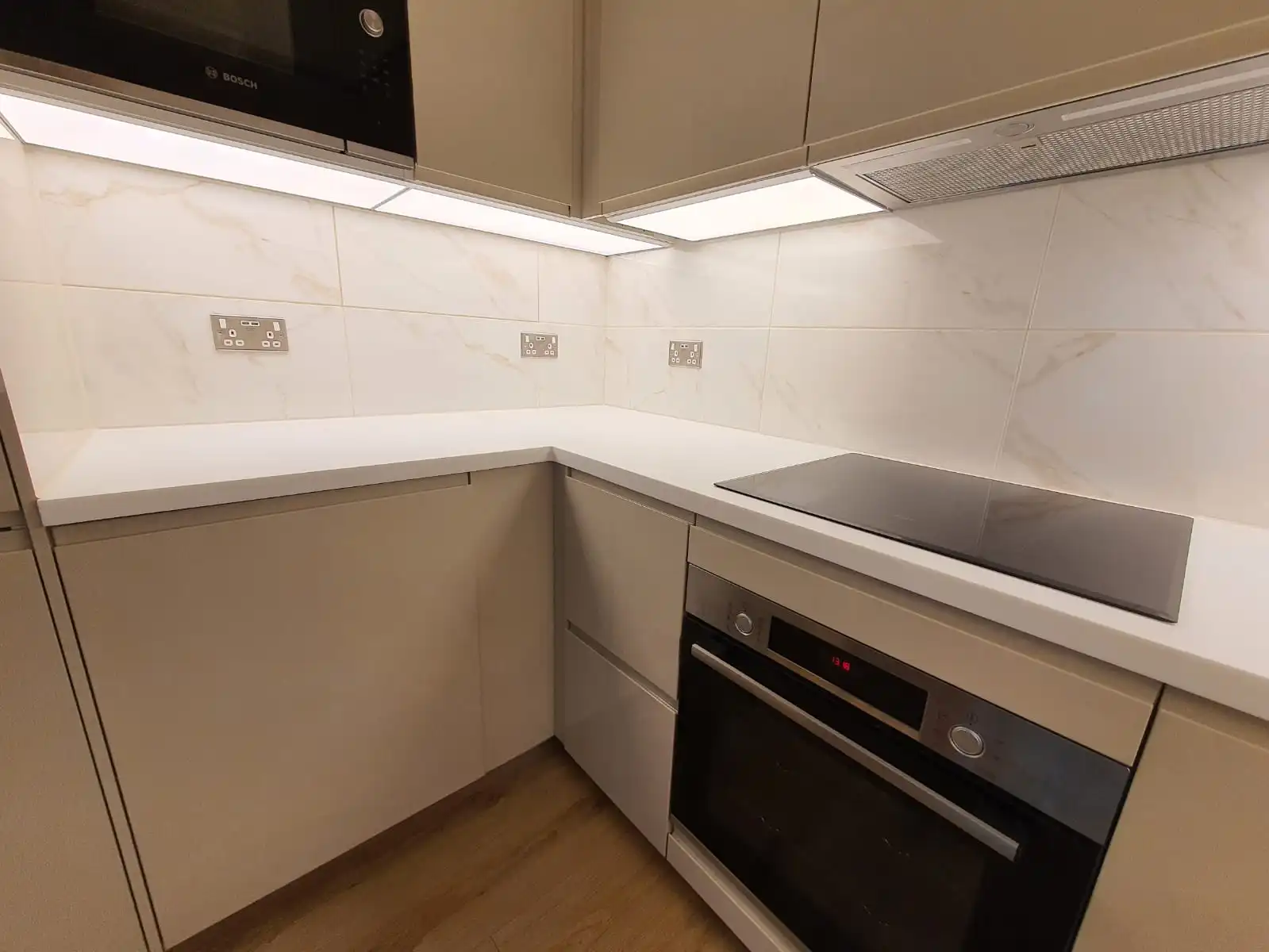 New Design Choice
The old design was quite crowded. You can count the cabinets, and there was a lot of them. You can read why being able to count something is a bad thing in this post here.
On a positive note, more cabinets means you can compartmentalize different types of kitchen things, like groceries, cleaning tools, types of plates and bowls, that sort of stuff.

But for a small space, again, crowded. A bigger kitchen would lend itself well to numerous cabinets, but this isn't the case. So instead, bigger cupboards, with plenty of shelve space, will fit the new design a lot better.
Lighting with the metal cabinets and appliances in the old design were functionally impractical. Even from the photo, you can see how it glares off the metal, which can actually be dangerous in an area with sharp objects and boiling containers.
Appliances And Colour Scheme
The colour scheme has been converted from the metal, grey design, into a bright and inviting white-based colour scheme design.
With the lighting being the main consideration, it's better to work with it, rather than against it.
White is a less reflective colour, so there's also less chance of any light source obstructing your vision. The example being the light bouncing off any reflective material, like the ventilator in the before pictures from and the ceiling light above it.
Appliances that can be hidden, have been hidden. The fridge, along with the washing machine, both have their dedicated cabinets, to match the overall look of the kitchen itself.
This enables the client to be able to choose whatever appliance they want, of any colour or function, without sacrificing the aesthetic.
The cabinets, as promised, have also changed to match the colour scheme. To minimize space usage as much as possible, these cabinets have no handles, and use grips instead.
You may not think it, but handles that stick out take up the space below them also, and always present the danger of knocking the back of your head whilst you're raising yourself.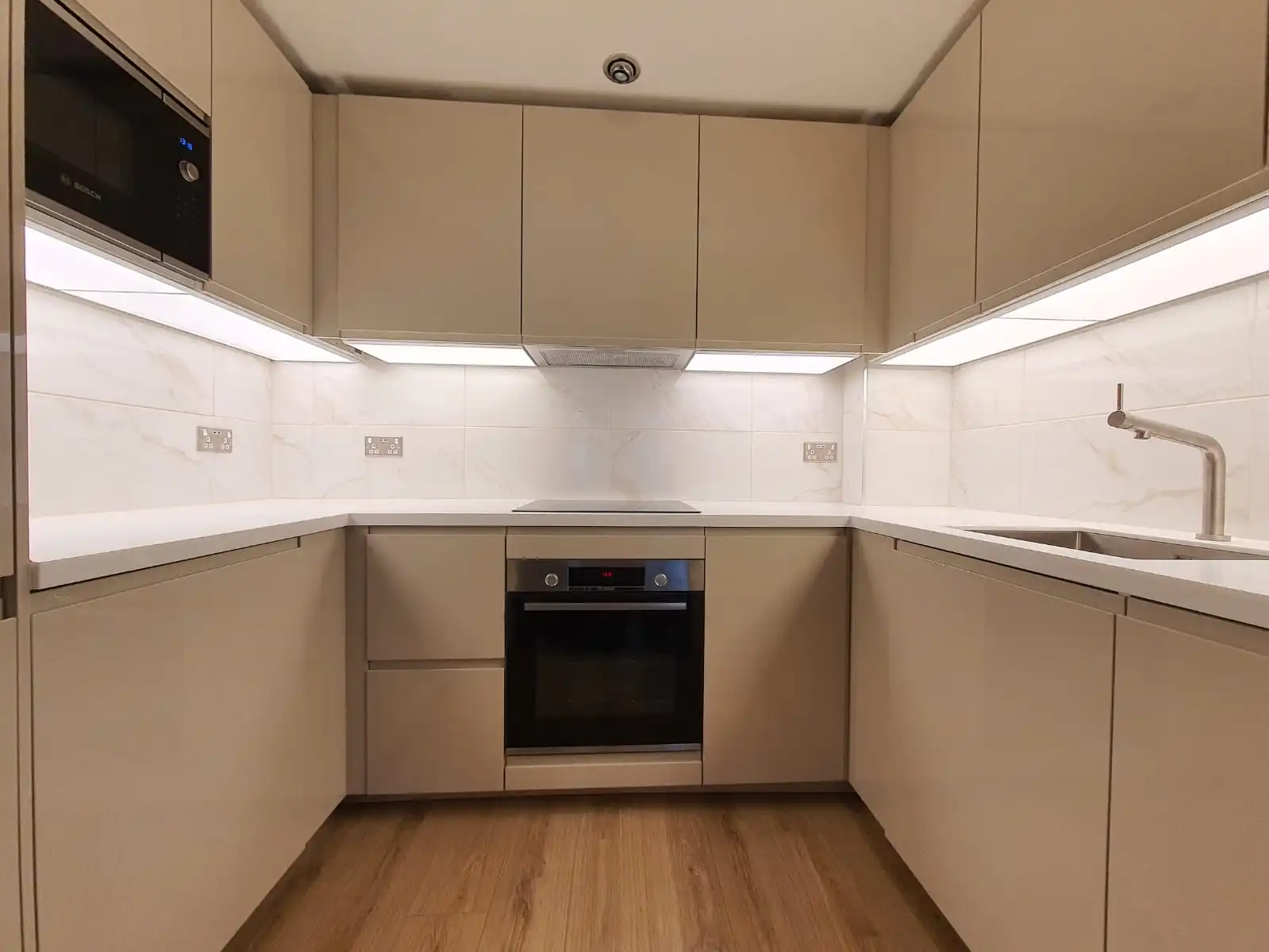 The Result
In the end, what you see is a functional, space aware, kitchen. Functionality over flash, which is perfectly fine for any homeowner.
There are many subtle adjustments to the kitchen design that we'll address now, as they're easy to miss.
Summary
The kitchen has been transformed into a compact, easy to use, and easy to look at design. The colour scheme works with the lights, and multiple quality of life changes have been implemented.
When redesigning, it's not always about what looks the best, it's about what works the most. Making a kitchen easier to work in, as well as safer, are perfectly good reasons to pursue a kitchen remodel.
Make sure to consult an expert before you make any changes. Buildiro lists top quality products from approved vendors, so you don't have to worry about what you're buying. Start your search for the product you require here, and leave the rest to us. We've got you covered.
Previous Remodels:
Project made by: LM Solutions Ltd.
Proud of your new kitchen? Bathroom got a makeover? Send us an email about it at magazine@buildiro.com, and we'll write about it in our magazine!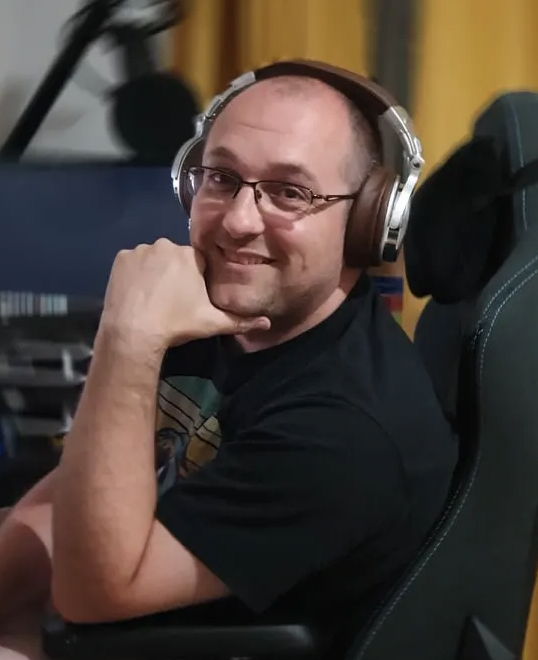 Matt is a professional copywriter and researcher over at https://sucklessatcontent.com/. When he can be prised away from his PC, his wife enjoys setting him DIY tasks around the house.