Do you furnish housing? Believe that well-chosen lighting can do wonders. However, finding your way around and choosing the right one in the rich assortment of lighting fixtures can sometimes be challenging. Our article will help you select lighting for the living room, kitchen, bedroom, children's room, bathroom and office.
Living Room
Since the living room is usually the centre of events, where we relax, welcome visitors or watch our favourite TV shows, we should carefully consider the lighting of these spaces. It is also appropriate to divide the living room into individual zones – central lights, indirect lighting, etc., and decorative lighting elements.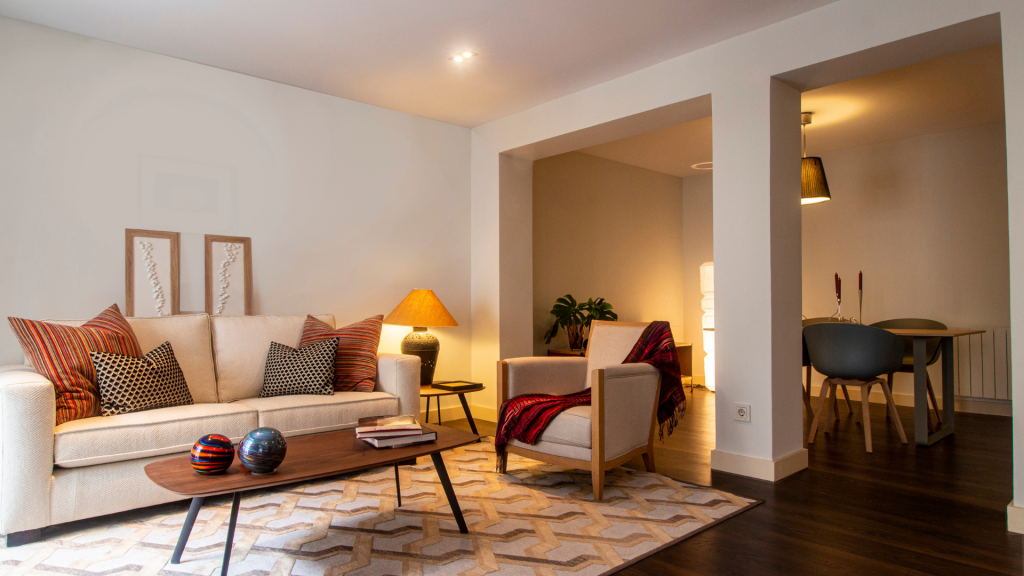 Each zone should have independent control. During the day, you can turn on the main lights in the living room, while for a pleasant evening, you can use dimmed lighting. Darkness can be easily solved with a central lamp with a dimming function, which ensures a lower brightness.
Hanging chandeliers look great in rooms with higher ceilings, while ceiling lights represent a space-saving solution. Remember that the central lighting should be strong enough to illuminate the room. For even brightness, please place it in the centre of the living room.
And how to illuminate other parts of the room?
Indirect lighting will be perfectly replaced by wall lamps reflecting off the walls. Spotlights built into the ceiling are also popular. It optically enlarges the room and provides a softer, more muted light.
Other lighting elements should already be dependent on your daily routine. The designed black floor lamp will be useful for reading or evening conversations. Illuminated LED strips look great on TVs, furniture, etc. For example, no one will miss such a glass showcase with the most important items.
Kitchen Lighting
We also usually spend much time in the kitchen/dining room, preparing lunch for the family or entertaining friends at the dining table. The central ceiling light is the basis of success. Additional lighting directly at the work surface in the form of "spotlights" or wall lights above the kitchen counter (LED strips, LED tubes) is also very suitable or even necessary.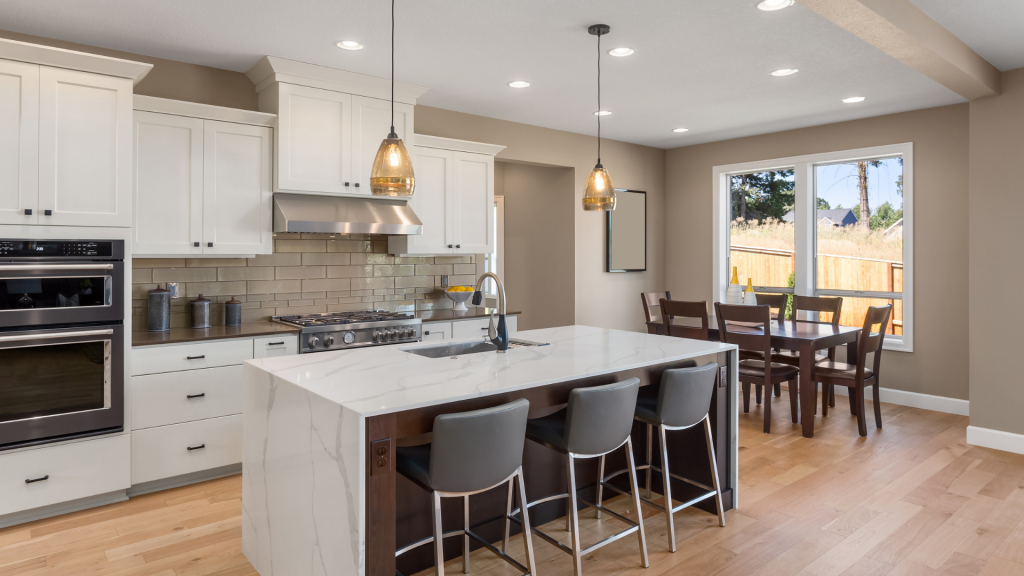 Whether to choose additional lights depends on the size of your kitchen. A light fixture for the kitchen island, above the dining table, etc., would be suitable. For work surfaces, it is ideal to use a neutral white colour of light (3,500 to 6,000 K); in other parts of the kitchen, warm white (1,800 to 3,000 K) will be more pleasant. , which creates a cosy atmosphere. Remember to consider the kitchen's overall design when choosing light fixtures and keep the lighting in a similar tone.
Bedroom Lighting
Although the bedroom is mostly used for sleeping, with the right lighting, you can enjoy the comfort of your bed for relaxation, such as reading books or listening to podcasts. Choose the central light/lights with less brightness and warmer colours; waking up from a warm bed with harsh brightness is unpleasant. Bulbs weighing 2700 to 3000 K will be more than enough for you.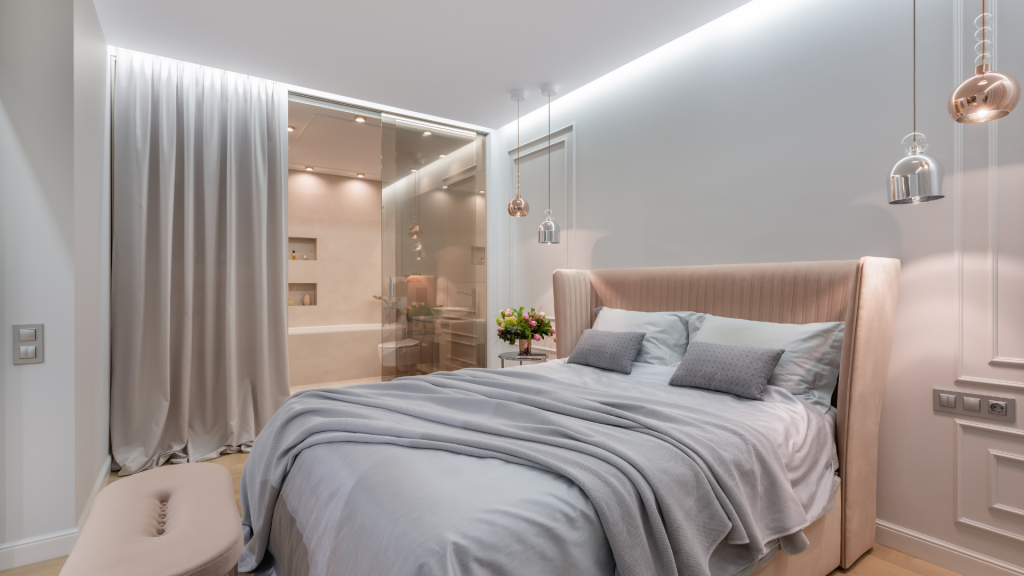 If you have a small, cosy bedroom, a designer hanging chandelier can easily become a central element that catches your eye. But watch out for low ceilings! In this case, choose a recessed or built-in light. The wall lamps on both sides of the bed also have a pleasant effect. If you have clothes stored in the bedroom or connected to the wardrobe, supplement the central lighting with built-in lights and LED strips directly in the cabinet.
Other light points include, for example, bedside lamps. Thanks to the wide range, today, you can also choose lamps with brightness or colour settings to adapt them to current needs.
Kids Bedroom Lighting
Do you care that the children feel comfortable in their room? Be sure to choose the right lighting!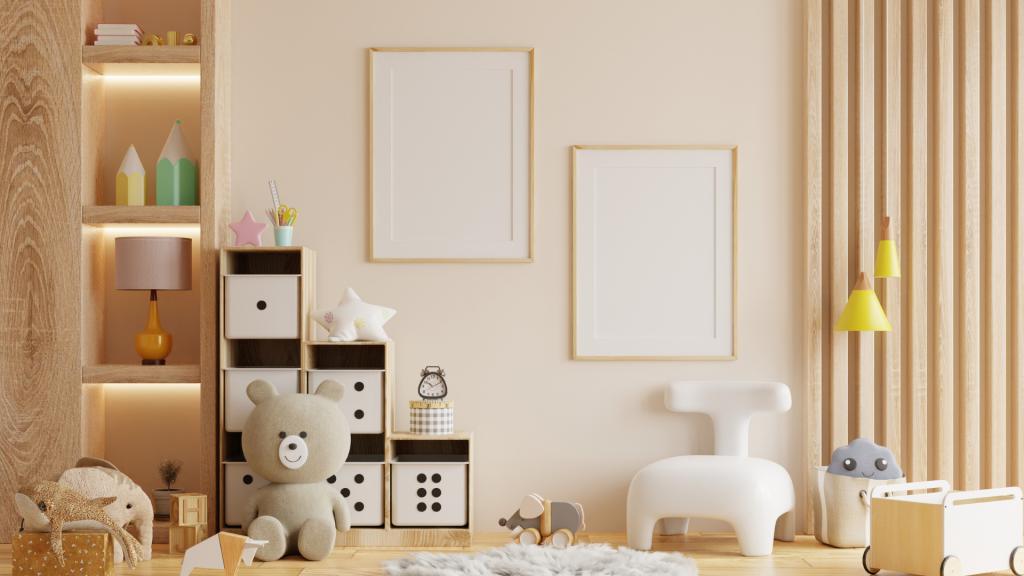 The basis is a central ceiling light with a warm white light. You can easily reach for an elegant, discreet light for older children and teenagers. The light with the option to adjust the colours will make you happy. However, if the room is intended for smaller children, why not get something more colourful? In our offer of children's ceiling lights, models with the design of stars, night skies, toy cars and others are waiting for you.
Supplementing the central light with a "work" table lamp, whether your child will be drawing, writing homework or studying for a test, is advisable. Its height should be approx. 30 cm, and it should aim at the work table from above or from the side. Night lights are also popular, helping the little ones overcome their fear of the dark. However, remember to place them so they do not shine into the child's eyes! A very similar function is performed by smaller wall lights, for example, with the motif of a unicorn, a rainbow or a cat.
Bathroom Lighting
Bathroom lighting can again be divided into central and additional lighting. When choosing, ensure the IP standard protects all light sources. After all, these are wet rooms. We also recommend considering the room's dimensions – it is usually a smaller area where a ceiling-mounted or recessed light will be useful. Spotlights also look great.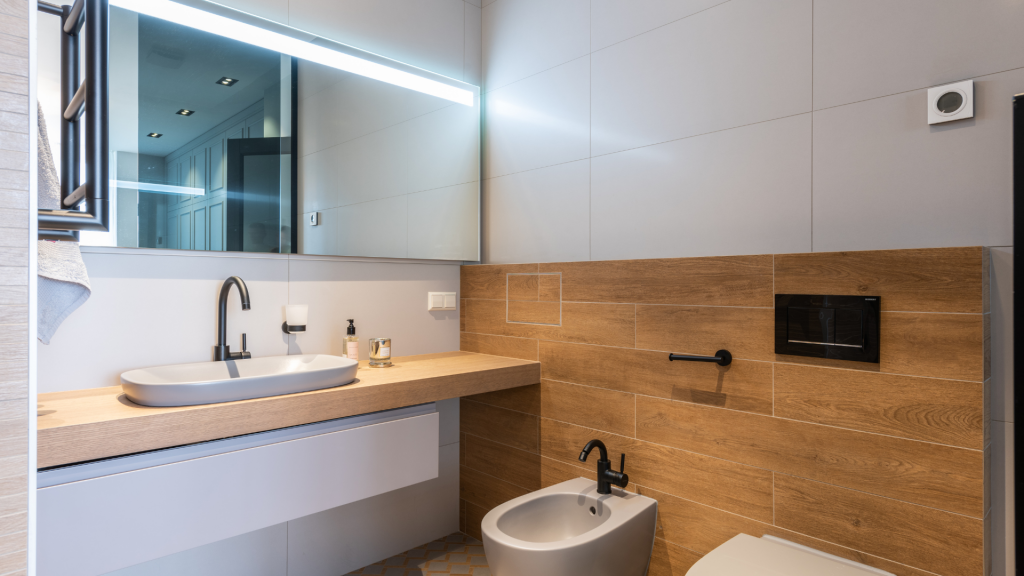 And since the bathroom is also used for beautifying purposes, you probably have a mirror in it as well. You can light it up with wall lights – an LED lamp directly above the mirror or lights placed on the sides. Mirrors with built-in LED lighting are available today, which fulfil their purpose perfectly, and in addition, they look cool and modern. Cosmetic mirrors with magnification or integrated lighting are also handy helpers.
Study Lighting
Does your house or apartment also have a study/office? Choosing the right lighting will boost your productivity and pay off!
So how to choose lighting for the office?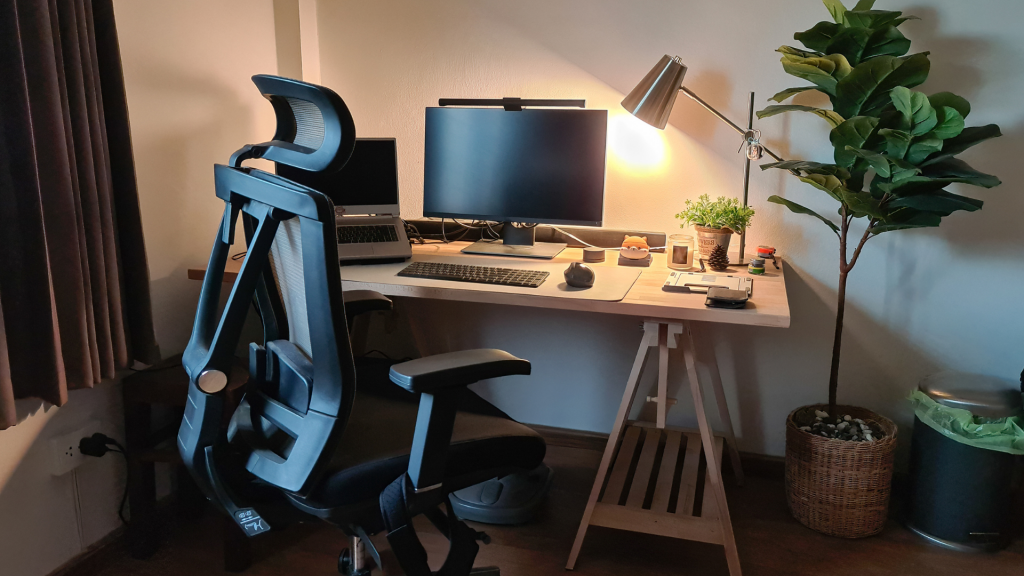 Choose central lighting such that it sufficiently illuminates the entire room. No need to look for design pieces; focus more on performance. White light valued at 3,000 to 6,500 K is ideal for work and does not tire the eyes.
Your office should also include a desk lamp that illuminates the entire desk area. Lights with the possibility of positioning, most often with a flexible arm, are practical. If you are right-handed, place the lamp on the left side; if you write with your left hand, choose the right side.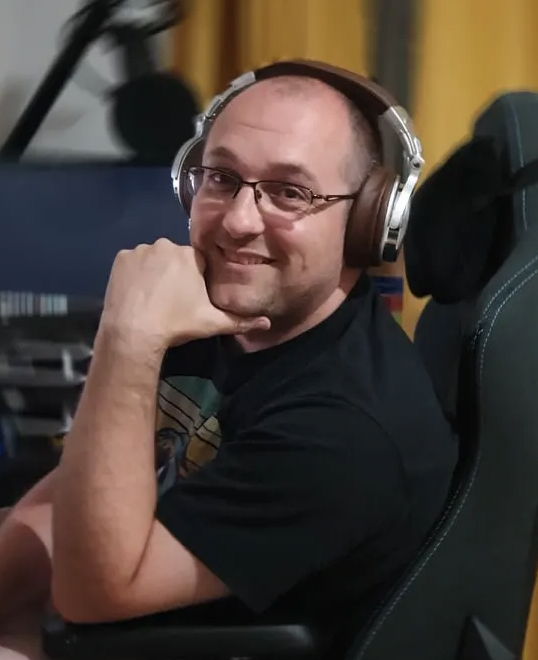 Matt is a professional copywriter and researcher over at https://sucklessatcontent.com/. When he can be prised away from his PC, his wife enjoys setting him DIY tasks around the house.