Ceiling spotlights can be used to enhance the lighting in your living room, bedroom, or other indoor areas. There are several kinds of ceiling spotlights, including flush mount, battery-powered, recessed, directional, and adjustable. LED ceiling spotlights are among the most common types of ceiling spotlights. If you want to know what style of ceiling spotlight will look best in your space, consider LED flush mounts with a contemporary look as they are simple to match any home interior. Buildiro is looking for the best offers and prices on ceiling spotlights across the UK. Our lights are sourced from high-quality suppliers including Maytoni, SLV, Elobra, Phillips, and Casablanca. Our lights are of the highest quality, and our prices are very competitive. In addition to premium ceiling spotlights, we also offer building materials and other lighting solutions here at Buildiro.
Let's take a look at some ceiling spotlight ideas!
Ceiling Spotlights – Bathroom
Zela bathroom spotlight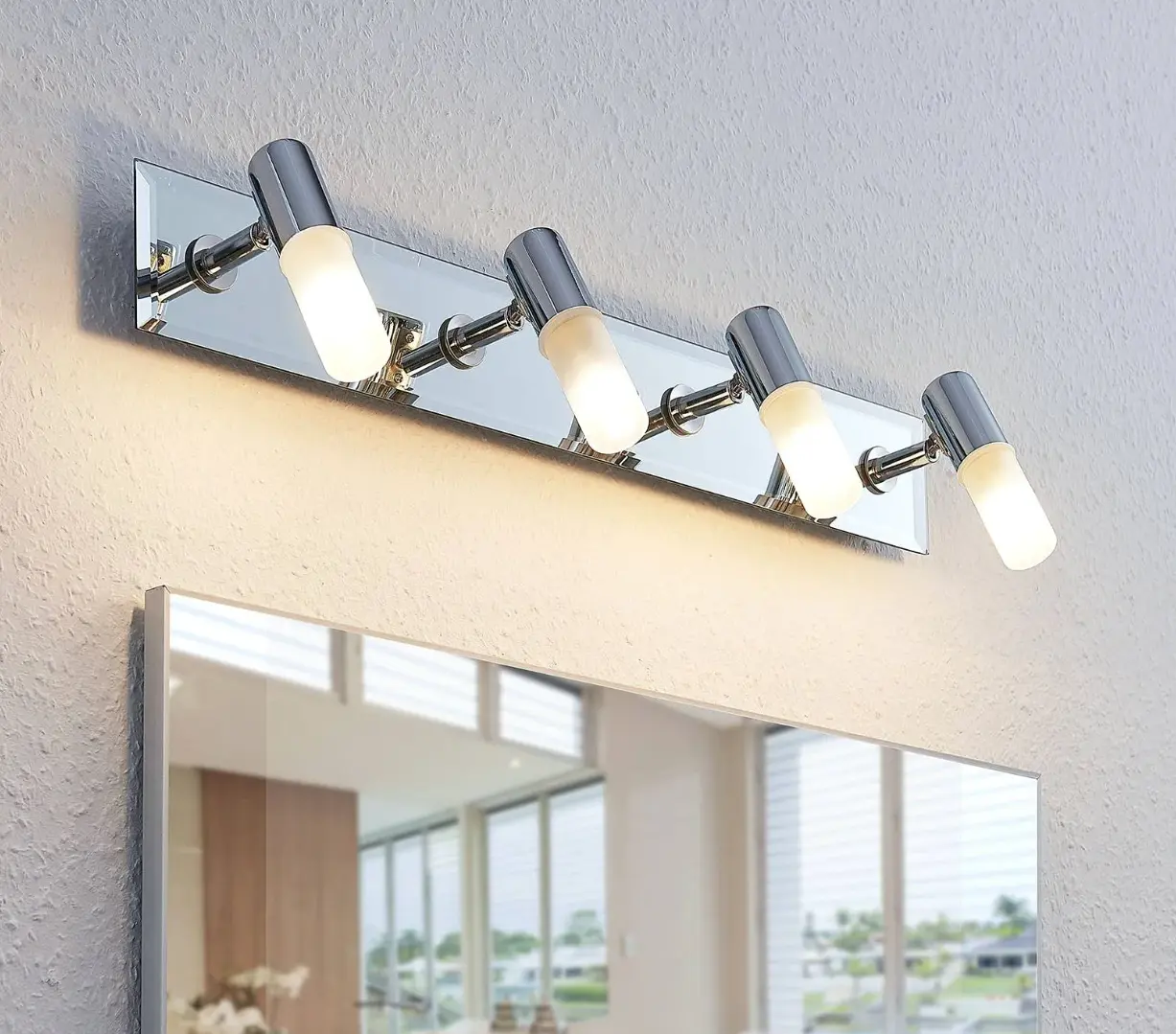 Zela spotlights are great for bathrooms because they are waterproof and have an IP code of IP44. Additionally, they are suitable for ceiling or wall lighting in other rooms, because of their cylindrical lighting and targeted light output. Furthermore, the spotlights, which emit targeted light thanks to their cylindrical shape, are quickly adjustable. They can be rotated or pivoted, and they are adjusted in no time thanks to their white glass. This modern chrome spotlight blends nicely into a large range of environments and is adaptable in its use because of its aesthetics.
Price History
Myvat Chrome effect 5 Lamp Bathroom Ceiling light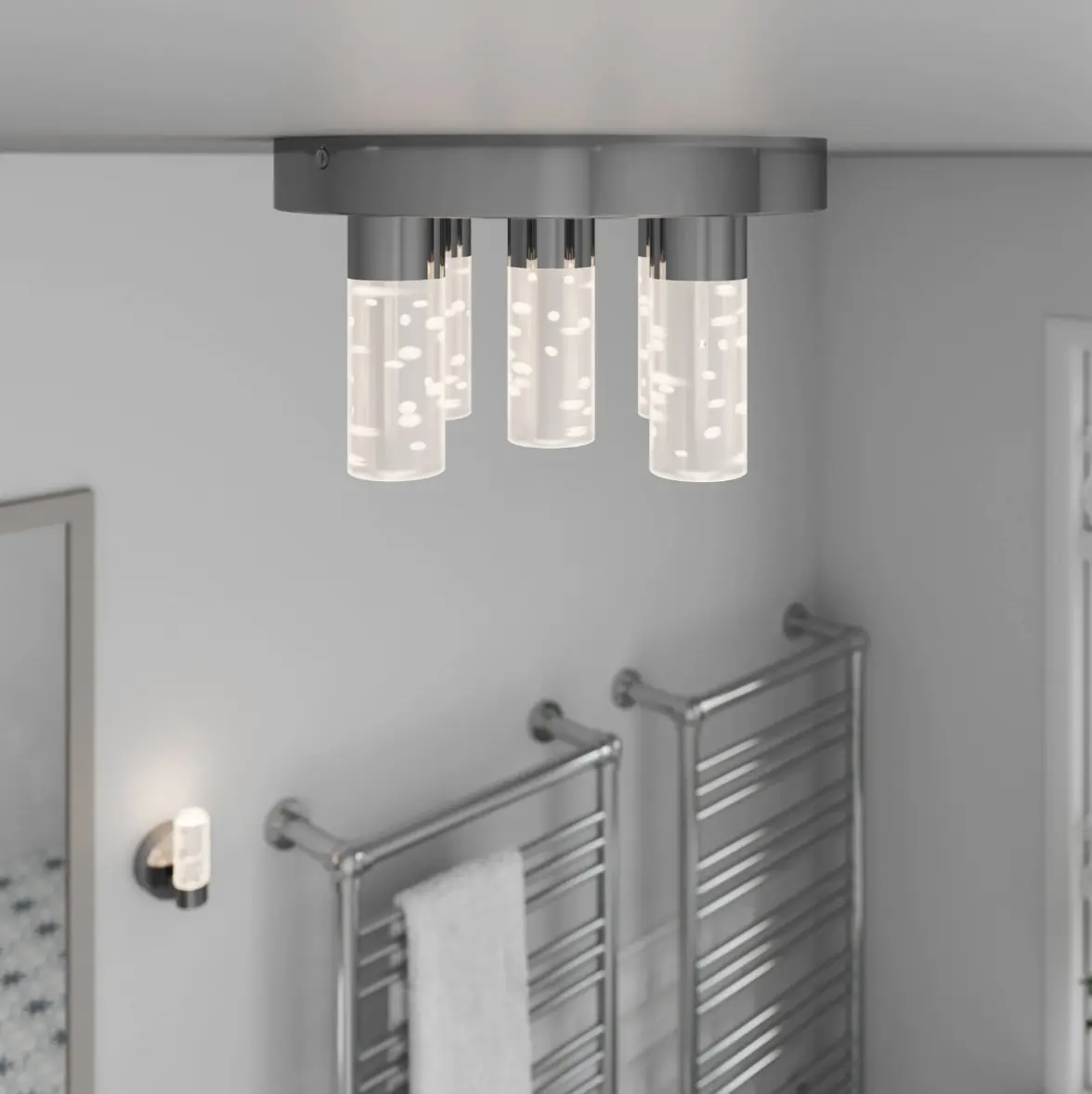 The Myvat Chrome effect 5 Lamp Bathroom Ceiling Light is a great addition for any bathroom. It comes with an elegant and stylish design that will match most decors and styles. The light is very easy to install, and it is also very energy efficient. The light comes with a dimmer switch, so you can control the brightness of the light. You can use this light in any bathroom and enjoy a relaxing atmosphere.
You won't have to worry about waking up in the middle of the night to use the bathroom because the light is very bright. You can also adjust the light to any brightness you want. You can set it to a dim light so that it is not too bright if you want to relax in the bathroom. The light comes with a sensor that turns it on automatically when someone walks into the bathroom. You won't have to worry about turning it on every time you need it.
Price History
Dejan bathroom wall light in chrome, two bulbs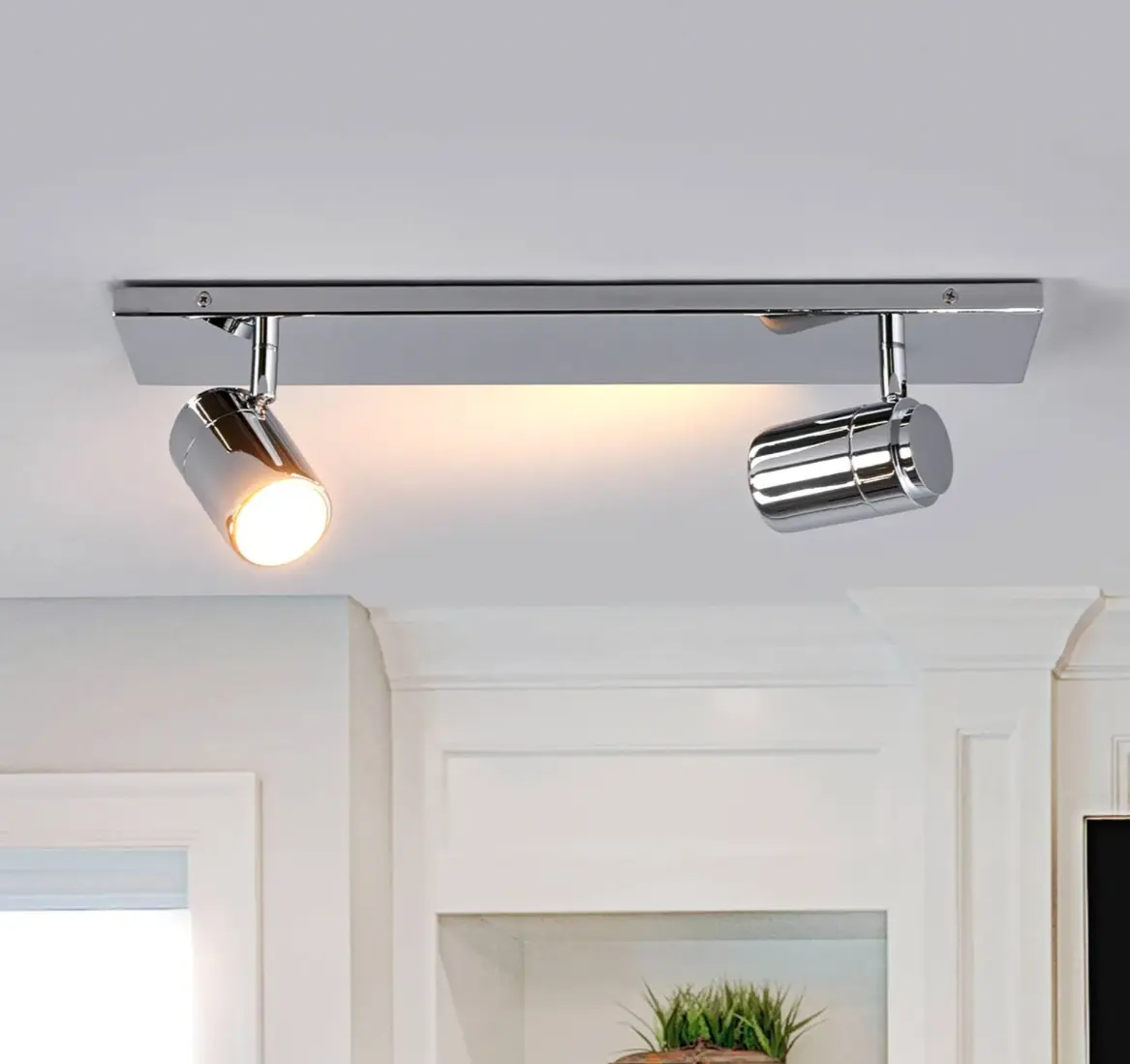 Every aspect of the Dejan wall light, from the rectangular wall fitting to the spotlights, is plated in shiny chrome. When used over a mirror, the spotlights direct the light down – exactly where it is needed. Because of its IP44 rating, Dejan can also be used in locations where moisture is present. Don't let this prevent you from using the light elsewhere, such as in the corridor as a picture light.
Price History
Kitchen Ceiling Spotlights
Black and golden kitchen spotlight Julin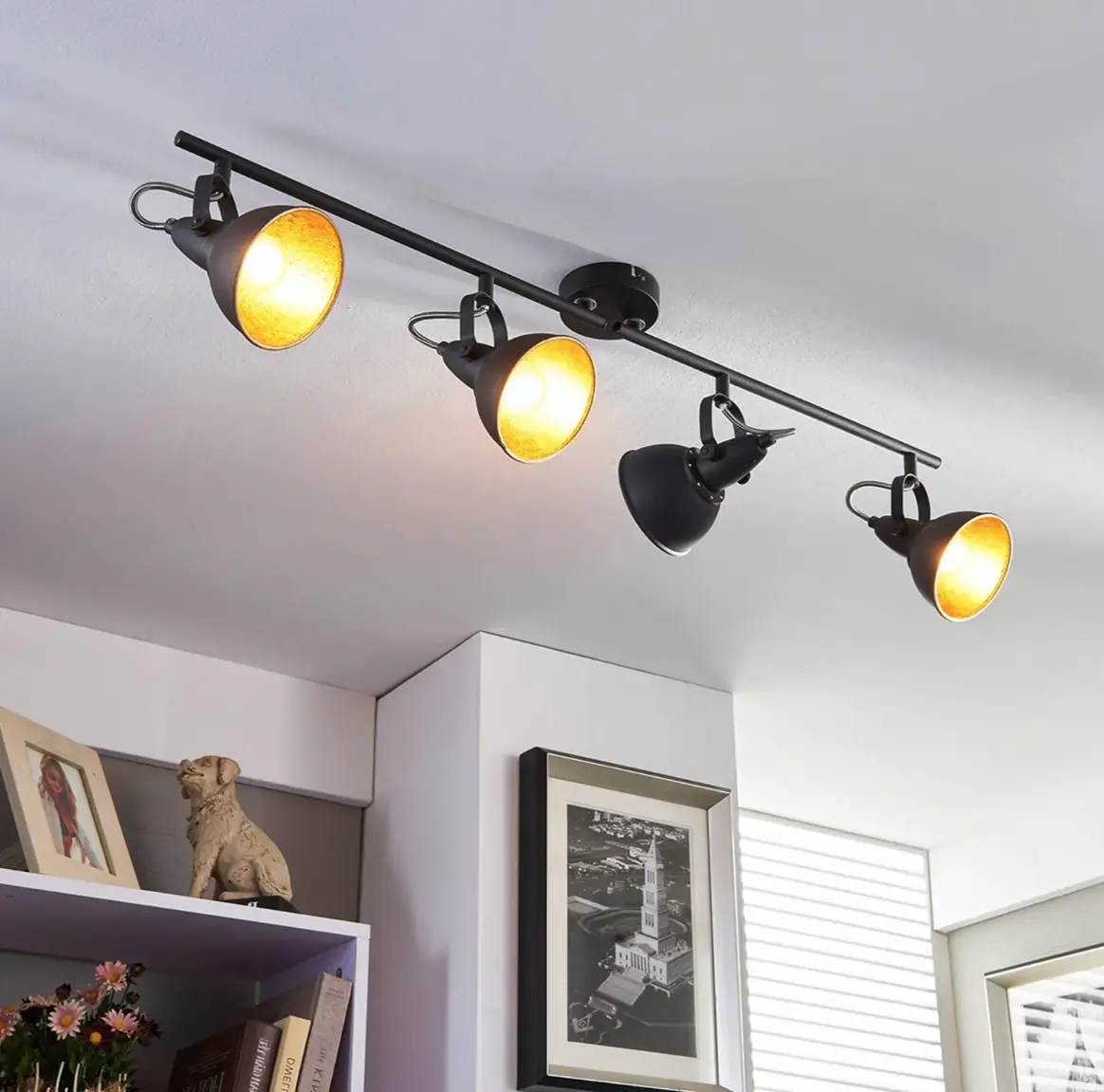 When paired, black and gold create a warming presence in interior design. In addition to providing a contemporary feel, this colour scheme emphasises the warmth of gold without veering into an outdated style. Because there is no other colour that emits light as warmly as gold, it is particularly well suited for kitchens, where light and illumination are prominent. Because each lampshade can be turned and positioned in any direction, Julin is an excellent kitchen spotlight choice, as you are not constrained to a single, unfavourable lighting direction. Rather, you may keep altering the direction in which the light shines.
Price History
Vintage kitchen lamp Julin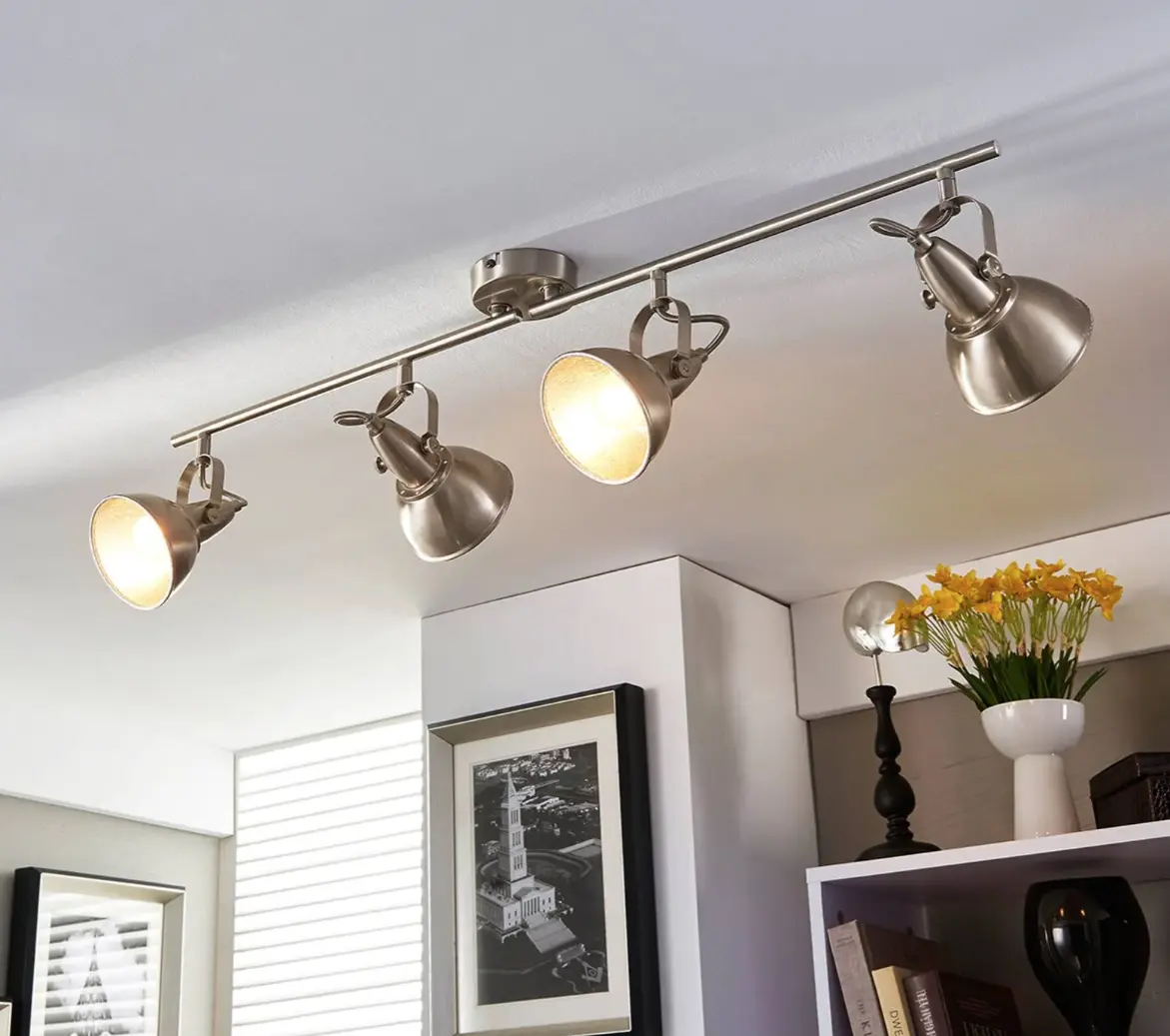 The silver foil covering the inner surface of the lampshades in this kitchen lamp creates the impression that the colour is starting to peel off, creating a vintage appearance. The matt nickel colour of the lampshade and frame is contrasted by the outside, which is covered with silver foil. Each individual lampshade of this vintage kitchen light can be rotated and pivoted as required. It provides extensive kitchen lighting.
Price History
Lindby Joudy ceiling lamp, 4-bulb, dark bronze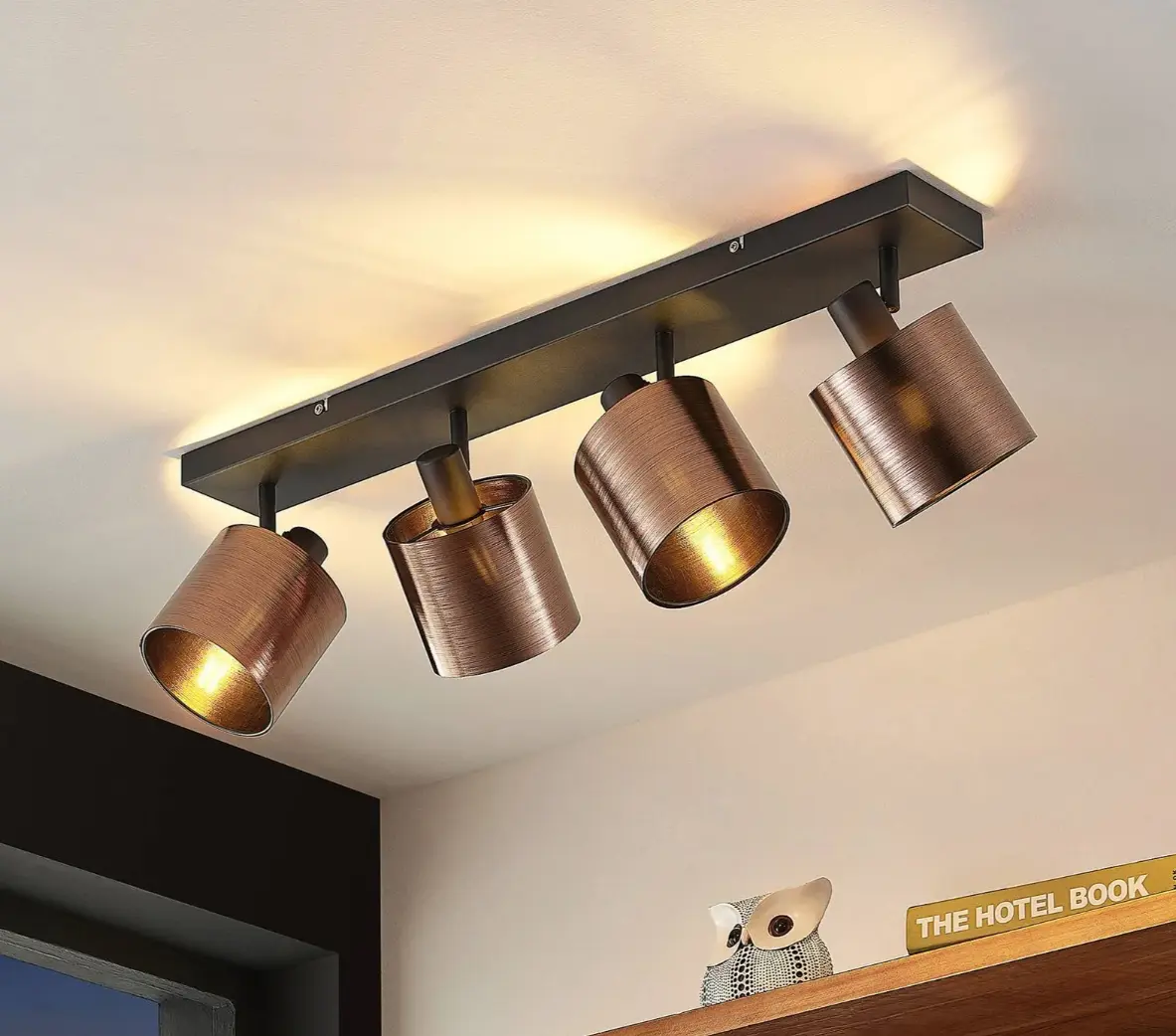 The light heads on Joudy are made from PVC and feature a modern cylinder shape. Because the material is fairly thin, the light shines through a bit and the material appears somewhat transparent, the colour is bronze with a dark surface and has a noble metallic gleam. The lighting is pleasantly dim when switched on.
This ceiling lamp is suitable for hallways, living rooms, and kitchens, providing adequate light for the four-bulb version.
Price History
Spotlights Advisor
How Many Spotlights Do I Need?
The truth is, there is no one-size-fits-all approach to lighting. Lighting and interior design professionals, however, have a few guidelines to help them find a good balance, ensuring that the light is distributed evenly.
The goal is for the lighting in your kitchen not to be the first thing you notice when you walk into the room. You shouldn't be looking for the lights or overwhelmed by an area inundated with excessive light. Here's how to determine how many you need.
Consider Power and Brightness
You've become familiar with wattage as a method of describing bulb brightness – a 60-watt bulb is brighter than a 40-watt bulb. However, remember that wattage merely describes the quantity of electrical energy leaving the bulb, not the total light it produces. It was an appropriate measure of brightness because most halogen bulbs maintained the same level of efficiency. Since LED spotlights are much more efficient than halogen bulbs, wattage is no longer a praiseworthy measurement of brightness.
Ideal Distance Between the Spotlights
The primary thing to think about when purchasing spotlights is the beam angle. The beam angle refers to the amount of light being emitted. Spotlights with beam angles between 25 and 60 degrees are common. Narrow beams produce a small, intense cone of light and are therefore ideal for task lighting. Wide beams, on the other hand, provide expansive lighting for general household use.
When spotlights are positioned too close to the wall, shadows are created around the room's edge, making the room seem smaller. To avoid this, keep your spotlights 1 meter away from the ceiling edges.
Summary
Ceiling spotlights are perfect for accentuating dining tables or light fixtures or even highlighting your plants. They are some of the easiest lights to install and run much more efficiently than traditional lighting alternatives. If you're looking for a quick, easy upgrade for your home, then light fixtures like ceiling spotlights might be for you.
Important! In case you are not sure how to install ceiling spotlights, call your local electrician!