When it comes to interior design and home improvement, even the most minor details can make a significant impact. One such detail that often goes overlooked but can make a world of difference in the aesthetics of your space is the skirting board. Skirting boards, also known as baseboards or mopboards, protect the walls from abrasions and add a touch of elegance to the room. However, choosing the right paint for skirting boards is a crucial decision that can determine the longevity of the boards' appearance and their overall contribution to your interior's charm.
Whether you're embarking on a renovation project or simply looking to refresh your living spaces, selecting the best paint for skirting boards should be a top consideration. The right paint enhances the visual appeal and guards against wear and tear, moisture, and cleaning efforts. With an array of paint options available on the market, each claiming to be the best, navigating this decision might seem overwhelming. But fear not, as we've prepared this comprehensive guide to help you make an informed choice.
To provide insights from the experts, we contacted professional painters and decorators from Renomates.co.uk to get their opinions on what constitutes the best paint for skirting boards. These seasoned professionals understand different paints' nuances and applications, making their input invaluable in your decision-making process.
Best Water-Based Paint for Skirting Boards
Professionals suggest using high-quality water-based paint for skirting boards for easy application and long-lasting durability.
Dulux Trade Diamond Pure Brilliant White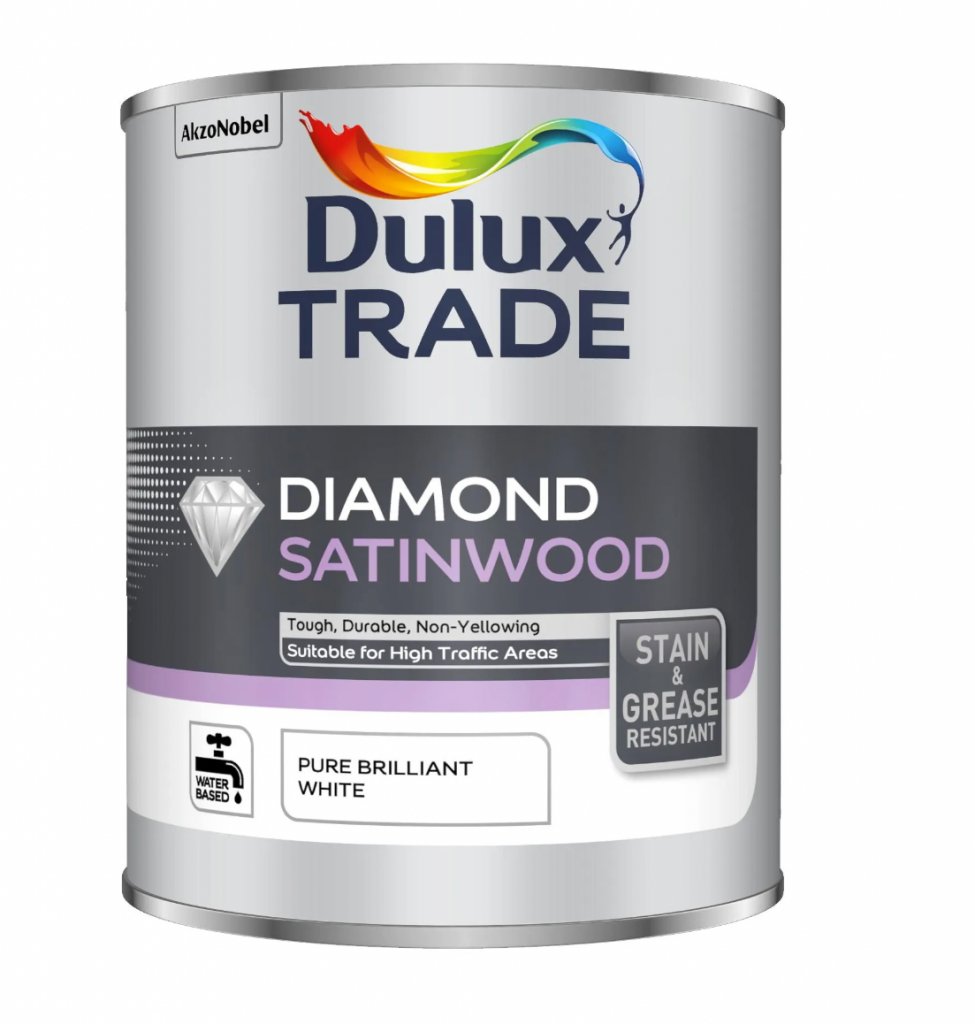 Dulux Trade Diamond Satinwood is the ideal paint choice for an enduring satin finish. It provides exceptional protection against scratches, stains, and grease, making it perfect for high-traffic areas, such as hallways, staircases, and access points. Additionally, its water-based formula ensures quick drying and low odour, making it safe and practical for any project.
To achieve the best results, using the right tools and applying two full coats for optimal coverage is crucial. A high-quality brush or a short pile synthetic or mohair roller designed for water-based paints will work best. Stir the paint thoroughly before use.
If you plan to make a significant colour change, consider applying a Dulux Trade Quick Dry Undercoat first. It will create an even base and ensure the final colour looks as vibrant and accurate to life as possible.
It's important to note that Dulux Trade Diamond Satinwood is suitable for use on metal and wood surfaces, provided they are sound, dry, clean, and grease-free. So whether you're working on a small DIY project or a larger renovation project, this paint is perfect for achieving a beautiful, long-lasting finish.
Farrow and Ball School House White Gloss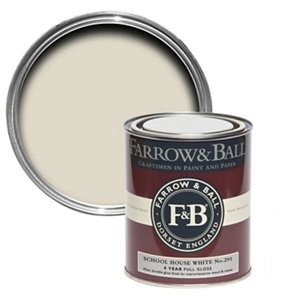 Consider School House White if you want an elegant and subtle paint colour. It's a timeless and radiant hue that can elevate any space. Pair it with colours like Shadow White, Shaded White, and Drop Cloth to complete the look.
Farrow & Ball's Full Gloss is perfect for achieving a high-gloss finish on interior and exterior wood and metal surfaces. It's durable, water-resistant, and can resist flaking, peeling, and fading for up to six years if used correctly. However, it's not recommended for use on exterior plastic surfaces or decking.
Full Gloss is easy to clean, maintain, and safe for children, with an A+ rating for indoor air quality. Use the White & Light Tones primer and undercoat in conjunction with Full Gloss for best results.
Dulux Quick Dry Satinwood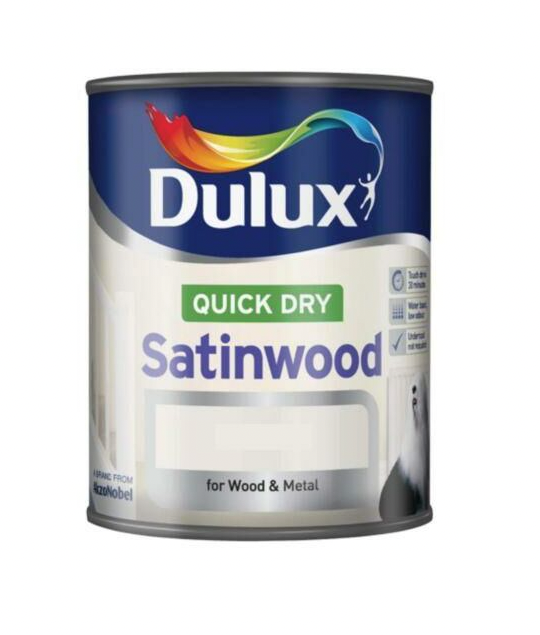 Dulux Quick Dry Satinwood offers a smooth satin finish that adds a touch of elegance without the high gloss of traditional paints. This versatile paint is perfect for wood and metal surfaces, including radiators. It's self-undercoating, non-yellowing, and easy to clean. Its Quick Dry, low-odour formula makes it a convenient and enjoyable choice for any indoor project.
Farrow and Ball Estate Lime White No. 1 Eggshell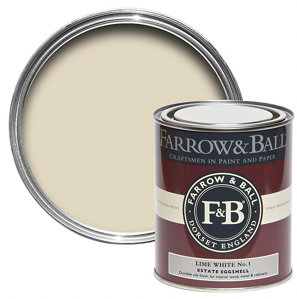 For those seeking a dependable and durable paint option, the 0.75L Farrow & Ball Estate Lime White No.1 Eggshell paint is worth considering. It offers top-notch protection and coverage with a smooth and refined sheen finish that adds a touch of sophistication to any surface. It can be applied using a brush, roller, or spray and dries within two hours after applying two coats. Furthermore, it has an impressive coverage of up to 9m² per 750ml, making it an economical choice for any painting project.
Best Oil-Based Paint for Skirting Boards
Experts recommend using high-quality oil-based paint for skirting boards to achieve a durable finish with improved resilience.
Johnstone's Gloss Brilliant White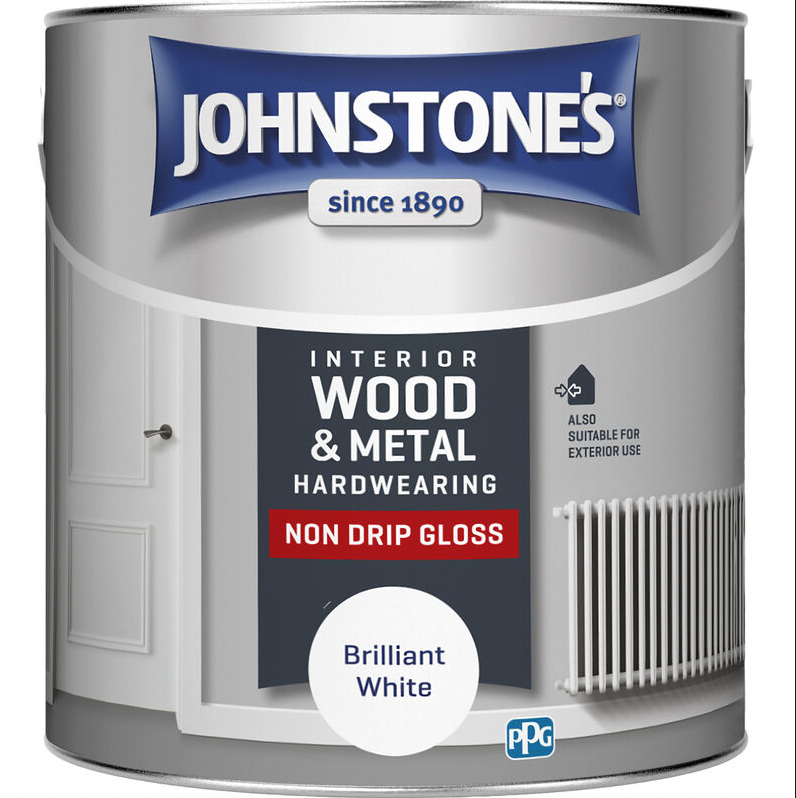 Introducing Johnstone's No Ordinary Paint One Coat Non-Drip Oil-Based Gloss – a top-tier product that delivers a long-lasting, high-gloss finish for all your indoor and outdoor wood and metal surfaces. With its uniquely formulated drip-resistant design, you can easily apply this paint without worrying about messy drips or streaks. Moreover, you won't need an undercoat, making this an even more convenient option for all your painting needs. Choose from various contemporary and classic shades to perfectly match your decor style. Each litre of Johnstone's No Ordinary Paint One Coat Non-Drip Oil-Based Gloss can cover up to 14 square metres and dries to the touch in 4-6 hours. For more information on this exceptional product, consider the following details: Brand – Johnstone's; Colour – Brilliant White; Manufacturer – PPG Architectural Coatings UK & Ireland; Model – 3201744-HH; Part Number – 306535; Size – 2.5L; Weight – 3.50 kg; Dimensions – 220 x 220 x 240 mm.
How to choose paint for the skirting board?
When selecting the right paint for your skirting boards, it's essential to consider factors such as finish type, colour compatibility, and durability, ensuring a choice that aligns perfectly with your desired aesthetic and practical requirements.
Oil or water-based paint?
The first thing to consider when choosing paint is the type of solvent used to dry it, which varies between water-based and oil-based paints.
Oil-based paint
Pros
Achieving a heightened level of luminosity is indeed feasible.
Slower drying paints require fewer brush strokes, making them easier to use.
Cons
The smell coming from oil-based paint is awful.
It is necessary to use either turpentine or white spirit to clean brushes.
White shades tend to turn yellow over time.
Water-based paint
Pros
Compared to oil-based paint, the drying process of water-based paints generally takes a shorter time.
Paints that are water-based emit less odour.
Water-based paints are less likely to yellow over time
Cons
Water-based paints have been known to be susceptible to chipping.
Minimised amounts of gloss.
Finish
When choosing the appropriate paint for skirting boards, it is essential to consider the paint's finish. The level of sheen in different paints determines the amount of light they reflect. The higher the shine, the more durable the paint against scuffing and marking. It is not recommended to use matte paint because it can accumulate dust and may be difficult to clean. Hence, it is advisable to opt for eggshell, satin, or gloss finishes for indoor woodwork as they provide a more robust and long-lasting solution against wear and tear.
Gloss finish
It's important to prioritise quality when painting interior trim, like doors and skirting boards. The best option is high-quality paint with a durable, reflective sheen finish. This type of paint not only looks great, but it also offers long-lasting protection against wear and tear. So, to ensure that your interior trim looks its best for years, invest in the highest quality paint available.
Eggshell finish
If you're seeking a paint finish encompassing a trifecta of qualities – low sheen, resilience, and effortless maintenance – look no further than the eggshell finish. This option is practical for everyday usage and adds a touch of contemporary elegance to any surface it's applied to. Its unique attributes make it an ideal choice for walls, ceilings, and other surfaces that demand a subtle yet sophisticated finish. Whether revamping your living space or giving your workplace a modern update, the eggshell finish is undoubtedly worth considering, as it blends aesthetics and functionality.
Satin finish
Consider a satin finish if you want a paint with a subtle sheen. It's less glossy than semi-gloss but shinier than matte. This versatile finish is perfect for walls, furniture, and other surfaces. The satin finish's smooth and visually pleasing look will make a lasting impact.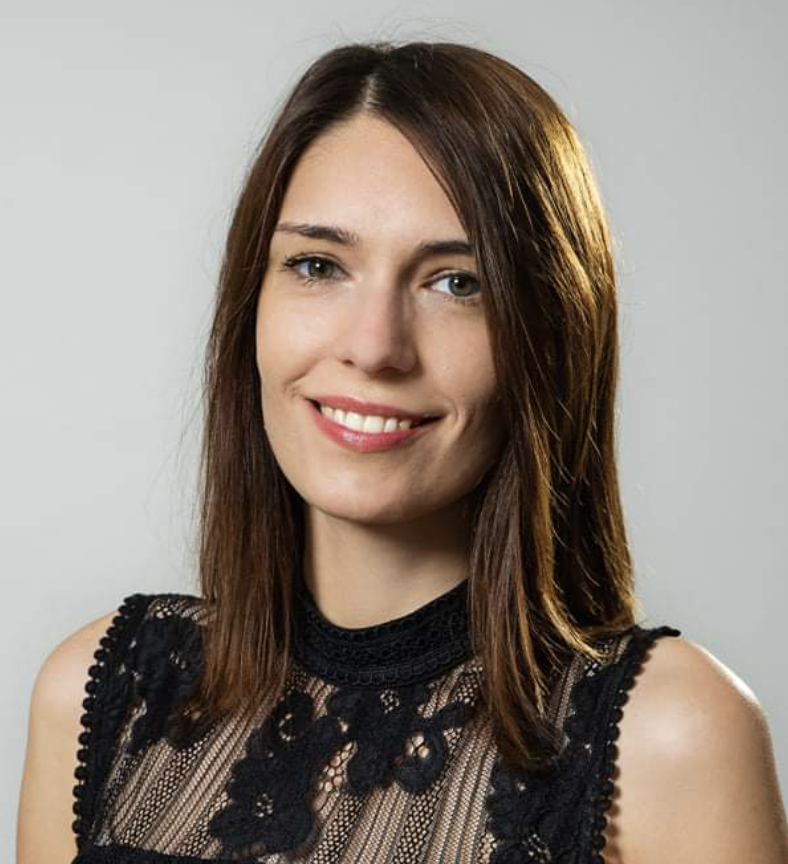 Andrea is a garden and DIY enthusiast. She always comes up with great ideas and the latest trends in the interior or outdoor design.