The mitre saw is an invaluable tool for tradespeople and do-it-yourselfers working with wood. This saw falls into the circular or circular saw category and is suitable for making the same cuts, so you can use it, for example, to produce slats, fences, boards, frames, etc. In addition to wood, you can cut aluminium, light metals and plastic using special discs.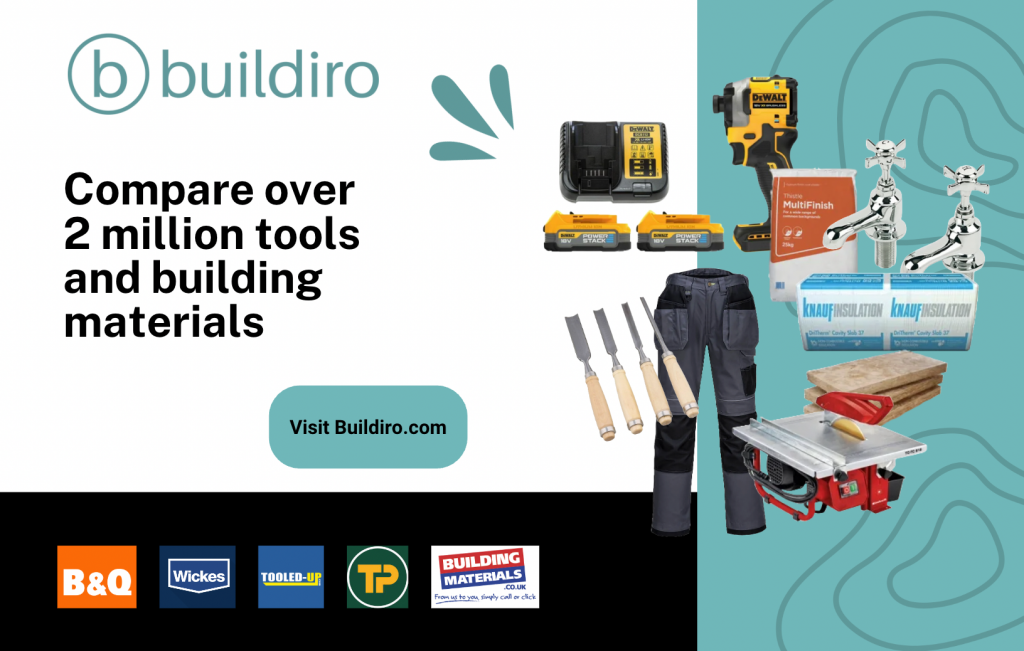 When choosing a mitre saw, the size and type of material to be processed must be considered. The frequency of use, the size of the cutting disc, and the required power or feed rate are also important.
You can buy a smaller table saw that can be carried relatively easily; those who will only work with the saw in one place can buy a saw complete with a table or a frame. A quality saw should also allow you to connect a vacuum cleaner to handle all the waste.
Read also: How to save money on building materials?
You can also choose from various sliding mitre saws. This feature allows for smoother and more precise cuts, making it an ideal tool for various cutting applications. With this enhancement, users can enjoy greater efficiency and accuracy in their work, ultimately leading to better results.
Corded mitre saws review
Bosch GCM 12 GDL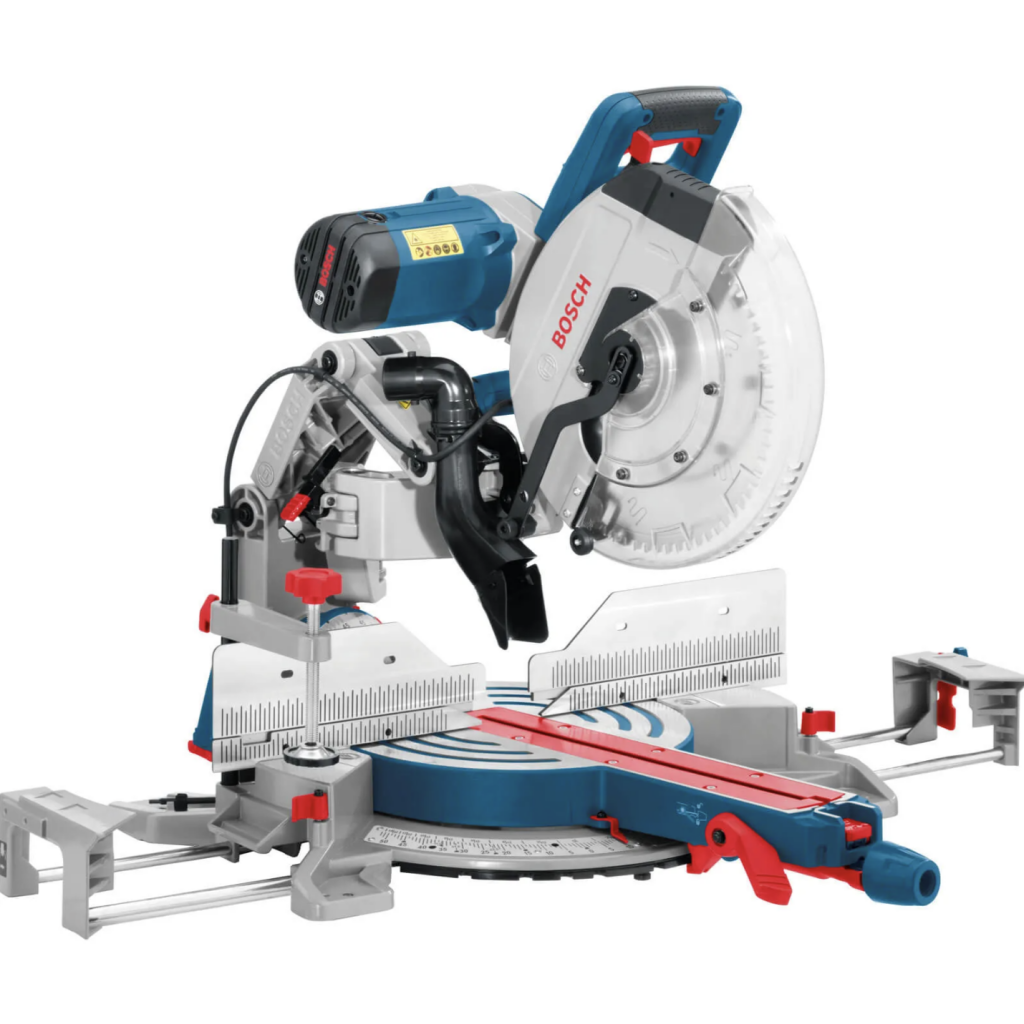 The Bosch GCM 12 GDL mitre saw is a tool for professionals. It will suit anyone who buys a mitre saw for regular use and wants to maintain the balance. The advantage of the saw is the versatility of use and the ability to change the cutting capacity from horizontal to vertical efficiently. The motor has an input of 2000 W, which means enough power for any cut. The disc has a diameter of approximately 30 cm and offers 3800 revolutions per minute. The construction has a radial arm and a saw with travel.
This mitre saw is equipped with a soft start function, which makes the start smooth and without annoying jerks. You can use this saw to cut various materials, from wood to plastic to aluminium alloys, depending on the blade used. You will find a blade for wood in the package with the saw. The equipment also includes clamping pliers and a screw for holding the cut material or a dust bag. We appreciate the build quality and robustness, reflected in the higher weight of 32.1 kg and the price.
Makita LS1018LN Slide Compound Mitre Saw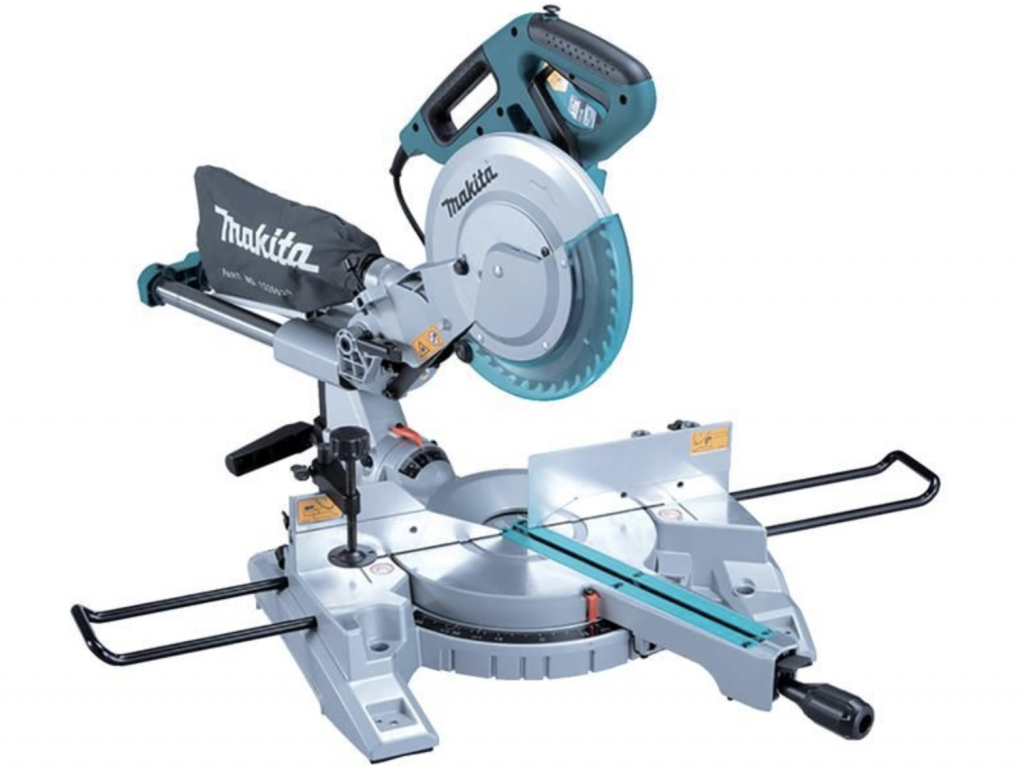 The Makita LS1018LN mitre saw belongs to mitre saws in the middle price category. Expect that, in this case; you will pay extra for a well-known brand, which is reflected in the quality of the construction. You can also recognise it thanks to its relatively higher weight of 19.9 kg. For cutting wood, you can use a disc with a diameter of 26 cm. The manufacturer states an input of 1430 W, corresponding to the lower categories, but sufficient for everyday use. You get a quality radial arm that enables travel for the given price.
The Makita brand has a perfect name, which many satisfied customers also evidence. You can also read numerous user reviews for this product on price comparison sites. You may also be interested in the 3-year warranty on this machine. In addition, you will certainly appreciate the oversized cut, which is made possible thanks to the relatively large disc, which the device's performance can handle without any problems, even when grooving in hardwood.
Metabo KGS-216MN Sliding mitre saw 216 mm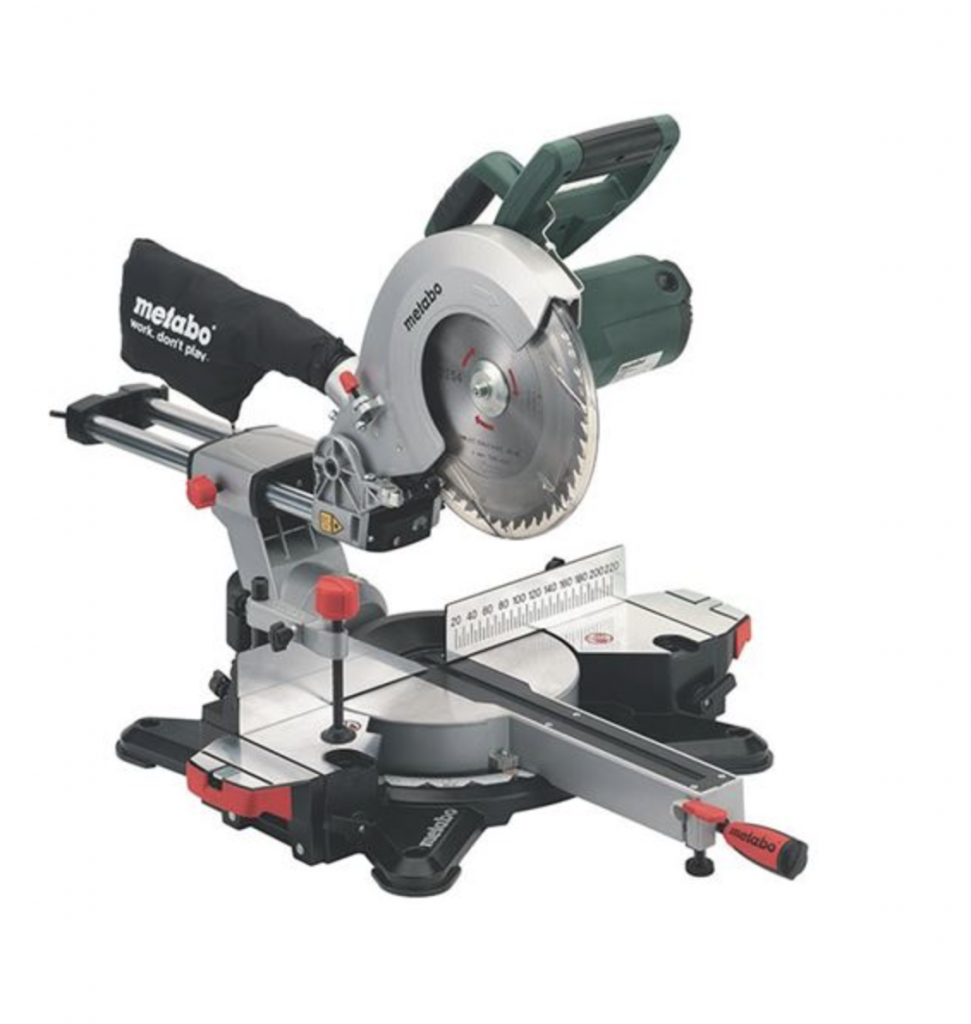 Are you looking for a reliable and efficient tool for cutting wood, coated panels, and plastics? Look no further than the Metabo KGS 216 MN Sliding Mitre Saw. With its die-cast aluminium workbench and sliding function, this saw can easily handle even the largest pieces of material. Plus, the freely adjustable table extension and integrated crosscut fence ensure accuracy and precision in every cut.
But that's not all – this saw also has various convenient features to make your work easier. Non-slip handles and an integrated working light enhance visibility in low-light conditions. The laser display provides exact cutting measurements and visible scales from your working position, adding even more accuracy to your work. And for added safety, this saw comes with a transport lock and cable winder to prevent any mishaps during transport. Plus, with a chip collection bag included, you can rest assured that your workspace will stay clean and debris-free.
This saw is a must-have for any woodworking professional at only 13.5kg and with an easy-to-change blade. Its impressive specifications include an input power of 1500W and a no-load speed of 3750min, with a 216 x 30mm Bore blade that can handle even the most challenging cutting tasks. The saw blade tilt of left/right 47°/2° allows for a wide range of cutting angles, and its capacity for straight cuts of 305x65mm at 90°/90° and double mitre cuts of 205x36mm at 45°/45° makes it an incredibly versatile tool.
Overall, the Metabo KGS 216 MN Sliding Mitre Saw is an exceptional choice for any professional woodworker looking for a reliable, safe, high-performing tool. Don't settle for less – choose the best with Metabo.
Makita LS1040N mitre saw 260 mm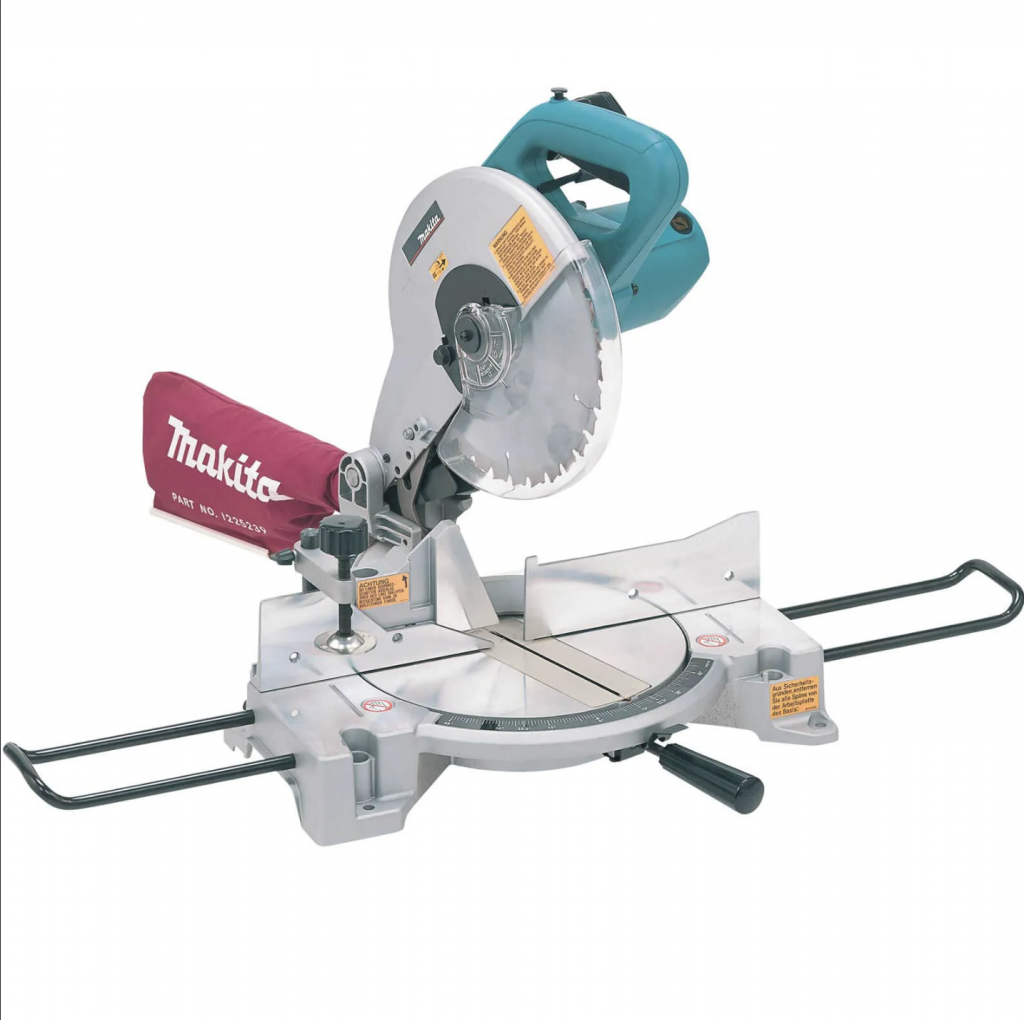 Take your cutting skills to the next level confidently by choosing the Makita LS1040N Mitre Saw 260mm – 110v. This top-tier saw has an innovative sub-fence and built-in dust collection system, ensuring unparalleled precision and a clean workspace. Its electric brake and left-only angle cut to make it capable of handling the most demanding cutting jobs with ease.
The Makita LS1040N 260mm Mitre Saw is powerful and reliable. With a blade diameter of 260mm, input wattage of 1650w, and a maximum bevel range of 45-90º, it guarantees precise cuts every time. Its low vibration factor of 1.5 m/sec² and a no-load speed of 4600rpm make for exceptional cutting performance with minimal noise production (just 93 dB(A) sound pressure and 106 dB(A) sound power).
DeWalt DWS780 XPS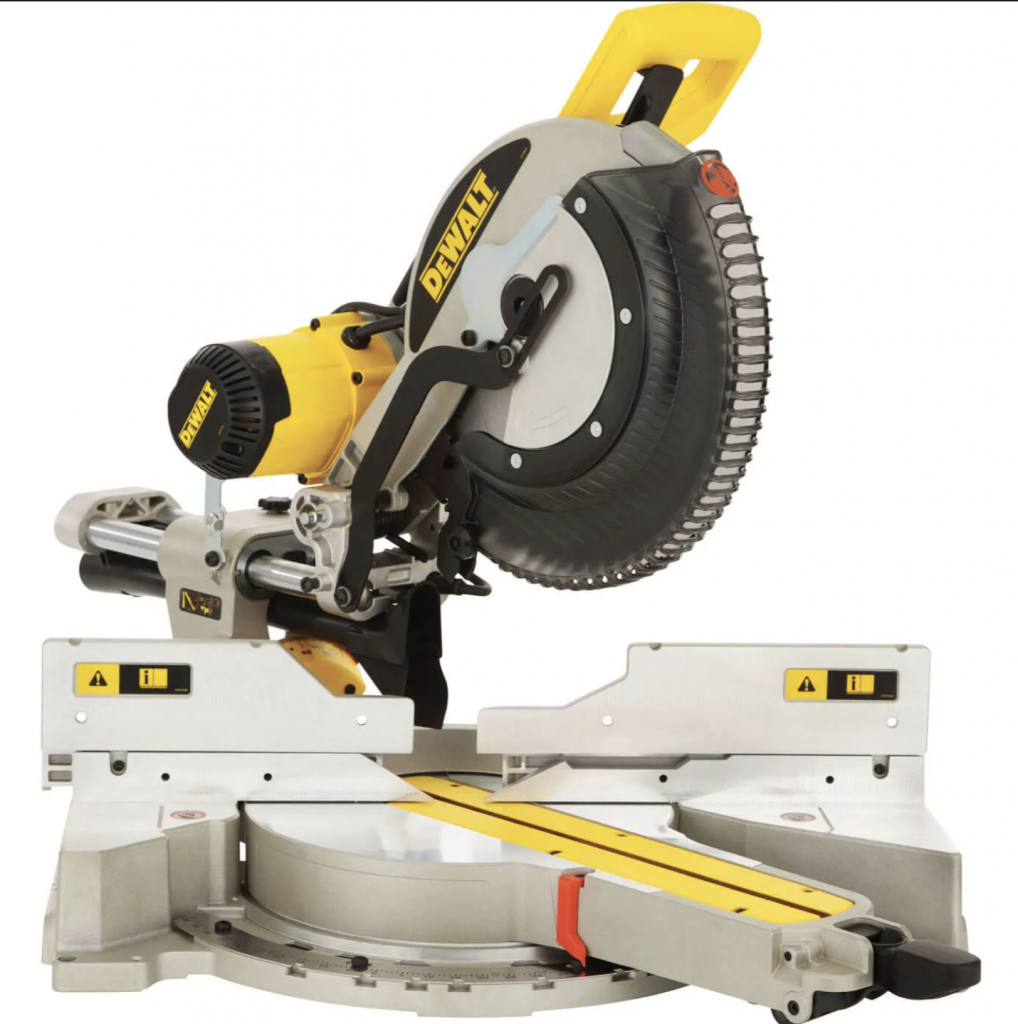 Our durable and adjustable mitre saw ensures precise and accurate cuts with ease. With our quick-release bevel stop adjustment, you can make exact adjustments up to 49° left and right, ensuring that your cuts are always accurate. The user-friendly controls make it easy to change settings as needed, allowing for effortless adjustments.
Switching between different cutting angles is now faster than ever with our mitre cam lock feature, which allows for adjustments between 0°-50° left and 0°-60° right. The large double slide stop provides maximum support for any angle or combination of angles, ensuring that your cuts are always straight and accurate.
Our linear horizontal rails make cutting materials up to 345mm wide easy, providing you with the flexibility you need to tackle any cutting task. Plus, our compact and lightweight design makes transporting it to any job site easy.
In addition to wood, our saw has electronic speed control for other materials, making it versatile for various applications. Our innovative gouging stop even allows for easy depth of cut adjustments, ensuring a perfect cut every time. Whether you're a DIYer or a professional, our saw is the ideal tool for all your cutting needs.
Festool KAPEX KS 120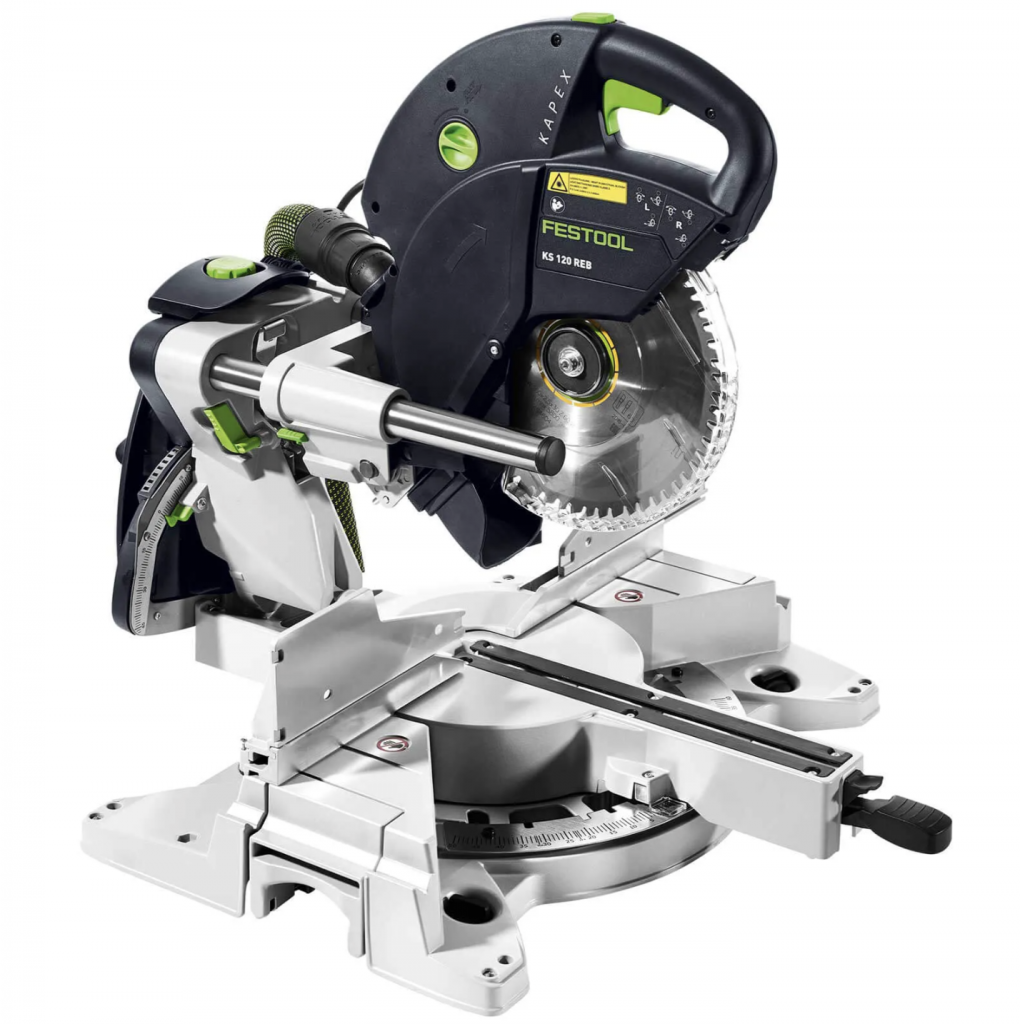 Introducing the Festool KS 120 REB, the sliding compound mitre saw that takes your workspace to the next level without compromising performance. Designed for small spaces, the Festool mitre saw has no protruding guide rods, making it the perfect choice for those with limited workspace. With our spherical bushings, you can be assured that the carriage will stay on course, even when working with the largest columns.
Equipped with dual-line lasers and precision adjustment, the Festool KS 120 REB guarantees an exact cut every time, accurate to the millimetre. With a voltage of 240v, power consumption of 1,600 W, and a double-sealed design, it provides an extremely long service life with zero play, ensuring that your investment is well worth it.
Its impressive specifications set the Festool KS 120 REB apart from other sliding compound mitre saws. With a saw blade diameter of 260.00 mm and a 305 x 88 mm cutting depth at 90°/90°, you can easily handle even the most demanding cutting jobs. Its exceptional cutting depth at 90°/90° is 60 x 120 mm, and it has a crown moulding diagonal cut of 45°/90° at 168.00 mm, making it perfect for a variety of cutting tasks. The dust port diameter is 27/36 mm, making cleaning up easy after your work. Its dimensions (W x D x H) are 713 x 500 x 470 mm, weighing 23.10 kg, making it easy to move around your workspace.
Invest in the ultimate sliding compound mitre saw the Festool KS 120 REB, and experience precision and reliability in every cut. With its impressive features and specifications, this investment will exceed your expectations and take your woodworking to new heights.
Best cordless mitre saws review
DeWalt DCS365M2 18V XPS Cordless mitre saw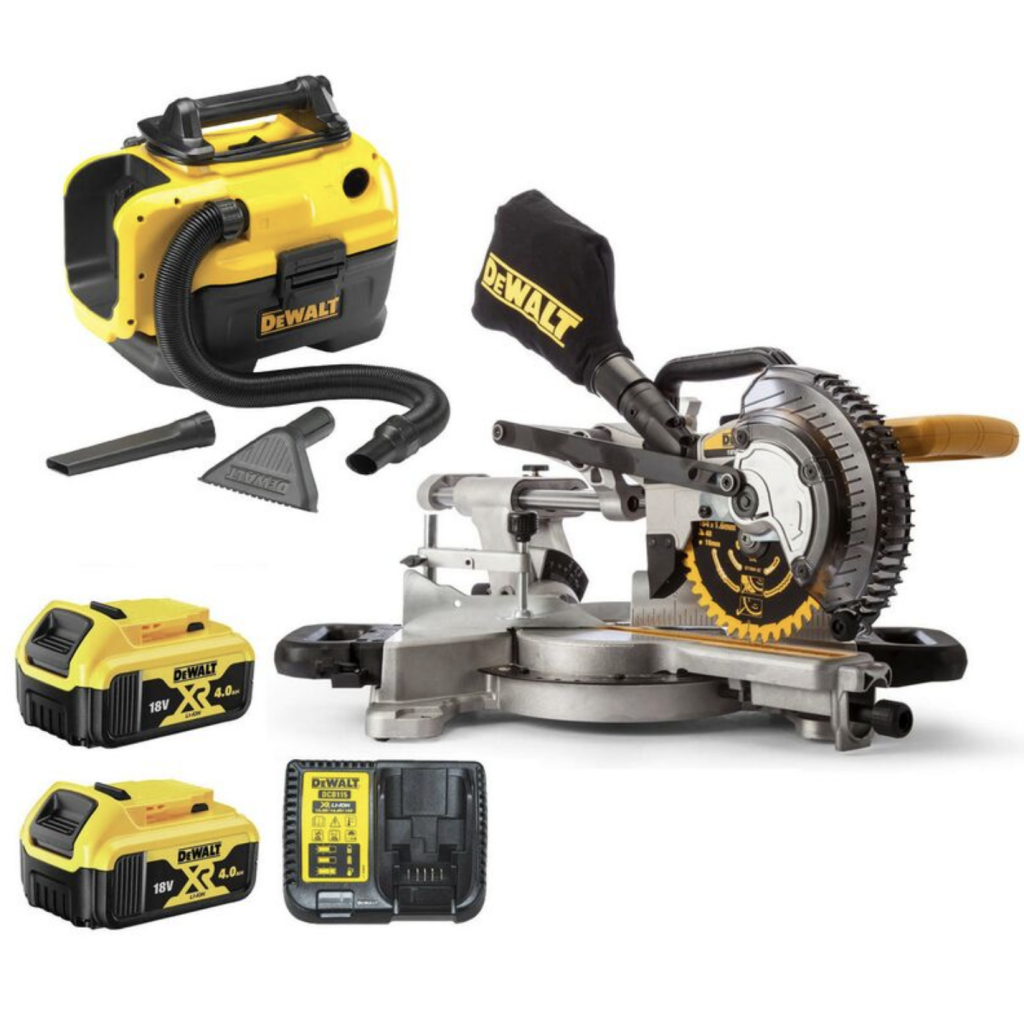 The DeWalt DCS365M2 18V XPS mitre saw is cordless and will please any tradesman. This mitre saw offers an inclination range of 0 to 60° right and 0 to 50° left and the possibility of a clean cut with a large blade up to 184 mm. This mitre saw is powered by a DeWalt 18V Li-ion battery with a capacity of 4.0 ah, but the mitre saw is also compatible with a 54V FlexVolt battery.
The saw in question comes with a dual sliding fence mechanism of a generous size, designed to provide unparalleled support for significant material cuts, regardless of the angle or combination of angles. Additionally, it is equipped with horizontal rails that offer increased capacity to accommodate even larger materials. The saw's aluminium base construction ensures stability without compromising portability, making it an ideal tool for professionals who need to move around frequently. Furthermore, the saw features an easy-to-use mitre and bevel angle detents, streamlining the setup process. Overall, this saw is an excellent investment for those who require precision and versatility in their cutting tasks.
The DeWalt mitre saw comes with an additional cordless vacuum.
Boasting a cutting-edge HEPA filter, this vacuum effortlessly handles wet and dry applications while collecting ultra-fine dust particles as small as 3 microns for a pristine, safe workspace. The DeWalt DCV584L is a powerhouse tool that delivers exceptional results every time. Why settle for mediocre cleaning when you can have the best? With its unmatched versatility and superior performance, the DeWalt DCV584L will transform cleaning into a seamless and effortless experience, leaving your space flawlessly clean.
Makita LS002G 40V max XGT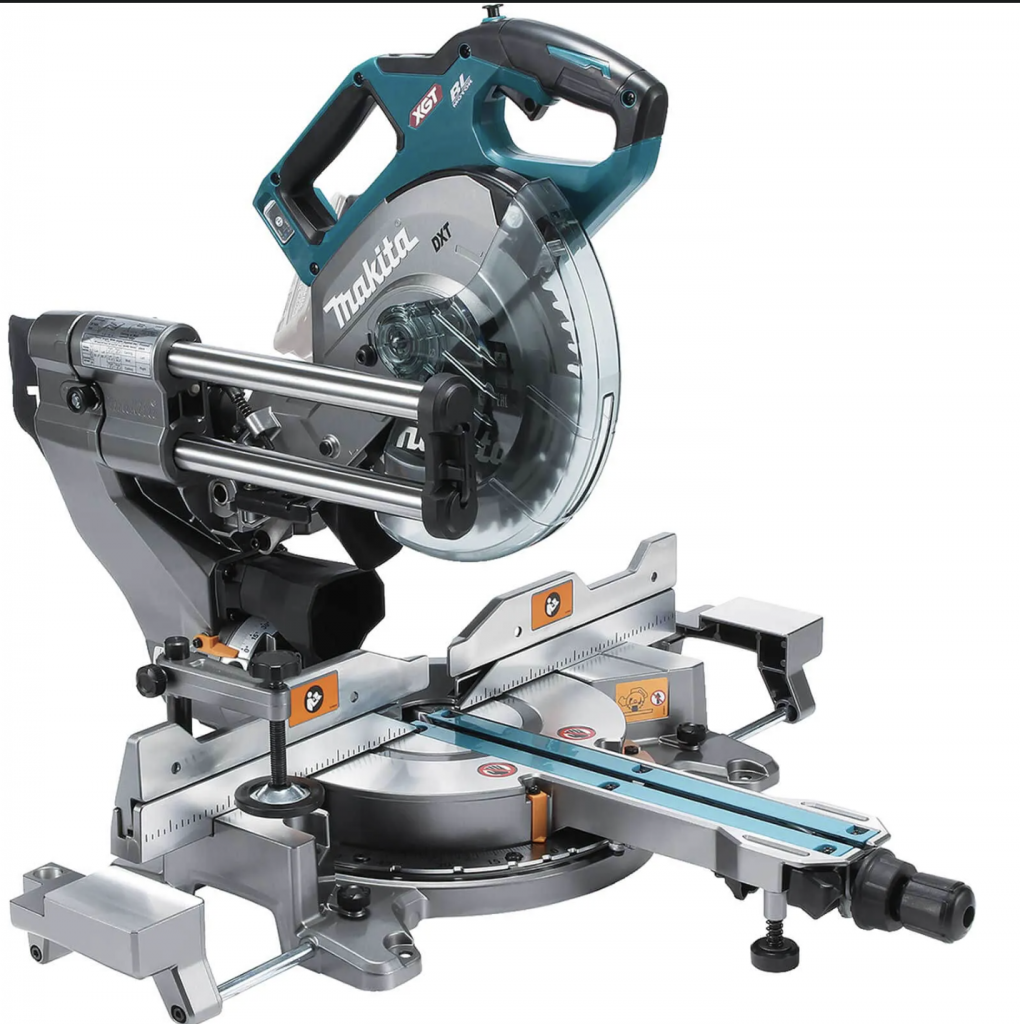 Professionals who demand precision and quality will find the Makita LS002G 40v Max XGT Cordless Brushless Mitre Saw 216mm an essential tool. Its powerful soft-start brushless motor and AWS Auto Start Wireless system guarantee reliable performance every time. At the same time, its Bluetooth dust extractors ensure a clean workspace, making it an efficient choice for those who value cleanliness.
Aside from its reliability, the Makita LS002G is also highly capable. With a maximum cutting capacity of 70mm x 312mm, it can easily handle even the most challenging cutting tasks. Its constant speed control, soft start motor, and LED job light set it apart from the competition, while its rail-forward design allows it to be positioned closer to a wall, making it even more versatile. The front knob also makes bevel adjustment effortless, further enhancing its usability.
Moreover, the Makita LS002G is suitable for a wide range of cutting applications thanks to its capacity to accommodate wider workpieces. Its mitre angle lock and dust extraction port ensure that your workspace remains clean and efficient, allowing you to focus on your work without distractions.
Despite its remarkable capabilities, the Makita LS002G is surprisingly lightweight at only 16.4-17.0 kg. It is compatible with all Makita 40v XGT batteries, allowing easy upgrades to increase cutting performance and quality. Therefore, if you're seeking a reliable, capable, and efficient saw, look no further than the Makita LS002G.
Bosch GCM 18V-216 Biturbo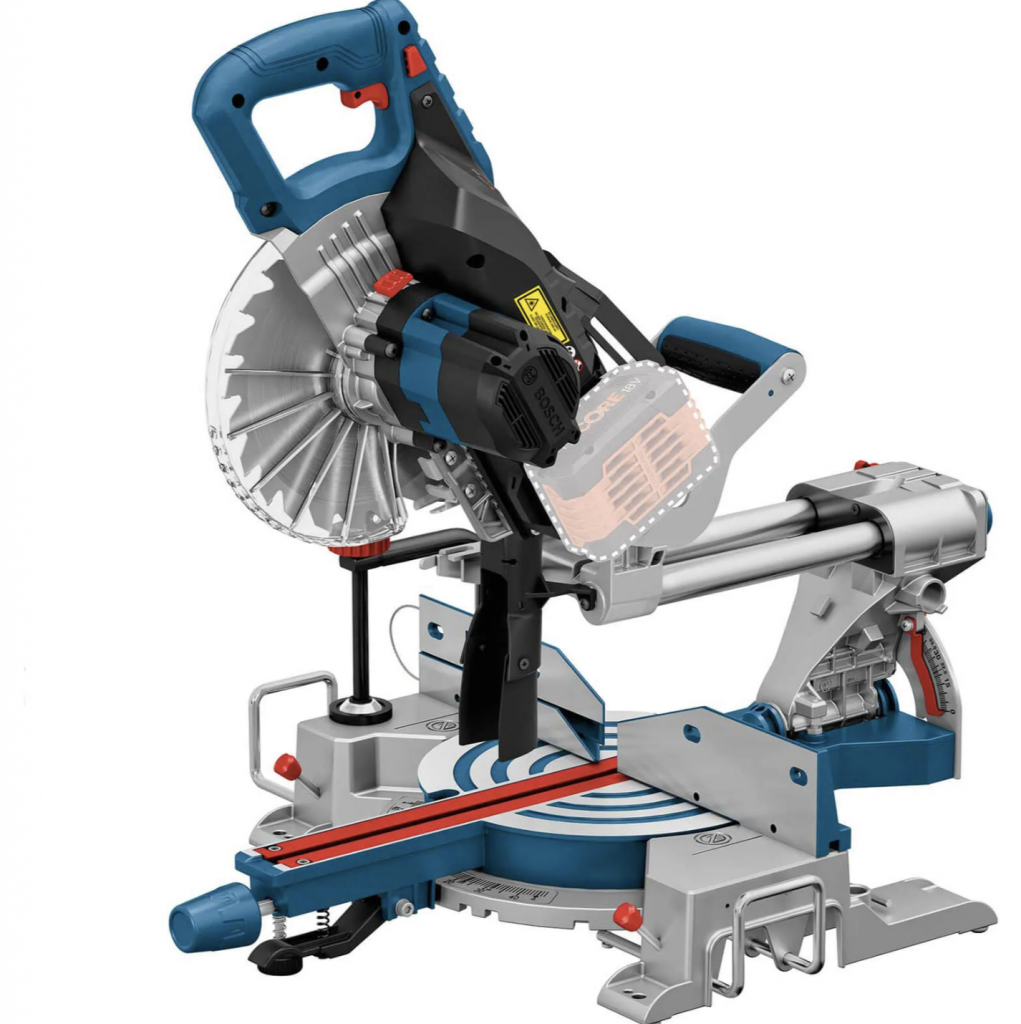 If you are searching for a cordless mitre saw that is portable and efficient, then the Bosch GCM 18V-216 is worth considering. What sets this saw apart is its BITURBO brushless motor technology, which enables it to deliver the same power as a 1600-watt corded machine. This means you can enjoy the convenience of a cordless tool without compromising performance.
Another great feature of the Bosch GCM 18V-216 is its compatibility with all other Bosch Professional (Blue) 18v li-ion tools. This is a massive advantage if you already own other tools from the Bosch Professional range, as you can use the same battery across all your tools.
Regarding specifications, the Bosch GCM 18V-216 has an 18v battery voltage and a saw blade diameter of 216mm, making it suitable for various professional applications. The saw's dimensions (width x length x height) are 520 x 770 x 630 mm, with an idle speed of 4,600 min-1.
The Bosch GCM 18V-216 is an excellent choice if you need a reliable and powerful cordless mitre saw. Whether you are a professional woodworker or a DIY enthusiast, this tool will meet your needs.
DeWalt DCS777 54V XR Cordless FLEXVOLT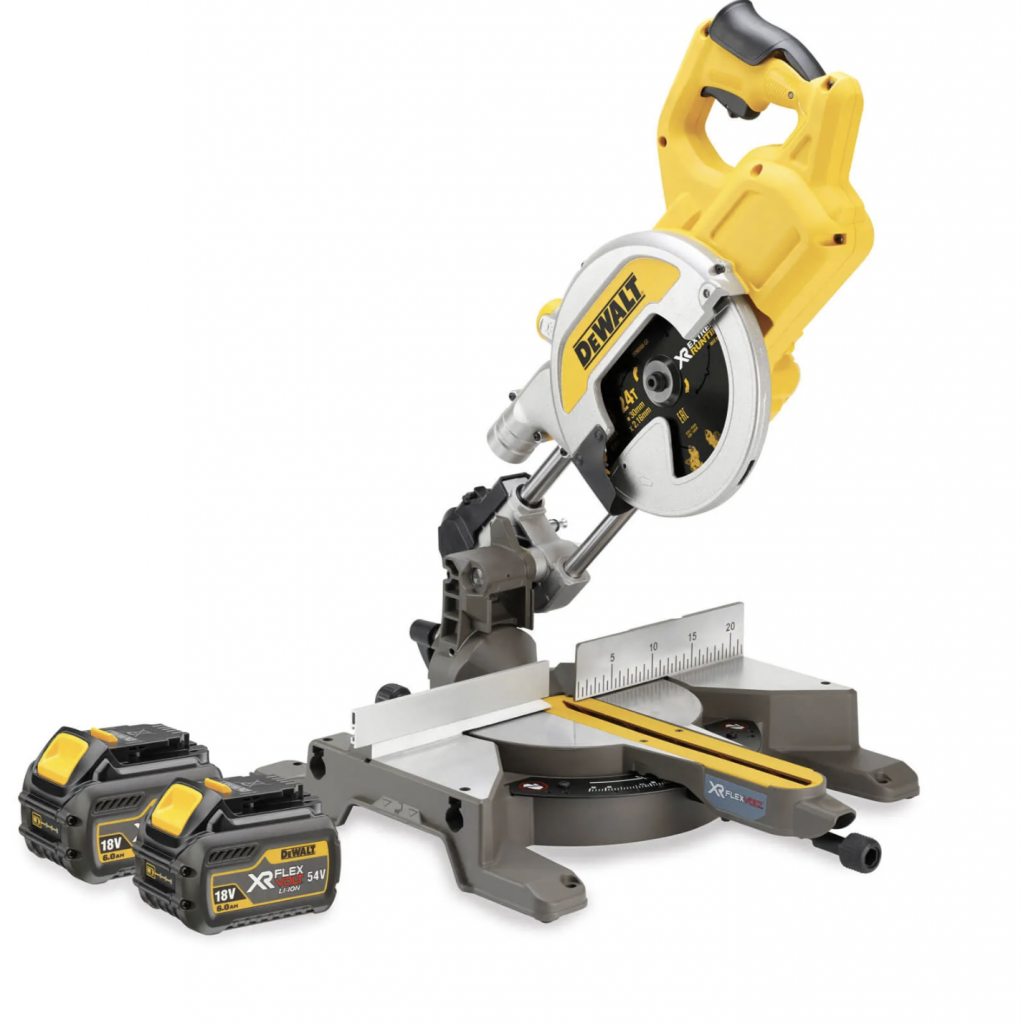 DeWalt's XR Flexvolt system has revolutionized the power tool industry with its impressive selection of 54v tools that deliver exceptional performance and extended run time. These power tools are ideal for heavy-duty applications and can be used in remote areas where electricity is not readily available.
One of the most notable tools in the XR Flexvolt lineup is the DCS777 saw. This saw features an XPS Shadow line cut indicator that allows users to align the blade quickly and accurately while illuminating the workpiece for precise cuts. The saw's base and fence are expertly machined to ensure reliable performance, and its positive mitre stops at 15°, 22.5°, 30°, and 45° make it incredibly versatile. The saw also boasts a quick-release mitre mechanism that can be adjusted up to 50°.
With a no-load speed of 6,300/min and a maximum depth of cut of 80mm, the DCS777 saw is a force to be reckoned with. It can handle a capacity of 90°/90° at 270x62mm, 90°/45° at 270x48mm, 45°/90° at 190x62mm, and 45°/45° at 190x48mm. The blade size is 216 x 30mm bore, and the bevel capacity is 48°. The saw also boasts a mitre cut of 50°/50° and a weight of 14kg.
Although the DCS777 saw is sold as a body-only product, it is compatible with DeWalt's XR 18v Lithium-Ion system, allowing users to share a single battery across an extensive range of cordless tools. The backward compatibility feature makes the XR Flexvolt system a smart investment for anyone looking to expand their tool collection while keeping costs low.
Makita DLS600 18V LXT Cordless mitre saw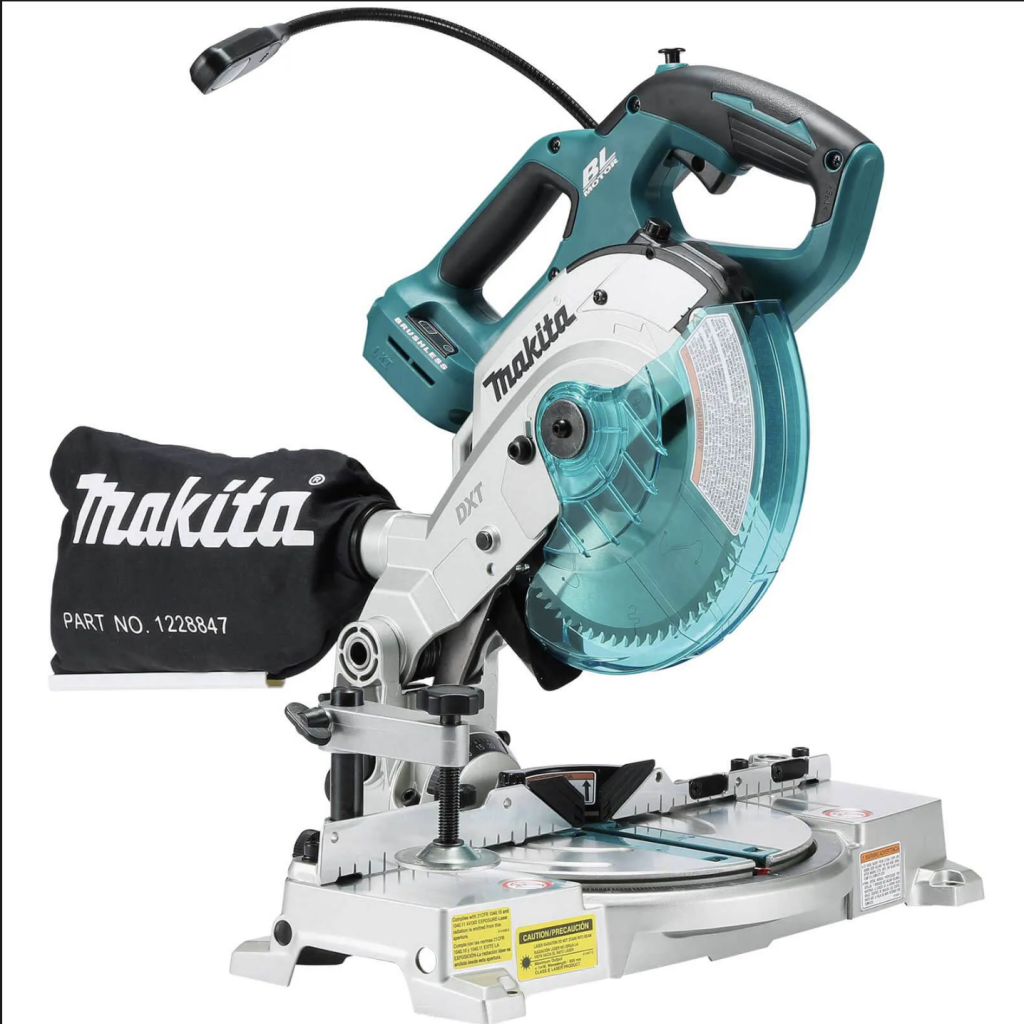 The DLS600 is the cordless mitre saw you've been searching for. Powered by any Makita 18v LXT lithium-ion power tool battery, this lightweight and portable saw packs a punch for power and efficiency.
With a 165mm (6 1/2″) blade diameter, soft start, brushless motor, LED work light, and laser guide, the DLS600 makes cutting baseboard and architrave a breeze. But it's not just limited to those tasks – this saw has a range of impressive specs that set it apart from the competition. Its 46-46° max bevel range, 52-52° max mitre range, and maximum cutting capacity of 46 x 92 mm make it a versatile addition to any tool collection.
Moreover, the DLS600 boasts innovative features that ensure precision every time. Its built-in laser guide, double bevel design, electric brake, and Automatic Torque Drive Technology make it easy and safe to use.
Transporting the DLS600 is a cinch, thanks to its convenient carrying handle. Plus, this saw is built to last with an aluminium base for higher durability and accuracy and a mini sub-fence that provides wide-guide support for vertical or left bevel cuts.
Weighing in at just 6.3-6.6 kg and equipped with a battery fuel gauge, the DLS600 is the perfect tool to add to your collection. It's easy to use and transport, making your work easier and more precise.
In conclusion, the DLS600 is a powerful, efficient, and innovative cordless mitre saw guaranteed to meet all your cutting needs. Don't hesitate – get your hands on the DLS600 today and experience the ultimate in cordless mitre saws!
Makita DLS211ZU Twin 18V LXT Cordless brushless mitre saw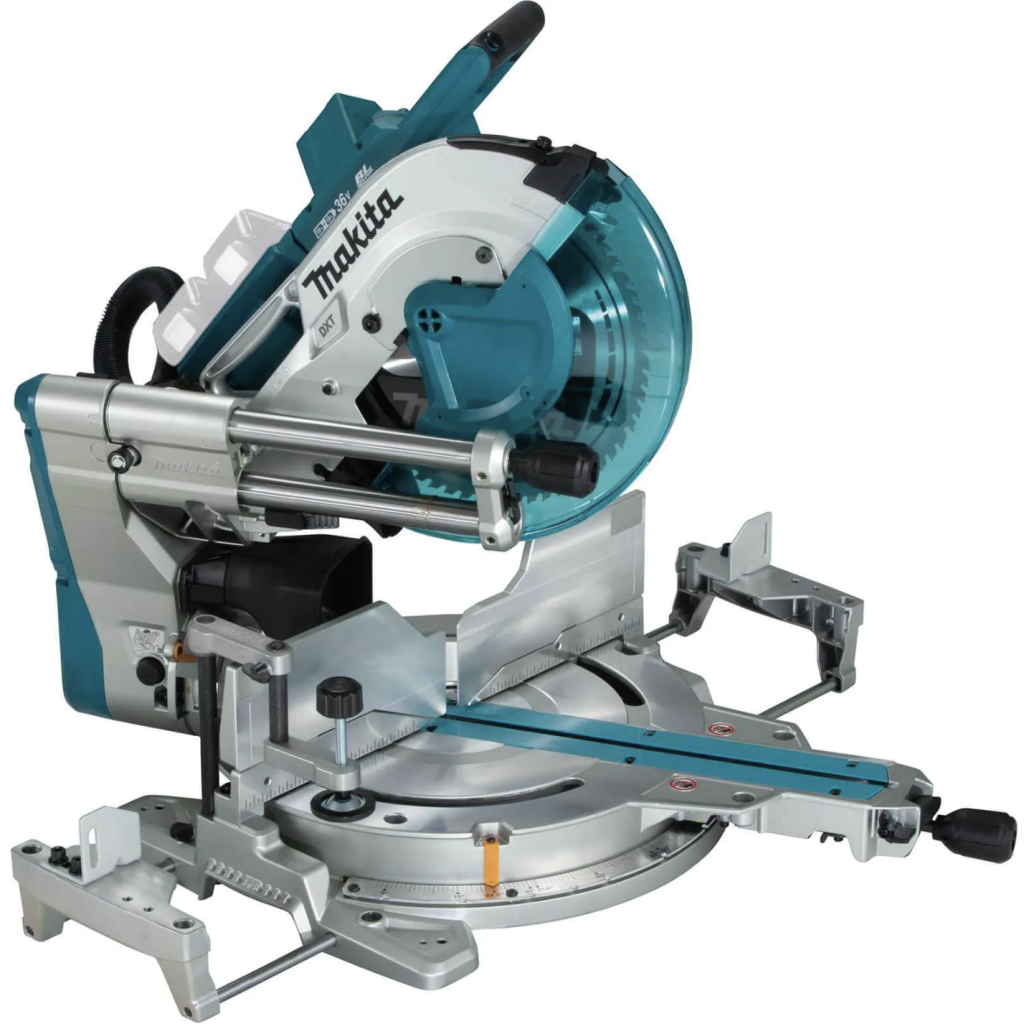 Introducing the DLS211ZU, the ultimate cordless mitre saw for professionals who demand the highest quality cutting performance. Boasting a 305mm blade and a motor that delivers exceptional corded mitre saw-like performance, this powerful and versatile cutting tool is an absolute must-have for any job site.
Featuring cutting-edge technology like a soft start brushless motor, electric brake, and an Automatic Torque Drive system, the DLS211ZU is designed to deliver reliable and accurate cuts. Its compact and rail-forward design allows for easy setup in tight spaces, while its settings can be quickly adjusted and securely locked for precise cuts.
The DLS211ZU also boasts an impressive laser guide, ensuring instant alignment and precise cuts. The integrated AWS Auto-Start Wireless system also syncs up with compatible Bluetooth dust extractors, automatically triggering them for a cleaner and healthier job site.
With a maximum cutting capacity of 92 x 382mm and a weight of 30.7-31.3kg, the DLS211ZU is an outstanding option for professionals who require a powerful and reliable cutting tool. It is also compatible with a wide range of smaller 18v tools in the LXT range, making it perfect for any job, big or small. Choose the DLS211ZU and experience the power and versatility of the best cordless mitre saw.
What is a mitre saw good for?
There needs to be a tool quite like a mitre saw when achieving precise angled cuts. With its specially designed swing arm that can pivot to either side, this powerful tool allows you to cut a wide range of angles quickly and efficiently. From intricate crown moulding to elegant picture frames, sturdy door frames, and attractive window casings, a mitre saw is essential for anyone looking to achieve professional-looking results. Whether you're an experienced DIY-er or just starting, the mitre saw is a must-have tool for any project.
What should you never cut with a mitre saw?
To ensure both the safety and efficacy of using a mitre saw, it is highly recommended to adhere to a set of guidelines:
It is essential to avoid operating the saw while it is placed on the ground, as this can lead to instability and dangerous kickbacks.
Refraining from cutting pieces smaller than 20 cm (8 in.) is crucial, as this can cause the blade to bind and potentially lead to injury.
It is vital to avoid cutting stock containing loose knots, splits, defects or foreign objects such as metal or stones, as this can also result in kickbacks or other hazards.
By following these precautions, you can prevent potential hazards and ensure optimal results with your mitre saw.
Can you use mitre saw as a regular saw?
It is worth mentioning that although mitre saws can perform crosscuts and bevel cuts, it is essential to note that users cannot guide the material through the saw as they would with a table saw. This is primarily because the blade of a mitre saw is mounted onto a swinging arm that moves up and down. It is designed to make cuts at specific angles, making it an excellent tool for precise and accurate cuts. However, unlike a circular saw, it is unsuitable for cutting through a material. Therefore, it is crucial to choose the right tool for the job, depending on the specific requirements and needs of the project.
What to consider when buying a mitre saw?
If you are searching for an effective method to cut long pieces of wood and other materials accurately, you can rely on Mitre saws. These saws are available in numerous styles and offer various features, so it is essential to understand the necessary information before making a purchase. Let us delve deeper into the details.
What features should you look for in a mitre saw?
If you're in the market for a mitre saw, it's essential to consider models that provide rail functionality. This feature is precious as it enables the blade to be extended towards you before it's lowered through the material. This makes it much easier to cut through thicker materials and ensures that the blade stays on track throughout the process. Additionally, it's essential to prioritise saws equipped with a blade guard. This safety feature ensures the blade is only sufficiently exposed once it's in motion and approaching the wood. By taking these factors into account, you'll be able to find a mitre saw that meets your needs and helps you achieve the results you're looking for.
Why You Can Trust Buildiro?
Extensive Product Comparison: Buildiro stands out in the market by comparing over 2 million products, specifically catering to the needs of tradespeople and DIY enthusiasts, ensuring they find the best materials for their projects.
Commitment to Transparency: We operate with utmost transparency, providing comprehensive details and comparisons for every product, helping our customers make informed decisions.
Diverse Range of Quality Materials: Our vast network of suppliers contributes to an extensive selection of building materials, accommodating various preferences and budgets.
Rigorous Vetting Process: All products on Buildiro undergo a strict quality assurance process, ensuring that only top-notch and reliable materials are available to our customers.
User-Friendly Interface: We provide an intuitive platform, making it easy for users to navigate through the extensive product listings and find exactly what they need.
Responsive Customer Support: Our dedicated support team is always on standby, ready to assist customers with any queries or issues, ensuring a smooth and satisfactory shopping experience.
Stellar Market Reputation: Buildiro's consistent delivery of exceptional service and trustworthy products has solidified our reputation as a reliable resource in the market, earning the trust of professionals and DIY enthusiasts alike.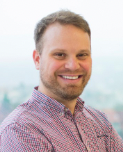 Luke is the founder of Buildiro.com and he is passionate about construction and building. His mission is to show people how to make things done fast and easy.