Embarking on a construction or renovation project demands meticulous planning, precision, and the right set of tools and materials. Enter Buildiro, your comprehensive building materials and tools comparison site, crafted to transform your building experience into a seamless journey. Whether you are a professional contractor, an avid DIY enthusiast, or a homeowner looking to revamp your space, Buildiro is your go-to destination for all building necessities. With an extensive array of products, ranging from the latest tools to high-quality materials, we ensure that your search for the perfect fit is smooth and efficient. And for those who love to stay organised, our wish list feature allows you to curate and save your favourite products, ensuring that everything you need is just a click away. Explore Buildiro, and discover a world of possibilities, convenience, and unmatched variety, all tailored to meet your building needs.
Price Comparison Site for Building Materials and Tools
In the intricate process of construction and renovation, every detail counts, including how much you spend on materials and tools. Buildiro steps in as a comprehensive price comparison site, aiming to bring clarity and ease to this complex scenario. Housing over 2 million products from more than 100 leading UK merchants, our platform stands as a substantial resource for those in the construction field.
Navigating through various merchants for different products can be a tedious task, and here, Buildiro simplifies the process. By consolidating a vast range of options in one place, we provide a user-friendly experience for comparing prices, features, and specifications. This is particularly beneficial for extensive projects such as creating a new bathroom, refurbishing a kitchen, landscaping a garden, and more.

Users have found that through the utilization of Buildiro, there's potential to not just save money, but also time. The ability to access a variety of choices in one location streamlines the decision-making process, allowing for a more informed and efficient purchase strategy. In the realm of construction, where every penny and moment counts, Buildiro proves to be an invaluable asset, ensuring that you have the necessary information at your fingertips to make the best possible choices for your project.
See When Will Building Materials Go Down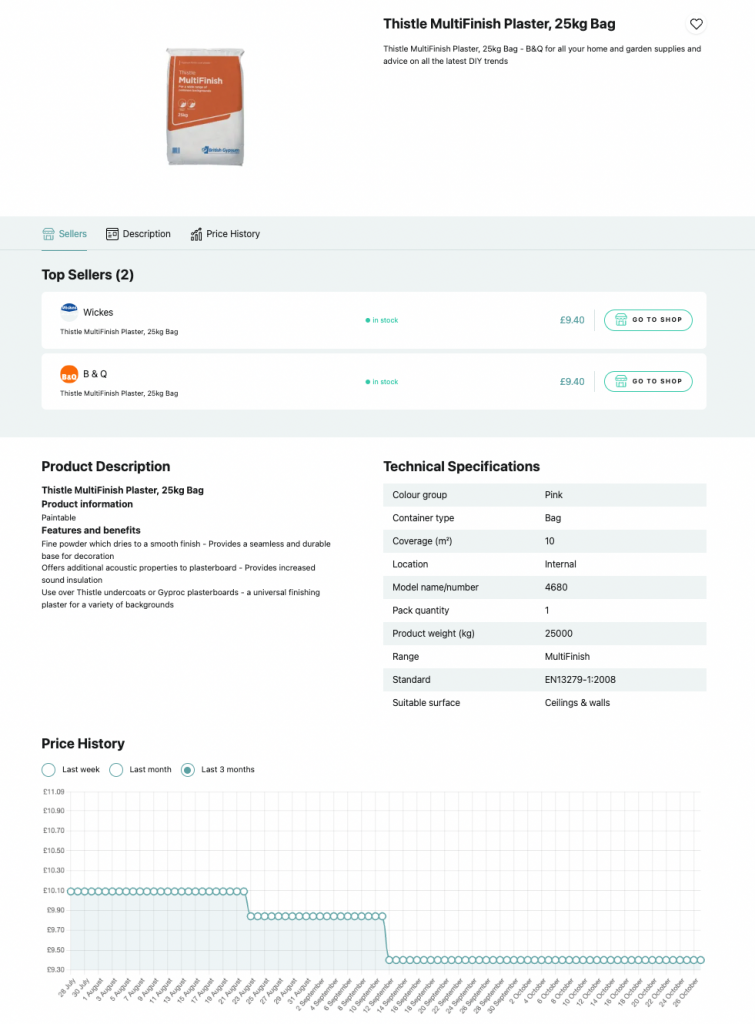 Understanding the fluctuating nature of building material and tool prices is pivotal in making savvy purchasing decisions. Buildiro serves as a vital resource in this regard, meticulously collecting price data on a daily basis for all its 2 million-plus products. This extensive database becomes a treasure trove of information for registered or logged-in users, granting them exclusive access to detailed price history graphs for each item in our inventory.
The practical application of this feature is immense. Users can meticulously analyze the trends in pricing for specific materials or tools, gaining insight into the optimal time to make a purchase. This is not just about snagging a good deal; it's about strategic buying, ensuring that your investment yields the maximum value. Whether you're sourcing materials for a large-scale construction project or simply looking for tools for a DIY home improvement task, understanding the price dynamics plays a crucial role.
Buildiro's price history graphs are user-friendly and detailed, providing clear visual cues to help identify patterns or significant price drops. Users can leverage this information to make educated predictions about future price movements, potentially leading to substantial savings. By empowering our users with this knowledge, Buildiro ensures that they are not just passive consumers but informed participants in their purchasing journey. In a market where prices can fluctuate due to various external factors, having a tool that provides historical price data becomes invaluable in planning your projects and managing your budget effectively.
Create a Wish List for Each Project
Embarking on a building or refurbishment project is no small feat, and it necessitates a level of organisation that can often feel overwhelming. With millions of products on the market and an array of different merchants to consider, keeping track of materials, tools, and preferred suppliers can quickly become a complex task. Buildiro introduces a solution to this challenge through its user-friendly wish list feature.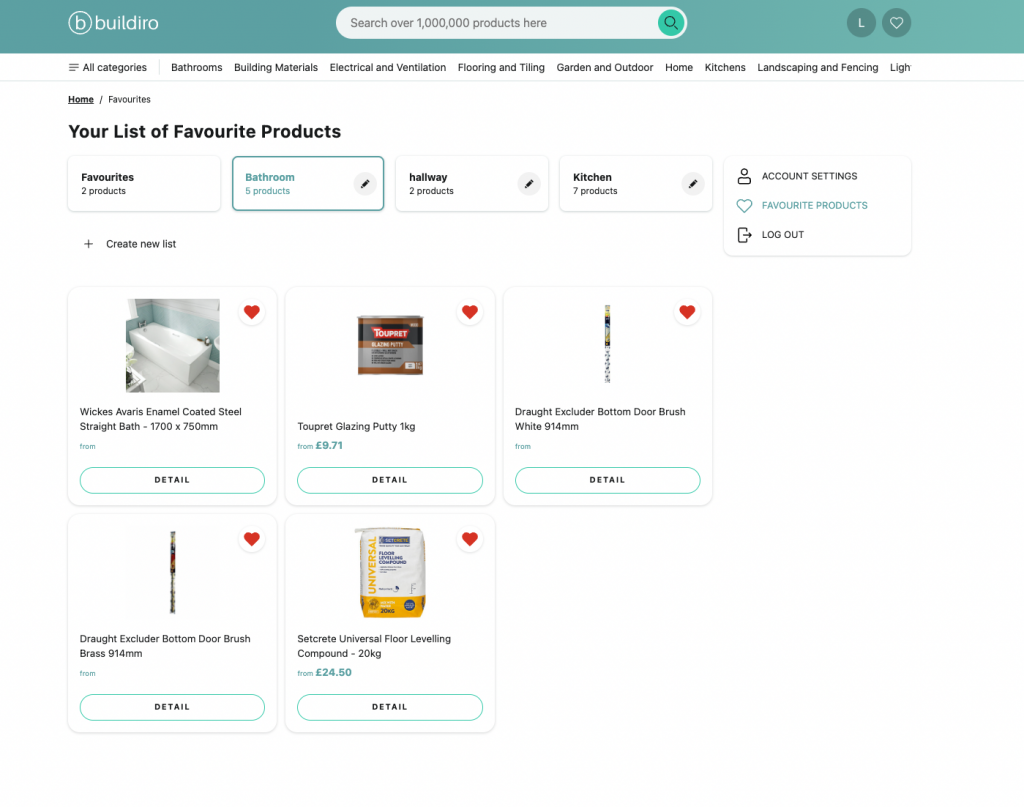 Creating a wish list on Buildiro allows users to effectively manage and remember the specific materials and tools needed for their unique projects. Instead of relying on memory or disparate lists, users can consolidate all their preferred items in one place, ensuring that nothing is overlooked or forgotten. This feature becomes especially beneficial considering that refurbishment or building projects often span across extended periods.
Moreover, Buildiro's platform facilitates the creation of specific wish lists tailored to individual projects. Whether users are working on a kitchen renovation, bathroom upgrade, or complete home refurbishment, they can create separate wish lists for each endeavour. This granular level of organisation ensures that every item, regardless of its purpose or the project it belongs to, is accounted for.
By placing all the required items from various merchants in a single, accessible location, Buildiro not only aids in keeping track of necessary materials but also streamlines the purchasing process. Users can easily review their selections, compare prices, and make informed decisions without the need to navigate away from their wish list. This feature exemplifies Buildiro's commitment to providing a comprehensive and user-centric experience, ensuring that every project, no matter its size or complexity, is manageable and organised.
Buildiro Aggregates Products from Multiple Categories
Buildiro stands out as a comprehensive resource in the construction and home improvement landscape, aggregating an extensive array of products across multiple categories. This diversity ensures that regardless of the nature of your project, you have access to every possible resource you might need, all under one virtual roof.
For those looking to renovate or install new bathrooms, our Bathroom category offers a vast selection of fixtures, fittings, and accessories. If you are involved in more foundational work, the Building Materials section has everything from lumber to concrete. Electrical Supplies, Ventilation, and Lighting categories provide a wide range of options for ensuring that your space is well-powered, ventilated, and illuminated.
Flooring and Tiling categories offer numerous choices for both indoor and outdoor spaces, ensuring durability and aesthetic appeal. Garden, Outdoor, Landscaping, and Fencing categories provide an abundance of resources for transforming outdoor spaces into functional and attractive areas.
Kitchen enthusiasts will find our Kitchen category filled with products to create a functional and stylish cooking space. For those focusing on aesthetics, the Painting and Decorating section provides numerous options for adding that perfect finishing touch.
In terms of hardware, the Plumbing and Heating, Screws, Fixings, Adhesives, and Timber & Joinery categories offer a comprehensive range of products for both construction and repair work. And for the professionals and DIYers alike, our Tools, Power Tools, Workwear, and Ladders categories ensure that you are equipped with the right gear to get the job done safely and efficiently.
Buildiro's extensive categorisation simplifies the search process, allowing users to navigate directly to the products they need, saving time and ensuring a more efficient shopping experience. With such a diverse range of products available, Buildiro is committed to being your go-to destination for all building materials and tools, guaranteeing that you have access to everything you need for a successful project.
Choose Materials and Tools from Various Approved UK Merchants
Navigating through the maze of building materials and tools can be a daunting task, yet it's a crucial part of any construction or renovation project. With Buildiro, you have a trusted companion to guide you through, offering a wealth of options from various approved merchants all in one place. We understand the importance of comparing and contrasting to find just the right materials for your specific needs, and our platform is designed to make that process as straightforward as possible.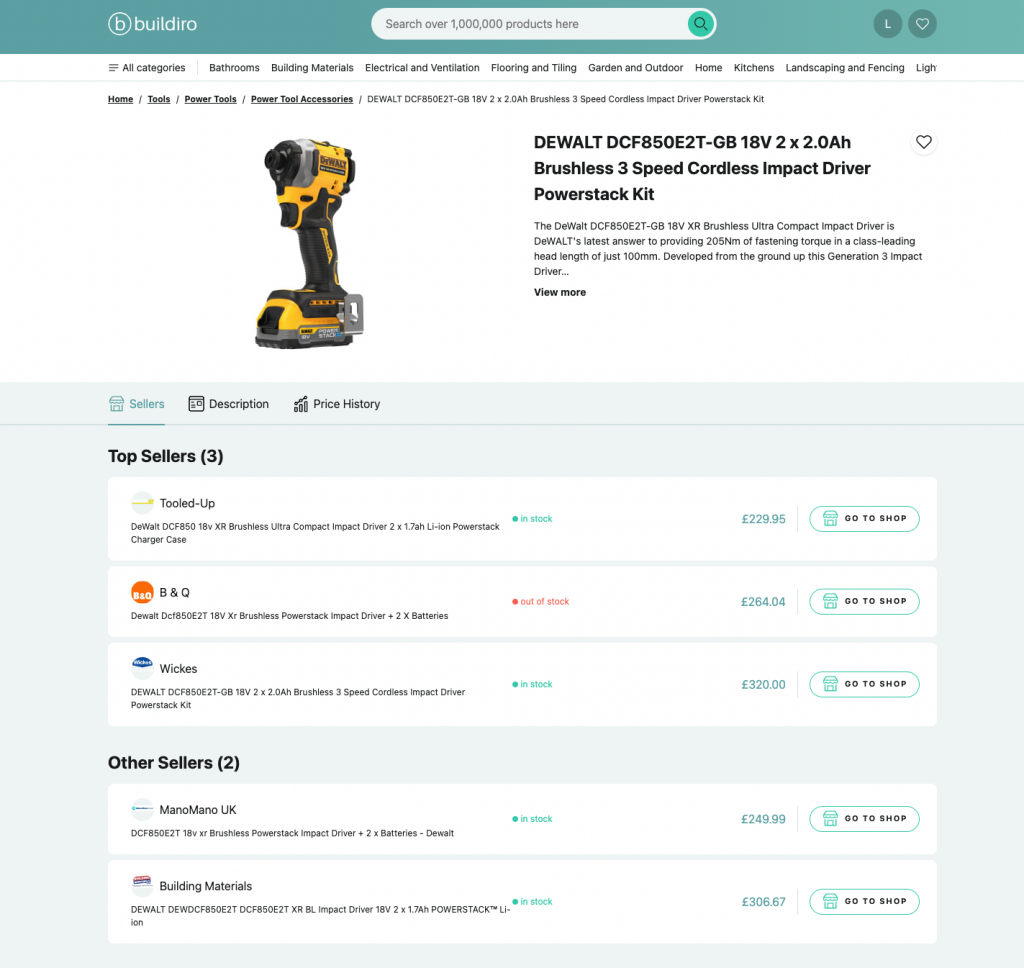 When you come across a product on Buildiro, you'll often find it listed by multiple merchants. This is where the true power of choice and comparison comes into play. You have the freedom to browse through different offers, weighing the pros and cons of each, to find the deal that best fits your project's budget and requirements.
All of the merchants on Buildiro have been thoroughly vetted and approved, ensuring a reliable and hassle-free shopping experience. We prioritize quality and trust, so you can focus on making the best choices for your project without any additional worries.
With Buildiro, you're not just finding materials and tools; you're discovering opportunities to enhance your project while making smart, informed decisions. So dive in, explore the variety, and take advantage of the power of choice and comparison that Buildiro uniquely offers. Your perfect building materials and tools are just a few clicks away, backed by the assurance of quality and reliability.
Conclusion
In the dynamic and multifaceted world of construction and home improvement, having a reliable partner like Buildiro to guide you through the process of selecting and purchasing building materials and tools is invaluable. We have meticulously crafted a platform that speaks to the diverse needs of both professional tradespeople and enthusiastic DIYers, ensuring that every project is supported by quality resources and informed decision-making.
Our extensive database of over 2 million products from trusted merchants provides a comprehensive comparison experience, allowing users to not only find the best prices but also to understand the market trends through our price history feature. The added convenience of creating project-specific wish lists ensures that no detail is overlooked, and every material is accounted for.
At Buildiro, we are dedicated to simplifying the complex process of sourcing building materials and tools, saving you both time and money. Whether you are a seasoned tradesperson or a DIY enthusiast taking on a new project, our platform is designed to empower you with knowledge, choice, and confidence. So, embark on your building journey with Buildiro, and experience a smoother, more efficient path to completing your projects with success and satisfaction.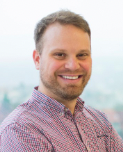 Luke is the founder of Buildiro.com and he is passionate about construction and building. His mission is to show people how to make things done fast and easy.