How to choose a ladder
The ladder usually lasts many years with us. All the more, we want to choose the best quality and most suitable for our needs. But taking all criteria into account can be challenging. That is why we have prepared a guide for choosing a ladder for you.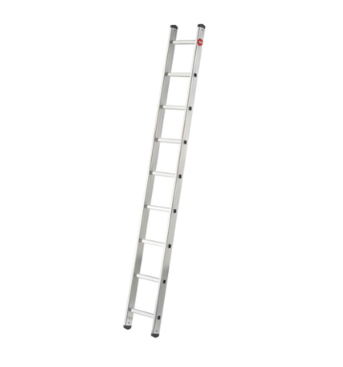 First, be clear about what activities and job you want to use the ladder for. Are you a tradesman? Will you use it to clean the gutters of a family home? Do you want to brush the trees in the garden, or will you paint the ceilings?
Ladder types

A ladder is all you need to hang curtains or change a light bulb in your apartment. You can reach it where you need it, and at the same time, you can easily hide it without it getting in the way. You can choose from different heights and between one-sided and two-sided, with or without a handrail (railing).
Step ladders
A step ladder is a simple folding stepladder with comfortable stepping surfaces. More suitable for domestic use, for example, to reach a bookcase or a shelf high above the ground. The simple assembly enables simple storage.
Simple ladders

A classic ladder with a fixed length that you must always lean on.
Extension ladders

Most often, extension ladder can be folded as a stepladder or extended as a simple ladder. If it has an adjustment for stairs, you can adjust the length of its parts as needed so that you can also work on the stairs.
Fibreglass ladders

A popular option for electricians. It is 20% lighter than a wooden ladder. Fibreglass ladders are resistant to weathering and do not corrode. They are such a great and safe choice for construction work.
Compared to aluminium ladders, fibreglass ladders are safer due to their electrical resistance.
Folding ladders

One of the most flexible ladders. The built-in joints allow you to change the shape of the folding ladder in several different ways, with the four-part version from a simple support ladder to unique shapes that no other ladder can achieve. In addition, it does not take up much space when folded, and accessories in the form of a floor are also available.
Telescopic ladder

Economical option for lack of space. The telescopic ladder can be folded or unfolded as needed. It is available in the form of step ladders and a support ladder.
Loft ladders

Loft ladders enable safe and easy access to an unoccupied loft without purchasing a costly and space-consuming staircase. They meet all technical and safety requirements and provide user comfort.
Scaffold towers

Mobile scaffold towers are intended for work on walls and ceilings, machinery and technical equipment factories or warehouses, or to hang a large picture from them. They can be used both in the exterior and interior.
How long should a right ladder be?
When choosing a ladder, think of three primary data:
Support height (1) - the maximum height to which you can climb on the ladder
Working height (2) - the area in which you work at body height, e.g. with a drill. The average working height is about 1.5 m above the support height and varies by field and tool.
Height reach (3) - the height you can reach - according to the ladder model - from the support height. As a rule, it is given 2.0 m above the support height.
How to use the ladder safely?
Thanks to the wide range of accessories, you can complete the ladder according to your requirements. These and many other products support safety or make it easier for you to work on a ladder. The foldable universal stepping platform ensures safety when standing on the ladder thanks to the stepping surface, which is placed in the middle above the step. Wall supports for ladders with rungs are available with or without a storage surface.
What is the correct way to set up a ladder?
To ensure a safe and smooth experience when working on a ladder, paying attention to the surface upon which it will be placed is crucial. A flat and immovable surface is ideal, and it's essential to ensure that the ladder will not slip or move in any way during use. For more straightforward ladders, it is recommended that they be rested on solid surfaces and built at the correct angle, with a 1:4 inclination angle being ideal. The ladder's rungs and steps must always be horizontal, and stepladders should be opened to their full width to ensure stability. When positioning the ladder, it's important to avoid standing in the way that could cause it to tip to the side. Additionally, ladders should never be used for bridging purposes.
Before extending the ladder into the work area, it's essential to ensure that any windows or doors (except emergency exits) are closed. If the ladder is used on the road, it should be secured with barricades and warning signs to ensure the safety of those in the area. By taking these precautions and paying careful attention to ladder safety, we can ensure that our work is productive and injury-free.