It can be tough to make a small room feel comfortable and inviting. This can be particularly true for small bedrooms, where the floor space is dominated by beds, wardrobes, chests of drawers, and other large furniture items.
But when we retire to our bedrooms, whether to relax and take a cat nap during the day or to get a full night's sleep, the space should be an inviting, calming oasis. The proper lighting can play a significant role in achieving this feeling.
Here are some small bedroom lighting ideas to help you create the perfect space for relaxation.
A single pendant is a common starting point for small bedrooms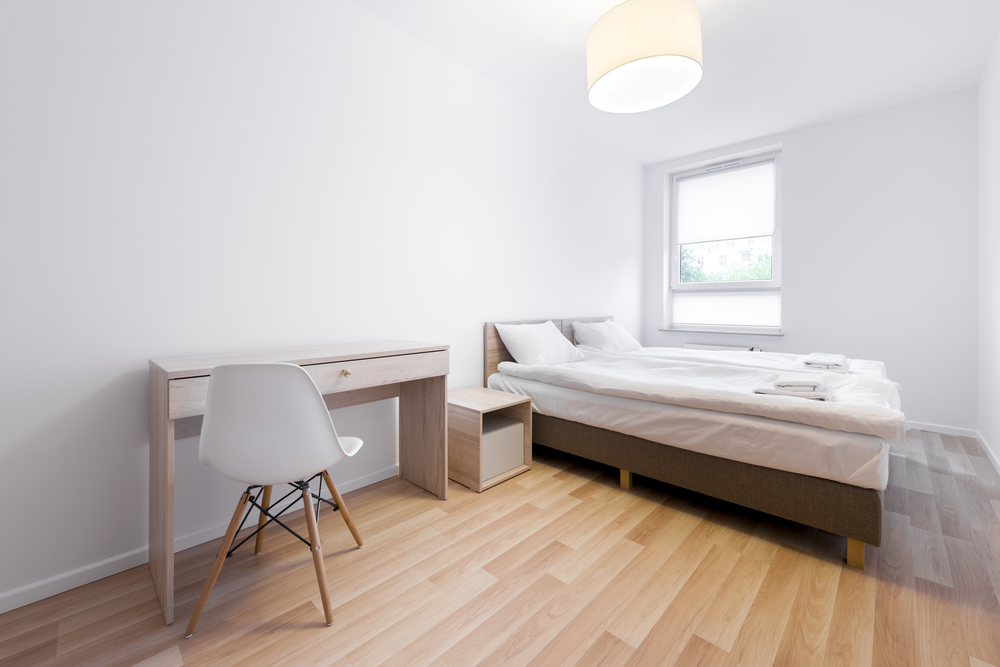 Small bedrooms tend to be rooms that have previously served some other purpose, i.e. a box room or office. As such, they only have a central light fitting. A single pendant light can be a good starting point for your small bedroom lighting scheme. This will provide a focal point for the room and can be used to create different lighting effects, the choice of drop, light shades, and coloured bulbs.
Using mirrors to multiple the number of lights
By cleverly positioning a large wall height mirror directly behind the trio of pendants descending from a single ceiling mount, this room appears to have a majestic six-light chandelier. The optical illusion created by the strategic use of mirrors effectively increases the apparent size of the room for the cost of one mirror. And while we're on the subject of mirrors, they don't just have to be used on walls. A strategically placed freestanding mirror can also do wonders for a small room, making it appear brighter and more spacious. An additional bedside light sits on the opposite side of the bed, helping to boost the light levels on the darker side of the room.
Themed pendant shade helps tie the room together
One of the greatest strengths of the pendant light is that it is so versatile. Light shades (or ornamentation) can be picked to contrast with the room or make a statement, or, as in the case of this room, the light shade can be chosen to perfectly compliment the room, tying it all together in one unifying scheme.
LED strip lights enhance the natural ambient light
This teenager bedroom has a simple but effective lighting design. Rows of LED strips hide behind a false ceiling to provide a warm glow on both sides of the room. During the day, the large windows let in plenty of natural light, enhanced by artificial light. When considering ceiling lights for small rooms, false ceilings and recessed lights help boost light levels without fittings getting in your way.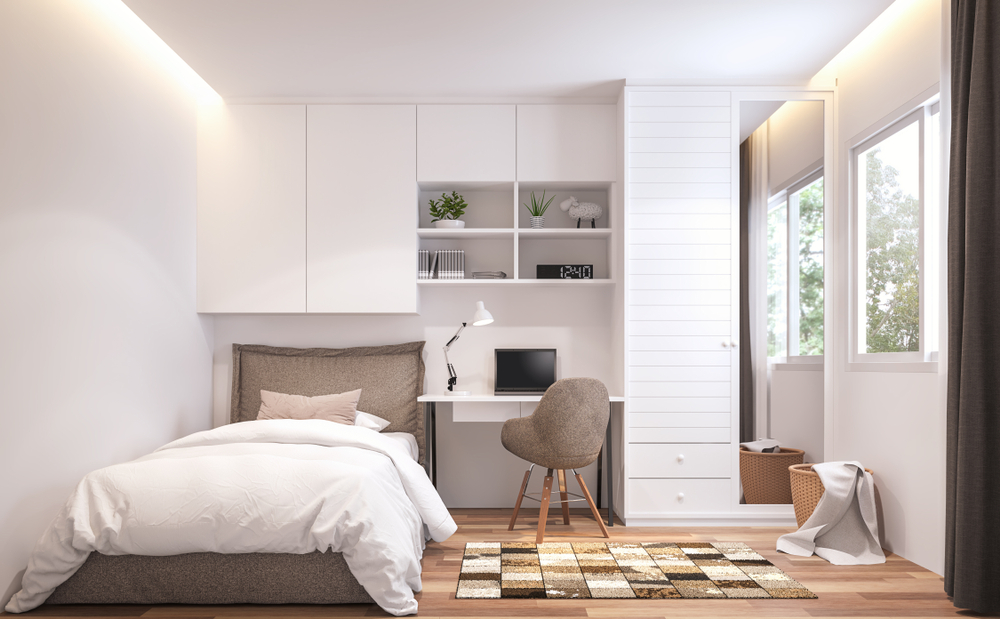 Large mirrors add light and depth to a pale bedroom
This small bedroom has ample natural light thanks to the huge windows. The owner has enhanced this further by adding a similarly large mirror on the opposite wall, ensuring that light is reflected around the room, reducing shadows. This also created the illusion of depth, as if there is a large internal window allowing us to glance into an adjoining room. When planning lighting for small rooms, it's important to make the most of what you already have before considering adding more.
Multiple pendant lights help improve illumination in this tiny room
By employing several small, low-hanging pendant lights, this designer has avoided the need for a central light fitting, instead bringing the light to where it is needed most. The different heights of the cords also add interest to the room and create a more dramatic lighting effect. When considering lighting for small spaces, it's important to be creative and think outside the box.
LED strips, downlights, and bedside lamps ensure a bright room
When it comes to ceiling lights for small spaces, downlights are often considered to be problematic, as they can make a room feel smaller. However, in this instance, the downlights have been used with LED strips and bedside lamps to create a well-lit space that feels stylish and welcoming. By using different types of light, the room has been given a much more dynamic feel. The windows allow plenty of bright sunshine during the day, while in the evening, the warm glow of the LED strips, wall-mounted side lamps, and even the light from behind the TV all ensure that the room has a relaxing ambience. The overhead spotlights provide ample task lighting for those entering the room or standing by the wardrobe to change.
Adjustable spotlights add interest to a small bedroom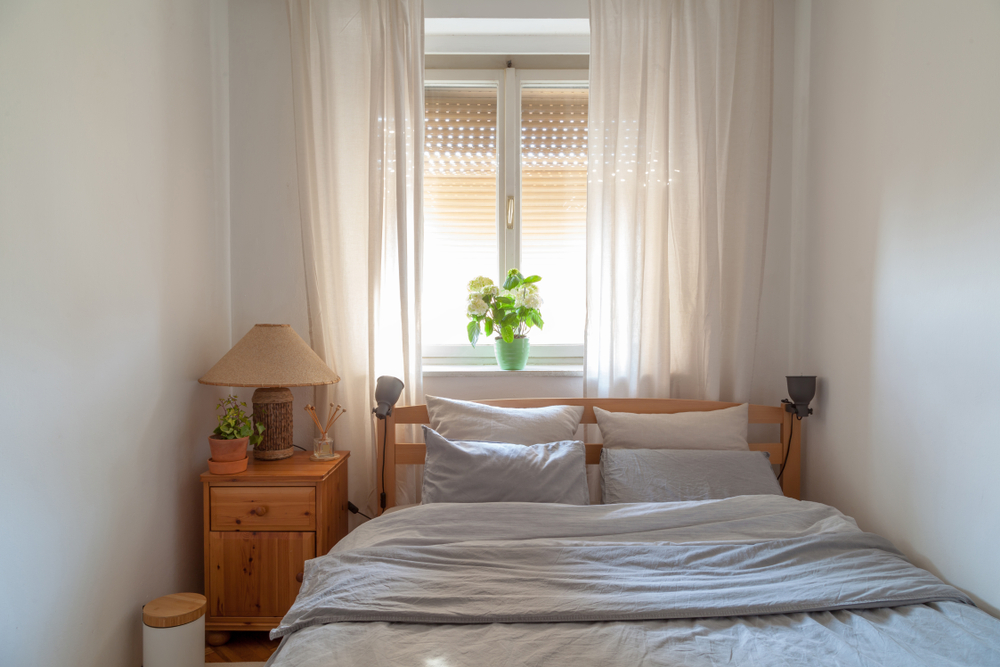 This minuscule room barely has space for the bed and side table, seriously limiting the opportunity to use floor lamps. Instead, the owner has used adjustable spotlights to illuminate the bedroom voiles. This creates a point of interest in the room and allows light to become diffused as it bounces through and from the material, softly brightening the room.
Pale tones and mirrors help improve the ambience in this small room
Pale colours help make the most out of this small space. A tall mirror reflects window light and the light from the overhead industrial-looking pendant back into the room. The colour scheme in pale pastels and the low furniture level and slender make the room seem large, light, bright, and airy.
Playful use of LED strips in this teenager's bedroom
There is plenty of light decisions being made in this room. When it comes to ceiling lights for small rooms, decisions are often made based on how high the ceiling is. Pendant lights can help tie the room together for rooms with tall ceilings and provide task lighting where needed. In the case of this bedroom, the ceiling light has been lowered to sit directly above the desk, ensuring the occupant of this room has a bright space to work. Note the blue LED strip to the right of the image, which can be moved and draped anywhere it is wanted, allowing the room owner to switch up the feel of the space, depending on their mood.
Flexible light fittings can serve multiple purposes in this luxury room
Although the space is small, this luxury-inspired bedroom still greatly impacts. A ceiling light, out of shot, provides the main evening illumination, but the flexible bedside lights provide much-needed light in the bed for reading. As they are flexible, they can be tilted and twisted to throw light exactly where it is needed in the room.
Multiple light sources and mirrors brighten a modestly sized room
Which is the best light for bedroom spaces? That does vary from room to room. In this simple set-up, the owner has designed the lighting into zones, each for specific tasks. Above the room-wide wardrobe, a line of downlights provides ample light for finding what you need. The overhead chandelier is perfect for softer, more ambient lighting in the evenings. And, by using wall sconces that bracket the bed, the owner has created a relaxing evening space.
Multiple lights can create the illusion of size in tiny rooms
In this tiny bedroom, too small even for proper side tables, it takes a trick or two to create the illusion of size. Using a ceiling light for small bedroom spaces is okay, but using two or more is better. In the case of this room, hanging a low pendant light on either side of the small double mattress tricks the mind into seeing more space than there is.
Industrial influence pendant fittings in a small bedroom
With the slate grey wall, the fake iron headboard, and the mesh shades on the pendant lighting, this room is attempting to make a small space with an industrial influence. The pair of pendant lights have been lowered and offset to provide more light on the bed, centrally in the room. The artwork positioned near the window helps reflect additional light into the room to prevent it from feeling dark. If you struggle with light levels in a room, check our article on how to brighten a dark room.
Mirrors are vital for lifting the light in dark rooms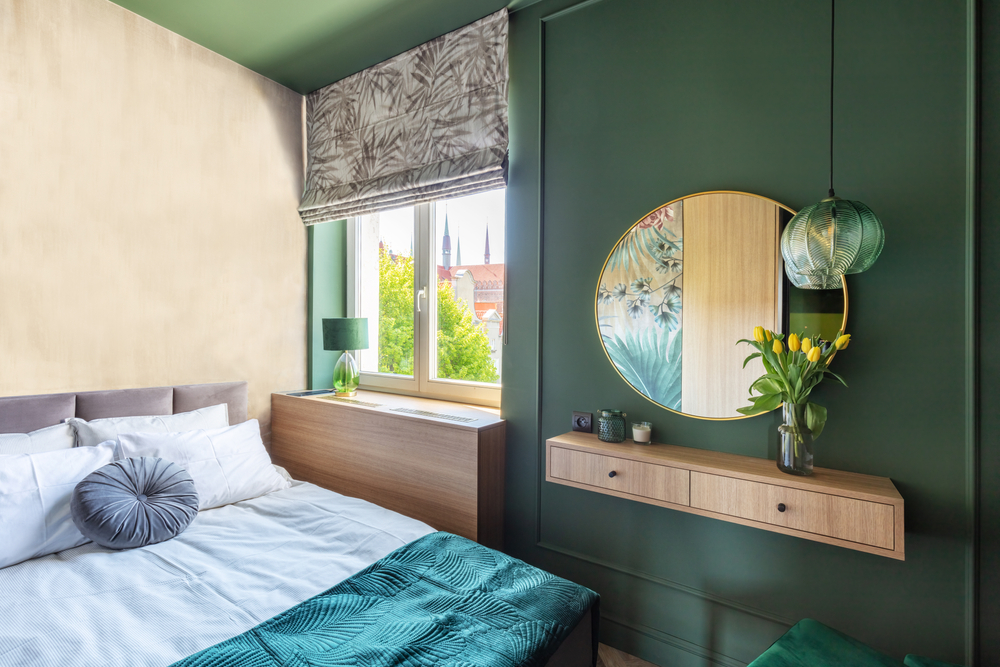 This room has been painted in a dark green, which risks the room looking dark and dingy. To combat this, the room features a large mirror in the darker area of the room, with a pendant light hung low to sit at its level. The mirror picks up both the bouncing natural light spilling into the room via the window and directly bounces the light from the pendant when stitched on. If you don't have a large blank wall to hand, then consider using a freestanding mirror instead.
Bedside lights and pendants provide plenty of light for most bedrooms
There are many ways to experiment with light, including installing downlights, wall sconces, etc. But for most bedrooms, regardless of size, a centrally placed pendant light with a good light diffusing shade will do the vast amount of heavy lifting that a room requires. Pair this up with a bedside light, either tabletop or freestanding, and you'll have more than enough light for any activity.
Matching ceiling light and wall sconces create a strong look
It's fair to say that this room is larger than many we've shown previously on the list. However, its simple design belies its functional needs. While the room is, for the most part, without frills, the ceiling light that uses LED strips for its effect also matches the two wall sconce lights, tying the theme together. By doing so, the owner made this almost empty room look much more purposeful.
Spotlights on a slopped ceiling in a room full of lighting tricks
This room's creator has worked hard to make the most of several tricks to improve the brightness and make the room appear bigger. The low, angled spotlights help to draw the eye upwards and create a sense of space. The use of light colours on the walls also helps reflect more light around the room, particularly from the ceiling. And by keeping the flooring and bedding simple, there's less visual clutter to make the room feel cramped.
A large mirror across the width of the bed, a pair of bedside lamps, and the glass-fronted reflective artwork on the opposite wall ensure plenty of light bouncing around the room, making it a much more appealing place to spend time.
Angled wall sconces promote sitting in bed to read.
Side lamps are necessary for most bedrooms, allowing one or both occupants to sit and read or do other activities. But finding the right side lamps can be tricky. They need to deliver enough light without being overwhelming, and they should ideally match the style of the room. In this instance, the small wall sconces used are perfect for the task. They're not too big or too small, and their angled design means that they can be easily adjusted to put their light exactly where it is needed the most.
Small lights for a small room
The final image in our gallery, this tiny room, looks suitable for any student. Natural light and a ceiling light effectively light this room throughout the day, but for effective task lighting, the room designer has placed wall sconces above the bed to ensure that reading in bed is a simple task. A slim, wall-height mirror creates the illusion of a narrow doorway into an adjoining room, opening up the space, while a small lamp sits neatly on the study console to provide a small bloom of light when needed.
Conclusion
Small bedrooms often lack natural light, making them feel dark and dreary. One way to combat this is by using multiple light sources and mirrors. Mirrors can reflect additional light into the room, while additional light fixtures can help brighten a space.
Flexible light fittings, like bedside lamps, can be tilted and twisted to throw light directly where needed in the room. If you are struggling with ways to light your small bedroom, read through our images gallery for inspiration and tips to create an inviting and comfortable space.
FAQ
What is the best lighting for a small bedroom?
The best lighting for a small bedroom depends on the space's specific needs. Consider using a ceiling or pendant light if you need task lighting, such as in a teenage bedroom, where studying and reading might occur. For ambient lighting, try using a pendant with a thin shade that diffuses light while letting plenty through. For rooms where sleeping and snuggling up in the bed are the only prime uses, consider chandeliers or large pendant lights that can create a large, diffuse light source.
How do you make a small room look bigger with light?
There are many tips and tricks to making a small room look bigger. One way to do this is by using light colours on the walls, which can help reflect light and make the space feel brighter and more open. Another way to achieve this is by using mirrors, which can reflect light and make a space feel larger. Finally, consider using low-profile furniture and avoiding clutter to help a small room feel more open.
How do you decorate a small bedroom with a light?
As with any space, it is important to consider the specific needs of the room when decorating with light. A desk or floor lamp might be a good option if you need task lighting for reading or studying. For ambient lighting, ceiling lights and wall sconces can help create a soothing and inviting atmosphere. Finally, remember that less is often more when it comes to light in small bedrooms – too much light can be just as jarring as too little. A 3m x 3m bedroom does not require two runs of downlights, a chandelier, and several floor lamps!
How do I get better lighting in my bedroom?
There are several ways to improve the lighting in your bedroom. Pale colour paint, mirrors, and lighting all play a part in the amount of light reflected around a room. Consider using a bedside or desk lamp if you need more light for specific tasks, like reading in bed. If you have large windows, put a large mirror or reflective artwork on the opposite wall for maximum benefit, and finally, avoid using heavy curtains or blinds that block out all the light.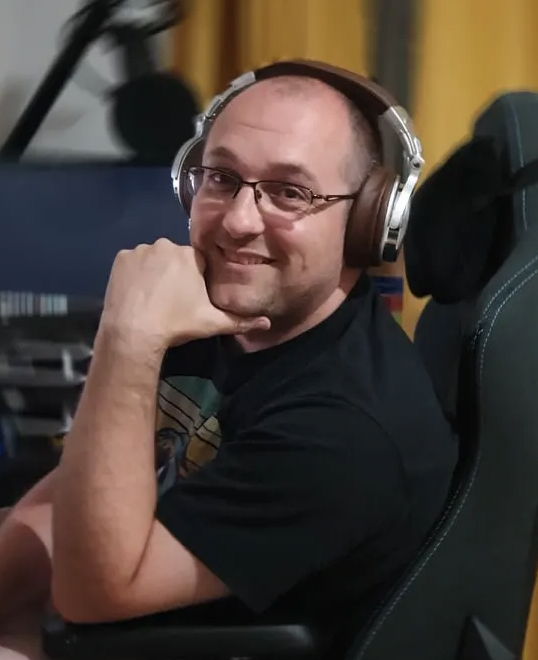 Matt is a professional copywriter and researcher over at https://sucklessatcontent.com/. When he can be prised away from his PC, his wife enjoys setting him DIY tasks around the house.