Gardens serve many purposes, from providing a place to grow fresh fruits and vegetables, creating a boundary between areas, to simply offering a space to relax and enjoy the fresh air.
For most of us, the garden is a great place to sit in solitude and spend time outdoors, but it can also be a beautiful and inviting space for entertaining guests or spending time with family. As we entertain into the evening and dusk falls, the lighting in your garden can make or break the magic.
Because lighting transforms outdoor space, it is worth carefully planning your creative garden light design. When dusk falls, and the lights switch on, your garden will take on a new atmosphere. Whether you want to create a romantic ambience for alfresco dining or illuminate your outdoor areas for safety and security, there are plenty of ways to transform your garden with lights.
Let's explore a few creative garden lighting ideas to get your imagination going.
Ground level lighting highlights pathways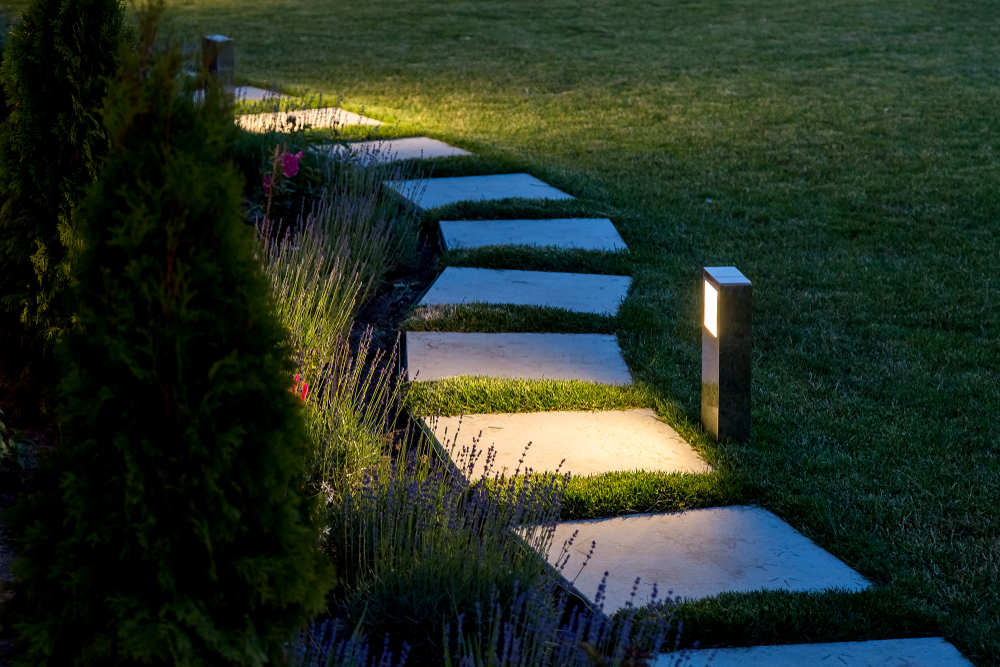 These ground-level lights are solar-powered and easy to position in the soil, creating pools of light along the path. Not only does this look good, but it also allows you to find the path in the dark as you cross your garden, making it a handy safety feature.
Permanently installed lighting along stairways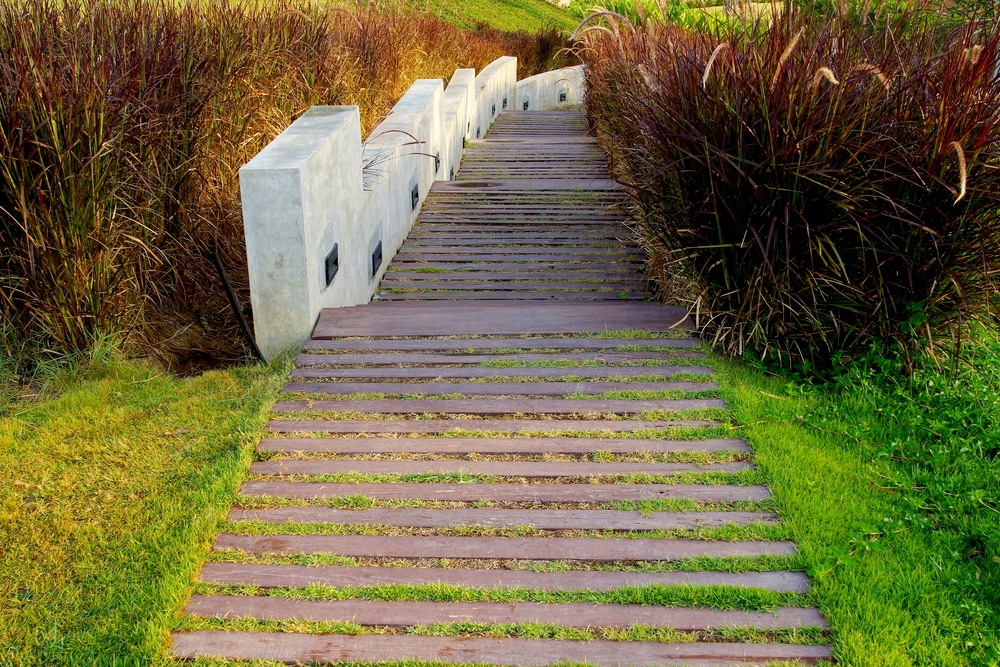 For added safety, this garden owner has installed mains-powered lighting along the stairs leading down the garden, ensuring that every step receives plenty of light. This is a great idea if you regularly entertain in your garden as your guests will be able to navigate the space easily, without the risk of trips and falls.
Ground level spike lighting among the vegetation and path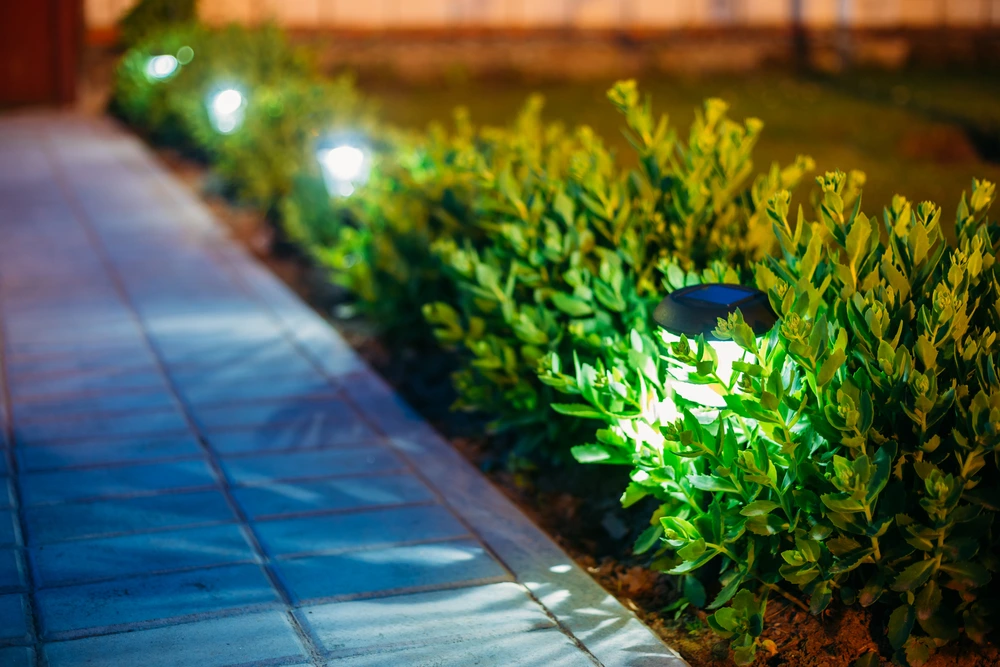 One of the more common modern garden lighting ideas is to use spike lights to put lights among the flowers and other plants, especially if they also help light the path. This creates interesting lighting that changes all year round as the plants grow and die back. The majority of such lights are battery or solar-powered, so you can add them on a whim and move them as you see fit. For more powerful lights, such as spotlights, you can buy these on simple spikes, but they require either plugging into a mains socket or wiring into a circuit.
Strings of bulbs create a warm and cosy area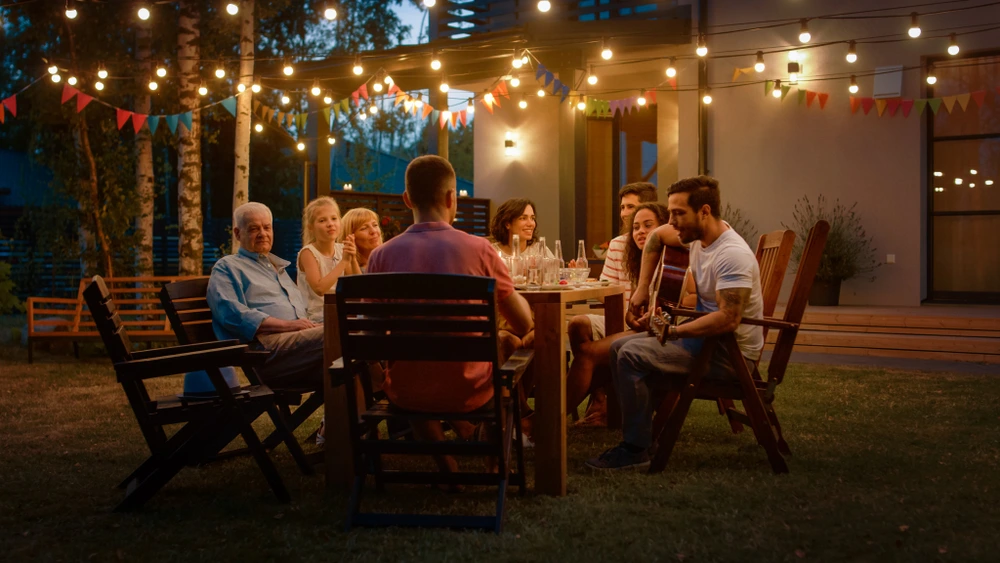 If you're looking for ideas for outside lights that will extend your evening in the garden in a warm, cosy manner, it's hard to beat simple strings of light bulbs. These can be wrapped around trees or trellis, draped over a pergola, or even just hung from nails in the shed. They provide an intimate feel and are perfect for entertaining on summer evenings. Ensure you get ones designed to be used outdoors, as regular light bulbs will quickly burn out in the moisture and cold and also present a safety hazard.
Solar lighting on tables works to create a pool of light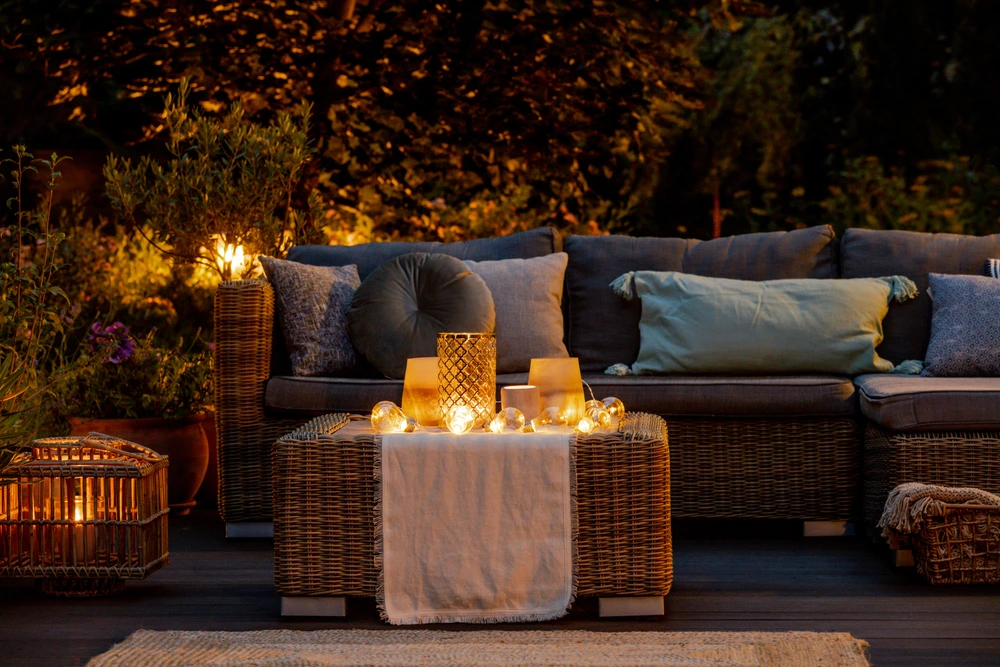 When planning garden lighting ideas, solar lights should not be neglected. These handy little lamps and bulbs can easily pick up enough energy in the day to stay bright late into the evening. Collect a few on your table for a pool of light, or place them along the edge of flower beds for leading lines of soft, romantic glows in the evening.
You can also use them below plants and trees to throw light upwards into their branches and leaves; just be sure they can receive enough sunlight to charge. Some solar lights have panels separate from the light, with wires running between them, making this easier to achieve.
Lighting the descent from home to garden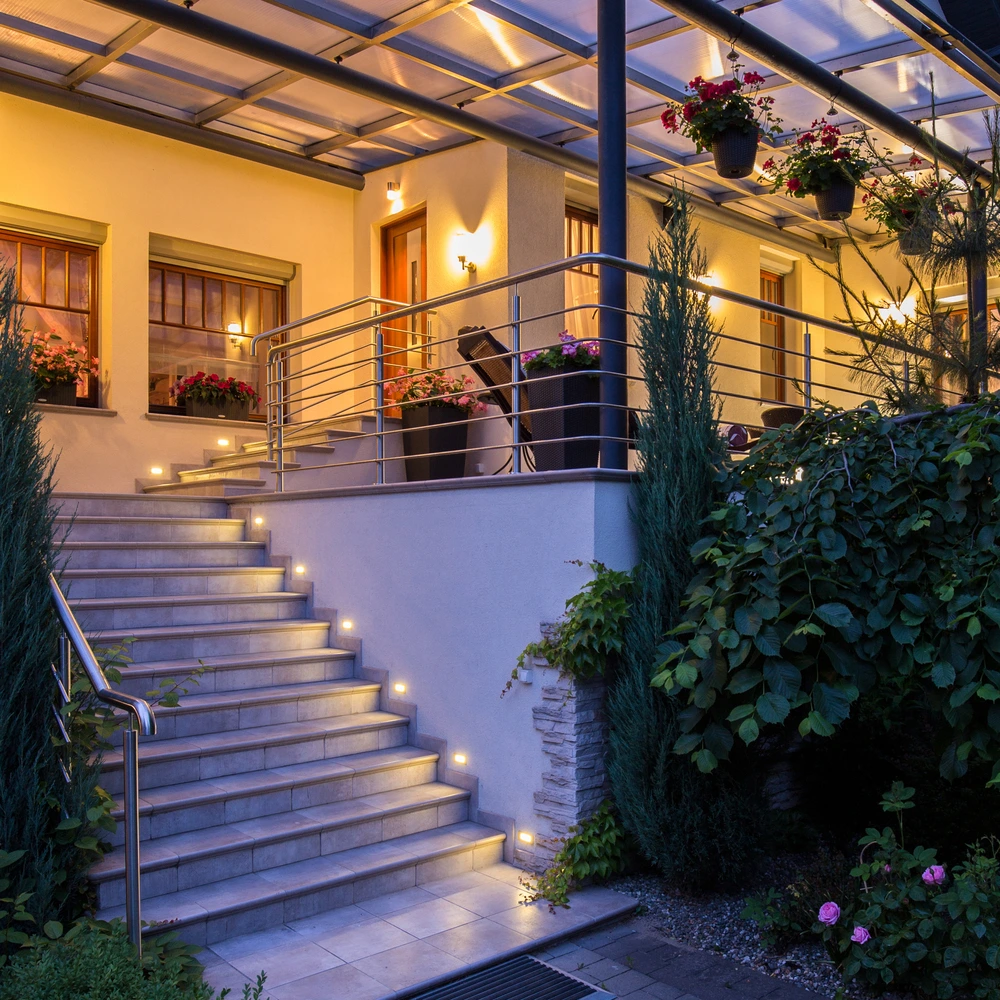 Even if you are not inclined to add lights within your garden, it can be effective to light the path or steps that take you from your front door to your back garden. This is especially useful if you have a lot of steps, as they can become treacherous in low lighting conditions. In this garden, there is ample light on the steps, but it does not dominate or detract from the beauty of the space. In addition, wall sconces provide pools of light for the doors, making this a comfortable, well-lit oasis of light overlooking the darker garden.
Add lighting beneath structures for comfortable shelters
Shelter areas like this gazebo are great for adding some lighting. The majority of the space is already in darkness, so adding a few sources helps to make it feel more inviting and comfortable for those spending time there in the evening. Keeping the light high inside the shelter helps stop stray light from beaming out to the sides and instead strengthens the feel of the secluded pool of light you want to create.
Water features are outstanding when lit up at night
This is truly a beautiful garden design. Fountains and waterfalls are transformed in the evening, becoming mesmerizing sources of relaxation. The key here is to keep the lighting low so that you get the gentle glow as light shines through the water or reflects on the water's surface without blinding anyone who looks in the direction of the light.
Integrate lighting into your decking plans
If your decking plans involve steps, we would strongly recommend considering adding lighting that can help prevent trips and falls; plus, they look great. You can get solar options or have them professionally wired into your home's electricity supply.
Special occasion lighting for storytime in the garden
Of course, not all outdoor garden lighting ideas are about daily garden usage. This intriguing setup makes the most of playful lighting shapes, solar lights and overhead bulb strands to create this wonderful storytelling area. Get the kids cosy, and enjoy a late evening of entertaining them.
Less is not more when it comes to garden lights
When it comes to beautiful garden lighting ideas, we can confirm that less is not more. We aren't saying flood the property in brilliant daylight at 11 pm, but creating a large, diffuse glow of warm lights is a magnificent way to show off your garden in all its glory. If you're worried about energy usage, consider solar options or timer-operated lights that will automatically switch off after a set number of hours, or stick with small, low-wattage LED lights over regular bulbs.
Christmas lighting has no rules – Try wrapping trees
Okay, we know by the time we reach Christmas, sitting outside will be a rare occurrence, but there is still scope to play with garden lighting ideas. Besides the risk of annoying your neighbours, there are few limits when experimenting with lights at Christmas. You can play with wrapping trees in single or multi-colour lighting. Many LED light strings are waterproof and expressly designed for outdoor usage, as long as you have a secure plus socket. Light-up animals are a must too, so this picture needs a little more work!
Conclusion
Garden lighting can add to your home's ambience and beauty, both inside and outside. Depending on your needs and preferences, there are many different types of garden lights from which to choose. Will your garden lighting ideas revolve around the functional, adding safety lights to prevent falls, help find the keyhole, or ward off unwanted visitors? Or will you be creating a magical Christmas grotto, fairytale story corner, or a romantic hideaway?
You can use shielded lighting or low-wattage LED lights to create a gentle glow for evening relaxation or wrap structures in fairy lights for special events. If you're having a wedding reception or after-party in your garden, be sure to decorate with plenty of beautiful garden lighting ideas!
Lighting a garden is an art form and one we enjoy immensely. We hope you've enjoyed reading about some of our favourite ideas, and we can't wait to see what you come up with in your garden!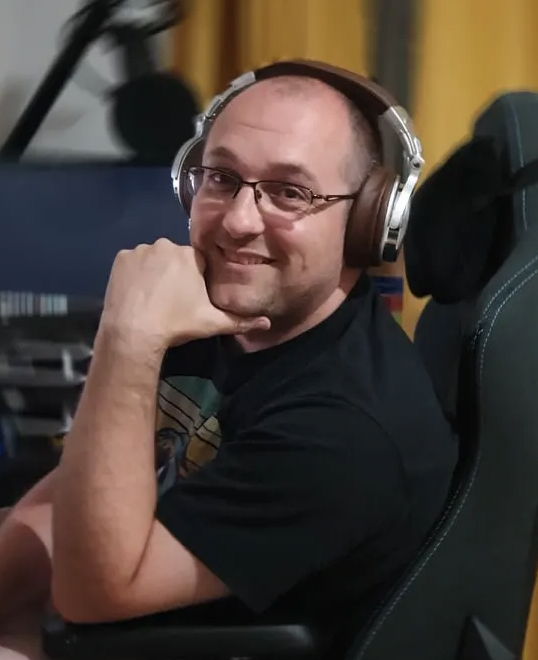 Matt is a professional copywriter and researcher over at https://sucklessatcontent.com/. When he can be prised away from his PC, his wife enjoys setting him DIY tasks around the house.