Looking for a perfect bathroom design that will always stay stylish and sophisticated? Choose the classic black and white combination! No wonder these two colours have been a staple in significant fashion and designer brands; their timeless charm is always a good choice, whether for clothes or home decor. However, getting the suitable black-and-white bathroom tiles or walls can take time and effort. There are many different styles and ways to combine black and white colours; the trick is to use the right tones that correspond with each other.
It is also necessary to remember which style you are aiming for and pick out shapes and textures accordingly. Choosing the wrong mix of patterns can end up looking cheap and messy. Mixing two flat or dull tones of black and white might give an impression of a cold and very flat room instead of bold and elegant.
Remember that when you limit your bathroom colour ideas to two contrasting tones, you can create a graphic look that is dramatic and glamorous, but you need to be careful to make the space manageable. If you aim for a more relaxing vibe, embrace a dual-toned scheme that layers shades and tones of black and white, adding light grey features, soft white tones and deep black undertones to underline a cosy feel.
Here are a few examples of bathrooms for inspiration. All different styles and different sizes of bathrooms show you that every bathroom can look contemporary and edgy, no matter the space you have to work with. And every project is possible for you to start!
Black and White Bathroom Floor
A statement bathroom floor might be the one thing that will elevate your bathroom, no matter the room size. Choosing a sophisticated and intricate pattern for your black and white bathroom floor can create an illusion of a bigger space—bonus points for this design's wow effect for everyone who sees your fantastic bathroom. Do not fear combining a bold floor with a bold wall; it can work wonders.
Art Deco
This fantastic art deco-esque-looking black and white bathroom floor would, on its make, have enough heads turn already. But paired with the perfectly chosen black and white accessories and the white bathroom wall tiles, this bathroom looks like a five-star hotel.
Zen and Vintage
Want to feel like you are on a relaxing getaway while taking a bath in your own home? Easy! This bathroom idea has made us feel as if we were in the south of France. The beautiful black and white bathroom floor, rich brown wooden chairs and other features, and the earthy green tones make for a perfect cottage core bathroom.
Retro
Evoking the golden age of American jazz, this chic style with a retro flair proves that opposites can complement each other. The hexagon-shaped black and white bathroom floor corresponds perfectly with the classic black tile wall, and the copper-coloured door handle fits the whole design like a glove. This specific floor has been done by hand, and the tiles for the wall get their inspiration from the subway.
Black and White Bathroom Tiles
Suitable black and white bathroom tiles can make or break the whole bathroom. If you choose the right pattern, shape and style, all you need to do is use one wall or just the floor to lay your tiles, instantly elevating the whole space. You can use only the parts where your shower is built to lay your tiles, which can be enough. But tiles can be placed all over the bathroom if you want to create a monochrome edgy look. This will not only look great, but it is convenient. When cleaning your bathroom, you can clean every corner the same way without switching your tools. These two examples are our favourites.
Soft Light
This unique, timeless-looking bathroom embraces a soft light that lightly illuminates the spaces, giving it a luxurious and designer feel that is still perfect for everyday use. The well-chosen accessories are a big plus that makes the room come together—a thumbs up for selecting a colour-matching soap for the shower.
Modern
Black and White Bathroom Paint
Black and white bathroom paint can have many forms, elevating your bathroom if you do not feel like using tiles. Colour is also easier to change and adapt to your needs, so if you find out that black and white bathroom paint is not for you, with a simple paint job, you can choose any other colour you might like. We also recommend this for those who need more clarification on the monochrome look and would enjoy a preview before laying tiles.
Minimalism Refurbishment
Who needs to appreciate a before and after? Especially when it is this satisfying. The owners transformed a rather old, sad-looking bathroom into a chic and modern space, using a few tiles and a lot of paint. The black and white tones here are used differently than in previous instances, but this bathroom requires more white. The floor is also a perfect shade of grey, leaning towards a warmer feel.
Smart for Small
Not enough space does not mean your bathroom has to remain boring. This bathroom has been renovated with the right choice of black and white bathroom paint and perfectly shaped bathroom tiles. The black floor tiles add depth and sophistication while the other black details provide a modern spin.
Black and White Bathroom Walls
Do not forget the endless possibilities and combinations when opting for black and white bathroom walls—no need to limit yourself to just paint. You can experiment with different materials, such as tile, concrete or marble. And do not fear complicated designs or too much styling, as here we can show you how to combine different styles well and tastefully.
Marble
Marble is tricky sometimes, but when done with the right combination of accessories, it can look as chic as in this bathroom. Since marble is associated with old-school, heavy and cold designs, we understand many customers have decided to avoid it. But as you can see in this bathroom, marble can be incredibly modern and light. Select the right combination of black and white bathroom walls and flooring for the best look.
Industrial
Industrial design is a trend that has been with us for some time now. Exposed wires and other building materials used to be a sign of unfinished work, but when paired with luxury accessories, the whole room gains a breath of elegance. Such as in this case, black details transfer this bathroom to new, luxury heights.
FAQs
Which colour goes best with black and white?
After you have finished your new black and white bathroom tiles and the bathroom as a whole, it is time to add a few contrasting notes. Although you can leave the two colours as they are, and the bathroom will still look as edgy and elegant as you intended, adding a pop of colour can elevate the whole look of the room and bring a designer vibe to your bathroom. The most popular colours to mix with black and white to achieve an expensive look are soft pink, gold, teal and green. If you aim for a luxurious look, selecting gold and teal or some shades of pink will help you reach that goal. If you plan to accentuate your black and white bathroom to look more natural and zen, green and lighter brown will appear more earthy and clean.
How to clean black and white bathrooms the best?
An elegant and expensive design is only possible if kept clean. And black or dark colours are the most susceptible to every microfiber of dust. If you want to avoid constantly cleaning and dusting, here are some steps to follow. To keep your black and white bathroom tiles looking clean, use soap from soap dispensers to avoid unnecessary soap stains all over the bathroom. With a microfibre cloth or towel, always wipe down water after every or every other shower you take so no tiny water drops are visible. Aim to clean without harsh chemicals or scrubbers. If you prefer natural ingredients, such as lemon juice and baking soda, make sure that the strong acids do not harm your tiles or cause discolouration. Better stick to natural cleaning products crafted and sold commercially as they can account for the right acidity and will not harm you, your skin or your newly renovated bathroom.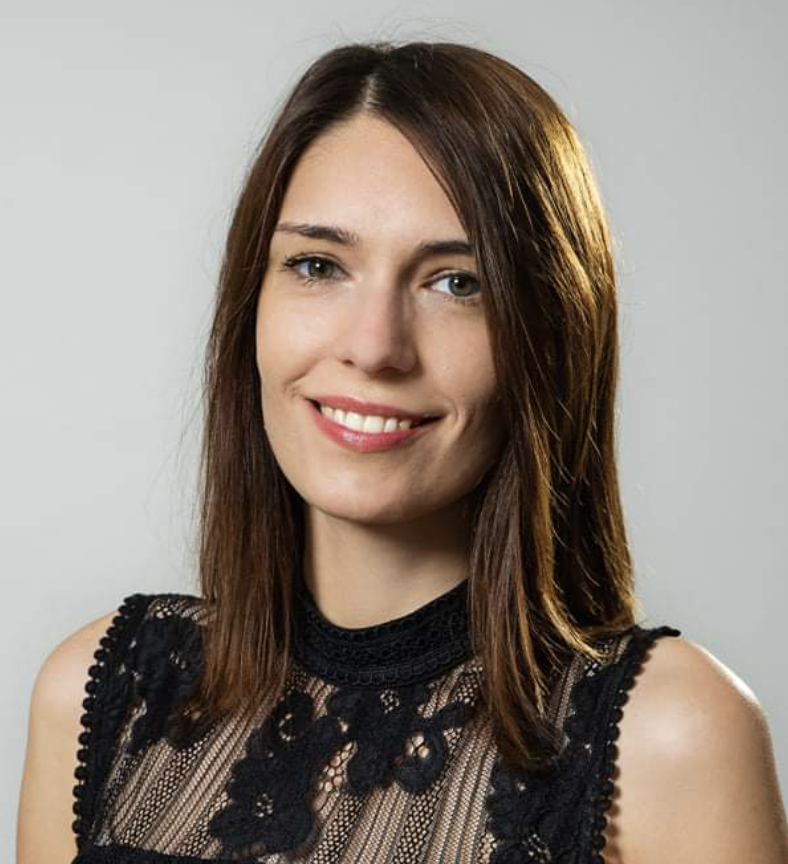 Andrea is a garden and DIY enthusiast. She always comes up with great ideas and the latest trends in the interior or outdoor design.