Nail guns have become an essential tool for construction and DIY projects. Both professionals and enthusiasts use them. You've come to the right place if you're in the United Kingdom and looking for the perfect nail gun to elevate your woodworking or home improvement projects. Our comprehensive blog post explores the finest nail guns in the UK market. Whether you need a robust framing nailer for heavy-duty structural work or a delicate finishing nail gun for intricate, detail-oriented projects, we'll guide you through the selection process. This review explores nail guns and examines their features, functions, and real-world performance. We aim to help you decide and select the ideal nail gun that matches your specific requirements and goals.
Best Nail Guns
DeWalt DCN694 18v XR Cordless Brushless Metal Connector Nail Gun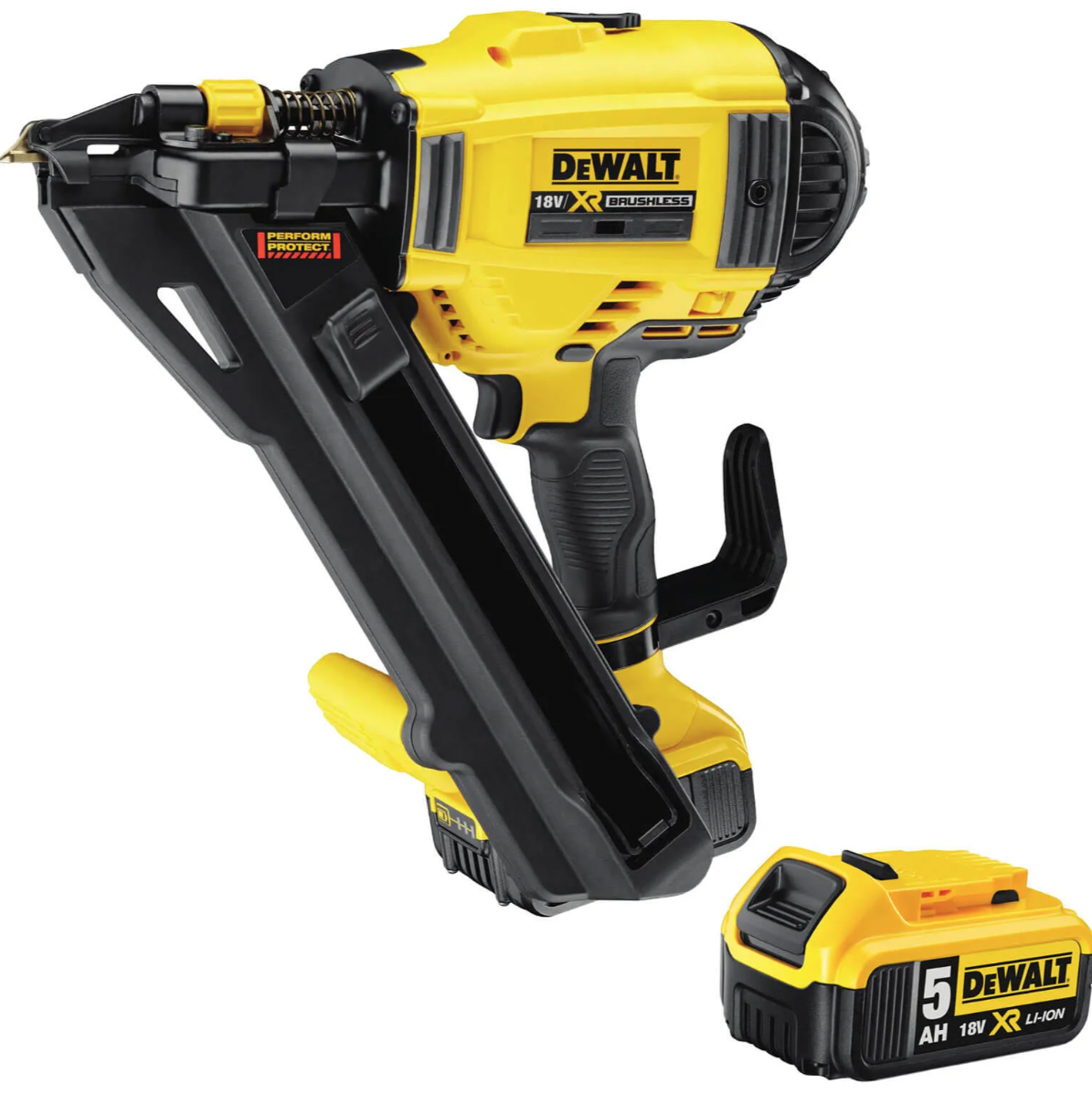 If you need to fix metal connectors, the DeWalt cordless nailer with plate number 1 is a reliable and efficient tool. This nailer can be powered by any DeWalt 18v XR or 54v Flexvolt XR battery, making it a versatile tool that can be used for various applications.
One of the most impressive features of this nailer is its energy-efficient brushless motor, which provides extended runtime and ensures that you can work for longer periods without recharging the battery. The nailer also has a range of specifications, making it an excellent tool for professionals and DIY enthusiasts.
The nailer has a battery voltage 18v and uses a DeWalt XR lithium-ion battery. It can use nails with a diameter of 3.4mm and has a magazine angle of 33°. The magazine loading is at the bottom, and the nail length is between 35mm and 40mm. The magazine has a capacity of 27 nails, meaning you can work for more extended periods without reloading the magazine.
The nailer has a trigger type of Seq and Hi-Fr Seq; its length, width, and height are 345mm, 125mm, and 338mm, respectively. It has a weight of 3.61kg, which makes it lightweight and easy to handle. The nailer operating mode is single-speed, and it has an integrated belt hook and jam-clearing feature. The fault indicator is between +50 and -20; the noise LPa 1sd/uncertainty is 87 dB, while the noise LWa 1sd/uncertainty is 98 dB.
Overall, the DeWalt cordless nailer with plate number 1 is an excellent tool for efficiency, reliability, and versatility. Its design and specifications make it an excellent investment for anyone looking to fix metal connectors quickly and easily.
DeWalt DCN45RN 18v XR Cordless Brushless Roofing Coil Nail Gun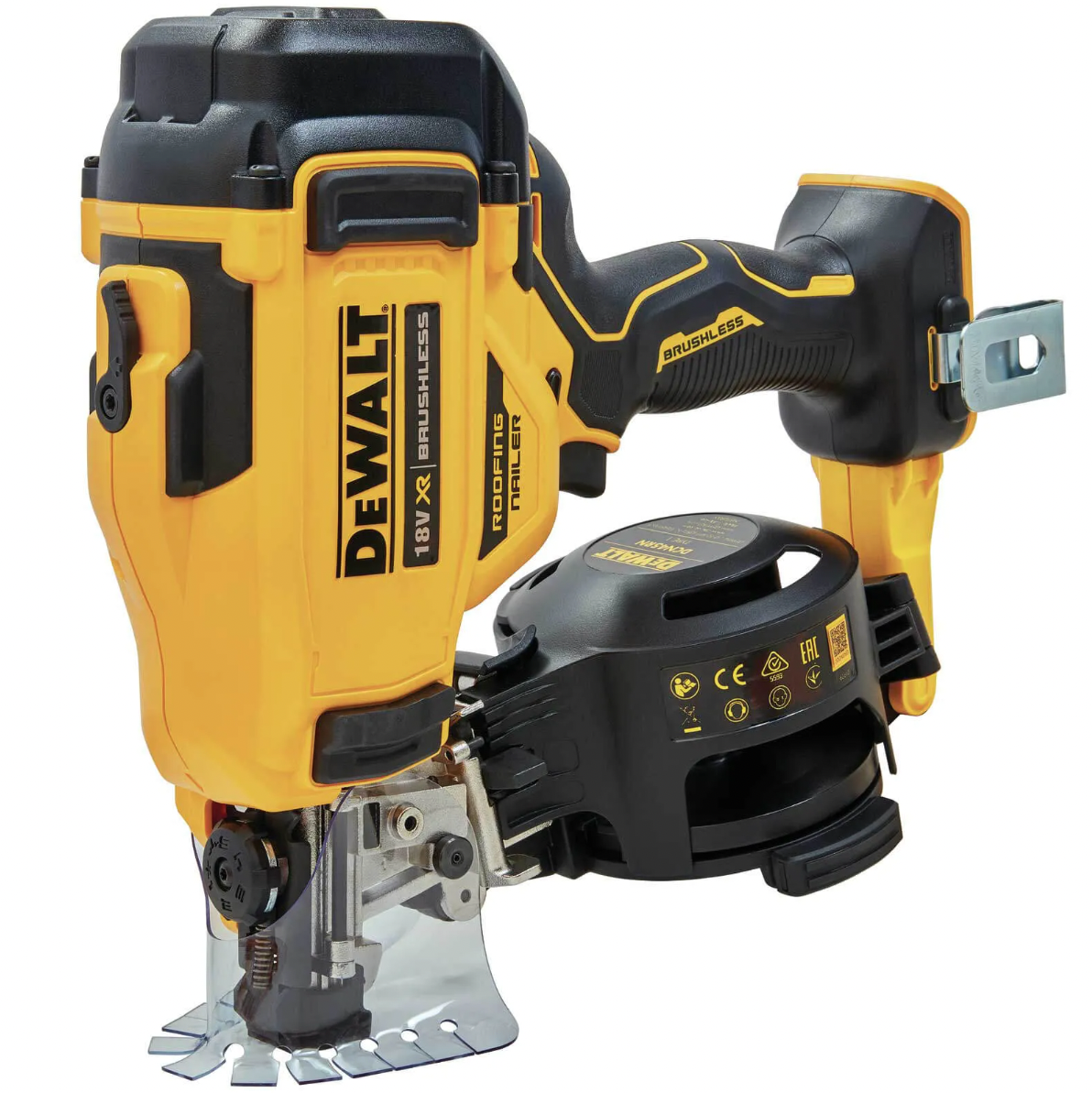 The Dewalt DCN45RN cordless roofing nail gun is a must-have for roofers. It handles roofing nails up to 1-3/4″ and has a brushless motor. It's easy to operate with tool-free depth adjustment and a bump fire mode. The nailer is battery-powered, holds up to 120 nails, and has an ergonomic handle design and belt hook for convenience.
DeWalt DCN701 18v XR Cordless Electricians Stapler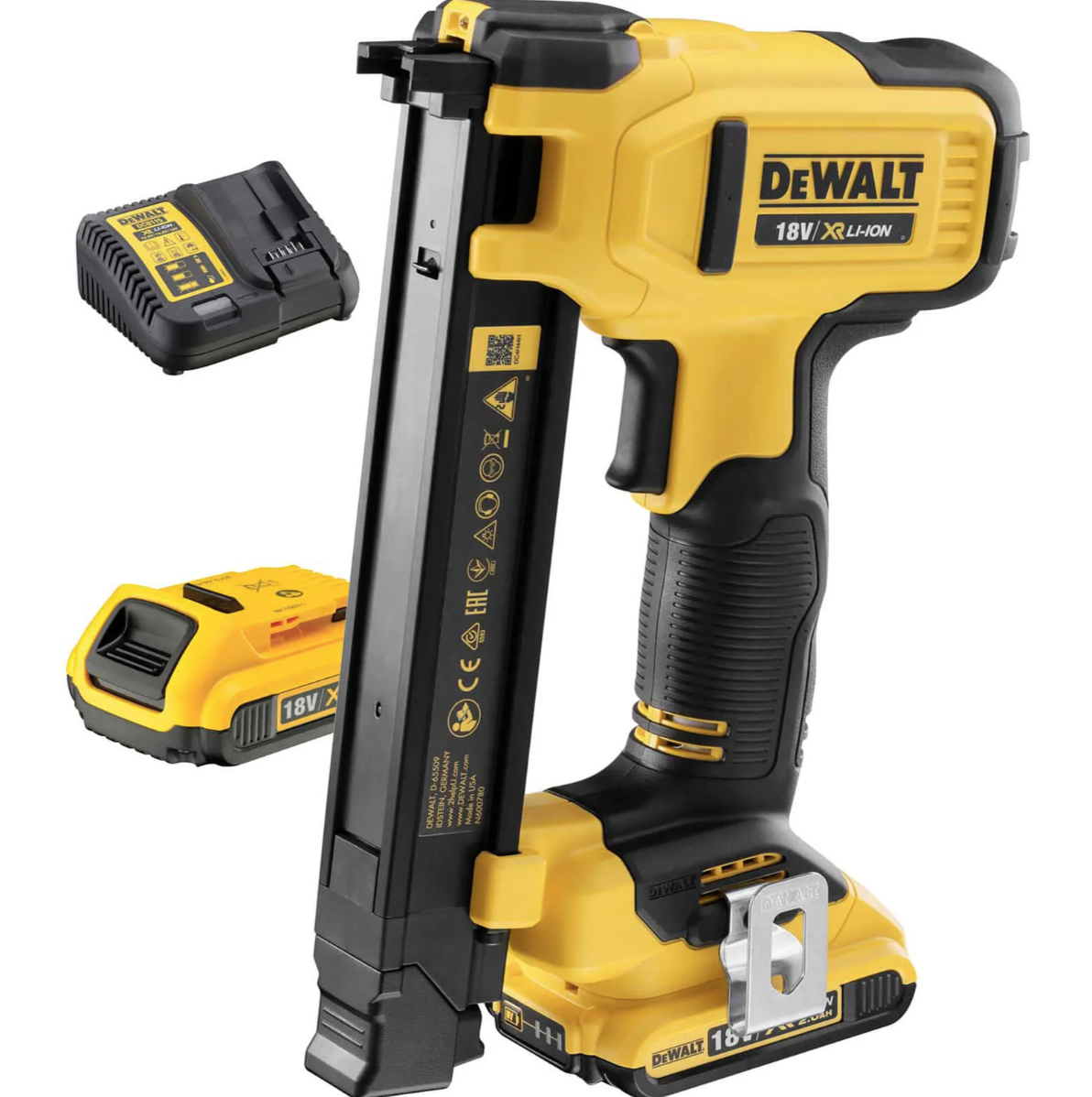 Introducing the DeWalt DCN701, a cordless stapler designed explicitly for electricians. This tool is powered by a DeWalt 18v XR lithium-ion battery, providing consistent performance with low maintenance. Its class-leading noise and vibration ratings ensure maximum safety and comfort. In addition, the stapler features a dry fire lockout function and cordless design to eliminate tripping hazards, making it a reliable tool for multiple tasks. The specifications include a battery voltage of 18v, a staple diameter of 2mm, a width of 75mm, a height of 320mm, and a weight of 2.1kg.
DeWalt DCN660 18v XR Cordless Brushless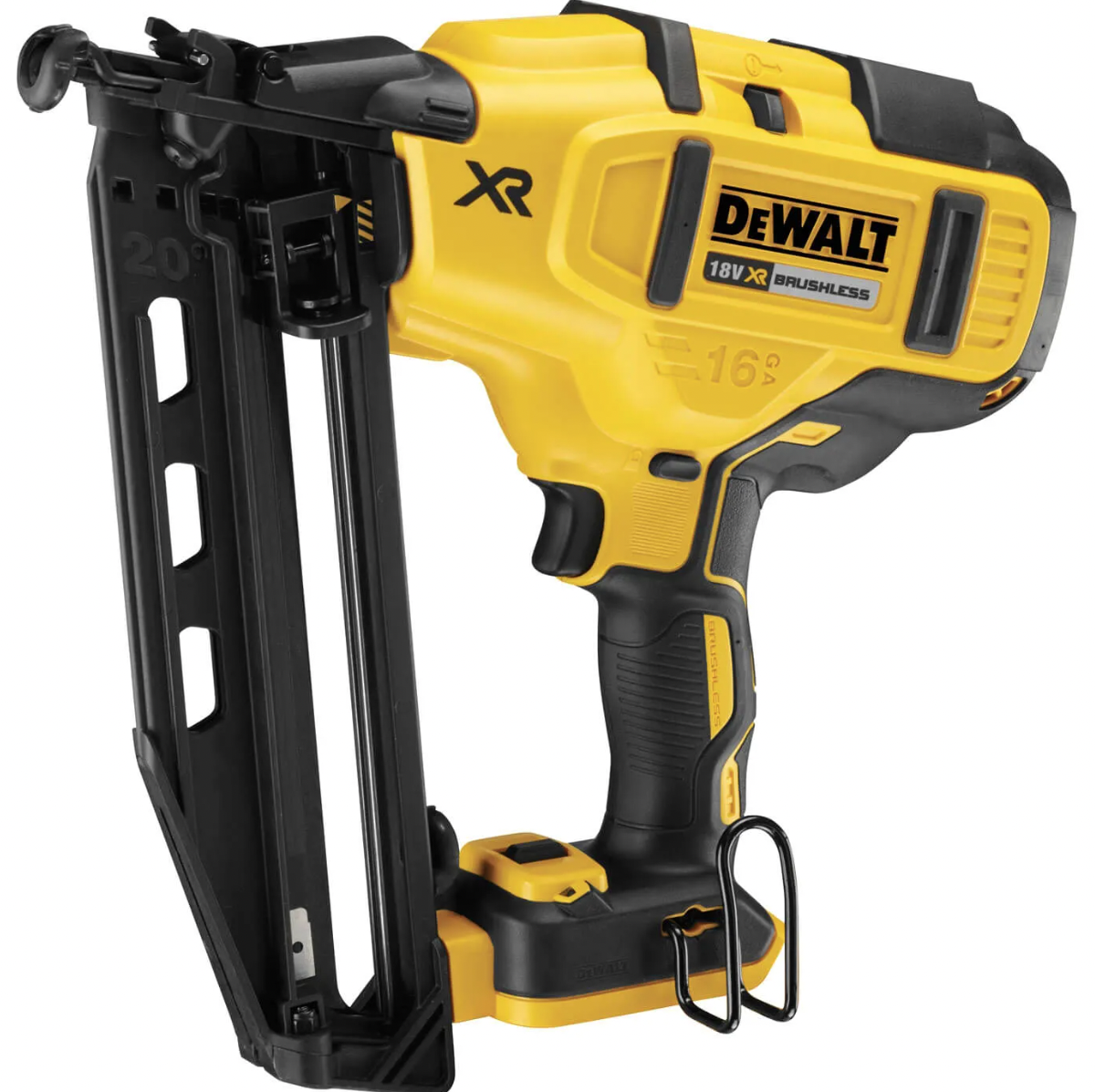 The DeWalt Cordless Nail Gun, with the distinctive plate number 1, is a compact and robust tool built to last. It features an impressive maximum delivery speed of up to 4 nails per second, enabling users to work more efficiently and quickly. This nail gun comes equipped with two modes of operation – sequential and bump activation. This allows users to choose between quick fastening or more precise nail placement, depending on the task.
The DeWalt Cordless Nail Gun is designed with user comfort in mind and has been ergonomically optimized for easy handling. A handy thumb wheel controls its depth of drive adjustment, making operation a breeze. One of the most impressive features of this nail gun is its tool-free jam-clearance system. Users can clear nail jams quickly and easily without stopping work to search for tools.
The DeWalt Cordless Nail Gun is a reliable and versatile tool that is perfect for many nail applications. Whether you're a professional contractor or a DIY enthusiast, this tool will make your life easier and more productive.
Paslode IM65A Angled 2nd Fix Nail Gun Kit (1 Battery)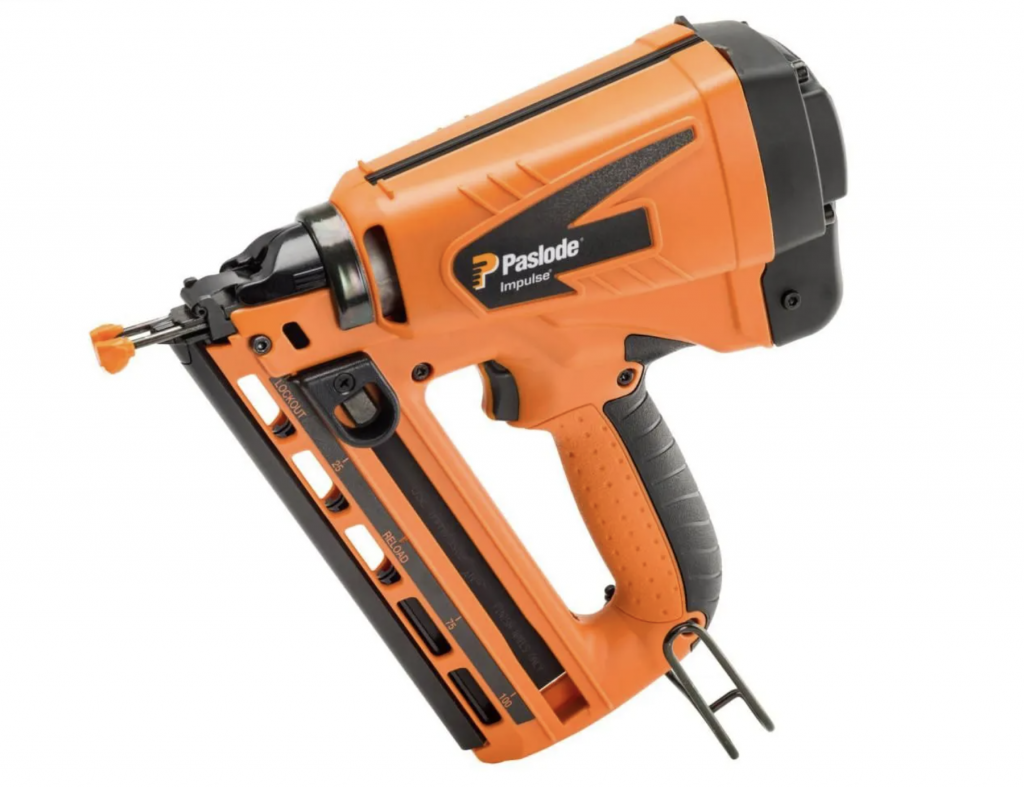 This angled finish Paslode nail gun has a unique magazine for efficient nail placement in tight spaces. It's light, well-balanced, and uses lithium technology for up to 10,000 shots per charge. The nose design is optimised for easy jam access and clear sight lines. It's perfect for softwoods and dense MDF and reduces user fatigue with easy manoeuvrability. The magazine holds two strips of brads, and there's a quick-clear nose cover for easy jam access. It has a nail lockout to prevent blank firing, and the battery lock position allows maximum battery runtime.
Milwaukee M18 FN15GA Fuel 18v Cordless Brushless 15 Gauge 2nd Fix Nail Gun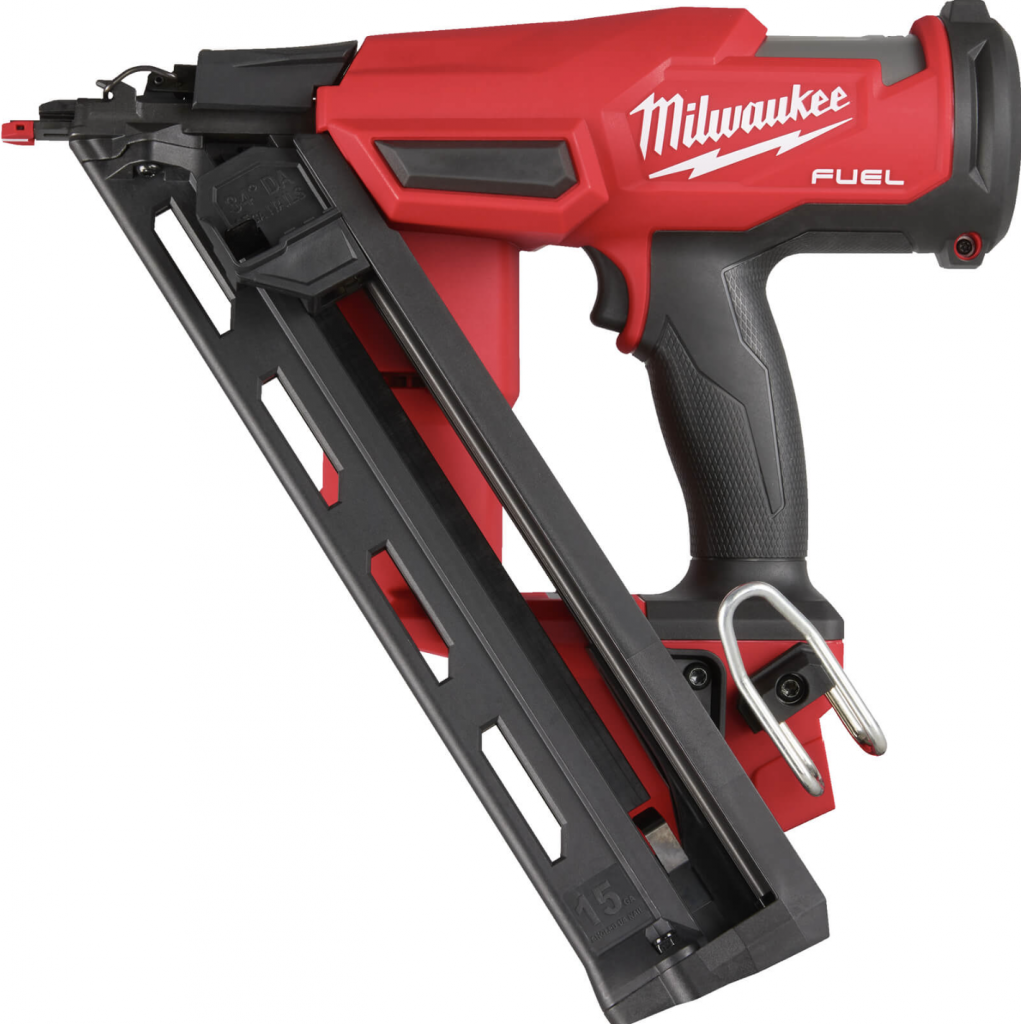 The Milwaukee M18 FN15GA-0X nail gun is a highly recommended tool for professional tradespeople and carpenters. Its ready-to-fire nail technology eliminates the need for ramp-up time between nail discharges, allowing it to fire up to 3 nails a second. Its ergonomic design reduces user fatigue, making it easier to fire nails consistently sub-flush to the surface of hardwoods. With no gas cartridges required, it is more durable and reliable than other models and requires less cleaning. The tiny work contact bracket allows nails to be fired at more acute angles, and the interchangeable noses allow for the best finish possible.
Conclusion
In the world of construction and woodworking, the choice of a nail gun can significantly impact the outcome of your projects. This guide explores a diverse range of nail guns, from metal connectors to roofing, electricians' staplers, and finish nailers. Each of the reviewed products has unique strengths and applications, ensuring a perfect match for every task.
The DeWalt DCN694 18v XR Cordless Brushless Metal Connector Nail Gun stands out for its power and precision when working with metal connectors, while the DeWalt DCN45RN 18v XR Cordless Brushless Roofing Coil Nail Gun offers roofing contractors the efficiency and reliability they need.
For electricians, the DeWalt DCN701 18v XR Cordless Electricians Stapler is a game-changer, streamlining cable and wire securing tasks. Meanwhile, the DeWalt DCN660 18v XR Cordless Brushless Finish Nailer delivers a polished finish on trim and moulding projects.
If you need an angled nail gun that excels in tight spaces and tricky angles, the Paslode IM65A Angled 2nd Fix Nail Gun Kit (1 Battery) is a standout choice. Lastly, the Milwaukee M18 FN15GA Fuel 18v Cordless Brushless 15 Gauge 2nd Fix Nail Gun offers power and efficiency in 15-gauge nailers.
No matter your project, one of these top-notch nail guns will meet your needs.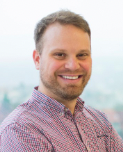 Luke is the founder of Buildiro.com and he is passionate about construction and building. His mission is to show people how to make things done fast and easy.