Stepping into the realm of craftsmanship and hard work requires more than just skill – it demands the right gear, and at the heart of it all are the best work trousers in the UK for 2023. Tailored to the distinct needs of dedicated tradespeople, these men's and women's work trousers go beyond mere aesthetics, offering the perfect blend of durability, functionality, and comfort. From the rugged construction sites to the intricate workshop floors, these trousers stand as a testament to innovation and design, accommodating the diverse roles of the trades industry. In this comprehensive guide, we navigate through the myriad of options to present the pinnacle of work trousers available this year, ensuring that whether you're hauling timber, fixing wires, or crafting something anew, you'll have the support you need every step of the way.
Best Men's Work Trousers
Discover unparalleled durability and functionality with our selection of the finest men's work trousers, designed to empower tradespeople in 2023 and beyond.
Snickers Work Trousers 6208 Lite Work Stretch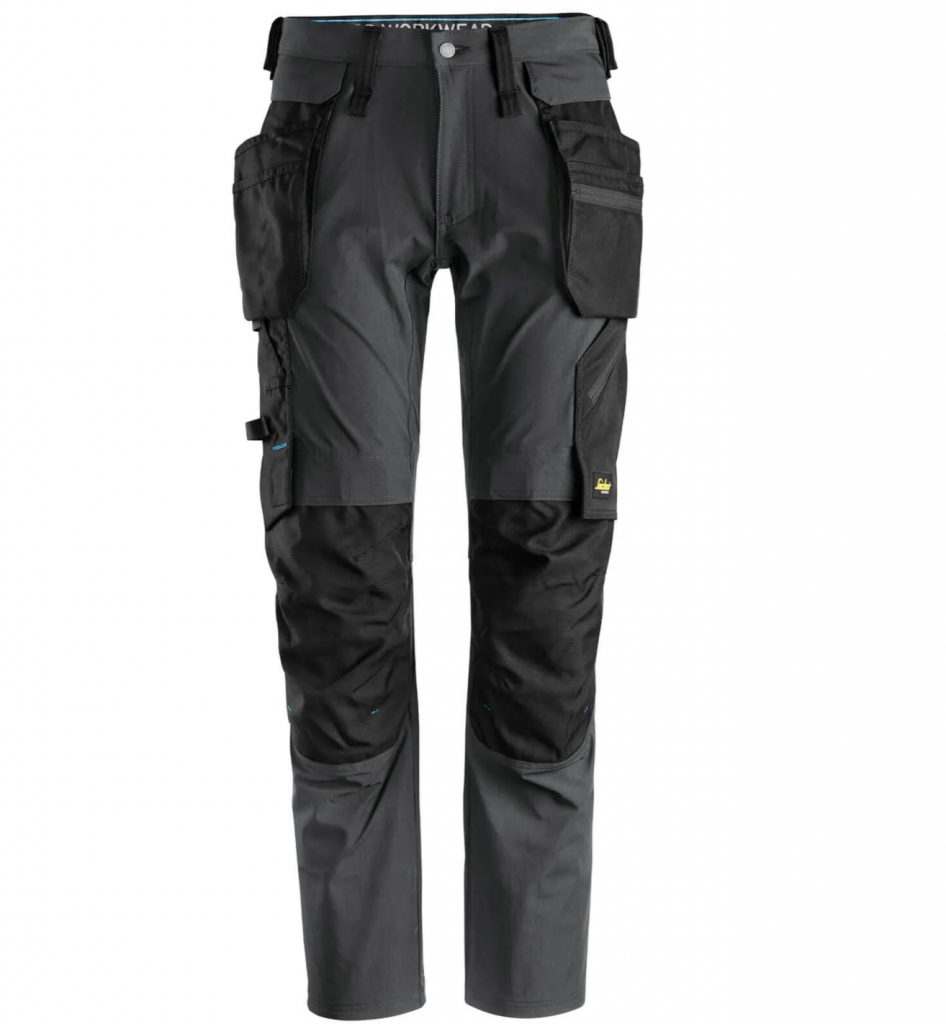 If you work in hot and demanding conditions, you need work trousers to keep you comfortable and mobile. Look no further than these durable options. Crafted from elastic, quick-dry fabric, they feature a 4-way stretch design that allows optimal movement freedom. Additionally, CORDURA stretch panels provide unparalleled knee protection. These trousers are also reinforced with pockets that ensure extra durability and detachable holster pockets for added convenience. Choose these trousers for a reliable and efficient work experience.
Snickers Work Trousers 6903 Flexiwork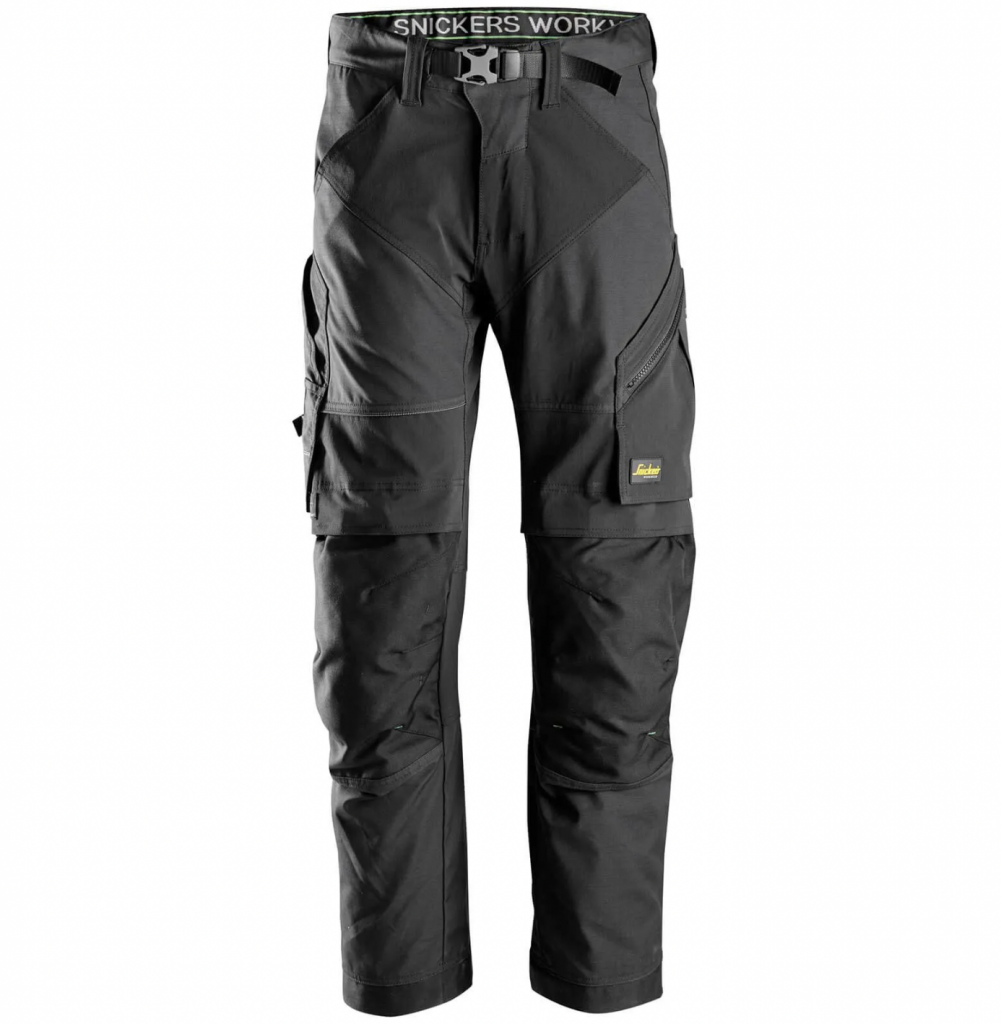 These particular work trousers are exceptional, offering a wide range of benefits that will impress even the most discerning of wearers. Specifically, they are made from an incredibly elastic and lightweight ventilating stretch fabric that provides outstanding freedom of movement and body temperature management, ensuring that you stay cool and comfortable no matter how hard you work. In addition, they feature flexible gusset seams and CORDURA reinforcements at the knees, leg endings, and pockets, making them incredibly durable and long-lasting.
But that's not all. These trousers also boast pre-bent legs, a KneeGuard system, an expandable stretch cargo pocket with a zip compartment, and a ruler pocket with a knife button, providing ample and practical storage options for all your work essentials. Whether on the job site or in the workshop, these trousers will meet all your needs and exceed your expectations in every way.
DeWalt Work Trousers Memphis Holster
Price from: £48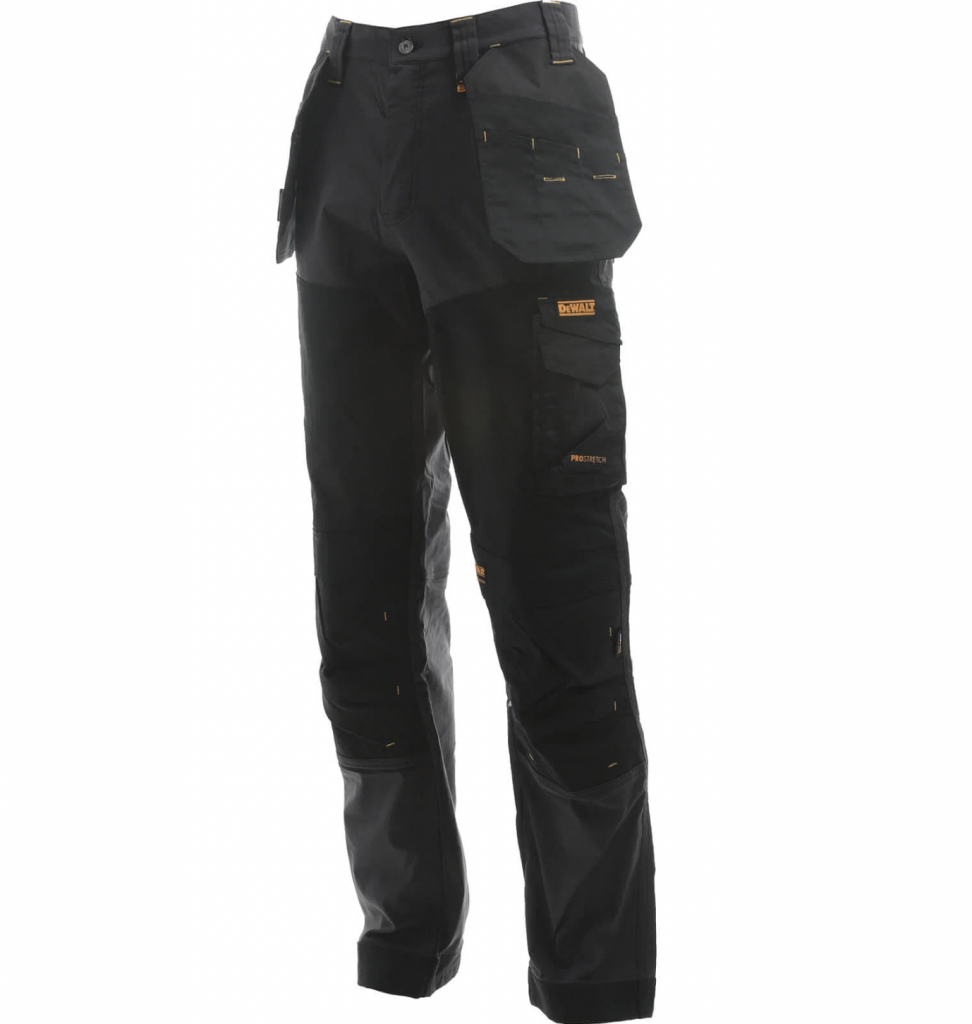 The DEWALT Memphis Holster Trousers are a top-quality workwear option for those who require durability and comfort in harsh conditions. Made from Pro-Stretch fabric, these trousers offer ultimate flexibility and comfort, allowing for ease of movement throughout the workday. Additionally, they are water-resistant, protecting from inclement weather and other environmental factors. The Cordura® knee pads reinforce the trousers for added durability, while the included knee pad inserts allow customisation to suit individual needs better. These trousers are a reliable and practical choice for those seeking to stay comfortable and protected while on the job.
Best Women's Work Trousers
Elevate your workwear game in 2023 with our curated collection of the best women's work trousers, combining style and functionality for dedicated tradeswomen.
Snickers Women's Service Line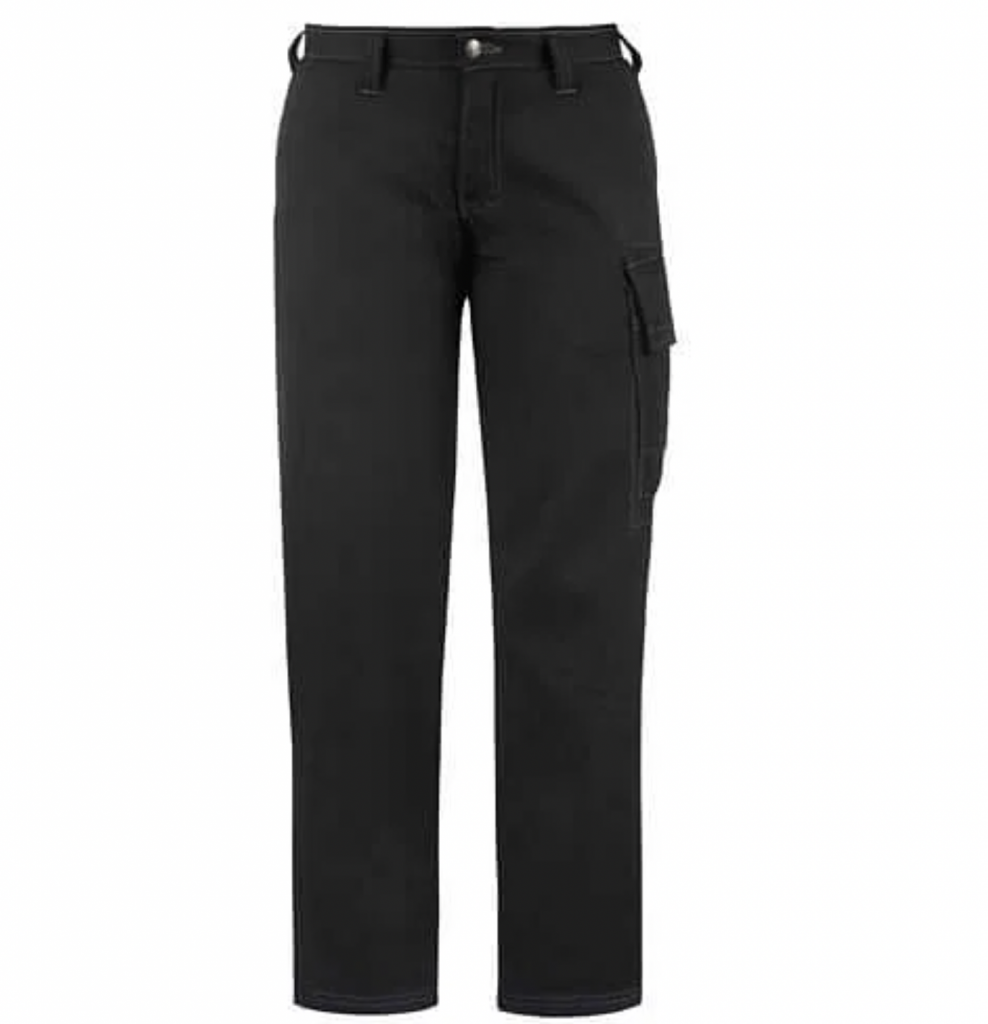 These Service Line trousers are tailored to meet the specific needs of women, ensuring a modern fit and optimal freedom of movement. Designed from high-quality, long-lasting fabric, these trousers are easy to care for and will maintain their shape and colour for extended periods. Practical pockets and a belt tunnel are included for added convenience, helping to keep your essentials close at hand and secure throughout your day.
Portwest Women's Work Trousers C099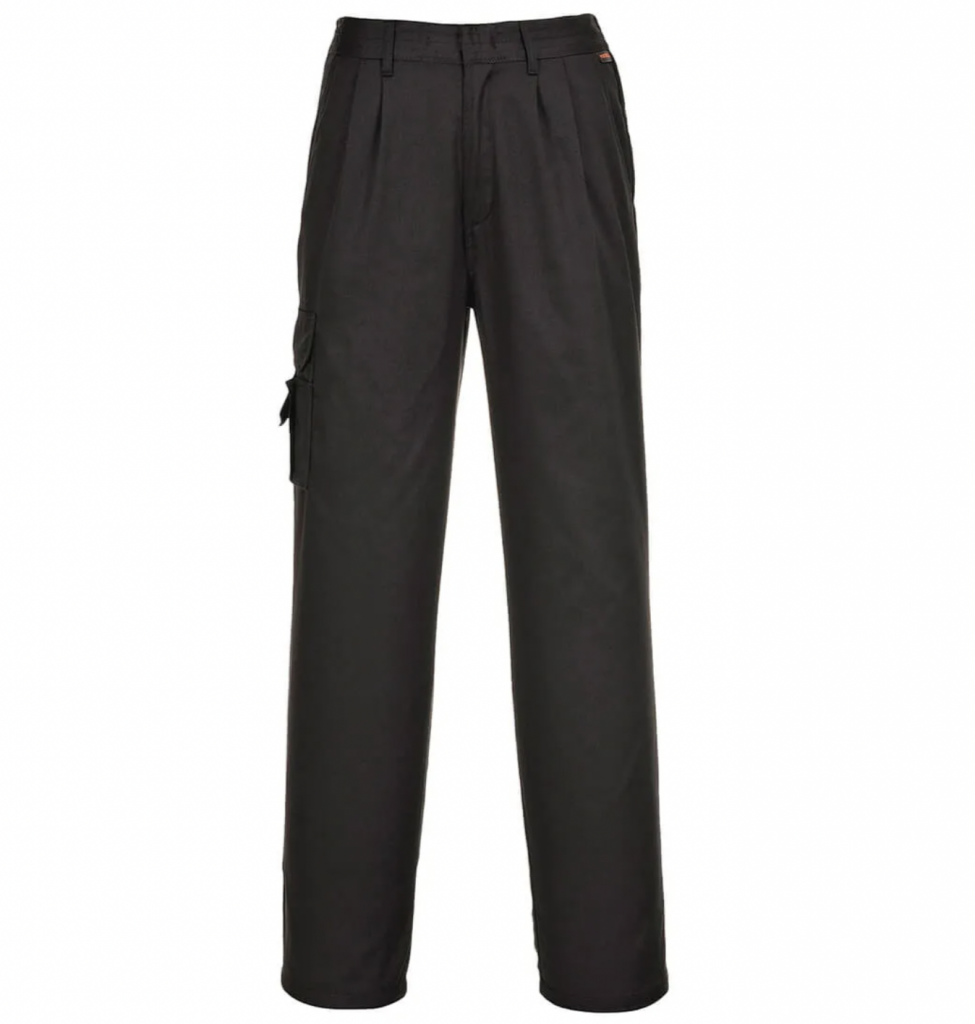 This garment boasts a remarkable combination of comfort and style, making it an ideal choice for those who prioritize both. It has a back elasticated waist, providing an added level of freedom of movement, ensuring your comfort is never compromised. Additionally, it features two side pockets, a combination thigh and mobile phone pocket, cargo pockets on the side leg, a jetted back pocket, and a half-elasticated waist with a hook and bar closure. These pockets provide ample space to store your belongings securely and conveniently. The polycotton fabric used in the construction of this garment is both durable and pre-shrunk, ensuring that it maintains its shape and size over time. The material is also UPF 50+, which means that it provides excellent protection against harmful ultraviolet rays. This garment is designed for ladieswear and comes equipped with five pockets, making it a perfect choice for those needing functionality and style.
How to Choose Work Trousers?
A great fit is crucial
It is crucial that the overalls fit you, are comfortable and do not restrict you during work. Choose the cut of work trousers according to your preferences and the temperature where you will be moving. In our offer, you will find men's overalls and women's work trousers, which have a narrower cut adapted to the female body.
Material
Classic work trousers are made of 100% cotton, which is very pleasant to the touch, absorbs sweat well and is breathable. Natural cotton is also suitable for allergy sufferers and does not cause adverse reactions on the skin. It is the most versatile material, so your wardrobe should always include cotton work trousers. An important indicator when choosing cotton work trousers is the grammage of the fabric, which tells you how solid the material is. source: RS-Online
But there are also trousers with a unique adjustment for specific working conditions. Many work trousers are made from cotton with a polyester admixture, which improves the properties of the trousers in the cold and their durability. In winter, you will appreciate softshell winter trousers with insulation, which are made of 100% polyester and provide warmth and protection against moisture and wind.
A separate category is clothing with special treatment: welding trousers, anti-static trousers with flame-retardant treatment for electricians or anti-cut trousers suitable for working with wood. These work trousers are always designed and sewn in such a way as to protect the tradesman as much as possible during the given activity. Store work trousers in a dry place, preferably in a garage or utility room.
Visibility
Do you work at night or the turn of the day with reduced visibility? Then, consider whether you are wearing enough reflective elements to make you more visible. This clothing is especially suitable for workers who move near roads as part of their work. There are reflective work trousers and hi-vis trousers in contrasting colours for maximum safety. Choose these warning clothes ideally as a complete set (trousers, jacket, cap).
FAQs
Are Snickers work trousers worth it?
These trousers are comfortable, durable, and have a professional look. Although they may be pricey, they are worth the investment.
What trousers are good for work?
The trousers made of polyester and cotton provide comfort and breathability while maintaining high durability. They are perfect for challenging work environments and promote safety and security. It is not advisable to use jeans as work trousers.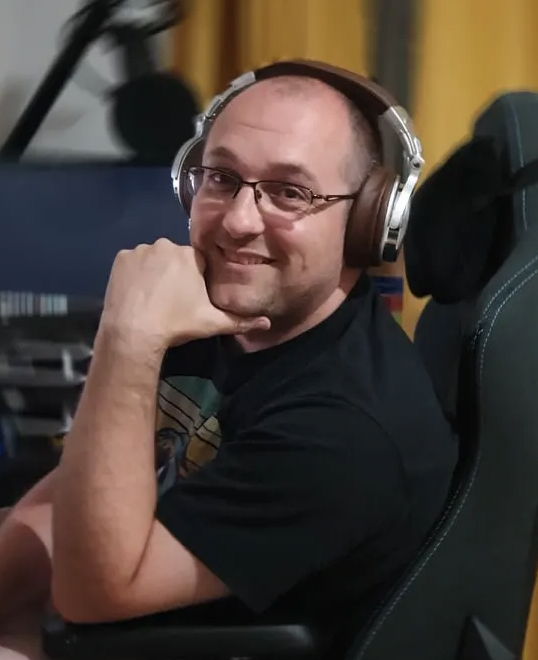 Matt is a professional copywriter and researcher over at https://sucklessatcontent.com/. When he can be prised away from his PC, his wife enjoys setting him DIY tasks around the house.