Did you know that the angle grinder has been helping us with its existence for over 100 years? In 1922, the German Herman Schmitt patented his invention in Stuttgart. If you're one of those DIYers who always tinkering at home, thank you for this invention.
An angle grinder is a highly adaptable work tool that can perform various tasks such as cutting, grinding, polishing, and sharpening. This versatile tool is powered by connecting it to an electric grid and operates by rotating the disc through the vertical rotation of the motor axis. Selecting the appropriate angle grinder requires a basic understanding of its features and capabilities.
Let's take a deep dive into our reviews about angle grinders:
Best corded angle grinders
Bosch GWS 13-125 CI Angle Grinder 125 mm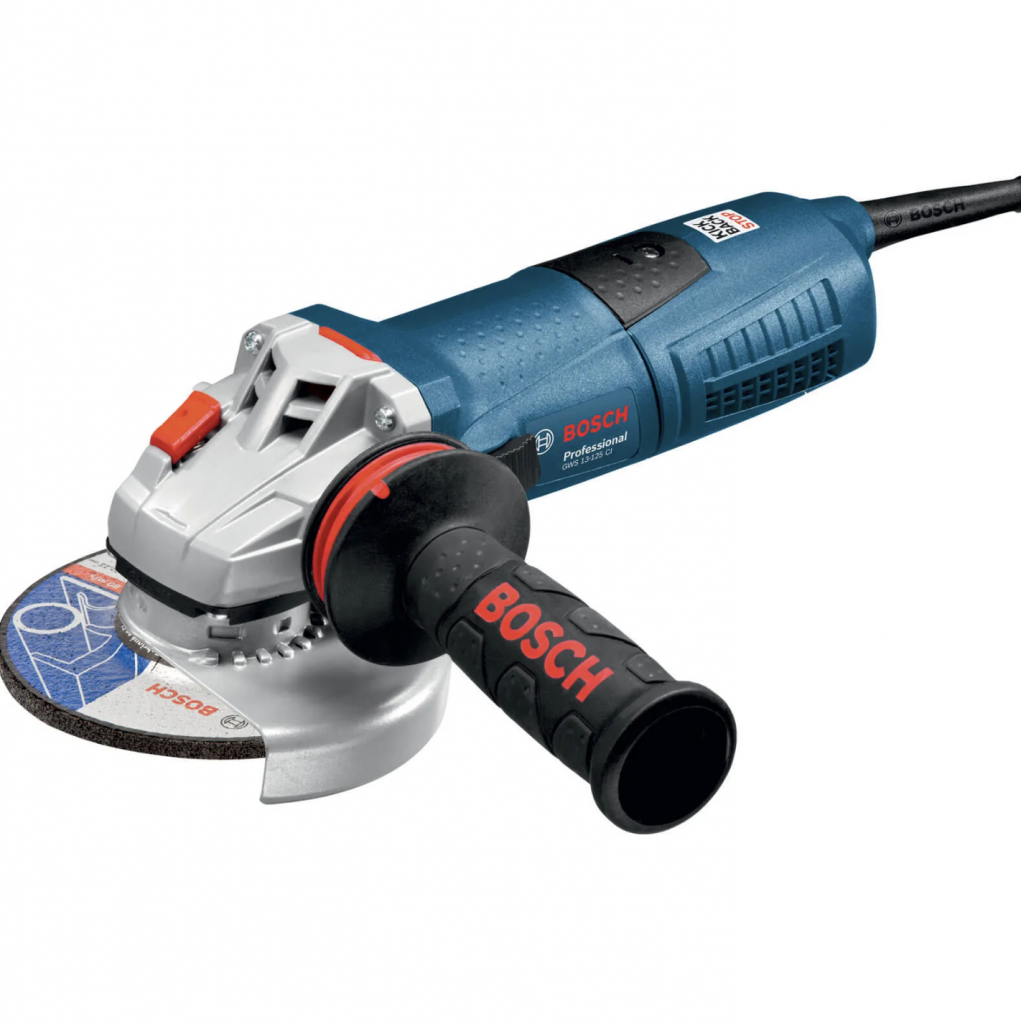 The GWS 13-125 CI is a reliable, durable angle grinder for professionals. It has a powerful 1300-watt motor with a soft start function and restart protection. The tool features kickback control, constant speed, and improved dust resistance. It's slim barrel grip motor housing, and anti-vibration handle ensure comfortable extended use. It also has a gear head that rotates in 90° increments and a handle that can be mounted on either side for greater flexibility. The GWS 13-125 CI is a high-performance angle grinder that professionals can trust.
Features and benefits
This powerful angle grinder has a 1300-watt motor with a fast work rate and safety features like restart protection and Kickback Control. The slim housing design provides a comfortable grip, and the handle can be used on either side. Changing accessories is simple with the spindle lock button, and the anti-rotation guard adds extra protection.
DeWalt DWE492K Angle Grinder 230 mm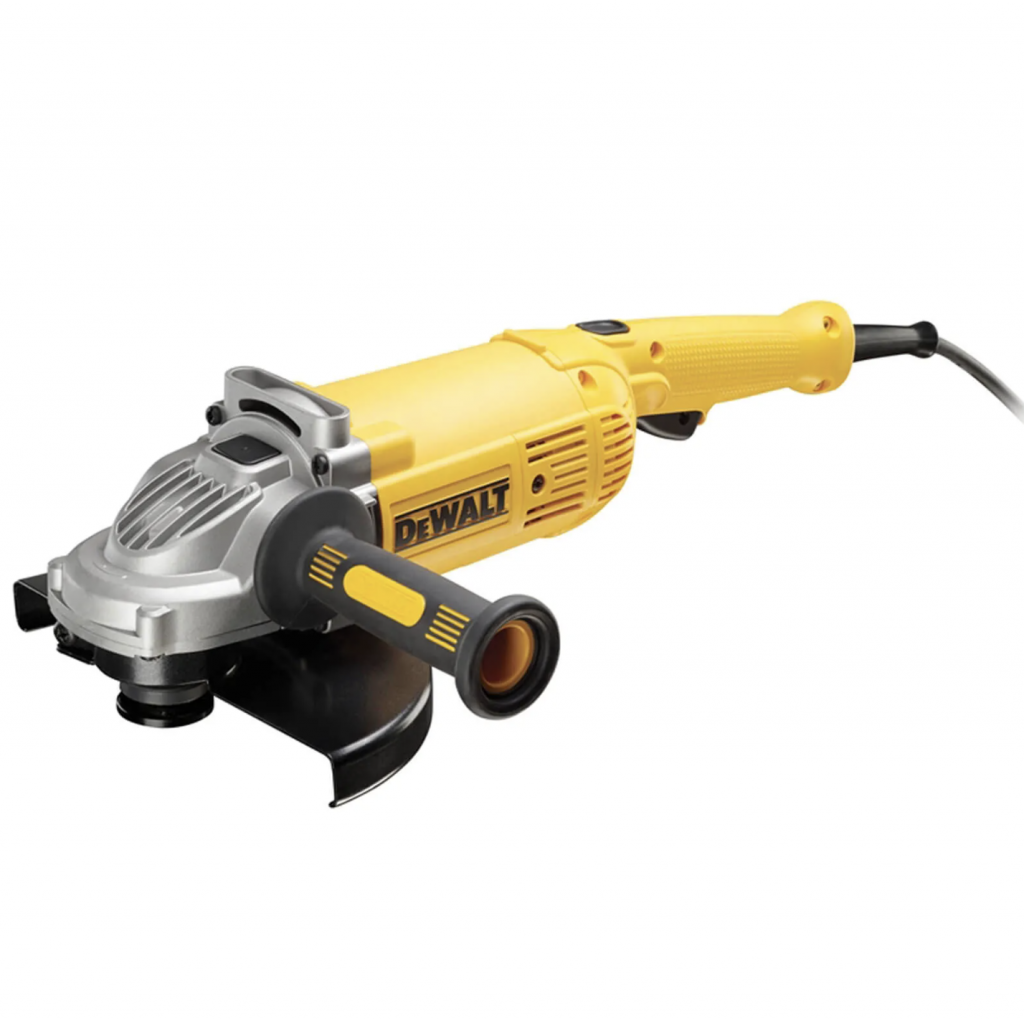 Are you looking for a reliable and durable angle grinder? DeWalt's DWE492K heavy-duty Angle Grinder is the solution. With an abrasion-protected motor, this 2200w machine is built to last. It has a sturdy carry case and a two-position side handle for convenience and comfort. The grinder features a brush window for quick and easy brush replacement and a spindle lock for fast and easy wheel changes. With a maximum disc diameter of 230mm, M14 spindle thread, and a weight of only 5.2kg, this grinder is powerful and versatile. Consider the DeWalt heavy-duty Angle Grinder for all your grinding needs.
Makita GA5041CT01 125 mm Angle Grinder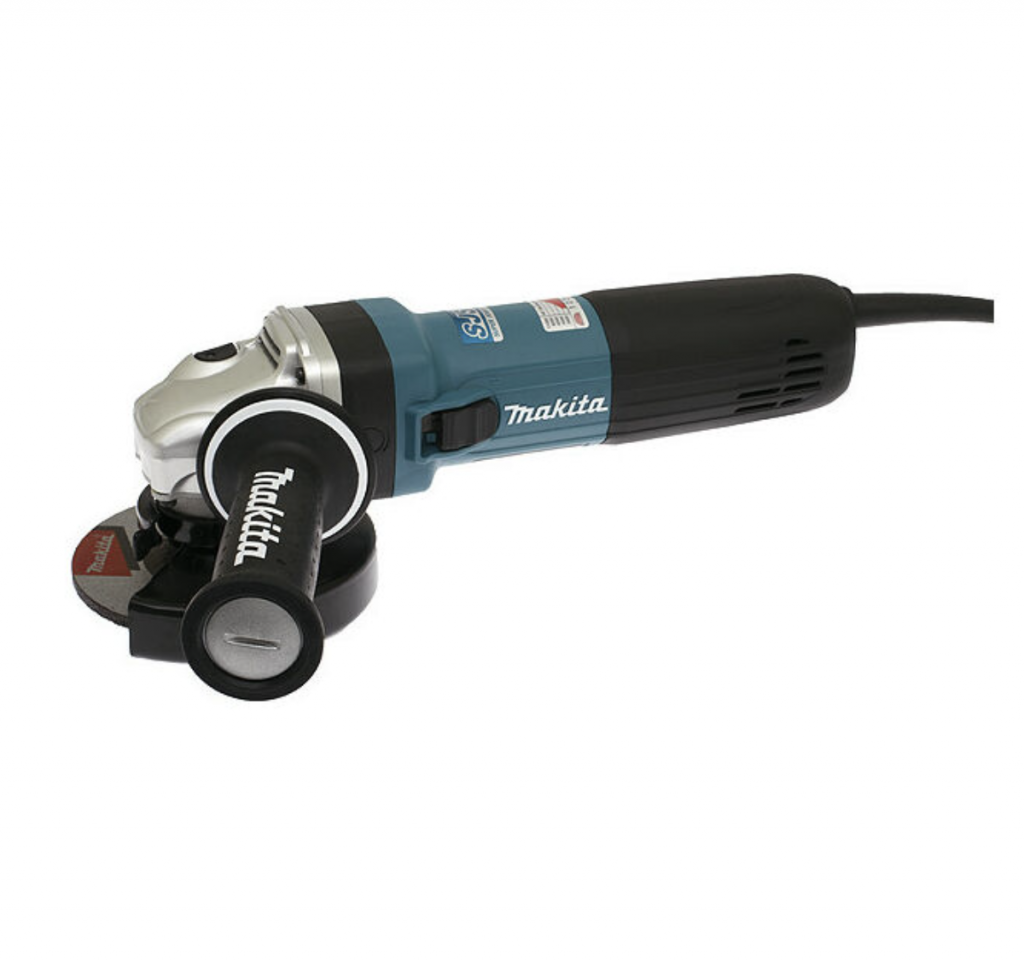 Are you looking for a high-performance grinder that can handle all your grinding and cutting needs? Look no further than the Makita GA5041CT01 110v 5″ 1400w Grinder. This powerful tool is designed to provide efficient and comfortable grinding and cutting thanks to its advanced features and ergonomic design.
One of the critical features of the Makita GA5041CT01 Grinder is its Super Joint System II, which effectively absorbs vibrations for increased durability. Additionally, the grinder has a mechanical brake and unique brake pad that enhance braking performance, ensuring safe and precise operation.
But it's not just about performance – the Makita GA5041CT01 Grinder is also designed with user comfort in mind. The ergonomically designed barrel grip ensures comfortable handling, even during extended use. And with the adjustable tool-less wheel cover, you can easily customise the grinder to meet your needs.
110V machines won't work in the UK without a transformer plug. Check out our 240V grinders for home use.
Best cordless angle grinders
DeWalt DCG418 54V XR Cordless Brushless Angle Grinder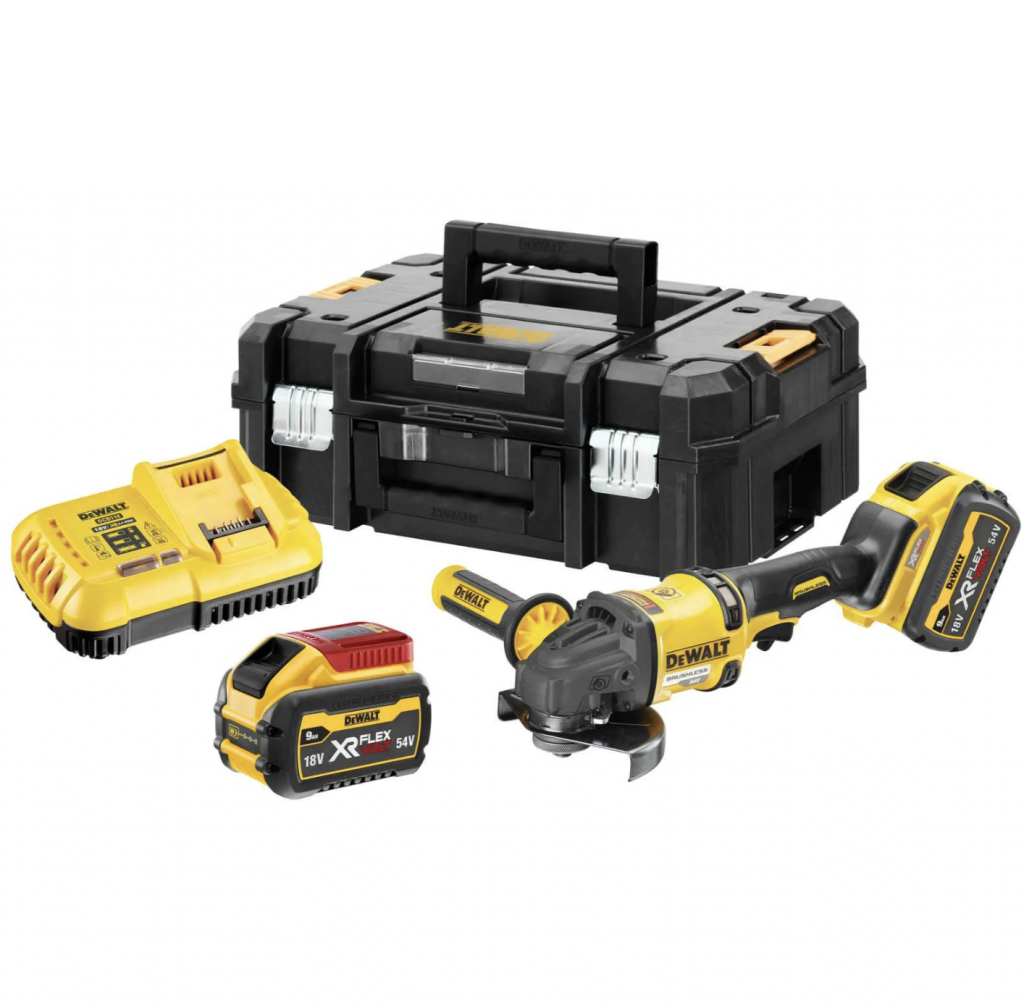 DeWalt's Flexvolt High Power angle grinder range is a game-changer, matching corded models' performance. The standout tool is the DCG418 cordless grinder with an electronic brake and clutch for safety. The battery is 54v and compatible with all Flexvolt tools and 18v XR platforms. It's powerful, versatile, and a significant investment.
Features and benefits
The DeWalt angle grinder with a Flexvolt High Power has a 54v brushless motor for tough jobs. Safety features include electronic brake and clutch, mesh screens, and rubber grip. Recessed spindle lock and two-position handle for increased control. Compatible with DeWalt 18v XR tools and Flexvolt batteries. A must-have for your toolkit.
Makita GA005 40V Max XGT 125 mm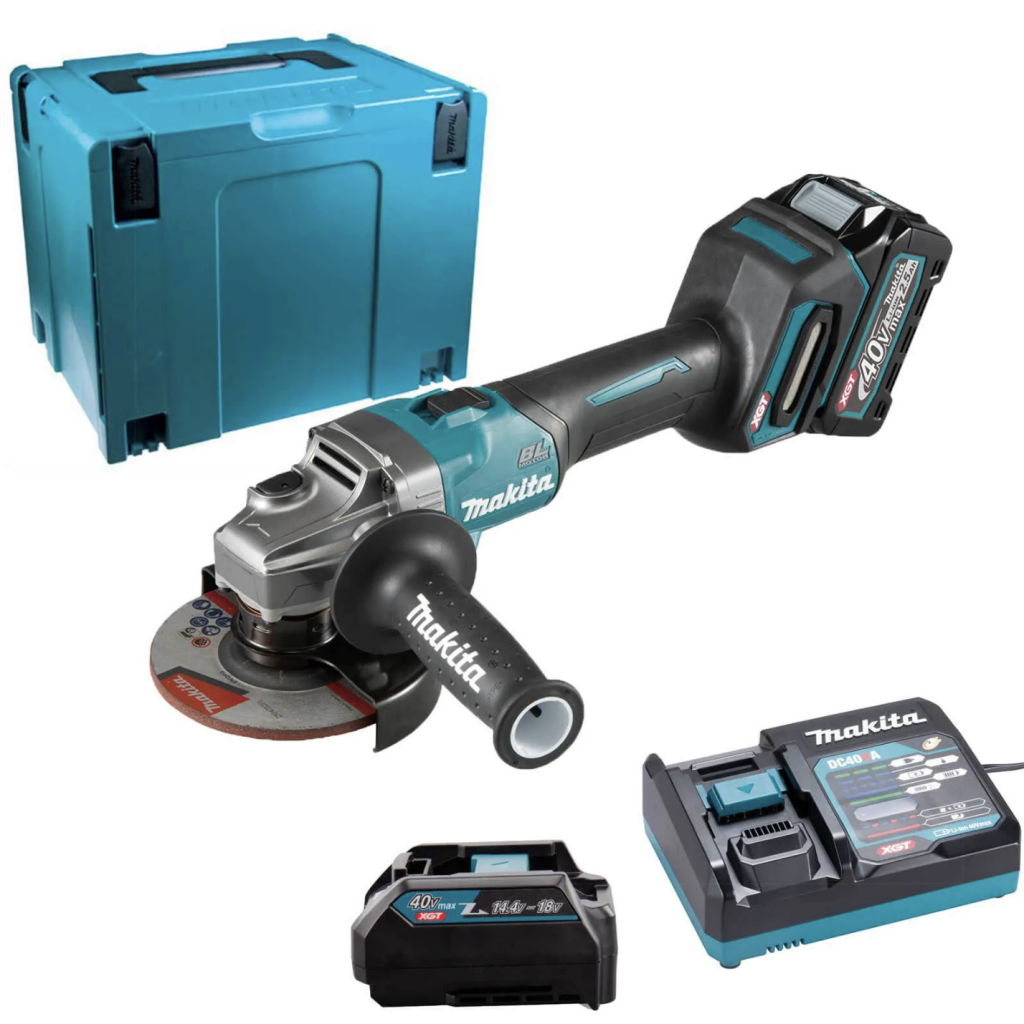 Makita's 40v XGT range is designed for challenging job sites. The batteries recharge in just 28 minutes, and the two-way digital communication ensures optimal performance. The 125mm angle grinder is a standout tool with a soft start brushless motor and anti-restart protection. The XGT range works alongside the 18v LXT range for the most powerful cordless tool experience.
Consider the Makita XGT Lithium-Ion cordless angle grinder for power and versatility. It handles a max wheel diameter of 125mm, has a no-load speed of 8,500 rpm, and is relatively lightweight. Its sound pressure rating is 81 dB(A), and its surface grinding vibration is 6.5 m/sec². This grinder is a reliable and efficient tool.
Bosch GWX 18V 15 SC Biturbo X Lock Angle Grinder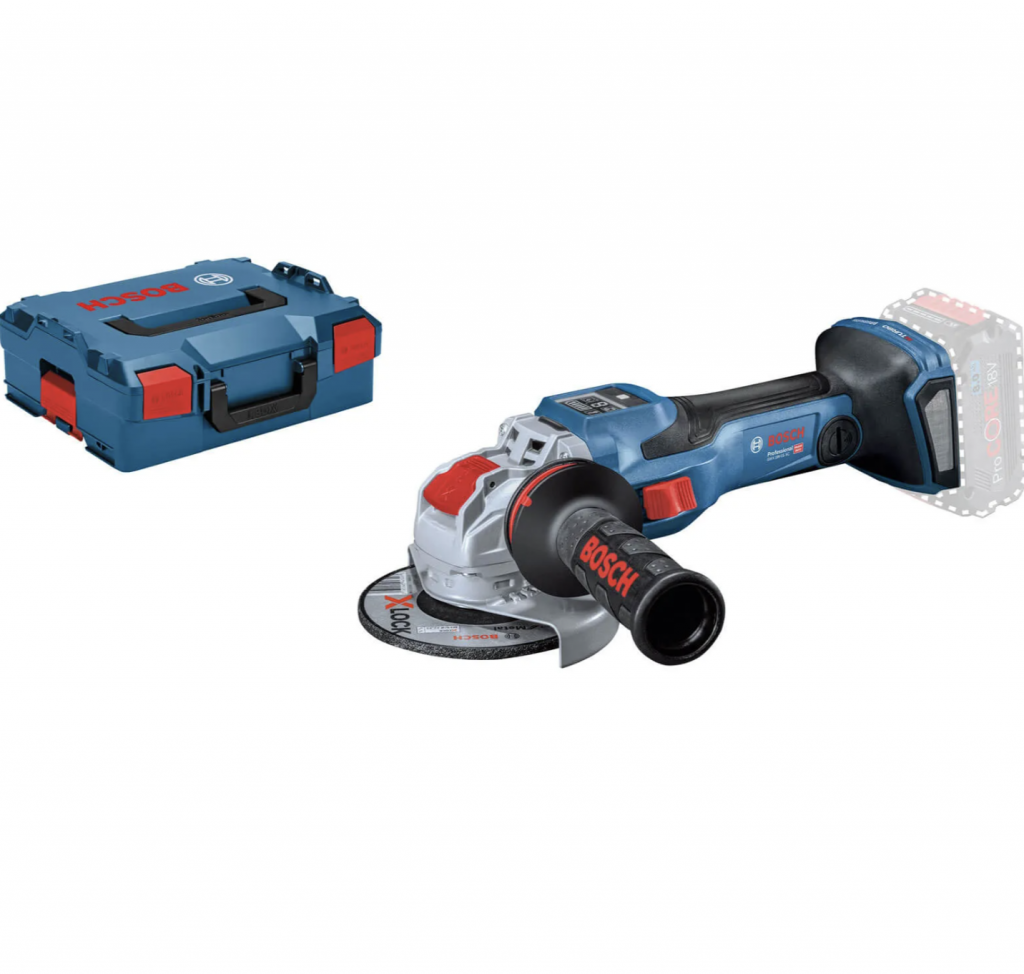 Upgrade your toolkit with the Bosch GWX 18V-15 SC X Lock Angle Grinder. The X-LOCK changing system lets you switch accessories with a single click, saving you time and effort. This BITURBO tool delivers maximum power and performance, surpassing a 1500-watt corded grinder with Bosch Professional ProCORE 8ah or 12ah batteries. With an 18v voltage, Lithium Ion battery type, and weight of 2.3kg (excluding battery), this premier tool is a reliable choice for professionals worldwide. Invest in the Bosch GWX 18V-15 SC for streamlined work and enhanced efficiency.
What is an angle grinder tool good for?
Angle grinders are versatile power tools used in metal fabrication for cutting, grinding, deburring, finishing, and polishing. They come in corded or battery-powered models and provide the flexibility and precision needed for any project.
Can an angle grinder cut through anything?
You can go right with the angle grinder if you're searching for a tool that can take on many tasks. This highly adaptable tool can slice through various materials, such as metal and wood, while also being able to polish, sharpen, and grind. When paired with the correct disc, the angle grinder can transform into a precision instrument that DIY enthusiasts adore. Whether tackling a demanding job or simply needing to work quickly and efficiently, the angle grinder is the perfect option.
Do all discs fit all angle grinders?
Suppose you're wondering whether angle grinder discs can be switched out. The answer is YES! Various types are available, each designed for specific tasks like sanding, grinding, cutting, and polishing. So, no matter what job you have in mind, there's sure to be a disc that suits it.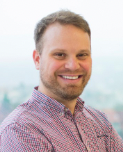 Luke is the founder of Buildiro.com and he is passionate about construction and building. His mission is to show people how to make things done fast and easy.