We have gathered the best tile cutters for easy trimming of your tiles, whether you're renovating your bathroom or kitchen.
Many homeowners and designers opt for durable tiles to enhance the visual appeal of their living spaces, specifically in bathrooms, kitchens, and other areas. However, cutting tiles can be a challenging task that requires specialised tools. The market offers a wide selection of manual and electric cutters, each with distinctive features that cater to various tile types and cutting needs. We have created a detailed buying guide to provide you with a comprehensive understanding of tile cutters and their functions, including our top recommendations. We aim to help you make an informed decision when selecting the ideal tiling tools for your project.
Best manual tile cutters
Rubi tile cutter TS-66 max 26″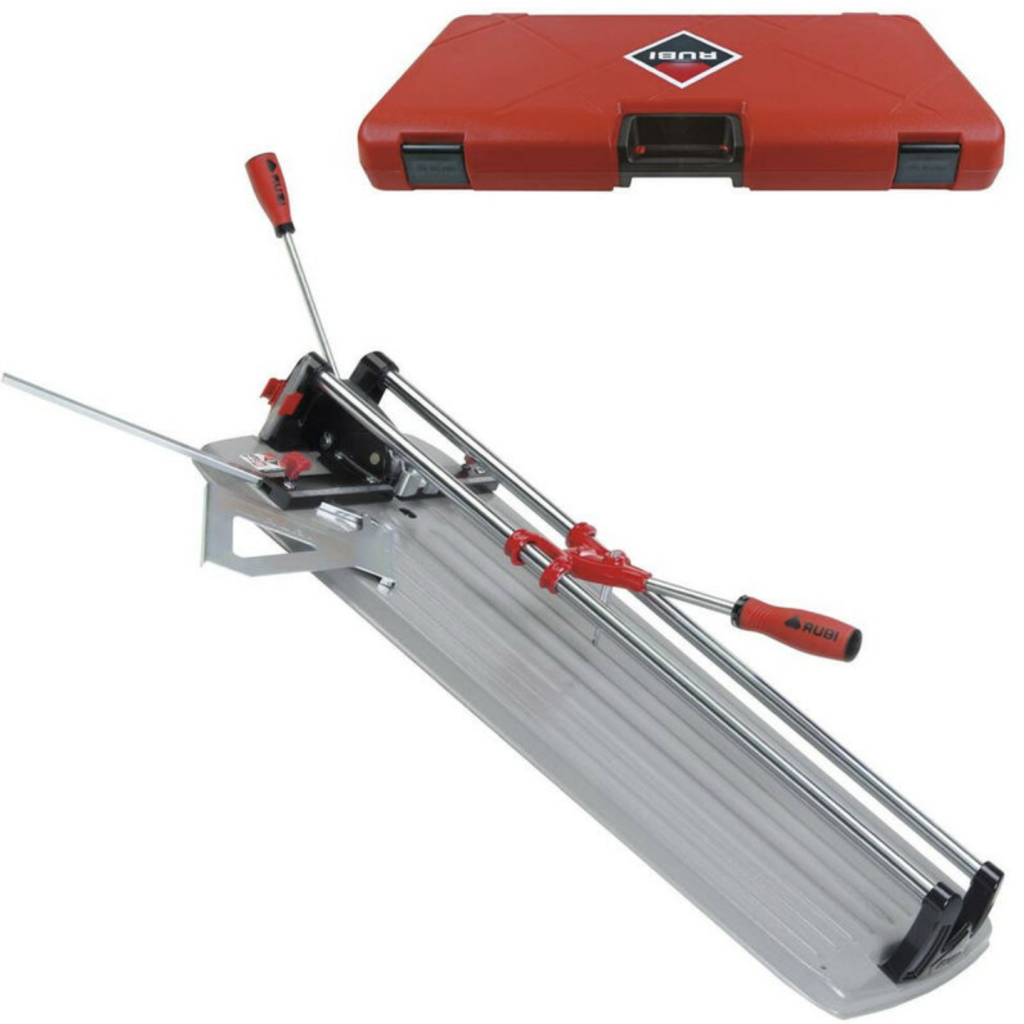 The Rubi TS-66 MAX 26" Manual Tile Cutter is a lightweight and versatile tool for cutting ceramic and porcelain tiles of various sizes. Its high-performance single-point breaker boasts a maximum breaking pressure of 800kg, while the SMART POWER function adjusts the breaking pressure automatically based on the thickness of the tile. The bi-material handle provides superior user comfort and reduces hand fatigue.
Vitrex tile cutter Clinker XL Professional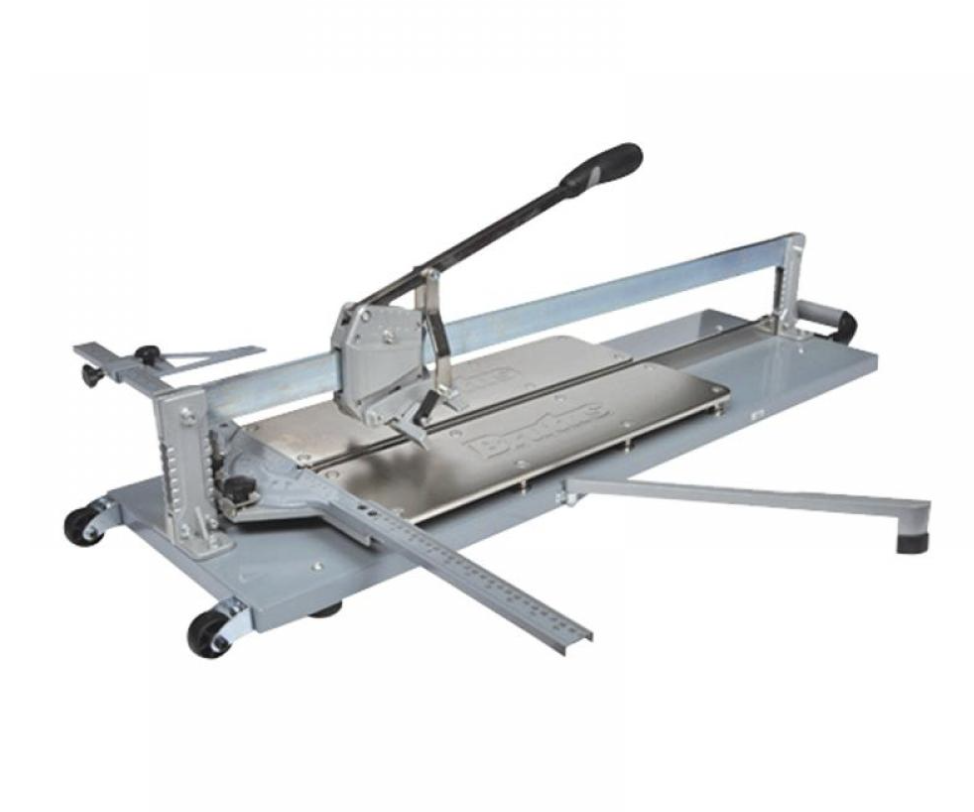 If you need a tile cutter that can handle larger tiles without compromising precision, the Vitrex BRUTUS 900 Clinker XL Professional Tile Cutter is the perfect tool. It has ball bearings in the cutting head carriage for accurate cuts and a replaceable tungsten carbide wheel for high-precision cutting. The table extensions and swivelling cutting guide support larger tiles while shock-absorbing trays ensure safe and efficient cutting. Transporting the cutter is easy, thanks to its wheels and carrying handle, and the co-moulded handle provides comfortable use. With a 2-year guarantee, you can rest assured that your investment in the Vitrex BRUTUS 900 Clinker XL Professional Tile Cutter is wise.
Best electric tile cutters
DeWalt D36000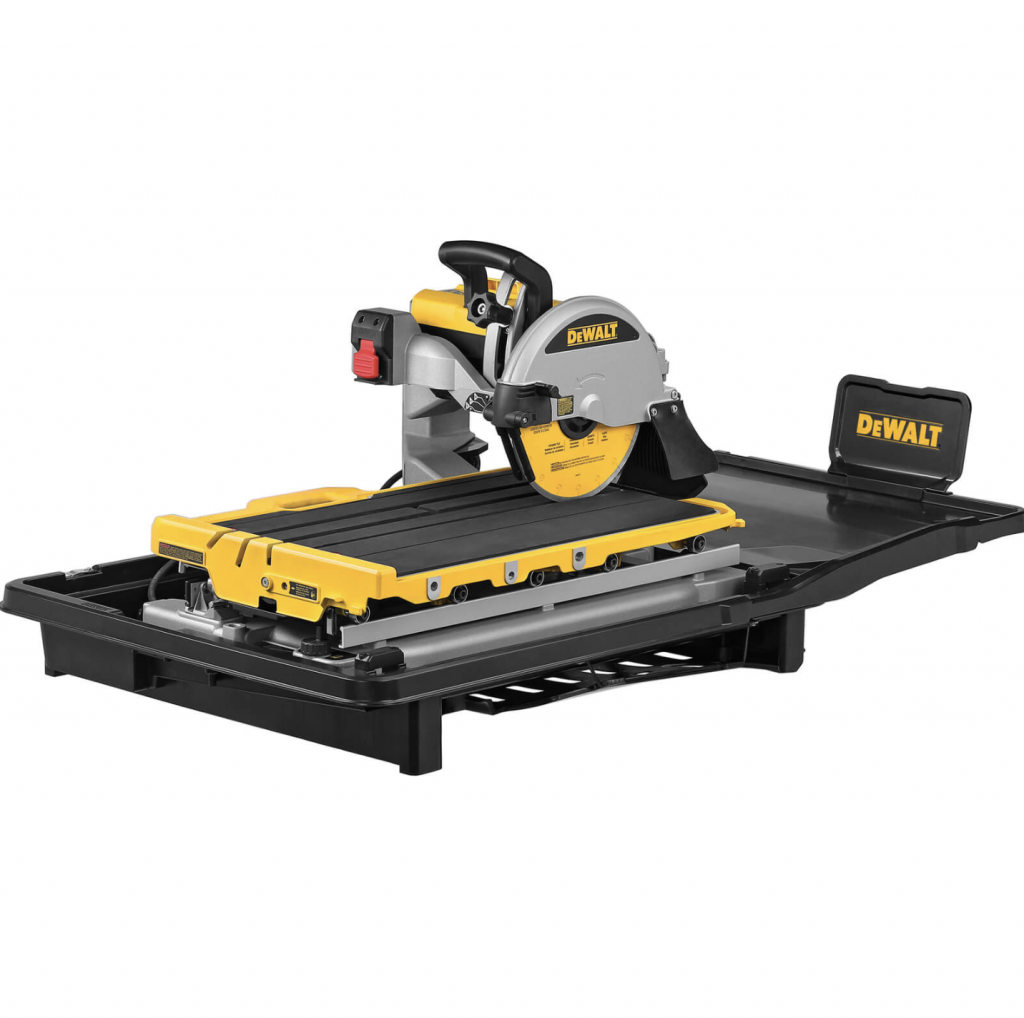 Highly recommended by Michael from LM Solutions London – a tiling professional based on London.
The DeWalt D36000 is a powerful tile-cutting saw that can handle even the most significant and challenging jobs. Its impressive 940mm rip cut capacity and 80mm maximum depth of cut make it ideal for quickly cutting through thick tiles. With a cutting clearance of 457mm, you can easily cut a 914mm x 914mm tile in half without any hassle.
One of the standout features of this saw is its plunge feature, which allows for quick and easy electrical outlet cuts. Additionally, the 45/22.5-degree feature makes it simple to create precise angle cuts, saving you time and effort.
The saw also includes rear and side water attachments to catch any overspray, keeping your workspace clean and safe. The stainless steel rail system is integrated into the tile saw frame, ensuring that the saw remains stable and secure. Finally, the cutting cart is removable for easy cleaning, making maintenance a breeze. Overall, the DeWalt D36000 is a top-of-the-line tile saw that delivers exceptional performance and reliability.
Rubi wet tile cutter DC-250 Python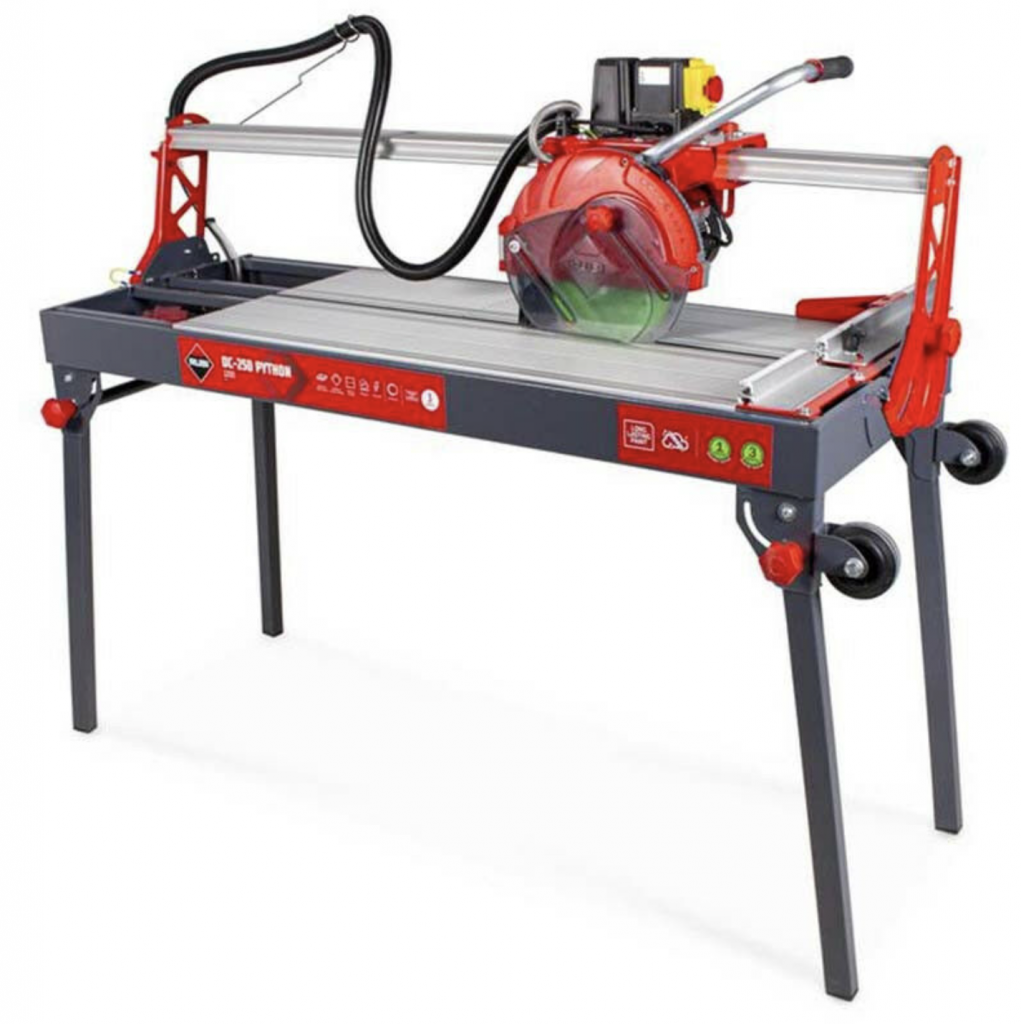 Rubi DC-250 PYTHON 1200 50Hz Tile Cutter – 240V is an electric cutter with a high-precision mobile head that offers maximum functionality and reliability. It is ideal for cutting tiles, glazed stoneware, porcelain stoneware, and natural stone. The sliding motor assembly provides maximum precision and cutting quality, and the C3 PYTHON adjustable cooling system allows the user to adjust the water application point according to the thickness of the material, increasing cooling efficiency and reducing water dispersion. The removable aluminium tables make cleaning easy.
Tile cutters accessories
Tile cutter accessories are indispensable companions that elevate the precision and efficiency of tile cutting endeavors. These additions include cutting guides and angle rulers, ensuring meticulous cuts, while specialized blades cater to diverse tile materials. Water reservoir attachments minimise dust, maintain cleanliness, and enhance blade performance. Ergonomic handles and grip-enhancing add-ons reduce user fatigue and heighten control. With these accessories, both amateurs and experts can achieve immaculate results with their tile cutter, making every cut a masterpiece.
How do we test tile cutters?
In assessing tile cutters, we consider several crucial factors, such as the level of convenience, durability, suitability for different tile types, angled cutting capability, and cost-effectiveness. Our comprehensive selection ensures you'll find the ideal cutter regardless of your budget or requirements. Also, we talk to tradespeople and professionals.
How to choose a tile cutter
Tile cutter for ceramic tiles
Ceramic tiles are renowned for their robustness and come in an extensive range of colors, patterns, and styles, making them a popular selection. When it comes to cutting tiles, manual tile cutters are ideal for achieving straight or diagonal cuts on small to medium-sized tiles.
Tile cutter for porcelain tiles
Rail cutters are great for cutting porcelain up to 20mm thick. Score the tile and apply pressure to break it along the line. But don't use them for natural stone as it's uneven. Use an electric cutter with a wet diamond blade for precise shapes and details.
Are electric tile cutters better than manual?
Choose between manual and electric tile cutters based on the project's needs and your preference. Each has unique advantages and disadvantages, with manual cutters suitable for straight cuts and electric cutters handling all types but requiring more skill.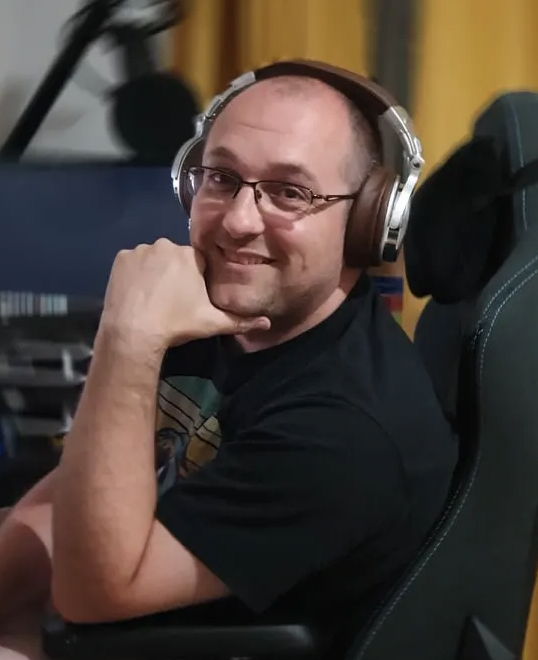 Matt is a professional copywriter and researcher over at https://sucklessatcontent.com/. When he can be prised away from his PC, his wife enjoys setting him DIY tasks around the house.