Drawing insights from skilled tradespeople from LM Solutions Londons, we present an all-encompassing UK review that delves deep into spirit levels, uncovering the best selections in 2023. Whether you're a seasoned professional entrenched in the construction domain, a fervent DIY enthusiast, or an individual striving for impeccable interior presentation, our comprehensive guide stands ready to empower you in making well-informed choices.
The landscape of spirit levels has undergone a remarkable evolution, seamlessly merging timeless principles with cutting-edge innovations. From the enduring appeal of traditional bubble vials to the advent of digital counterparts ushering in a new era of precision, the array of choices can be bewildering. Herein lies our purpose – to meticulously navigate the myriad options, dissect their distinctive attributes, and present a thoughtfully curated assemblage comprising the cream of the crop regarding spirit levels accessible for procurement within the UK.

We wholeheartedly comprehend the paramount significance of precision, whether you're glorifying a cherished memory upon your living room's canvas or erecting the robust framework of a monumental tower. As the adage goes, the devil resides within the details, a sentiment that resonates profoundly in alignment matters. Thus, we invite you to embark on this voyage through the pinnacle of spirit levels in 2023, an expedition where we collectively uncover the epitome of equilibrium and accuracy. Your undertakings merit nothing short of excellence, and in this voyage, we stand devoted to shepherding you at every juncture.
Top 10 spirit levels
Discover the crème de la crème of spirit levels in our article featuring the Top 10 options for 2023, ensuring your projects achieve unparalleled precision.
Best long spirit levels
Stabila spirit level 106T extendable 124″/ 315 cm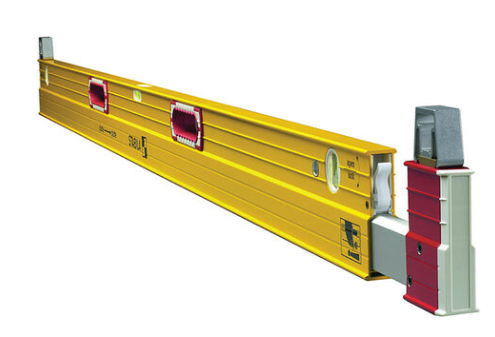 The Stabila 106T Extendable Spirit Level is an exceptional tool that is highly reliable for construction and alignment purposes. Its double-chamber profile ensures its accuracy and stability, while the printed length scale makes it easier to read and measure with precision. Additionally, the eccentric clamp provides a firm grip, which is essential for ensuring the level stays in place during use.
The light metal rectangular profile of the Stabila 106T has one horizontal vial and two vertical vials, making it perfect for aligning taller and longer constructions. This feature enables the user to achieve maximum accuracy and precision in their work. For more extensive and complex projects, the Stabila 106T-183 Extendable Level is even longer and more suitable, providing an extended range of measurement and greater flexibility for the user.
Overall, the Stabila 106T Extendable Spirit Level is an essential tool for anyone who requires precision and accuracy in their construction and alignment work. Its features and design make it a reliable and valuable asset to any toolbox.
Stabila 96-M-2 Magnetic Spirit Level – 79″ / 200cm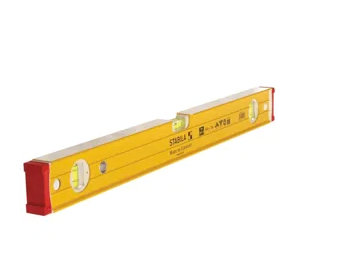 The Stabila 96-M-2 Double Plumb Magnetic Levels are made of lightweight metal and have removable end caps. They come with two vertical and one horizontal vial and a rare earth magnet system. They have an accuracy rating of 0.029 degrees in a normal position and 0.043 degrees for overhead measurement. The ridges on the metal profile provide improved grip, while the removable end caps increase damping and enable a cleaner marking line. Stabila's high level of quality is evident in the painted yellow faces on levels measuring 150cm and over. The 2000mm Stabila 96-M-2 Magnetic Level 3 Vial is ideal for various applications.
Stanley FatMax ExPro Box Beam Spirit Level – 79″ / 200cm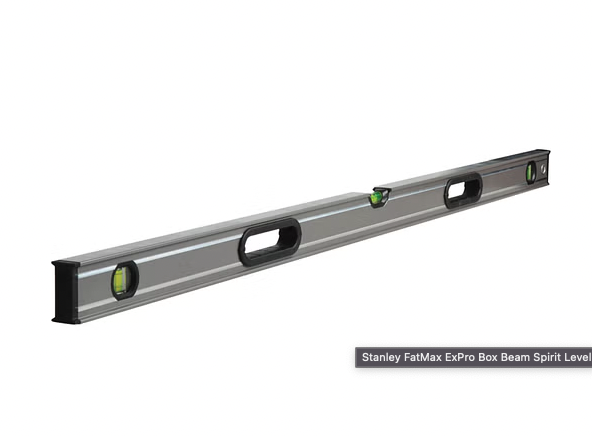 The Stanley FatMax® Pro Level is a reliable and accurate tool with solid-block acrylic vials for precise measurements in eight directions. Its reinforced box-beam structure makes it five times more potent than other levels, while its lightweight aluminium body and bi-material handgrips provide comfortable handling. The level's dual-machined surfaces and magnified vials ensure maximum accuracy, and its shock-absorbing end caps add extra protection. At a length of 2000mm, it's ideal for professionals and DIY enthusiasts alike.
Best mid-size spirit levels
Stabila 196-2 Electronic Spirit Level – 32″ / 80cm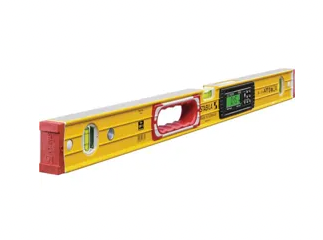 The Stanley FatMax® Pro Level is a durable and accurate tool with solid-block acrylic vials that measure in eight directions. Its reinforced box-beam structure provides strength, while its lightweight aluminium build and comfortable handgrips make it easy to handle. With magnified vials and dual-machined surfaces, it offers maximum precision and reliability. Shock-absorbing end caps protect it from damage. At 2000mm, it's perfect for professionals and DIY enthusiasts alike—a valuable addition to any toolkit.
Stabila 83S Double Plumb Spirit Level – 40″ / 100cm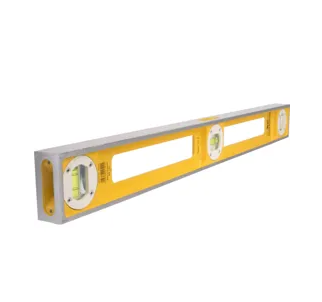 Get precise measurements with the Stabila 83S Level Double Plumb. It is made of sturdy pressure-cast metal and has two measuring surfaces and three vials for accurate readings. At 1000mm (40 in) in length, it's perfect for construction workers and DIY enthusiasts.
Best mini spirit levels
Stabila 81 SVW Magnetic Rare Earth Torpedo Spirit Level – 10″ / 25cm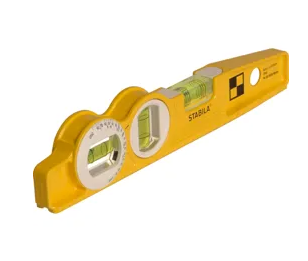 These Stabila 81 SV REM Torpedo Levels have plumb and horizontal vials, plus an angle vial that can be preset or adjusted with W360. They're made with durable cast aluminium and have a V-groove and powerful magnet. They offer high accuracy with measurement accuracy of 0.029° = 0.5mm/m and 0.043° = 0.75mm/m for overhead measurements. The 81 SV REM W45 has a fixed 45-degree vial, while the 81 SV REM W360 has a rotatable angle vial and a holster for easy transport.
Roadster Level, Magnetic Torpedo Level with 4 Vials, 15.8cm Aluminum Alloy Spirit Level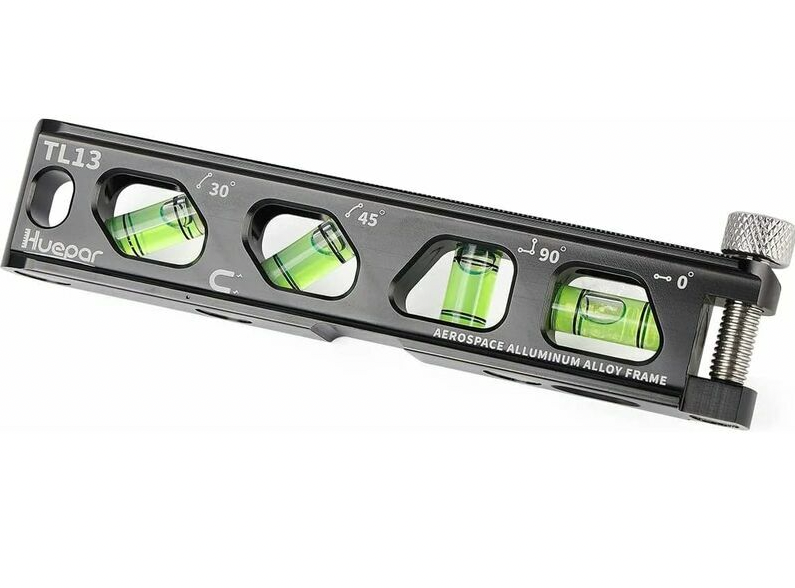 Get precise and easy-to-read measurements with the Torpedo Level. It offers four angles and an accuracy of 0.5 mm/m. The large vial windows make it readable from multiple angles, and the magnetic side allows for hands-free use. It is made of durable aluminium alloy with a thumb screw for measuring angles on pipes. The V-groove edge provides stability on cylindrical materials.
ToughBuilt TB-H2-L-M23LH-M Lighted 230mm Magnetic Box Level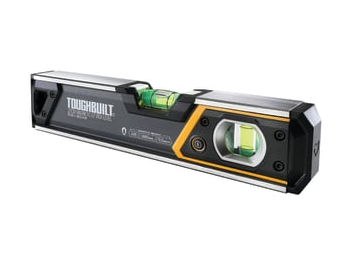 The ToughBuilt 23-cm Torpedo Level is perfect for loft work. Its LED-lit vials make it easy to read, and its end caps provide excellent protection. It also has rare earth magnets for hands-free use.
Best spirit level sets
Stabila Spirit Level 5 Piece Set 180cm 120cm 60cm Pocket Level 6 Pocket Bag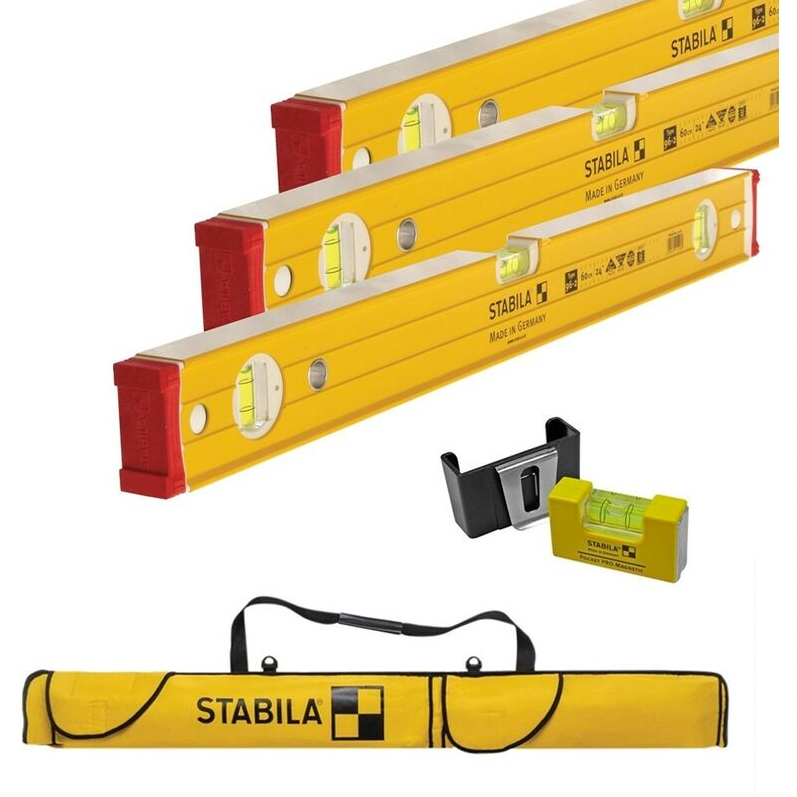 If you want to elevate your professional work, the Stabila 96-2 is a must-have. This box section level is both lightweight and sturdy, making it easy to handle and built to last. Its metal rectangular profile features gripping ridges for a secure hold, and its removable end-caps, made of two materials, ensure long-lasting use. These end-caps also come equipped with patented anti-slip stops, adding an extra layer of safety while in use.
Moreover, the Stabila 96-2 boasts impressive accuracy, with 0.029 = 0.5 mm/m when in a normal position and 0.043 = 0.75 mm/m for overhead measurements. Its unmatched precision makes it the perfect tool for professionals who demand the utmost work accuracy.
The Stabila 6 Pocket Comb is included as a bonus, making this level an even greater value. The comb is an essential tool for any construction worker and is designed to help maintain accuracy over time. Overall, the Stabila 96-2 is an outstanding tool that professionals should consider adding to their collection.
Ox Tools – Ox Pro 3 Piece Level Set & Pocket Zipped Case – Blue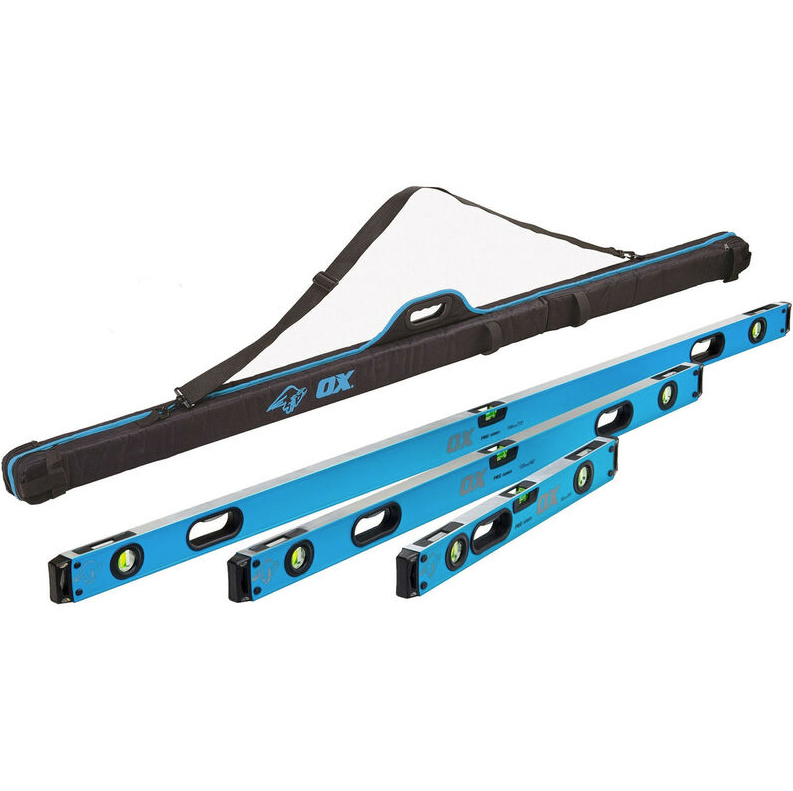 The Ox Pro 3 Piece Level Set is an excellent choice for anyone looking for a reliable and durable level. This set includes three levels of different sizes, measuring 600mm, 1200mm, and 1800mm, respectively. Each level is designed with high-quality materials and is backed by a lifetime warranty on the vials.
One of the most notable features of this level set is its shockproof end caps. Made with Polypropylene and TPR, these end caps are designed to withstand impact and provide ultimate cushioning. The levels also feature air-cushioned PVC shock absorbers, enhancing their impact resistance.
The levels are designed to offer maximum readability, with a magnified horizontal acrylic vial and two dual-view vials. The unique front view of the vertical vial enables more precise levelling, reducing neck and eye strain. Additionally, the levels have two milled surfaces, guaranteeing controlled and definable flatness over the entire level, providing increased accuracy.
The levels are made from high-quality aluminium extrusion and have a computer-optimized profile of 66mm (w) x 30mm (d). The wall thickness of at least 2.1mm on milled surfaces ensures durability and optimal performance. The levels also feature air-cushioned grip handles with silicone shock absorbers and patented grip handles that won't slip when held against a wall, providing one-handed use.
In addition to the three levels, this set also comes with a P027501 Pro Level. Overall, the Ox Pro 3 Piece Level Set is an excellent investment for anyone looking for a reliable, durable, and accurate level.
What is the best brand of spirit level?
Determining the best brand of spirit level can be subjective, depending on your specific needs and preferences. However, reputable brands such as Stabila, OX Tools, Bethel, and Torpedo Spirit are well-regarded for their quality and precision in spirit levels.
What is the best size spirit level for DIY?
Selecting the ideal size for a DIY spirit level largely depends on the scope of your projects. Generally, a 24-inch or 600mm spirit level strikes a good balance between versatility and ease of use, making it a popular choice among DIY enthusiasts.
Why you can trust Buildiro.com
Why Trust Buildiro.com: Your Go-To Comparison Website
Discover why Buildiro.com is the go-to platform for all your spirit-level needs. As a leading comparison website in construction, our reputation is built on trust and reliability.
Big Data and Expertise Combined
Buildiro.com employs a cutting-edge, extensive, data-driven system designed by tradespeople for tradespeople in the UK. This means that the information you receive is accurate and tailored to real-world construction needs.
Trusted by the Industry
With a solid foundation of real-world expertise, our recommendations for the best spirit levels are rooted in practical understanding. We know what works on the job and bring that knowledge to you.
Up-to-Date Insights
The construction industry is constantly evolving, and so are its tools. Buildiro.com stays on top of these changes, ensuring that the spirit-level recommendations you find here are up-to-date and aligned with the latest advancements.
Unbiased Guidance
Our commitment is to provide unbiased guidance. We don't favour any specific brand or product. We focus on helping you make informed decisions that suit your construction needs.
Community-Driven Support
Buildiro.com thrives on community engagement. We encourage tradespeople to share their experiences and insights, creating a vibrant space where everyone benefits from collective wisdom.
Regarding spirit levels and construction tools, Buildiro.com is your dependable partner in making the right choices. Trust our expertise and big data-driven system to elevate your construction projects to new heights.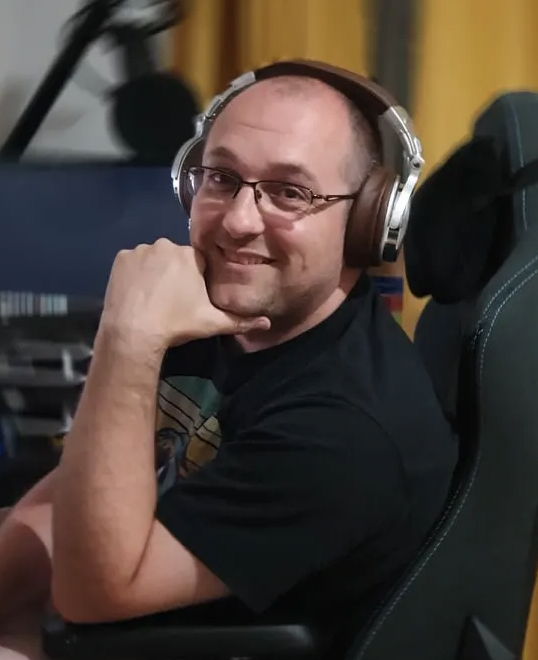 Matt is a professional copywriter and researcher over at https://sucklessatcontent.com/. When he can be prised away from his PC, his wife enjoys setting him DIY tasks around the house.