Ever found yourself juggling a hefty toolbox while navigating through a job site? Or maybe you've spent minutes digging through a jumbled mess of tools, searching for that one elusive wrench. It's moments like these when you realize the true value of a solid, reliable tool bag – but not just any tool bag. Imagine a sturdy companion on wheels that glide beside you, as obedient as a well-trained pet, or a rugged bag that not only carries your tools but organizes them like a meticulous assistant. These aren't just storage solutions; they're game-changers for the savvy maintenance man and the diligent DIYer alike. In this blog post, we'll introduce you to the best tool bags on the market, focusing on those with the smooth mobility of wheels and robust design tailored for the hands-on professional. Get ready to meet the tool bags that are about to revolutionize the way you work.
DeWalt Tool Bag on Wheels DWST60107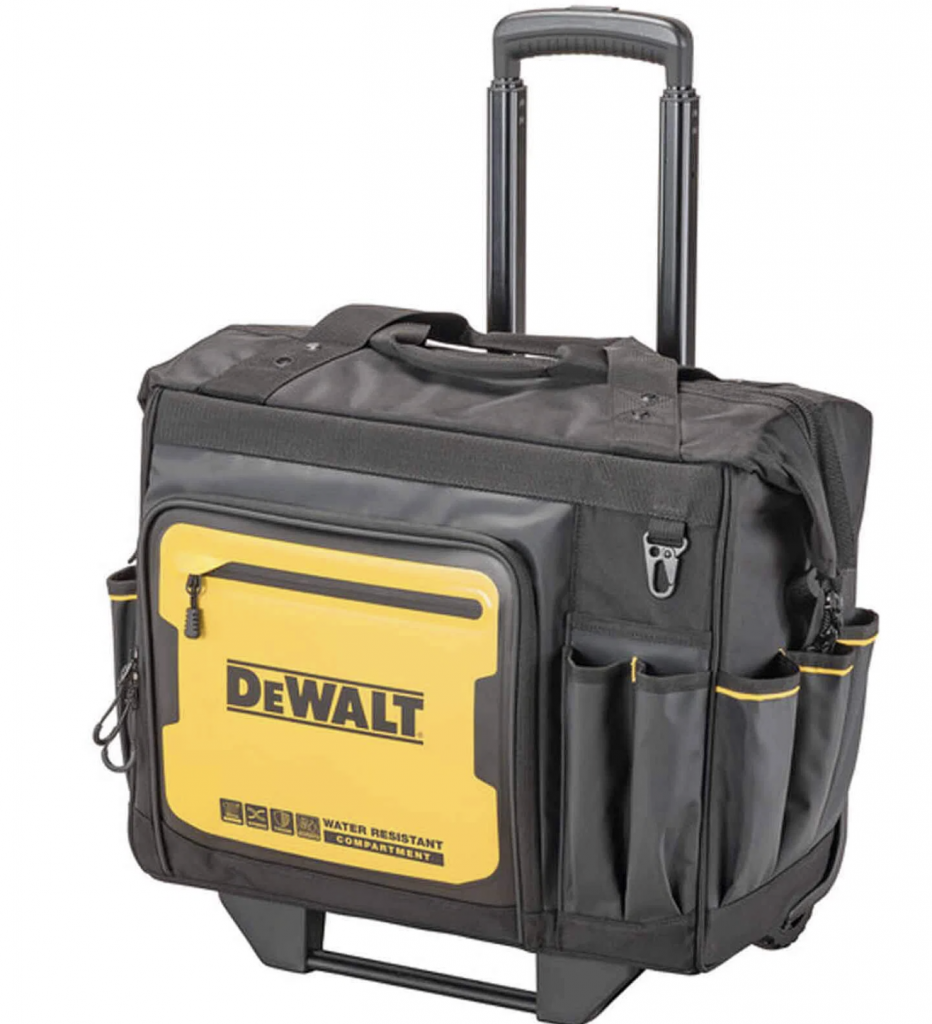 If you are searching for a reliable and convenient storage solution for your tools, look no further than the DeWalt Pro Rolling Tool Bag on Wheels. This versatile bag is perfect for professionals and DIY enthusiasts, offering effortless portability and easy organization to streamline your work.
The DeWalt Pro Rolling Tool Bag boasts a spacious main compartment and multiple pockets, providing ample storage space for a wide range of tools and accessories. You can easily organize everything from hand and power tools to screws, nails, and small parts, saving valuable time and effort.
Thanks to its sturdy wheels and telescoping handle, this rolling tool bag ensures effortless transportation of your tools and equipment. No more struggling with heavy toolboxes or making multiple trips back and forth. The smooth-rolling wheels allow you to easily manoeuvre through job sites, workshops, or rough terrain, bringing your tools wherever needed.
Constructed with durability in mind, the DeWalt Pro Rolling Tool Bag is made from rigid materials that can withstand the demands of daily use. The reinforced stitching and rugged design add strength and longevity, ensuring your tools stay protected and secure. With the DeWalt Pro Rolling Tool Bag, you can have peace of mind knowing that your tools are organized, portable, and always within reach.
DeWalt Tool Bag Open Mouth DWST60104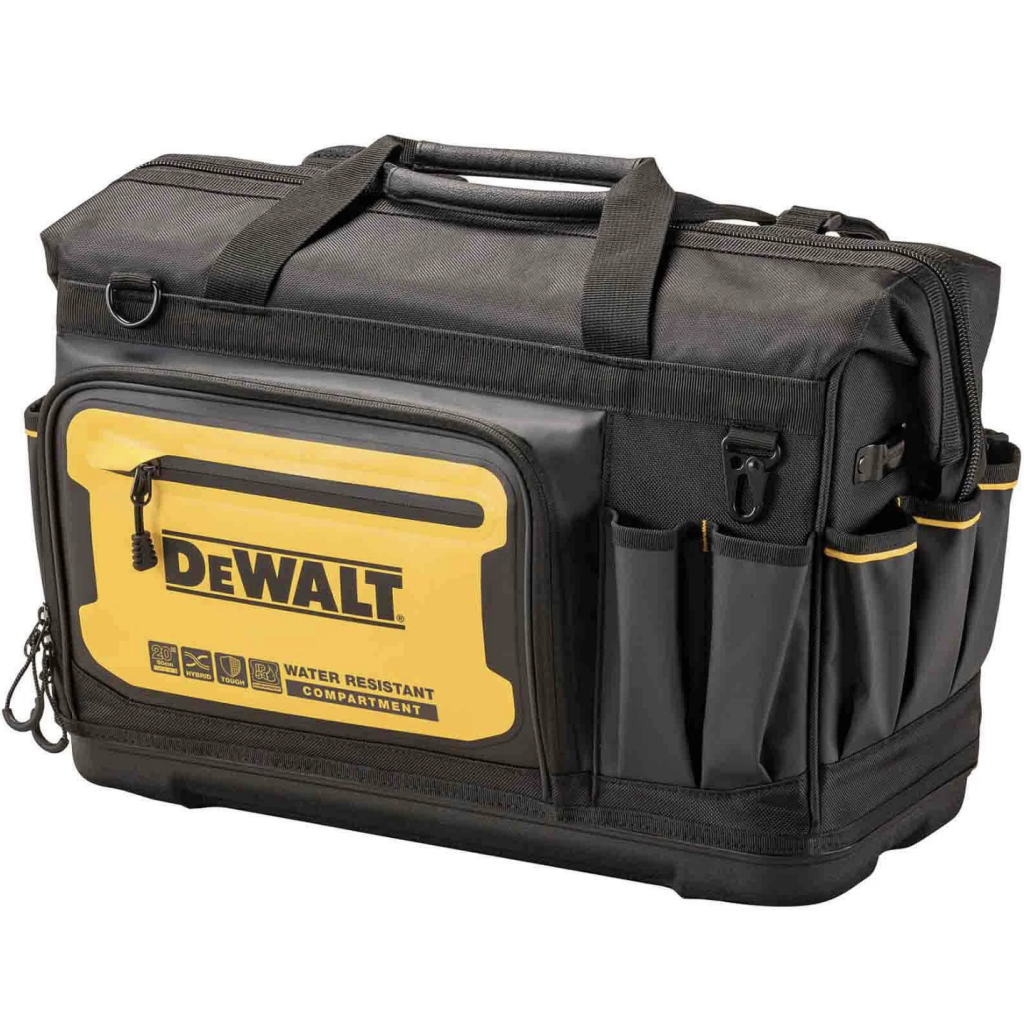 The DeWalt Pro Open Mouth 20″ Tool Bag is a durable and spacious storage solution for all your tools. Its open-mouth design, and exterior pockets make accessing your tools quick and easy. It's a must-have for professionals and DIY enthusiasts alike.
Features
The DeWalt tool bag is made from high-quality 1680D fabric, reinforced with robust stitches and detailing for durability. It has a water-resistant compartment and a waterproof injected plastic base for added protection. The metal carabiner, padded shoulder and back straps, and tape measure clip make it convenient for professionals. The all-yellow interior ensures high visibility of contents, making it an ideal choice for anyone seeking a reliable and durable backpack.
Makita Rucksack Tool Bag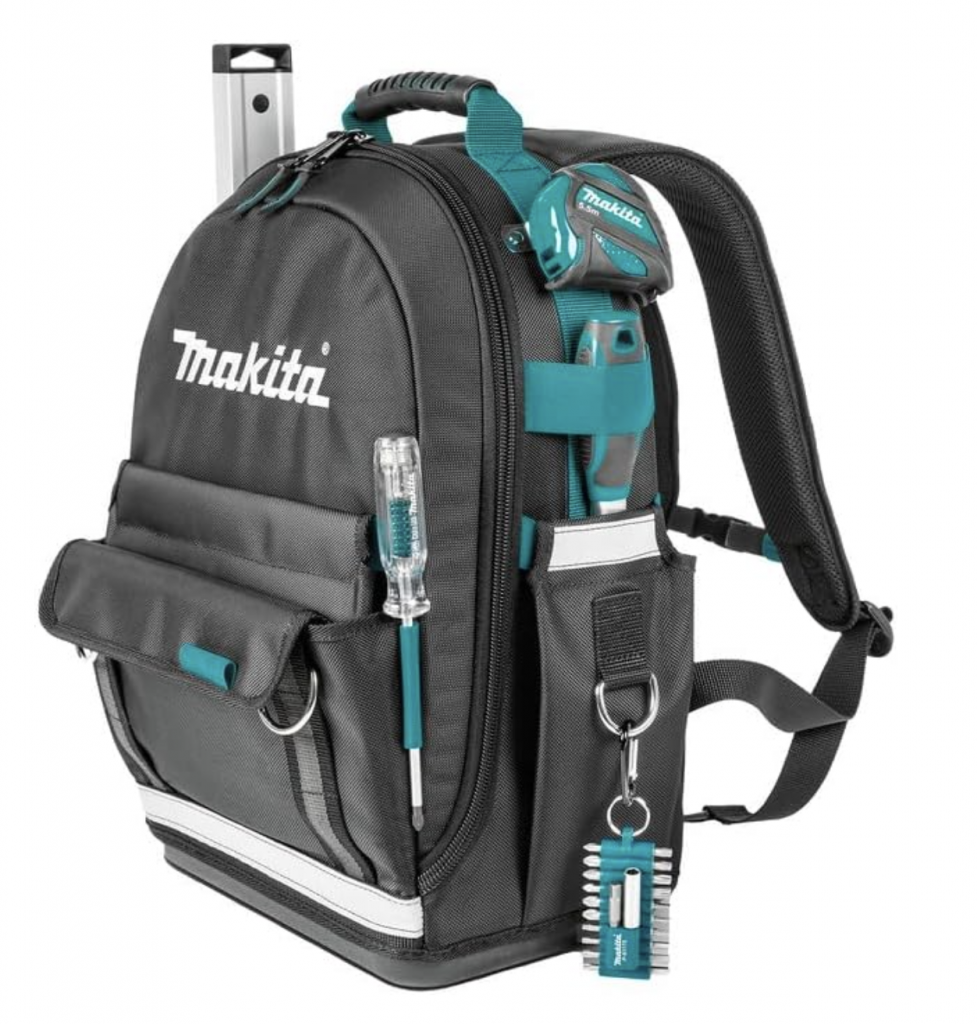 Are you looking for a reliable and spacious tool bag to carry your essential hand tools, power tools and accessories? Makita has got you covered with their Professional Tool Rucksack. Unlike traditional backpack tool bags, this rucksack allows you to easily organise and transport your tools while keeping your hands free. With over 50 slots and pockets, you can store all your essential tools and accessories safely and securely. The backpack boasts various compartments to accommodate many tools, such as pencils, tape measures, spirit levels, screwdrivers, pliers, hammers, and other essential instruments.
This well-crafted backpack boasts exceptional durability with its solid stitching, reinforced with tough rivets, and a waterproof base that guarantees long-lasting performance. The reinforced rubber feet on the base provide maximum tool protection, while the rubber carry handle makes it easy to carry without putting it on your back. And if you need to hang your keys, the rucksack also comes with a metal hanger. Get your hands on the Makita Professional Tool Rucksack and take your tool game to the next level.
Makita Tool Bag Strap Belt System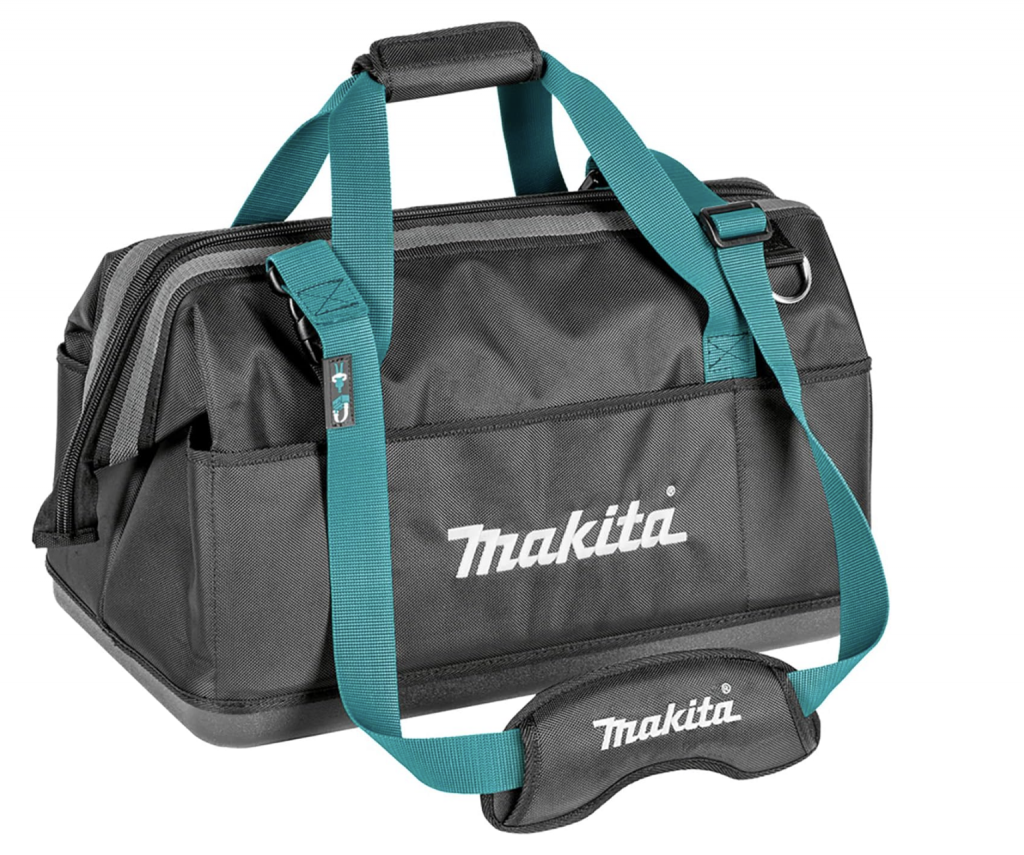 This exceptional Makita tool bag is the perfect solution for organizing your tools. It is designed with over 20 pockets in various sizes, including nine internal and nine external pockets and four elastic holders for long tools. This ensures that every tool has its specific place, allowing quick and easy access when needed.
The bag features a rigid gate-mouth opening that provides an ample view of all your tools, making locating the one you need easy. The anti-slip webbing and visible Makita logo add additional practicality, making it easy to carry even when fully loaded. The complex, waterproof moulded base ensures your bag stays clean and dry and your tools remain organized and secure.
One of Makita's standout features in their new generation belt and pouch range is the Strap Belt System. This innovative system fits all tool pouches, holders, bags, and cases. It can also be used as a replacement shoulder strap for added convenience. With the Strap Belt System, you can wear your tools on your shoulder or hips, ensuring that you have quick and easy access to your tools without the need to run back to the toolbox constantly. It's functional, comfortable, and durable, all essential features that make you more efficient on the job.
Stanley Tool Bag Fatmax Caddy Box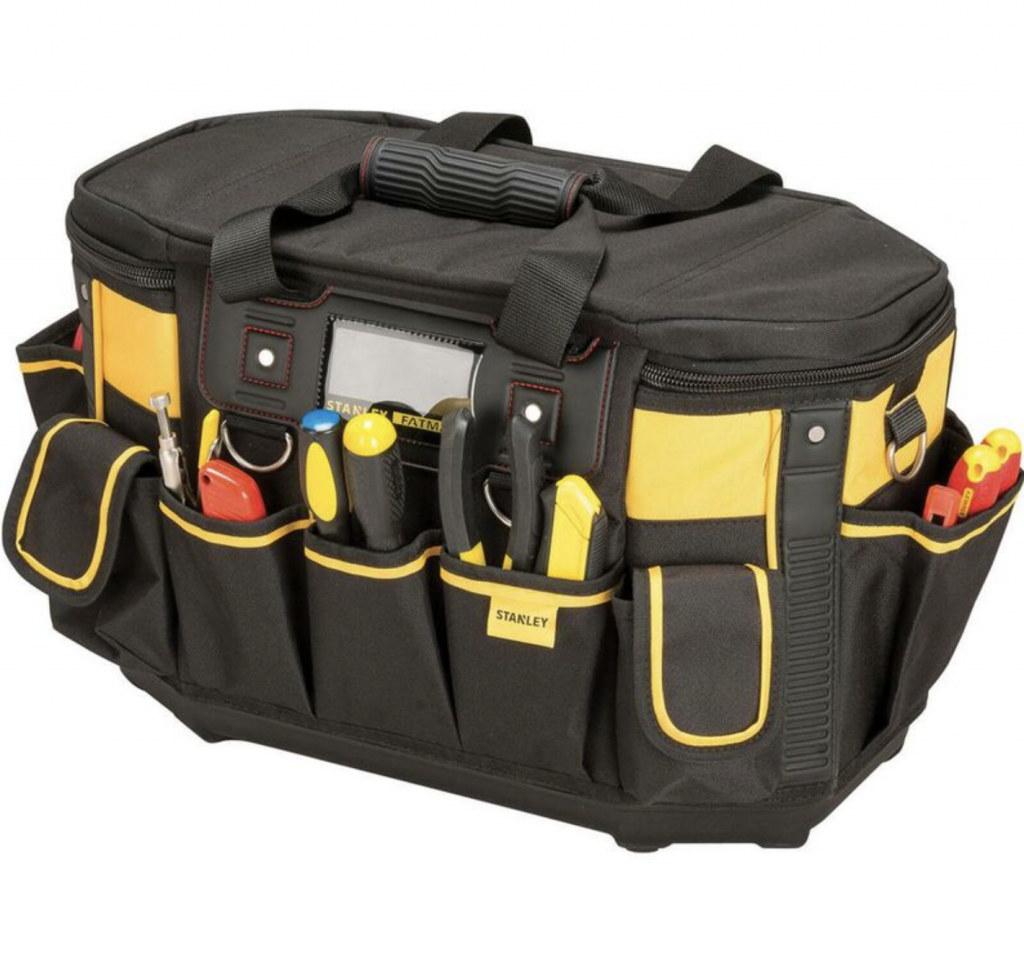 Are you in need of a reliable and spacious tool bag? Look no further than the Stanley 1-70-749 Fatmax 18 Round Top Rigid Tool Bag. The unique round-opening design offers ample storage space for all your tools and equipment, surpassing the capacity of traditional tool bags.
What sets this bag apart is its vertical compartments that provide quick and easy access to your tools and small parts. The ergonomic design, comfortable shoulder strap, and rubber grip make it easy to carry, even for extended periods. And with its top-quality 600 denier fabric, this bag is built to last. It can withstand cuts and scratches, ensuring long-lasting use.
It's worth noting that this tool bag does not come with tools. However, its storage capacity and durability make it an excellent investment for any handyman or woman.
The Stanley 1-70-749 Fatmax 18 Round Top Rigid Tool Bag is a reliable and practical choice for carrying your tools and equipment. Its unique design and durability make it stand out from other tool bags. If you're in the market for a tool bag, we highly recommend trying this one.
What to consider when buying a tool bag?
Size and Capacity
When selecting the right tool bag, size and capacity are critical factors. Start by taking inventory of your tools to determine the dimensions you'll need. A tool bag that's too small will result in a cramped and disorganized mess, while one that's too large can become heavy to carry. Consider the number and size of your tools to find a tool bag that strikes the perfect balance between spaciousness and manageability. Additionally, consider the types of tools you'll be carrying; specialised tools may require specific compartments or pockets for safe storage.
Durability and Material
The longevity of your tool bag largely depends on its durability and the materials used in its construction. Two common materials for tool bags are leather and nylon, each with advantages. Leather tool bags offer a timeless and rugged look and tend to withstand wear and tear exceptionally well. Nylon tool bags, on the other hand, are lightweight and often more affordable. Whichever material you choose, pay attention to the quality of the stitching and the strength of the zippers. Reinforced stitching and sturdy zippers can significantly extend the lifespan of your tool bag, ensuring it can handle the demands of your work for years to come.
Portability and Comfort
The portability and comfort of your tool bag are crucial for ease of use on the job. Consider a tool bag with padded straps and handles if you're constantly moving. Padded shoulder straps distribute the weight of your tools more evenly, reducing strain on your back and shoulders. Some tool bags even come with rolling options, which can be a game-changer for heavy loads. Rolling tool bags allow you to effortlessly transport your tools across job sites without needing constant lifting. Ultimately, choosing a tool bag that suits your preferred mode of transport can make your workday significantly more comfortable.
Organisation and Accessibility
Efficient organisation and easy access to your tools are vital for productivity and workflow. Look for tool bags with pockets, pouches, and compartments to keep your tools neatly sorted. Clear pockets or transparent lids can be beneficial for quickly identifying and retrieving specific items. Tool loops and adjustable dividers are also valuable features that allow you to customise the interior layout of your bag based on your tool collection. By maintaining a well-organised tool bag, you'll spend less time searching for the right tool and more time getting the job done efficiently.
Look after the brand
Regarding trusted tool bag brands, three names consistently stand out: DeWalt, Makita, and Stanley. DeWalt is renowned for its durable and innovative designs, with options like rolling bags for effortless transportation. Makita offers ergonomic and versatile solutions, including backpack-style bags that prioritize comfort and mobility. On the other hand, Stanley is known for its organizational prowess, crafting tool bags like the Fatmax Caddy Box that help keep tools tidy and accessible. These brands have earned their reputations for quality, making them go-to choices for professional tradespeople and DIY enthusiasts.
Summary
In this article, we explored a range of tool bags designed to cater to various needs and preferences of both professional tradespeople and DIY enthusiasts. Here's a recap of the products discussed:
DeWalt Tool Bag on Wheels (DWST60107): This tool bag offers a convenient rolling design, making it an excellent choice for those transporting many tools across job sites. Its sturdy construction and ample storage space ensure durability and organization on the go.
DeWalt Tool Bag Open Mouth (DWST60104): The DeWalt open-mouth tool bag is designed for quick and easy access to your tools. Its spacious interior and wide mouth allows you to effortlessly store and retrieve your tools, making it ideal for tasks that require quick access to various tools and equipment.
Makita Rucksack Tool Bag: For those who prefer a backpack-style tool bag, the Makita rucksack offers a comfortable and hands-free solution. Its ergonomic design includes padded straps for carrying convenience and multiple compartments to keep your tools organized while you're on the move.
Makita Tool Bag Strap Belt System: This innovative tool bag strap and belt system by Makita enhances mobility and ensures your tools are always within reach. It's an ideal choice for those who want a customizable approach to tool storage.
Stanley Tool Bag Fatmax Caddy Box: The Stanley Fatmax Caddy Box offers a unique combination of portability and organization. Its caddy-style design makes it easy to carry and provides various compartments to keep your tools neatly arranged, making it suitable for both professionals and DIY enthusiasts.
These tool bags cater to different needs, whether it's the convenience of a rolling bag, quick access with an open-mouth design, hands-free portability with a backpack, customization with strap and belt systems, or organized storage with a caddy box. Choose the one that best suits your specific requirements to enhance your tool management and efficiency on the job.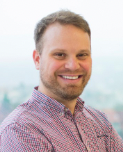 Luke is the founder of Buildiro.com and he is passionate about construction and building. His mission is to show people how to make things done fast and easy.