Navigating the world of power tools can be a daunting task, even for the most seasoned carpenters and tradespeople. When precision and clean cuts are paramount, a reliable plunge saw is an indispensable asset in your toolkit. Makita, a brand synonymous with durability and performance, has been leading the charge with their exceptional range of plunge saws. In this comprehensive guide, we delve deep into the best Makita plunge saws, with a special focus on their cordless models, including the acclaimed Makita plunge saw 18V, the robust 36V option, and the formidable 40V variant.
Harnessing the collective wisdom of experienced carpenters and tradespeople from across the UK, we've compiled a list of top-notch recommendations to help you make an informed decision. Whether you are on the hunt for a lightweight, battery-powered tool for on-the-go projects or a more powerful solution for heavy-duty tasks, Makita's lineup of plunge saws has something to offer. So, let's explore the standout features, pros, and cons of each model to find the perfect Makita plunge saw for your specific needs.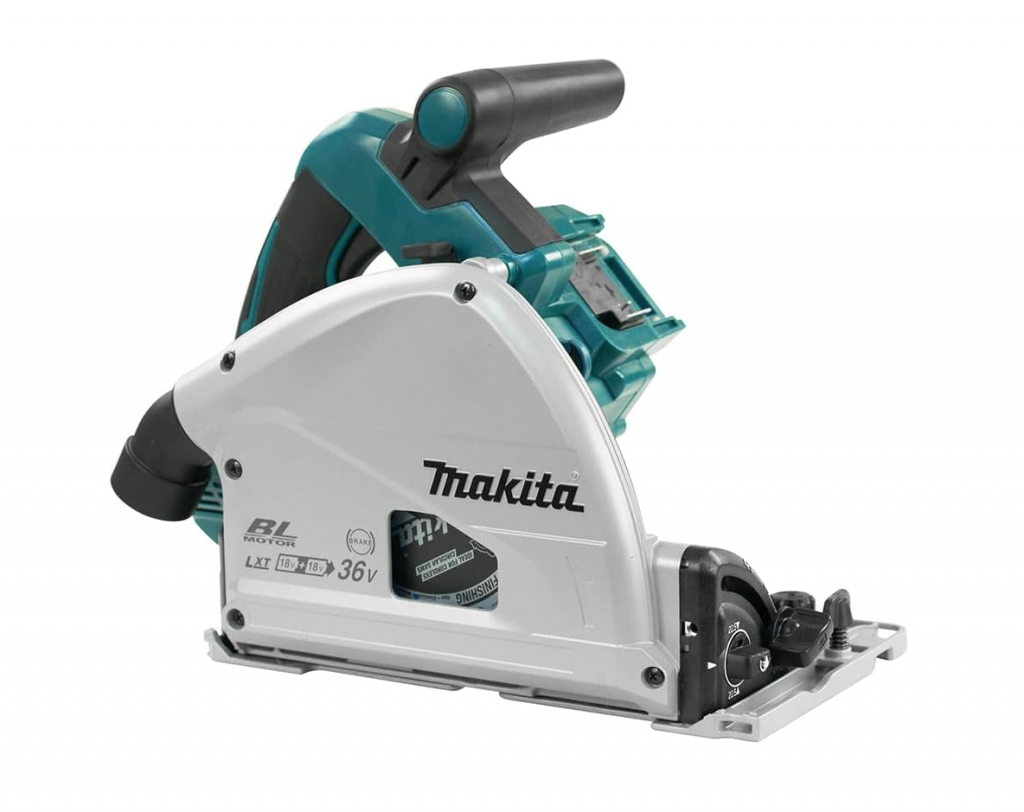 For carpenters and DIY enthusiasts looking to enhance their tool collection, the Makita DSP600ZJ plunge cut saw stands out as a noteworthy contender. Boasting a brushless motor and a range of user-friendly features, this model promises efficiency and precision in your woodworking projects. In this objective review, we delve into the specifics of the DSP600ZJ to help you gauge if this is the right tool for your needs.
Performance and Power:
The brushless motor of the Makita DSP600ZJ is a standout feature, providing efficient power distribution and extended durability, ultimately leading to a longer lifespan for the saw. With a voltage of 36 volts, this plunge cut saw is designed for robust performance, making it suitable for a variety of cutting tasks. The impressive speed of 6300 RPM ensures swift and clean cuts, enhancing your work efficiency.
Cutting Capabilities:
The Makita DSP600ZJ excels in its cutting capabilities. It offers a maximum cut depth of 56mm at 0 degrees, 40mm at 45 degrees, and 38mm at 48 degrees. This flexibility allows for versatile cutting options, making it a reliable tool for different materials and applications. The depth stopper is a valuable addition, ensuring splinter-free cutting and enhancing the overall finish of your work.
Ease of Use and Compatibility:
Designed with the user in mind, this model is compatible with guide rails, ensuring straight and accurate cuts with ease. The product dimensions and weight (15.55 x 11.61 x 12.61 cm; 3.9 Kilograms) make it a manageable tool, allowing for extended use without causing fatigue.
Warranty and Durability:
Makita offers a 1-year manufacturer warranty for the DSP600ZJ, which can be extended to 3 years when registered within 30 days of purchase. However, it is crucial to note that the use of non-genuine or recommended parts, accessories, batteries, and chargers will invalidate this warranty. This stipulation underscores the importance of using genuine Makita products to ensure both the longevity and safety of your tool.
Components and Accessories:
The package includes 1 x TCT saw blade, 1 x Hex wrench, 1 x Makita DSP600ZJ, and 1 x Makpac case, providing you with everything you need to get started on your projects. It is worth noting that the batteries are not included, and it is vital to use genuine Makita batteries to comply with the warranty and ensure optimal performance.
Conclusion:
In summary, the Makita DSP600ZJ (36V) Twin 18V Li-Ion LXT Brushless 165mm Plunge Cut Saw is a powerful and versatile tool, designed to meet the demands of both professional carpenters and DIY enthusiasts. With its brushless motor, depth stopper for splinter-free cutting, and compatibility with guide rails, it offers a combination of performance, precision, and ease of use. While the requirement for genuine Makita accessories and batteries may be seen as a drawback for some, it ensures the longevity and reliability of the tool, making it a worthwhile investment for those looking to enhance their woodworking capabilities.
Prefer DeWalt Plunge Saws? Read our article about: Best DeWalt Plung Saws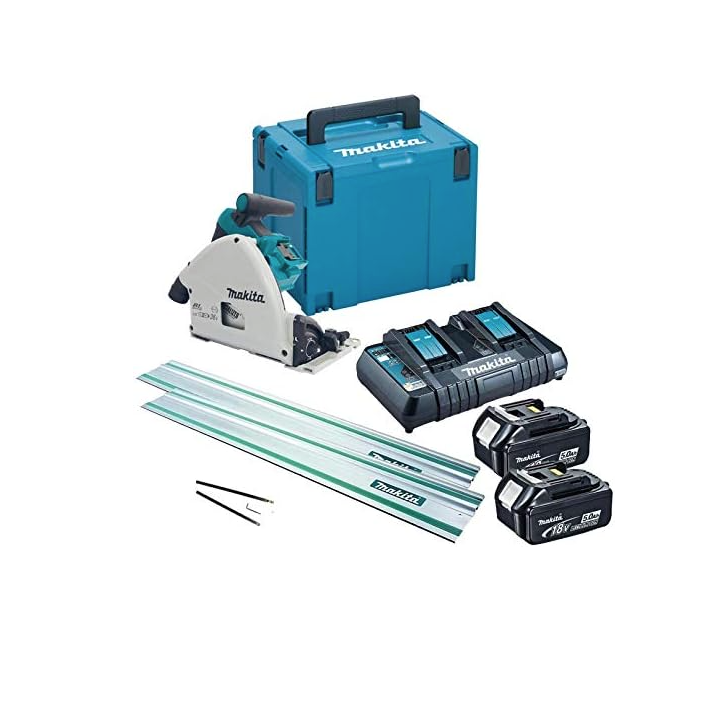 When it comes to power tools that offer precision and efficiency, Makita stands out as a leader in the industry. The Makita DSP600PT2 36v Twin 18v Brushless Plunge Cut Circular Saw is no exception, combining power, accuracy, and user-friendly features to create a tool that professionals and DIY enthusiasts alike can appreciate. In this detailed review, we will explore the capabilities, features, and components of this particular model, to help you determine if it's the perfect addition to your toolkit.
Performance and Efficiency:
The brushless motor at the heart of the Makita DSP600PT2 ensures efficient power distribution, reducing friction and heat, which consequently extends the tool's lifespan. Operating at 36 volts, by combining two 18v batteries, this plunge cut circular saw is designed to handle a variety of cutting tasks with ease. The inclusion of a brake enhances safety, allowing for quick stops to prevent accidents.
Cutting Precision:
This model is specially designed for those who require precision in their work. The inclusion of two guide rails ensures that each cut is straight and accurate, enhancing the quality of your work and reducing the margin for error.
Portability and Ease of Use:
Weighing in at just 1 kilogram and with product dimensions of 1 x 1 x 1 cm, the Makita DSP600PT2 is incredibly lightweight and easy to handle. This portability ensures that you can take the saw to different job sites without hassle and work for extended periods without experiencing fatigue.
Durability and Warranty:
Makita is known for the durability of its tools, and the DSP600PT2 is no exception. Crafted with high-quality materials, this plunge cut circular saw is built to withstand the rigors of regular use. Additionally, Makita offers a comprehensive warranty, ensuring that you are covered in the event of any issues.
Included Components:
The package comes with everything you need to get started, including the plunge cut circular saw itself and a case for easy transport and storage. However, it's important to note that batteries are not included in the package, and purchasing genuine Makita batteries is recommended to ensure optimal performance and to uphold the product's warranty.
Conclusion:
The Makita DSP600PT2 36v Twin 18v Brushless Plunge Cut Circular Saw, complete with 2X Guide Rails, stands out as a versatile, efficient, and precision-focused tool. Its lightweight design, combined with its powerful brushless motor and safety features, make it a smart investment for professionals and DIY enthusiasts alike. While the necessity of purchasing batteries separately may be considered a drawback by some, the performance, durability, and accuracy offered by this model make it a worthy addition to any toolkit.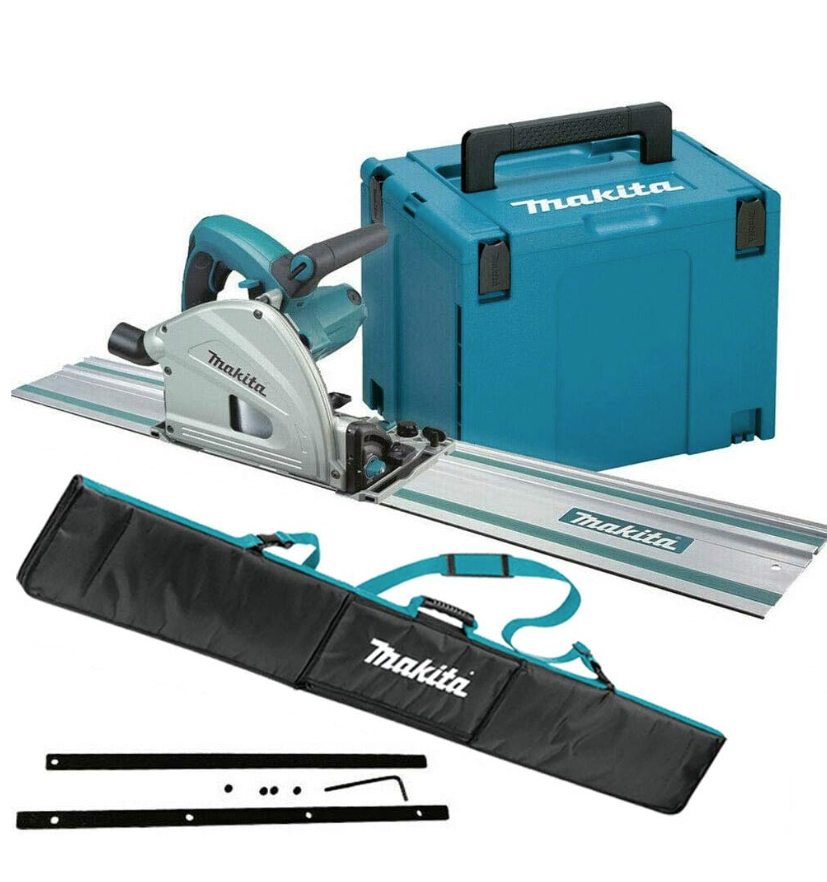 Navigating the world of power tools can be overwhelming, but every now and then, you stumble upon a gem that makes you feel like, "Yes, this one gets me." The Makita SP6000J1 240V is exactly that—a power tool that seems to understand the highs and lows of woodworking. It's more than just a machine; it's a partner in your creative journey. Let's delve into the world of the SP6000J1 and discover what makes it so special.
Embracing Tight Spaces: A Mastery of Close-Wall Cutting
Imagine having to cut just millimeters away from a wall, and your bulky saw just won't cooperate. Enter the SP6000J1, Makita's answer to awkward spaces and tight corners. With its ability to perform cuts only 18mm away from the wall, it feels like this saw was designed with a "no project too tough" attitude. It's like having a friend that says, "I've got this," and actually does.
Handle with Care: Ergonomics at Its Best
Long hours, repetitive motions, and the constant drone of machinery—it's the recipe for fatigue. But not with the SP6000J1. Makita has woven a touch of tenderness into this robust machine with non-slip rubberised handles. It's like a firm handshake that says, "I'm here for you," ensuring that even in the midst of intense projects, comfort is never compromised.
A Step Ahead: Precision Like Never Before
What sets a good carpenter apart from a great one? Precision. And the SP6000J1 is the tool for those striving for greatness. The depth stopper for splinter-free cutting ensures that every cut is clean, every edge sharp. It's like having an extra set of eyes, meticulously checking each cut to make sure it's just right.
Standing Tall: A Tip-Resistant Companion
Woodworking comes with its own set of challenges, and a saw that tips over is a challenge no one needs. The SP6000J1, with its tip-resistant design, ensures stability and safety, standing tall and steady as you work. It's not just a feature; it's a declaration, a commitment to your safety.
Clean Cuts, Clean Space: A Breath of Fresh Air
In the dance of sawing and cutting, dust is an unwelcome partner. The SP6000J1, with its ability to connect to a vacuum cleaner, ensures that your workspace stays clean, and you can breathe easy. It's like having a diligent cleaner who sweeps up after you, making sure everything is just as it should be.
Specifications and Inclusions: All the Bells and Whistles
This blue beauty runs on corded electric power, packs a punch with 1300 watts and a speed of 5200 RPM, and carries a blade of 165 millimetres. With carbide tipped blade, hex wrench, guide rail connector, guide rail, and guide rail bag all included, it's like opening a treasure chest of woodworking goodies.
Closing Thoughts:
The Makita SP6000J1 is not just a plunge saw; it's a testament to Makita's understanding of what carpenters and woodworking enthusiasts really need. It's a companion in your journey, a tool that says, "Let's create something beautiful together." In a world of power tools, the SP6000J1 stands out, not just for its features, but for its ability to make every project a little more comfortable, a little more precise, and a whole lot more enjoyable.
What to Consider Before Buying a Makita Plunge Saw?
Makita plunge saws have long been hailed for their precision, durability, and overall exceptional performance. Whether you're a seasoned carpenter, a passionate DIY enthusiast, or somewhere in between, choosing the right plunge saw is crucial to ensuring a smooth and successful project. So, what do you need to consider before making the investment in a Makita plunge saw? Let's dive in!
1. Power and Voltage:
Makita offers a variety of plunge saws with different power specifications. Assess the nature of your projects to determine whether a corded or battery-powered model would serve you best. For example, the Makita 18V plunge saws offer portability and ease of use, especially in areas where access to a power outlet might be limited.
2. Blade Size and Type:
Different models come with different blade sizes and types, which can influence the depth and finish of your cuts. Consider the materials you'll be cutting most frequently and ensure the blade on your chosen saw is up to the task. Makita plunge saws commonly feature 165mm blades, providing a balance of precision and versatility.
3. Battery Compatibility (for Cordless Models):
If you're leaning towards a battery-powered plunge saw, check the compatibility of the batteries with other Makita tools you might own. Models like the Makita 18V and 36V plunge saws often share battery platforms with other tools in the Makita range, offering convenience and cost savings.
4. Cutting Capacity and Adjustability:
Look into the maximum cutting depth of the saw at various angles to ensure it meets your needs. Adjustable settings for depth and angle allow for versatility and precision in your cuts, making your tool suitable for a wider range of applications.
5. Guide Rail Compatibility:
Makita plunge saws are renowned for their compatibility with guide rails, ensuring straight and precise cuts. Check if the model you are interested in comes with a guide rail or if it can be purchased separately. Some packages even include the saw and rail together, providing added value.
6. Safety Features:
Safety should always be a top priority. Look for features such as an electronic brake, overload protection, and a lock-off lever. These features contribute to a safer working environment, minimizing the risk of accidents during operation.
7. Durability and Brand Reputation:
Makita has a strong reputation for producing durable and reliable tools. Consider the build quality of the plunge saw and read customer reviews to get a sense of its performance and longevity. Investing in a tool from a reputable brand ensures access to customer support and spare parts if needed.
8. Warranty and After-Sales Support:
Check the warranty provided with the plunge saw, and take note of any conditions or exclusions. Makita typically offers a 1-year warranty, with an extended 2 years upon registration. Ensure you understand the terms and how to access support should you encounter any issues.
Conclusion:
Investing in a Makita plunge saw is investing in precision, quality, and durability. By carefully considering the factors outlined above, you can ensure that the tool you choose not only meets your current needs but also stands the test of time, becoming a trusted companion in all your woodworking adventures.
What Can You Use a Makita Plunge Saw For?
Makita plunge saws have been celebrated worldwide for their precision, power, and versatility. Designed to handle a variety of tasks with ease and accuracy, these saws have become a staple in the toolkits of carpenters, woodworkers, and DIY enthusiasts alike. But what exactly can you use a Makita plunge saw for? Let's delve into the plethora of possibilities that this powerful tool opens up.
1. Precision Cuts:
The primary advantage of a plunge saw is its ability to make highly accurate and clean cuts. Thanks to the guide rail system, you can achieve straight and precise cuts with minimal effort, making it an ideal tool for tasks that require a high level of accuracy.
2. Sheet Materials:
Makita plunge saws excel at cutting through sheet materials like plywood, MDF, and particleboard. Whether you're crafting custom cabinetry, building furniture, or working on a home improvement project, the plunge saw ensures a smooth, splinter-free cut every time.
3. Plunge Cuts:
As the name suggests, plunge saws are specifically designed to make plunge cuts – cuts that start in the middle of a workpiece rather than from an edge. This feature is particularly useful for creating cut-outs for sinks in countertops, vents in floors, or any other instances where you need to start your cut from within the material.
4. Angled and Mitre Cuts:
With adjustable bevel settings, Makita plunge saws can easily handle angled cuts, making them perfect for creating joints, beveling edges, or any other tasks that require a tilted blade.
5. Trimming Doors and Panels:
Need to trim a door to fit a specific opening? Or perhaps you have a wall panel that's just a bit too long? A plunge saw makes these tasks straightforward and ensures a clean, straight cut.
6. Wood Flooring Installation:
Installing wooden flooring often involves cutting boards to the right length or creating precise cut-outs for fixtures. A Makita plunge saw, with its accuracy and ease of use, is an excellent tool for these jobs.
7. Finish Carpentry:
For finish carpenters who require their work to be flawless, the precision of a Makita plunge saw is invaluable. From trimming moldings to cutting trim, the tool ensures a professional finish every time.
8. Joinery Work:
The ability to make accurate and clean cuts also makes the plunge saw a great tool for various joinery tasks, such as creating dados, rabbets, and mortise and tenon joints.
9. General Carpentry:
Beyond specialized tasks, a Makita plunge saw is also an excellent addition to any general carpentry toolkit. Its versatility makes it useful for a wide range of cutting tasks, ensuring you always have the right tool for the job.
Conclusion:
A Makita plunge saw is far more than just a cutting tool; it's a gateway to precision, accuracy, and versatility. Whether you're a professional carpenter, a DIY enthusiast, or anywhere in between, a plunge saw from Makita is a reliable companion that ensures every cut is a cut above the rest. Embrace the potential and watch your projects transform from good to great.
How Deep Does Makita Plunge Saw Cut?
When it comes to woodworking and carpentry, precision and versatility are key. That's where Makita plunge saws come into play, offering unparalleled accuracy and the ability to make complex cuts with ease. A crucial aspect to consider when working with these tools is their cutting depth. How deep can a Makita plunge saw cut? Let's explore this vital feature to help you make the most out of your tool.
Understanding Cutting Depth:
Cutting depth refers to how deep the saw blade can penetrate into the material you are working on. This is a critical factor in ensuring that your tool is suitable for the specific requirements of your project. Makita plunge saws are designed with this in mind, providing substantial cutting depths to accommodate a variety of applications.
Factors Influencing Cutting Depth:
Blade Size: Makita plunge saws typically feature blades that are 165mm in diameter. The size of the blade directly impacts the maximum cutting depth of the saw. A larger blade will generally allow for a deeper cut.
Bevel Angle: The cutting depth of a plunge saw can also vary depending on the angle at which you are cutting. As you adjust the bevel angle for angled cuts, the effective cutting depth will decrease.
Typical Cutting Depths of Makita Plunge Saws:
Straight Cuts (0°): When the saw is set to a 0° bevel angle for straight cuts, Makita plunge saws can generally cut up to 56mm deep. This depth is sufficient for cutting through most sheet materials and boards, providing ample versatility for various applications.
Angled Cuts (45°): For beveled cuts at a 45° angle, the cutting depth will be reduced. Makita plunge saws typically offer a maximum cutting depth of around 40mm at this angle, still providing plenty of versatility for tasks that require angled cuts.
Maximum Bevel Cuts (48°): At the extreme end of the bevel capacity, usually set around 48°, the cutting depth is further reduced. However, Makita plunge saws still maintain a respectable cutting depth, often around 38mm, ensuring that even the most challenging cuts can be executed with precision.
Maximizing Your Cutting Depth:
To make the most out of your Makita plunge saw's cutting depth:
Choose the Right Blade: Ensure that you are using the appropriate blade size and type for your specific saw model and the material you are cutting.
Check the Settings: Before you start cutting, double-check the bevel angle and cutting depth settings on your saw to ensure they are adjusted to your requirements.
Regular Maintenance: Keep your saw and blade in top condition through regular maintenance and cleaning, ensuring that every cut is as deep and precise as needed.
Conclusion:
Makita plunge saws are engineered to provide exceptional cutting depths, accommodating a wide array of applications and materials. By understanding how the cutting depth works and how to maximize it, you ensure that your Makita tool serves you well, no matter how deep you need to cut.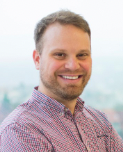 Luke is the founder of Buildiro.com and he is passionate about construction and building. His mission is to show people how to make things done fast and easy.