In the demanding world of professional woodworking and construction, the quest for tools that deliver precision, reliability, and unparalleled performance is relentless. Amongst the myriad of options available in the market, Festool plunge saws have emerged as a preferred choice, consistently garnering the trust and approval of UK tradespeople. In this insightful blog post, we embark on an analytical journey, meticulously examining the best Festool plunge saws, their features, and their capacities to meet the exacting demands of professionals in the field.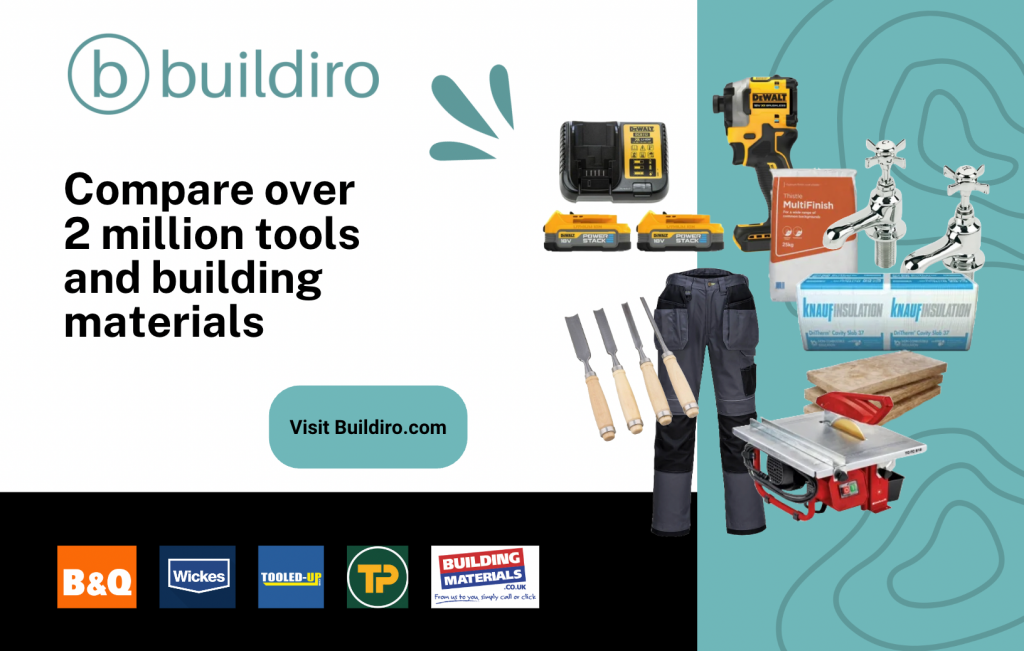 Festool's plunge saws are renowned for their innovative design, robust construction, and exceptional functionality. From cordless variants that promise unparalleled mobility to the potent 18v and 240v models designed for heavy-duty applications, Festool's range is comprehensive and versatile. We will delve into the specifics of each, including the Festool plunge saw 110v version, to provide you with a holistic understanding of what each model brings to the table.
The blade of a plunge saw is a critical component, directly impacting the tool's performance and the quality of the cut. In this regard, Festool's plunge saw blades stand out, engineered to perfection and designed to deliver. We will dissect the intricacies of these blades, exploring their construction, materials, and performance characteristics.
By the end of this piece, you will possess a nuanced understanding of Festool plunge saws, equipped with the knowledge to make an informed decision tailored to your professional needs. Join us as we navigate through the technicalities and the practicalities, unraveling why Festool plunge saws are a celebrated choice among UK tradespeople.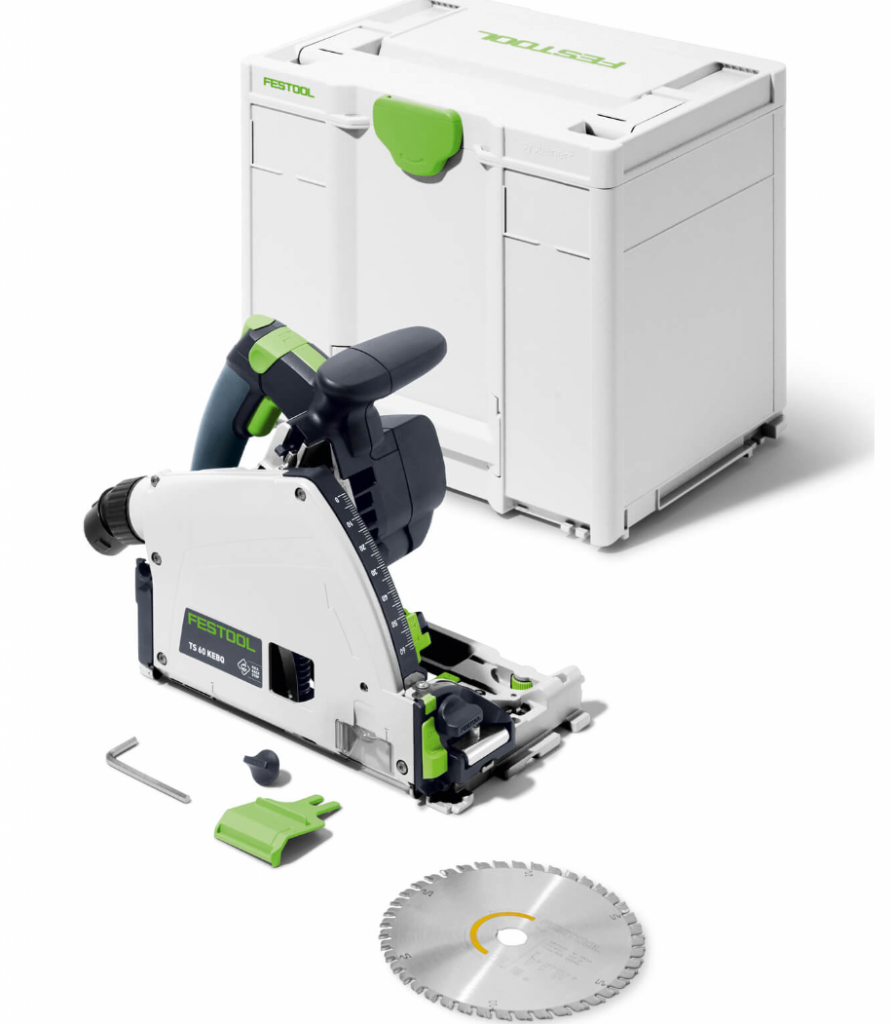 Embarking on a journey through the vast and varied landscape of power tools can be an overwhelming endeavor, yet there are moments when a particular tool captivates your attention and refuses to let go. Such is the case with the Festool TS 60 KEBQ Plus, a plunge cut circular saw that stands in a league of its own, offering a harmonious blend of precision, power, and safety. Priced at £655.95, inclusive of VAT, and available for next day delivery for those who place their orders by 3:00 PM, this Festool masterpiece is a testament to the brand's unwavering commitment to excellence.
Harnessing Power and Precision:
When it comes to performance, the Festool TS 60 KEBQ Plus is nothing short of a powerhouse, operating seamlessly on a robust 240v. Nestled within its compact frame is a brushless EC-TEC motor that not only ensures smooth operation but also reaches soaring speeds of up to 6800 rpm. This guarantees not just speed, but also an unmatched precision in every cut. The saw exhibits remarkable adaptability with a maximum depth of cut standing at 62mm, which only slightly reduces to 57mm when paired with a guide rail. This speaks volumes about its ability to maintain exceptional performance under varied working conditions.
Safety and User Experience:
Festool has always placed user safety at the forefront, and the TS 60 KEBQ Plus is no exception. The integrated anti-kickback system serves as your steadfast protector, ensuring that your journey towards achieving precision does not come at the cost of safety. For those moments when you find yourself working on uneven materials without the aid of a guide rail, the kickback stop can be manually deactivated, providing you with control and flexibility without compromising on safety.
The TS 60 KEBQ Plus shines when it comes to user experience and practicality. Festool's ingenious FastFix spindle stop ensures that blade changes are quick, seamless, and utterly hassle-free. The slimline blade housing is a stroke of genius, allowing cuts to be made as close as 12mm to a wall, showcasing that even tight spaces are no match for this tool's capabilities. The transparent sliding viewing window lowers to facilitate virtually dust-free operation while providing a clear view of the saw blade, ensuring precision in every cut.
Technical Intricacies and Package Contents:
Delving into the technical intricacies, the Festool TS 60 KEBQ Plus operates on a 240v voltage and has a power consumption of 1500w. The idle engine speed ranges from 3000-6800min-¹, with a saw blade diameter of 168mm. The angular range spans from -1 to 47°, offering versatility in cutting angles. Cutting depths at 90° and 45° stand at 62mm and 45mm respectively, with a dust extraction connection diameter of 27/36mm, a cable length of 4m, and a product weight of 4.80kg.
The package contents include the Festool TS 60 KEBQ Plus Plunge Cut Circular Saw, a Hex Key WAF 5, a splinter guard, a Systainer SYS3 M 337, and a Circular Saw Blade measuring 168 x 1.8 x 20mm.
Conclusion:
In the realm of plunge cut circular saws, the Festool TS 60 KEBQ Plus emerges as a beacon of excellence, embodying the spirit of precision, power, and safety. It's more than just a tool; it's a companion on your journey towards creating masterful pieces with utmost accuracy. Whether you're a seasoned professional or an enthusiastic hobbyist, this Festool creation is designed to elevate your woodworking experience to new heights. In the grand tapestry of power tools, the TS 60 KEBQ Plus indeed stands out as a masterpiece, a testament to Festool's legacy of innovation and excellence.
Prefer Makita Plunge Saws? Read our latest article about Best Makita Plunge Saws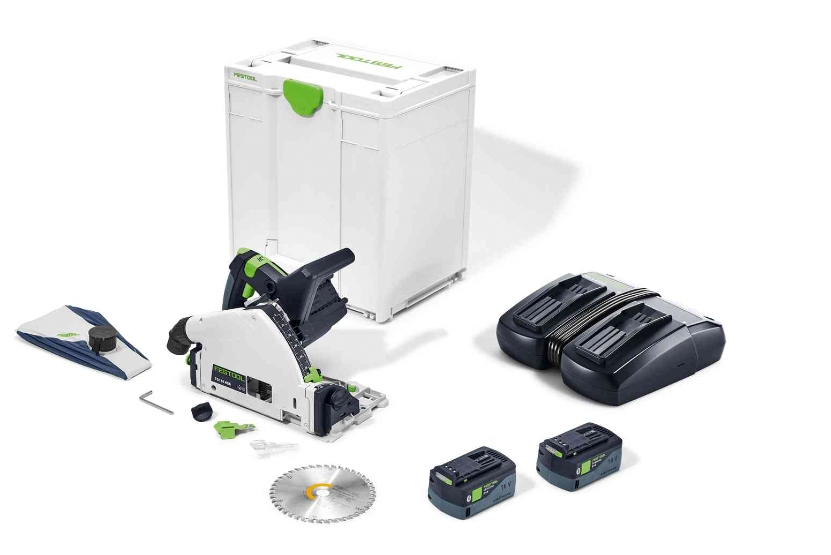 Navigating the landscape of power tools requires a discerning eye, particularly when on the hunt for a plunge saw that seamlessly combines power, precision, and safety. The Festool 577343 Cordless Plunge Saw emerges as a standout option, embodying innovation and efficiency in every cut. Designed with both the professional tradesperson and enthusiastic DIYer in mind, this tool is a culmination of Festool's commitment to top-tier quality and user-centric design.
Power and Performance:
At the heart of the Festool 577343 lies exceptional torque, propelling your work progress at speeds up to twice as fast, all the while ensuring an extended saw blade service life. This impressive performance is paired with a new generation of saw blades, resulting in maximum cutting performance and impeccable cutting quality. The integration of lithium-ion batteries alongside a brushless EC-TEC motor guarantees not just incredible power but also endurance, ensuring that the tool stands the test of time and rigorous use.
Safety and Precision:
Festool places a premium on user safety, and the 577343 is no exception. The integrated KickbackStop dramatically reduces the risk of injury from kickback, ensuring a safer work environment. This feature is particularly noteworthy as it is ready for immediate use without the need for part replacements or incurring additional costs. Furthermore, the KickbackStop can be manually deactivated for work on uneven materials without a guide rail, automatically reactivating the next time the tool is switched on, offering flexibility without compromising safety.
The 577343 excels in providing a precise and healthy working experience. When used in conjunction with Festool's guide rails, saw blades, extraction system, and other accessories, the tool forms part of a comprehensive sawing system. The addition of a clip-on splinter guard ensures virtually splinter-free cuts on both sides when used with a guide rail, reducing the need for reworking and ensuring a smoother finish.
User Experience and Flexibility:
Festool has thoughtfully designed the 577343 to offer an intuitive user experience. The transparent sliding viewing window, accompanied by additional markings for starting and ending points, ensures clear visibility of the saw blade, aiding in perfect plunge cuts. The angle setting range from -1° to 47°, with easy-to-select locking positions at 0° and 45°, allows for a variety of cut angles, including undercuts.
The tool's slimline housing is a nod to Festool's attention to detail, enabling cuts up close to edges and walls (12 mm), ensuring maximum flexibility in tight spaces. The FastFix saw blade changing system further enhances the user experience, allowing for quick and easy blade changes, ensuring that the saw blade is always perfectly matched to the material at hand.
Enhanced Control and Adaptability:
The Festool 577343 boasts a range of features designed for enhanced control and adaptability. The dual cutting depth scale, now featuring extra-large font and precision adjustment, ensures exact depth setting whether working with or without a guide rail. Fitted control electronics enable speed control, temperature monitoring, a quick-acting brake, and material-specific adaptation, ensuring optimal performance across a variety of applications.
Charging and Battery Efficiency:
For those utilizing the TSC 55 K 18 V dual battery system, the 577343 offers even greater endurance and range, thanks to its dual battery configuration options. The accompanying DUO rapid charger is capable of charging two batteries simultaneously, ensuring that your tool is always ready for action.
Conclusion:
The Festool 577343 Cordless Plunge Saw stands as a testament to Festool's legacy of innovation, quality, and user-focused design. Whether you are a seasoned professional or a passionate DIYer, this tool is engineered to elevate your woodworking experience, offering a blend of power, precision, and safety that is truly a cut above the rest. With the 577343, Festool invites you to experience the future of plunge saws, today.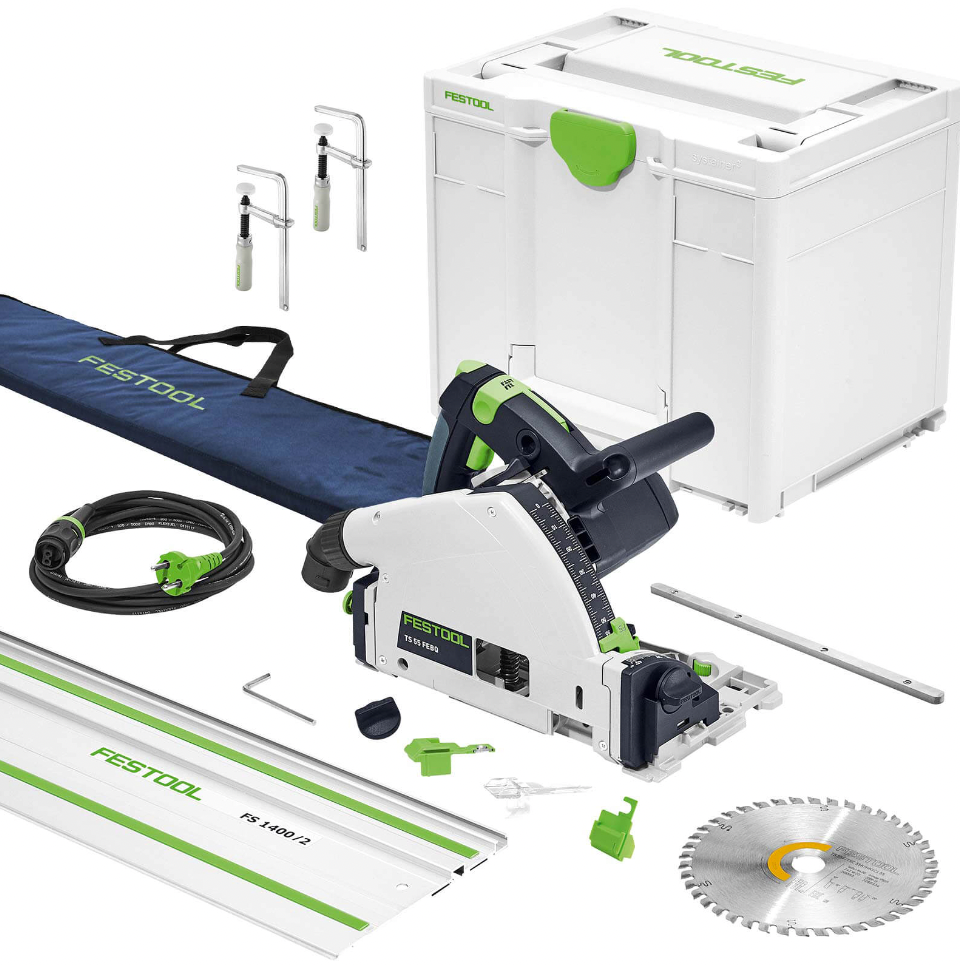 Renowned for its precision, power, and unwavering durability, Festool's TS series has been a steadfast favorite among woodworking professionals and enthusiasts alike. The 2021 Festool TS55 F Plunge Saw not only lives up to this legacy but sets a new standard in cutting excellence. With a design that marries speed and precision like never before, the latest iteration of the TS55 series promises a woodworking experience that is both fast and flawless.
Precision Cutting at Unprecedented Speeds:
The new TS55 F has been engineered to deliver cuts at up to twice the speed of its predecessors, all while maintaining the absolute precision that Festool users have come to expect. The introduction of a new generation of cutting blades ensures perfect cutting quality and maximizes cutting performance, providing a solution that is both fast and fine-tuned to perfection.
A Symbiosis of Power and Durability:
With a power consumption of 1200 W and an idle motor speed ranging from 2000 to 5800 min⁻¹, the TS55 F packs a potent punch. The robust construction of the saw, paired with its powerful motor, guarantees that it can handle even the most demanding tasks with ease, living up to Festool's reputation for tools that stand the test of time.
Precision and Versatility:
With a cutting depth ranging from 0 to 55 mm and an angular range of -1 to 47 degrees, the TS55 F offers unparalleled versatility. Whether making straight cuts, miters, or compound angles, this plunge saw ensures precision and consistency. The cutting edge remains unchanged from 90° to 47°, even when the saw swivels, ensuring perfect alignment every time.
Enhanced Safety and Ease of Use:
Festool has always prioritized user safety and ease of use, and the TS55 F is no exception. The inclusion of a guide wedge facilitates safer work and simple positioning in existing joints, while the angle adjustment with an undercut function from -1° to 47° allows for a broad range of cutting angles. The tool is also compatible with Festool's existing guide rail system, ensuring a seamless integration into your existing toolkit.
A Complete Sawing System:
The TS55 F isn't just a plunge saw; it's a comprehensive sawing system. With a variety of accessories, including guide rails, an angle stop, and a perfectly matched extraction system, this tool provides everything needed for top-class results. The inclusion of a splinter guard ensures a virtually splinter-free finish on both sides of the cut, exemplifying Festool's attention to detail and commitment to quality.
In The Box:
Everything you need to get started is included, from the TS 55 FEBQ-Plus Plunge Saw itself to a fine tooth circular saw blade, splinter guard, guide rail, and more. All of these are conveniently housed in a Systainer3 case, making transport and storage a breeze. The inclusion of a Festool Guide Rail Carry Bag ensures that your guide rails are protected and easily transportable, rounding off a package that is as practical as it is powerful.
Conclusion:
With the 2021 Festool TS55 F Plunge Saw, Festool has once again raised the bar, delivering a tool that combines speed, precision, and durability in a way that sets it apart from the competition. Whether you are a seasoned professional or a passionate hobbyist, the TS55 F is designed to enhance your woodworking experience, ensuring that every cut is a cut above the rest. This is not just a plunge saw; it's an investment in quality, precision, and the future of your craftsmanship.
What to Consider Before Purchase a Festool Plunge Saw?
Purchasing a Festool Plunge Saw is a significant investment in your woodworking or construction toolkit, and it's crucial to consider several factors to ensure you make an informed decision. Here's a comprehensive guide to help you understand what you should take into account before making your purchase:
1. Project Requirements:
Material Types: Evaluate the types of materials you'll be cutting most frequently. Festool Plunge Saws are versatile, but ensuring compatibility with your common materials is essential.
Cutting Depth: Check the maximum cutting depth of the saw, and make sure it suits the thickness of materials you usually work with.
2. Power and Voltage:
Corded vs. Cordless: Decide whether you prefer a corded or cordless model. Cordless models offer more mobility, while corded models provide continuous power.
Voltage and Power Consumption: Ensure the voltage and power consumption of the plunge saw meet your needs, especially if you work on more demanding, heavy-duty tasks.
3. Safety Features:
Kickback Stop: Look for models with a Kickback Stop feature, which reduces the risk of injury from kickbacks. Ensure you understand how to use and, when necessary, deactivate this feature.
Blade Guard and Safety Switches: Ensure the saw has adequate safety features, including a blade guard and safety switches, to protect you during use.
4. Precision and Accuracy:
Guide Rails and Accessories: Check the compatibility with guide rails and other accessories that enhance precision. Investing in a system that ensures accurate cuts can save time and reduce material waste.
Adjustability: Look for a plunge saw with easy-to-use angle and depth adjustments. This will allow you to make precise cuts and easily switch between different types of cuts.
5. Ease of Use and Ergonomics:
Weight and Handling: Consider the weight of the saw and its ergonomics. A comfortable grip and balanced design can reduce fatigue during extended use.
Dust Extraction: Look for models that offer efficient dust extraction capabilities, either via a dust bag or connection to a vacuum. This not only keeps your workspace clean but also protects your health.
6. Brand Reliability and Warranty:
Festool Reputation: Festool has a strong reputation for quality and durability. Ensure you are purchasing from an authorized dealer to guarantee authenticity.
Warranty and After-Sales Service: Check the warranty period and the after-sales service provided by Festool. A robust warranty can provide peace of mind and protect your investment.
7. Budget and Cost:
Initial Investment vs. Long-Term Value: Festool products are premium and come with a higher price tag. Consider this an investment in quality and durability, and weigh the initial cost against the long-term value and performance.
8. Reviews and Testimonials:
User Feedback: Look for reviews and testimonials from other users who have purchased the specific model you are interested in. This can provide real-world insights into the performance and reliability of the plunge saw.
9. Availability of Spare Parts and Accessories:
Long-Term Support: Ensure that spare parts and accessories for the model are readily available. This ensures that you can maintain and repair your plunge saw, extending its lifespan.
10. Compatibility with Existing Tools:
Integration with Your Toolkit: Consider how the plunge saw will integrate with your existing tools and workshop setup. Compatibility with existing guide rails or accessories can be a significant advantage.
Conclusion
By taking the time to thoroughly evaluate these factors, you can choose a Festool Plunge Saw that not only meets but exceeds your expectations, providing precision, safety, and reliability for years to come.
Will a 165mm Blade Fit a Festool?
The compatibility of a 165mm blade with a Festool plunge saw, or any other Festool saw, depends on the specific model of the saw. Festool saws are designed to accommodate specific blade diameters, and using a blade that is not the correct size can be unsafe and may result in poor performance.
Here is a general guideline:
Check the User Manual: Refer to the user manual of your specific Festool saw model. The manual should provide information on the appropriate blade size and specifications for your saw.
Look at the Saw Specifications: Check the specifications on the saw itself or on Festool's official website. There should be information on the required or recommended blade diameter.
Safety First: Using a blade that is not the correct size for your saw can be dangerous. It is crucial to use the correct blade size to ensure safe operation and optimal performance.
For example, the Festool TS 55 plunge saw typically uses a 160mm diameter blade. If you have a different Festool saw model, the required blade size could be different.
If you are unsure about the compatibility of a 165mm blade with your Festool saw, I would recommend contacting Festool directly or speaking with an authorized Festool dealer. They can provide the most accurate and reliable information to ensure that you are using the correct and safe equipment for your specific saw model.
Can You Use a Makita Plunge Saw on a Festool Track?
Taking into account the issue of the Makita plunge saw trimming the anti-splinter strip closer to the guide rail than a Festool saw would, there are additional considerations to make if you plan on using both saws interchangeably on the Festool track:
1. Adjusting for Splinter Strip Wear:
If you've used a Makita saw on the Festool track, the anti-splinter strip may have been trimmed more closely than what would occur with a Festool saw. To continue using the Festool saw on the same track, you might need to make adjustments to the blade position or replace the anti-splinter strip.
2. Potential for Inaccuracy:
The change in the position of the cut relative to the edge of the guide rail could introduce inaccuracies in your work, particularly if precise measurements are critical for your project.
3. Additional Costs and Maintenance:
Replacing the anti-splinter strips on the Festool track to accommodate switching between Makita and Festool saws could lead to additional costs and maintenance efforts.
4. Consider Dedicated Tracks:
To avoid constant adjustments and potential inaccuracies, you might consider having dedicated tracks for each brand of saw. This way, you can ensure that each saw is always perfectly calibrated to its corresponding track.
5. Check with Manufacturer's Recommendations:
Before making any adjustments or modifications, it's wise to check with Festool's and Makita's customer service or technical support to ensure that you're not voiding any warranties or creating a potentially unsafe situation.
6. Test Before You Cut:
As with any tool or equipment change, conduct tests before proceeding with critical cuts to ensure accuracy and safety.
7. Be Aware of the Learning Curve:
Switching between different tools and accessories may require a period of adjustment. Be aware of this and take the time to familiarize yourself with each setup before beginning work.
8. Safety First:
Regardless of the setup, prioritize safety. Ensure that everything is securely in place and functioning as it should before beginning any cuts.
Incorporating these considerations into your workflow can help mitigate the potential issues arising from using a Makita plunge saw on a Festool track, particularly if you plan on switching back and forth between the two.
Why is Festool So Expensive?
estool is a brand renowned for its high-quality, professional-grade tools, and its products often come with a premium price tag. There are several factors that contribute to the high cost of Festool products:
1. High-Quality Materials and Construction:
Festool products are made with top-notch materials and are built to last. The company does not cut corners when it comes to the quality of components used in their tools.
2. Precision Engineering:
Festool tools are meticulously engineered for precision and accuracy. This level of attention to detail ensures exceptional performance and results, which is particularly important for professionals.
3. Innovative Design:
Festool is known for its innovative designs and features that enhance the functionality and usability of its tools. These features often set Festool apart from other brands and contribute to the overall cost.
4. Comprehensive Quality Control:
Each tool undergoes rigorous quality control testing to ensure it meets Festool's high standards. This comprehensive testing ensures reliability and longevity, which are key selling points for the brand.
5. Extensive Research and Development:
Festool invests heavily in research and development to continuously improve its products and bring new innovations to the market. This investment is reflected in the cost of their tools.
6. Exceptional Customer Service and Warranty:
Festool offers outstanding customer service and a robust warranty program, which adds value to their products. Customers are paying for the assurance of support and protection in case of any issues.
7. Integration with Festool System:
Many Festool tools are designed to work seamlessly with other Festool products, creating a comprehensive system that enhances efficiency and performance. This integration is a significant value proposition for many professionals.
8. Brand Reputation:
Festool has built a strong reputation over the years for quality, reliability, and innovation. This reputation adds to the brand's perceived value and contributes to the higher price point.
9. Target Market:
Festool primarily targets professionals and serious hobbyists who are willing to pay a premium for top-quality tools. Their products are not necessarily intended for the casual DIYer.
Source: Festool UK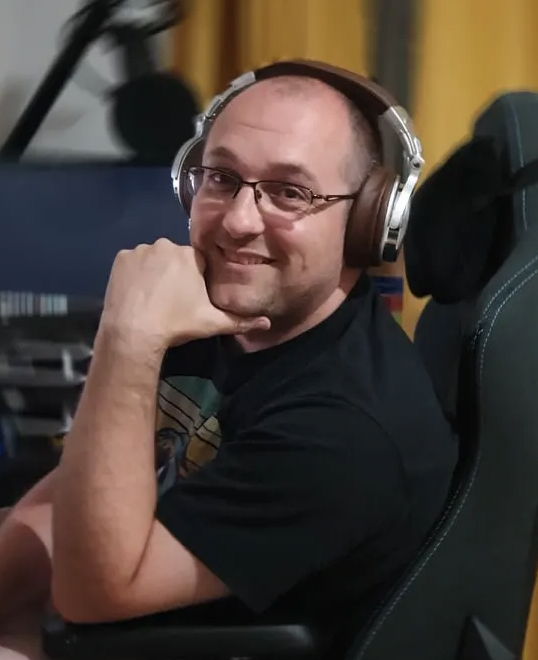 Matt is a professional copywriter and researcher over at https://sucklessatcontent.com/. When he can be prised away from his PC, his wife enjoys setting him DIY tasks around the house.