Adding a wet room to your property is currently one of the most popular trends in home design. They can be incredibly versatile, aesthetically appealing and easy to clean. A wet room also provides safety and ease of access and are life-changing for those with mobility issues. But choosing the most appropriate flooring material for your wet room is an important consideration when designing your new wet room. And there are a number of factors you should consider before making your final choice when it comes to the perfect flooring for your wet room.
One key thing to consider for wet room flooring is grip underfoot. It is essential to use a material that either provides a natural grip when wet or can be altered to give enhanced traction when wet, or risk accidents at home. Another factor is durability. A wet room will be used often, likely every day, so must withstand regular cleaning, frequent use and multiple people if fitted within a house with a large family. And finally, you should take into account comfort. Materials that are comfortable under barefooting and are reliably waterproof to prevent slipping are a must. So to help you make the best decision, we've compiled a complete guide on how to choose the right waterproof flooring for your wet room.
Wet Room Vinyl Flooring
Vinyl flooring is available in slip-resistant forms so is a great option when choosing the best wet room flooring. An affordable choice, you'll certainly be getting value for money if you choose wet room vinyl flooring. It is also a very flexible material that can fit in most wet room spaces. So no matter the layout of your wetroom, this may be the right choice for you.
Vinyl is also a warmer and softer material than most flooring options, so is a good choice for homes with younger children or aging parents. As such it provides a more pleasant experience underfoot than tiles or hardwood flooring. If you want to opt for underfloor heating, vinyl will work well with this too. This type of flooring is also pretty low maintenance, so cleaning is quick and simple even for the busiest of households. Should you ever need to replace damaged vinyl, it is relatively cheap to repair, so is a cost-effective option that still gives a high-quality finish.
Vinyl flooring comes in a range of choices such as planks, tiles or traditional sheet vinyl. These are all easy to install with options such as adhesive vinyl or more innovative vinyl, which simply clicks into place. Modern vinyl flooring is also very realistic in its' appearance and available in lots of aesthetically pleasing finishes.¹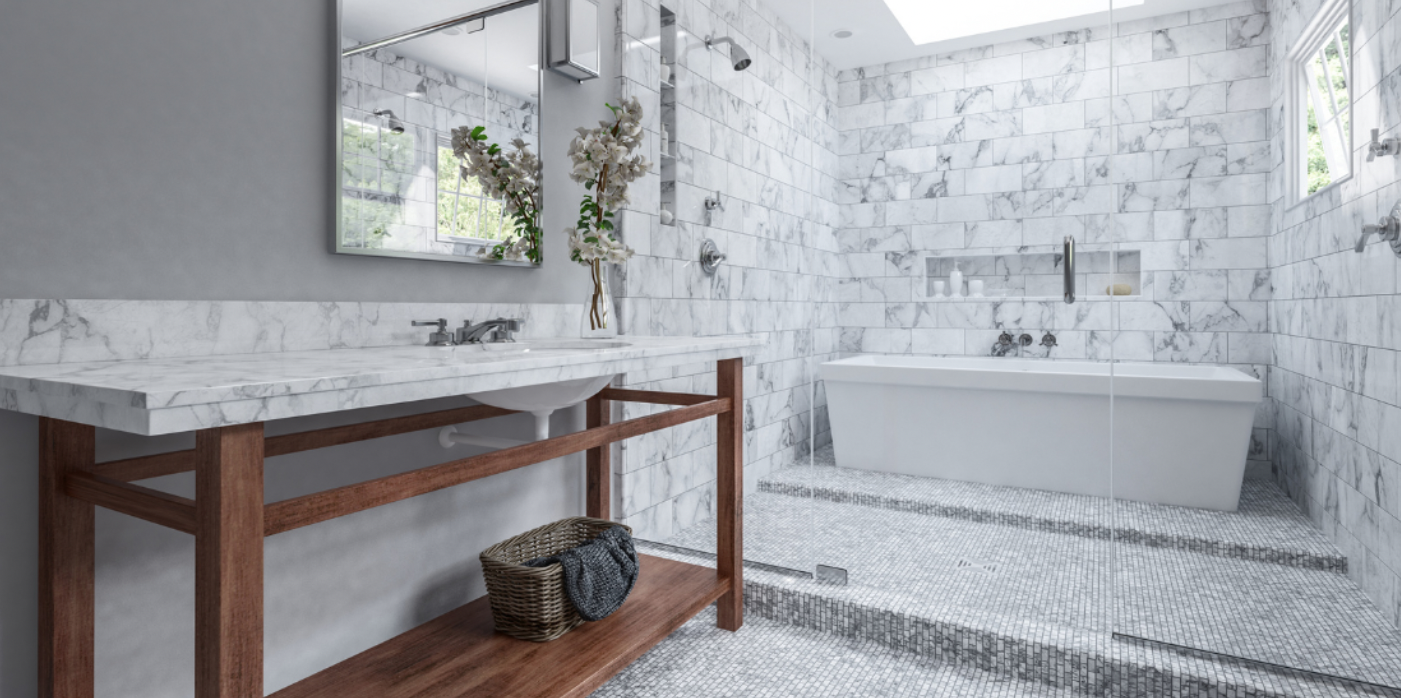 Wet Room Floor Tiles
You can choose from an array of materials if you would like to opt for wet room floor tiles. Ceramic tiles are a wonderful choice, given that they are long-lasting. In fact, typically they will last the lifetime of your wet room. On top of this, they are waterproof, easy to install and come in a variety of colours to satisfy most design tastes. This allows you to personalise your wet room with a variety of colours and designs, making ceramic tiles a popular choice. If being eco-friendly is particularly important to you, ceramic tiles are the way to go, since they can be made in an environmentally friendly way and are recyclable.
Porcelain tiles tend to be more dense than ceramic and so this means they are less porous. They may be harder and more durable when compared to ceramic tiles if you are looking for a long-term solution for your wet room flooring. Porcelain is touch as well as scratch and stain resistant making it durable enough to be used as wet room flooring.
Mosaic tiles are another popular choice for wet room flooring. They make it particularly easy to produce a sloping finish to that helps easily drain excess water away and prevent excess moisture from gathering. Mosaic tiles have a mesh backing, making them more flexible and easier to manoeuvre into place. They also have numerous grout lines, which adds an extra layer of slip resistance, meaning they're great for wet room flooring. If you want to add a particularly unique or colourful design to your bathroom, mosaic tiles will really stand out from the crowd.²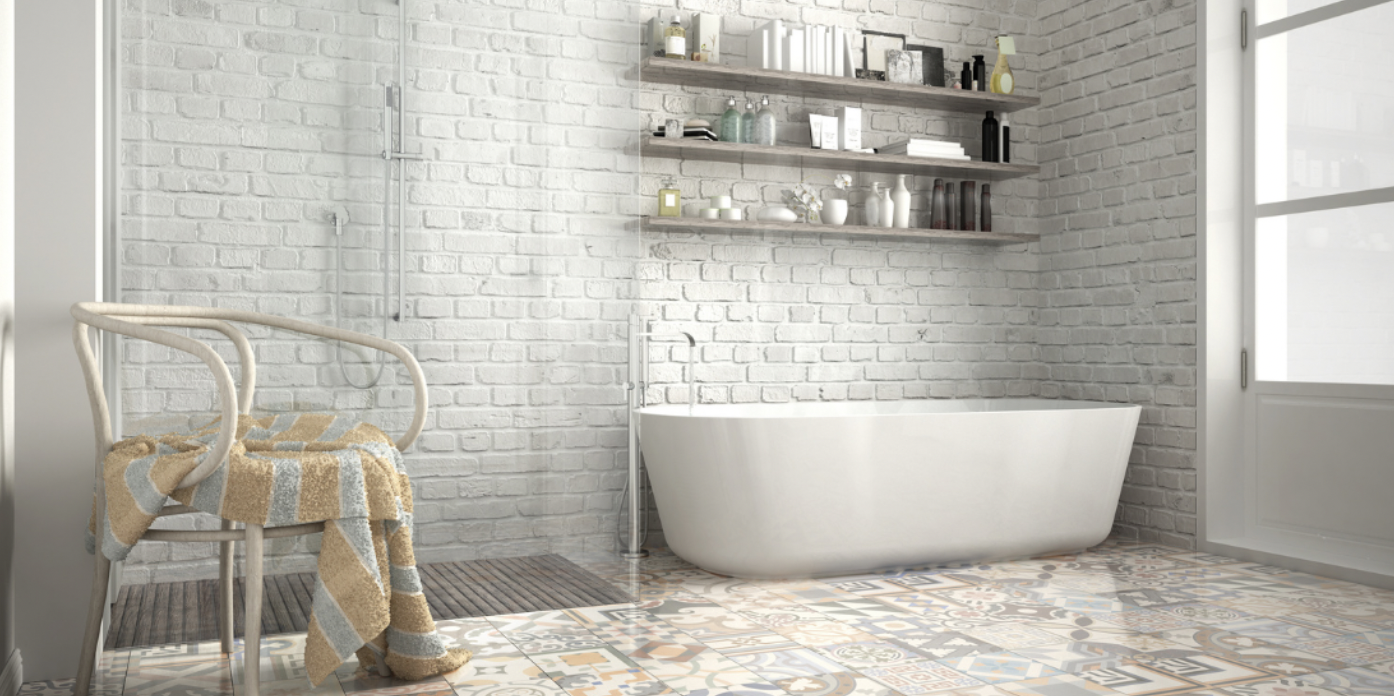 Wet Room Flooring Design Ideas
When it comes to interior design and choosing wet room flooring, there are many options to enhance the look and feel of your wetroom as a whole.
Under-floor heating will keep what can be a very cold space warm and comfortable. It is particularly useful when using flooring materials like stone and cement which can be particularly cold without any insulation or heating underfoot. Your wet room will require more heat and ventilation than a normal bathroom will. This type of heating will speed up the drying process and add to the homely feel of the room.
Using an array of different wet room floor tiles can also add to the unique design of your wet room. You could opt for mosaic tiles in some areas, such as around the drain and in the middle of the room to create a space that is both attractive and practical. Using the same tiles on both the flooring and the walls may accentuate smaller looking rooms, providing the illusion of a bigger space. Wet rooms work particularly well in smaller, more awkward spaces too, since versatile flooring options can be moulded to fit into the space rather than the other way around. Contrasting the tiles on the flooring and walls can make a small, simple space look much more show-stopping and luxurious, even on a budget. ³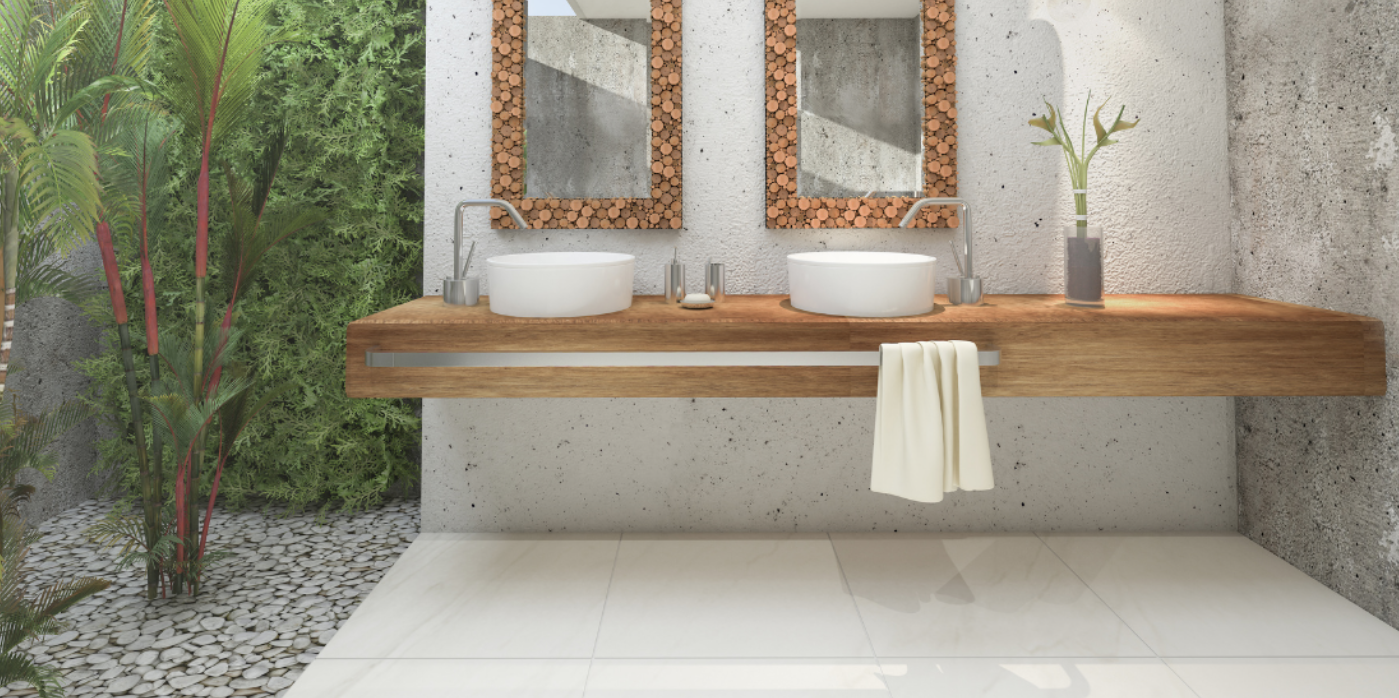 Stone Or Cement Waterproof Flooring
If you want to opt for a more natural-looking wet room, stone or cement flooring may be the best choice for you. Both stone and cement are easy to clean, very hard wearing and won't be damaged by water or regular use of the wet room.
It is important to ensure stone is given the correct finish or surface treatment since without this it can be a slipping hazard when wet. Like ceramic tiles, stone or cement flooring can be quite cold underfoot which is something you'll need to consider. Underfloor heating works well with concrete or stone flooring since they both retain heat very well and tend to heat-up quickly. Professional concrete installers normally guarantee they will last for 20 years, yet a cement or stone floor can often last the lifetime of your home if properly cared for.
Since cement or stone flooring can be stained in a decorative manner, they can also be stained accidentally. So it's important to ensure your flooring is thus sealed with a form-filling sealer to prevent stains. Sealers like these may also add some traction to the flooring, which ensures it is less smooth and thus safer for use in a wet room. Whilst you may think this type of flooring may be bland or unappealing to the eye, it can actually be made completely bespoke by using a number of design techniques. Cement or stone can be stained, polished, painted, or top-coated to create a unique and attractive floor. Colour dying and etching techniques can also be used to add to the unique appearance of your new wet room.⁴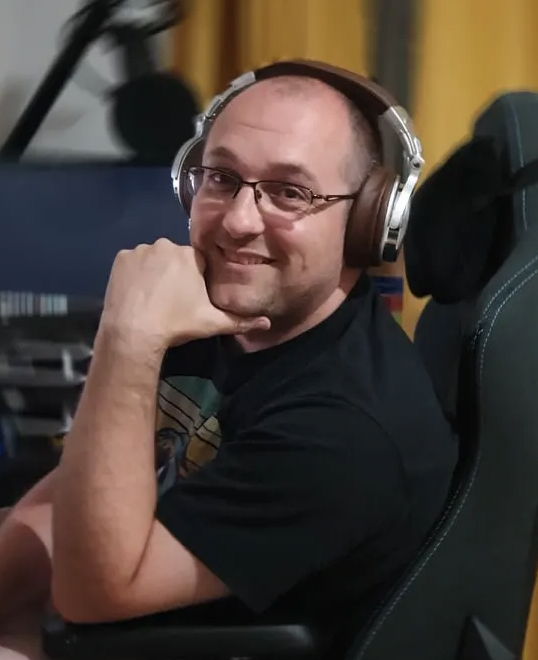 Matt is a professional copywriter and researcher over at https://sucklessatcontent.com/. When he can be prised away from his PC, his wife enjoys setting him DIY tasks around the house.