If you're about to undertake a deep remodelling of your home or a room in your house, you'll be inundated with choices. From raw materials to colour palettes, it's hard not to feel absolutely swamped. But one thing you might not have put much thought into is plasterboard. Plasterboard seems like a much-overlooked design material in the home—often seen as something ugly that just goes under the plaster, paint, or wallpaper. But that's not the case! There are many benefits of plasterboard; it's versatility, cost, and incredible ease of use. There are many types, perfect for any project you have going on. Read on and find out what possibilities plasterboard opens up for you and your home.
A brief history of plasterboard
Plasterboard, sometimes known as drywall, originated in the USA. Consisting of calcium sulphate dihydrate or "gypsum", it was invented in 1916 by the appropriately named "The U.S. Gypsum" company. Gypsum actually comes from the Greek word gypsos, meaning "plaster"!
When it was first invented, plasterboard was seen as a cheap and inferior version of good old plaster, which you spread in layers over walls to make them smooth and durable. However, during the hardships of the Great Depression, people latched onto plasterboard due to it's cheaper price and faster application.
Before, plasterboard would be used in conjunction with plaster; it would be affixed to walls and a layer of plaster smeared over it. Now, thanks to years of improvements, plasterboard can be painted or decorated onto directly, and it comes in several different varieties.
Advantages of plasterboard
There are two main advantages to using plasterboard on your walls: time and money. Plasterboard is cheap and can be used by itself on bare walls without any other materials (although you would probably want to decorate it!). Fixing plasterboard is fast, too. It's as simple as spreading adhesive onto your walls and sticking the plasterboard directly onto them. This leaves you with a smooth, pleasant finish; much faster and easier than smearing layer after layer of plaster!
Types of plasterboard: square edge vs tapered
Plasterboard comes in a huge variety of shapes and sizes to fit nearly any purpose, and you'll also have to decide whether to use square edge or tapered plasterboard.
The difference is quite simple. Square edge plasterboard is flat and usually a bit cheaper. Tapered plasterboard tapers off at the edges. The advantage of this is that it actually gives you a perfectly flat finish when joining them up. You put the tapered edges together, then fill in the gap with a jointing compound. You can then immediately paint or decorate.
Square edge plasterboard will have to be finished by skimming with plaster, which means a bit more work on your end.
Types of plasterboard: moisture-resistant
There are several types of plasterboard that you'll want to use in different rooms. First up is the logically-named moisture-resistant variety. No prizes for guessing what this one does! It contains additives that resist moisture and moisture accumulation on your walls. If you don't use this kind of plasterboard in a damp environment, the water will soon weaken and deteriorate drywalls. It will also lead to damp, mould, and rot.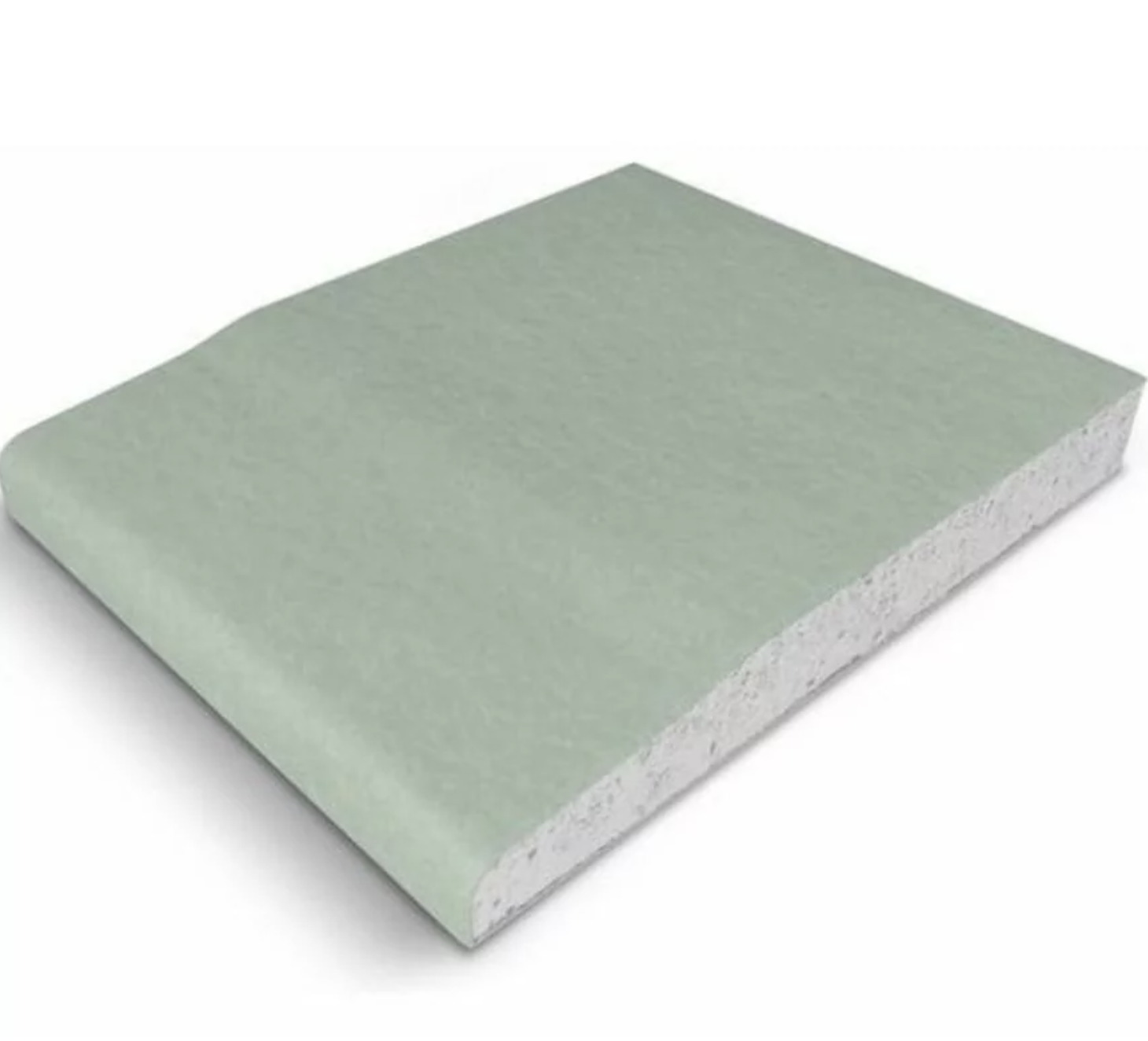 Use moisture-resistant plasterboard in bathrooms and kitchens—anywhere you'll see water vapour and humidity. Don't plaster over moisture-resistant plasterboards; gypsum plasters already soak up moisture. Instead, use an acrylic based primer like BAL Primer.
The Gyproc Moisture Resistant Tapered edge Plasterboard is perfectly suited for all bathrooms and kitchens.
Types of plasterboard: fire-resistant
Another no-nonsense name, this type of plasterboard is resistant to heat and fires. Some refuse to combust all-together, while some will only offer you 240 minutes before going up in flames. If you're in the market for fire-resistant plasterboard, make extra sure what protection it offers.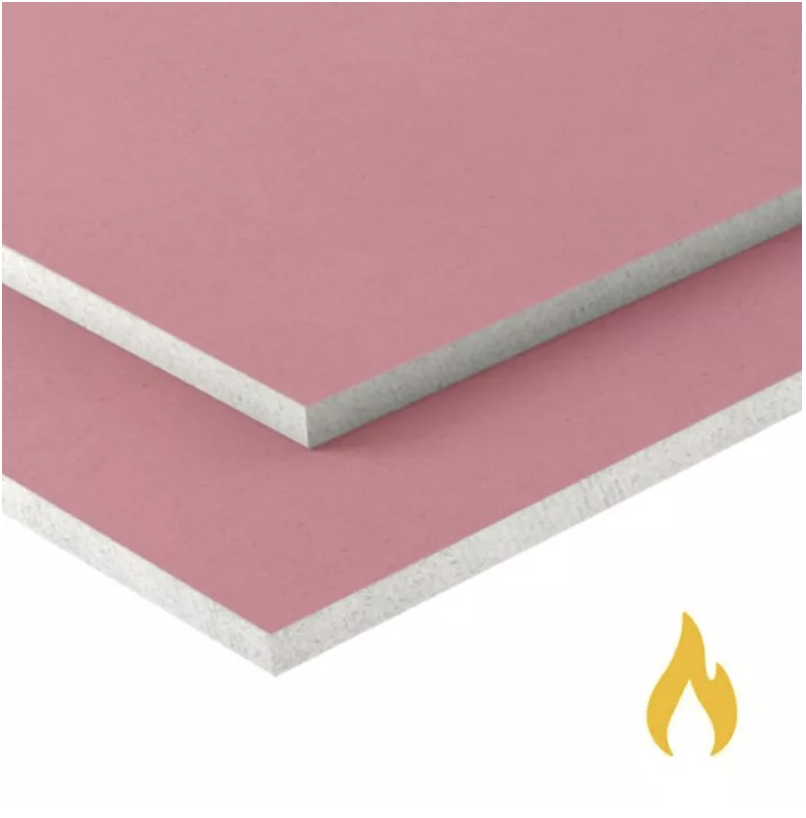 Use fire-resistant plasterboard where you absolutely don't want fire spreading. Used in a lot of new builds, you're likely to see these in garages, warehouses, and the ceilings of houses and flats.
The Gyproc Fireline Square edge Plasterboard is designed for higher risk areas and meets UK building regulations for fire safety. It also leaves neat edges and straight lines for quick and easy installation.
Types of plasterboard: insulated
A godsend for builders and DIYers alike, insulated plasterboard is incredibly easy to install. Combining insulation with plasterboard, all you do is stick them to your drywall and they immediately start keeping heat in. They can then be finished without plastering over, making the whole process quick and painless.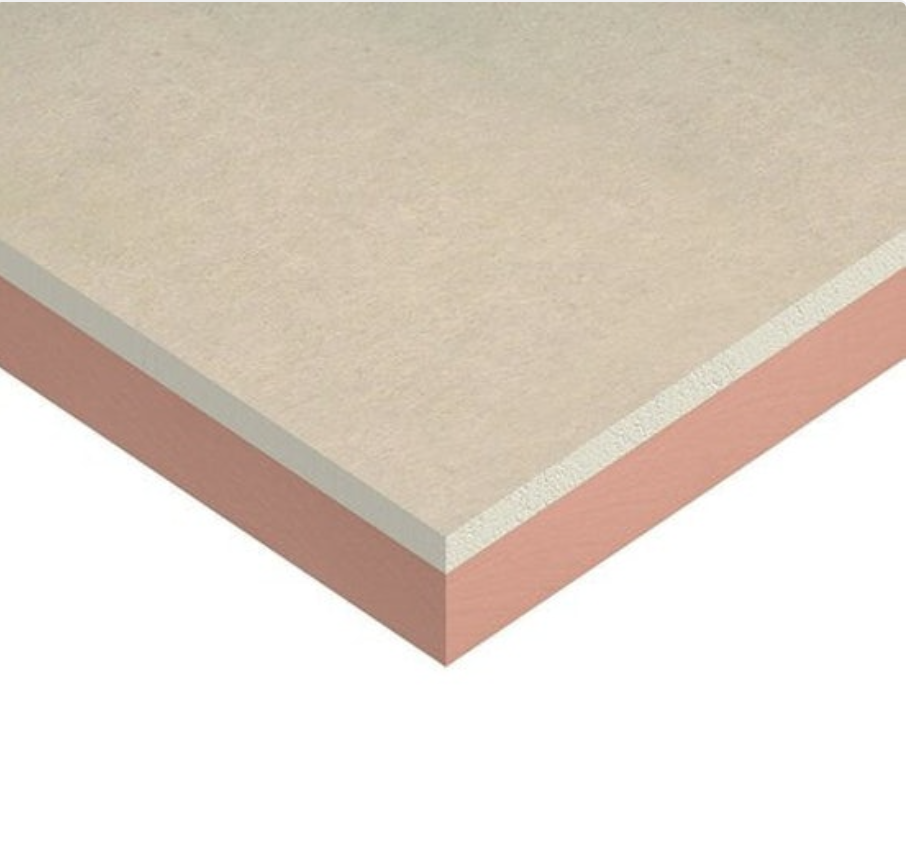 Knauf XPS Laminate Plus Insulated Plasterboard meets the requirements of the Building Regulations for walls, as well as room-in-roof situations for new build and refurbishment projects. It offers an enhanced thermal performance at a reduced thickness, with the additional advantage of providing good vapour resistance.
Types of plasterboard: acoustic
Thicker than other types of plasterboard, acoustic or sound reduction plasterboard is a fantastic way to dampen annoying sounds. Perfect for those seeking the quiet life, use this in a living room if someone enjoys loud movies while you prefer to read quietly in the kitchen. Acoustic plasterboard is also popular in blocks of flats with thin walls and ceilings. Reinforce them further with other soundproof materials such as fibreglass or mineral wool.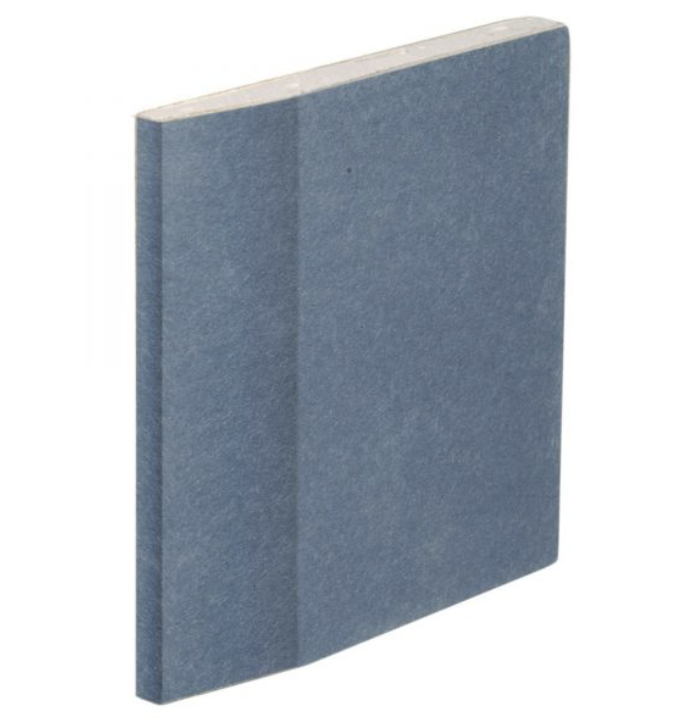 The Gyproc SoundBloc Plasterboard provides enhanced sound insulation and helps meet UK building regulations for acoustic performance.
Plasterboard design ideas
As we've seen, plasterboard is perfect for finishing off your walls. But that's not all it can do. With a bit of ingenuity you can create some stunning and functional designs in your home.
For example, you can create recessed niche shelving for extra storage space. Similarly, how about offset walls for your art or TV? These will look great with some highlight lighting. Plasterboard can be cut into any shape, so don't be afraid to experiment with some curves. And, if you're looking to divide a room, plasterboard makes it a doddle.
When it comes to new builds or refurbishments, the sky really is the limit with plasterboard.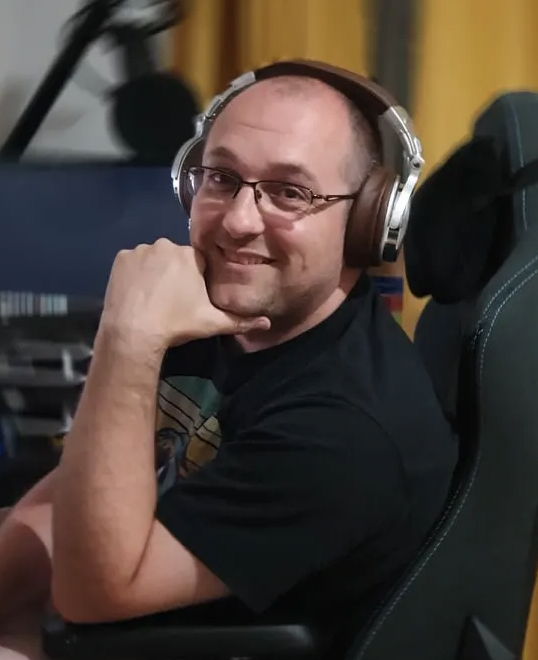 Matt is a professional copywriter and researcher over at https://sucklessatcontent.com/. When he can be prised away from his PC, his wife enjoys setting him DIY tasks around the house.