When it comes to dressing for work, the right clothing is crucial to not only looking professional but also staying comfortable and safe on the job. Work shorts are a popular choice for those in trades, construction, landscaping, and other physically demanding industries, providing the flexibility and mobility needed to perform various tasks. From men's work shorts to women's work shorts, there are a wide variety of options available on the market, each designed to cater to specific job requirements. In this blog post, we will take a closer look at some of the most popular work shorts styles, including navy work shorts and site work shorts, and highlight the key features and benefits of each. So whether you're in search of a durable and functional pair of shorts for your next job or just curious to learn more, keep reading to discover everything you need to know about work shorts.
What to Consider When Shopping Work Shorts?
When shopping for work shorts, there are several important factors to consider to ensure that you choose the right pair for your needs. Here are some key things to keep in mind:
Material: The material of your work shorts is crucial for comfort and durability. Look for fabrics that are breathable, moisture-wicking, and resistant to wear and tear. Common options include cotton, polyester, and nylon.
Fit: Make sure to choose work shorts that fit properly and allow for easy movement. Look for styles with a comfortable waistband and the right length and width for your body type.
Pockets: Pockets are essential for carrying tools, phones, and other items you need on the job. Consider the number and placement of pockets when selecting your work shorts.
Safety features: Depending on your job, you may need work shorts with additional safety features such as reflective strips or reinforced stitching.
Style: While functionality is important, you'll also want to choose work shorts that align with your personal style and company dress code. Consider colors and patterns that will match your work environment and look professional.
By keeping these factors in mind, you can find the perfect pair of work shorts that will keep you comfortable and safe on the job.
The Cheapest Work Shorts
Portwest Combat S790 Shorts Black – Navy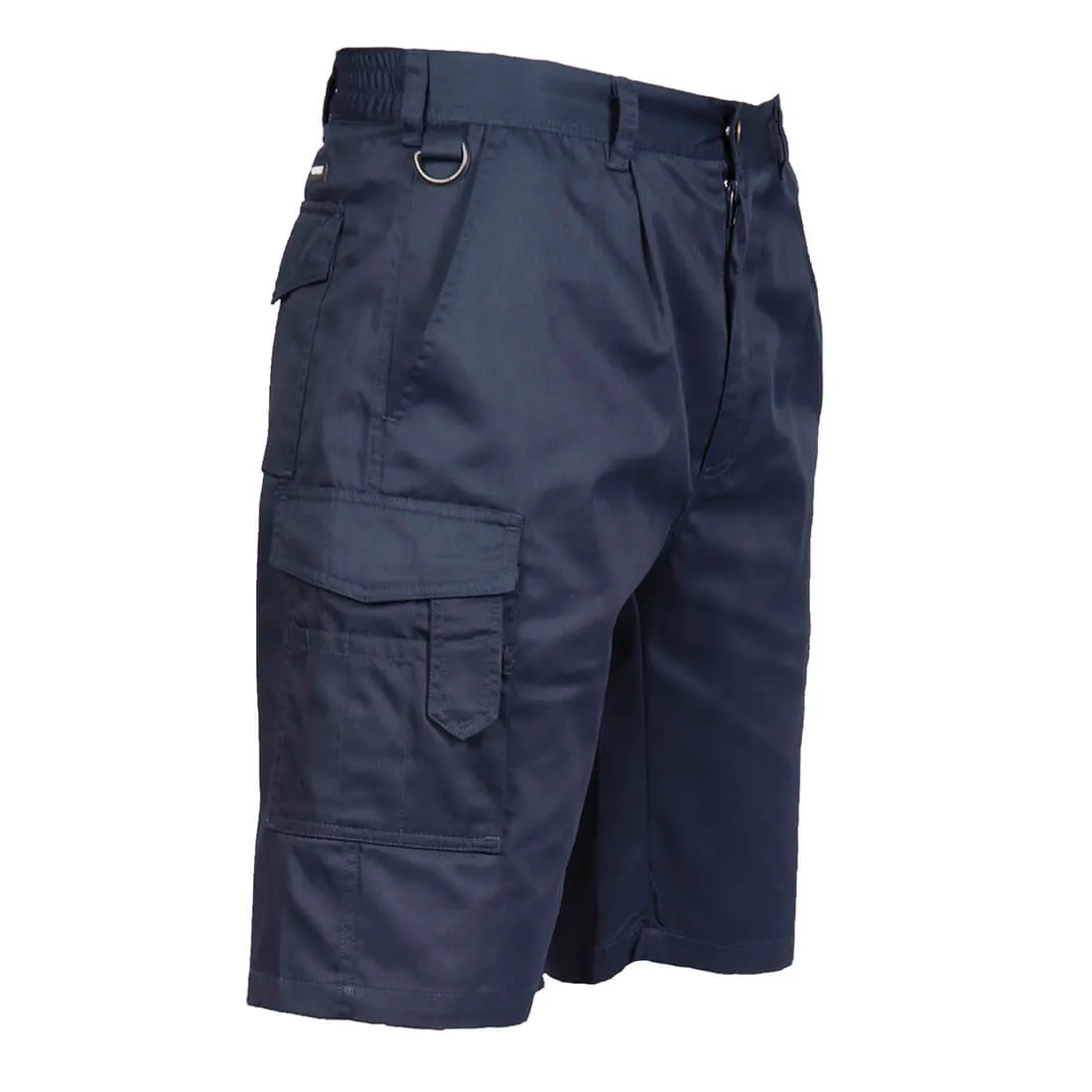 This contemporary style offers enhanced comfort with its half-elasticated waistband and belt loops. Additionally, the twin-stitched seams not only provide a sturdy appearance but also increase the longevity of the garment.
Features & Benefits:
• Half elasticated waist
• Phone pocket
• Rule pocket
• Twin-stitched seams
• Two back patch pockets
• UPF 50+
• D-ring
• 6 pockets
• Durable polycotton fabric
Latest offers

Best time to buy?

Apache Rip Stop Holster Light Weight Work Shorts – Grey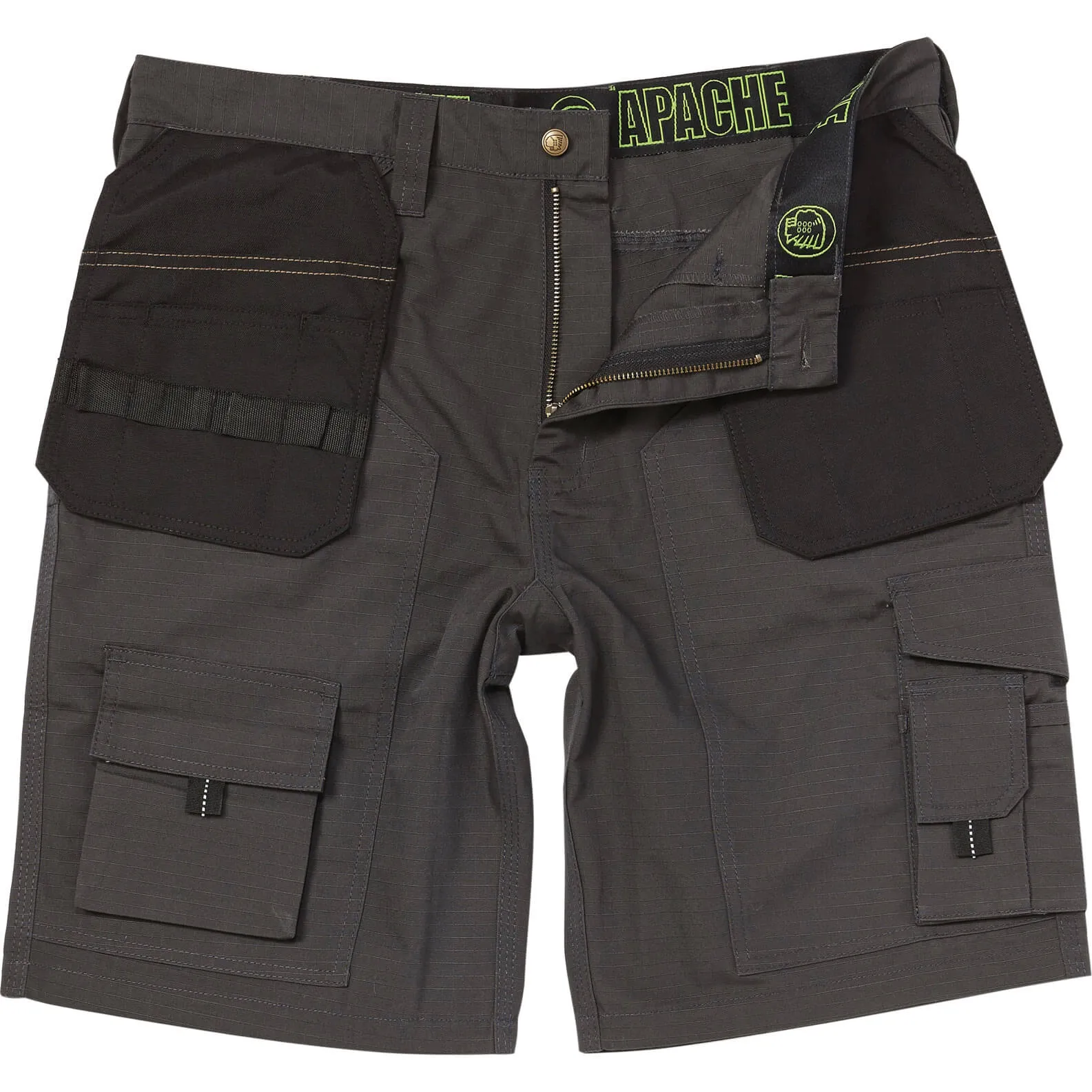 On hot days, the Apache Rip-Stop Holster Shorts provide a practical solution. Constructed from lightweight Rip-Stop polycotton and equipped with Cordura holster pockets and a low rise comfort fit waist, these shorts are both comfortable and functional. Additional features include two rear hook & loop pockets, a side cargo pocket on the left leg, a large phone pocket on the right leg, tunnel belt loop, and YKK zip.
They are available in waist sizes 30 to 42 inch.
Material Weight: 255g.
Material Composition: 65% Polyester, 35% Cotton.
Additional Information:
• Colour: Grey
Latest offers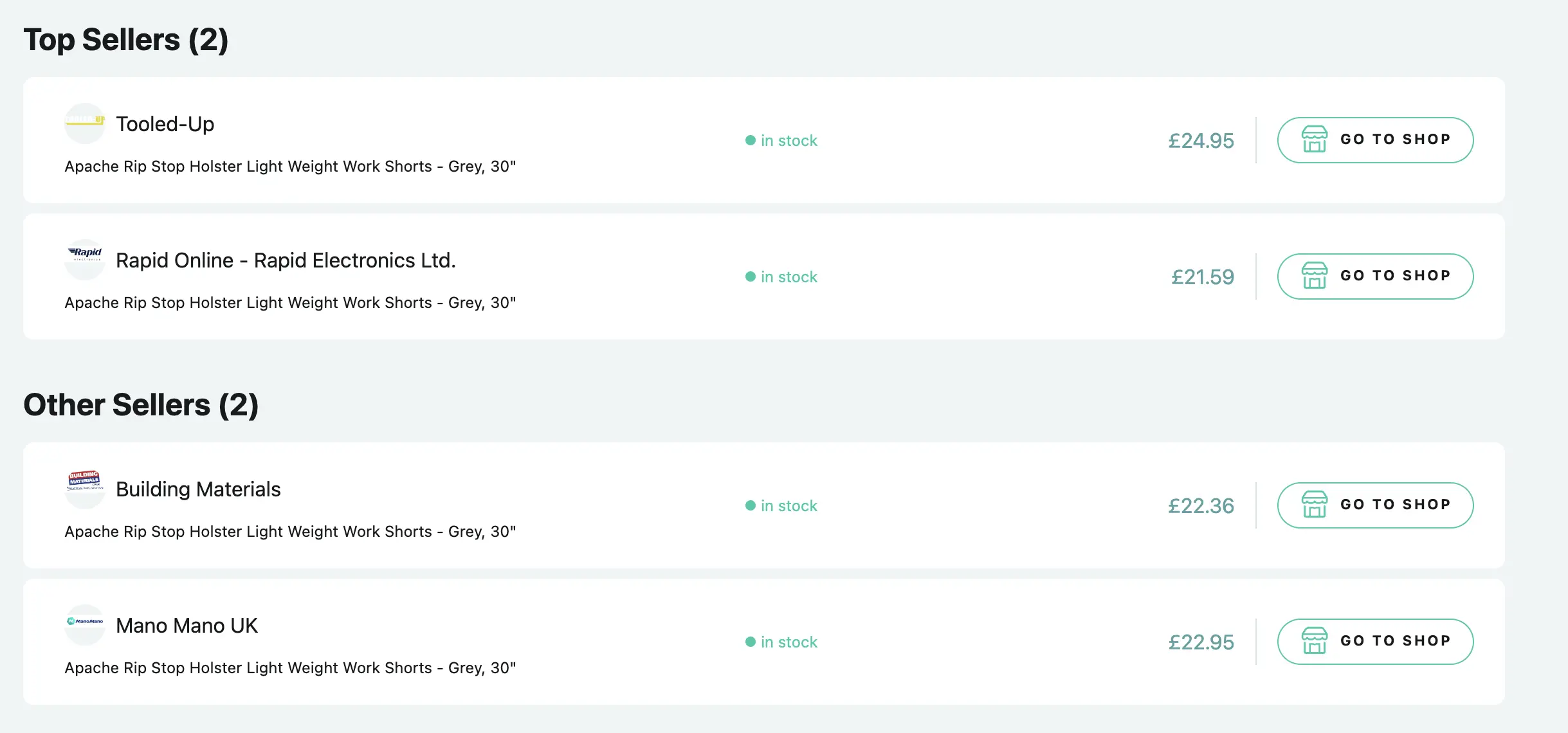 Best time to buy?

Great Quality
Snickers 6141 Allround Work Stretch Slim Fit Holster Pockets Shorts – Black
These work shorts come in a slim fit and feature holster pockets, with added flexibility and comfort thanks to strategically placed 4-way stretch material at the back and gusset in the crotch area. The shorts are made primarily of 2-way stretch material consisting of 47% cotton, 31% polyester, and 22% elastane, while the contrasting sections are made of 4-way stretch material consisting of 92% polyamide and 8% elastane. For added durability, the shorts also feature reinforcement made of 100% Polyamide CORDURA.
Features & Benefits
• Combination of 2-way stretch and 4-way stretch for extra flexibility and comfort
• Cordura reinforced pockets
• Velcro tool holder, classic holster pockets, leg pocket featuring knife fastener, front loops with key holder possibility and classic cargo pocket with attachment for ID badge
Latest offers

Best time to buy?

Snickers 6914 FlexiWork Comfort Shorts – Black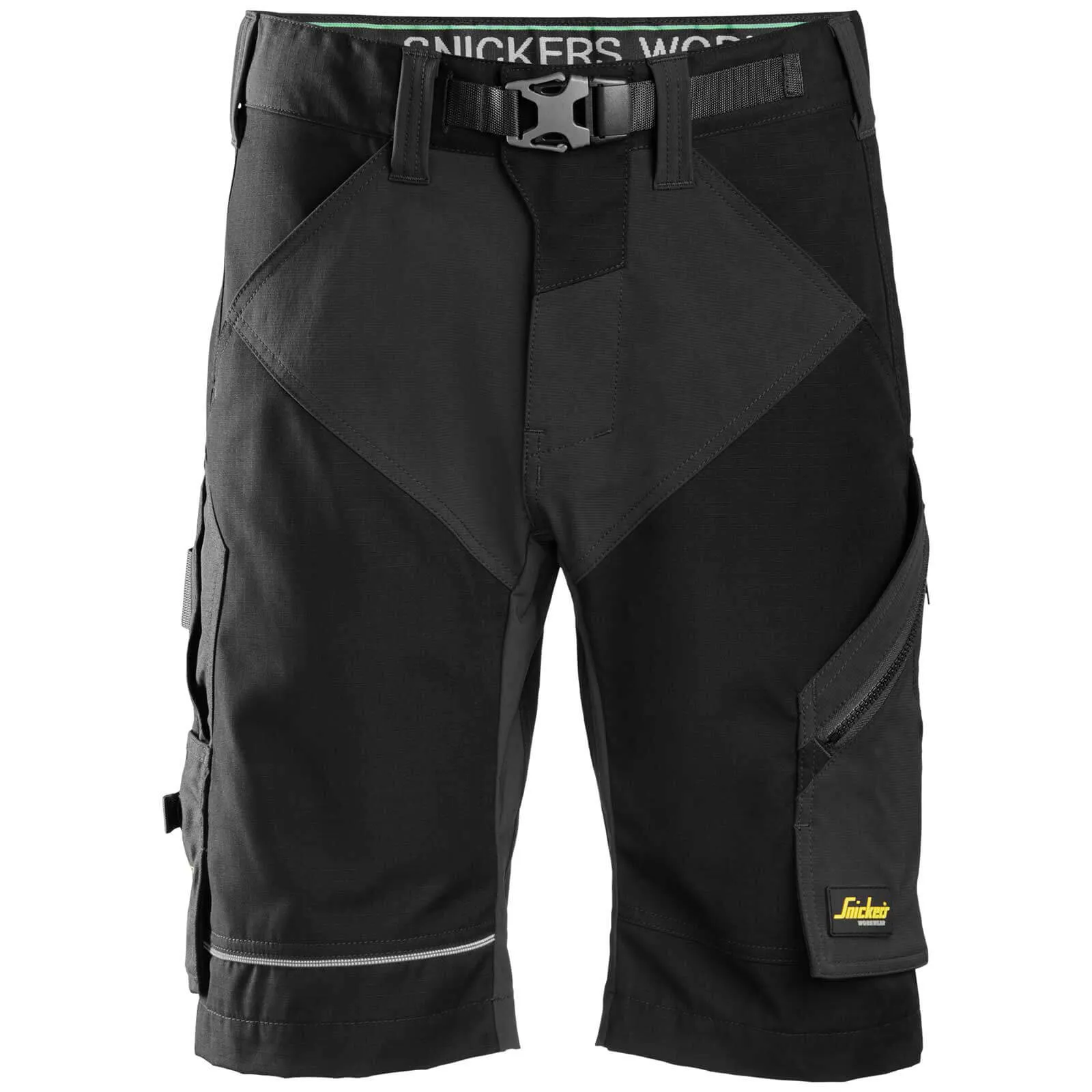 These work shorts are designed for everyday use and feature flexible gusset seams and a highly elastic and lightweight fabric. They are made from a stretch fabric that allows for ventilation and includes CORDURA ripstop reinforcements at the leg endings and pockets, ensuring greater durability. The shorts also include practical storage options such as an expandable stretch cargo pocket with a zip compartment and a ruler pocket with a knife button. Advanced body mapping technology combines the stretch fabric and gusset seams with CORDURA reinforcements to provide exceptional freedom of movement, temperature management, durability, and comfort. The main material of the shorts is made up of 88% polyamide CORDURA and 12% elastane, weighing 270 gsm, while the ripstop is composed of 65% polyester and 35% cotton, weighing 200 gsm2. The reinforcement is 100% polyamide CORDURA, weighing 205 gsm.
Features & Benefits
• Stretch fabric and body-mapped design for optimal fit and freedom of movement
• Reinforced with CORDURA ripstop stretch fabric
• Flexible gusset seams
• Expandable cargo pocket with zip compartment, and ID-badge holder inside leg pocket
• Integrated belt with a durable buckle
Latest offers

Best time to buy?

Best Value
DEWALT Hamden Holster Pocket Shorts Waist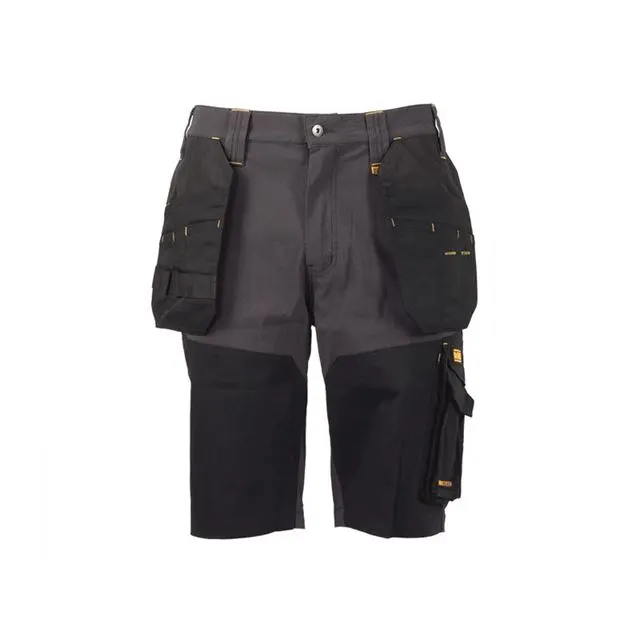 The DEWALT Hamden Holster Pocket Shorts are made of a Pro-Stretch fabric blend of 73% Rayon, 22% Nylon, and 5% Spandex to provide maximum comfort and flexibility. These shorts feature two holster pockets, a mobile phone pocket with lining, and two rear pockets.
Latest offers

Best time to buy?

Scruffs – Waist Trade Shorts – Grey – Grey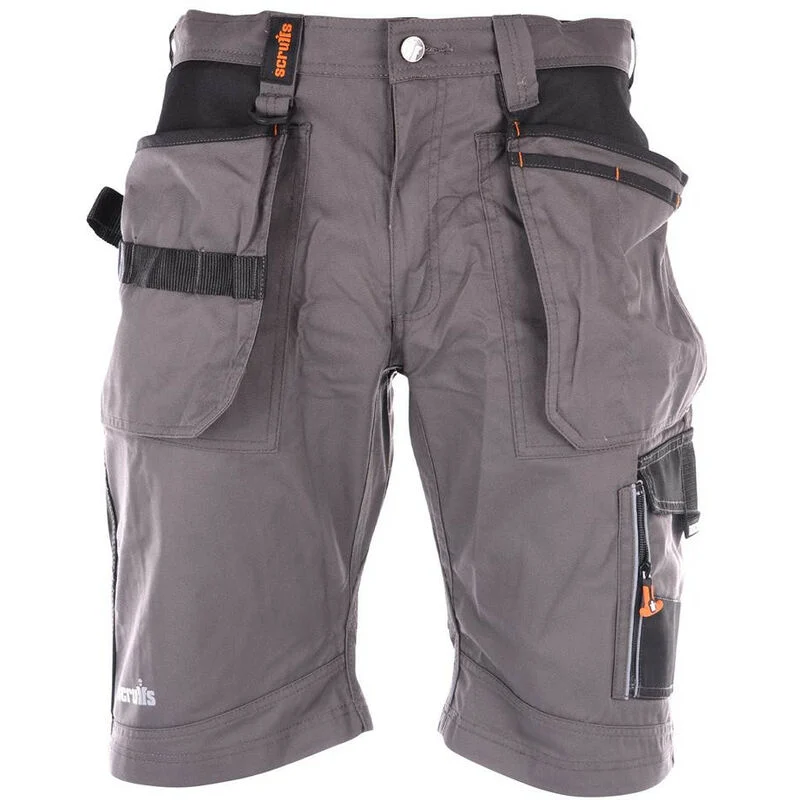 These Scruffs Trade Shorts in grey are designed to provide comfort and durability while you work. They feature tough reinforcements in high-stress areas, as well as easy-to-access cargo, phone, and rule pockets, and tuck-away holster pockets. The shorts are made from a hard-wearing 250gsm twill fabric blend of 65% polyester and 35% cotton, and are designed for both safety and style. Additional features include rugged contrast pocket reinforcements, YKK zips, and a regular fit style with a zipped fastening. These shorts are designed for men and come in grey color. They are sold as a single item with a weight of 1.0kg.
Latest offers

Conclusion
In conclusion, choosing the right work shorts is crucial for both comfort and safety on the job. The best work shorts should be made of durable, high-quality materials that can withstand wear and tear, provide adequate ventilation, and offer practical features such as pockets for tools and equipment. When shopping for work shorts, consider factors such as the type of work you do, the environment you work in, and the level of protection you require. With so many options available in the market, you can easily find the perfect pair of work shorts that meet your needs and budget. Whether you work in construction, landscaping, or any other labor-intensive field, investing in a good pair of work shorts can make all the difference in your performance and comfort.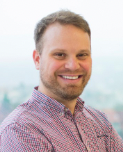 Luke is the founder of Buildiro.com and he is passionate about construction and building. His mission is to show people how to make things done fast and easy.