Hand tools like pliers and hand cutters are necessary, whether you're a professional or a DIY enthusiast. They are utilised for a wide range of jobs, particularly for cutting, gripping, cutting, or even pulling wires, cables, and other items. Due to their versatility, pliers and hand cutters are crucial. While you might use your hands to grip and cut items, pliers and hand cutters offer a much firmer grip and more reliable cut. Pliers and hand cutters are utilised in electric work, and there are a wide range of sizes, materials, sharpnesses, shapes, and styles. Don't grip or cut with your hands; instead, choose from our range of pliers and hand cutters. Buildiro offers a wide range of pliers and hand cutters in single or set forms; choose which ones are right for you.
Let's take a look at the main pliers' types!
Circlip Pliers
Retaining rings or fasteners are removed and installed using circlip pliers and cutters. The retaining rings or fasteners used in these applications are open ended, requiring this specialized tool for removal or installation. These retaining rings or snap rings, for example, are used as internally or externally operating bearings to support parts as a result. They are common in motors, turbines, and pistons, for example.
Knipex 4 Piece Circlip Pliers Tool Roll Set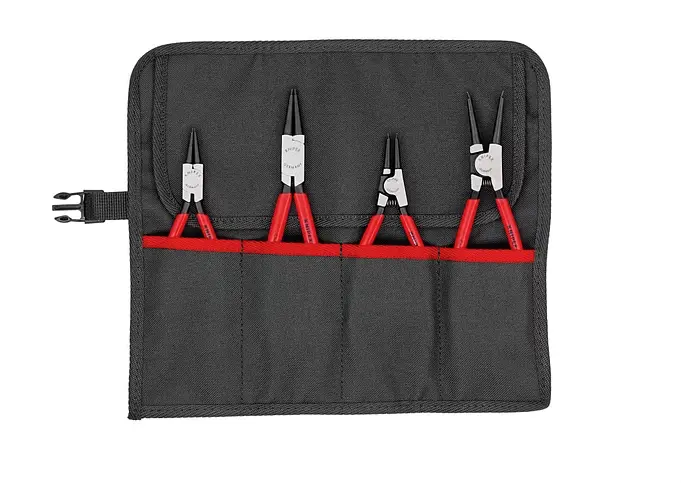 The tool roll is constructed of durable polyester fabric and comes with a practical, quick-release fastener. It includes four common Circlip Pliers for internal and external circlips. It measures 315 x 275 mm when open. self-service card/blister.
Content: 1 x 44 11 J1 KNIPEX Circlip Pliers for internal circlips in bore holes (Ø 12 – 25 mm), 1 x 44 11 J2 KNIPEX Circlip Pliers for internal circlips in bore holes (Ø 19 – 60 mm), 1 x 46 11 A1 KNIPEX Circlip Pliers for external circlips on shafts (Ø 10 – 25 mm), 1 x 46 11 A2 KNIPEX Circlip Pliers for external circlips on shafts (Ø 19 – 60 mm),
Price History
Knipex 46 11 External Straight Circlip Pliers 10mm – 25mm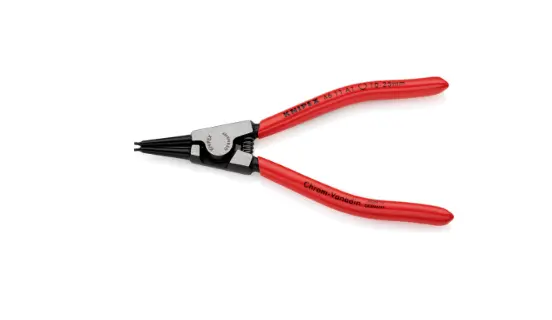 Solid style, forged. Non-slip, solid tips. DIN 5254 A; straight tips. self-service card/blister.
Size of shaft: Ø 10 – 25 mmTips (diameter): Ø 1.3 mm
Price History
Facom SLS Straight External Circlip Pliers Safety Lock System – 10mm – 25mm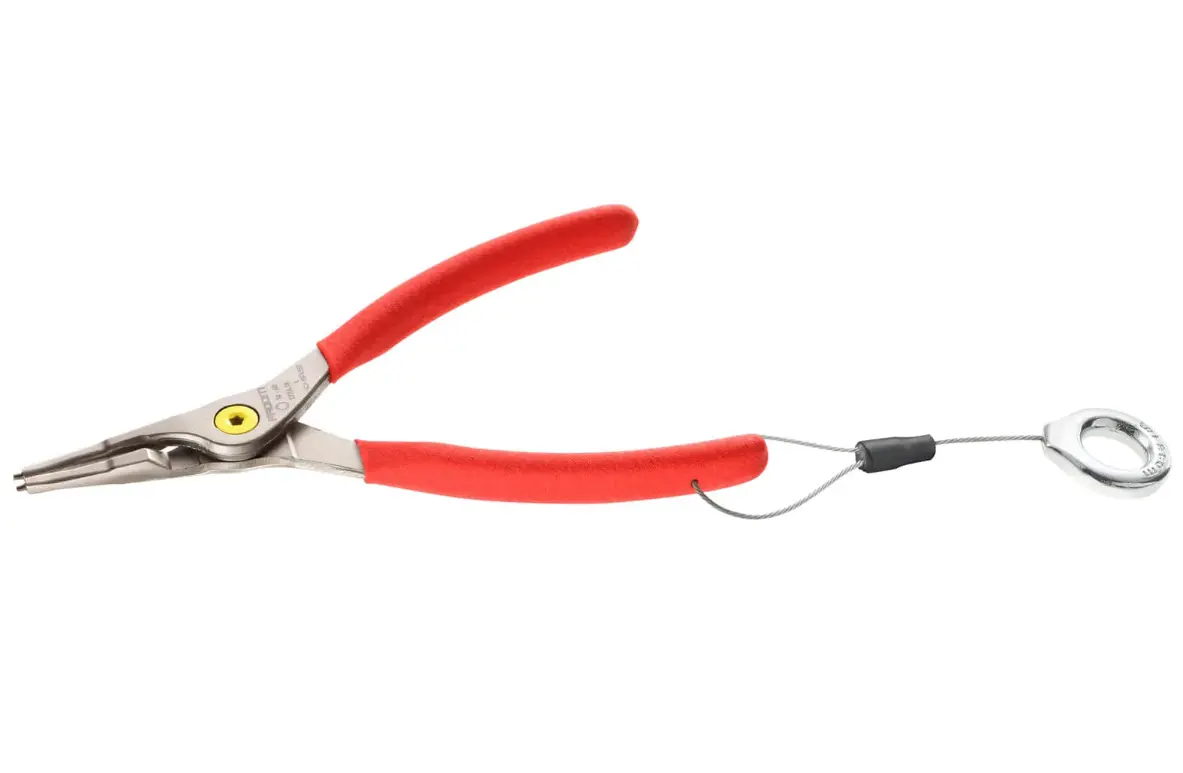 Circlip pliers with a Facom SLS attachment that allows the tool to be securely tethered when working at height. Compliant with the following standards : NF E 73-130, DIN 5254, ASME B107.500. Specifications • Facom Part Code: 177A.13SLS • Range: 10- 25mm
Price History
Water Pump Pliers
Using water pump pliers is a great way to securely grip nuts and bolts. Our water pump pliers come in a variety of sizes, so that you always have the right tool for the job. The ergonomic and cushioned handles protect the user's hands while working.
Knipex SmartGrip® Water Pump Pliers PVC Grip 250mm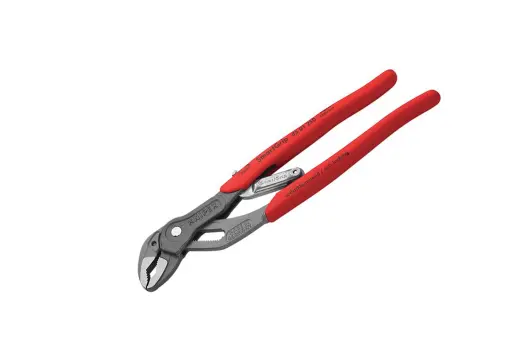 Knipex focuses on producing the most effective pliers, wrenches, and cutters. They have to be the finest in terms of quality, innovation, and efficiency to justify their claims. In terms of performance, ergonomics, and service life, Knipex products are the highest quality. Professional users need to be able to rely on their tools in daily work, so these pliers and cutters are designed to meet their demands. Ergonomic criteria are carefully considered in their design, particularly in terms of reducing effort and optimally fitting handles. These Water Pump pliers automatically adjust to the workpiece as soon as you squeeze the handles for the perfect grip and fit. You may use these pliers one-handed, making them easy to use. Manufactured from high quality chrome vanadium electric steel, these pliers are very strong and long-lasting.
Price History
Ridgid Slip Joint Water Pump Pliers – 254mm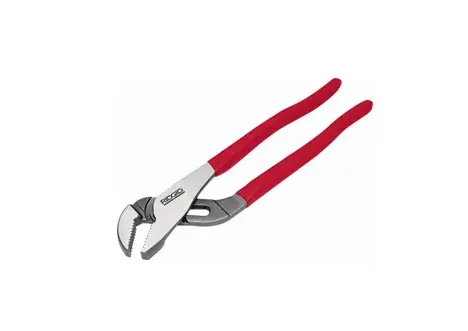 The flush rivet construction of RIDGID Tongue & Groove (Slip Joint) Pliers makes them stronger and allows them to reach tighter areas. Forged and heat-treated for longevity and durability, these pliers are of professional quality and precision-crafted for maximum balance, strength, and accuracy. Cushioned grips are an added comfort feature. They are not intended to provide insulation against electric shock.
Price History
Bahco 6224 Slip Joint Water Pump Pliers – 250mm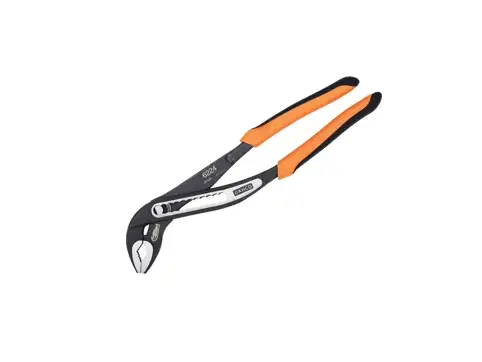 These Bahco 6224 Slip Joint Water Pump Pliers feature two-piece handles to ensure maximum grip comfort. They are made of high-quality, alloy steel with a phosphate finish, which is corrosion-resistant and anti-corrosion treated. Narrow heads allow for great accessibility in confined spaces. These pliers feature hard teeth (60 HRC to 62 HRC) for a long lifespan and strong gripping on any shape, resulting in less pinching of fingers.
Price History
Long Nose Pliers
Long nose pliers, a type of needle nose pliers, are utilised for intricate work with wire so that the user may gain better control when bending, grabbing, and cutting. The long and thin jaws allow for more precision and also allow for access to areas where conventional pliers cannot reach.
Knipex 26 16 VDE Insulated Long Nose Tethered Side Cutting Pliers 200mm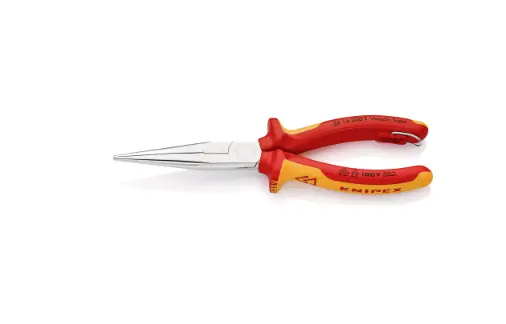 Knipex long nose pliers are the perfect tool for any DIYer. Their elastic tips make them easy to use, while their half-round shape and long jaws make them perfect for gripping and twisting wires. Plus, their cutting edges make them perfect for cutting any type of wire, whether it's soft, medium-hard, or hard. So whether you're building a fence or fixing a leaky pipe, Knipex long nose pliers are the perfect tool for the job.
Price History
Bahco 2430S ERGO Insulated Long Nose Pliers – 160mm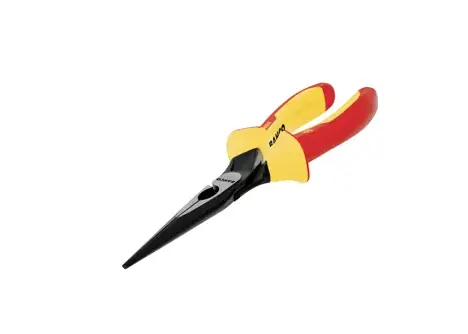 Do you want your life easier? Bahco long nose pliers are a must-have for any DIYer or professional. The half-round serrated jaws grip flat and round material easily, making them perfect for cutting soft or hard wire. The hardened cutting edges are ideal for cutting soft or hard wire, and the high-performance alloy steel make them durable and long lasting. The phosphate finish and anti-corrosion treatment help keep them looking new for years to come. The two-component ERGO™ insulated handles provide superior grip, making them comfortable to use for hours on end.
Price History
Bahco 2430G Long Nose Ergo Handle Pliers – 200mm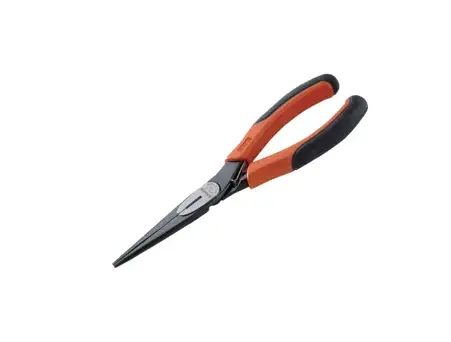 Bahco long nose pliers are a must-have for any DIY enthusiast! These pliers are designed to make your life easier by making it possible to grip and twist objects with ease. They're also ergonomic, meaning that they're comfortable to use and easy on your hands. Plus, they're made with high-quality materials that make them durable and long-lasting. So don't wait any longer, add Bahco long nose pliers to your toolkit today!
Price History
Things to Know Before You Buy Pliers
There are so many varieties and applications of pliers that they are often misused as general-purpose tools. Plier versatility makes them excellent tools for accomplishing a variety of tasks, but proper plier maintenance and usage is crucial to staying safe on the job. To determine the proper usage of pliers, you must first know their general category. Locking, adjustable, and non-adjustable pliers are the most common types.
Make sure you are using the proper size pliers for your hand and comfort. Using the incorrect size could cause you to lose grip on the tool or to pinched fingers or hands, resulting in injury.
Do not use pliers as a hammer. The pliers can become damaged if the edges crack or break, or the pliers may become damaged if the edges break or crack.
It is undesirable to tighten nuts or bolts with pliers. A wrench is preferable, and it can accomplish the job without jeopardizing the fastener.
Do not expose pliers to excessive heat, as heat can negatively affect the tool's material properties.
It is not advisable to cut the hardened wire using pliers unless they are specially designed for the purpose. Using the tips to bend a large wire can damage certain types, such as long-nose pliers.
It is crucial to use pliers to cut wires at right angles. Do not bend the wire back or wobble against the cutting edges; ensure the sharpness of the cutting edges as dull blades or worn-down edges may require more cutting force.
Don't make the plier handles longer to gain more leverage; use a bigger pair of pliers or a bolt cutter depending on the job.
It is important to oil your pliers from time to time. A little oil on the joint will allow for smooth operation and prolong the tool's life.
Summary
Pliers are handy to have around the house. Whether you are working with plumbing, electrical or general household projects, pliers are a multipurpose hand tool that can be used on nearly any project to give you a better grip. Before buying pliers, think about what specific home improvement projects you will use them for in the future to make sure they will be up to the task. Also, consider having multiple types of pliers available to you: some designed for plumbing projects, others for electrical, and yet more for household repair and upkeep.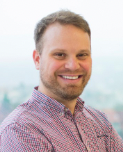 Luke is the founder of Buildiro.com and he is passionate about construction and building. His mission is to show people how to make things done fast and easy.