Our Makita LS1040 review will show how this mitre saw is an all rounder, it is robust enough for any professional to carry around in the van for various jobs and is also a great buy for the wood working enthusiast looking to add a bit if quality and precision to their tool set. If you are looking for a saw to do all of the basics well giving you a nice accurate finish then look no further.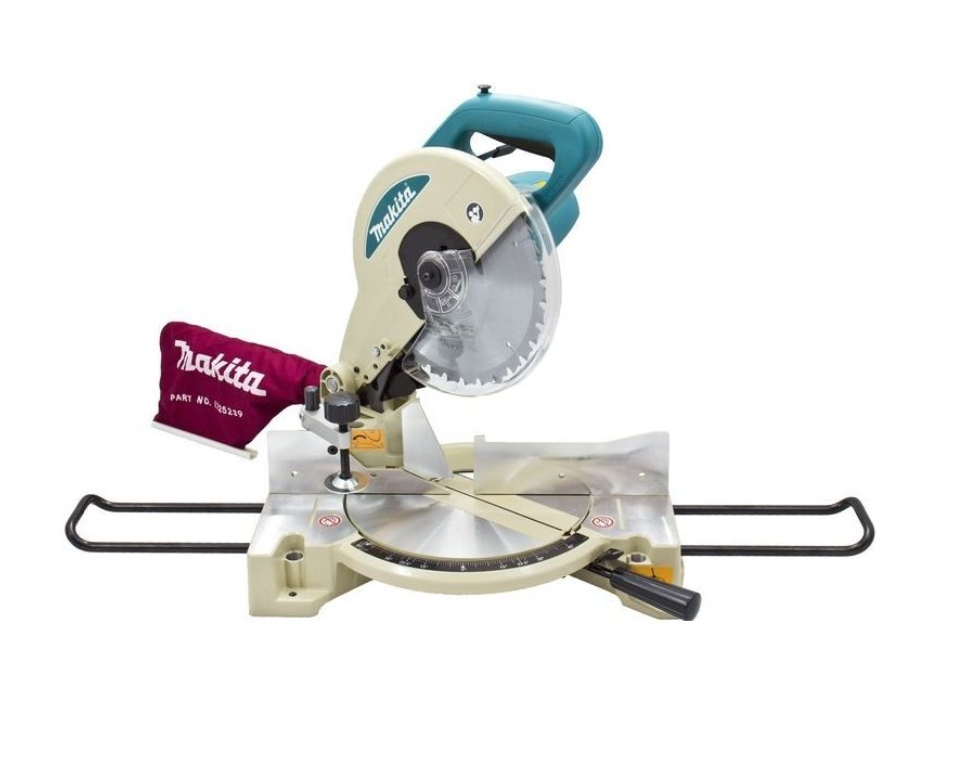 Design
This is a classic pull down style compound mitre saw. If you are looking for a good solid design of saw that is easy to use then this design will suit. There are not tons of complicated moving parts that can go wrong and require a long time to set up. This design has lasted the test of time and has been around for years with no complaints. There are more complicated designs on the market but this is an industry standard.
The LS1040 compound mitre saw is designed to be light and easy to store and carry around. Weighing in at 12kg this is a pretty light piece of kit that you can transport close to the job with ease. The compact design means you don't need too much storage space to to keep it in the shed or garage.
The robust aluminium body is designed to be very rigid giving a curate cuts and allowing no movement whilst the saw is in action. Any movement can result in a slight change of the angle of the cut so it is important that this is well engineered.
The main features
Below are the main features of the compound mitre saw from the Japanese power tool giant. Make sure you work out which features are most applicable to the job you are trying to achieve and see if this matches up. Only the biggest and most complicated jobs will be too much for this saw to handle.
The Cut
The cut on this saw is impressive and will tackle some pretty large pieces of material. The maximum cut depth is 95mm (3.7 inches) which is ample for most applications in light construction, outdoor wood working and indoor finishing. The maximum cut width is 90.5 mm (3.5 inches) which again is up to most jobs and with the powerful motor it will glide through these cuts.
The mitre cuts can be set to the left and right at angles from 45 degrees to 90 degrees with mitre stops set at 0, 15, 22.5, 30 and 45 degrees for quick setting of common angles. The single bevel action allows you to set a bevel action to 45 to degrees to the left side. This will give you a wide range of angles that will suit most cuts only for very complicated angled cuts would you need a more versatile saw.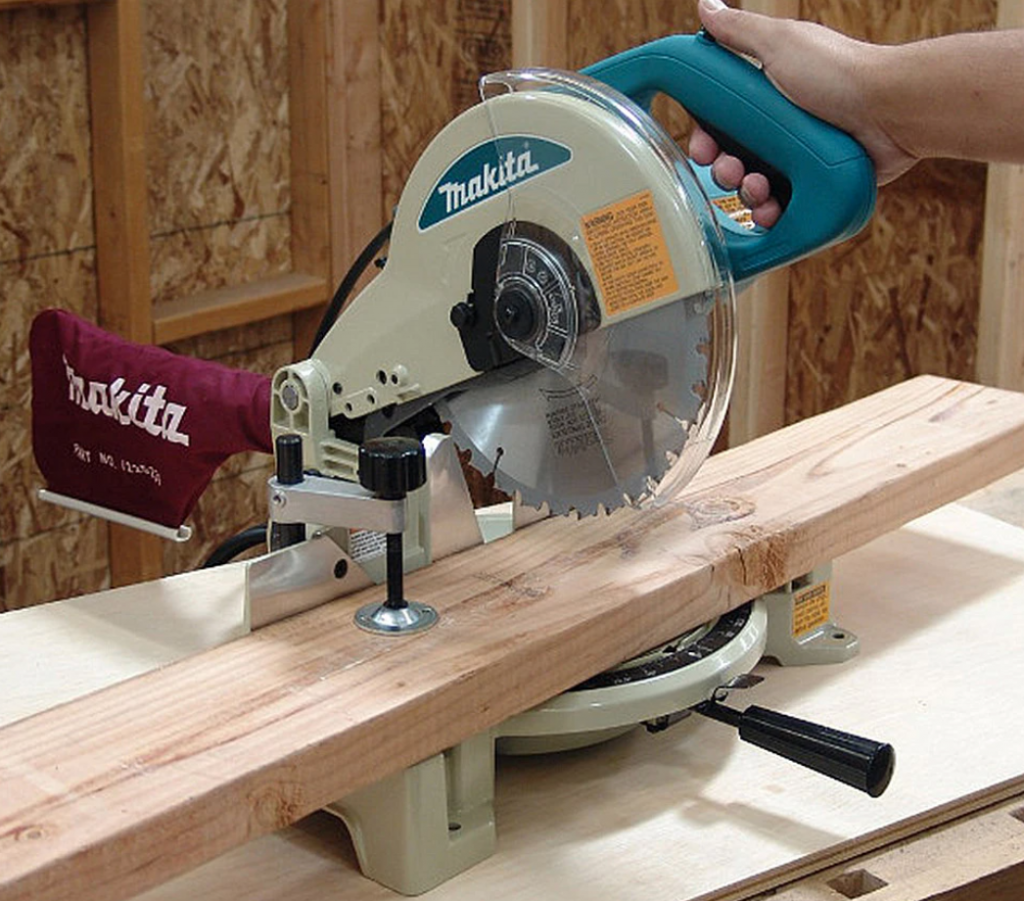 Power
To give mitre saws a long life the motor needs to have plenty of power in back up to make sure it is not over worked when cutting tough materials. Many saws give up the ghost when they are pushed to the limit time and time again and you may well find that hard use is just too much for the budget saws even if they look like great value. This mitre saw is powered by a 240 volt 1650 watt electric motor that provides tons of power to glide through some tough pieces of timber and other material. If you think you will be using the saw regularly it is worth considering a saw with a powerful motor.
One downside is that Makita only provide a two metre power cable which is a bit short in many cases and will require an extension lead. A longer power cable would be ideal.
Warranty and Customer Support
The saw comes with a one year manufacturer warranty that will put you at ease when investing your money. The Makita LS1040 is not a really expensive saw but still a large enough investment that you will want it to last. The Makita range of power tools has a good UK network of distributors and repair centres ensuring that any problems can be rectified quickly and parts are easily available. Even with this reliable brand customer support is needed from time to time and it is second to none.
Value For Money
We think the Makita LS1040 is really good value for money as it keeps the design and features to the basics and does them to very high standard making it very versatile saw that will speed up jobs for tradesmen and DIY enthusiasts in many situations. The motor and cutting capacity are both up to some serious jobs and there is great customer support should you come across any problems.
The Round Up
Buying a mitre saw from such reputable brand as Makita at this price can only be a good thing! Its great value with features that cover most jobs. The customer support means it is suited to trade users. Customers reviews on Amazon are brilliant for this product which speak for themselves. This saw is all about keeping it simple and effective and that is exactly what it does. A very good and comprehensive mitre saw that we highly recommend.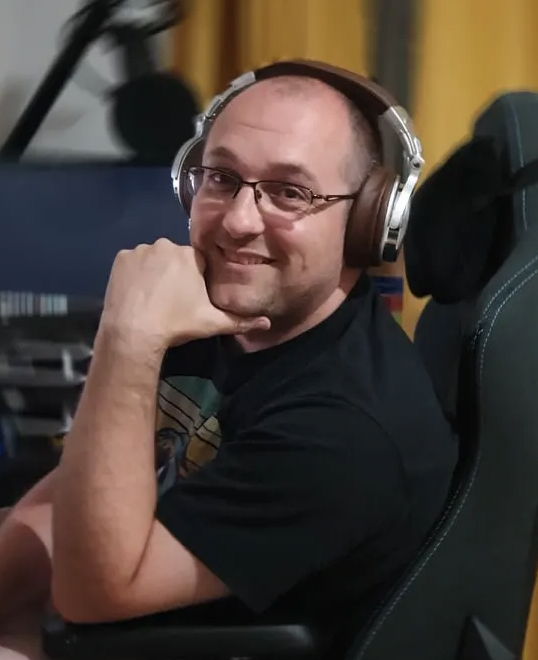 Matt is a professional copywriter and researcher over at https://sucklessatcontent.com/. When he can be prised away from his PC, his wife enjoys setting him DIY tasks around the house.