The kitchen is one of the most important rooms in your home – it's where you prepare meals, entertain guests, and gather as a family. So it's no wonder that proper lighting is essential to creating a warm and inviting space.
A common mistake people make when designing their kitchen lighting is thinking that one overhead light will suffice. But this can often leave the room feeling cold and clinical, with darker areas where the light just does not reach. To achieve a more inviting atmosphere, it's important to layer your lighting – meaning, use a combination of different types of fixtures to create a well-lit space.
Designing the best kitchen lighting ideas UK
To get started, consider a flexible lighting arrangement, which will allow you to change the light levels based on what you're doing in the kitchen. For example, task lighting is perfect for cooking and preparation, while accent lighting can be used to highlight certain areas or features of the room. And don't forget about general ambient lighting – this type of lighting sets the overall tone for the space and can be used to create a warm and inviting glow.
Not sure where to start? Here are five great ways to light your kitchen in 2022:
1. Install a dimmer switch.
Dimmer switches are a great way to instantly change the mood of your kitchen. By simply adjusting the light level, you can create a brighter space for cooking and prep work or a softer, more intimate atmosphere for entertaining.
2. Add some pendant lights.
Pendant lights are a great way to add interest to your kitchen. They can highlight a specific area, such as a kitchen island or breakfast nook. And because they come in various styles, you're sure to find a design that fits your space. Having an elegant pendant light directly above your dining table is a great way to create a focal point in the room.
3. Use under-cabinet lighting.
Under-cabinet lighting is a must in any well-lit kitchen. It provides task lighting for food preparation and can also be used to highlight certain areas of the kitchen. Plus, it looks great too!
4. Consider your colour schemes.
It's easy to dismiss the effect that lighting can have on a room. For task lighting, you will typically want a cooler light to help you see more clearly. However, for ambient lighting, a warmer light will be more inviting and relaxing. And when it comes to accent lighting, the sky is the limit! You can experiment with different colours to create a unique and stylish look. If your light fittings can accept them, a modern color changing light bulb can revolutionise your colour scape. The power of a smart colour changing light bulb is that it allows you to alter the colour and brightness of areas of your room with just a tap in an app or a voice command if you're invested in a smart home set-up.
5. Get creative with your fixtures.
There are so many different types of light fixtures on the market, so there's no need to stick with the traditional overhead lights. Get creative and experiment with different fixtures to find what works best for your space. Wall sconces, track lighting, and recessed lighting are all great options that can add style and functionality to your kitchen.
Examples of the best lighting for a kitchen
The kitchens shown in the examples below are all well-lit and inviting. This is partly due to the different types of lighting used in each kitchen. For example, the kitchen in the first image has a combination of pendant lights, under-cabinet lighting, and recessed lights. This gives the space a well-rounded lighting scheme that is perfect for both task and ambient lighting.
We've highlighted some of the best kitchen diner lighting ideas below to bring you inspiration for your home kitchen designs.
Pendants over the breakfast bar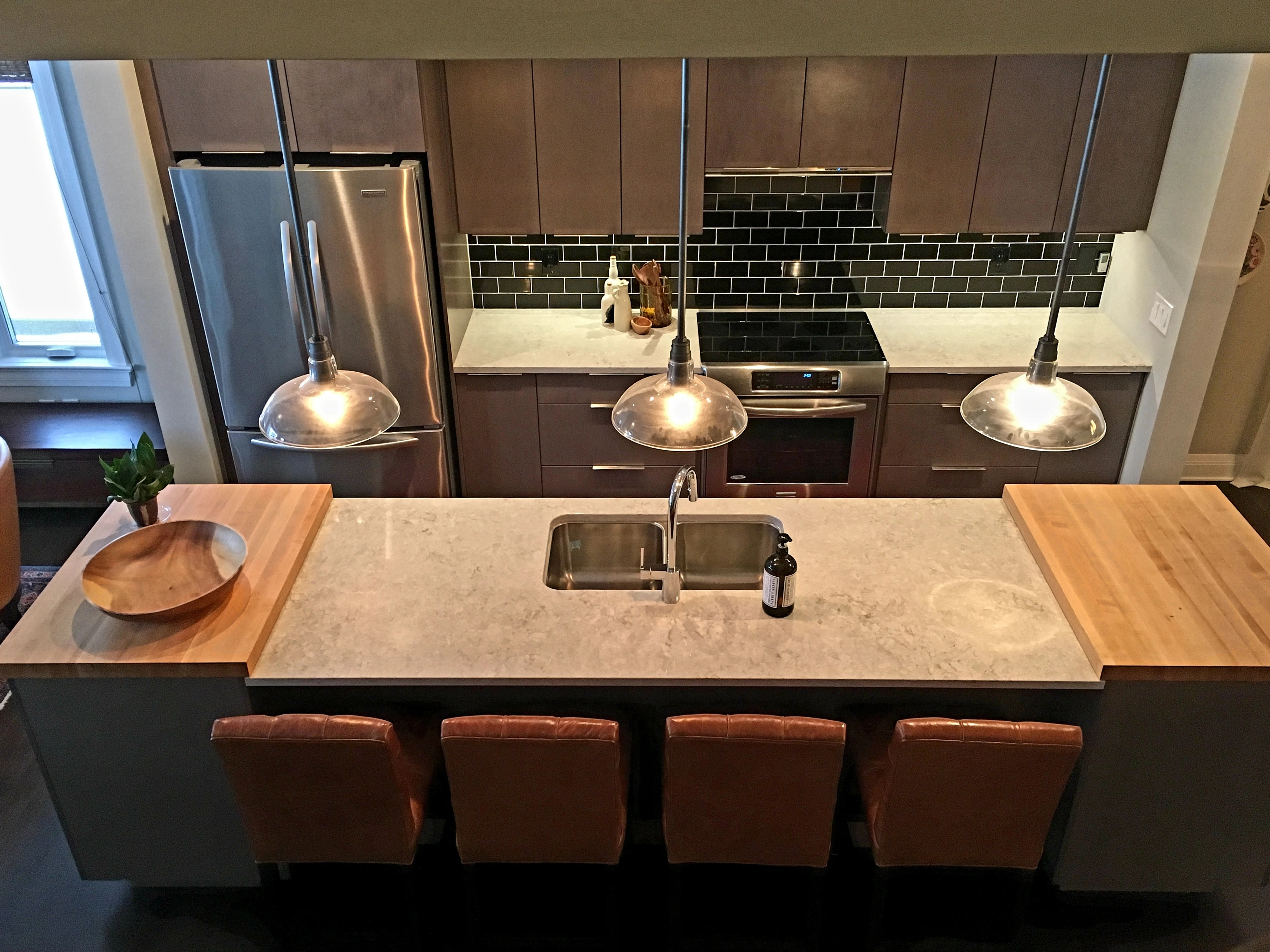 This kitchen island doubles as a breakfast bar. The pendant lighting emphasises this feature of the kitchen, as well as providing an even spread of light for this socialising hotspot. Under the cabinets at the rear of the photograph, you can see cooler task lighting. The remainder of the room is light in a combination of ambient and ceiling lights.
Low hanging pendants are great for reducing the scale of a room, so if your kitchen has exceptionally high ceilings, this can be a way to reduce their impact and help produce a cosy feel to the space.
Maximum lighting in a minimalist location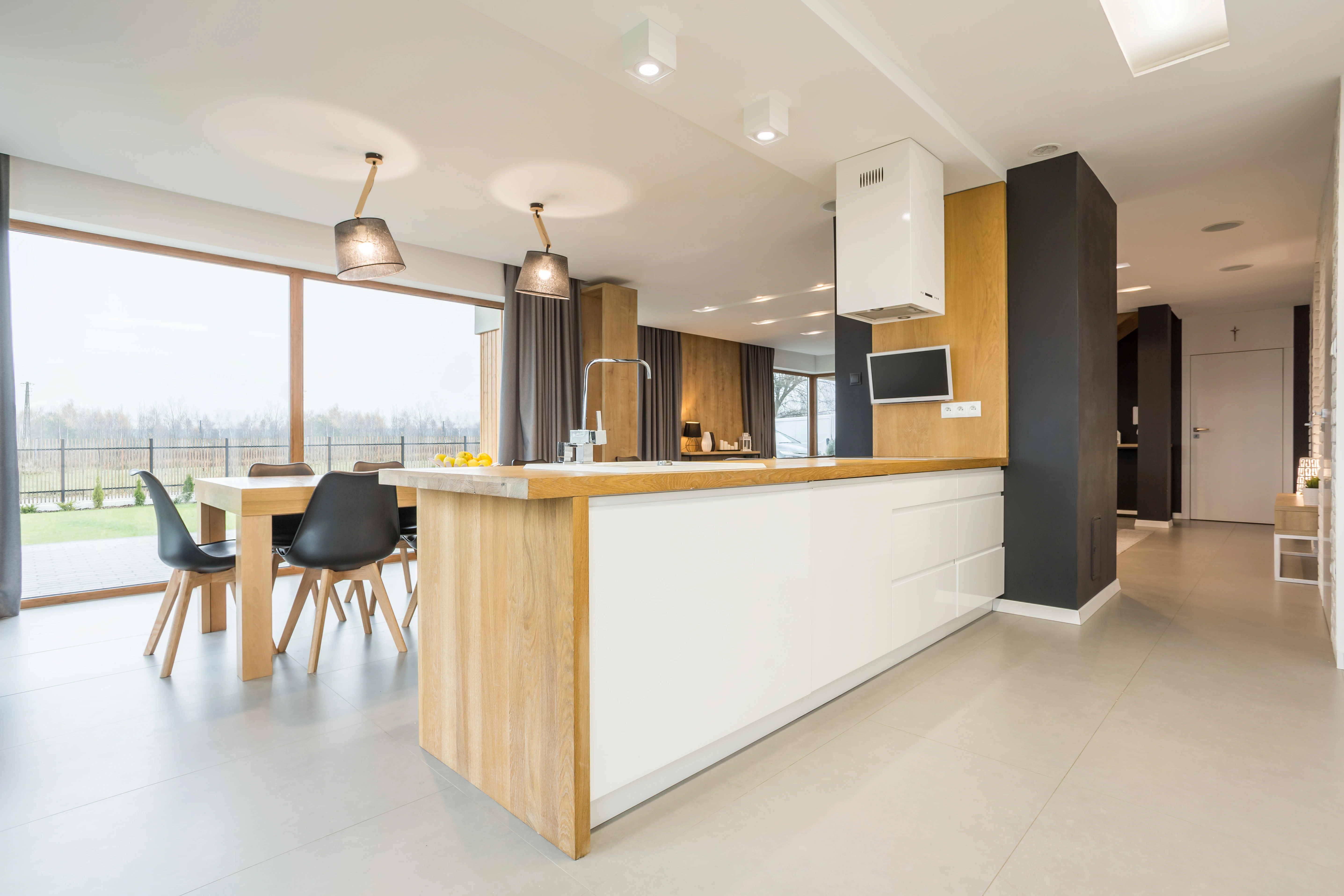 This kitchen diner area might appear minimalist, but many different lighting schemes are in play here. The room is flooded with natural daylight during the day. Above the dining table are two pendant lights to balance out the lighting when dusk starts to fall, while downlights above the counter provide plenty of lighting for safe kitchen duties. Larger lighting panels in the ceiling provide ambient lighting throughout the remainder of the kitchen. We consider panel lighting the best for kitchen ceiling spaces, as they have a broad, soft beam of light.
Small spaces need light even more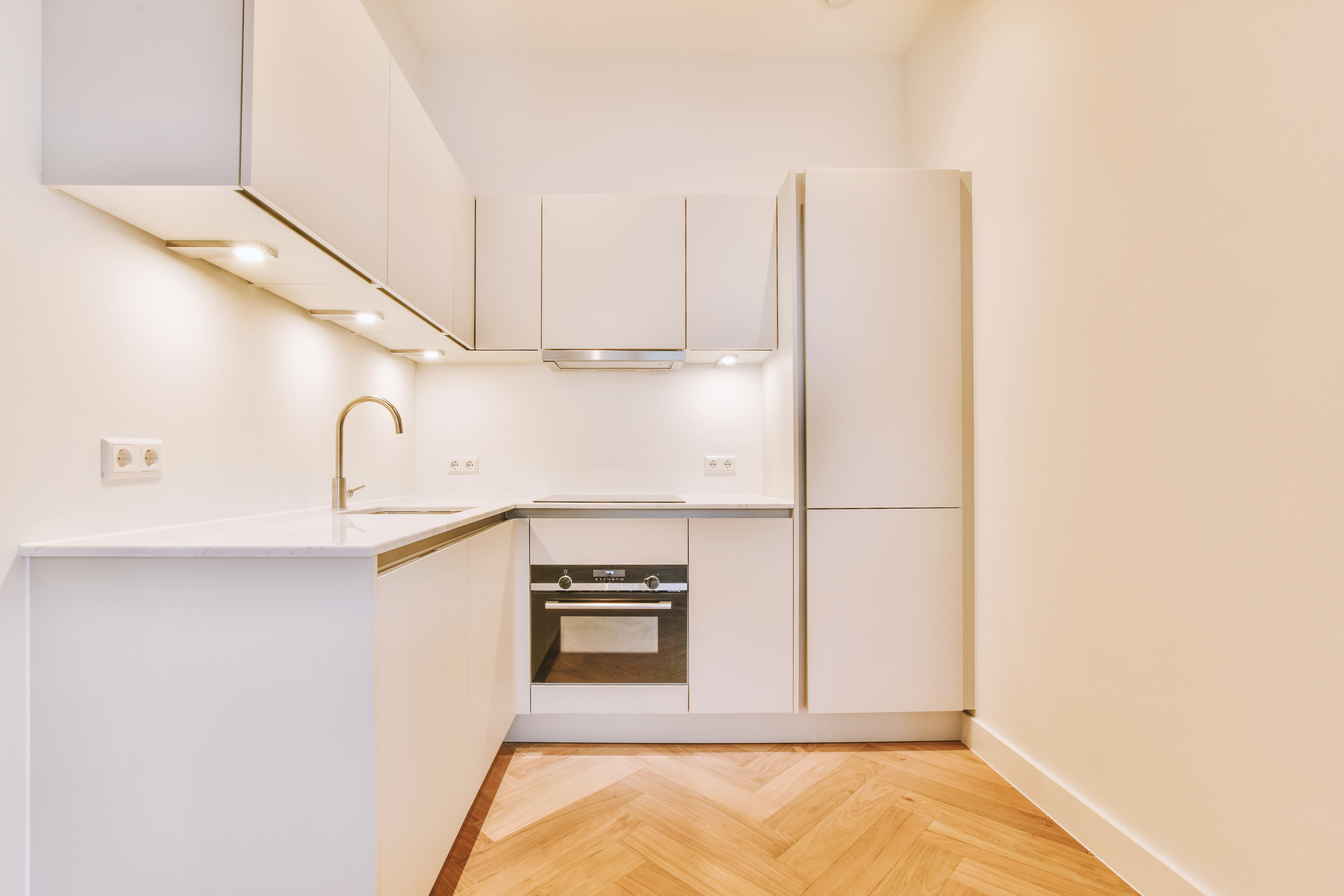 Small kitchens, especially in flats, can be dark, depressing places. But they don't need to be. This white kitchen uses task lighting to the maximum to light up the limited countertops, while ceiling-based lighting helps brighten the space. Given the tiny space involved here, this is one of the best small kitchen lighting ideas, given that we're assuming no skylight was possible!
For small spaces like this kitchen, track lights can also be used to great effect. Adding a track of lighting (or two in parallel for galley kitchens) will ensure plenty of lighting for cooking and prep work and provide ambient lighting for the rest of the room.
Mixed lighting for mixed usage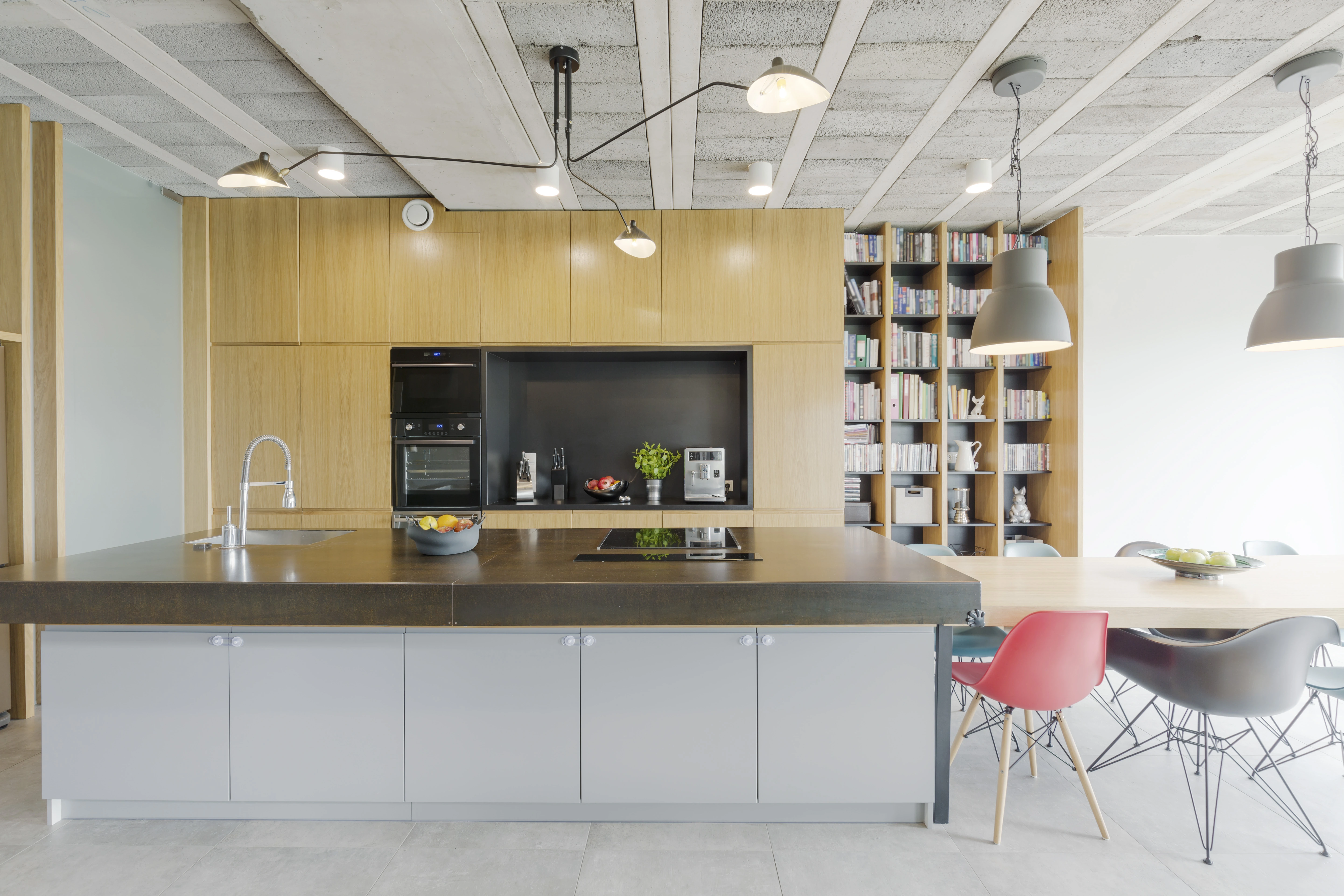 The best type of lighting for kitchen spaces is the one that suits the intended use the best. Whether you want led lighting ideas for kitchen ceilings or want to try out exciting new pendant ideas, there is a lighting option for everyone. In the case of this exciting space, the differing pendant types help zone out the space. The wide-reaching, slender, black pendant above the expansive, glossy black kitchen counter helps to clarify the extent of the kitchen, while the paler hanging pendants hang low over the dining area help bring up the light level so the space can be used for dining even when it's getting dark outside.
Retaining an airy space with light colours and white furniture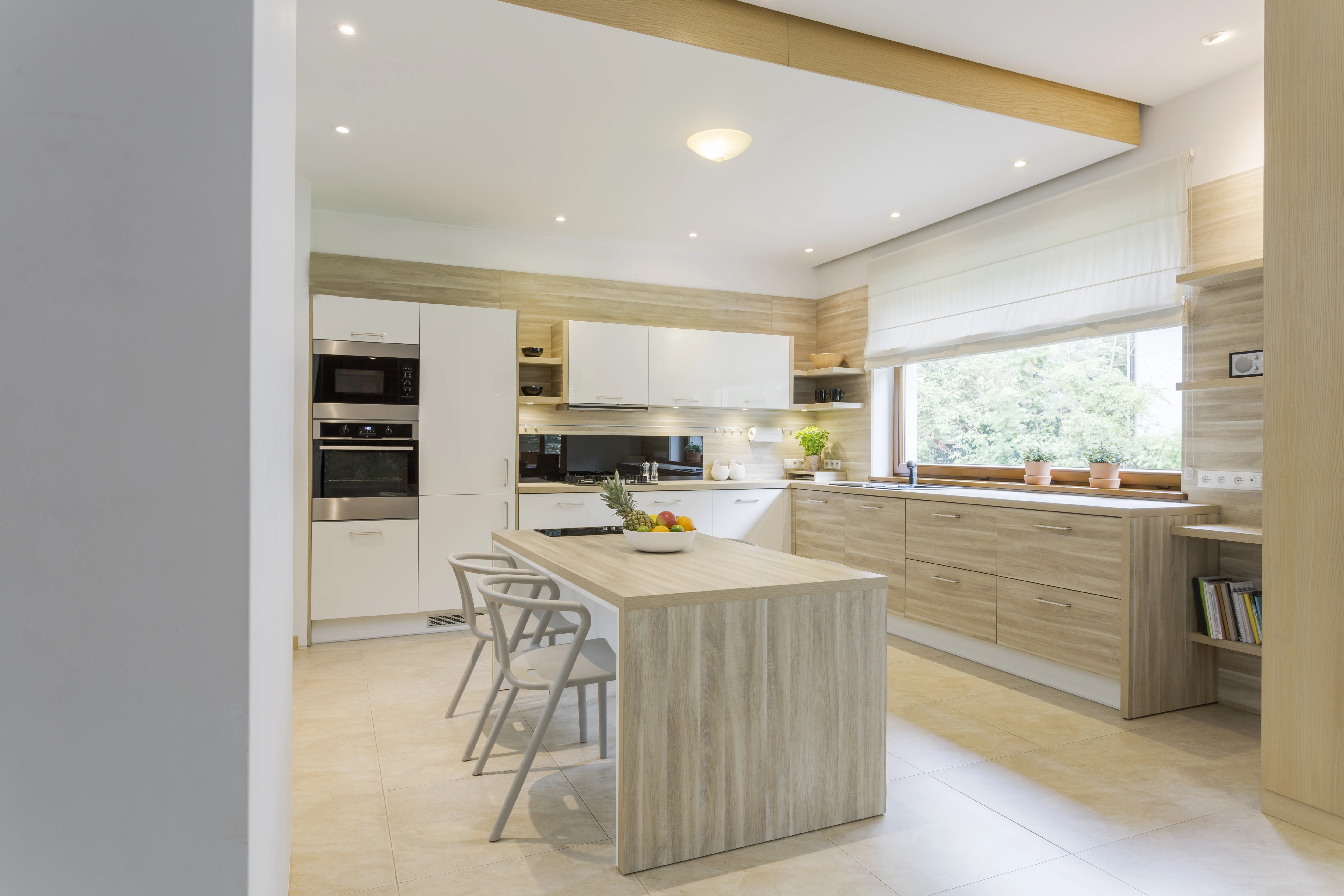 This kitchen opts out of pendant lighting, preferring instead to use a mix of downlights in the ceiling and beneath the cabinets to provide ample light in this space that feels very open. The light colours and high ambient light through the sizable window help to flood the room with light.
High-end ceiling fixtures with downlights and under-cabinet task lights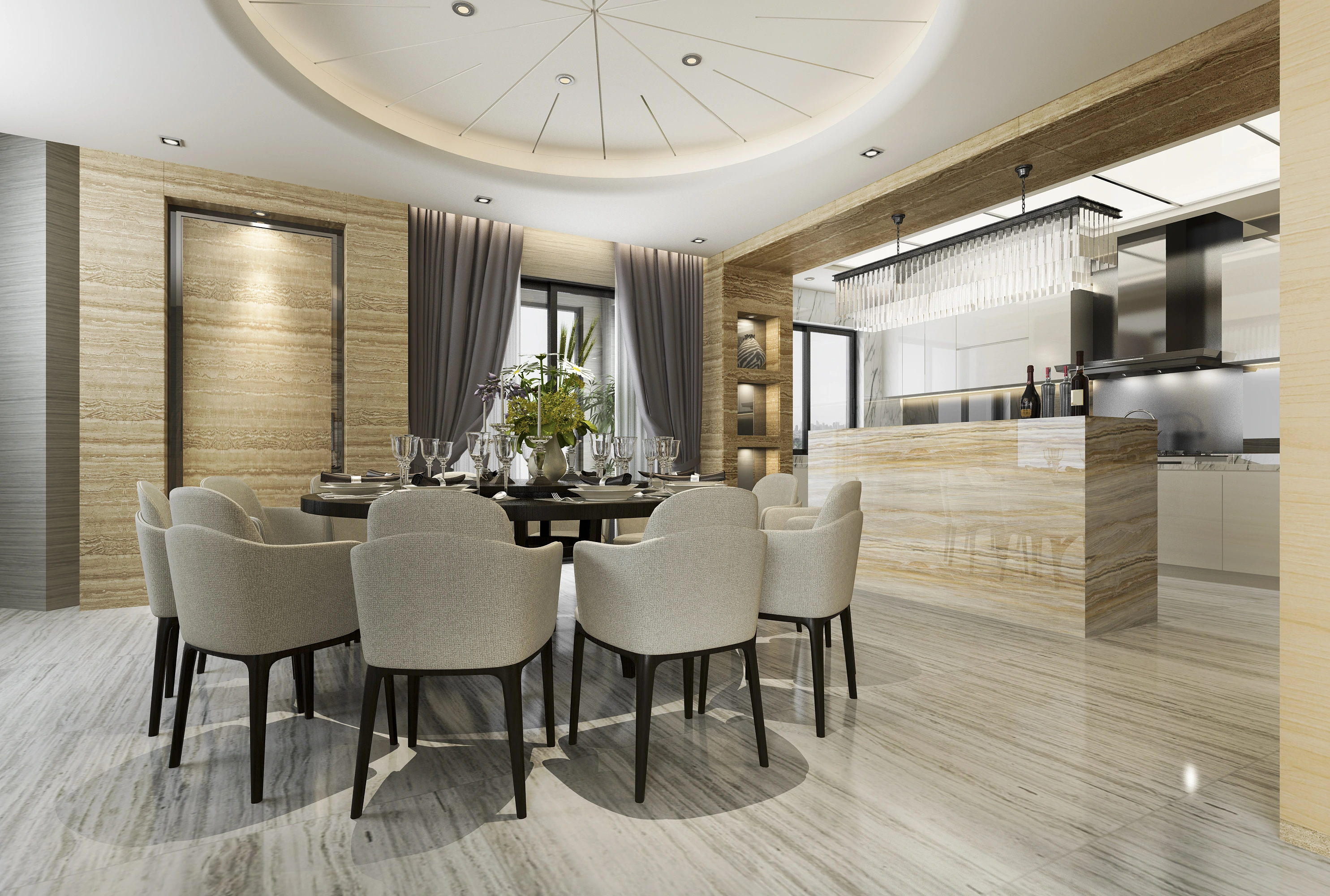 When it comes to high-end kitchen diners, check out this stunning room. The ceiling light comprises a giant feature light fitting that uses an LED strip. The ceiling is home to a grid of downlights to provide even lighting throughout the room, while on the island that marks the kitchen-diner divide, we see a long, decorative strip light above the counter and task lights at the rear in the kitchen area.
Conclusion
When it comes to size, shape, colours and intentions for our kitchens, every space is different. Light layering is a modern trend that has gained popularity as the range of available lights has increased.
Many different types of lighting can be used in a kitchen. The best type of lighting for your kitchen will depend on the intended use of the space. Pendant lighting is an excellent option to create a socialising hotspot. If you want to make the most of natural daylight, then ceiling-based lighting is a good choice. Light colours and white furniture, complemented with broad, soft lighting, are great if you want to retain an airy feel in your kitchen.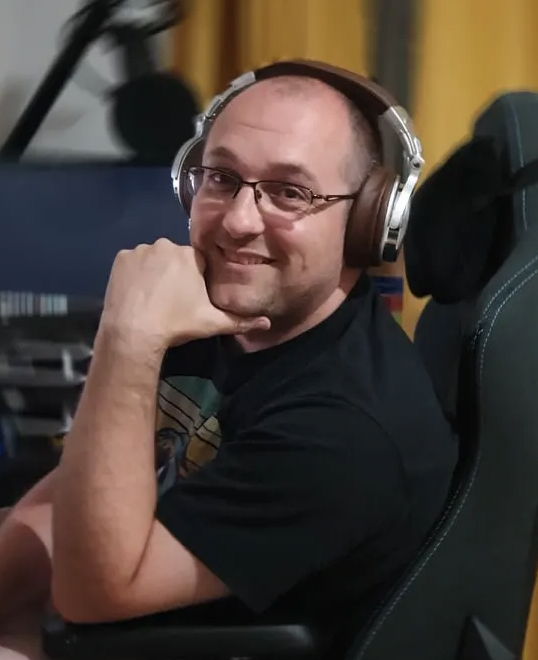 Matt is a professional copywriter and researcher over at https://sucklessatcontent.com/. When he can be prised away from his PC, his wife enjoys setting him DIY tasks around the house.