Most people don't think about hallway lighting when decorating their home. But the fact is, planning the best lighting for hallways can help your hall play a more prominent role in your home's overall look and feel. This article will explore some great ideas for making the most out of your hallway lighting.
One of the best ways to use your hallway lighting is to install a chandelier or pendant light. Chandeliers will add some extra glamour and style to your hallway. Another great idea is to install sconces on either side of your doorway. Wall Sconces will create a warm and inviting atmosphere in your home. And finally, don't forget about overhead lighting! A well-lit hallway will make it easier for you to find your way around at night. Of course, which of these ideas will suit your home depends very much on the size and shape of the hall and how much natural light typically enters the space.
Let's look at some examples of great ideas for lighting for hallways and landings.
Sun-drenched hallways require minimal lighting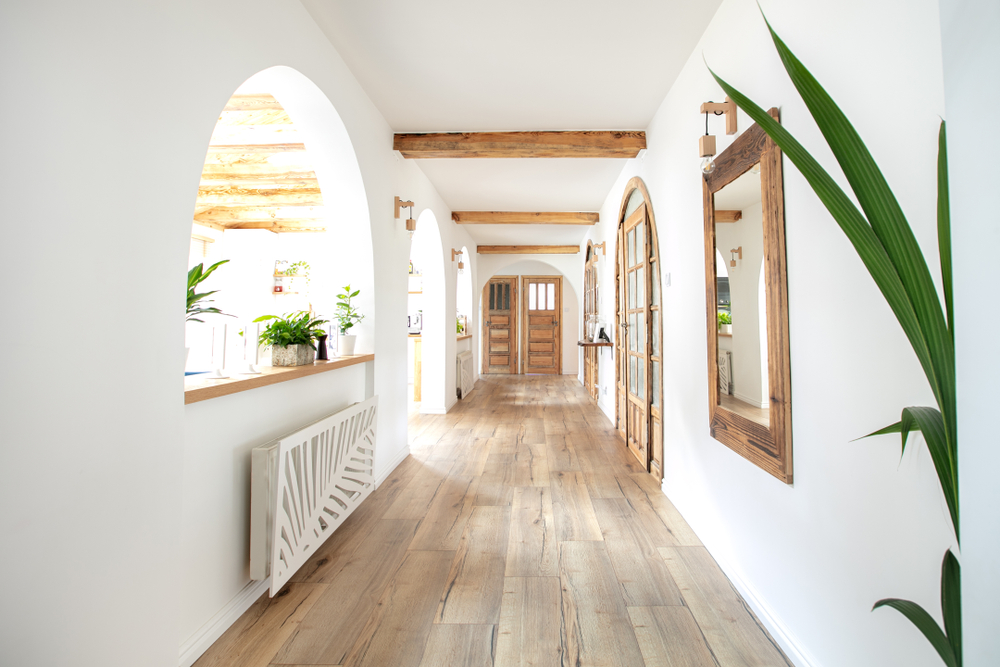 If you're lucky enough to have a sun-drenched hallway like this, you can enjoy a bright, airy feel all day long. Adding a few wall sconces allows for evening illumination in small warm pools. The whole vibe screams Mediterranean summer house.
Skylights flood hallways with useful light
This home has made the most of what would otherwise be a dark, windowless space – by installing a skylight, they've created a bright and welcoming hallway. Skylights or lighting panels are great hall ceiling light ideas, as they boost the ambient light levels in the room in a soft, easy-on-the-eye manner. The pale colours reflect light into the space, giving it an ethereal feel. The mirror helps create the illusion of depth and, again, reflects light into the room. For evening light, a small lamp provides a pool of warm light.
If you don't have a skylight as an option, large format recessed ceiling lights can offer a similar solution.
Pendant lighting in a typical hallway
This hallway uses the most common hallway lighting style – pendant lighting. It's what's first installed in most homes, and for most homeowners, the hallway light is low on the list of update priorities. A simple light shade and light-coloured walls can help maximise the space, which otherwise can risk being a dark passageway between rooms. One great perk of having pendant lighting is the easy fitting of led lighting for hallways, allowing you to play with colour and brightness levels.
Downlighting an L-shaped corridor
Most hallways are straight runs through a property, with doors to either side. But some homes have unusual spaces, such as this L-shaped hallway. Whether such spaces are a blessing or curse depends on the homeowner, but we like the usage of this space. The downlights offer appropriate lighting around the front door for meeting and greeting, removing coats and shoes, etc., while the overall ambient light in the room comes from some out-of-shot pendant lights. The medium size lamp beside the mirror adds a little extra depth and a pool of light when overhead illumination is turned down or off.
Mixed lighting in a mixed usage hallway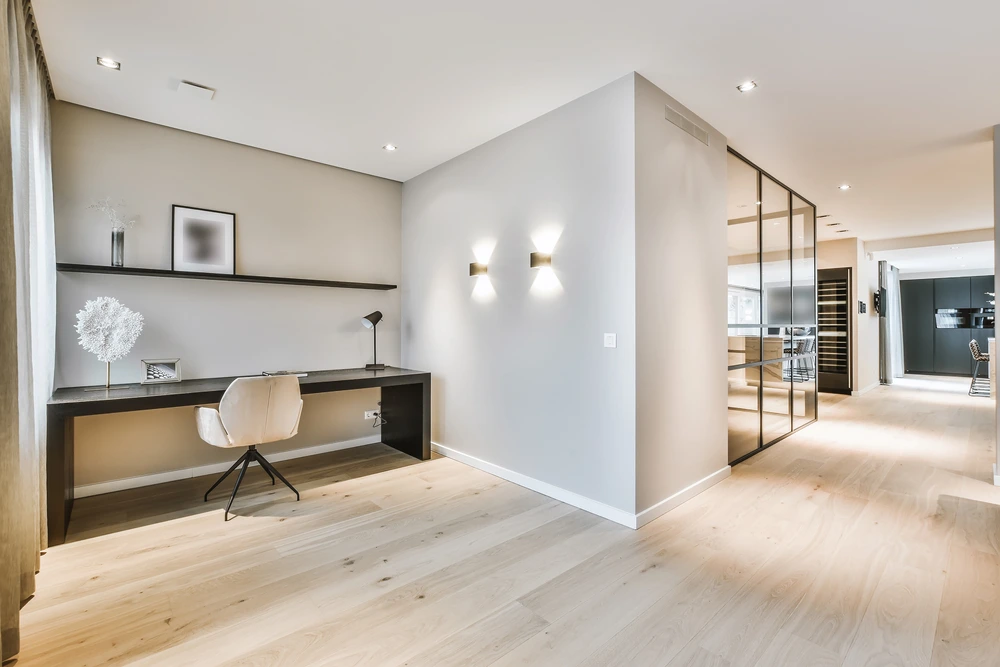 This hallway was built to create small spaces that added to the overall functionality of the space. For hallway light ideas, the designer has opted for wall sconces to one side of the desk area, bracketed by ample window light. Overhead and throughout the hallway, spotlights drop lighting pools to the reflective pale floors and walls. Placing numerous spotlights in hallway and landing areas is a simple way to provide even lighting, or use just one or two to increase illumination to provide lighting in specific areas.
Small hallway lighting ideas can include keeping it simple
There is nothing to say that you have to go crazy with lighting. This small hallway is simply illuminated with two overhead downlights, with a strand of lights hung on the wall as an accent. Keeping the walls pale helps keep the space bright and welcoming. Small hallway lighting often needs to remain simple so it does not overwhelm the space.
Flush mounted lighting for diffused hallway lighting
If a hallway has a more functional use, such as in this hallway with multiple office doors, lighting that can be kept out of the way keeps the look of the space clean and easy to manage. Flush-mounted ceiling lights offer a diffused light, perfect for keeping an even light level in the space.
Exposed downlight cans can be a feature
While the fashion is to have downlights recessed into the ceiling, you can mount a range of decorative cans on the ceiling. The exposed can provides a small feature to an otherwise plain ceiling.
Diffused lighting in a darker hallway
Darker hallways need love too. When it comes to lighting for hallways and landings, we typically recommend that pale walls and floors compliment your light choices to maximise the light in the space. This can be tricky to achieve, but the effect is worth it for a brighter and more welcoming environment.
However, if you're going to go with a dark or cool colour, such as this mid-tone blue, using diffuse lighting can help to brighten the space. In this hallway, diffuse light fittings in the ceiling help to minimise the shadows being thrown.
Clever storage and simple lighting maximise the usage of this hallway
Entrance hallway lighting ideas typically veer on the functional side, and that's certainly what this space is. Clever storage options line the hallway to the right-hand side, all fronted in glossy white to maximise the light bouncing from the twin spotlights.
Darker colours work best with pools of light
If you like darker colours, such as this dark wood design, pools of light are your friend. In this case, a short pendant light directly above the door and a wall sconce above the round mirror helps to create small pools of light, promoting a soft, friendly feel. Further ambient light is evident in the image from either a window or ceiling lights.
Landings with chandeliers can be retro or modern.
We've not mentioned chandeliers yet. A chandelier is an elegant option if you have a high ceiling that allows a stunning chandelier to descend into it without getting in your way. Whether you have an art deco design, like this image, or something more modern, chandeliers can add a lot of light to your hall. You can supplement the chandelier light with wall sconces or downlights to help even out the lighting design.
Wall sconces on either side of the door provide interesting framing
This small hallway functions only to connect the bedroom to the living space, but the use of the two wall sconces on either side of the bedroom door adds a hotel mix of functional but intriguing lighting. White ceilings, floors and selected walls help to provide a bright space, while the dark blue walls show off the beams of light from the wall sconces.
Areas of light and shadow play in this hall and stairwell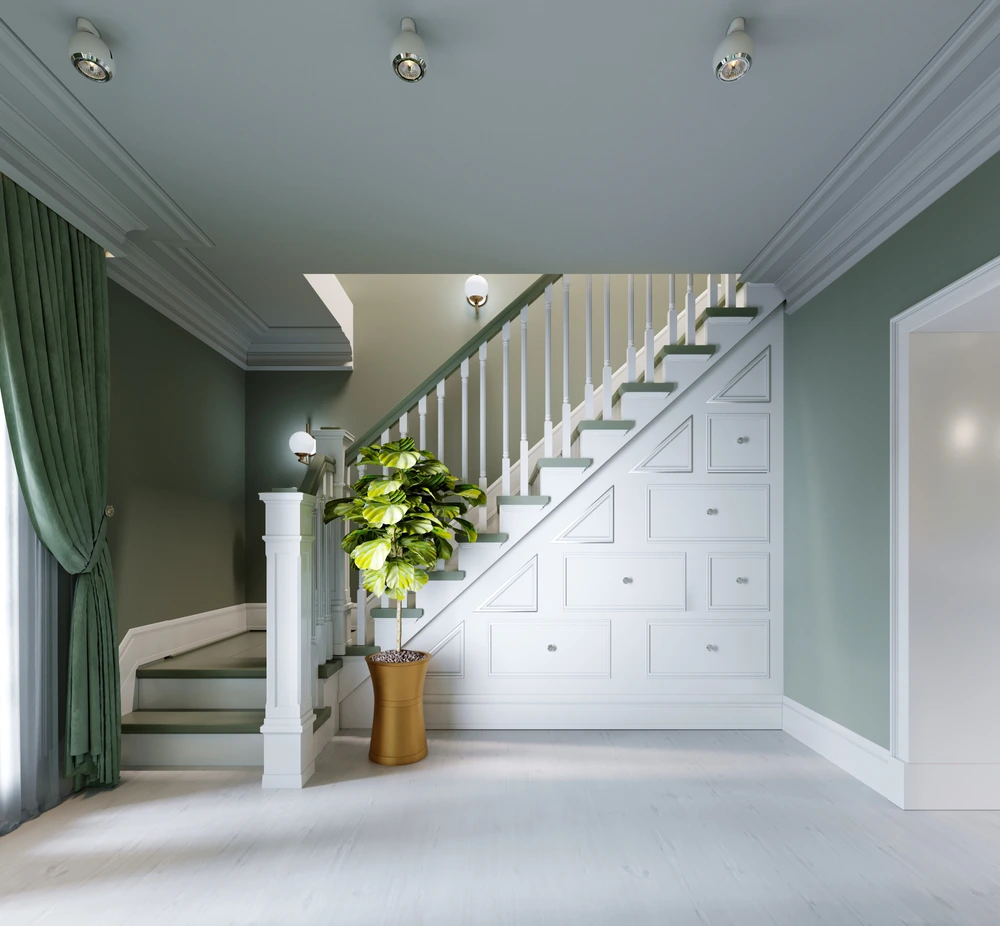 Not every hall has to be evenly lit. This hallway mixes light and shadow for a gentler feel. Overhead spots provide variable light levels thanks to a dimmer switch and mix with natural light from the window, while wall sconces on the stairs ensure pleasing and safe light levels.
Brightly and airy entrance hall
Looking again at a bright, airy entrance hall, this design uses pale colours to maximise incoming light. While there is no space for a sconce on either side of the door, the designer has still used a pair of lights, simply moving one around onto the adjacent wall. An angled mirror below the second light helps to reflect into this appealing space.
LED strips enhance and alter a boring hallway
LED light strips are often employed around the coving or around the room's circumference. But LED strips are very versatile. You can use them in vertical stripes, as with this hallway, or create shapes. LED strips can usually change colour and vary in intensity, allowing you to change the room's mood with remote control, or through AI assistants, like Google Assistant and Amazon Alexa.
You can hide LED strips in a range of places
Sticking with light strips, this fun design has mixed concealed LED light strips with an industrial-looking metal chandelier to create lighting that is very evenly distributed throughout an awkwardly shaped hallway. The result is easy on the eye and mixes a modern look with a little throwback to the past.
Studio apartments where halls and rooms merge
Some of us find ourselves in smaller properties, like this apartment. Here, hall wall lighting ideas are limited, as the hallways become little more than paths between furniture and doors, yet the owner of this property has managed to theme the lounge area chandelier to matching wall sconces, pendants, and even a freestanding up-lighter.
Simple but stylish lighting in a small entrance hall
It is absolutely fine to have a simple light in your hall. This hall uses a single ceiling mount to carry five naked bulbs that brighten up what would otherwise be a dark hallway, given the only light source appears to be the small windows on the door. Once again, using light colours helps to expand the space.
Flowing lights from the hall to a room helps to join them
Sometimes home designs do away with some of the dividing walls, reclaiming valuable floor space from the hall – yet the remaining hall and the room it flows into need some form of continuity to look their best. Matching the lights that flow from the hall into the room is one great way of making this connection. In this example photograph, the hall and landing flow into the next room thanks to rows of downlights leading to the next room. Spotlights in hallway areas are a great trend in general, as they offer even lighting for the room's length without resorting to multiple pendants, each of which also needs shades or other fittings.
Open plan living can still support lighting for a hall area
So, what do you do when you have no hallway and your front door opens into your living space? This clever designer pulled out all the tricks. Firstly, the large ceiling-mounted light fitting provides independent lighting for that area, along with the wall sconces on either side of the door. The plant, mirror and rug all help zone this off as its own space, not part of the lounge.
An elegant hallway with the perfect chandelier
Let's talk sophistication. This hallway exudes it. The styling is very homely without being cluttered and minimal without being bland. The ceiling rose holds a beautiful curves chandelier. As a more old-fashioned design, the room does not feature several additional lights; but pale colours on the walls, ceiling and floor, along with multiple mirrors, meaning that the room is bright despite its depth.
Conclusion
Hallway lighting can be challenging because it is often the first space people see entering your home. It's important to make a good impression with a well-lit, styled hallway. There are a few key things to remember when styling your hallway.
The use of pale colours is currently very much on trend, thanks to designers promoting the fact that light colours in small spaces provide the illusion of more space. Flooring tends towards a mid-tone rather than dark, so pale wooden floors, biscuit-coloured carpets, and so on.
While an overhead light is practical, it often leaves hallways feeling stark and uninviting. Using wall sconces on either side of a door or mirror can add warmth and character to your hallway.
Think about the different kinds of light available to you. LED light strips are becoming increasingly popular as they are so versatile. You can use them for lighting above the coving, as perimeter lighting, or in creative ways.
Finally, don't forget that the hall is often the first space people see when they enter your home. Make sure it reflects your style and makes the best possible impression.
FAQs
What is the best lighting for hallways?
The main thing to consider when looking for hall wall lights ideas is the level of light you need and its character. If you have a small hallway, you might want to consider a diffused light fitting in the ceiling to help minimise shadows. If you have a larger space, you could look at a chandelier or pendant light as your light source, supplemented by wall sconces or downlights.
What colour light is best for hallways?
Typically, you'll want to go for brighter light in your hallway to create a welcoming feel. However, if you have a small hallway or prefer darker colours, you can use pools of light to create a more intimate space. Beyond the brightness of the bulb, you can consider the lighting. There are smart bulbs available that offer a range of whites (Cool, neutral, and warm) and others that can provide every colour of the rainbow. Which one is right for you will be a matter of personal taste.
How do you light a small hallway?
If you have a narrow hallway, you might want to look at using wall sconces. Wall sconces are a great way to provide illumination pools along the room's length. On the other hand, if you've got a short and narrow space, you may want to consider using a diffused light fitting in the ceiling to help minimise shadows. If you can fit two lights rather than one, it can make a big difference to the space.
How do you light a dark hallway without electricity?
If you have a dark hallway, you may want to consider using light-coloured paint on the walls to help reflect light. You could also use reflective materials such as mirrors to help bounce light around the space. If you have a window in the hallway, keep it clean so that natural light can enter the space and that curtains are held back during the daytime. You could also look at using battery-operated lights to help provide light in the space without needing mains electricity – This can be handy in hallway storage where you just need to grab something quickly.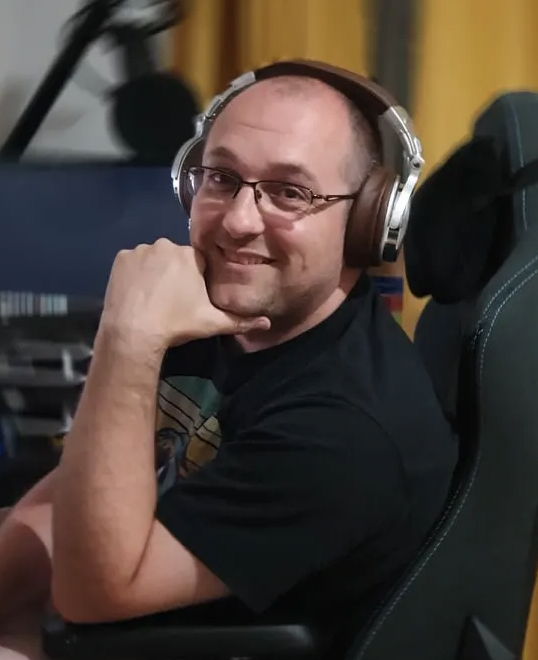 Matt is a professional copywriter and researcher over at https://sucklessatcontent.com/. When he can be prised away from his PC, his wife enjoys setting him DIY tasks around the house.