DeWalt is a well-known and trusted brand in the laser-level industry, recognized for its superior quality and innovative products. No matter your expertise, the DeWalt Laser Level 18V is a game-changing tool that will take your work to new heights.
This comprehensive guide will help you choose the best DeWalt laser level for your specific needs, exploring the latest technological advancements, versatility, and durability of these tools. Whether you're a professional or a hobbyist, we'll delve deep into what makes a DeWalt laser level the top choice.
Discover the power, precision, and performance of the DeWalt Laser Level 18V as we spotlight its capabilities. You'll see why it's the perfect tool for achieving accurate measurements and efficient work in the UK. With DeWalt, get ready to elevate your projects to the next level.
Which is the Best DeWalt Laser Level?
DeWalt DCE0825D1G 12v Self Levelling 5 Spot Cross Line GREEN Laser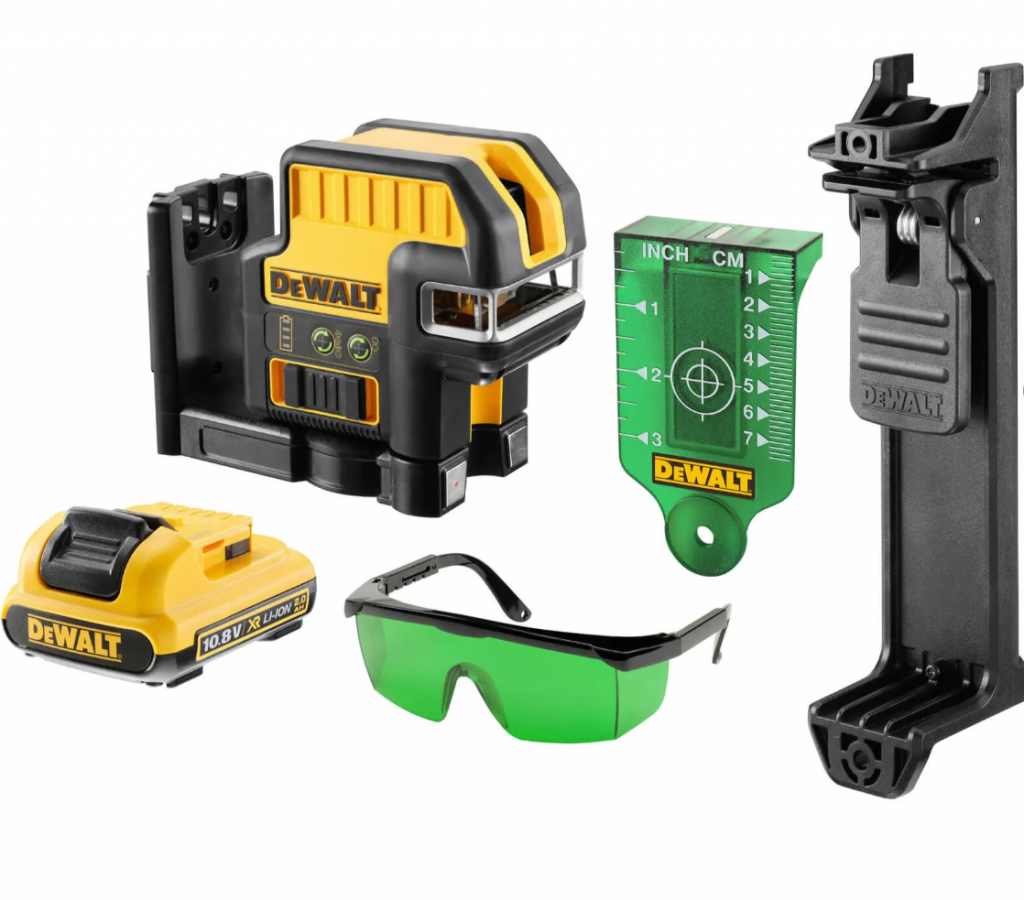 The Dewalt DCE0825D1G is a highly advanced line laser with exceptional accuracy and precision. It can operate in three horizontal points, providing flexibility and customization options. Additionally, this line laser has a positionable magnetic that makes it easy to attach to any metal surface.
This line laser runs on a 10.8v Lithium Ion power supply and has dimensions of 180mm width, 430mm length, and 350mm height. It is classified as a Laser class 2 device, making it safe for indoor use.
The Dewalt DCE0825D1G line laser boasts many features that make it stand out. For instance, pulse mode enables seamless work with a receiver. Its robust design ensures it can withstand tough job sites, while the magnetic damped pendulum protects during transport.
Furthermore, this line laser comes with both 1/4 and 5/8 tripod recording, making it easy to mount onto any tripod. It can cover a range of up to 30m for points and 15m for lines, making it an ideal tool for various applications. Overall, the Dewalt DCE0825D1G line laser is a top-of-the-line tool worth investing in for any professional or DIY enthusiast looking for exceptional precision and accuracy.
DeWalt DCE089D1G 12v Cordless Self Levelling Green Laser Level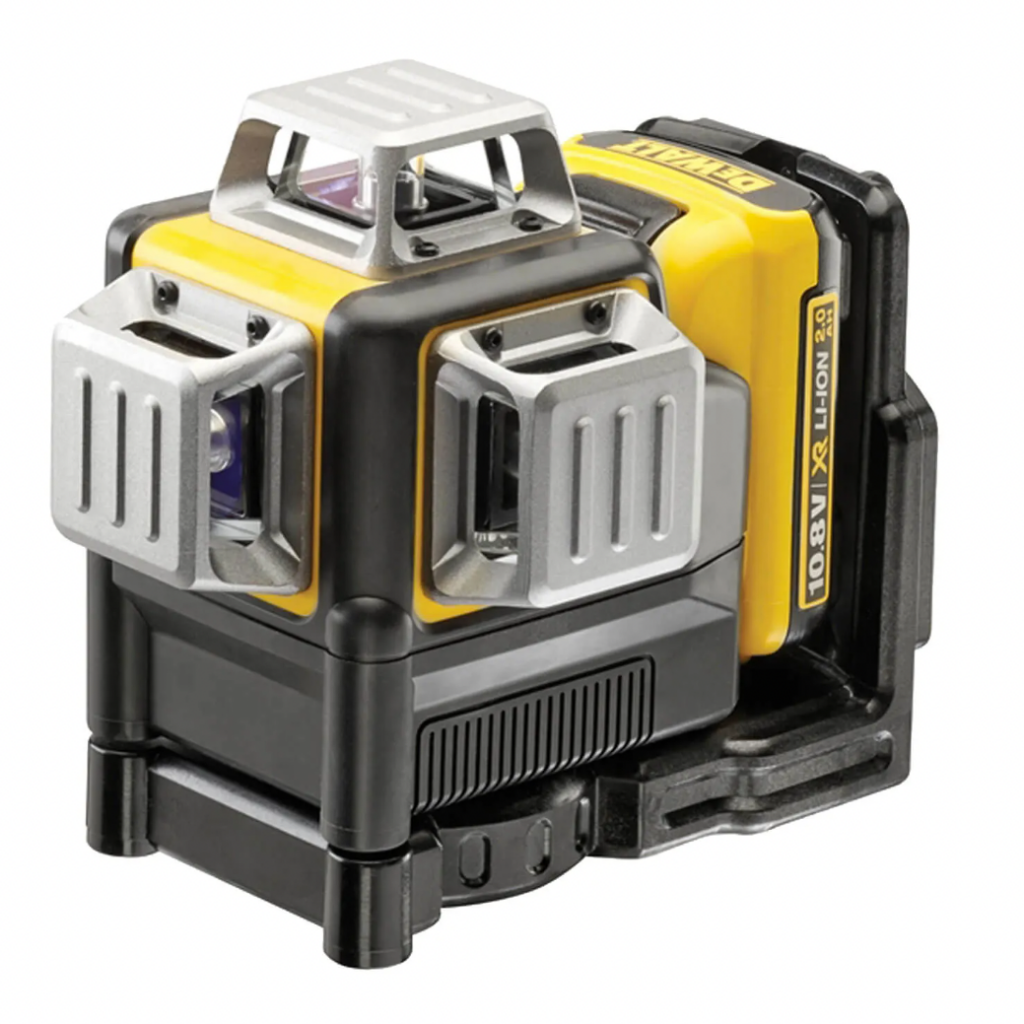 The DCE089D1G is a self-levelling cross-line laser designed to project three bright 360° horizontal and vertical lines independently or as a cross up to a distance of 50 metres. Whether you are working on electrical layouts or floor-to-ceiling transfers, this device is perfect for large internal spaces. With an IP65 rating, it is highly durable and can withstand a drop of up to one metre. Moreover, it is incredibly accurate up to +/-3mm at 10m, making it an excellent choice for medium to large interior workspaces.
This laser device comes equipped with three 360° self-levelling lines that work up to a range of 20 metres without a detector and up to 50 metres with one. It has an accuracy of +/-3mm at 10 metres and a locking pendulum that helps prevent damage to internal components. The integrated magnetic pivoting base with a ¼" thread allows easy attachment to a tripod or other compatible device.
The DCE089D1G is highly versatile, featuring a variable blink sequence for manual mode and full-time pulse mode for use with a detector. Its upgradeable and interchangeable battery ensures it is always ready to go when needed. With wear-resistant over mould and a size of 450 x 317 x 155mm, this laser device is both dependable and easy to use. Its tripod connection also adds versatility, making it an ideal choice for various applications.
DeWalt DCE088 18v Cross Line Green Beam Laser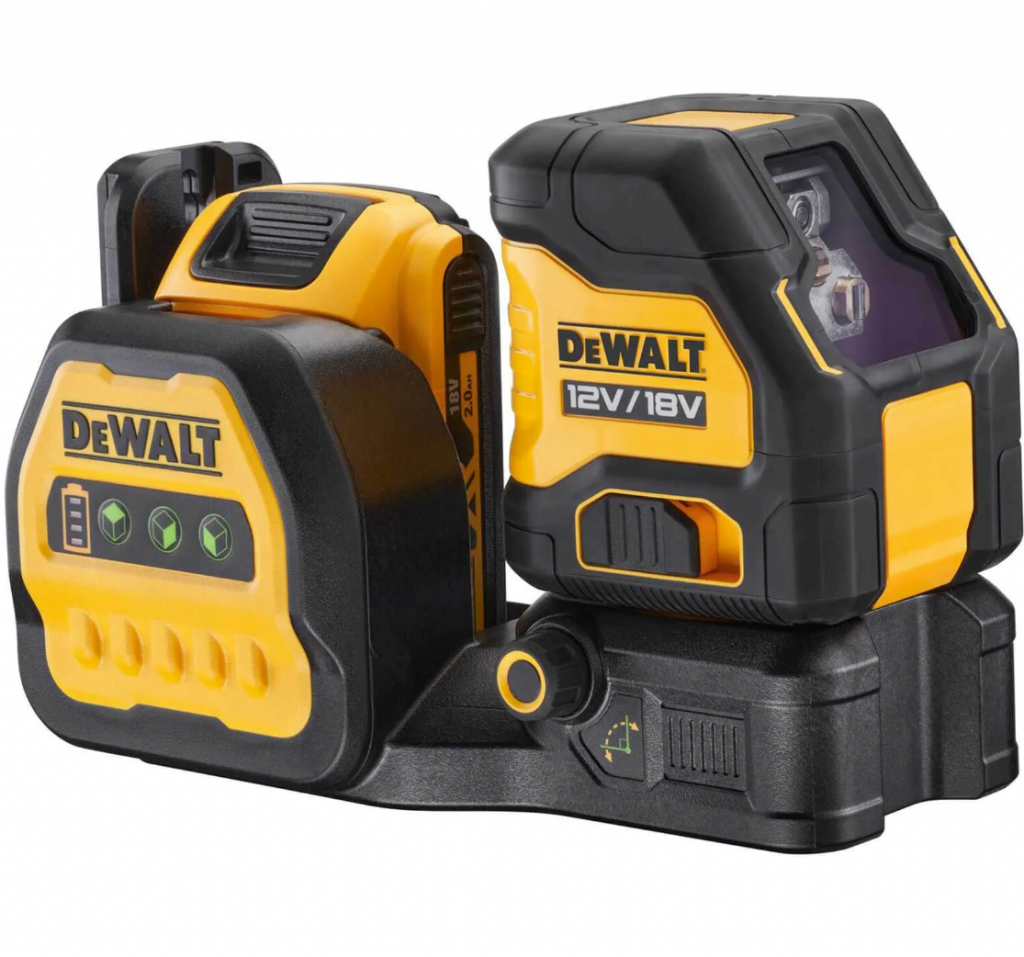 The DeWalt DCE088 Self-Levelling laser level is an exceptional, highly reliable tool and operates on a versatile XR battery platform. Its accurate self-levelling capabilities and efficient cross-line green beam laser make it the perfect choice for any professional or DIY project. Whether working on a construction site or renovating your home, this tool will help you achieve precise and accurate results every time. It has a green beam laser diode, a fine adjustment knob, and a locking pendulum feature that enhances its durability. With a working range of 30m (50m with detector), this laser boasts a battery indicator and self-levelling cross-line laser that ensures maximum precision and accuracy. Its exceptional features make it an ideal tool for use in a business or academic setting where accuracy and precision are paramount.
DeWalt DCE088D1G 10.8v Cordless Self Levelling GREEN Beam Laser Level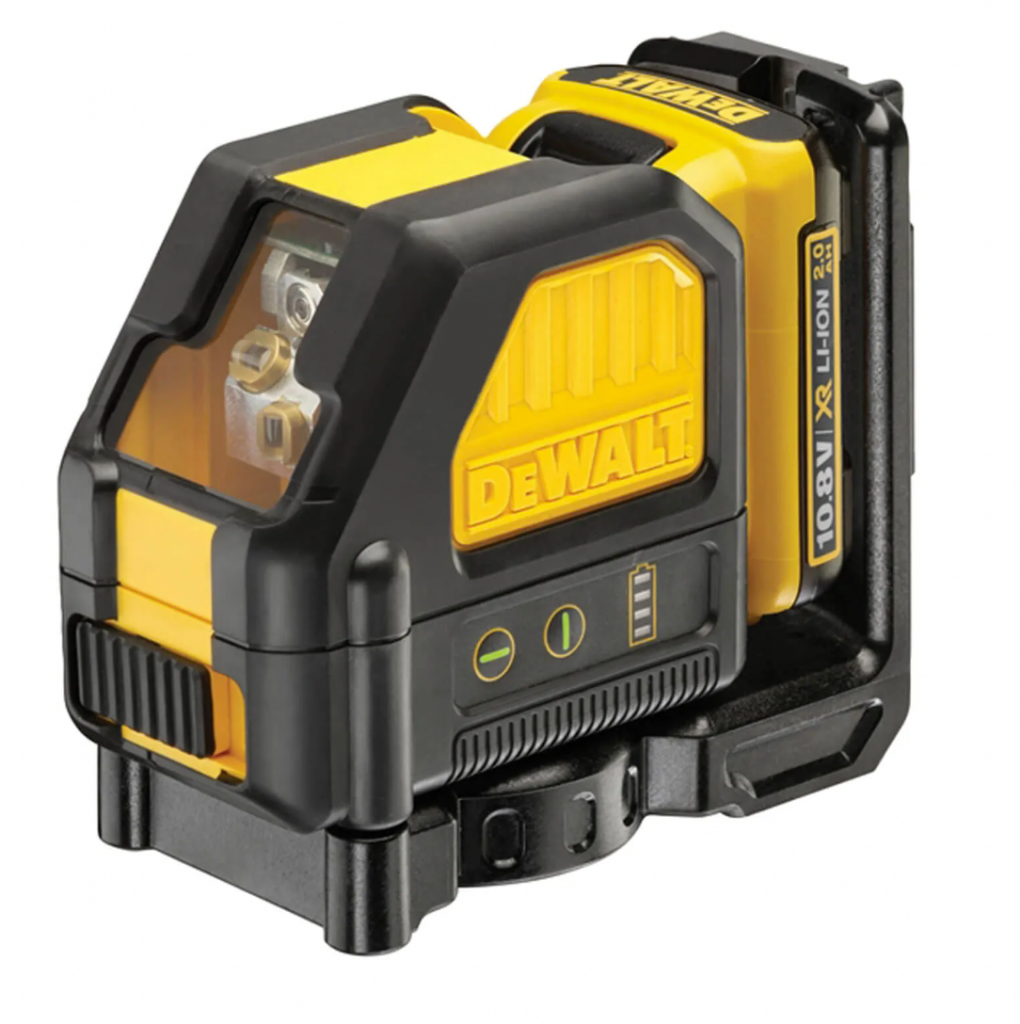 The DEWALT DCE088D1G Self-Levelling Cross Line Laser is a versatile tool that projects bright and precise horizontal and vertical lines. Its locking pendulum feature and wear-resistant over mould ensure safety and protection. Its working range of 30m guarantees accurate measurements with a class 2 laser and two self-levelling beams. The tool is portable and easily handled at 450 x 317 x 155mm.
DeWalt Laser Level Tripods
DeWalt DE0735 Telescopic Laser Level Tripod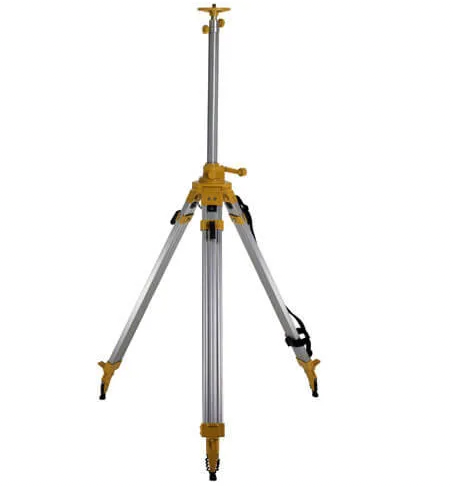 Consider the DEWALT DE0735 Elevated Laser Construction Tripod for your construction projects. Its quick-release legs and telescopic head allow for easy setup and a height of up to 3m. Made of durable aluminium alloy, with stable feet and legs chain for added safety, it's a top choice for any job site.
DeWalt DE0736 Laser Level Tripod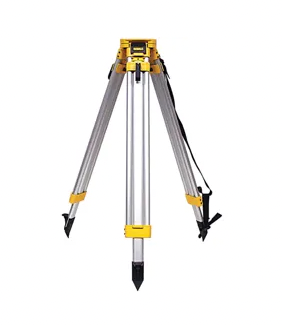 The construction of this tripod is made of lightweight and durable aluminium alloy. It also has quick-release legs for easy setup and pointed steel feet that provide stability on any terrain.
What to Consider When Buying a DeWalt Laser Level?
Accuracy: Pay attention to the laser level's accuracy rating, usually measured in millimetres per meter (mm/m). A higher accuracy level ensures your levelling tasks will be precise and error-free.

Range: Consider the maximum working range of the DeWalt laser level. Ensure it can cover the distances required for your project size and layout.

Self-levelling: Opt for a DeWalt laser level with self-leveling capabilities. This feature automatically adjusts the laser to ensure it's perfectly level, saving you time and ensuring accuracy.

Laser colour: DeWalt offers both red and green laser options. Green lasers are often more visible in bright lighting conditions, improving visibility during outdoor projects.

Battery life: Check the laser level's battery life to ensure it can last through your entire project without frequent recharging or constant battery replacements.

Durability: Assess the laser level's build quality and look for an IP rating. This rating indicates dust and water resistance, essential if you use it in challenging or outdoor environments.

Mounting options: Consider the available mounting options for your DeWalt laser level. To enhance versatility, look for compatibility with tripods, wall mounts, or magnetic bases.

Additional features: Explore any extra features that may be useful for your projects, such as pulse mode for improved visibility outdoors or integrated digital displays for precise measurements.

Warranty: Review the warranty provided by DeWalt for the laser level. Ensure that you have sufficient coverage in case of any defects or malfunctions.

Price: Compare prices and features across DeWalt laser levels to find one that aligns with your budget while meeting your specific project requirements.
Conclusion
In conclusion, selecting the right DeWalt laser level involves carefully considering several key factors. Accuracy and range ensure your levelling tasks are precise and suitable for your project's size. Opting for a self-leveling model saves you time and guarantees accuracy. The laser colour, whether red or green, impacts visibility, especially in varying lighting conditions. Adequate battery life and durability are essential for seamless and reliable operation. Remember to check mounting options, as they can enhance versatility. Consider additional features like pulse mode and digital displays for added convenience. Lastly, review the warranty and price to make a well-informed decision. By considering these factors, you can confidently choose the perfect DeWalt laser level for your needs, ensuring accurate and efficient levelling on every project.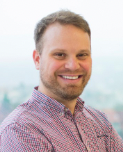 Luke is the founder of Buildiro.com and he is passionate about construction and building. His mission is to show people how to make things done fast and easy.