When tackling plumbing projects in the UK, having the right tools at your disposal can make all the difference. The adjustable spanner reigns supreme among the essential tools in any plumber's arsenal. In this comprehensive guide, we'll delve into the world of adjustable spanners, helping you discover the best options available in the UK market.
Whether you're a professional plumber or a DIY enthusiast, choosing the right adjustable spanner can significantly impact your work's efficiency and quality. We'll explore top-notch contenders like the Knipex adjustable wrench, renowned for its precision engineering and durability. Additionally, we'll shed light on the Bahco adjustable spanner, a trusted name in the industry for decades.
Join us as we narrow down the choices and provide valuable insights into these adjustable spanners' features, performance, and durability. By the end of this guide, you'll have a clear picture of the best adjustable spanner for plumbing tasks, ensuring your toolkit is equipped with the perfect tool for the job. This opportunity will elevate your plumbing game to the next level.
What is the Best Adjustable Spanner?
Bahco Adjustable Spanner 80 Series 700 mm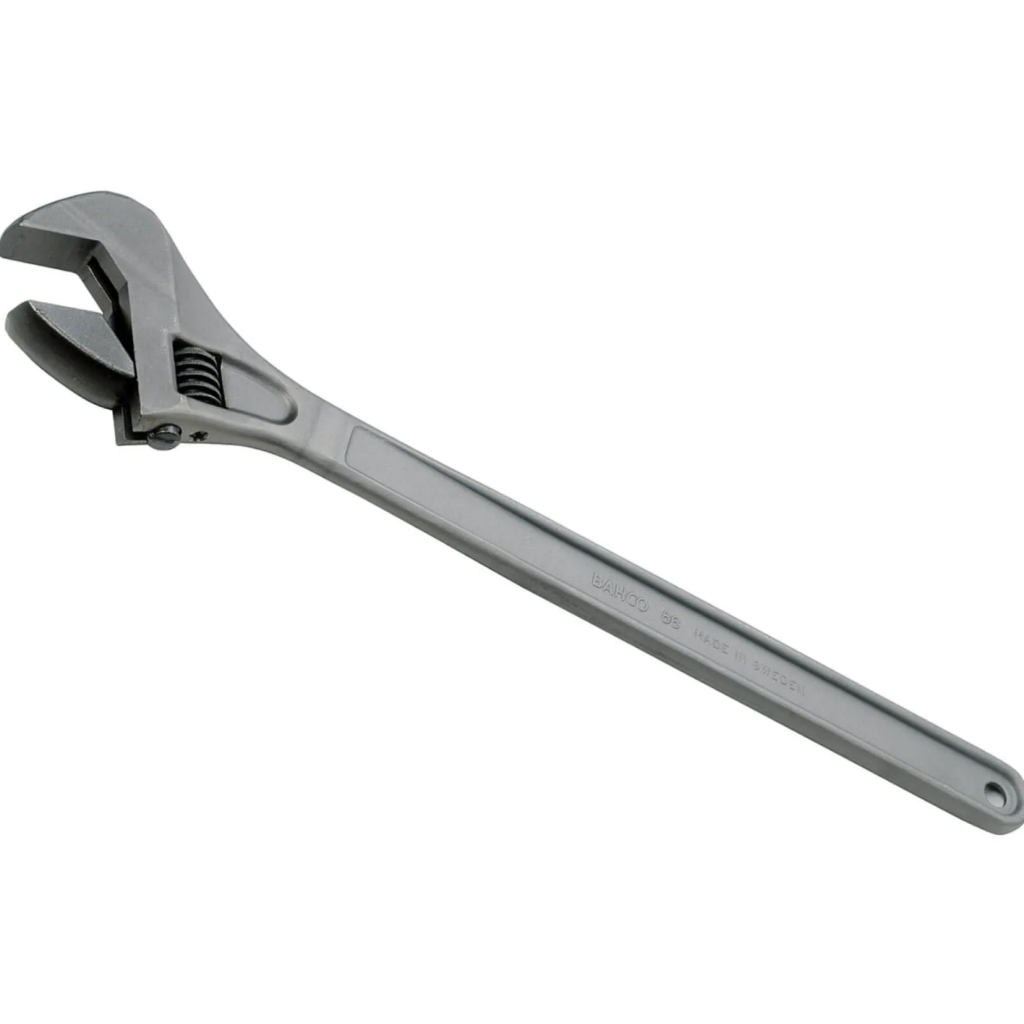 This is a Bahco adjustable wrench that has a phosphate finish. It has been designed to endure high torque loads and features Swedish V steel jaws that are precisely heat-treated, ensuring a long lifespan. It exceeds ISO specifications, making it a reliable tool to use. This wrench has tapered jaws, a 15º head angle, and a sturdy handle. It's easy to adjust with a knurled nut and has a comfortable grip. The overall length of the wrench is 760mm (30in), and it has a jaw capacity of 85mm.
Bahco Adjustable Spanner 80 Series 450 mm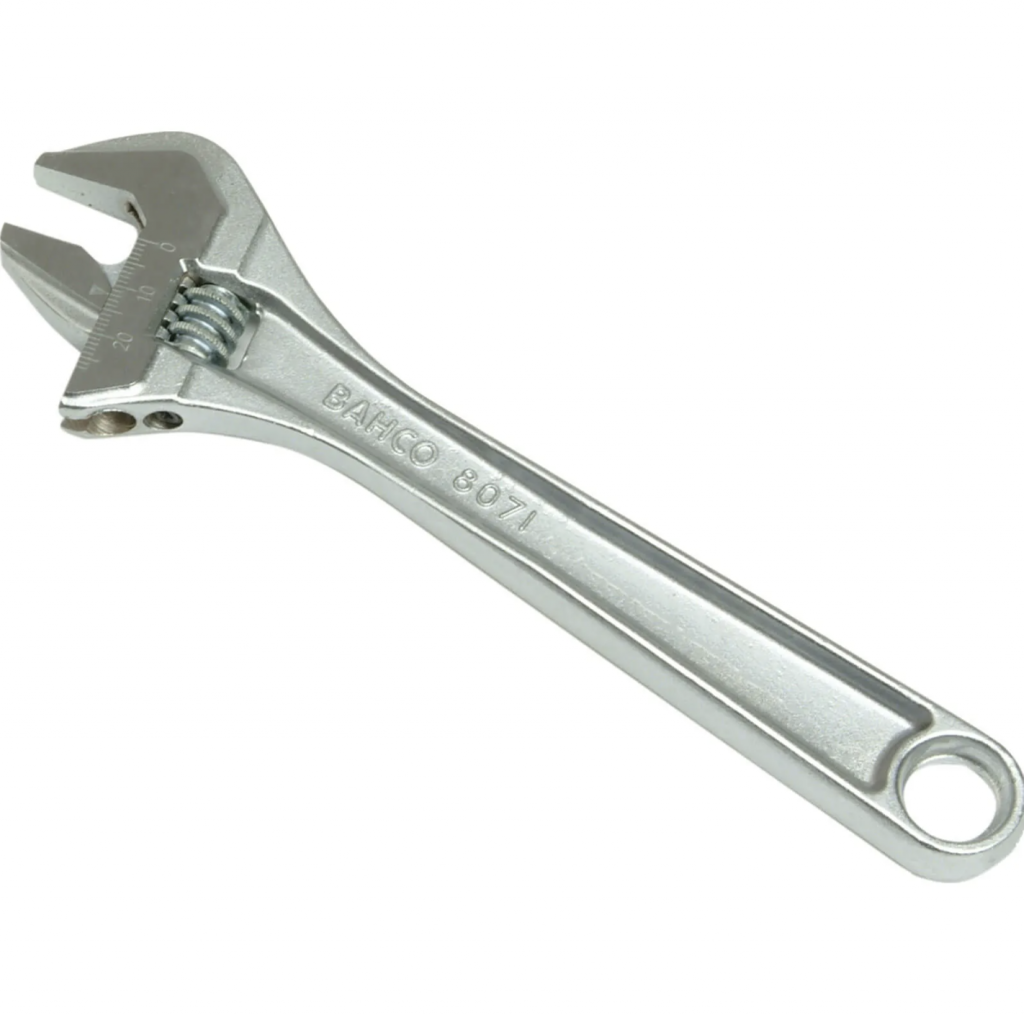 The Bahco 80 Series Adjustable Wrenches are precise and strong tools with tapered jaws for a secure grip and a measurement scale for accuracy. With a 16º head angle, they're flexible in tight spaces. The I-section handle and knurled adjusting nut ensure necessary force and spare parts are available for long-term use. They're 450mm (18 in) long, have a jaw capacity of 53mm, and weigh 1665g.
Facom Adjustable Spanner VSE Series Insulated 385 mm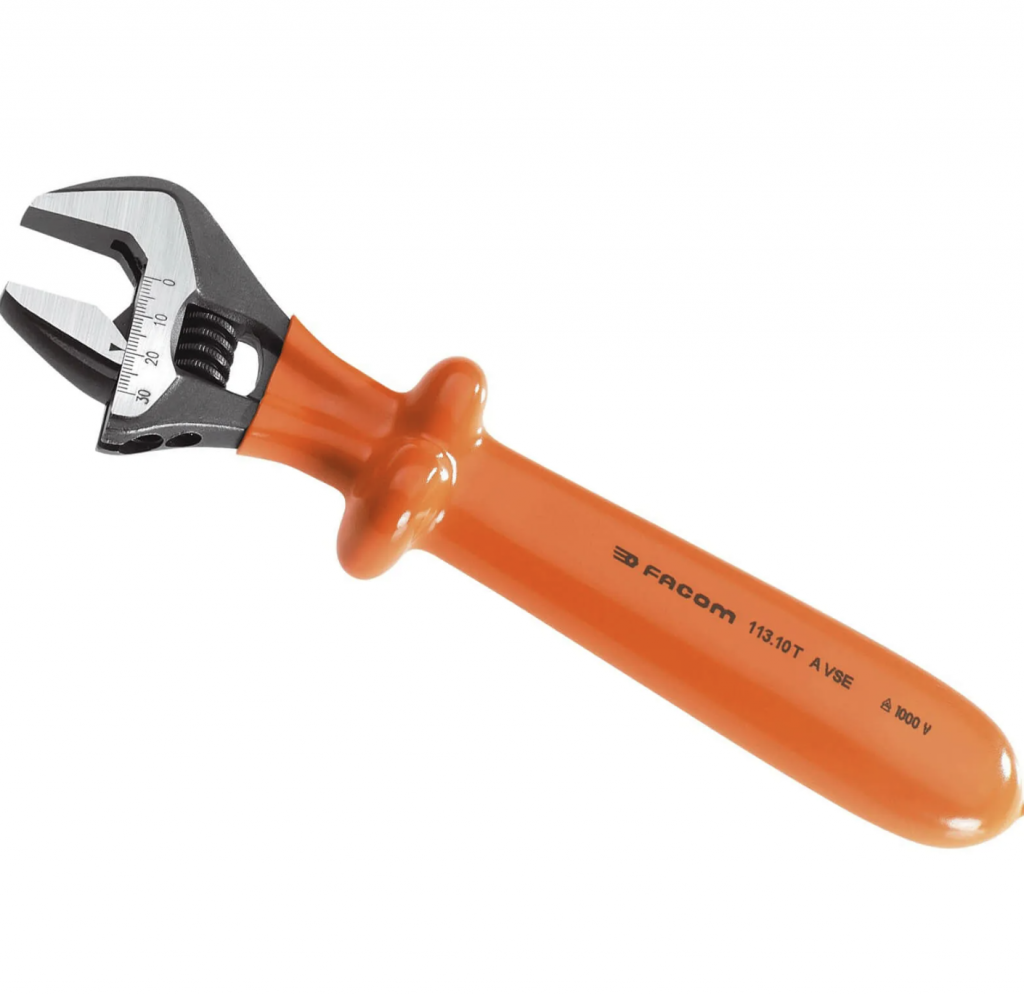 The Facom VSE Series Insulated Adjustable Spanner, model 113.AVSE is a top-tier choice for professionals seeking reliable tools. These VSE series spanners are designed to withstand high voltage environments, boasting a 1,000-volt insulation that ensures user safety. With thoughtful features like a convenient finger stop, left-hand worm rotation, and safety colour coding for insulation identification, these spanners guarantee precision and peace of mind. Additionally, their burnished finish adds durability and elevates their overall aesthetic appeal, making them an indispensable asset in any electrician or technician's toolkit.
Bahco Adjustable Spanner 90 Series Ergo 300 mm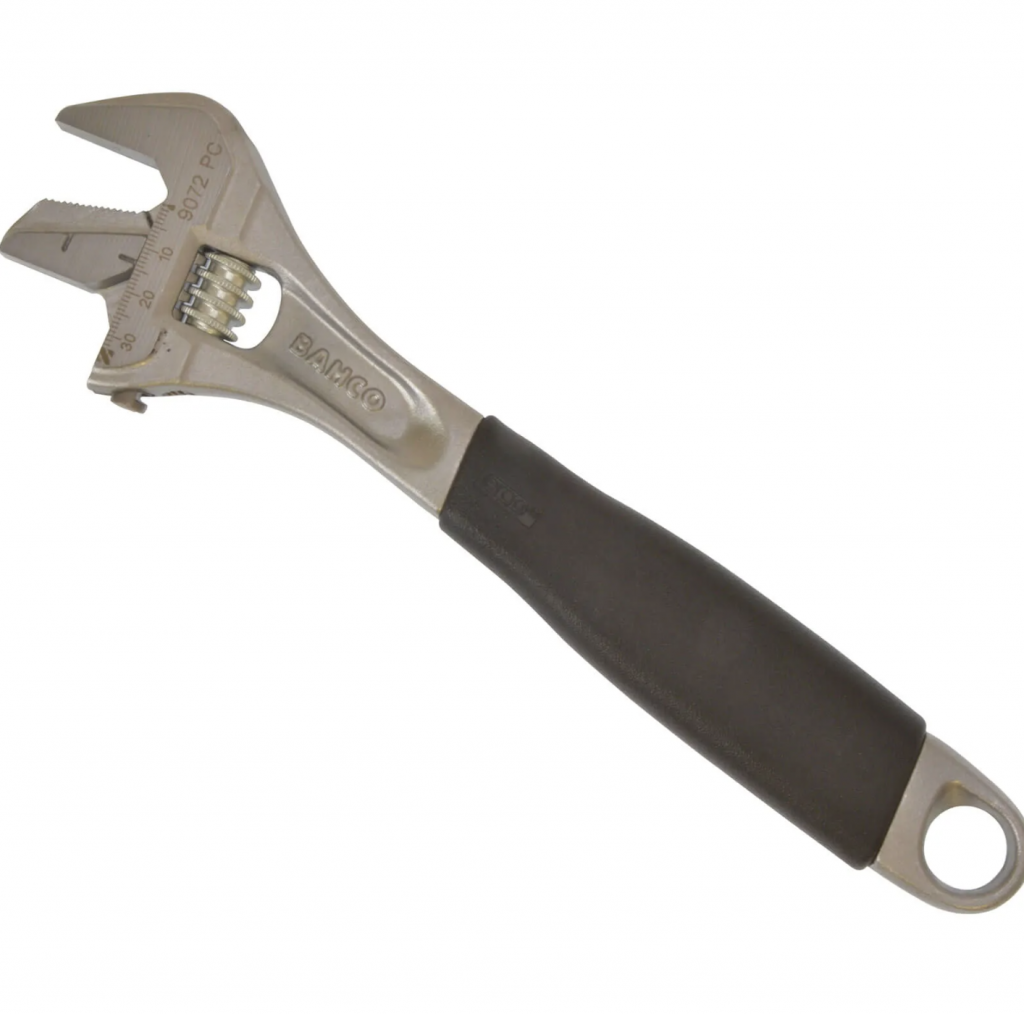 The Bahco 90 Series adjustable wrench is a versatile and innovative tool designed to meet the needs of professionals. With its chrome-plated finish, it exudes durability and a polished appearance. Its unique reversible jaw sets it apart, providing two distinct functions in one tool. In its conventional position, it functions as a standard adjustable wrench, while reversing the jaw transforms it into a serrated jaw pipe wrench, enhancing its adaptability for various tasks. Its ergonomic design, developed through the scientific ERGO™ process, ensures comfort during extended use, thanks to the thermoplastic handle and a wider grip width. This 300mm (12 in) wrench offers a jaw opening of 34mm, making it suitable for a range of applications while maintaining a manageable weight of 690g. This Bahco 90 Series wrench is a testament to practicality and efficiency in tool design.
Wera Adjustable Spanner 6004 Joker Self Setting 320 mm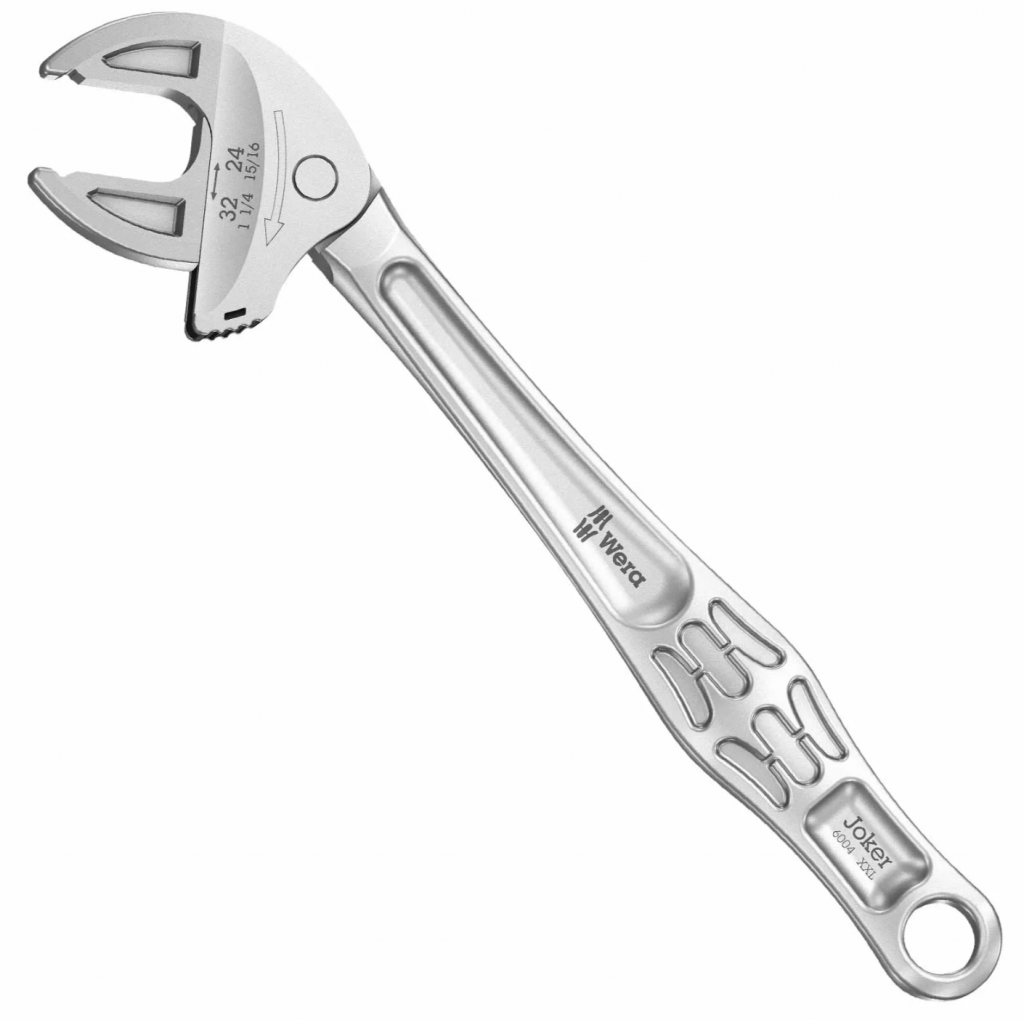 The desire for a universal screw-driving tool that caters to a wide array of applications is now fulfilled with the exceptional Joker 6004. Users seeking a single tool that seamlessly adapts to both metric and imperial dimensions will find it indispensable. This ingenious tool offers automatic and continuous adjustment to various screw sizes, eliminating the need for multiple wrenches. Its design ensures a secure grip without causing damage, making it safe for any application and enabling high-speed work. Equipped with continuous and parallel jaws, the Joker 6004 replaces the need for several individual spanner sizes, simplifying your toolkit. It precisely and automatically sets the required size when attached to a hexagon bolt or screw. The integrated lever mechanism firmly secures the hexagon screw or bolt within the jaws, substantially decreasing the chances of slipping or causing harm.
An incorporated ratchet function enables quick and consistent screw-driving without the need to take off the tool, thereby boosting efficiency. With the help of corner-width rectangular prisms, it achieves an impressive return angle of only 30°, ensuring effortless operation even in confined areas.
With a total length of 322mm, it covers a wide range of sizes, from 24-32mm (metric) and 15/16″-1 1/4″ (imperial). The adjustable Joker 6004 embodies the concept of a universal screw-driving tool, making it a must-have for any professional or DIY enthusiast.
How to Choose the Best Adjustable Spanner?
Are you in search of the perfect addition to your toolkit? When finding the best adjustable spanner, making an informed choice can make all the difference in your DIY or professional projects. This guide will explore the essential factors to consider, ensuring you pick the ideal adjustable spanner.
Consider the Size and Jaw Capacity
When choosing the best adjustable spanner, the first crucial factor is size and jaw capacity. The size of the spanner directly impacts its versatility and the range of tasks it can handle. A smaller adjustable spanner is ideal for tight spaces and smaller nuts and bolts, while a larger one provides more leverage and can tackle more substantial fasteners.

Jaw capacity is equally vital as it determines the spanner's ability to accommodate various nut and bolt sizes. Make sure to select a spanner with a wide enough jaw capacity to cover the majority of tasks you'll encounter. By carefully assessing the size and jaw capacity of the adjustable spanner, you'll ensure that it's a versatile tool that meets your specific needs in any project.
Material and Durability Matters
When searching for the best adjustable spanner, paying close attention to the materials used in its construction and its overall durability is crucial. The material of the spanner can significantly impact its longevity and performance. High-quality adjustable spanners are typically made from materials such as chrome-vanadium steel, which is known for its exceptional strength and corrosion resistance. This ensures that the tool can withstand the wear and tear of regular use, making it a reliable addition to your toolkit.
Durability is paramount because a well-built adjustable spanner can last for years, while a poorly constructed one may break or wear out quickly. Look for spanners with hardened jaws and a robust frame to ensure they can handle heavy-duty tasks without flexing or breaking. Additionally, consider factors like rust-resistant coatings or finishes, which can further enhance the spanner's longevity, particularly if you work in environments with high humidity or exposure to moisture.
Investing in an adjustable spanner made from durable materials is a wise choice to save you money in the long run by reducing the need for frequent replacements and ensuring your tool remains reliable throughout various projects.
Ergonomics and Additional Features
In the quest for the best adjustable spanner, pay attention to the importance of ergonomics and additional features. Ergonomics significantly affect user comfort and can make a difference during extended use. Look for spanners with comfortable handles that provide a secure grip and reduce hand fatigue. Some models even have cushioned grips or ergonomic designs to enhance your overall experience.
Beyond basic functionality, consider any additional features the adjustable spanner may offer. Some spanners come with built-in measurement scales, which can be particularly handy when you need to quickly gauge the size of a nut or bolt. Others may have features like quick-adjust mechanisms, which allow for easy and rapid changes in jaw size without the need for manual adjustment. Such features can save you time and effort on the job.

Furthermore, explore options with integrated storage solutions. Some adjustable spanners have built-in wrench organizers or hanging holes, making it convenient to keep your tools organized and easily accessible. When evaluating the ergonomic aspects and additional features of an adjustable spanner, you'll ensure that the tool performs well and enhances your efficiency and comfort throughout your various tasks.
Conclusion
In conclusion, selecting the best adjustable spanner for your needs involves carefully considering several key factors. Start by choosing the right size and jaw capacity to ensure versatility in tackling various tasks. Additionally, prioritize durability by opting for spanners made from high-quality materials, such as chrome-vanadium steel, to ensure longevity and reliability. Lastly, pay attention to ergonomics and seek additional features to enhance your overall user experience, from comfortable grips to time-saving mechanisms.
By keeping these factors in mind, you can confidently make an informed decision when choosing an adjustable spanner that meets your current needs and proves to be a valuable and enduring addition to your toolkit. Whether you're a DIY enthusiast or a professional tradesperson, the right adjustable spanner can make a world of difference in the efficiency and success of your projects.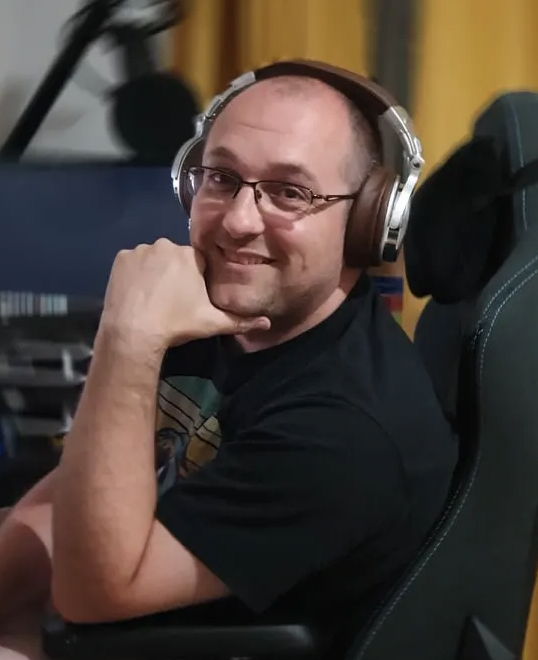 Matt is a professional copywriter and researcher over at https://sucklessatcontent.com/. When he can be prised away from his PC, his wife enjoys setting him DIY tasks around the house.