A cordless drill is a valuable tool that should be included in any workshop or home. Thanks to the versatility of the cordless drill, you can do a lot with it. Once in a while, a proper cordless drill will come in handy for each of us. Drilling and screwing with this device is very convenient, so it is no wonder that cordless drills have become so popular and can be found in almost every home, garden or workshop. Thanks to the fact that a battery powers it, you can easily screw and drill with it in hard-to-reach places, which you would have a hard time getting to with a classic drill. This page has selected the ten best cordless drills according to their ratings. The rating comes from customers who have experience with these cordless drills. At the same time, on this page, we will advise you on choosing a cordless drill. We will look at all the critical parameters you cannot ignore when selecting the best and most advantageous cordless drill. Previously, a cordless drill and an electric screwdriver were significantly more significant differences. Still, today the differences are practically erased, thanks to the affordable price and the fact that you can use the cordless drill for many valuable things.
Let's take a look at the expert reviews from Buildiro:
Reviews and descriptions of the 10 best cordless drills
1. DeWalt DCD996P3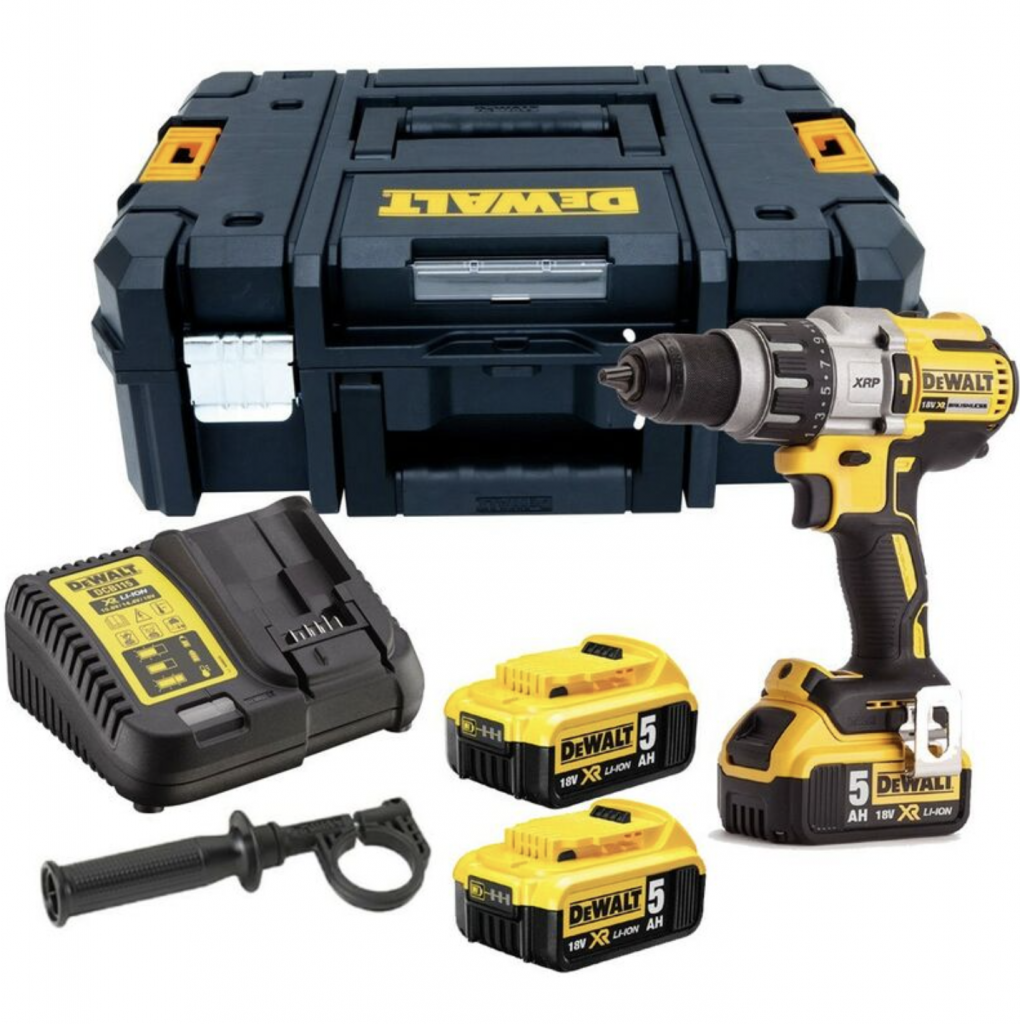 According to ReviewFy, the best of the best cordless drills is DeWalt DCD996P3. The DeWALT DCD996P3 drill is an exceptional model explicitly crafted for professional use. It boasts a powerful 5 Ah Li-Ion battery that ensures an extended operation time on a single charge. Upon charging, which takes approximately 90 minutes, you can quickly return to work without wasting much time. However, it's worth noting that the package only includes three batteries. Despite its large capacity, which makes it weigh 2.1 kg, the drill's dimensions are average, making it easy to handle and manoeuvre with precision. Overall, the DeWALT DCD996P3 is an outstanding choice for professionals requiring a reliable and sturdy drill to do the job accurately and efficiently.
2. Makita DHP485 18V LXT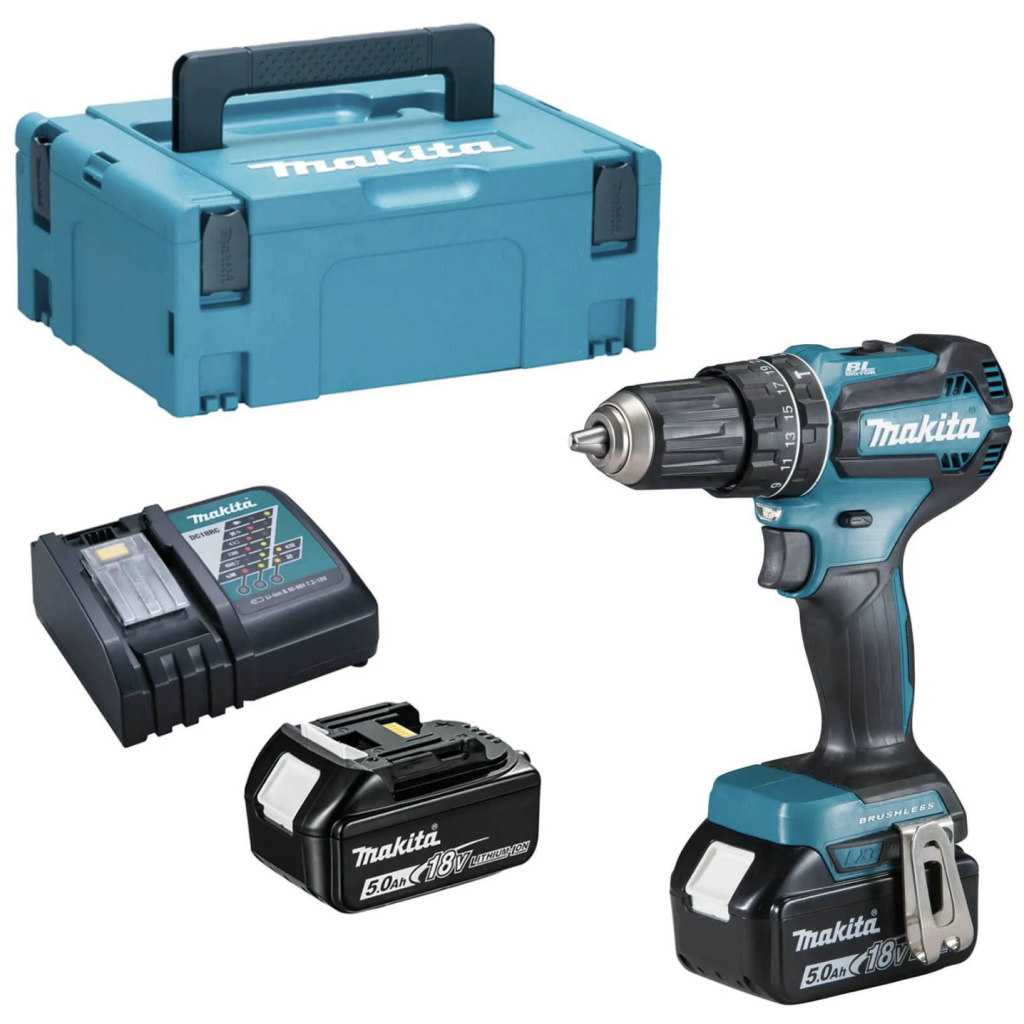 The Makita DHP485 cordless drill is the second-best cordless drill in our comparison because it has the most positive reviews from customers who use this cordless drill. Of course, this model has an excellent case where you can comfortably store your drill. This model is one of the best-selling cordless drills. With this cordless impact screwdriver, you will find 2 Li-Ion batteries in the package. Its voltage is 18 V. The drill offers reverse operation and hammer drilling. The speed is adjusted continuously. The battery capacity is high at 5 Ah. This cordless drill has 13 chucks in the package. The charging speed is approx. 1-2 hours.
3. Bosch GSB 18V Professional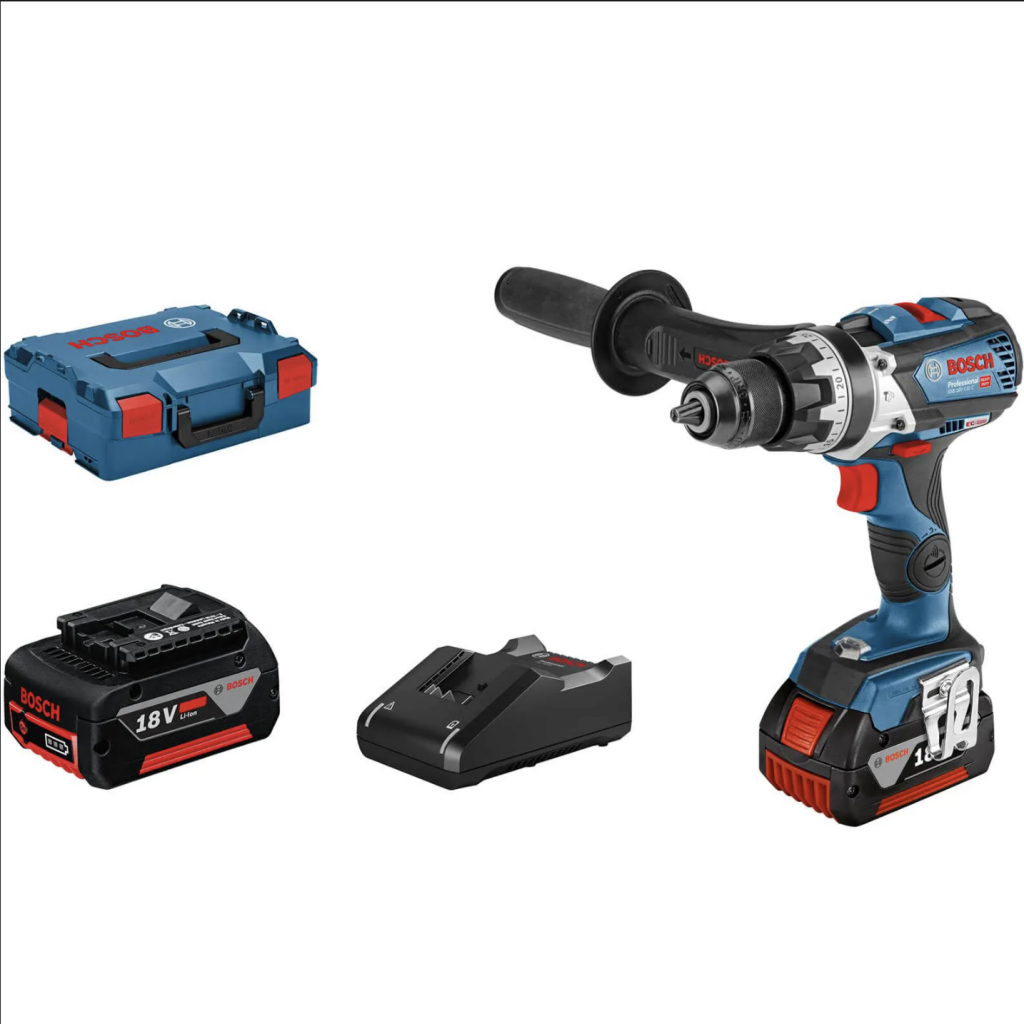 This cordless drill model from Bosh is a handy companion. This drill is equipped with hammering capability. It has practical lighting. It is also ergonomically shaped, so it holds well when drilling. It has an indicator of the current battery capacity. The Bosch GSB 18V Professional cordless drill has fast charging. It can be charged very quickly, within 1 hour. It is equipped with two Li-Ion batteries with a capacity of 4 aH. The drill is brushless.
4. DeWalt DCD991 18V XR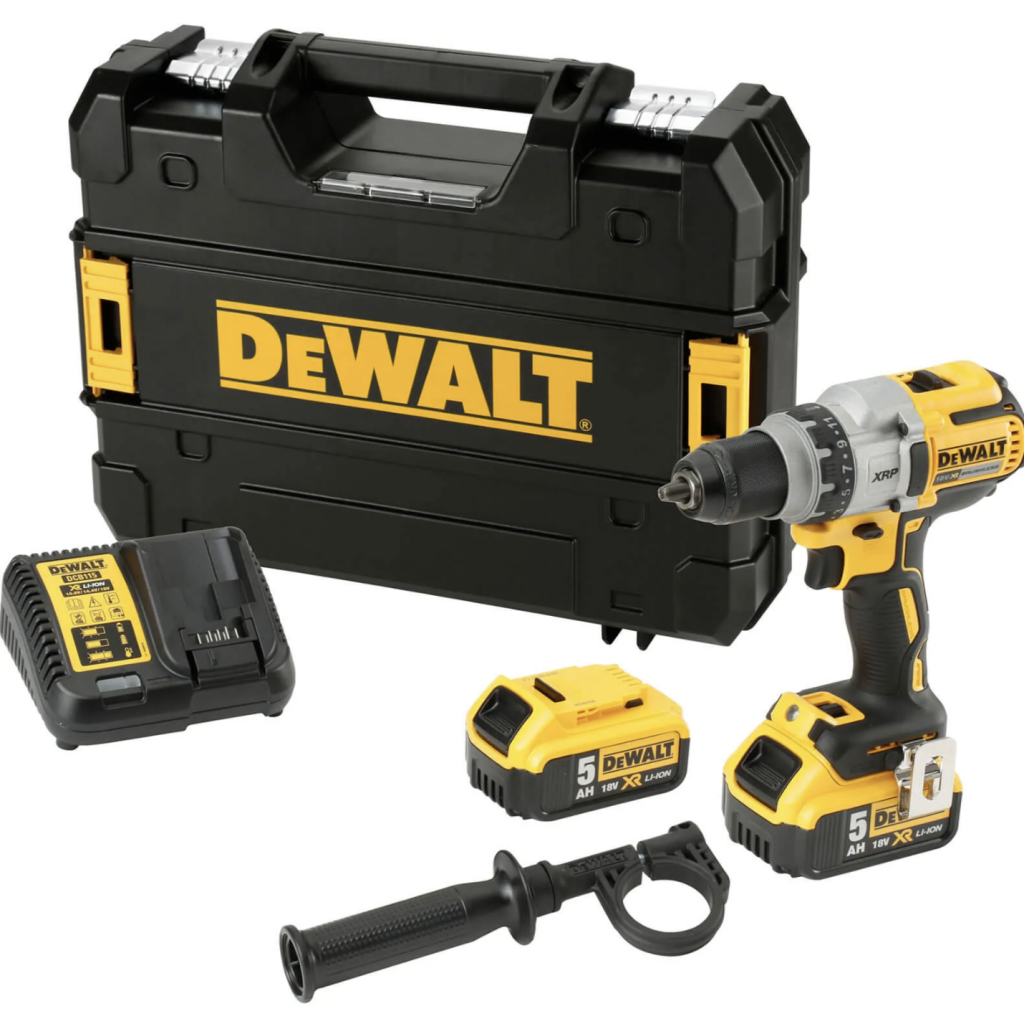 The DeWALT DCD991 cordless drill model has an LED to help you in low-light conditions. Its maximum torque is 95 Nm, which is well above average. It is equipped with reverse operation and hammer drilling. The battery capacity is 5 Ah. Charging speed is within 1-2 hours. This cordless drill has a very positive rating. The motor is brushless. This model has good ergonomics.
5. Metabo SB 18 LTX Combi drill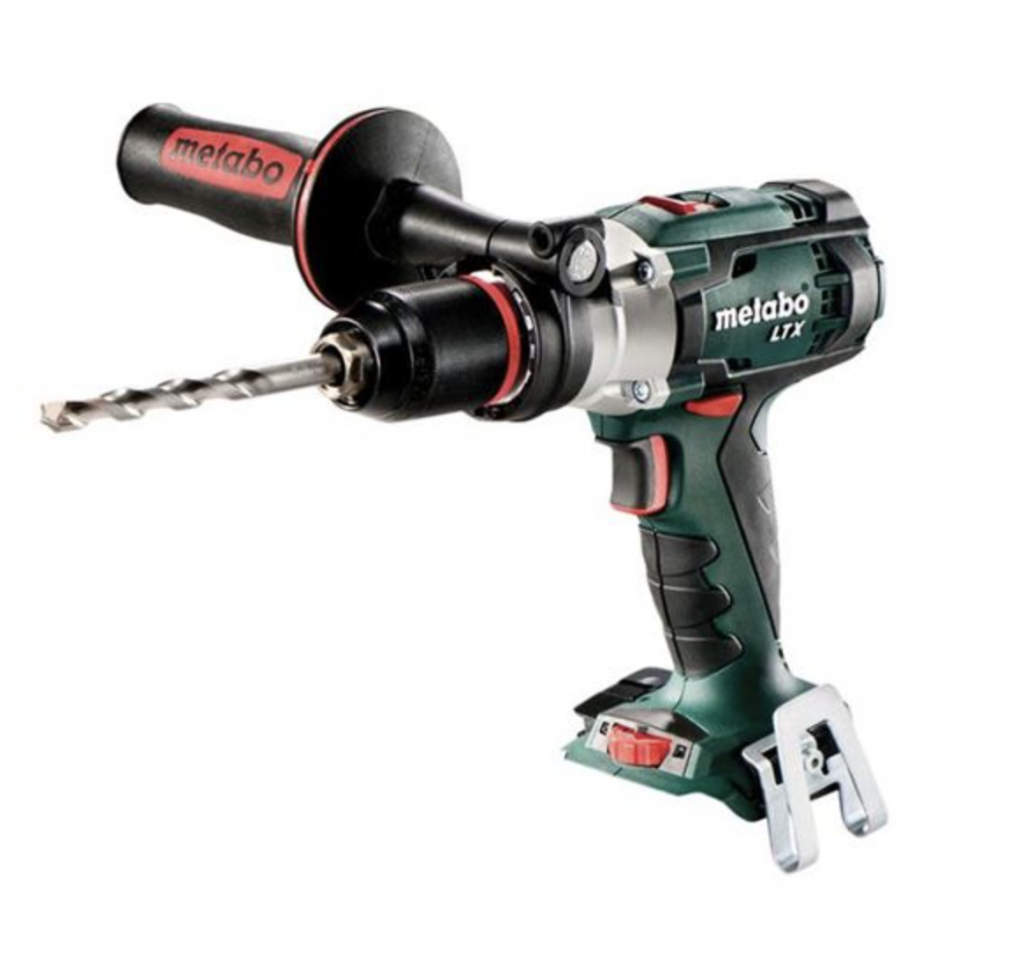 The METABO SB 18 LTX cordless drill is a perfect cordless drill that can be used for screwing or drilling. This cordless drill works thanks to the electric motor, which is secured in the tool's body. Max. The torque of the Metabo cordless drill is 110 nm, which is why this drill is also suitable for more demanding jobs. When using this model, you can rely on the brushless motor. A drill with a diameter of up to 16 mm concrete, 13 mm steel and 65 mm wood can be installed in the chuck. Thanks to its compact dimensions, the cordless drill weighs only 2.4 kg, which you will appreciate significantly during more extensive work. When choosing the right hammer drill, remember that it is two-speed. Unfortunately, its packaging does not contain batteries.
6. Makita HP001G 40V Max XGT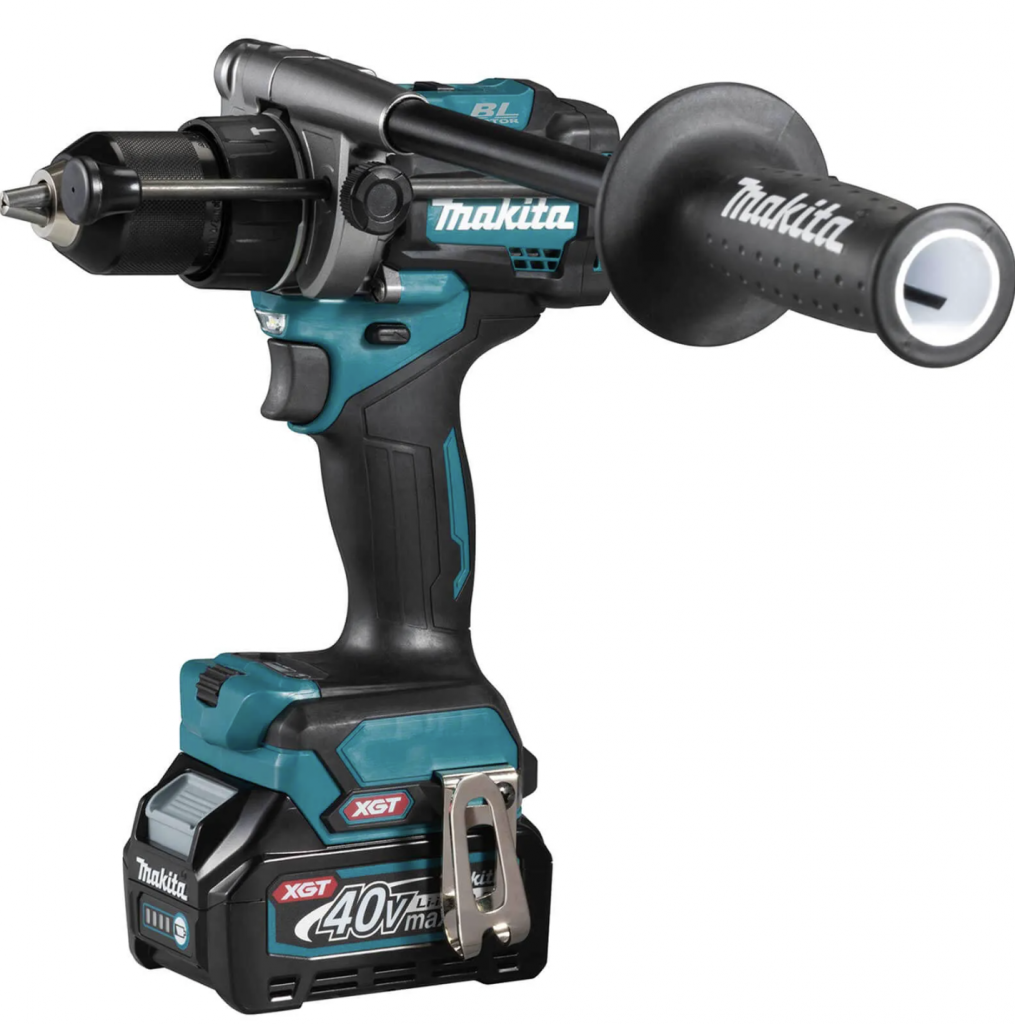 The Makita HP001G 40v Max XGT cordless drill is a reliable device designed for professionals. You can set the maximum tightening torque of 68 Nm in 16 steps, which ranks the drill well above average. The percussion mechanism speeds up drilling by oscillating the bit into the material. Therefore, you can quickly drill into more complicated materials, such as concrete or masonry.
The power supply occurs through a battery with a capacity of 2.5 Ah. The drill uses a practical motor brake, a dustproof two-speed gearbox with metal gears and a metal chuck, which will make the chuck last longer. The handle's ergonomic design and the rubberized surface will ensure comfort during work and a firm, secure grip on the device.
7. Milwaukee M18FPD2 18V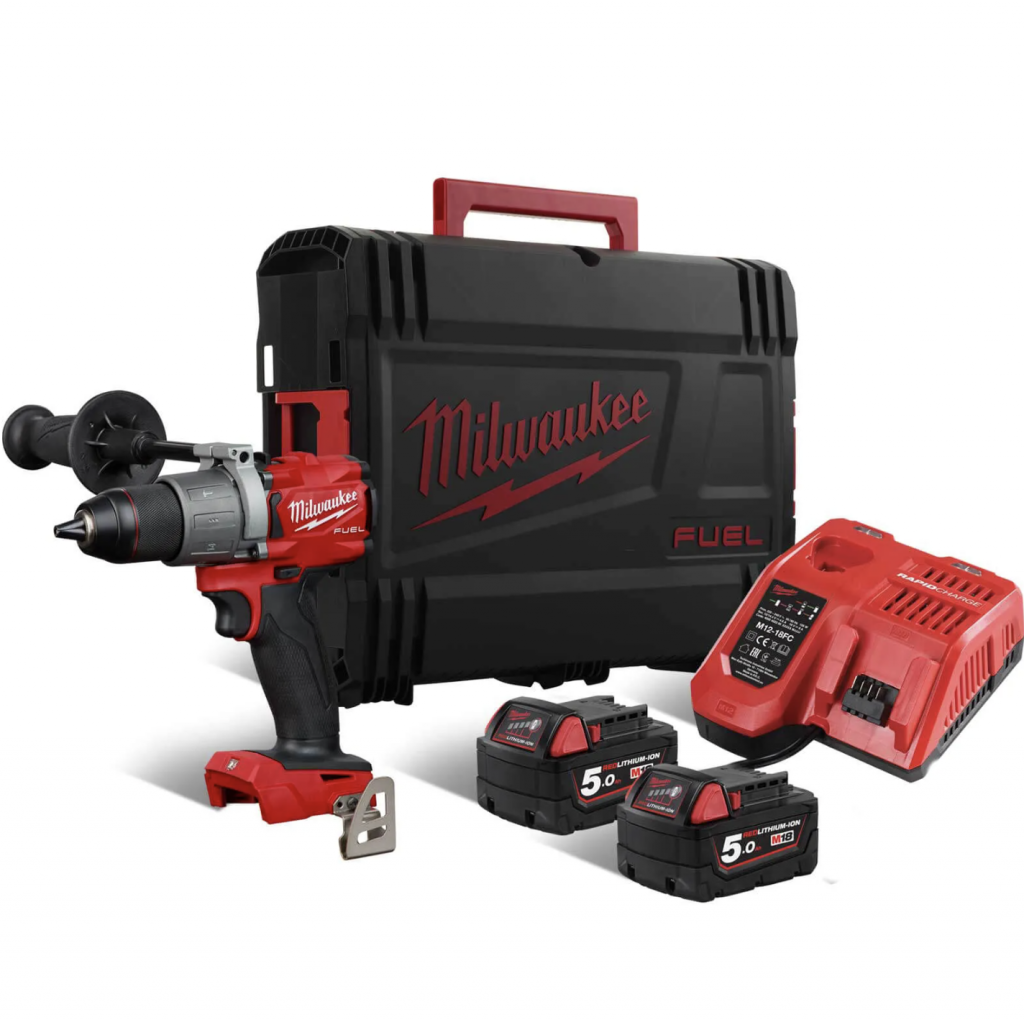 The Milwaukee M18FPD2 M18FUEL cordless drill also has the capabilities of a cordless screwdriver. Thus, it can be used in two ways, which may attract some users. The device uses a Li-Ion battery, whose voltage is 18 V. This is an above-average value, which is more than sufficient for home use. Excellent is the battery capacity of 5 Ah. The chuck size is 13 mm, and The weight of 2.1 kg is relatively high, so handling a drill can be more challenging for many people, and working after a few hours with such a heavy drill can be uncomfortable and very painful the next day. This cordless drill has two speeds with a maximum torque of 135, which is high compared to other cordless drills. Drilling capacity is 16 mm for metal, 89 mm for wood and 16 mm for masonry. This cordless drill has POWERSTATE brushless motor.
8. Makita HP488DAEX1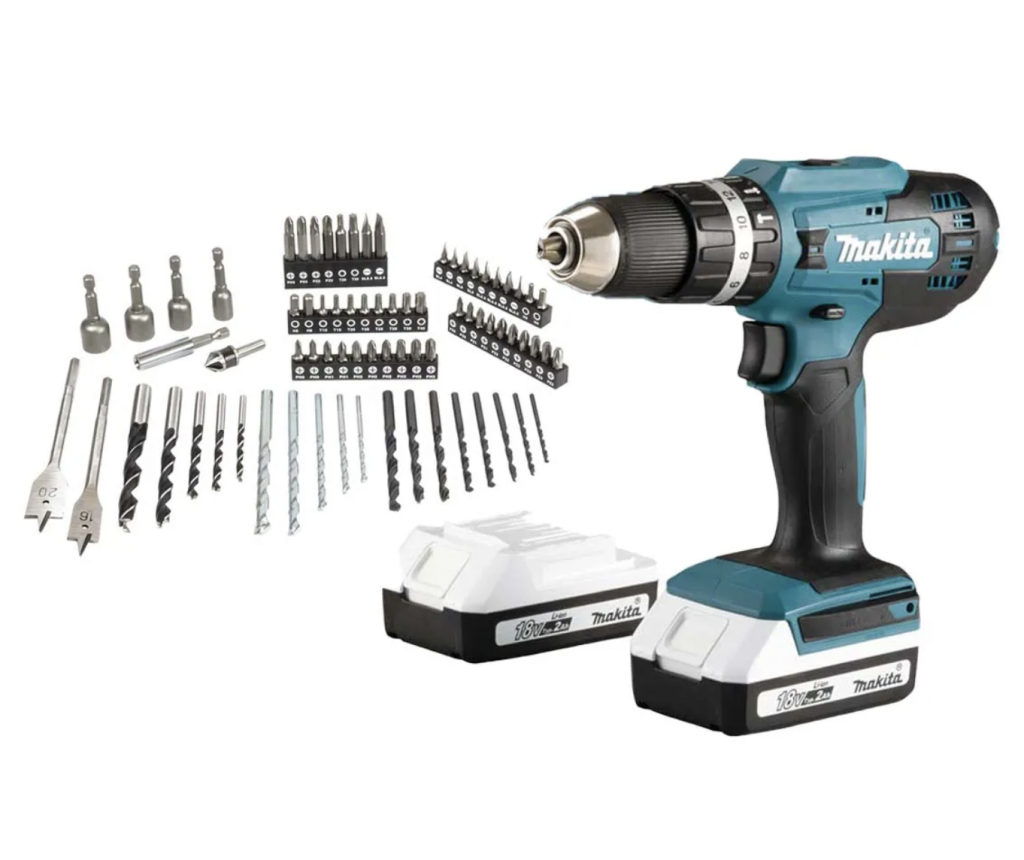 The Makita HP488DAEX1 18v cordless drill screwdriver with a modern Li-Ion type battery is another of the models evaluated in July 2023. The battery has a voltage of 18 V, which is an above-average value; even 15 V is enough for home use. The battery capacity is 2 Ah, which is the file average. We were pleasantly surprised by the charging time of 22 minutes; when writing this review, it was the lowest charging time in our benchmark test.
The model weighs 1.8 kg even with the battery, an average value compared to other cordless drills when writing the review. The device performs exceptionally well in size, and the values are slightly above the average, but it is not a giant that you would find challenging to handle. It measures 239 mm in height and 240 mm in length.
When evaluating bores and features, it must be emphasized that it depends on your needs. Think about whether you want to drill into wood or steel and what diameters of the resulting holes you require. The Makita HP488DAEX1 does well in both cases. It can drill a hole of up to 36 mm in wood, then it drills a maximum of 13 mm in steel, which is an average value. Torque is also essential; it is another indicator of performance. The drill has 16 torque settings.
9. DeWalt DCD796T1T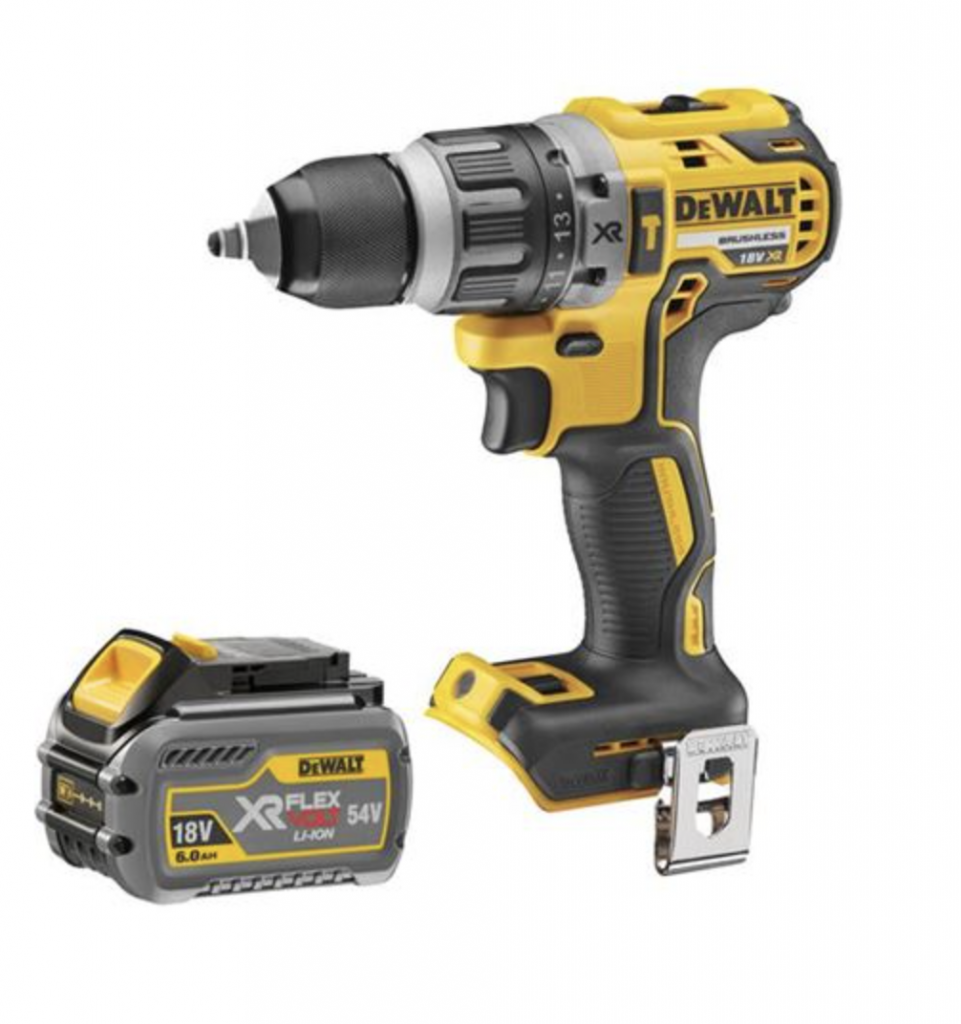 The DeWALT drill drawing its energy from a Li-Ion battery with a capacity of 6 Ah impresses with its good drilling properties and low weight. The battery capacity is among the lower ones, but you will receive two 6.0 and 2.0 Ah batteries when you buy it. The high battery voltage (18 V) suggests that this will only be a device with power. The lower battery capacity is compensated by fast charging. The battery gets charged in just 30 minutes, which was above average at the time of writing (July 2023). The weight of 1.5 kg contributes to ergonomics and is also among the more favourable ones. In terms of size, the product is one of the smaller ones, so handling it will be easier.
The drill chuck can accommodate drills with a shank of up to 40 mm, making it one of the most extensive clamping range models. The maximum drilling diameters in wood (40 mm) and metal (13 mm) are above average. The torque of 70 Nm exceeds the average value. You will use it significantly when tightening and loosening screws and drilling into hard materials. The device does not have a hammer function, so a problem can arise when drilling into hard masonry, where the hammer function is invaluable.
10. Festool TXS 18V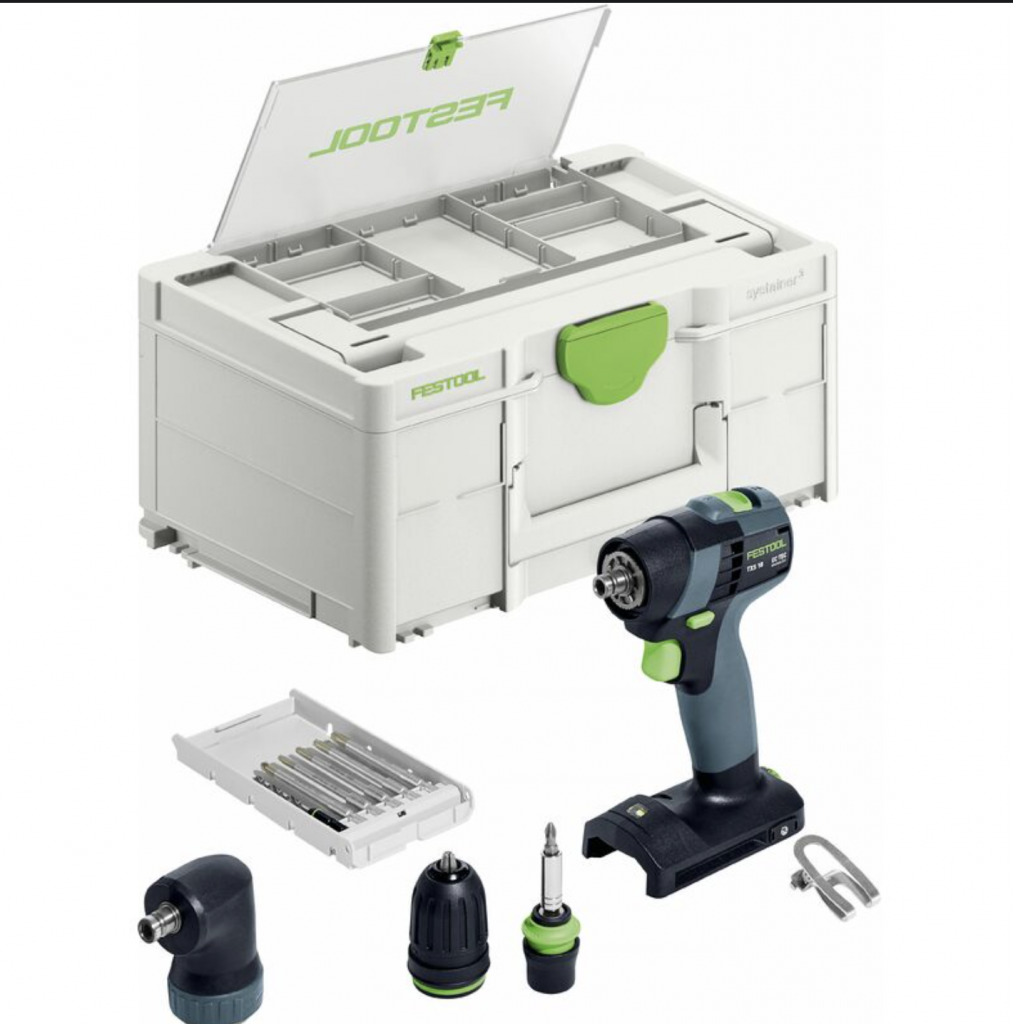 Achieving efficiency and precision in your work is made effortless with the TXS 18 compact screwdriver. Its ergonomic T-shaped design allows for a comfortable grip and proximity to your work, minimizing any potential discomfort or strain. The TXS 18 also boasts a seamlessly integrated FastFix interface, enabling you to change tools without hassle swiftly. Additionally, the CENTROTEC system and compatible 18V battery range chargers ensure you are always equipped and prepared for any task.
This compact screwdriver also includes various convenient features such as a bit tray for easy access and organization of your bits, a light control to illuminate your work area, and a Systainer³ for secure storage and transportation. These thoughtful details make the TXS 18 the perfect companion for any daily task or project that requires precision and ease of use.
How to choose a cordless drill?
Cordless drill screwdrivers are highly versatile and popular tools essential to any DIY enthusiast's toolbox. They offer a range of functionalities, including screwing, tightening, and drilling, and are equipped with quick-release chucks and various bit holders for screwing. These features make them ideal for multiple applications, from simple household repairs to complex DIY projects.
On the other hand, classic cordless screwdrivers are designed for smaller screw jobs and are equipped with a clamping system of only hexagons for screw bits. While they may not be as versatile as cordless drill screwdrivers, they are still essential for any DIY enthusiast.
Cordless impact drills, on the other hand, are ideal for occasional drilling into masonry. They have an impact mechanism that delivers a powerful blow to the drill bit as it rotates, allowing it to penetrate even the hardest materials easily. This makes them an invaluable tool for any DIY enthusiast looking to tackle more challenging projects, such as building a retaining wall or installing a new fence.
Let's select the battery first
An important decision is the correct selection of the accumulator's type, voltage and capacity. Let's talk more about each parameter.
There are three types of accumulators on the market. Older accumulators are labelled NiMh, NiCd, and new modern accumulators are labelled Li-ion. NiCD (Nickel-Cadmium) and NiMH (Nickel-Metal Hydride) batteries have good performance and can withstand many charging cycles but require much care, regular maintenance, and recharging. In contrast, modern Li-ion accumulators are characterized not only by high performance and capacity and compact dimensions but, above all, they do not have the so-called memory effect. They are thus less demanding on maintenance, you don't have to deal with regular recharging, and they can withstand longer shutdowns. Completely new on the market are the LiHD accumulators from Metabo, which, thanks to the new technology, offer even more excellent performance, durability and service life.
How to understand voltage and capacity?
You can find a wide range of voltages on the market, starting with small screwdrivers from 3.6V through medium 12V, 14.4V and 18V cordless screwdrivers and ending with professional, powerful 36V. The general rule is that the higher the battery voltage, the more powerful the screwdriver will be. 12V screwdrivers are often used for home hobby use. Professionals usually choose cordless drills with a voltage of 18V.
As for the capacity, which is given in ampere-hours (Ah), tells you how long the cordless screwdriver will last you while working on one charge. Accumulators with a capacity of 1.1 – 1.5 Ah are the complete basis. For more frequent use and extended work, choose cordless screwdrivers with a capacity of 2.0 Ah and above. For more professional service, a combination of 18V cordless screwdrivers with a battery capacity of 3.0 Ah is most often used, which ensures optimal performance and long life. It is also worth buying a cordless screwdriver with two batteries. You will appreciate the second battery for more extended work, so you don't have to interrupt and wait for the discharged battery to charge. Professionals often use unique action sets of cordless screwdrivers with three batteries. Last, but not least, it is also necessary to mention battery chargers. Basic chargers will recharge your battery within 1 hour or in hours. Fast chargers can recharge the battery within half an hour.
Other features to consider
An integrated work light or an illuminating LED is helpful, especially in less accessible places with little light.
What about speed? Choose a single-speed or two-speed cordless drill. Two-speed ones are advantageous because you can use higher speeds for drilling and lower speeds for screwing. And in addition, if the cordless drill is equipped with a torque setting, thanks to the set speed and the correct torque, you can select the proper force for tightening the screw about the material used.
It also depends on ergonomics. For you to work well, the cordless drill must fit well in your hand. We can certainly only recommend the rubber sheathing of the handle. The other rubber parts on the machine's casing are welcome and will undoubtedly dampen the impact in the event of a fall and act as shock absorbers.
Type of motor
The cordless drill's motor system affects the device's life, the method of use and the purchase price. You will come across two primary types in the menu.
Cordless drill with brushes: A widespread option that attracts customers mainly due to its lower price. Permanent magnets on the stator and power magnets on the rotor are part of the electric motor. The movement of the rotor and carbons take care of generating electric voltage. Using a cordless drill gradually burns carbon, which worsens the performance and efficiency of the engine. Worn carbons must therefore be replaced. Cordless drills with an electric motor are especially suitable for infrequent use.

Brushless cordless drill: More correctly, a cordless drill with a cordless motor. You will find this technology in higher quality and more expensive products. A more increased investment will return to you in the form of a longer service life. The magnets are located in the device opposite to the previous type – the permanent magnets are located on the rotor, and the power magnets are on the stator. You won't find carbon in the engine; the control electronics handle the operation. In addition to a long service life, cordless drills boast higher performance, longer battery life and often more compact dimensions.
Battery charger
Chargers are, of course, only used to charge the battery, don't expect more from them. Nevertheless, it would be a mistake not to focus on them more closely. The type of charger will determine the charging time. It can vary significantly. With classic chargers, you must have a charging time of between 3 and 5 hours. Modern fast chargers can reduce this time to under one hour without problems. You will feel the difference with regular drilling.
Torque
They are also referred to as torque or tightening torque. It characterizes the maximum torque that the cordless drill is capable of developing. In practice, it determines how easily you drill the screw. Torque is given in Newton meters (Nm). Cordless drills with a torque of up to approximately 20 Nm are suitable for tightening screws in soft materials like wood. Look for tools with at least 55 Nm for drilling into hard materials.
A cordless drill usually gives you the ability to regulate the torque. The more steps you have available, the more precisely you can set the device. The hoop above the chuck usually helps with regulation.
Ideal weight of cordless drills
The weight of the cordless drill has a significant impact on your comfort at work. Above all, you will feel every few hundred grams extra during more extended activities. Among the heaviest are cordless hammer drills, whose weight sometimes exceeds 2 kilograms. On the other hand, the lightest ones tend to be cordless screwdrivers that weigh only hundreds of grams. For universal models, expect a weight of around 1.4 to 1.8 kg. The battery itself dramatically influences the total weight of the cordless drill.
Additional features
Equipment or practical accessories can also influence the choice of a cordless drill. What gadgets will make your work or manipulation of the device easier?
Spirit level: Some cordless drills include a spirit level to help you orient yourself when drilling. You will immediately see if you will drill perpendicular to the plane.
External handle: Equipment typical for cordless hammer drills. Place the hold in the front part of the drill. When drilling, you can grab the device by the handle and the handle and exert more pressure.
LED lighting: Selected drills have a small LED light in the front that automatically turns on when the device operates. This is a welcome help, especially in poorly lit areas.
Screwdriver bit holder: Ensures that you have bits close at hand.
Trunk: More expensive models come in a portable trunk, in which you can organize not only the cordless drill but also the charger, batteries, holders for drills and other necessities.
Hanging loop: You can hang the cordless drill with a loop, for example, to a belt or work suit.
Maintenance of a cordless drill
The cordless drill does not require any special care. It is enough to keep the device clean and remove dust from the holes through which the engine sucks in the air. If the cordless drill whistles during operation or is noisier than before, you can lubricate the internal moving parts with petroleum jelly. For this purpose, petroleum jelly is produced directly for drills. Special oil is intended for the motor shaft and bearings. The manufacturer should specify the specific type of oil in the user manual. In the same place, you will also find other tips on battery drill maintenance.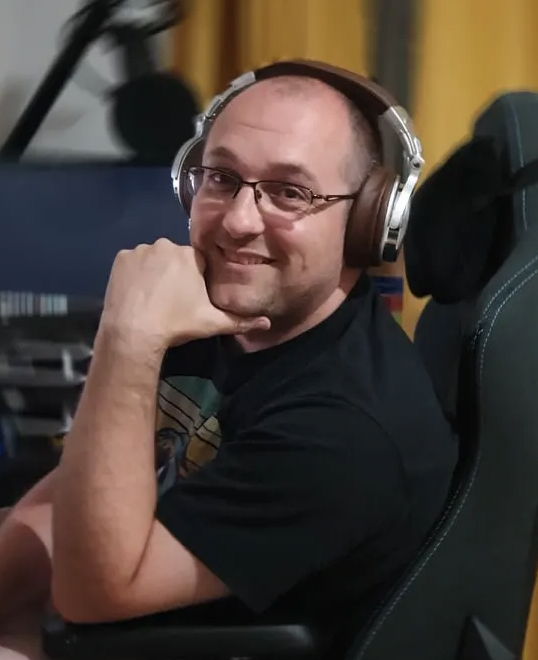 Matt is a professional copywriter and researcher over at https://sucklessatcontent.com/. When he can be prised away from his PC, his wife enjoys setting him DIY tasks around the house.