If the bedroom is the brain of your house where you go to recharge, think of the kitchen as its heart.
A kitchen is more than just a place where food is prepared. It's where the kids rush in for breakfast before school and spread their homework all over after dinner. It's where couples catch up and relax after work, perhaps with a glass of wine. It's where you stare into the garden and contemplate life while doing the washing up, or chatting over a cup of tea.
A kitchen is about connections. Connections that are shared and strengthened over food. Families certainly spend a lot of time there; the majority of UK families cook for each other every day. It makes sense then that your kitchen should be a place you enjoy spending time in, whether it's cooking pasta or doing the laundry.
If you're due for an upgrade and thinking about remodelling your entire kitchen, hold off for a moment. There might be a better, faster, and much cheaper way to update your tired old kitchen: lighting. Changing the lighting is the fastest and quickest way to dramatically alter its appearance and enhance what furniture you already have. Perhaps your kitchen is just too bright and you wince when the flick the light switch on, or maybe you have a hard time seeing what you're looking for in a dark corner; either way a lighting upgrade is just what you need.
There are three types of kitchen lights: ambient, task, and accent. Ambient lighting is your main source of lighting, shining equal amounts of light from the ceiling over the entire room. Task lighting gets rid of any obvious dark patches and helps you see better when you're looking in cabinets or preparing food on a counter. Accent lighting is mainly there for decoration; for example, floor, wall, and cabinet lights.
We've prepared a list of some of the most creative and attention-grabbing lights for a variety of tastes, styles, and budgets. Whether your kitchen is rustic, modern, or something you dreamed up, there's something here for everyone.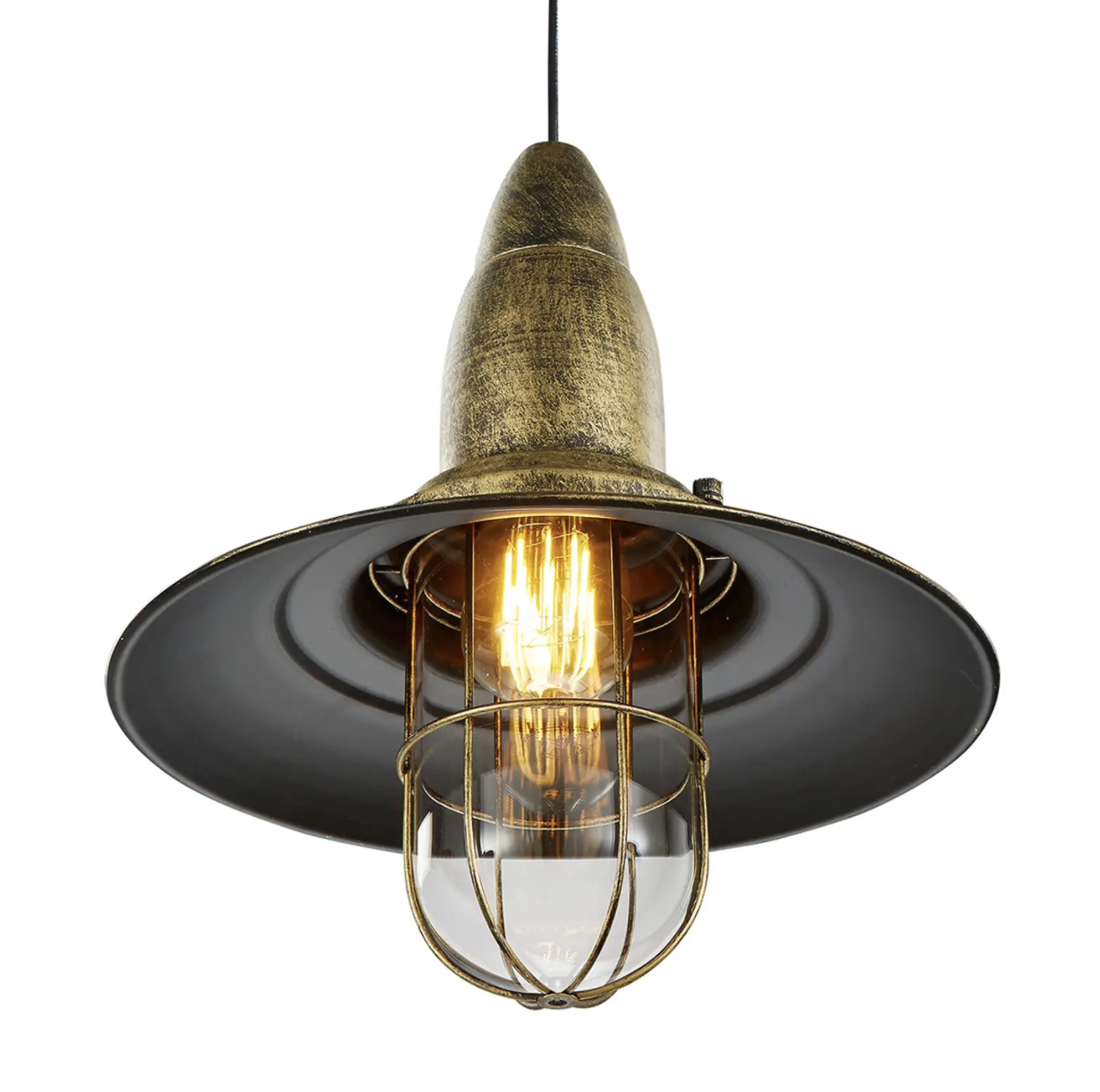 Kitchen Fisherman pendant light, antique-brass
First up is this vintage-inspired beauty. True to its name, you can easily imagine this hanging outside a bar on a summer's night, or swinging during a storm on the high seas.
The Fisherman pendant light not only lights up each room, but also adds a dash of character and intrigue. The surface finish in antique-brass and the maritime design with metal lampshade, metal mesh and clear light glass gives the pendant light a unique effect.
In the kitchen, use it over your island or table for some task lighting. Why not hang it in the corners or by the window and dream of being in an old novel? The Fisherman pendant light can also be used in guest houses and living rooms. This is truly a versatile light.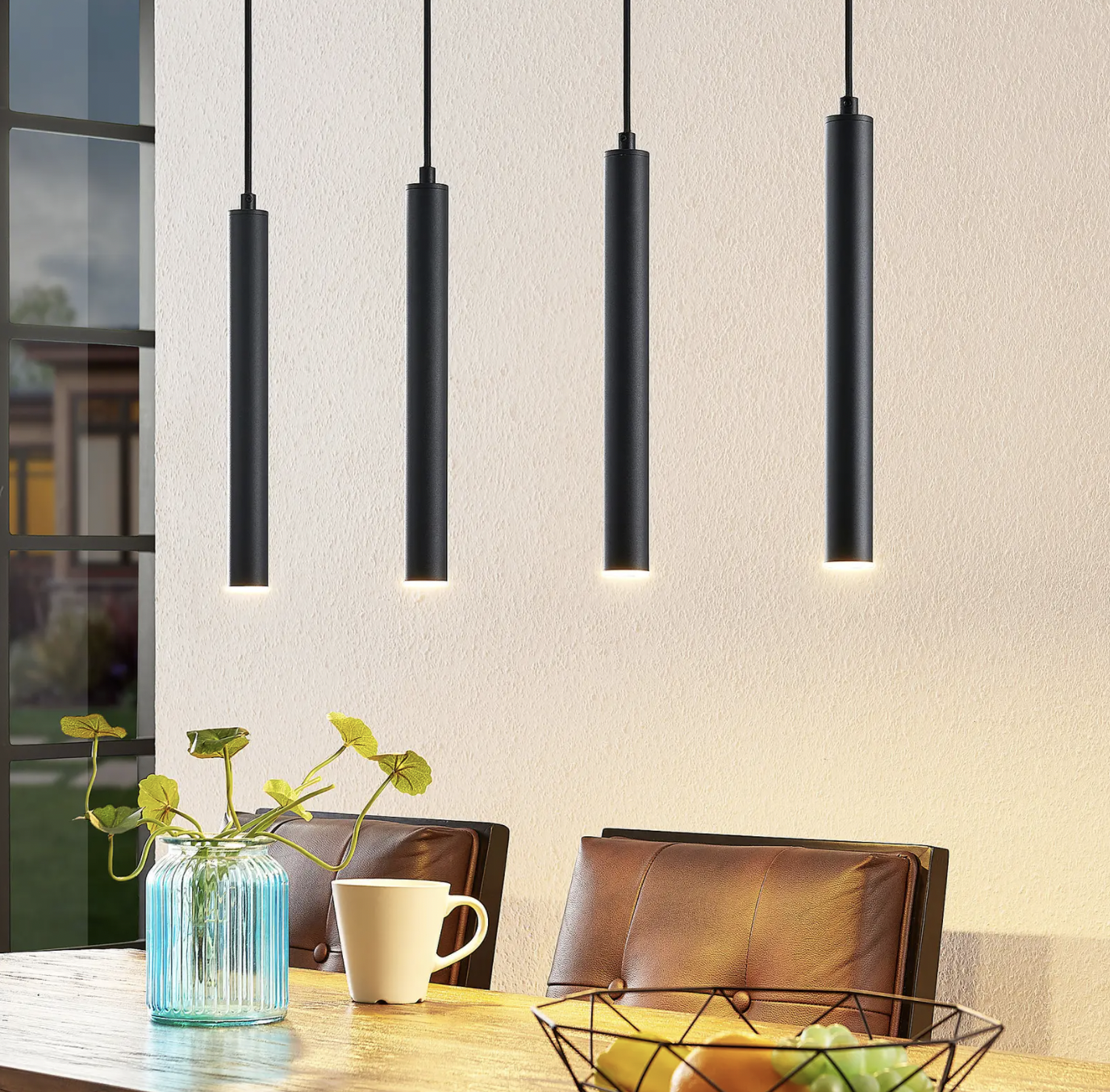 Arcchio Kammeron LED hanging light
If you're after something more 21st century then this might be more to your tastes.
The Kammeron is an LED hanging light that fits perfectly into a modern home. The simple, sleek, and puristic design of the light really makes it a trendy interior element. The light consists of a narrow ceiling canopy to which four suspension systems are fixed. Each suspension system holds a bulb. Perfect for hanging over a table or island.
The integrated LEDs emit a warm and cosy light, which is spread evenly. They're also incredibly energy efficient.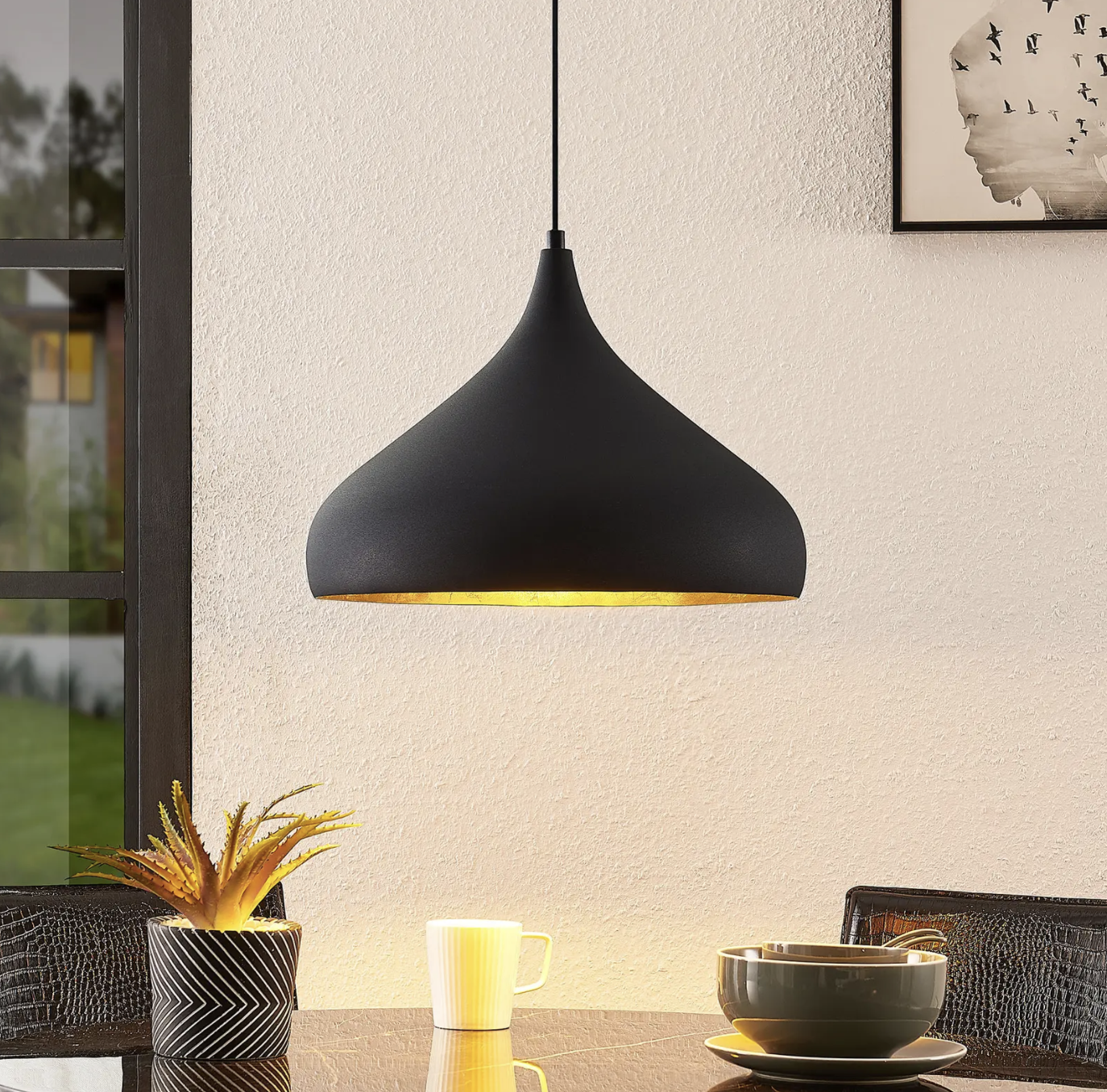 Arcchio Lunus hanging light with a golden inlay
Another modern offering, this classic yet still modern light might be what you're after if a canopy isn't your thing or you're low on space.
The lampshade is matt black on the inside, whilst the inside gleams in a golden colour. The two colours complement one another to create a harmonious overall look. The golden colour gives the light that certain something, but is not obtrusive. The gold reflects the light, making it shine with a warm golden tone. This creates a pleasant and cosy atmosphere, perfect for evening meals.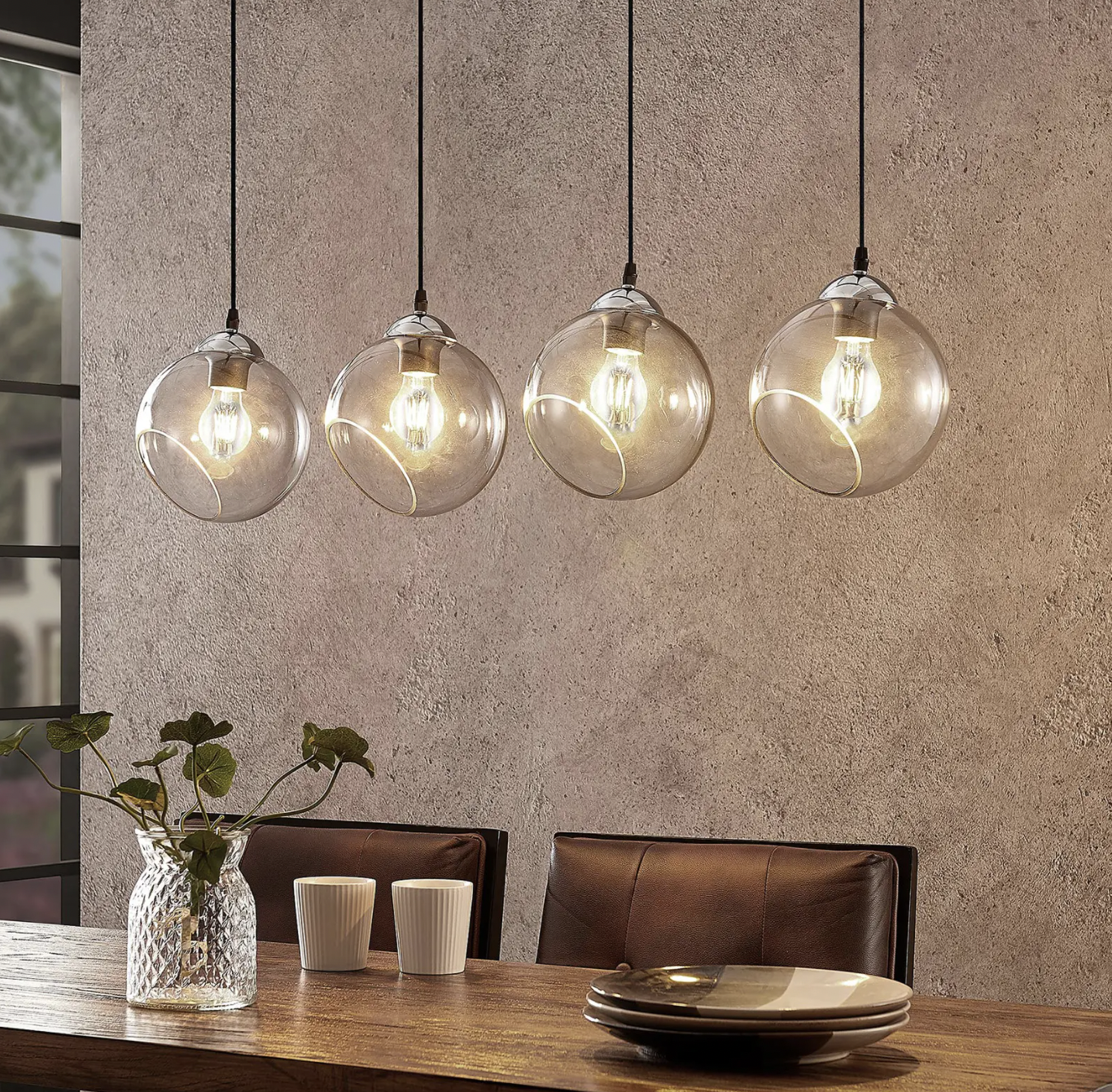 Lindby Odila pendant light, 4 glass spheres
Now for something completely different.
The Odila is an attractive lighting solution for the dining or kitchen island area. Its lampshades are almost spherical and have a clear glass surface in a smoky grey colour. On the side, there is a small opening to enhance the look and for changing the light bulb. The metal details of the pendant light are in glossy chrome and the lampshades can be suspended at different heights.
They truly look like something from a wizard's classroom and are bound to be a hot talking point for guests.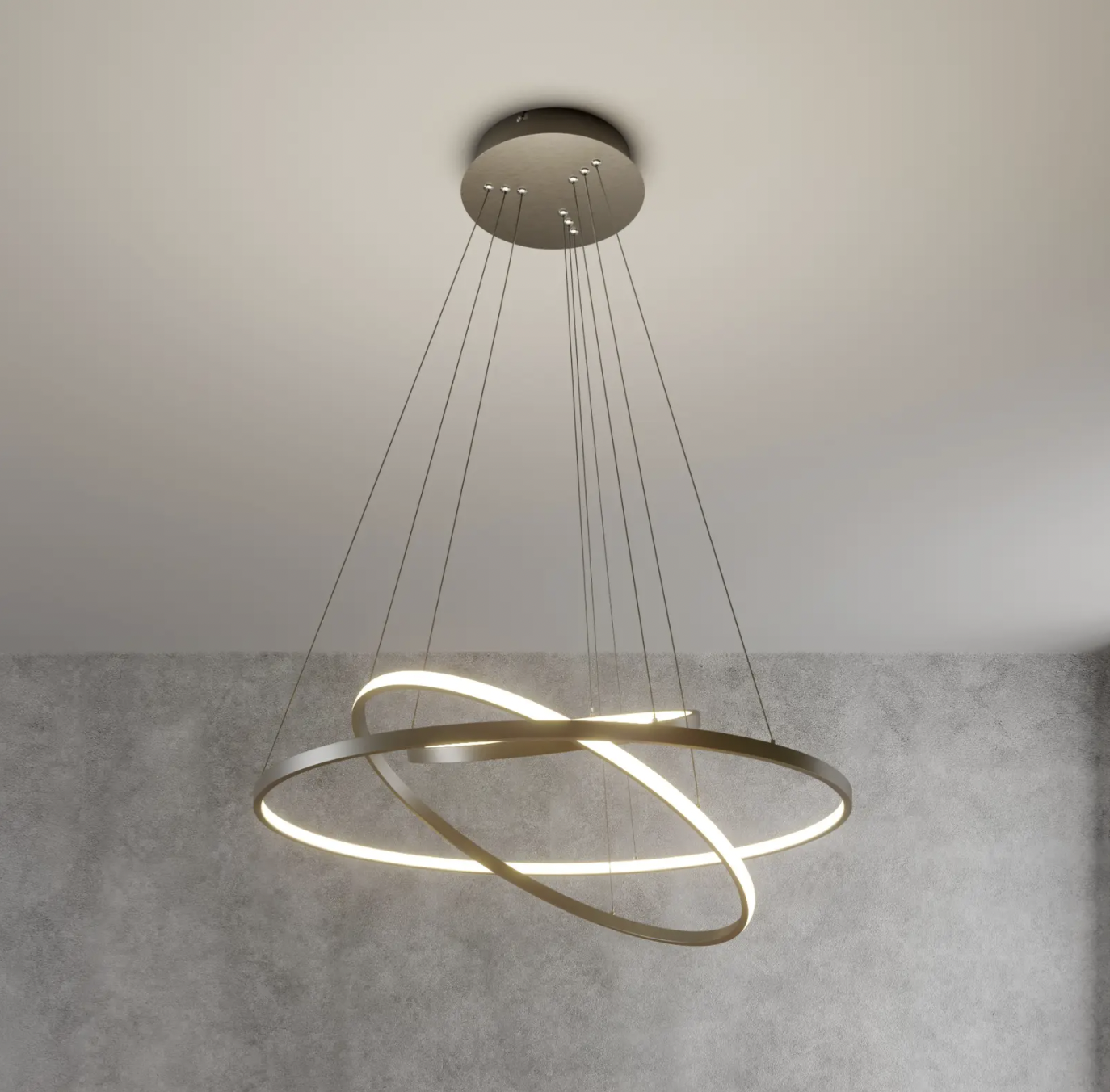 Ezana LED pendant lamp with three rings
From the magical past to the far future, the Ezana LED pendant lamp has a futuristic yet elegant design with a sophisticated structure consisting of three concentric rings. Due to the discreet colour of the nickel, it blends into a wide variety of interiors.
The suspension system consists of nine cords, which position the rings at different angles. Due to the LED strips on the sides of the rings, the light shines inwards and outwards. Thanks to the dimming function, the brightness can be varied.
The pendant light provides atmospheric illumination for your kitchen. It's so unique you may find yourself staring up and forgetting all about your dinner!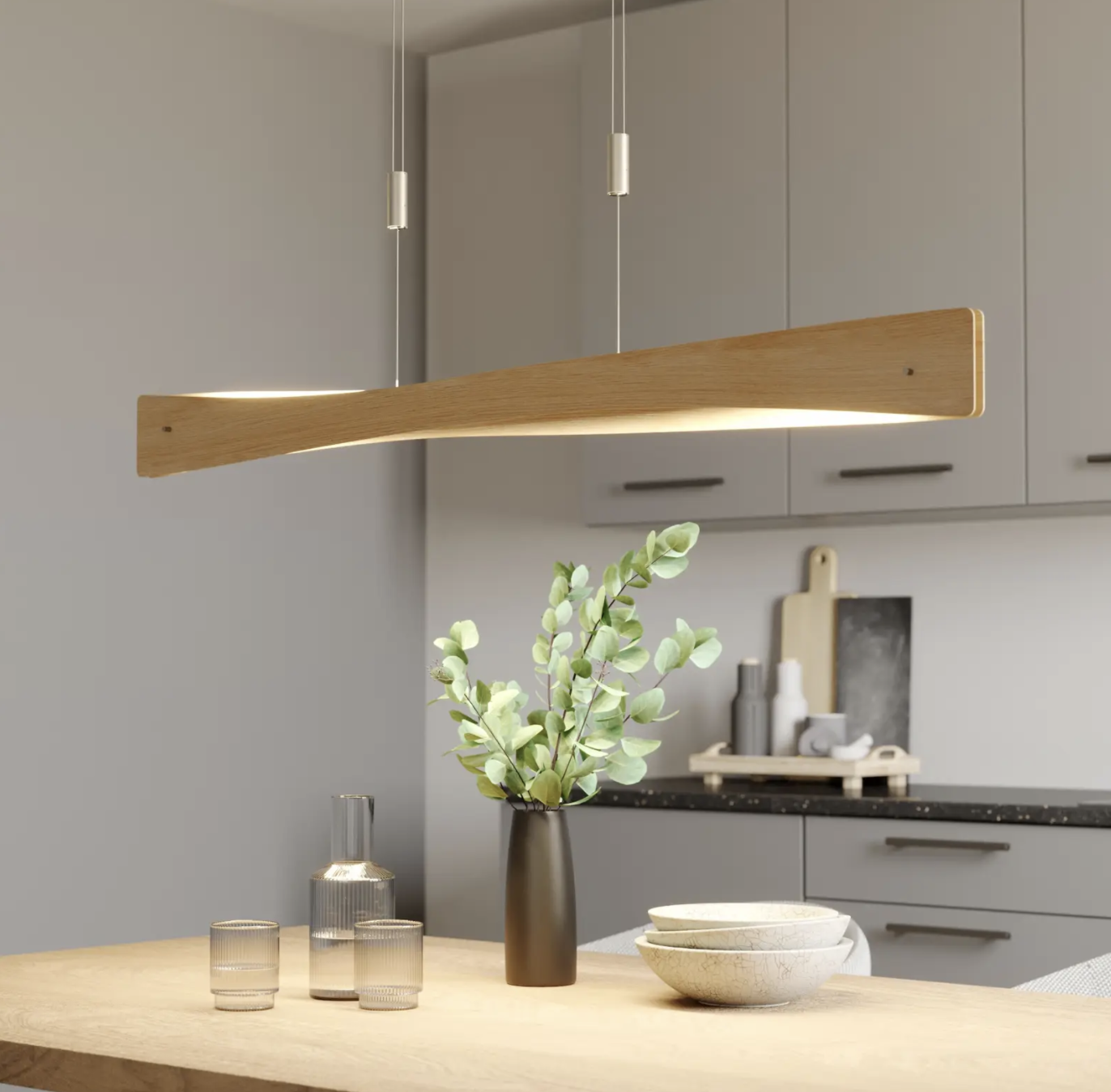 Lucande Lian LED hanging light
We finish our list with something classic, bright, and bold.
Lian brings a natural flair to the kitchen with its light oak wood veneer. Its two curved lampshades allow light to be transmitted upwards and downwards, so that both direct and indirect light is emitted, which together provide a pleasant ambience for either preparing or eating. You can adjust the brightness as necessary via an external, integrated dimmer (leading edge or trailing edge dimmer) and vary the height from 105 cm to 195 cm.
Proud of your new kitchen? Bathroom got a makeover? Send us an email about it at magazine@buildiro.com, and we'll write about it in our magazine!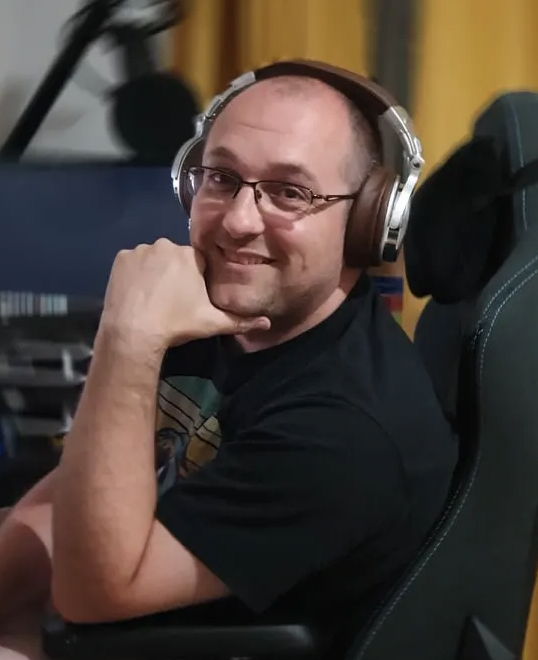 Matt is a professional copywriter and researcher over at https://sucklessatcontent.com/. When he can be prised away from his PC, his wife enjoys setting him DIY tasks around the house.