Who hasn't heard about electric chainsaws these days? Lovingly represented within horror films, although I use the term "lovingly" sparingly, there's actually a practical use for them.
Sawing through wood is the main use for an electric chainsaw. You've seen it in movies, TV shows, and if you're a construction person yourself, you've seen it as well if you're involved in woodwork.
But did you know that quality matters? With everything, the answer always yes, with a few exceptions. It mainly lies in the components of the electric chainsaw itself.
Nonetheless, let's dive deeper into chainsaws themselves, and we'll give you our 5 recommendations as well!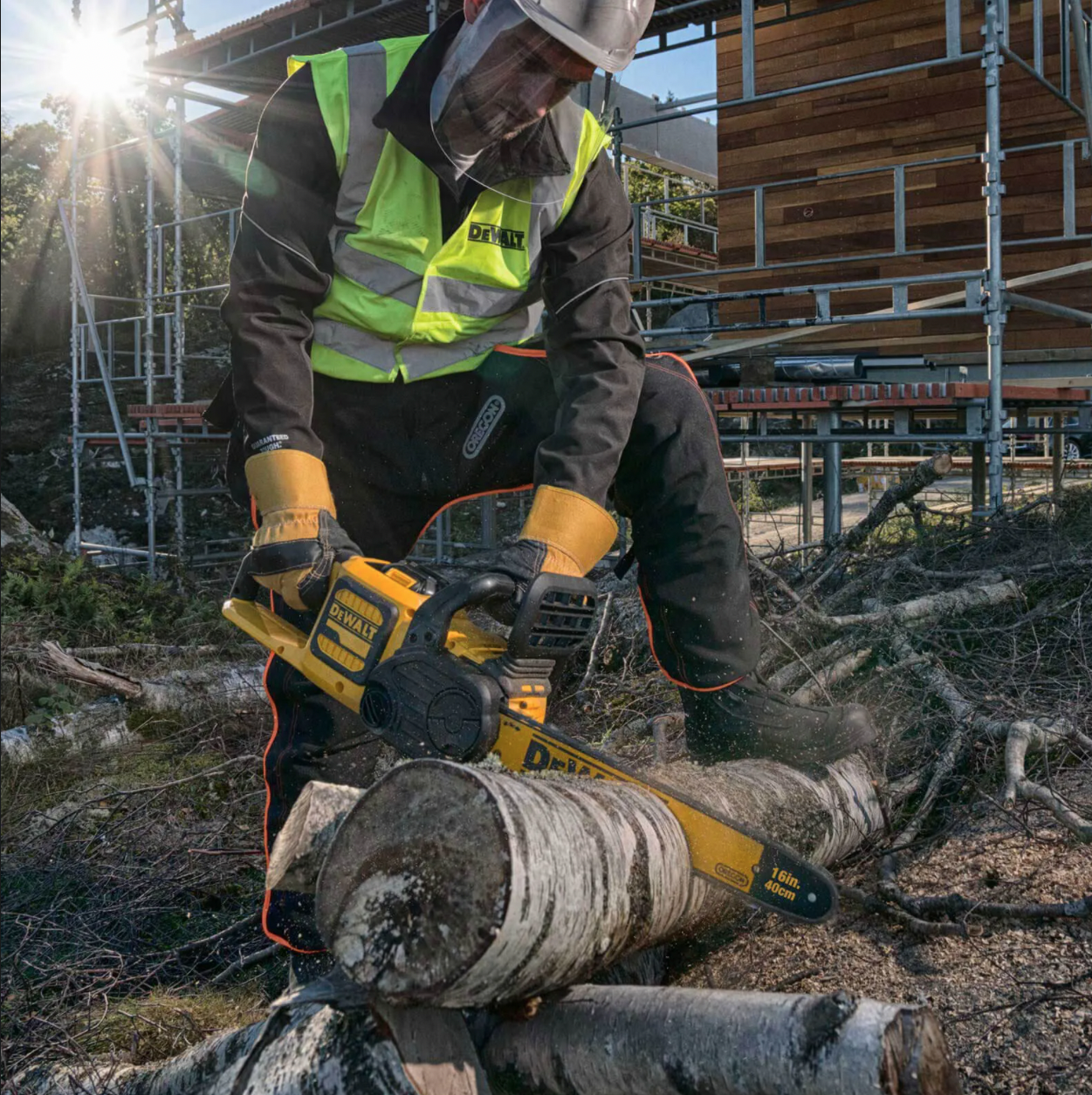 Uses For Electric Chainsaws
Yep, there's more to an electric chainsaw than just cutting trees. They're quite versatile in their application, but are largely used for working with wood.
We wouldn't recommend taking a chainsaw to metal. In fact, let's discourage that from here on out.
For safety reasons, on the off chance that this is the first time you've ever heard of a chainsaw, always wear gloves, eye protection, and ear mufflers. If you want to take a step further, there's protective clothing that can turn a bad accident into a frightful scare.
As always, we encourage that you ensure you're protected at all times, regardless of the tool you're using. In this case, a chainsaw is nothing to play around with.
Now that that's out of the way, let's get the basics of what a chainsaw can be used for.
Electric Chainsaws: Use #1 – Felling
The simple term for cutting down trees. Big trees, small trees, anything that a smaller, or less powerful tool, wouldn't be able to cut through.
Electric Chainsaws: Use #2 – Limbing
Do you have a tree or a bush with some pesky branches? It's time to limb it, or delimb it as it's alternatively called, with a chainsaw. There are other tools you can use for extra precision, but if the branches are quite thick, a chainsaw has got you covered.
Electric Chainsaws: Use #3 – Chainsaw Art
There are artists out there that use chainsaws to carve wood and ice sculptures. Sure, this might not be the most functional reason to get your hands on a chainsaw, but woodwork is still woodwork, and we stand by that!
There are plenty more uses for using a chainsaw, but these are the most common ones, sparing the chainsaw art. Make sure you research your tool, and how to use it, before engaging with it.
What About Electric Chainsaw Upgrades And Modifications?
There are so many upgrades for a chainsaw, that's we can't go into each one. So, here's a quick summary of what you can upgrade.
The Muffler
The muffler is the exhaust of the chainsaw. By either replacing the muffler with a one that has a wider port, you can improve the performance of the machine, and also account for noise if you're conscious about that.
The Cylinder Head
The cylinder head accounts for airflow through the chainsaw, and in turn, increases saw power and general performance. You can increase the size of the cylinder using a dremel tool, but we advise caution as if done wrong, you may ruin your machine.
Our Recommendations
Now it's time for the electric chainsaws that we recommend. Here are 5 chainsaws we know will get the job done!
#1. DeWalt DCM575 54v XR Cordless Brushless FLEXVOLT Chain Saw 400mm – 1 x 9ah Li-ion, Charger, No Case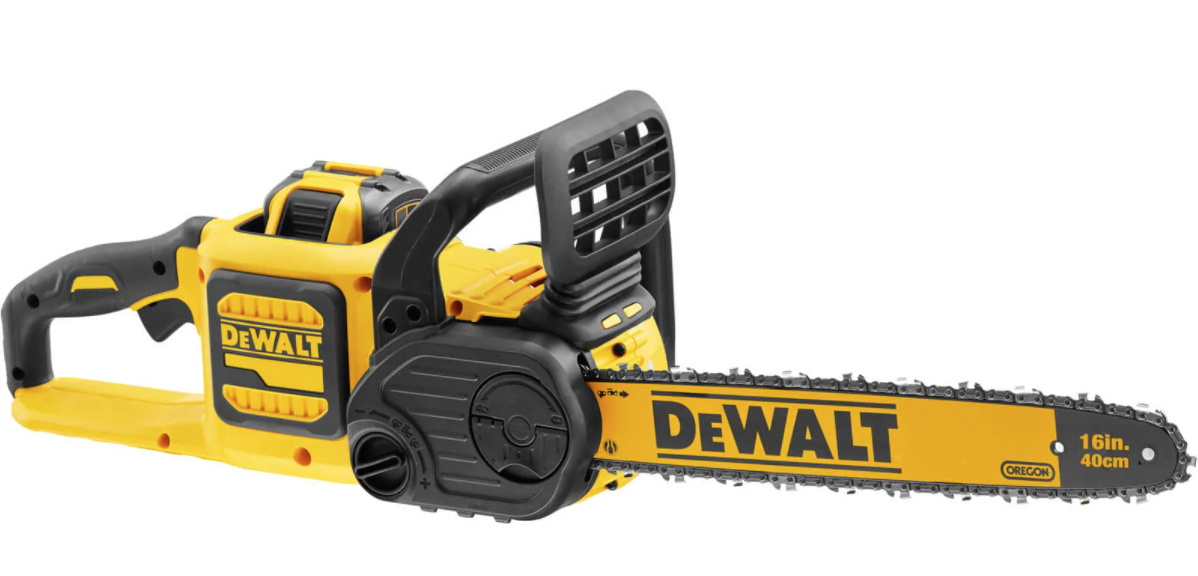 This chainsaw features a high efficiency brushless motor and automatic oiling, which is the standard all chainsaws should meet. Simple, and easy to use, you can vary the speed with its trigger, with a chain speed of 15 m/s.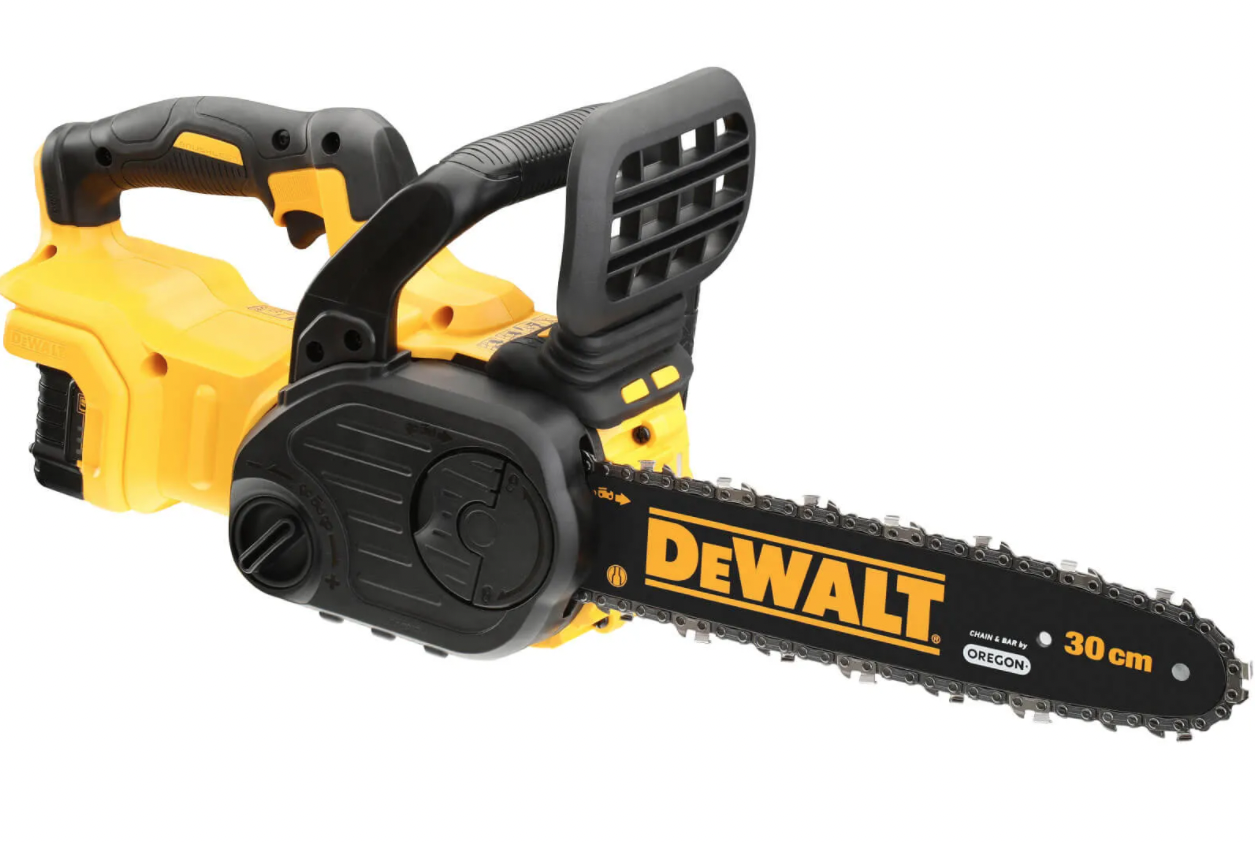 Another one from DeWalt, the difference with this chainsaw is that there's less power behind it. Whilst this may seem like a bad thing, this might be a better choice for you if you're not primarily dealing with thick wood, as the less power, the more precision you can get.
#3. Greenworks G24CS 24v Cordless Chainsaw 250mm – No Batteries, No Charger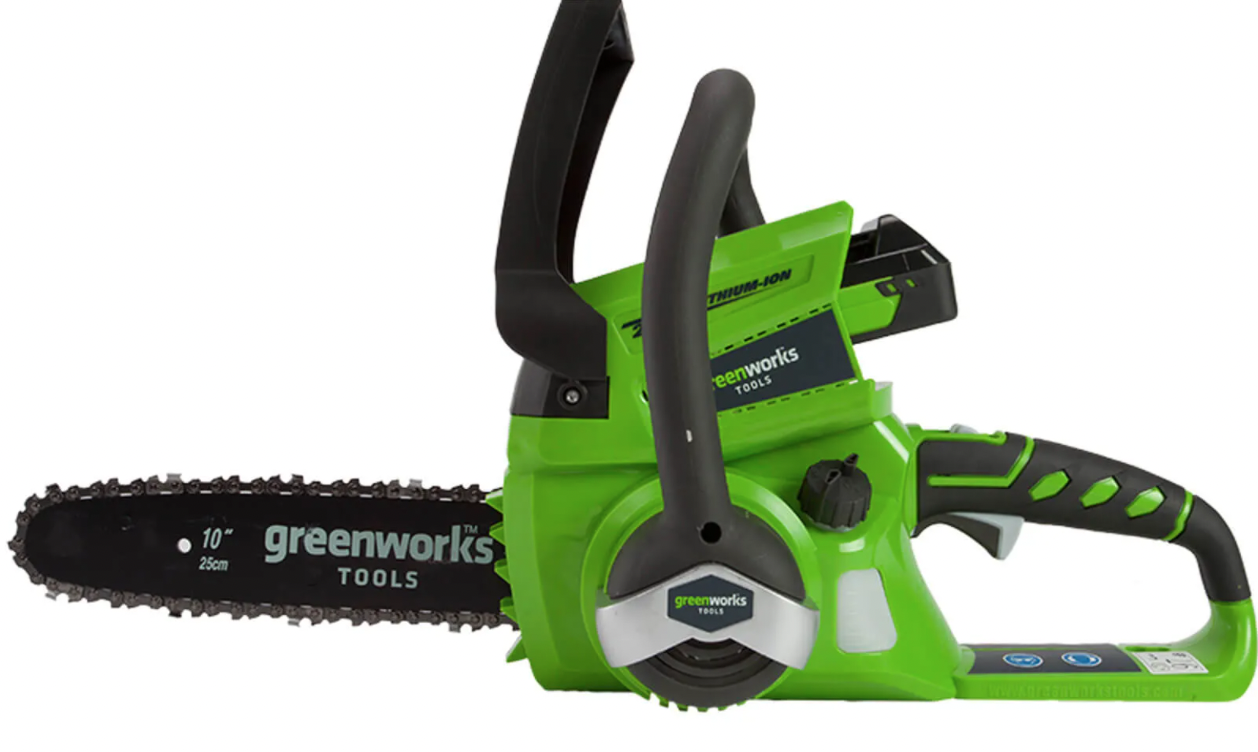 This chainsaw is a great all-rounder. With slightly more power than the DeWalt DCM565, standing at 24v, this isn't a chainsaw you have to be afraid of. It includes a rear handle lock-off switch to avoid accidental start-ups, so if safety is your concern, opt for this.
#4. Makita DUC355 18v LXT Cordless Brushless Chainsaw 350mm – No Batteries, No Charger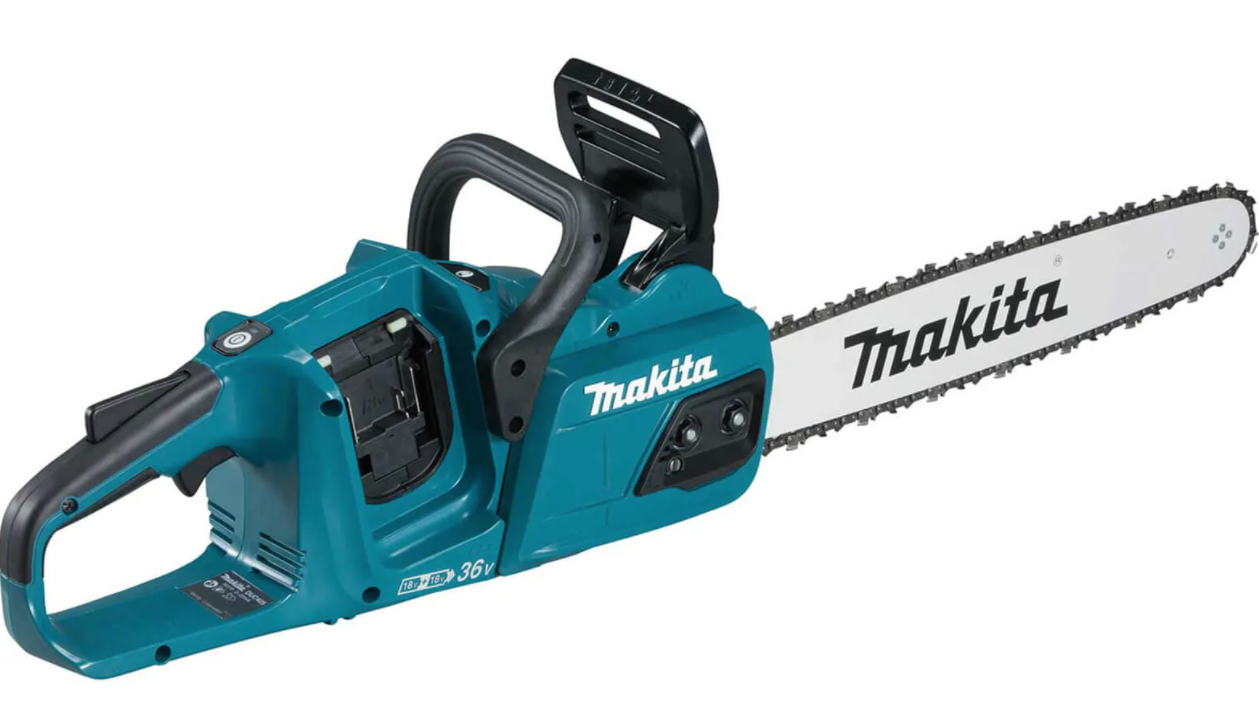 If you have a lot of Makita tools in your toolkit already, then a Makita chainsaw might benefit you the most. Why? The batteries are universal. It also has all the quality that Makita is known for, so it's hard to go wrong with this if you're a Makita fan.
#5. Bosch UNIVERSALCHAIN 18v Cordless Chainsaw 200mm – 2 x 6ah Li-ion, Charger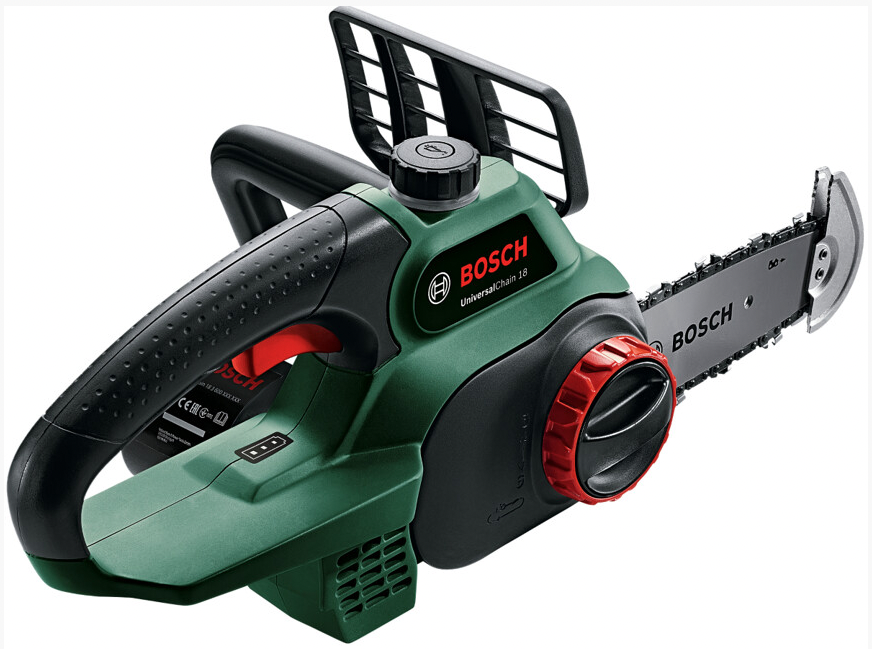 The first Bosch chainsaw in the PowerForAll range. This is a light chainsaw that doesn't skimp on its performance. Bosch has aimed for a quality of life focus, by implementing a felling handle, hand guard, a tethered oil cap, so you don't keep losing them, and a tip guard. The tip guard, which is new to the industry and still awaiting a patent, so get your hands on this if you like new things!
Summary
Whilst simultaneously being one of the more intimidating power tools to ever exist, it's also significant. No other tool handles wood like it, and if wood is a big part of your craft, you must have one in your overall tool kit.
Quality counts, and a bad quality chainsaw can lead to injury, sometimes permanent, and frustration. This is a tool that you do NOT want to skimp on when it comes to price. The 5 chainsaws that we've recommended are solid picks if you're shopping around for one. Trust us, we know what's good.
Buildiro lists top quality chainsaws from approved vendors, so you don't have to worry about what you're buying. With price history, wish lists you can categorize for each project, and a giant selection to choose from, you can't go wrong with us. Start your search for the product you require here, and leave the rest to us. We've got you covered.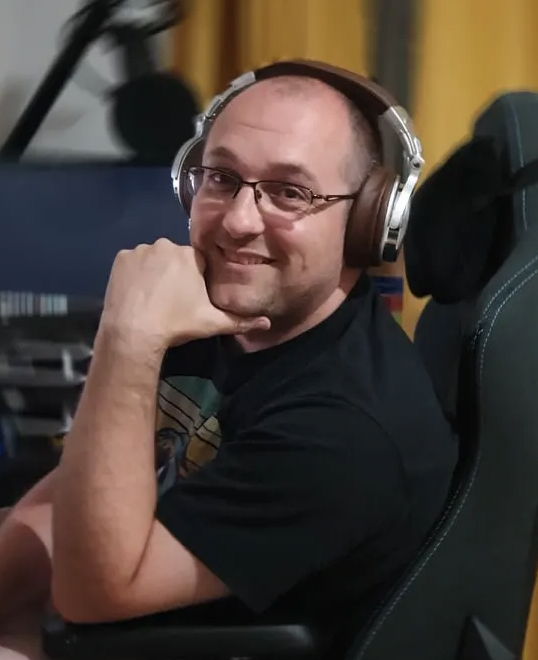 Matt is a professional copywriter and researcher over at https://sucklessatcontent.com/. When he can be prised away from his PC, his wife enjoys setting him DIY tasks around the house.