After spending years trapped indoors it's not surprising that many of us are yearning for the great outdoors. With so much uncertainty ahead of us it's no longer a guarantee that you'll be able to venture forth on a holiday whenever the mood strikes. If you've already redecorated your home to give it that new lease of life and find yourself staring out the kitchen window at your dishevelled lawn it might make sense to finally invest in your garden and turn it into the oasis of your dreams.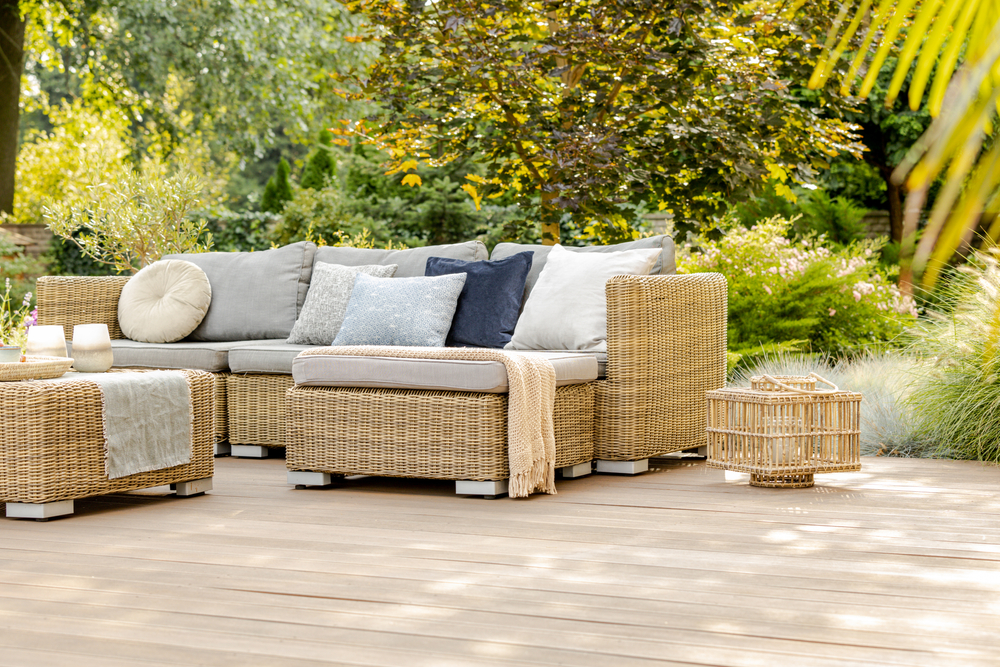 Before you rush off to the stores or open up stacks of browser tabs there's a few things you'll need to think about before you buy your brand new garden furniture. The very first thing you'll want to do is consider exactly how much space you're working with. After all, there's nothing more crushing than bringing brand new furniture home and realising that it doesn't fit or is too cramped.
The solution is obviously to take careful measurements of your garden. With these you'll be able to assess what size garden furniture and how much will fit. Don't make the mistake of just looking at the numbers. Remember that you'll still need pathways to maneuver around your garden, and you'll need to take into account any plants or objects that are already there. A bit of space is more pleasing and calming unless you want to end up sitting on one another. If your garden is small then consider multi-use garden furniture like ottomans or stackable chairs. Consider modular sofas for more options or wheeled tables that can be pushed to one side. Work with what you have.
Next, think about the weather. If you're in the UK you'll know that sunny days can be few and far between and you can expect a fair bit of rain. This is a huge factor in choosing your garden furniture. First, do you want cushions or upholstered furniture? What will you do when it rains? Do you have enough space indoors to store the cushions or will you need to erect a canopy or umbrella? If your garden is open or elevated then dust is another factor, so you'll have to commit to hosing down your garden furniture every few weeks. Of course you can do without the upholstery and cushions, but then you'll have to make sure that whatever furniture you buy is comfortable without that lovely padding. Trying before you buy is essential.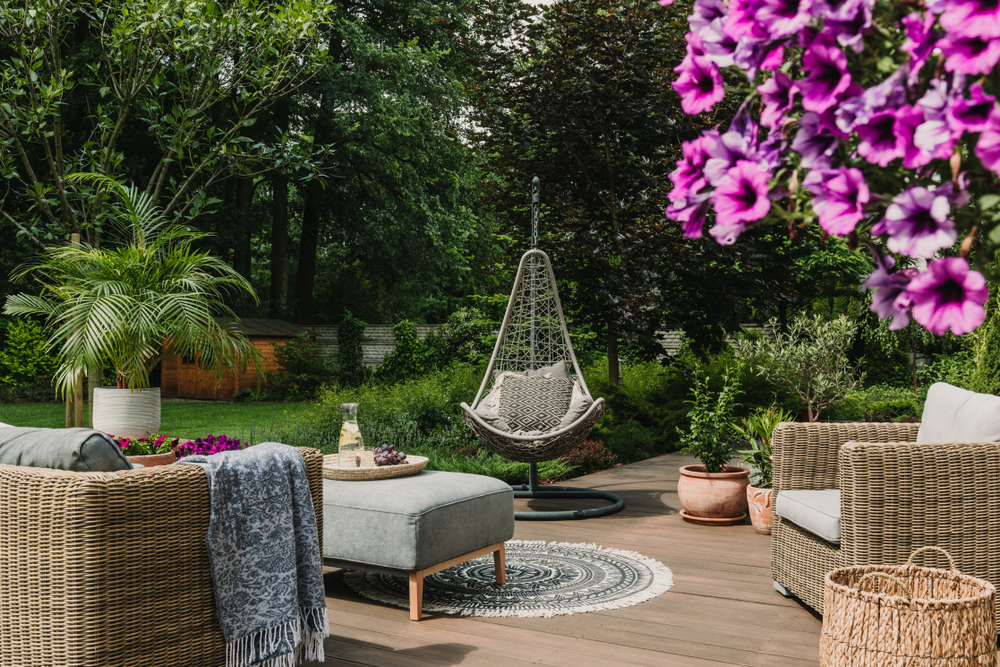 Most of us don't relish the thought of lugging in our garden furniture when the weather changes, so make sure that it can withstand the elements. Plastic is cheap and hardy, but can be uncomfortable and cracks in the cold. Heatwaves will make your untreated wooden furniture splinter, and rain and salt air will rust uncoated metal. If you want your garden furniture to stand the test of time, make sure you pick the right materials. For plastics, look for high-quality and UV-resistant. This will ensure that the sun won't fade it and should look the same for years to come. For metals, high-quality powder coats will make a huge difference in longevity, or use brass. If you're committed to wood, then teak, eucalyptus, ipe, and mahogany are all strong woods which age well over time.
Don't forget your fabrics, too. For fabrics that won't degrade in the sun, pick those made from solution-dyed acrylic. Sunbrella and Perennials have nice choices. If you want cushions that won't be wet for days after some rain, look for inserts that use quick-drying foam.
Some of these materials sound expensive, and they can be. That brings us onto your next choice: quality. Are you looking to buy cheap, easily-replaceable garden furniture, or high quality? There's nothing wrong with buying cheap garden furniture sets, especially if you're on a limited budget. Just know that they won't last long and you'll have to replace them before too long. In that sense it might be better to save up for a sturdier collection. In fact, it'll probably end up saving you money in the long run.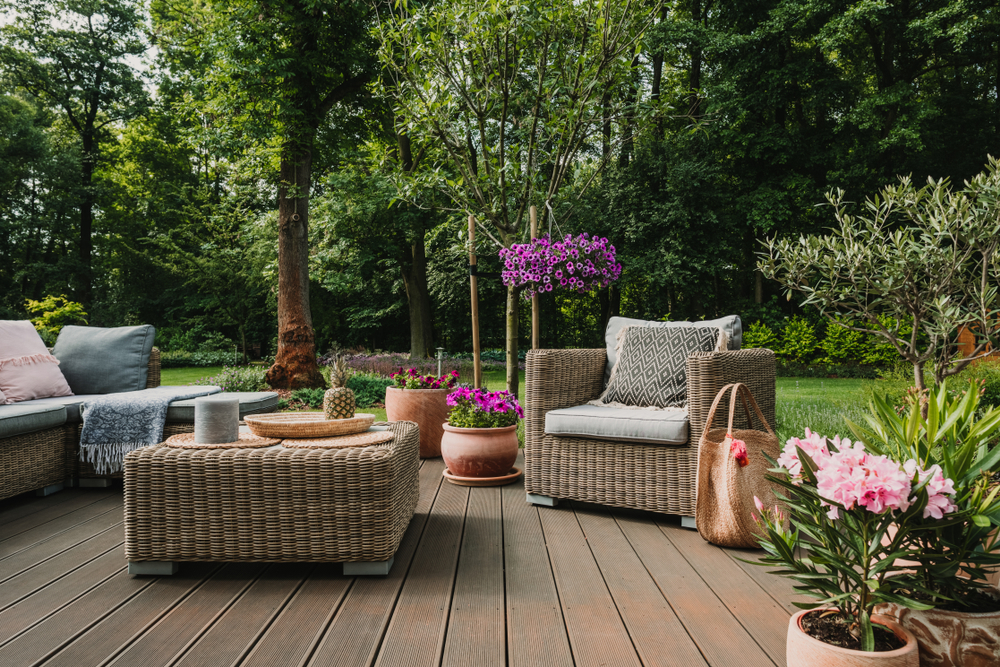 Now that you know your space, monitored the weather and decided which materials will work best in your location, you can finally get onto the fun stuff: think about how you want to use your outdoor space! Do you just want a little cosy area to relax after a long day? Maybe you want somewhere that the family can enjoy a meal on a weekend, or are you planning on hosting gatherings with friends? Or do you want a bit of flexibility? This might be your most important choice, as it will directly inform which garden furniture you end up going with.
If you have a small place for one or two people, consider a lounger, cushioned chair and footrest or a chaise (hang them up after with some wall hooks to save space). For family dinners, a wooden or metal table with stackable chairs is a great option that can be stowed away when not in use. For those big gatherings, perhaps a central feature like a fire pit, ottomans and small, comfy chairs. And you can always go all out and put up a shed that doubles as a bar! Just remember to leave a lot of space and pathways.
Much like designing your home's interior, your garden requires a lot of thought but also has its own quirks. After all, it doesn't rain in your living room. That being said, don't worry too much about it. The main thing to consider when buying your garden furniture is if you'll enjoy using it. And after following this guide, you definitely will.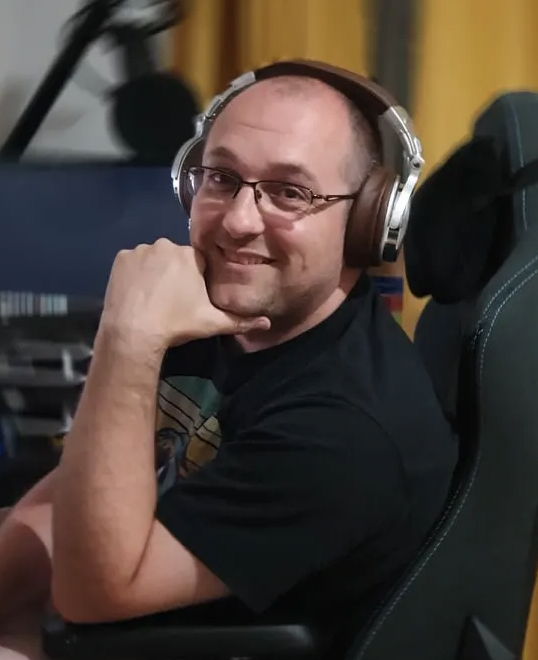 Matt is a professional copywriter and researcher over at https://sucklessatcontent.com/. When he can be prised away from his PC, his wife enjoys setting him DIY tasks around the house.