As winter wanes, thoughts turn to summer and BBQs, family gatherings, and music wafting through the air.
With no end in sight to the pandemic, even the most stunning home can quickly start to feel a bit limiting. Wouldn't it be nice to spend a bit more time outside, in the sunshine?
Forget that you live in Britain for a moment and sunshine isn't guaranteed! It's always nice to be outside. In fact, it's critical: spending time in a green environment boosts your mood, increases self-esteem and reduces depression. Now, remember that you do live in Britain and that sometimes getting out in the garden can be a fool's errand… So, how can you make the most of the great outdoors? The answer is… A garden room!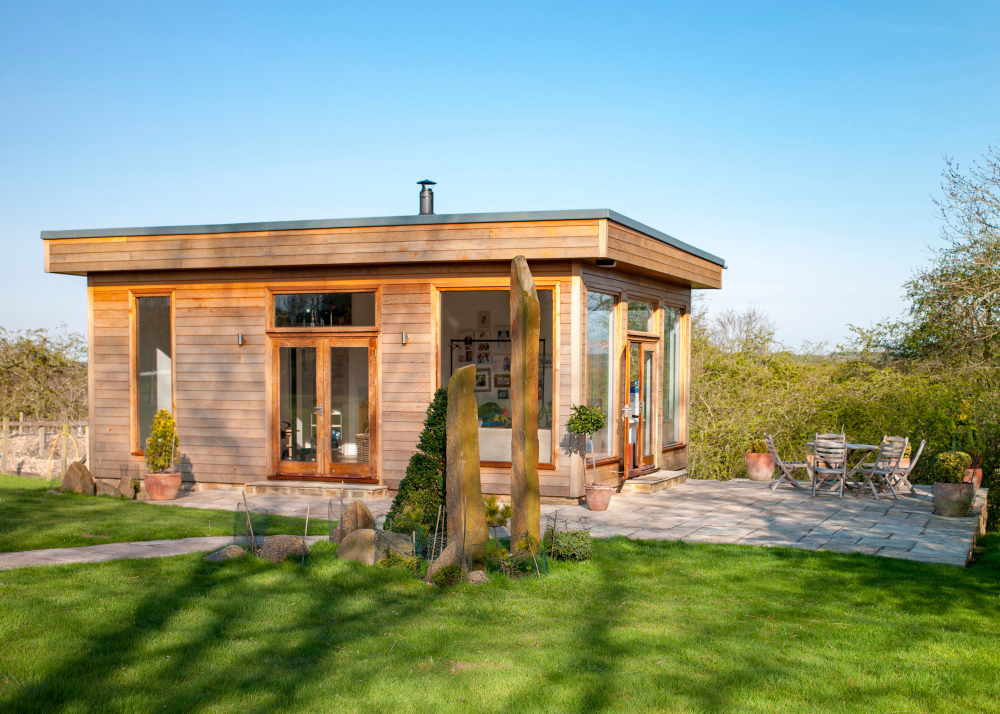 Gone are the days of a man locked in his shed masquerading as an office; you can now construct a beautiful addition to your home that won't be full of old bikes, scrap and spiders!
The only limit is your imagination. And budget. And space.
Read also: How to build a raised bed
First, consider what you want to get out of your fabulous new garden room. Do you just want a space to sit down and read, or watch the birds outside? Maybe you'd like a small office if, like so many of us, you now work remotely and don't want to see your home as your workplace. Perhaps a yoga study or gym, or another bedroom, or even a bar? These are all possibilities, which all have different requirements.
The first thing to do is figure out if you need planning permission. You'll want to be very sure of this, as you don't want to build your dream garden office only to have to tear it down later! Also, make sure the land is pre-laid, level, solid and dry, perhaps with a foundation of either a wooden shed base, concrete or paving.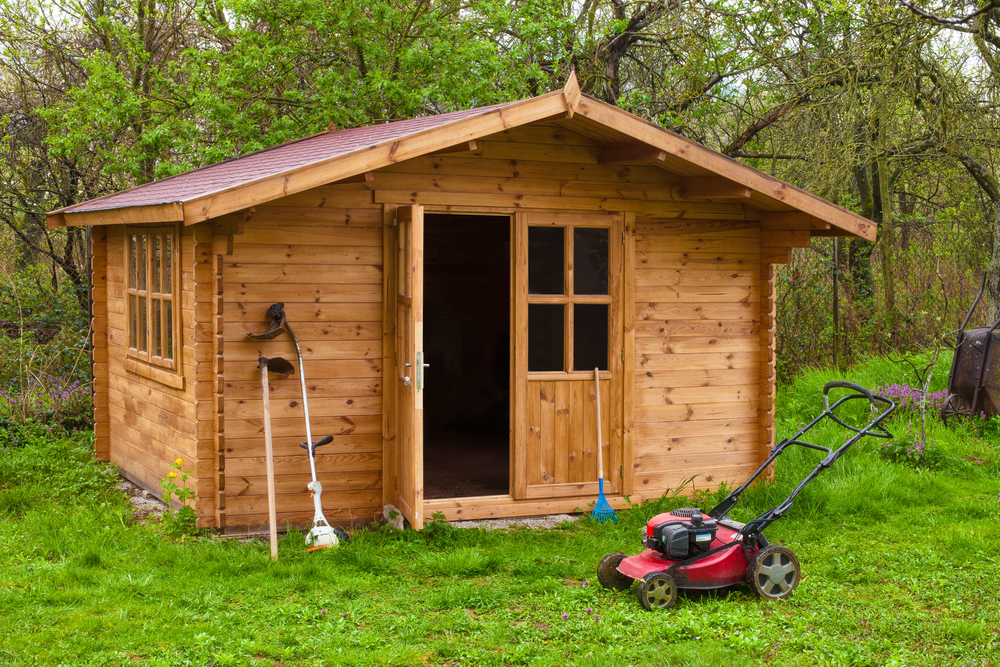 The next thing to consider is your budget. If you're good with your hands you can save money by building your garden room yourself. We have excellent choices from £410 – £1,850. However, that's just the start, as you'll have to treat and paint the wood. If you want to use the room year-round then insulation is critical, and this can get pretty costly! Double glazing will be a necessity if you want a view, and some kind of heating will also go a long way. While an electric heater will work, but a wood burner has a wonderful and cosy appeal.
What about electricity? You can run a long extension lead to your garden office, but it's unsightly and you'll have to be extra-careful when you mow the lawn. If you want water and don't want to keep going back to the kitchen, then you'll need either a water cooler, fridge, or plumbing installed. On top of all this, you need to factor in labour costs, too. As you can see, costs can quickly mount up, so do your research well and really think about what you want from your garden room, as any changes later might be very difficult or expensive to make!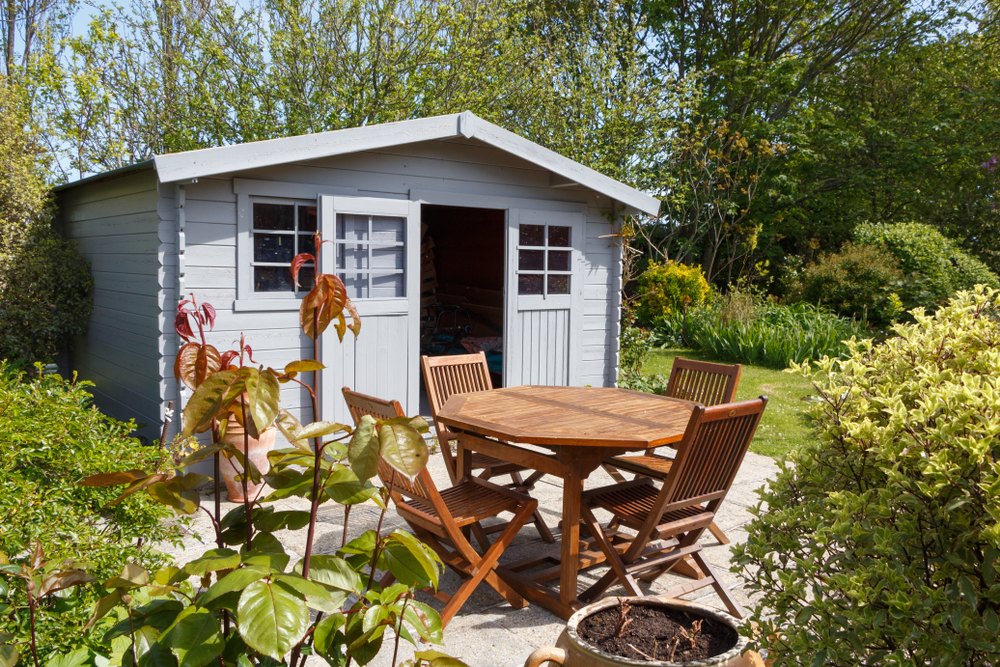 The next question you'll have to answer is: where will you put your new garden room? Location is critical. As mentioned you'll want the ground to be level, but imagine sitting in your lovely new room: where is the best view? What do you want to see? Make a note of where the sun rises and sets; you don't want to be blinded by the sun (when it decides to show up!). The further your garden room is away from your house, the more it will feel like a completely separate space. Another good tip to help those struggling with this step is to put up some sticks where you're thinking of building your garden room. Wait a few days, and see whether that really is the perfect place!
If you're still stuck for some ideas, then we have a wide range of garden rooms readily available! Something cheap, simple, and fun that's bound to impress visitors is the Shire Paradise Bar. For £699 you can bring an actual bar into your backyard. Stock it with drinks and a Bluetooth speaker and play bartender (and DJ!) at your next get-together. What's also great about this small space is that it doubles as a shed; simply lock the door and shutter!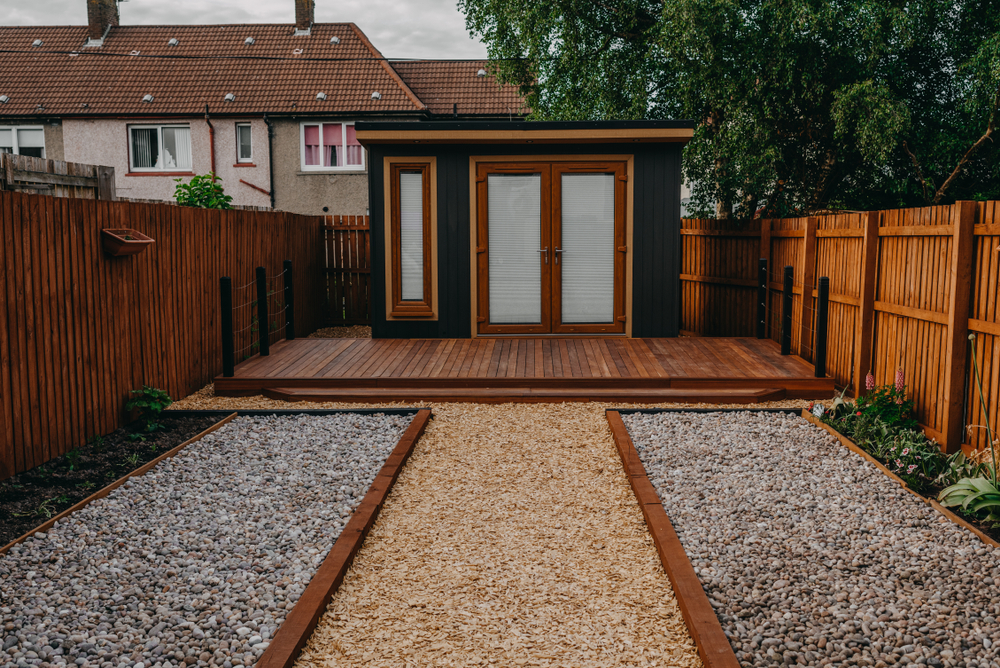 If you're after something small yet classy, then the Shire Lumley Shiplap Summer House could be the answer. Big enough for some chairs and a small table, it's easy to imagine having a cup of tea and looking out the windowed doors. You could also turn it into a small workspace, perfect for woodwork or as an artspace.
The Mercer Traditional Summerhouse is exactly what it says! The Traditional Summerhouse is ideal for smaller gardens. Its quaint, beach-style facade provides a light and airy feel to the building. This would be great as a yoga studio or a place to practice meditation. For £690, you too can experience zen in your very own garden!
Lastly, we have the Mercer Premium Garden Room. This large 12 x 8ft garden room is unique in that it's two buildings in one. The larger half is incredibly spacious and can host family gatherings or would be a fantastic office. The small half forms a storage area, big enough for either gardening or sports supplies. This premium garden room can be yours for just £1,537.49.
As you can see, when it comes to garden rooms, the choice is totally yours. Whether you want a garden office for your business, a garden pod for your mental health, or just a garden shed for your gym equipment, there's never been a better time to get planning!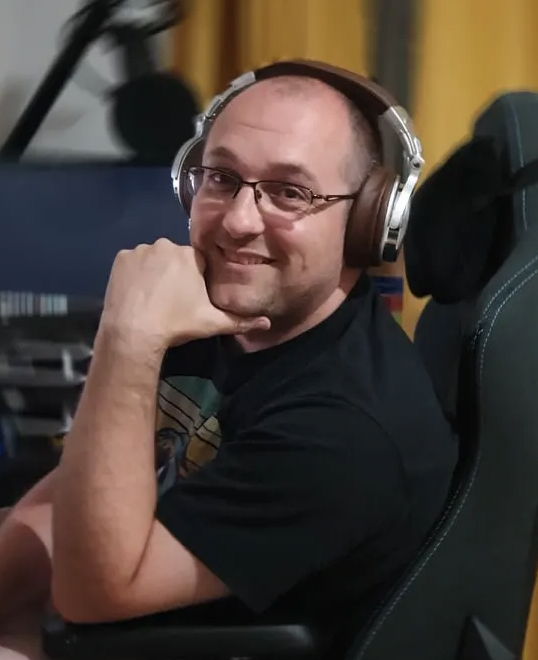 Matt is a professional copywriter and researcher over at https://sucklessatcontent.com/. When he can be prised away from his PC, his wife enjoys setting him DIY tasks around the house.