You can use a flush mount ceiling light to make your home feel more welcoming and warm by lighting it. A flush ceiling light sits flush with the ceiling, creating a clean, modern appearance. Semi-flush mount lighting is partially exposed and comes in a variety of styles.
A flush mount ceiling light is a ceiling light fixture that is embedded in and flush with the ceiling, having a dome shape. A semi-flush mount ceiling light has a decorative design and its base extends just below the ceiling. Instead of hanging low like a pendant light, a semi-flush mount light mimics its appearance.
Let's take a look at some ceiling light trends and tips.
Old Vienna ceiling light, nickel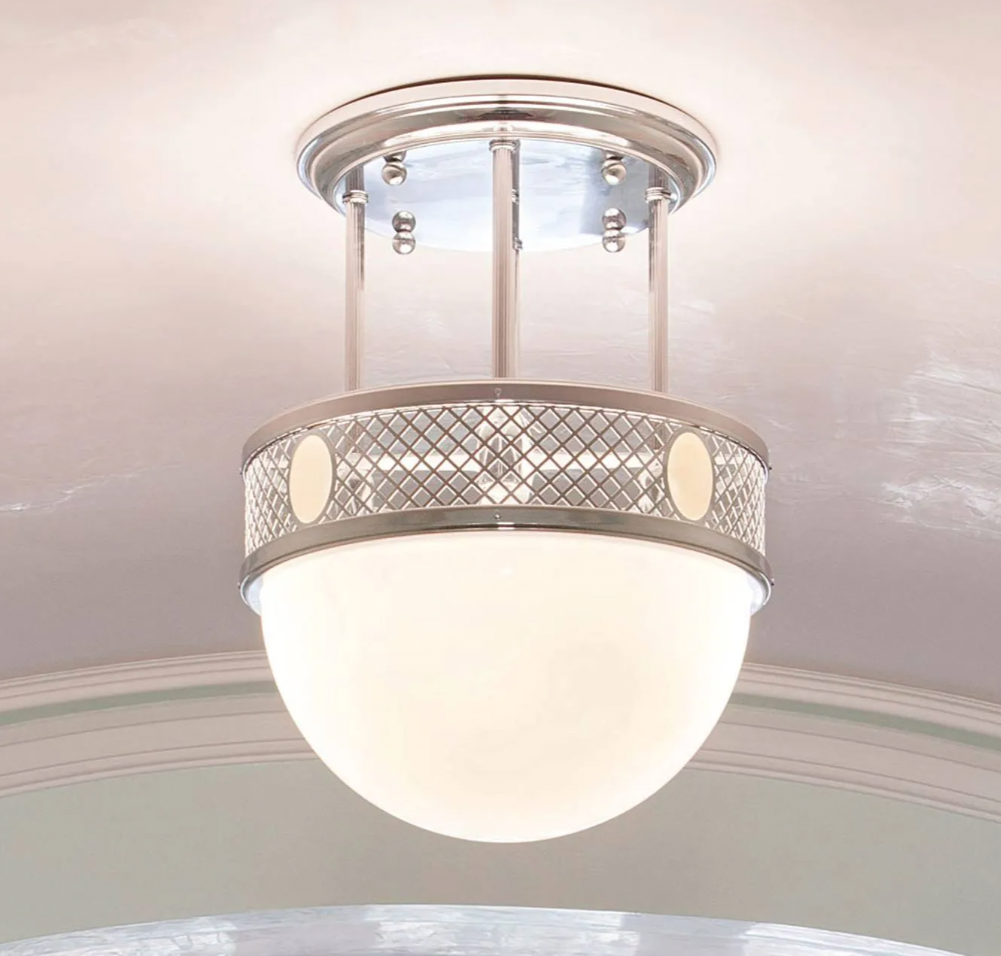 The lamp's design evokes the time of the Jugendstil. This lamp's nostalgic allure is generated by its nostalgic design. The decorative rim is decorated with decorative stones that enhance its look. The decorative stones, which are blue and white in colour, are attached to the decorative rim. Changing the decorative stones increases the uniqueness of the lamp. Because the lampshade is made of shiny glass, it emits a pleasant and gentle light in the room.
Price History
Collier – large ceiling light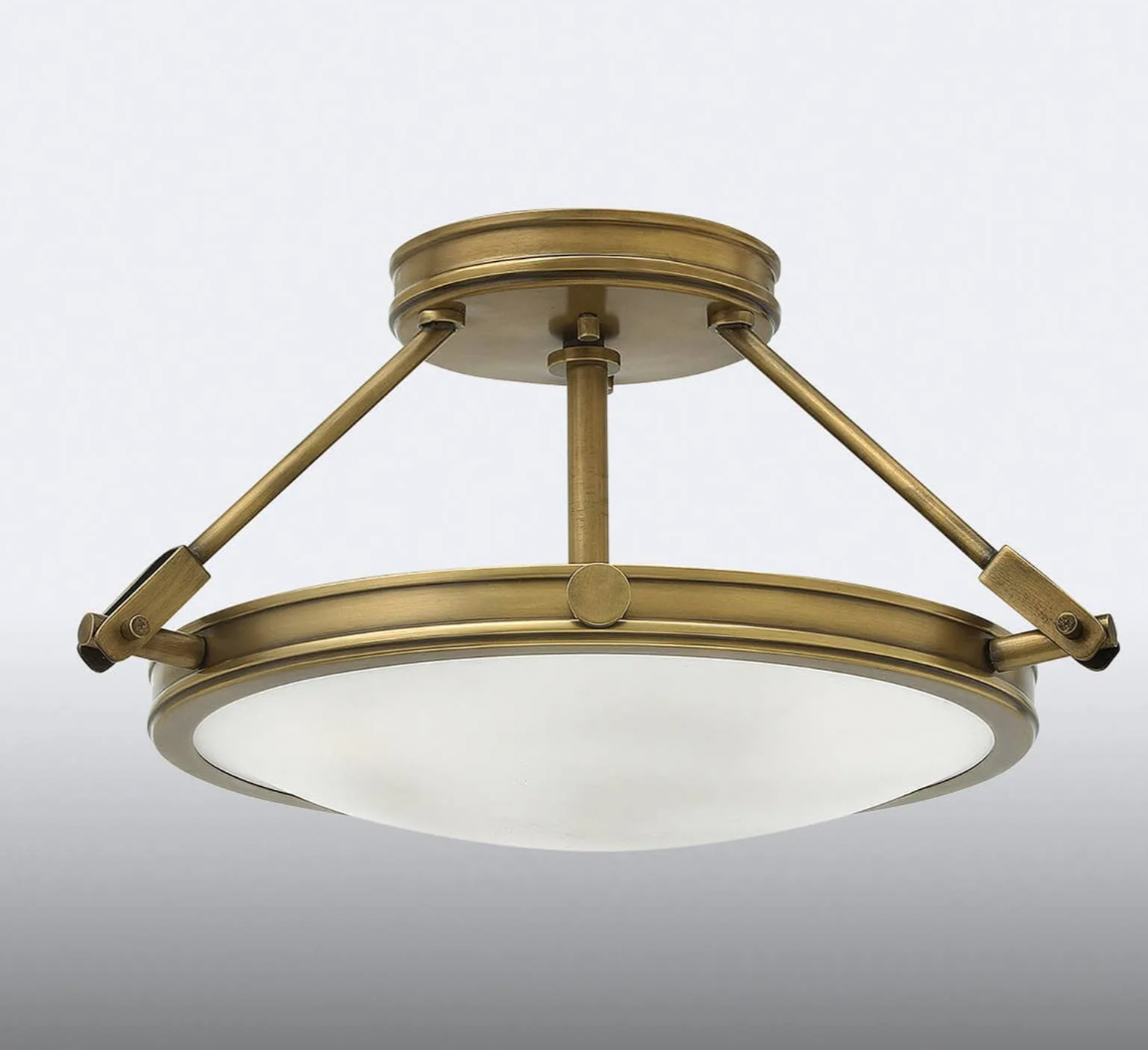 People are captivated by the elegant, stylish design of the Collier semi-flush ceiling light, which combines elegant design with beautiful colour choices. The suspension system has metal knobs and hinges, enhancing the luxurious appearance. It has a large, white lampshade for ample lighting combined with an atmospheric ambiance.
Price History
Griffin ceiling lamp, chrome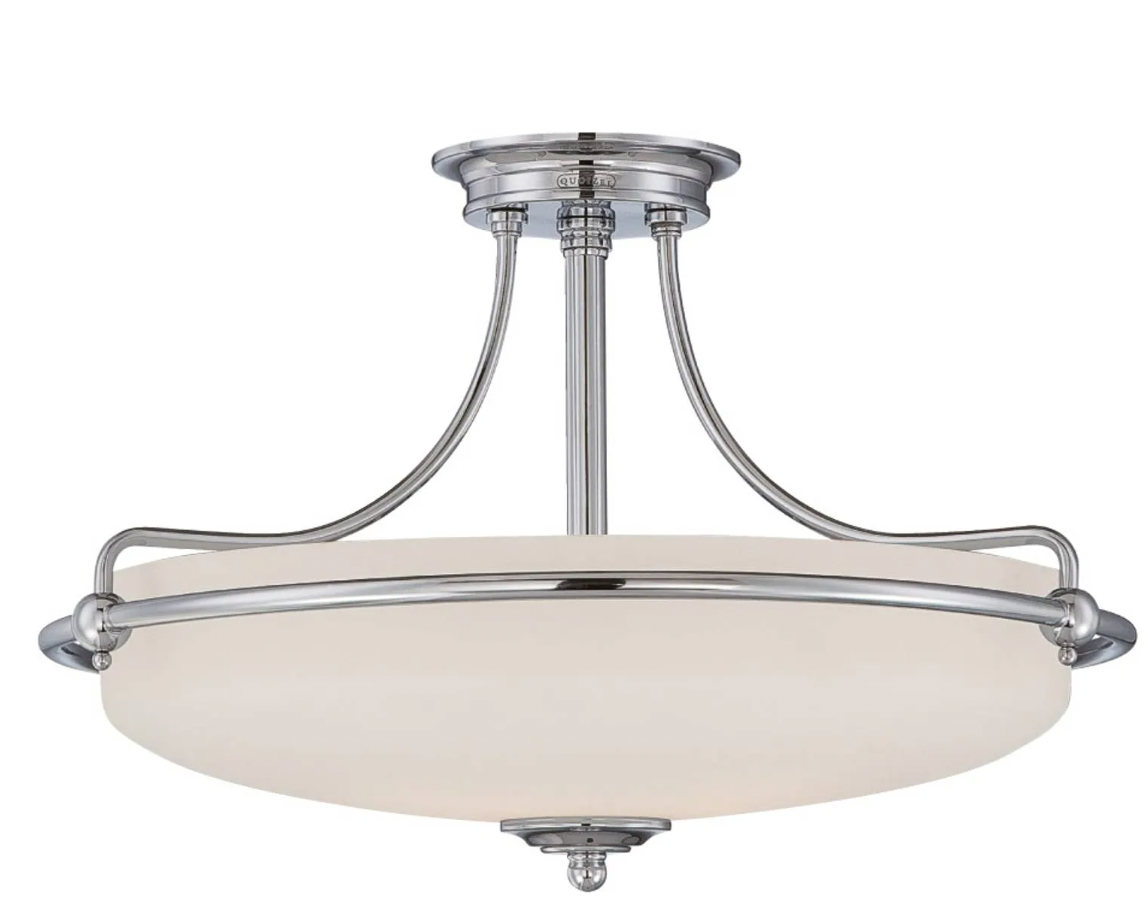 Quoizel's Griffin ceiling light is becoming an unmistakable focal point of any room. Its elegant design, which includes round, etched glass and a highly polished metal frame with a chrome finish, as well as the intriguing light ambiance that Griffin creates, are partly responsible for this. A visually and photometrically high-level ceiling luminaire.
Price History
Flush vs. Semi-flush Ceiling Light
Choosing a flush or semi-flush ceiling light can save you time if you know right away if you want to buy one. Eliminate half the choices by knowing whether you want a flush or semi-flush ceiling light as soon as you buy one. When you install a flush ceiling light, it sits directly on the ceiling, whereas a semi-flush hangs down a few inches and leaves space between the ceiling and the light. A semi-flush or chandelier light may be used in a low-ceiling environment (under 20cm) in addition to a flush light for higher ceilings. You can use a semi-flush light for ceilings that range in height from 21cm to 25cm. These lights hang just a few feet from the ceiling. Chandeliers and pendants are excellent choices for high ceilings. Flush lights make excellent hallways, bedrooms, and bathrooms. A low-ceiling dining area or kitchen nook can be enhanced with a semi-flush light.
Small ceiling light Collier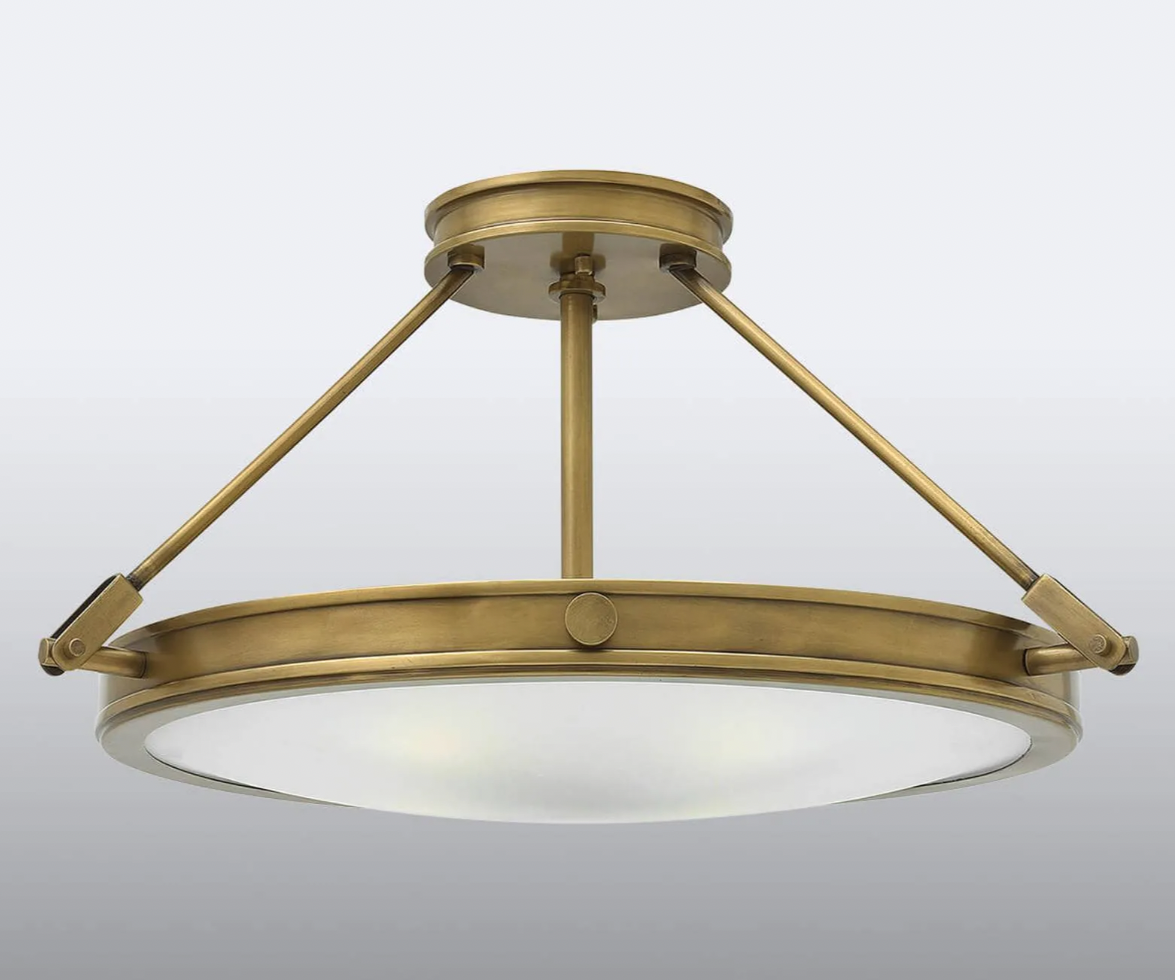 The Collier ceiling light is an attractive 1950s look light, with a warm brass finish on the frame and knobs, and a white lampshade that blends well. A large lampshade produces optimal ambient lighting. Even when it is turned off, the Collier ceiling light is an elegant interior design element that effectively conveys a tasteful design aesthetic.
Price History
Hinkley Hathaway 3 Light Antique Nickel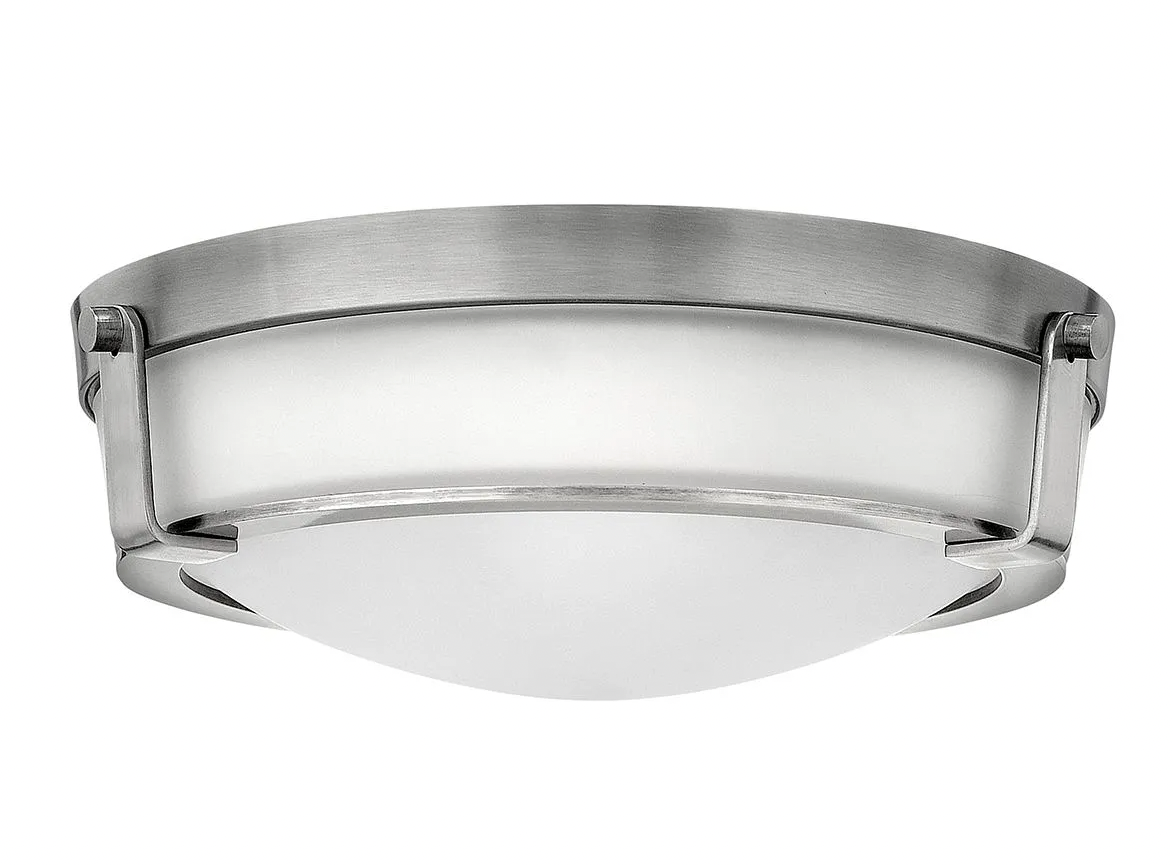 The unique ring detail and uprights on Hathaway's etched glass shade create a modern look. This 3 Light Medium Flush Mount – Antique Nickel Flush Light is compatible with dimmable lamps E27 and weighs 3.74kg. It has an etched glass shade and mild steel construction. The dimensions are 13.1 x 40.5 x 40.5 cm.
Price History
Summary
Maybe you're still looking for a flush ceiling light? Buildiro is your one stop shop for home improvement and building supplies. We carry lighting and electricals from top brands like EGLO, FEISS, Hinkley, Kichler and more. With options for both residential and commercial spaces, we have the perfect light for any setting. Browse our selection now to find the perfect flush ceiling light for your home.

It's safe to say that ceiling lights have found a new place in the hearts of homeowners all over the world, and with good reason. They're practical, they're easy to install, and they serve many important functions (both aesthetically and practically). Whether you choose a ceiling light for a certain fixture or for overall room brightness, however, it's important that you do your homework to ensure that you know exactly what you're getting for your money. By shopping online for your ideal choice in ceiling lights, you can easily research each product to ensure that it meets all of your needs and expectations before you invest in it.

Important! When you are not sure how to install a flush ceiling light, call your local electrician.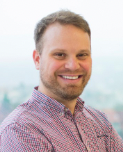 Luke is the founder of Buildiro.com and he is passionate about construction and building. His mission is to show people how to make things done fast and easy.