First of all, it's clear that DeWalt is making a strong play for the top spot in mitre saws. Their recent introduction of FLEXVOLT technology has laid the groundwork for their products to take a variety of new shapes and formats, but the true potential of their mitre saw portfolio is not yet fully realized. It's this potential (and a fair share of skepticism), that has us looking forward to seeing what's next from DeWalt when it comes to mitre saws.
DeWalt DWS780 XPS Sliding Compound Mitre Saw 240V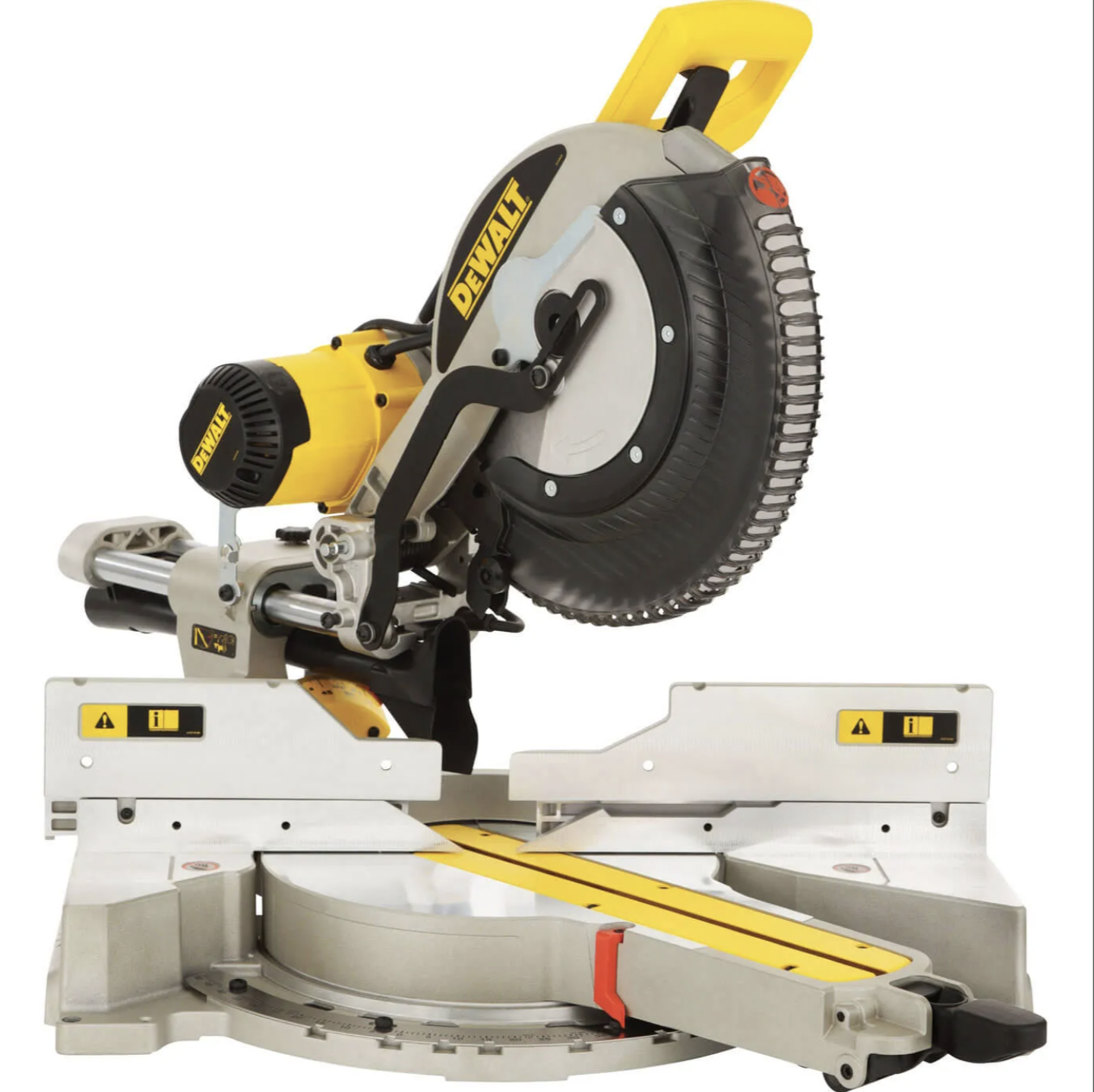 The Dewalt DWS780 is an impressive 305mm mitre saw that, with convenient features like a laser guide for bevel cuts and a quick release blade guard, helps to significantly streamline the cutting process. The DWS780's sturdy double bevel scale provides accurate measurements for all sawing operations, and its universal scale makes it easy to transfer measurements from one type of saw to another. The saw offers plenty of extra safety features and a variety of useful extras, like a storage rack that keeps the rip fence in one place and the cord out of the way during use. With solid build quality, user-friendly functionality, and outstanding performance capabilities, this model is sure to please both professionals and amateurs alike.\
Features:

– Outstanding cutting performance in both small profiles and large construction timbers up to 110 x 303 mm
– XPS Shadow line cut indicator provides fast accurate alignment of the blade while illuminating the work piece for increased productivity no adjustment required
– Heavy duty durability with the ability to fully adjust your machine to mainatin accuracy over the life fo the tool.
– New quick release bevel stop setting provides accurate and simple setting of bevel angles up to 49° left and right
– Easy to use mitre and bevel controls making the tool fast and simple to change from one set up to another
– Cam action mitre lock function makes mitre setting faster and easier allowing the user to quickly adjust angles between 0° – 50° left and 0° – 60° right
– Long life Accuracy in Table and Fence Design
– The large dual sliding fence gives maximum support in large material cuts at any angle or combination of angles
– Linear horizontal rails utilise bronze guides to provide maximum precision when cutting materials up to 345 mm wide
– Compact and lightweight design characteristics deliver a saw with enormous capacity which is easy to transport around the jobsite
– Outstanding dust control and deflection away from cutting area
– Electronic speed control for adjusting cutting speed when cutting materials other than wood
– The innovative grooving stop allows the adjustment of the cutting depth for grooving and rebating applications
Dewalt Mitre Saw DWS780 XPS Price History
The average price based on 5 sellers

Sellers
DeWalt DWS777 XPS Sliding Compound Mitre Saw 216mm 240V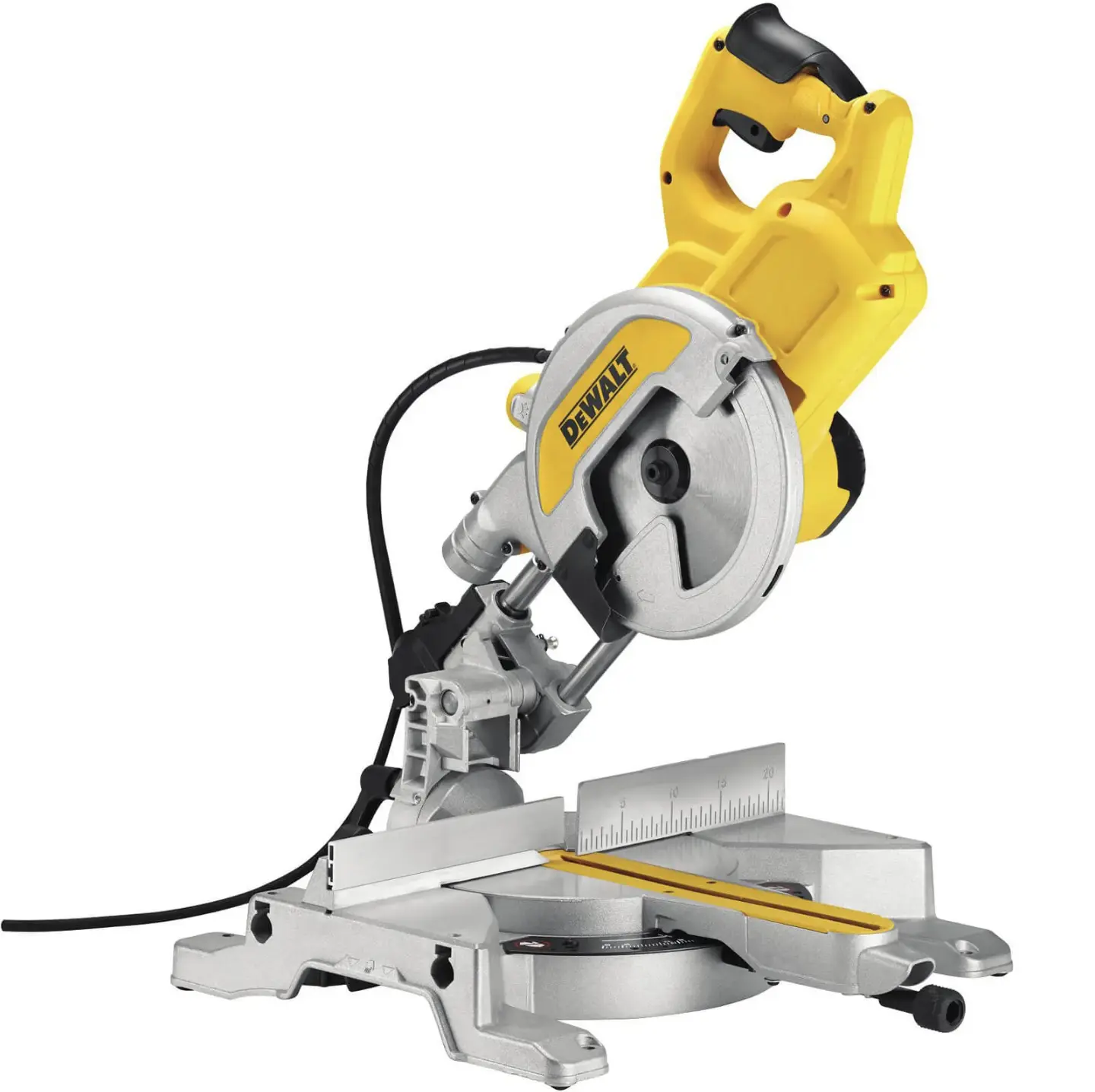 We think the DeWalt DWS777 is an excellent choice for a contractor who's looking for a quality saw at an affordable price. The fact that it locks makes it easier to use and safer to use as well. We appreciated the perks like the blade guard and how easy it was to assemble – especially compared to other saws. If you're looking for a good crosscut saw, we would probably recommend this one above most others currently on the market.
Features:
-Voltage: 230/240 Volt.
-Input Power: 1,800 Watt.
-No Load Speed: 6,300/min.
-Capacity: Max Depth: 60mm,
-Max Cross Cut: 250mm.
-Blade: 216 x 30mm bore, 24 TCT Tooth.
-Mitre Cut (R/L): 50° -50°,
-Bevel: 48°.
-Weight: 14.5kg
DeWalt DWS777 XPS Price History
The average price based on 5 sellers

Sellers
DeWalt DWS727 Double Bevel Sliding Mitre Saw 250mm 110V
In our honest opinion, if you're looking for a quality, value for money mitre saw, then the DeWalt DWS727 could be your best bet. It has a great range of features and with DeWalt's lifetime service policy, it's easy to see that DeWalt do their utmost to ensure you get the best from their tools. And at such an attractive price point, there's no reason why you can't invest in a DeWalt tool to add to your arsenal.
The 1675 Watt motor, variable speed trigger and a range of common and uncommonly used cutting capacities make it a professional quality tool for trade work. The DWS2770 has plenty of features that even the most serious DIY enthusiast will appreciate, around £800 it's a good value for money.
Features:
– Voltage: 110v
– No load speed: 4300 min/-1
– Blade diameter: 250mm
– Blade bore: 30mm
– Maximum Depth of Cut: 150 mm
– Maximum Cutting Capacity (45/45 degree): 210 x 50 mm
– Maximum Cutting Capacity (45/90 degree): 210 x 77 mm
– Maximum Cutting Capacity (90/45 degree): 305 x 50 mm
– Maximum Cutting Capacity (90/90 degree): 305 x 77 mm
– Mitre Capacity (Right/Left): 60/50 degree
– Length: 770 mm • Height: 460 mm • Depth: 480 mm • Weight: 23 kg
DeWalt DWS727 Price History
The average price based on 3 sellers

Sellers
Things to consider when buying DeWalt mitre saws
The above tips will help you to choose the right tools for both your needs and your budget. Given the number of DeWalt mitre saws available, it would be hard task to try and narrow down your list of considerations on the fly while in a store.
Positive Stops
Having a positive stop system on your saw makes it easier to adjust the bevels, and will limit the amount of time it takes you to make these adjustments. The positive stops system is definitely a useful addition for any saw, and one that is definitely worth investing in.
Is changing the blade easy?
The best saws will offer a variety of blades and will make it easy to change out the blades with little effort. In doing so, you'll have a much nicer experience overall, especially if you use a blade for a specific job.
Laser Guide
The laser guide is perfectly aligned with the saw and you can easily locate it even in the brightest of conditions. You should check this on the saw before purchase.
Conclusion
There are a lot of factors you need to look at when buying a mitre saw. Your specific needs and the number of features that you desire will greatly impact your choice. You need to consider your budget and compare the different features offered by DeWalt mitre saws to find the one that is fitting your needs.
If you are purchasing a mitre saw and need to choose between different brands then the DeWalt may be your best bet. The DeWalt DWS780 XPS is one of the most affordable mitre saw available in the market today, but this is no indication that it will lack quality and durability.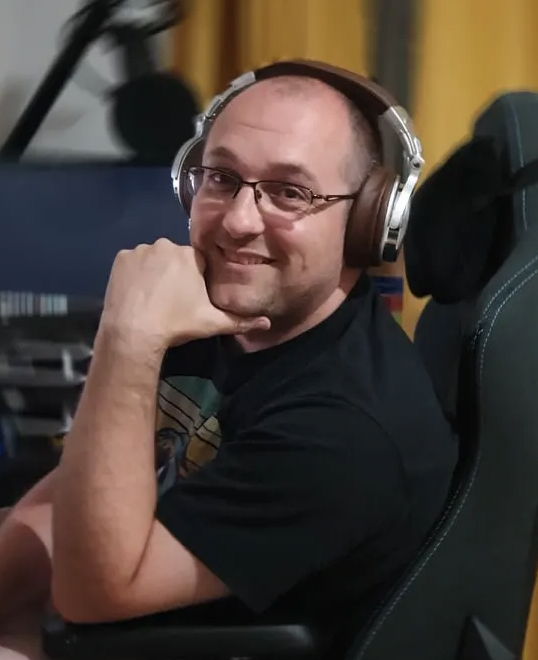 Matt is a professional copywriter and researcher over at https://sucklessatcontent.com/. When he can be prised away from his PC, his wife enjoys setting him DIY tasks around the house.