In the quest for the finest power tools, Milwaukee consistently emerges at the forefront. Yet, with so many options to choose from, how do you know which one is the best fit for your needs? To address this, we've not just scoured the market, but also turned to those who use these tools day in and day out: tradespeople in the UK. Through their insights, our "Milwaukee Multi Tool Review" brings you a genuine understanding of each product. We delve into the robust Milwaukee multi tool m18, the handy Milwaukee multi tool m12, the enhanced Milwaukee multi tool fuel variant, and the sheer convenience of Milwaukee multi tool cordless models. From professional insights to product specifics, this review is your one-stop guide to choosing the best Milwaukee multi tool that the market has to offer. Dive in and equip yourself with the best!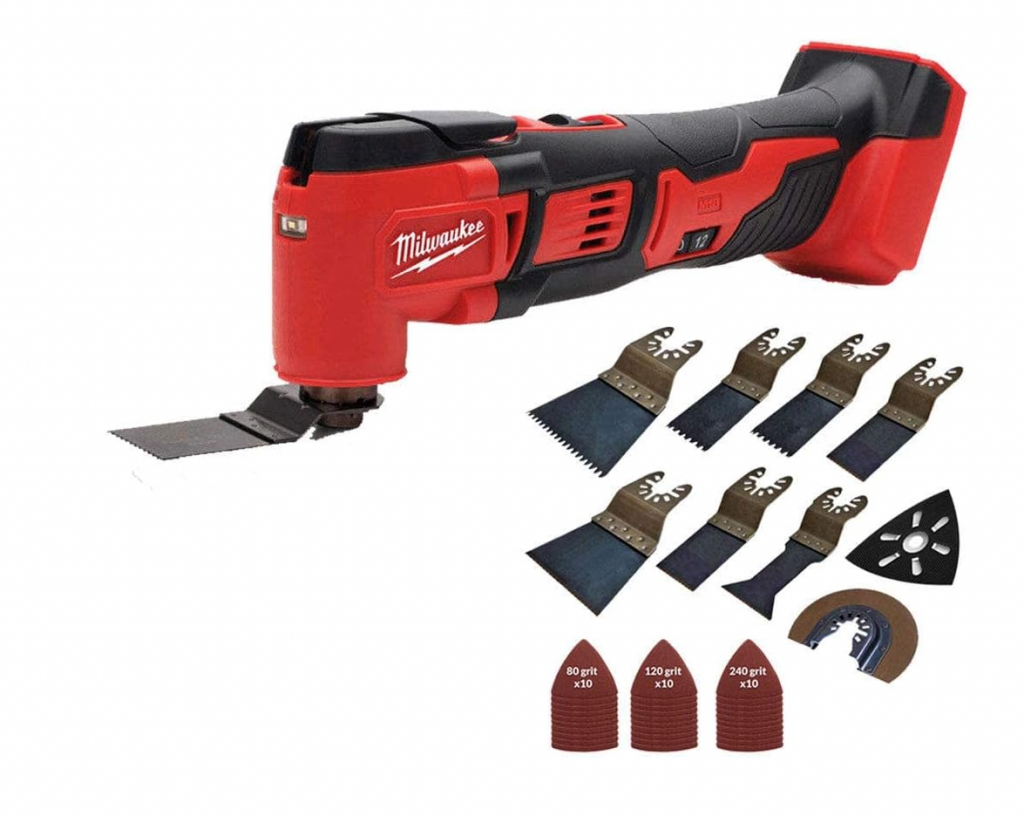 The Milwaukee M18BMT-0 M18 is a versatile compact multi-tool designed for a range of tasks. Weighing in at a mere 322 grams, it's noticeably lightweight, making it ideal for prolonged use without causing fatigue. Its distinct red color, which is synonymous with the Milwaukee brand, makes it easily identifiable on a busy worksite.
Coming with a 39 pieces accessories set, this multi-tool is equipped to handle multiple applications right out of the box. The inclusion of the accessories kit amplifies its versatility, saving users from the hassle of making additional purchases.
Its angled design is ergonomic, ensuring the tool fits snugly in hand, and offers better maneuverability, especially in tight spaces. Powered by an 18V battery, it promises efficient performance, though it's worth noting that the battery is sold separately. This could be a minor inconvenience for users who don't already own compatible Milwaukee batteries.
The cordless feature further enhances its appeal, providing the user with mobility and freedom from tangled cords. However, potential users should be aware that batteries are essential for operation and not included in the package.
In conclusion, the Milwaukee M18BMT-0 M18 18V Compact Multi Tool, with its comprehensive accessories set, is a solid addition to any toolkit. Its lightweight design, cordless convenience, and power-packed performance make it an attractive option for both professionals and DIY enthusiasts. Just be prepared to purchase the battery separately if you don't already have one.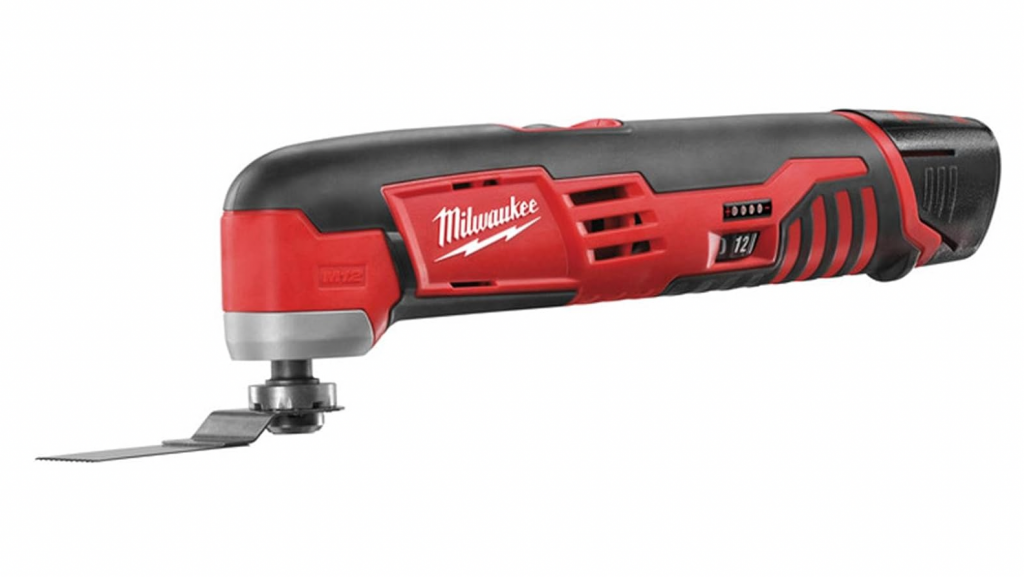 Milwaukee's C12MT-0 M12 offers a sub-compact solution for those seeking a multi-tool that balances power with portability. Weighing in at 1 kilogram, it's a moderately lightweight tool considering its capabilities, making it a feasible option for both extended use and quick tasks.
The tool's signature red hue, a staple of Milwaukee products, ensures it stands out in any workshop or jobsite. This is particularly useful for professionals who wish to quickly identify their tools in a busy environment.
Designed with an angled style, this multi-tool promises ergonomic comfort, potentially reducing hand strain during prolonged use. The compact design is particularly advantageous for tasks in confined spaces, ensuring optimal maneuverability.
Though it operates at a 12V capacity, users will appreciate the fact that the device doesn't require batteries for its operation, thanks to its AC power source. This can be a significant convenience for users who don't wish to keep track of battery charge levels or make additional battery purchases.
The special features emphasize its multi-use functionality, cordless design, and compact form, making it an all-rounder suitable for a variety of applications.
In conclusion, the Milwaukee C12MT-0 M12 Cordless Sub Compact Multi-Tool stands as a testament to Milwaukee's commitment to producing high-quality, user-friendly tools. Its versatility combined with its compact design positions it as an excellent choice for professionals and hobbyists alike. The AC power source is a notable advantage, eliminating the need for battery management.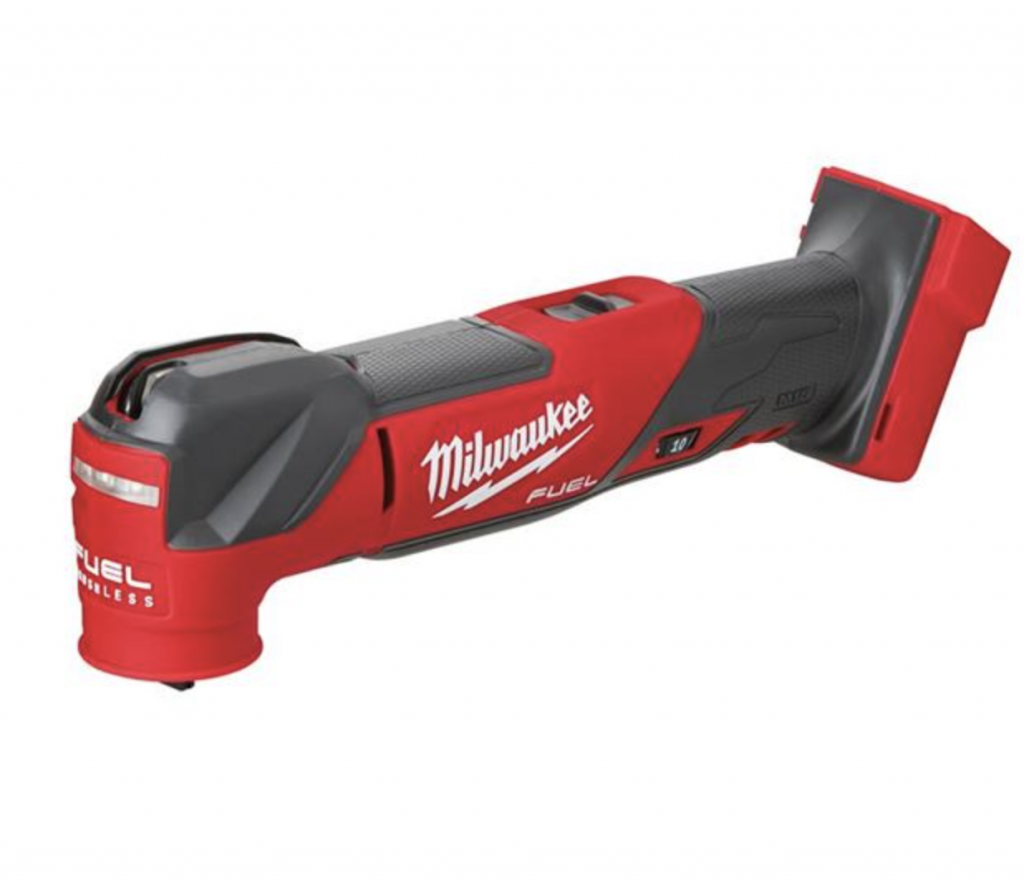 The Milwaukee M18 FMT FUEL™ Multi-Tool stands as a formidable entry in the power tool market. Its brushless POWERSTATE™ motor not only ensures longevity but is engineered to provide impressive cutting speeds, especially evident when tackling common materials like hardwood and nail-embedded wood.
One of the standout features of this multi-tool is its 10-setting dial complemented by an auto-load functionality. This offers users the flexibility to tailor the tool's speed based on the application at hand, ensuring optimal performance across diverse tasks.
A significant highlight of the M18 FMT is the FIXTEC™ tool-free blade change system, reducing downtime during blade swaps. The universal blade change adaptor is a thoughtful addition, offering compatibility with a vast array of blades, even those from different brands. This functionality emphasizes Milwaukee's commitment to user convenience and adaptability.
In terms of safety and performance, the REDLINK PLUS™ intelligence system plays a pivotal role. It safeguards the tool and battery from potential overloads while simultaneously enhancing performance under strenuous conditions.
The integrated 180° LED light is another user-friendly feature, illuminating workspaces and ensuring visibility even in low-light conditions.
Though this unit comes as a bare unit (with no battery or charger included), it is bundled with essential accessories: a Universal Fit OPEN-LOK Oscillating Wood Blade, a Sanding Backing Pad, five Sanding Sheets, and the aforementioned Universal Blade Change Adaptor.
In conclusion, the Milwaukee M18 FMT-0 FUEL Multi-Tool showcases the brand's dedication to producing high-performance tools without compromising on user-friendliness. Its range of features, from the powerful brushless motor to the universal blade adaptor, positions it as a must-have for both professionals and DIY enthusiasts.
What to Consider When Buying a Milwaukee Multi Tool?
When considering a purchase of a Milwaukee Multi Tool, several factors come into play to ensure you choose the right tool for your needs. Here are some key aspects to take into account:
Power Source and Battery Life: Milwaukee offers both corded and cordless multi-tools. If mobility and freedom from power outlets are essential for you, a cordless model might be the best choice. However, also consider the battery life, especially if you're planning on using the tool for extended periods.
Motor and Performance: Look for tools with brushless motors (like the POWERSTATE™ in some models) as they tend to offer longer life, better performance, and efficiency.
Versatility: Examine the variety of accessories and attachments that come with the multi-tool. Some models come with an extensive set, while others might require additional purchases.
Tool-Free Blade Change System: A tool-free blade change system, such as the FIXTEC™ system offered by Milwaukee, can save you significant time and effort during blade swaps.
Speed Settings and Control: Having variable speed settings can be crucial for different tasks. A multi-tool with an adjustable speed dial will provide more control and precision.
Compatibility: The ability to use blades and attachments from various brands, as seen with some Milwaukee models that have a universal blade change adaptor, can be a valuable feature.
Durability: Consider the build quality and durability. Given the investment, you'll want a tool that can withstand daily wear and tear, especially if used professionally.
Ergonomics and Design: The tool's weight, grip, and design can affect fatigue during prolonged use. Opt for a model that feels comfortable in hand.
Integrated Features: Additional features such as integrated LED lights can be beneficial for working in low-light conditions.
Protection and Overload Systems: Features like the REDLINK PLUS™ intelligence system, which offers overload protection, can be crucial for both the tool's longevity and user safety.
Price and Warranty: Lastly, consider your budget and the warranty provided. A longer warranty often indicates the manufacturer's confidence in the product's durability.
Feedback and Reviews: Reading reviews from other users can give you insights into the tool's real-world performance and potential issues.
What is the latest Milwaukee multi-tool?
The newest addition to the Milwaukee lineup is the M18 FUEL™ MULTI-TOOL. Designed with a focus on power, efficiency, and versatility.
What's the Difference Between M12 and M18 Tools?
The terms "M12" and "M18" primarily refer to the battery platforms and subsequently the tool lines powered by these batteries from Milwaukee, a well-known tool manufacturer. Let's delve into the primary differences between the M12 and M18 tools:
Voltage:

M12: As the name suggests, the M12 tools are powered by 12-volt batteries.
M18: Similarly, M18 tools utilize 18-volt batteries.

Power and Performance:

M12: These tools are generally designed for lighter-duty tasks and applications. They offer sufficient power for most everyday jobs, especially in tighter spaces or for tasks that require more finesse.
M18: M18 tools provide more power, suited for heavy-duty applications and tasks that demand more torque or extended runtimes.

Size and Weight:

M12: Due to their lower voltage and targeted applications, M12 tools are typically more compact and lightweight, making them more suitable for extended use and tasks in confined spaces.
M18: Given their greater power, M18 tools are generally larger and heavier than their M12 counterparts.

Battery Compatibility:

M12: M12 tools are compatible with the M12 battery line-up, which may range in capacity but all maintain the 12V specification.
M18: M18 tools work with the M18 battery series, which again can vary in capacity but are all 18V.

Range of Tools Available:

M12: The M12 line offers a wide range of tools, but they're often tailored for specific tasks that can be achieved with the 12V power specification. Examples include drills, drivers, and specialized tools like inspection cameras or heated jackets.
M18: The M18 tool lineup is broader and includes a wider range of heavy-duty tools, including larger drills, saws, and grinders. The M18 line also includes the FUEL lineup, which features advanced brushless motors for improved performance and longevity.

Intended User:

M12: Ideal for DIY enthusiasts, homeowners, or professionals who need a lightweight tool for specific tasks or in situations where portability and maneuverability are paramount.
M18: More targeted towards professionals and tradespeople who require robust tools for demanding tasks and job sites.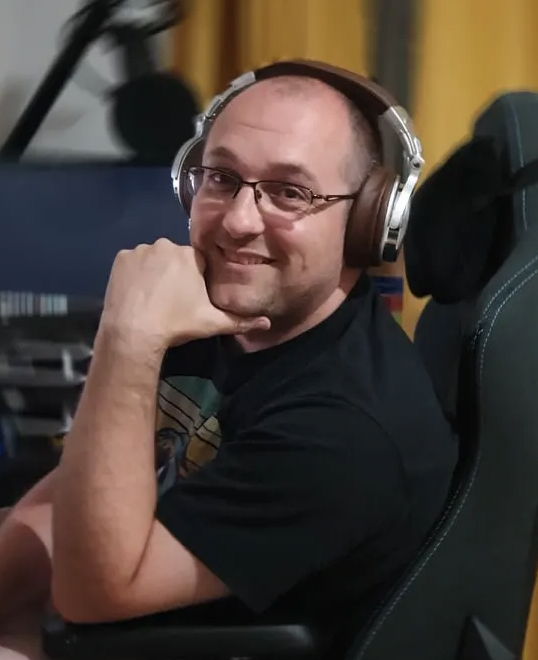 Matt is a professional copywriter and researcher over at https://sucklessatcontent.com/. When he can be prised away from his PC, his wife enjoys setting him DIY tasks around the house.