When it comes to top-tier power tools, few brands resonate with professionals and hobbyists alike as Makita does. Whether you're on a hunt for the Makita multi tool 18v best price, or curious about their range, we've got you covered. From the powerful and efficient Makita multi tool corded variant to the robust Makita multi tool 40v, this guide dives deep into the world of Makita's versatile offerings. For those who value the convenience of going cord-free, the Makita multi tool cordless range might just be your workshop's newest addition. If variety is what you seek, the comprehensive Makita multi tool set ensures you're equipped for any task. Today, we're going to focus particularly on the popular Makita multi tool 18v and its unparalleled features. Strap in as we explore the finest in the business and help you make an informed choice.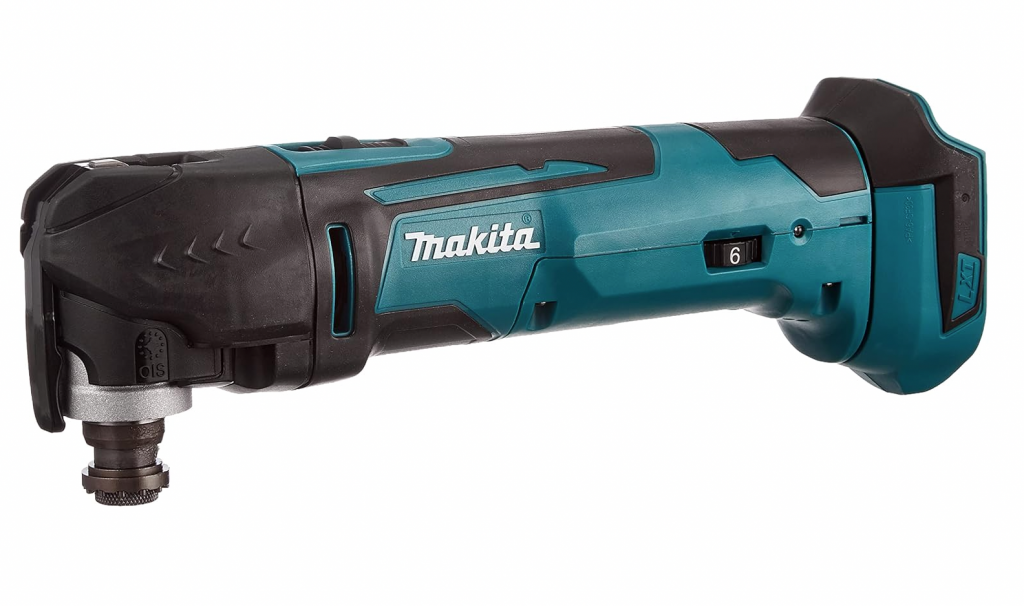 Overview:
The Makita DTM51Z Multi-Tool is a versatile power tool operating at 18 volts, designed for an array of tasks. Its blue finish and angled style give it a distinctive look, while the combination of plastic and metal in its construction ensures durability.
Key Features:
Anti-restart Function: Adds an element of safety by preventing the tool from starting unintentionally.
Tool-less Accessory Clamp: Makes changing accessories a breeze, eliminating the need for additional tools.
OIS Shank: Ensures compatibility with a range of accessories.
Easy Slide Switch: Simplifies operations and is user-friendly.
Adjustable Angles: With 12 angle settings at every 30 degrees, users get flexibility ranging from 0 to 360 degrees.
Variable Speed Control Dial: Allows precision and control based on the task at hand.
Battery Capacity Warning Lamp: Keeps the user informed about battery status to prevent unexpected power runouts.
Specifications:
Power Source: Battery-Powered (Lithium Ion batteries required, not included)
Voltage & Wattage: Operates at 18 volts and consumes 54 watts.
Dimensions: Measures 30.71 x 9.4 x 11.61 cm and weighs 1.86 kilograms.
Components: The package contains the multi-tool itself without any additional components or batteries.
Warranty & Compatibility:
Makita offers a 1-year manufacturer warranty on the DTM51Z, which extends to 2 years if registered within 30 days of purchase. However, this warranty is contingent on the use of genuine or recommended parts. Utilizing non-genuine batteries and chargers or incompatible parts can void the warranty.
Pros:
Versatile with adjustable angle settings.
User-friendly with easy-to-operate switches.
Safety features like anti-restart function.
Tool-less accessory changes make for convenient operation.
Cons:
Batteries are not included, which could be an added cost for users.
The warranty can be easily voided with the use of non-genuine parts.
Conclusion:
The Makita DTM51Z Multi-Tool stands out as a reliable and versatile tool suitable for various applications. While the exclusion of batteries in the package might be a drawback for some, its array of features and user-centric design make it a valuable addition to any toolkit.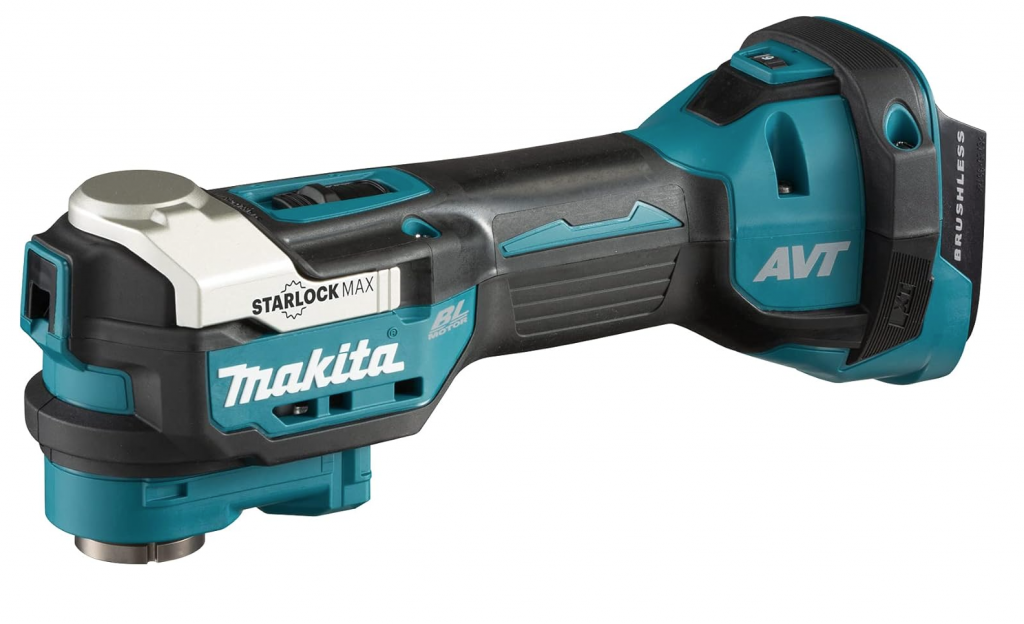 Overview:
The Makita DTM52Z Li-ion LXT Brushless Multi-Tool emerges as an advanced power tool, with its angled blue design encapsulating its durability and efficiency. Operating at 18 volts, this cordless device is an essential addition to both professional and DIY enthusiasts' toolkit.
Key Features:
Oscillation Angle: The 3.6-degree oscillation angle ensures faster cutting and sanding, streamlining tasks with efficiency.
Soft Start & Variable Speed: The tool offers a soft start, and its speed can be varied via a control dial. Additionally, the constant speed control maintains the device's speed under load.
Easy Slide Switch: Designed for continuous use without causing fatigue, ensuring convenience in prolonged tasks.
Tool-less Accessory Clamp: Provides effortless and swift accessory changes.
Anti-restart Function: Prioritizes safety by reducing the risk of unintentional start-ups.
Versatile Angle Settings: 12 angle settings every 30 degrees from 0 to 360 degrees allow flexibility in accessory orientation.
Starlock Max Compatibility: The DTM52Z is adaptable to heavy-duty tasks, thanks to its compatibility with Starlock Max accessories (not included).
Specifications:
Power Source: Battery-Powered (Batteries not included)
Voltage: Operates at a powerful 18 volts.
Dimensions: Comes in at 31.75 x 8.89 x 11.43 cm and a lightweight 1.3 kilograms.
Components: Alongside the multi-tool, the package also includes anti-rust oil.
Pros:
Enhanced speed and efficiency with a 3.6-degree oscillation angle.
Variable speed control allows for adaptability to various tasks.
Lightweight design reduces user fatigue during prolonged use.
Compatibility with Starlock Max boosts its heavy-duty application range.
Cons:
Batteries not included, leading to potential additional costs.
Starlock Max accessories, crucial for heavy-duty applications, are not included in the package.
Conclusion:
The Makita DTM52Z Li-ion LXT Brushless Multi-Tool is a manifestation of innovation and functionality. While the absence of included batteries might deter some users, its impressive features, coupled with its lightweight design, make it an indispensable tool for a wide range of applications.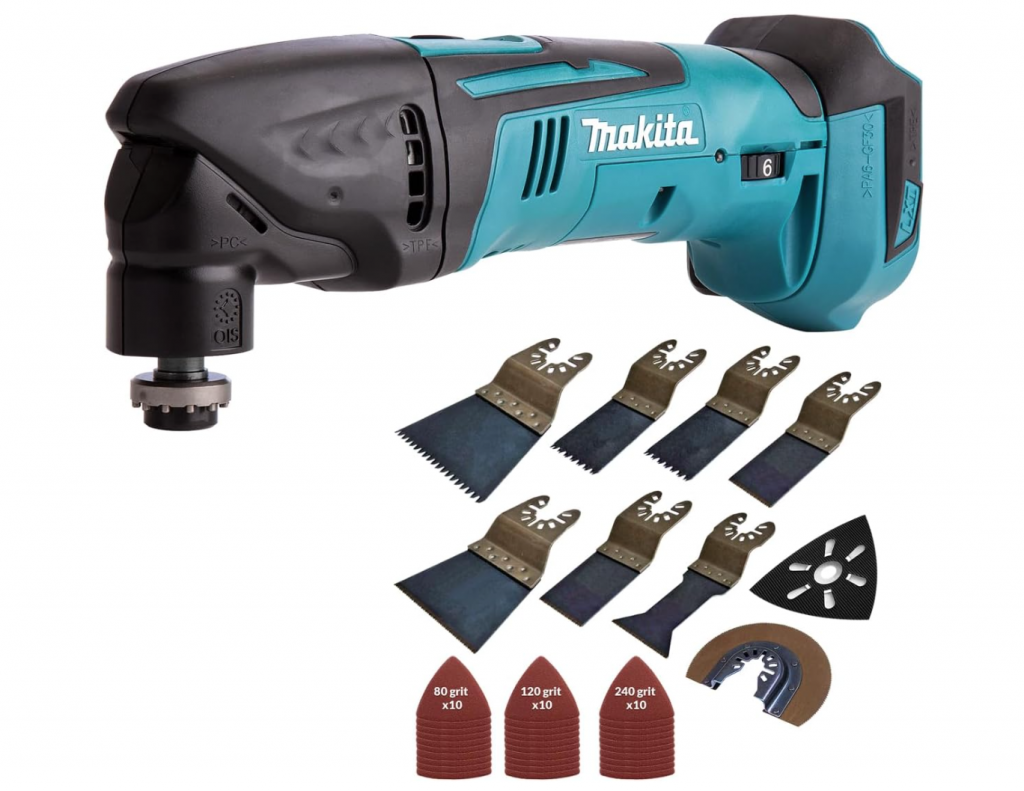 Overview:
Embodying the perfect blend of power and versatility, the Makita DTM50Z LXT 18V Multi Tool stands as a testament to Makita's commitment to high-quality tools. The added boon of a comprehensive 39pcs Accessories Set ensures that users are well-equipped for diverse tasks, from intricate detailing to heavy-duty work.
Key Features:
Hex Wrench Holder on Body: This unique feature ensures that necessary adjustments can be made without rummaging through a toolbox, enhancing efficiency and time management on the job.
Dual Variable Speed Control Dial: While this feature has been mentioned twice, it underscores the importance of precision in tasks. Whether it's for delicate woodwork or more robust applications, this dial allows for seamless control.
360° Accessory Installation: The ability to install accessories at 30° increments throughout a complete 360° using the OIS Interface means users can approach tasks from varied angles, ensuring optimal results.
Ergonomic Design: The thumb-operated On/Off switch has been strategically positioned for utmost ease, reducing hand fatigue especially during prolonged use.
Safety Protocols: With the anti-restart function, accidental and potentially harmful start-ups are efficiently prevented.
Expansive 39pcs Accessories Set: The kit is replete with multiple blades suitable for wood, bi-metal applications, and precision tasks. The inclusion of sanding deltas and varying grit sanding sheets from 80Grit to 240Grit accentuates the tool's adaptability to finishing tasks.
Specifications:
Power Source: Operates on battery power, offering cordless convenience, though batteries are sold separately.
Components: The package is robust, including precision and bi-metal blades, sanding deltas, and a spectrum of sanding sheets suitable for various finishes.
Pros:
A comprehensive accessory set equips users for a vast array of tasks without the need for supplementary purchases.
Thoughtful design elements like the hex wrench holder streamline the working process.
Designed with user comfort in mind, from ergonomic switches to flexible speed controls.
The multitool's adaptability, from speed to accessory orientation, is unmatched.
Cons:
The absence of batteries in the package could necessitate an additional purchase, adding to initial costs.
Conclusion:
The Makita DTM50Z LXT 18V Oscillating Multitool with 39 Pieces Accessories Set is more than just a tool; it's a comprehensive solution for craftsmen, DIY enthusiasts, and professionals. The intricate balance of power, adaptability, and user-centric design makes it not just an acquisition but a valuable investment. While the battery exclusion is a minor setback, the sheer versatility and precision the tool offers make it an undeniable asset in any toolkit.
What to Consider When Buying a Makita Multi Tool?
When considering the purchase of a Makita Multi Tool, it's essential to keep certain factors in mind to ensure you're getting the right tool that aligns with your needs. Here's a breakdown of the key aspects to consider:
Type of Power Source:

Corded vs. Cordless: Determine whether you require the mobility of a cordless model or the continuous power supply of a corded one. Remember, while cordless models provide more flexibility, they rely on batteries which might need frequent charging or replacement.

Battery Life (For Cordless Models):

Investigate the average battery life and charging time. For regular and prolonged use, a longer battery life and fast charging feature can be essential.

Oscillation Speed and Control:

A good multi-tool should provide variable speed settings, allowing you to adapt to different tasks. Whether it's cutting, sanding, or grinding, each task might require a different oscillation speed.

Accessory Compatibility:

Ensure the multi-tool is compatible with a wide range of accessories, especially if you're planning to use it for varied tasks. Some multi-tools may also feature proprietary systems, so it's good to check if third-party attachments can be used.

Ease of Accessory Change:

A tool-free or tool-less accessory change can significantly streamline your work process, especially if you're switching tasks frequently.

Safety Features:

Features like anti-restart functions can prevent accidental startups, which is crucial for ensuring safe operation.

Ergonomics and Comfort:

Look for models that have an ergonomic design, especially if you plan to use the tool for extended periods. Features like rubberized grips, thumb-operated switches, and balanced weight distribution can make a significant difference.

Warranty and After-sales Support:

A good warranty can be a testament to the product's quality. Additionally, it's beneficial to ensure that the manufacturer provides robust after-sales service in case of any issues or required repairs.

Additional Features:

Some models may come with extra features like LED lights for better visibility, dust extraction systems, or even digital displays for more precise control.

Price and Value:
While Makita is a reputable brand known for high-quality tools, it's essential to assess whether the features of a particular model justify its price point. It's always a good idea to compare models and assess which offers the best value for your needs and budget.
Reviews and Feedback:
Before making a purchase, it can be beneficial to check user reviews and feedback. This can give you a clear picture of the tool's performance in real-world scenarios and any potential issues users have faced.
In conclusion, a multi-tool can be an invaluable addition to your toolkit, but it's essential to choose one that aligns with your specific requirements. Taking the time to evaluate the above aspects can ensure that you make a well-informed decision and invest in a tool that serves you well for years to come.
Does Makita Multi Tool Use Starlock?
Starlock is a quick-release system for oscillating tools introduced by Bosch and Fein. It's designed to provide a more secure, tool-free accessory change. The Starlock system has a 3D interface between the machine and the accessory, which is supposed to provide a better grip and reduce accessory slippage during use.
Makita does have some multi-tool models that are compatible with the Starlock system. For example, the previously mentioned "Makita DTM52Z Li-ion LXT Brushless Multi-Tool" is compatible with Starlock Max accessories.

However, it's crucial to note that not all Makita multi-tools are compatible with Starlock. The company has its own attachment system for many of its multi-tools, known as the OIS (Oscillating Interface System).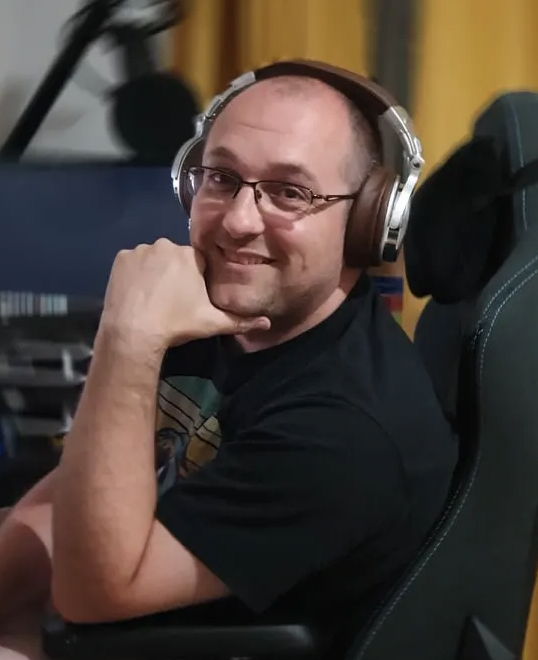 Matt is a professional copywriter and researcher over at https://sucklessatcontent.com/. When he can be prised away from his PC, his wife enjoys setting him DIY tasks around the house.