Keeping one's lawn and garden well maintained is an obligatory task that many property owners do frequently. An indispensable tool for having a neat lawn is a leaf blower. Leaf blowers come in a variety of styles, with cordless leaf blowers being one of the most popular. These blowers are beneficial due to the fact that they are cord-free, making them practical and easy to use. With cordless leaf blowers, you can move around your garden or lawn without any hindrance caused by a power cord. However, with so many options available, it can be difficult to choose the right cordless leaf blower for your needs. In this buying guide, we will examine cordless leaf blowers and the factors to consider when buying one. Whether you are a gardening devotee or a homeowner searching for an effective way to keep your lawn clean, this guide will assist you in making a wise decision.
Cordless vs. Corded
One of the primary things to take into account when selecting your blower is if you would like a corded or cordless version. Generally, corded blowers cost less and can provide a reliable and strong performance all day. On the flip side, you have to manage the power cord that can be of limited length. Ultimately, it is up to you to decide how inconvenient this will be.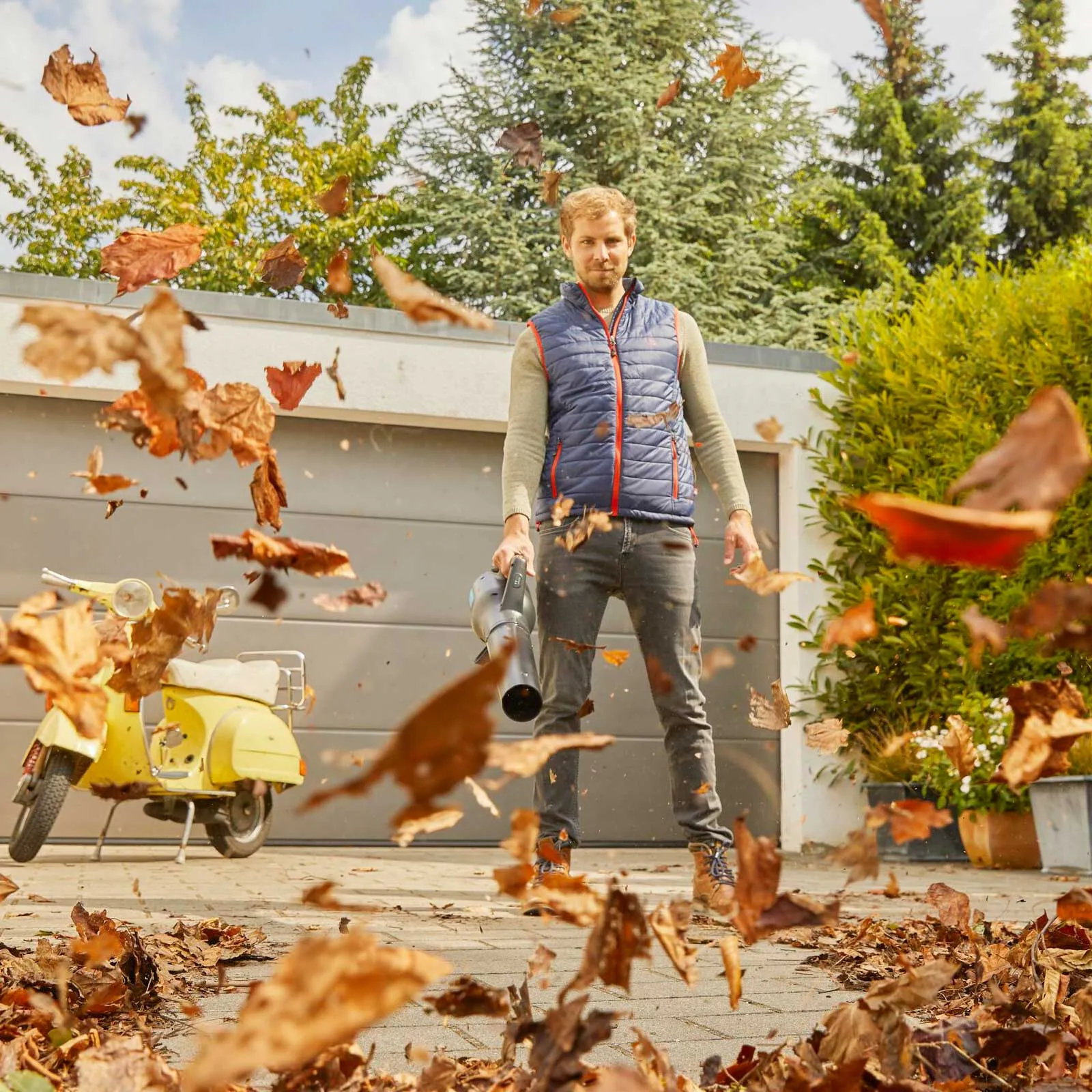 Cordless blowers have become more advanced and are powered by lithium batteries, usually of 4Ah or 5Ah, that are capable of running a large lawn on one charge and no additional assistance is needed. Additionally, these cordless blowers are typically more lightweight and simple to move around.
Comparing the use of petrol-powered leaf blowers to electric ones
Petrol blowers have the advantage of lasting all day, but the inconvenience of needing to mix fuel (with two-stroke engines needing to mix oil and gas precisely) and the loud noise level must be taken into consideration. Additionally, anyone who does not want to use any fossil fuels should not select petrol as an option.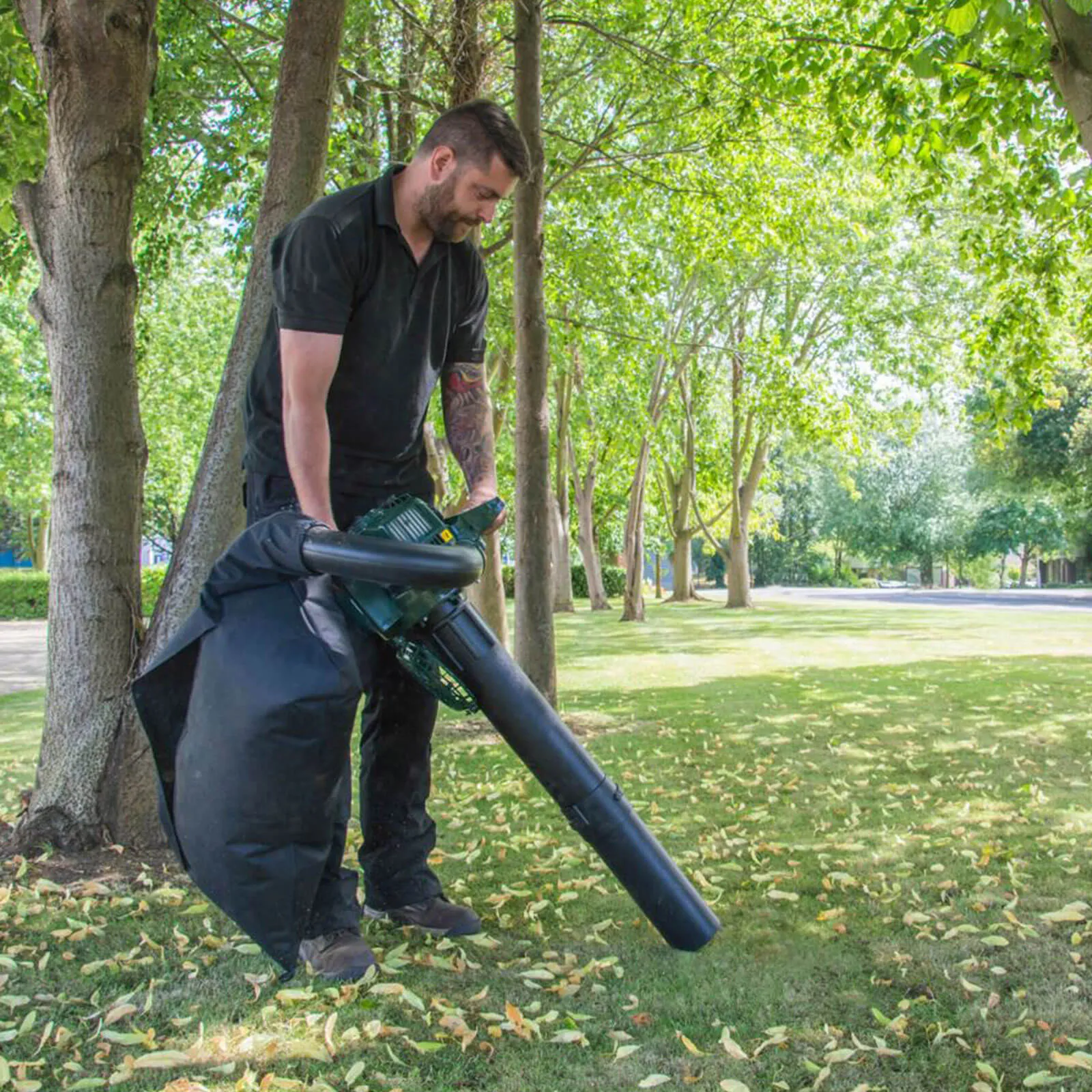 The best choice for electric is if you have already bought a manufacturer's battery system and have the batteries and a compatible charger from a prior purchase. This way, you can usually purchase just the blower body, omitting the power components (battery, charger, or both) to save money. Make sure to double-check that the blower is compatible with the existing battery, although usually, if it is the same brand and voltage (18V is the most popular), then it should work.
It's possible to save money by buying batteries and chargers that resemble the more expensive brands, yet this generally comes with a decrease in power and the length of time it will run. Ultimately, the amount of money you pay determines the quality of the product.
Garden Vacs
When selecting a leaf blower, you should take into account the advantages of a brushless motor. This type of motor has fewer pieces that come into contact with each other, resulting in longer usage and better performance with the same battery life. Additionally, the recent models come with a "scraper mode" that makes the blower more powerful and efficient for removing moss and mould from smooth surfaces, enabling you to use it for cleaning your patio and more. Lastly, some of the latest models have a vacuum option as well, so you can quickly collect leaves into a bag and bring them to your compost heap or garden bin. Nevertheless, the vacuum performance is usually not as effective as blowing and requires more thorough and slower use to achieve satisfactory results. Make sure that the bag is of a generous size, but keep in mind that a bag full of wet leaves can be quite heavy.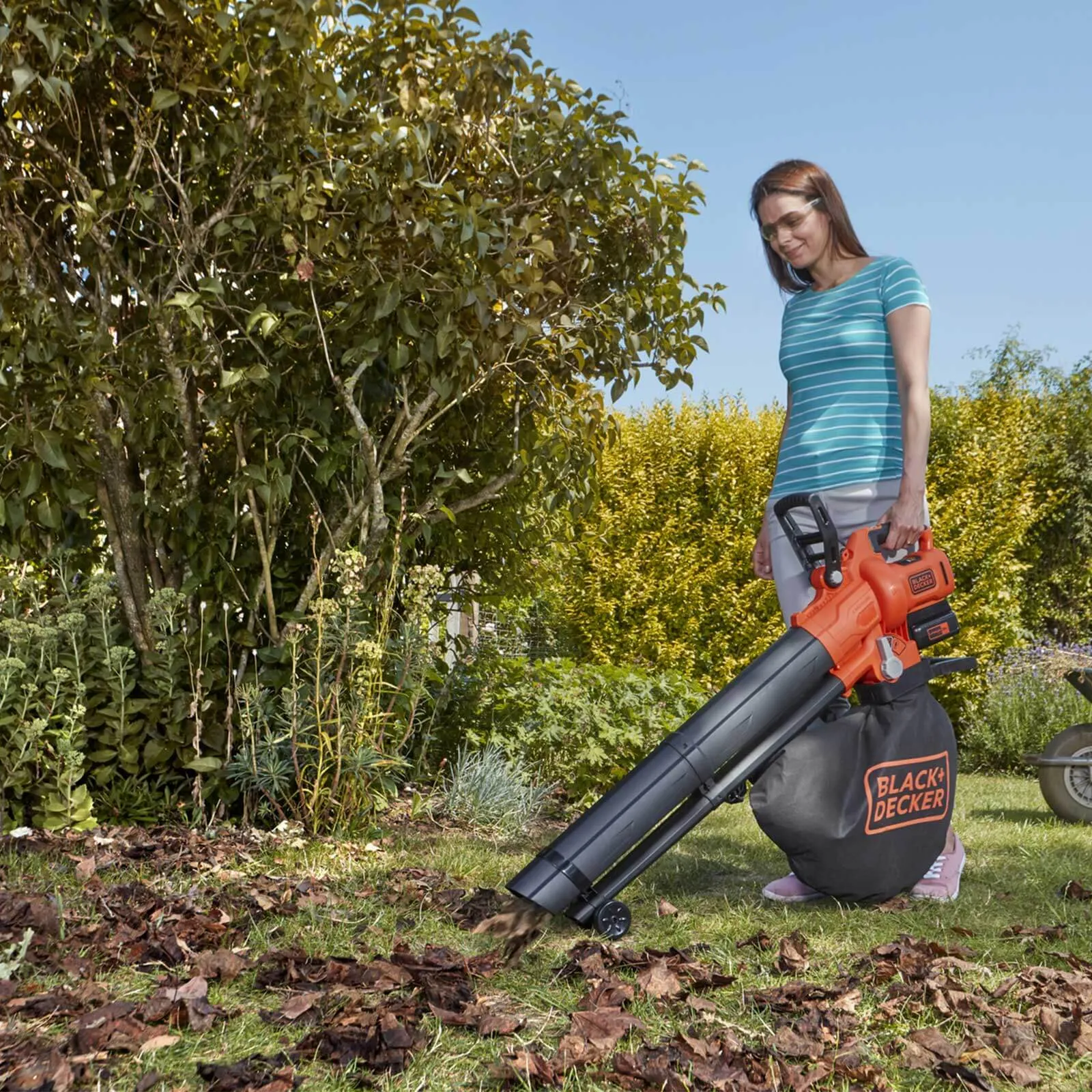 The Best Leaf Blowers to Buy in 2023
We have compiled a selection of products that suits all types of lawns, personal tastes, and user capabilities.
DeWalt DCMBA572 54v XR Cordless Brushless FLEXVOLT Axial Blower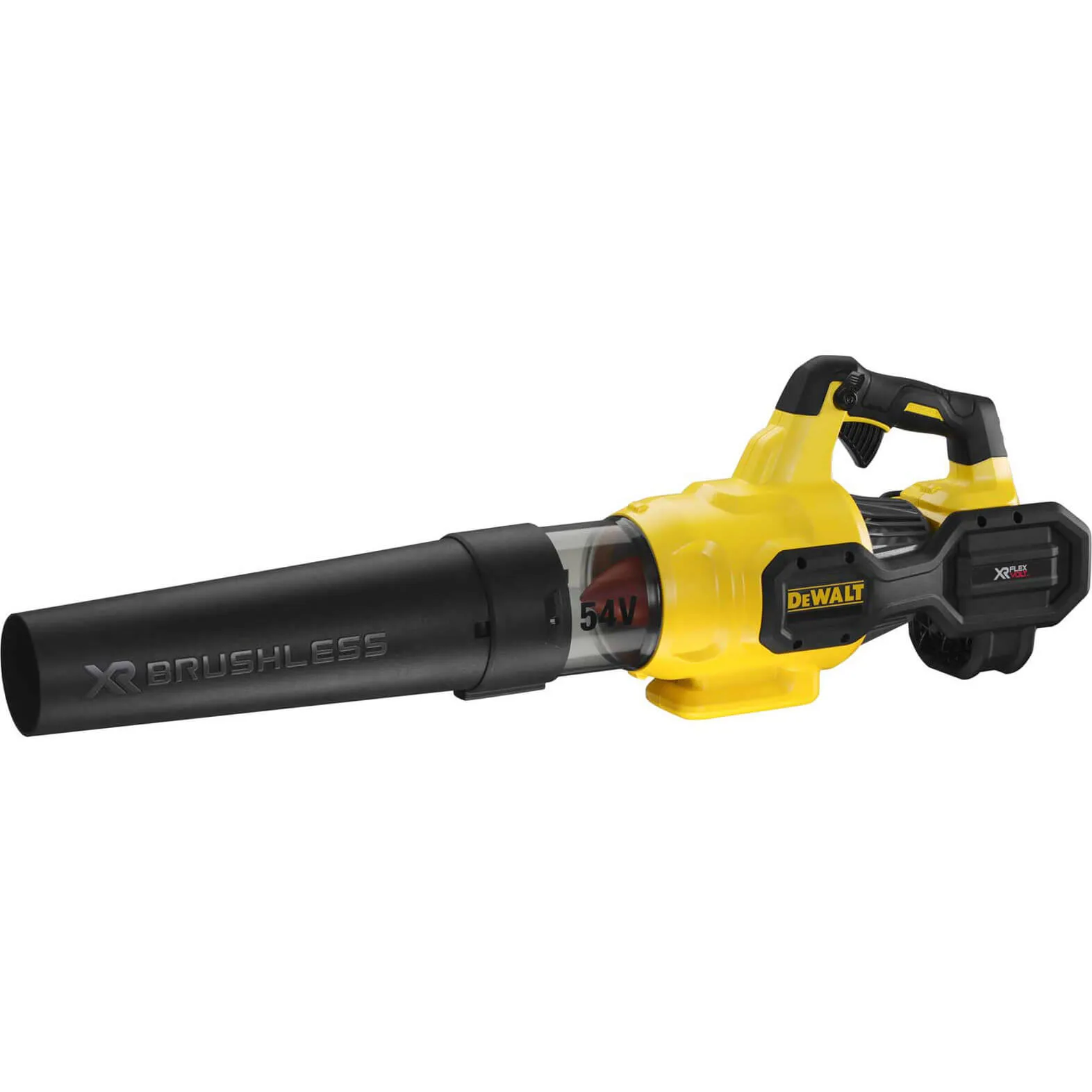 DeWalt's DCMBA572 is a cordless axial blower which is powered by a Flexvolt battery. It has an energy efficient brushless motor for longer runtimes, and a comfortable, lightweight design which provides a much more convenient and user friendly alternative to petrol equipment. Flexvolt batteries are not only compatible with the rest of the heavy duty 54v Flexvolt range of cordless power tools, but can also be used to power tools from the lighter duty DeWalt 18v XR range, a huge battery platform which includes plenty of landscaping tools like hedge trimmers and grass trimmers as well as a comprehensive range of industrial grade power tools for trade and industry.
The DCMBA572 is available as a complete kit with a battery and charger or as a bare tool for users who already own them.
Specifications • Battery Voltage: 54v • Battery Type: DeWalt XR Flexvolt Lithium Ion
Features & Benefits
• Part of the DeWalt Flexvolt Cordless landscaping range • Flexvolt batteries can also be used with the Dewalt 18v XR range of cordless tools • Energy efficient brushless motor for longer runtimes • Convenient and user friendly alternative to petrol blowers
Bosch ALB 36 LI 36v Cordless Garden Leaf Blower – 2 x 2ah Li-ion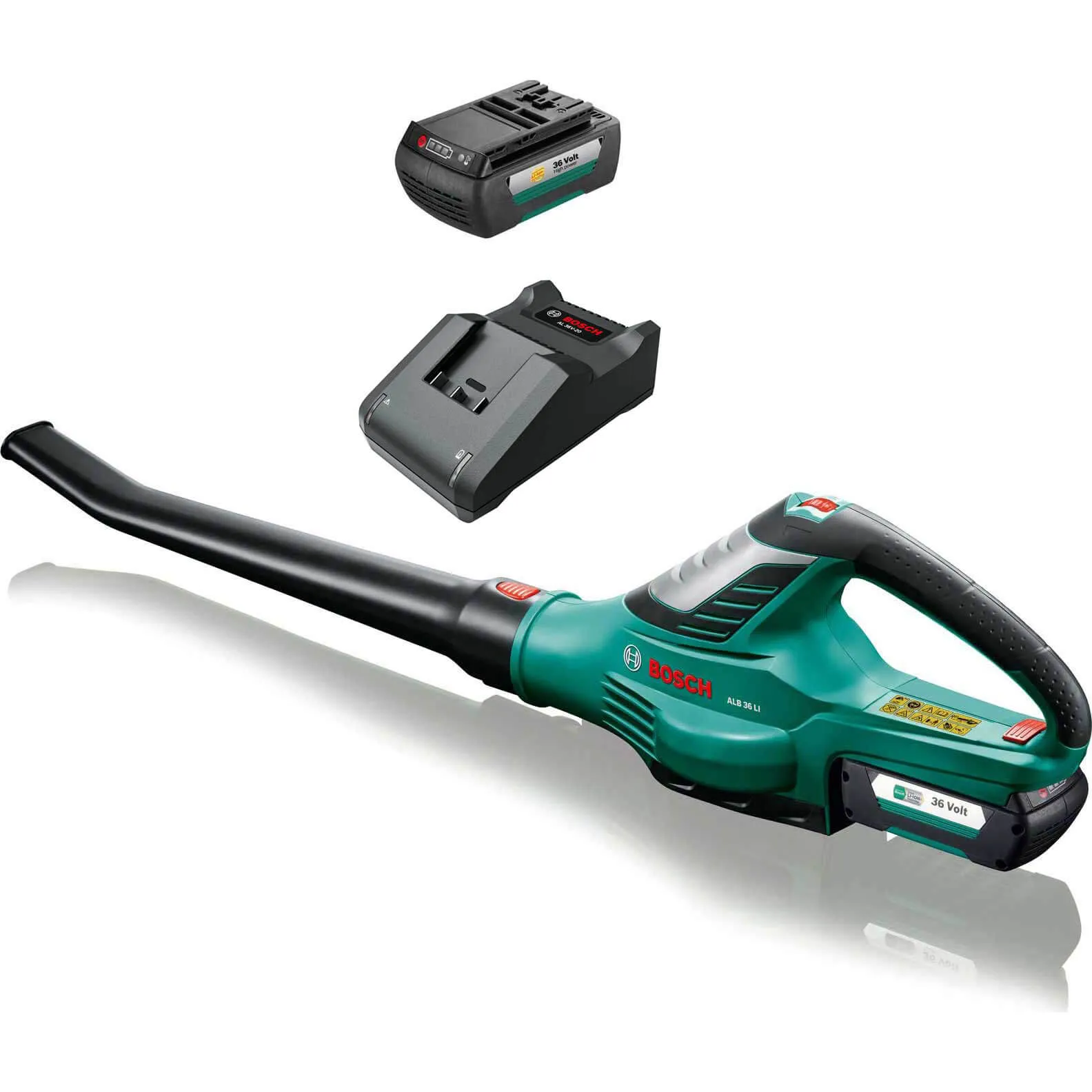 Remove leaves & debris from your garden in no time at all using the ALB 36 LI from Bosch. Sleekly designed & easy to control thanks to vibration absorbing, softgrip handles, the blower's low weight of only 2.8kg keeps clearing your patio or garden a comfortable, fatigue free process. The ALB 36 LI also provides outstanding adaptability to varied applications; blowing speed can be varied between 170 & 250 km/h for better performance in different conditions. When it comes time to pack the blower away, simply detach the two part blower tube for compact, space saving storage.
Specifications • Power: 36v • Air speed: 170-250 km/hr • Air flow: 100-150 m³/hr • Weight: 2.8 kg
Features & Benefits
• Cordless freedom: no longer confined to the limitations of a power lead • Powerful 36v lithium ion battery technology • Effortless operation: the intuitive ergonomic design and low weight enable comfortable working around the garden • Optimal speed control: to deliver the most effective airflow for various applications • Full power: Variable speeds of 170 -250 km/hr banishes leaves from your garden • Soft handle grip: For convenient working in any position • Compact storage: Removable blower tube which can be stored in two parts
Greenworks GD24X2BV 48v Cordless Leaf Blower and Vacuum (Uses 2 x 24v)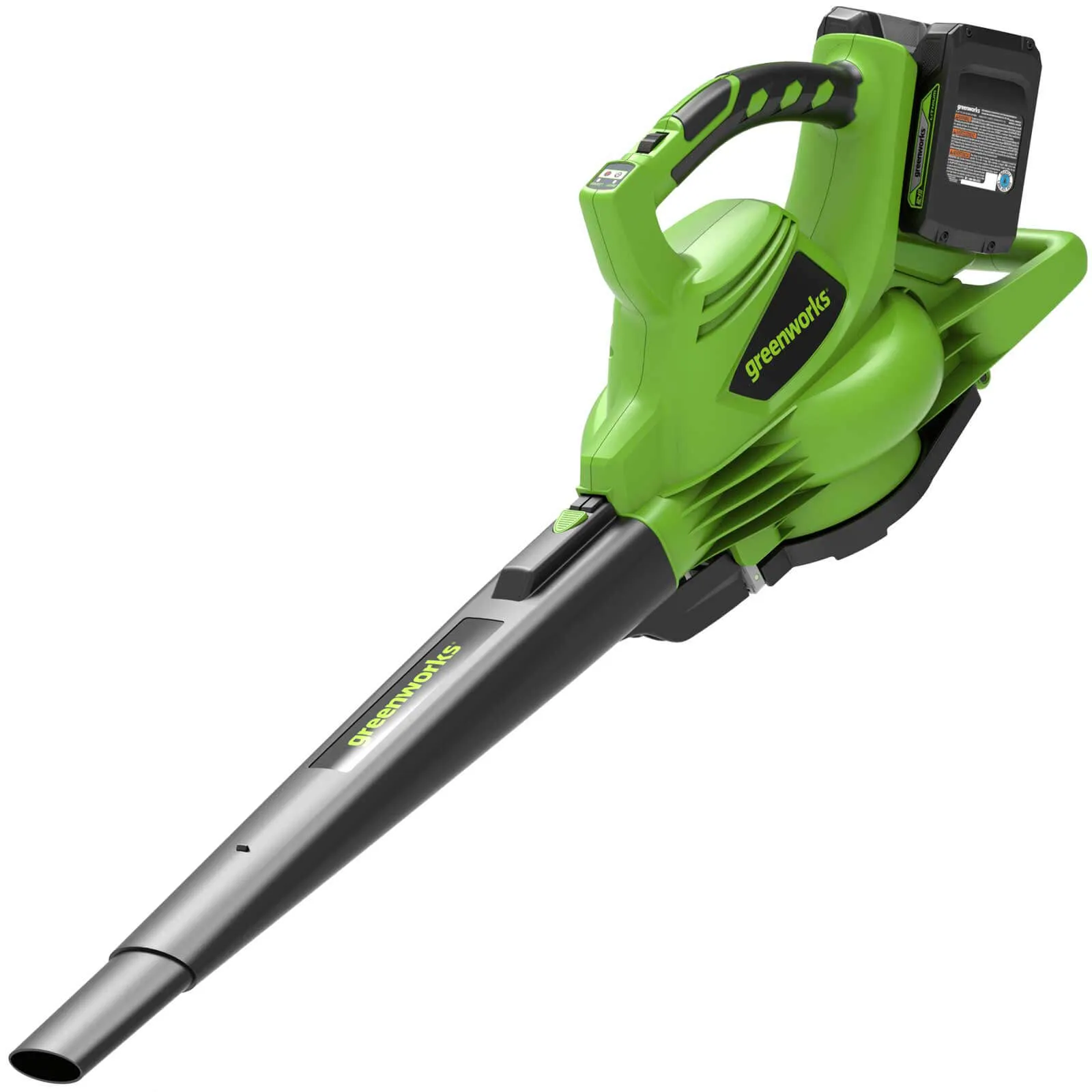 The Greenworks GD24X2BV is a powerful yet lightweight cordless leaf blower and vacuum which is ideal for use on smaller lawns. Powered by an advanced double battery system, the machine offers 48v performance by using two standard Greenworks 24v batteries, which means it shares battey compatibility with the rest of the Greenworks 24v range. You can use the same batteries in any of the Greenworks 24v tools, for total flexibility and convenience. 
The GD24X2BV is a 2 in 1 blower and vac with a tool-free changeover which means you can effortlessly switch between blowing and vacuuming to keep your garden looking its best all year round. The advanced brushless motor ensures maximum efficiency, giving longer runtimes and increased performance as well as more durability than brushed motor equivalents. The GD24X2BV is supplied with a 40 litre grass collector bag and is available as a complete kit with batteries and charger, or as a bare tool. Specifications • Battery Voltage: 48v (2 x 24v) • Battery Type: Greenworks Lithium Ion • Motor: Brushless • Air Speed :312 km/h • Fan type: Axial • Harness style: Strap • Bag size: 40 litres • Runtime with 2Ah Battery: Up to 8 mins • Runtime with 4Ah Battery: Up to 16 mins • Machine Weight: 2.2 kg
Gardena P4A 18v Cordless PowerJet Garden Leaf Blower – 2 x 4ah Li-ion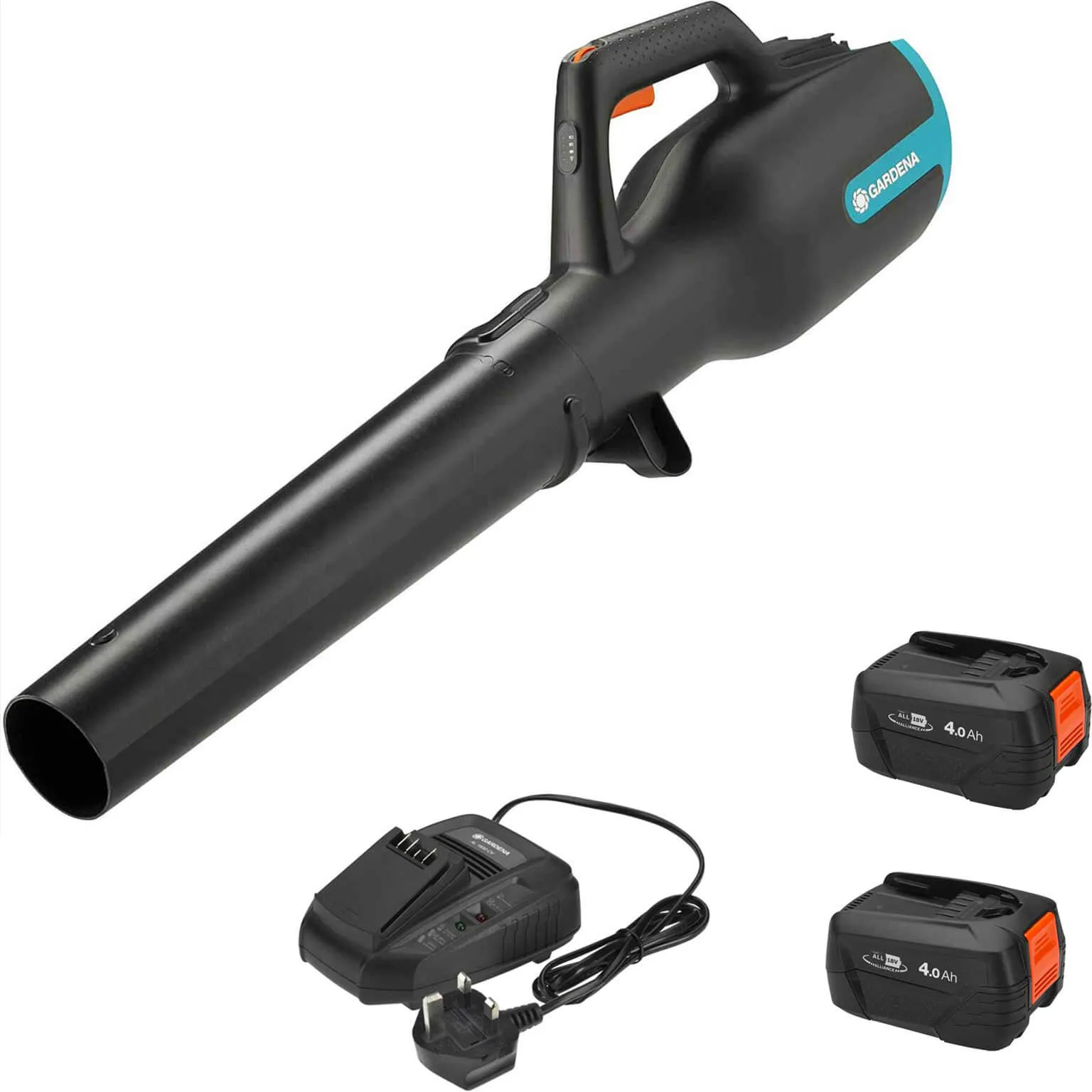 The Power For All 18v Alliance is one of the largest cross-brand 18v battery platforms on the market today. Power For All lithium ion batteries were orginally developed for the Bosch Home & Garden range of cordless tools but can now be used in all Power For All 18v Alliance products, from manufacturers including Gardena, Bosch, Gloria, Wagner and Rapid.
The Gardena PowerJet 18v cordless leaf blower can be powered by any Power4All 18v battery. It is ideal for blowing leaves, grass clippings and light debris to help clear lawns, patios, decking and driveways. Lightweight at only 1.8kg excluding battery, the Gardena PowerJet blower is easy to use and allows you to work from a comfortable standing position. The air speed can be adjusted according to the application: increasing the power helps to dislodge stubborn debris while reducing it helps to prolong the battery runtime and can prevent materials like gravel from being disturbed whilst using the blower. Specifications • Battery Voltage: 18v • Battery Type: Power4All Lithium Ion • Machine Type: Blower only
Features & Benefits
• Cordless leaf blower that runs on an 18v battery • Part of the Power for All 18v Alliance • Shares battery compatibility with all other tools in the Power for All 18v Alliance • Lightweight and ergonomic • Variable speed control for versatility
DeWalt DCMBL562 18v XR Cordless Brushless Axial Blower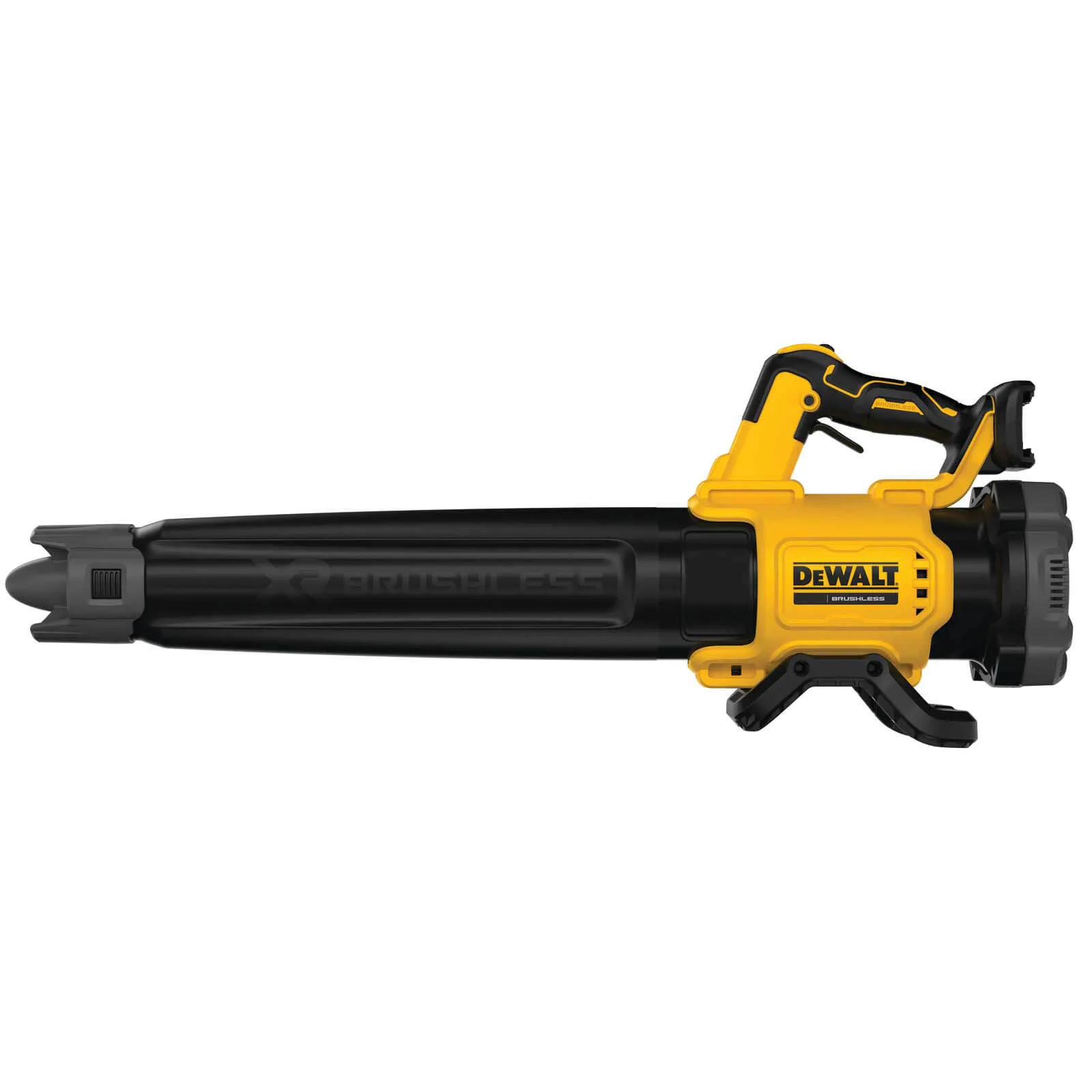 The Dewalt 18V Leaf Blower, is lightweight and compact, reducing fatigue and stress to the user during tough and repetitive work. The handle on the Dewalt DCMBL562 is ergonomically optimised increasing the ease of one hand operation. The blower includes a robust stand menaing it can be eaily hung or planted on the ground. The new Dewalt DCMBL562 has 39% better air speed than the older models of axial blowers allowing the product to tackle the toughest of debris. In order to increase the speed an "aerospike" concentrator can be applied, this concentrator can double as a scraper to help tackle stubborn debris. Specification • Voltage: 18v • Blowing Speed: 200 km/h • Air Volume: 450 CFM
Features & Benefits
• Robust stand for added durability • Variable speed trigger and cruise control feature for total control • Compact and well balanced design for improved ergonomics • High efficiency brushless motor for optimum runtime • Axial fan design delivers class leading performance @ 200 km/h
Difference between a leaf blower and a leaf blower vacuum
Fundamentally, leaf blowers can remove wet and dry leaves from grass, edges, and sidewalks. The gale-force winds that it produces scatters the leaves into a heap, which you can either keep for wildlife or collect them and either put them on the compost, recycle them, or store them in sacks to produce leaf mould.
Leaf blower vacuums not only lift wet and dry leaves but also suck them up, passing them through a blade that chops and chops them and then deposits them in a bag that attaches to the machine. You can discard them the same way, but they have the added bonus of being cut into pieces so they break down faster when added to the compost or used to make leaf mould. Nevertheless, leaf blower vacuums can get clogged, may require more upkeep, and can be costly, but they are more effective when it comes to keeping your garden free of leaves.
How to Choose the Best Leaf Blower and Leaf Blower Vacuum in Nutshell
Cordless leaf blowers and leaf blower vacuums offer several advantages, such as being lightweight, silent, and energy efficient. However, they are more expensive if you have to buy batteries and chargers additionally. On top of that, if you have a large garden, you need to take into consideration the run time of the device.
Electric leaf blowers and leaf blower vacuums are usually more affordable and require less upkeep. Additionally, they are lightweight like the cordless versions. However, the power cable may be a hindrance and can pose a safety risk.
Gas-powered leaf blowers and blower vacs provide a lot of power and can be used in any location, like the cordless models. But, their environmental impact has to be taken into account and one must also consider the inconvenience of purchasing and storing gasoline. Additionally, they usually weigh a lot and are loud, and require more attention in terms of maintenance.
Conclusion
All in all, buying a cordless leaf blower can be a great investment for property owners and gardeners who want to keep their yards and gardens neat. These blowers are cordless, giving them the benefit of portability, maneuverability, and ease of use. But before making a purchase, it is necessary to think about factors including power, battery life, noise level, and weight so you get the right blower for your needs. If you follow the tips and advice in this buying guide, you will be able to make a wise decision and pick a cordless leaf blower that you can use for a long time. With your new cordless leaf blower, you will be able to easily and effectively clear leaves and debris, making your garden and lawn look attractive all year round.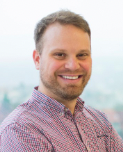 Luke is the founder of Buildiro.com and he is passionate about construction and building. His mission is to show people how to make things done fast and easy.