Room designers have free reign when it comes to finding the best lights for bedroom spaces. However, the usage of a bedroom, i.e. whether it is a parent's room or a child's, typically dictates the best type of lighting to use in the space.
In children's spaces, the options tend to veer on the side of functionality, with an overhead pendant light, with a single additional lamp, often on a desk, providing the only light sources other than the window. However, when parents break away from these norms or allow children to make decisions, we increasingly see creative bedroom lamp ideas, LED strips and changing colour bulbs all being explored.
For parents, beyond the main light, there are options for wall sconces, bedside lamps, and floor lamps to provide ample light for reading or other activities. The general guideline is that various light sources at different levels should create an ambient, warm and inviting space.
Here are some great ideas for different types of bedrooms and how to light them perfectly!
Recessed lighting complimented with bedside lamps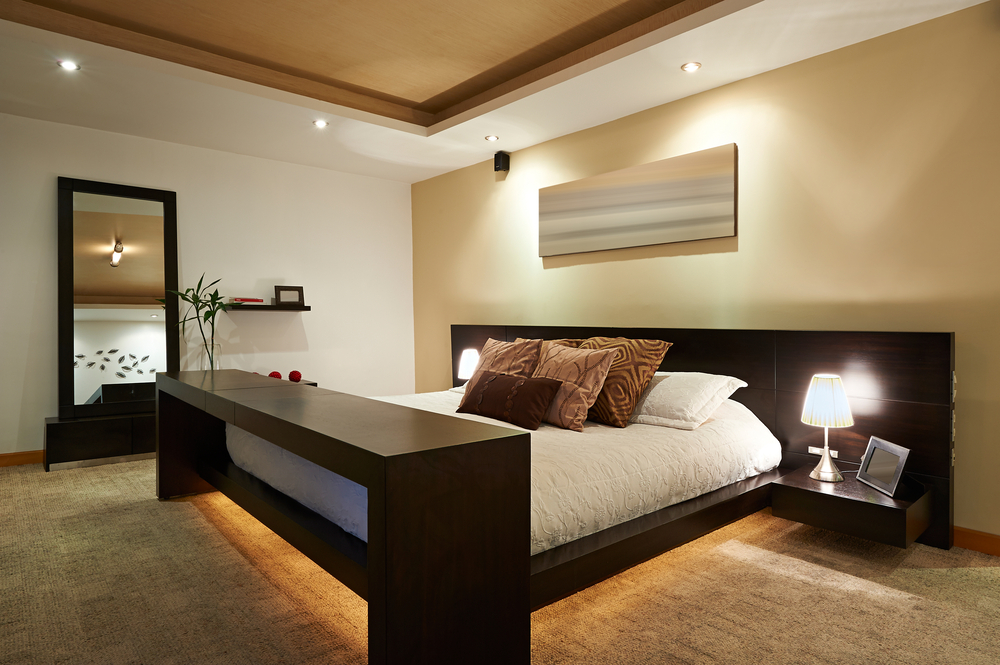 While some people might prefer the sleek and modern look of recessed lighting in their bedrooms, this fixture can make the room feel smaller and more closed in. If your bedroom already feels small, you may want to try a different type of light. Instead, go for table lamps, floor lamps, or wall sconces to add extra light to the room without making it feel smaller. However, in this large bedroom, the downlights are complemented by clever under-the-bed lighting and simple bedside lamps that create a play of warm lighting.
Pendant lights taking the role of bedside lamps
In terms of overhead lighting, pendant lights are a great option as they provide both ambient and task lighting. However, in this fun subversion of regular pendant light usage, a pendant light descends on each side of the bed to act in the capacity of bedside lamps rather than overhead lighting. This is one of the more cool lighting ideas for bedroom themes we've seen lately.
Asymmetrical hanging lights add playfulness to the space
In this lush green bedroom, the additional lighting provided by wall-hugging, mid-level pendant lights creates a pool of light over the key sleeping area but creates uneven lighting in the room. The lighting and the matching but different fittings in the room are playful and inviting while providing functional light where needed in a bedroom. Clearly, this is a space intended for one primary task, sleeping rather than studying.
Functional lighting for general purpose bedroom use
Compared to the previous image, this photograph shows a room designed for duel usage. The over-bed light allows a place to relax and perhaps read in bed, while the desk beside the large dual windows allows plenty of light for study or other such use during the daytime.
Playful strings of light illuminate bare brick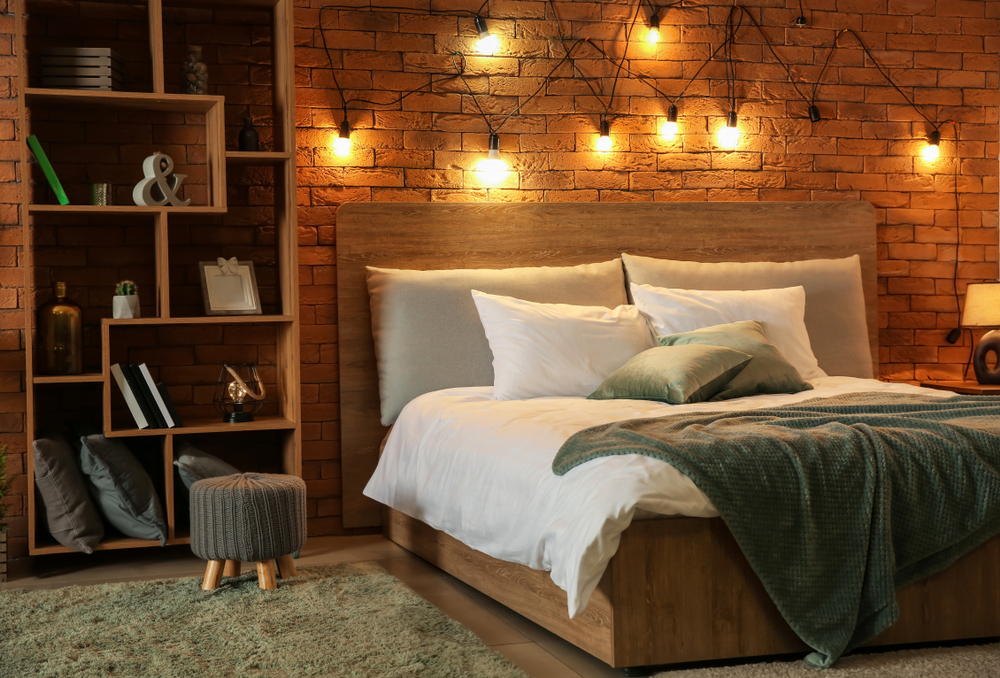 While this room no doubt has other sources of light available, and certainly some sunlight, the exposed brickwork risks creating a very dark space. The owner has tackled this with a playful string of warm lights to highlight texture and warmth in the brickwork while improving the room's overall ambience. It also happens to look incredibly cosy!
Bedroom chandeliers disrupt the otherwise cool feel of downlights
We often caution that spotlights can be better suited to kitchens and bathrooms, but this clever bedroom spotlights idea has created a room that mixes spotlights with a chandelier. While the spotlights act to throw hard light downwards, the chandelier softens the result with a glowing light that helps to fill in shadows. The mix of lights, painting on the wall, and highlighted empty panels beside it create an almost museum-like vibe to the room.
A mix of natural light and pendants create a cosy, wooden-lined space
Honestly, who wouldn't want to spend time in this room? The bed is bracketed by plentiful natural light and two pendants towards the wall. The walls, dark wood, absorb much of the light falling into the space, resulting in a quiet, warm and homely vibe. A quad of square downlights adds ambience in the evenings.
Contrasting colours with low contrast light
This intriguing design features deep red curtains, shelves, and large sections of the wall and ceiling, that are in deep contrast to the white of the remaining ceiling and walls. The large pendant light fitting with its 8 lights acts as a large, diffuse light source that adds a softness to an otherwise hard look. It's not to everyone's taste, but it's certainly interesting.
Room width LED strips to make the most of a reflective white ceiling
This fun mix of new and old. With its exposed brick walls and ultra-modern half-false wall that hides a powerful LED strip, we love the mix of themes. Individually an LED light is quite hard, but as a long bank of LED lights, the effect can be incredibly diffuse and soft. As this light is directed up to the ceiling, it bounces from the white paint. This gentle light fills the room effectively. Directional spotlights allow task lighting to be thrown where needed, and another short LED light strip is fitted where the clothing hangs. Very trendy!
Large free-standing lamps work with the overhead pendant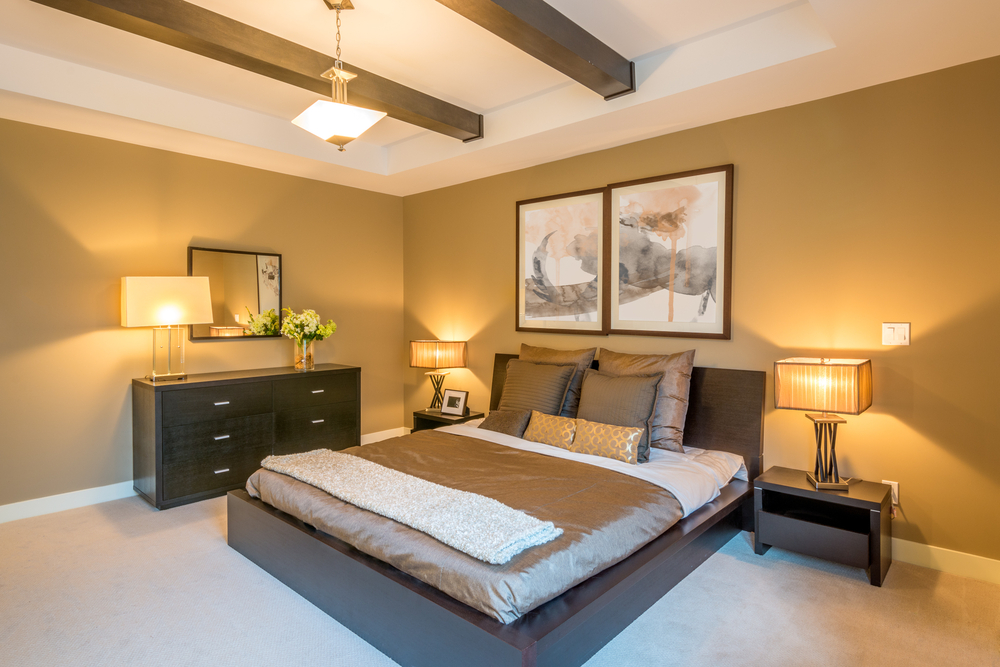 This room features a trio of great-looking, free-standing lamps that comfortably illuminate the floors and ceilings of this bedroom. It's a great, warm feeling room, with a single overhead pendant that compliments the lamps. This is one of the easiest bedroom lampshade ideas to implement from our list, but while the lighting design is simple to achieve, the results are effective and homely.
A dark bedroom with pools of light where needed
This deliberately dark bedroom is saved from being a dingy, depressing place to be by the power of the huge amount of natural light spilling in from the full width and height window. For the darker evenings, floor and table lamps and a pair of recessed spotlights act to provide pools of light where needed. While this strong design wouldn't suit everyone's taste, it's distinctive.
Minimalistic style room with diffuse lighting
This minimalistic room has been designed in pale browns and creams. It features 3 light sources – The natural light from the window, the recessed lighting on either side of the room, centred over the head and foot ends of the bed, and the decorative ceiling panel which hides a light source, which helps to provide a diffuse, soft glow that emanates from the ceiling. The overall look works together to create a warm, friendly feel.
Wall scones in unusual locations
Wall sconces can work in bedrooms too, but this bedroom is doing its best to break all the rules. Wall sconces are typically used in pairs, on either side of a door, mirror, or bed. Sometimes they are used on opposite walls. In this case, they have been employed on either side of a corner, creating an unusual effect. One is intended to illuminate the bed, while the other highlights the chest of drawers. It's certainly unusual.
Purple LED lighting in the bedroom
As we said at the start of this article, if you want the best light for the room, consider its usage. This younger person's room uses LED strips and side-table lamps to create a sweep of colour that drenches the room in purple. While this might not suit adults who want to build a cosy space to relax in, for teenagers, the ability to freely play with this aspect of their life gives them an element of control over their own domain that previous generations did not.
Traditional lighting in a stylist green bedroom
Bedrooms can take on many stylish designs, some of which use creative new ways of repurposing modern and traditional lighting; others, like this attractive green design, are a simple pendant with fitting, with the bed bracketed by table lamps. It's simple but effective.
Lowering the entire room in this simple bedroom space
The designer of this space has drawn on the concept of lowering the bedroom. The bed becomes a mattress on the floor, with low side tables and other furnishings. The lowered pendants, seen in other images in this gallery as brackets for the bed, are instead used as an art piece in their own right. The room is painted in light tones and is bathed in light from the numerous tall windows.
Natural light in a master bedroom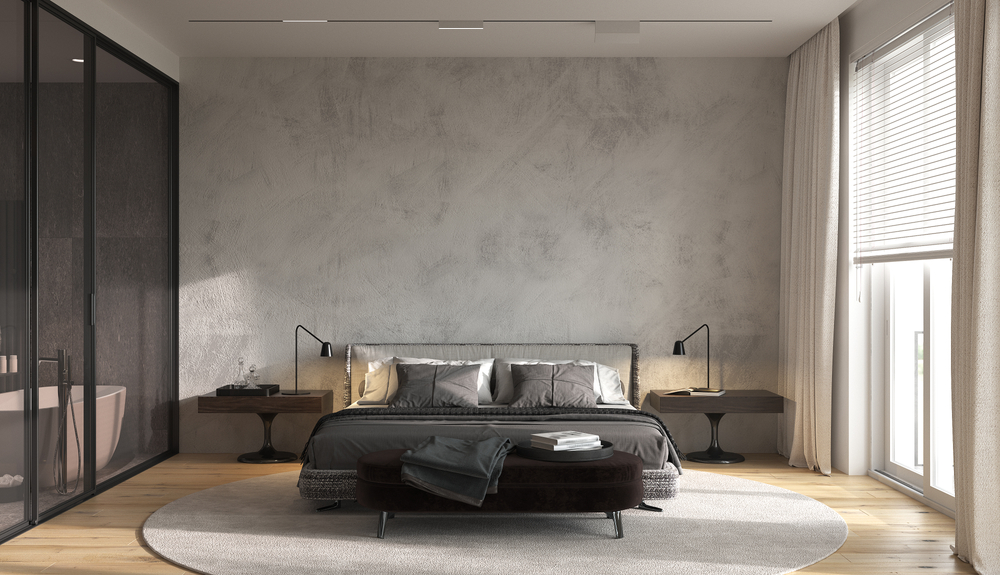 Ample natural light marks this room as a bright, pleasant place. While two small bedside reading lamps help with lighting to read by in the evening, the natural light can cross through the room, illuminating the adjoining bathroom, thanks to the glass dividing wall. Spotlights in the bathroom and a lighting track on the ceiling help add additional lighting on overcast days or at night.
A minimalist use of LED lighting with a wood panel ceiling
This minimalist design used LED light only to illuminate the room after dark. While there is plenty of light during the daytime, thanks to the large windows, in the evenings, the only light will be bouncing from the pale rear wall, as the ceiling soaks up the light that reaches it.
Keep your bedroom comfortable with the right bedside light
Regardless of the theme you employ in your bedroom, be sure to make the space a cosy and inviting one. How you do this will depend on your style, but in almost all designs, an easy-to-reach bedside light. Whether free-standing, on a table, or descending on a pendant, bedside lights make for a pleasing addition to a bedroom. To keep the mood of your lamp soft and personal, keep the lighting brightness low and use warm-toned bulbs. This will give the room a softer feel and make it more comfortable to spend time in.
Conclusion
When it comes to bedroom lighting, there are many things to consider. The first thing to think about is the purpose of the room. What do you want to use it for? Do you want it to be a place where you can relax and unwind, or do you need it to be bright and functional for when you're getting ready in the morning? Once you know what you want, you can start thinking about the best way to achieve that.
One of the most important things to think about is natural light. If you have a window in your bedroom, make sure you make the most of it. Use lighter colours on the walls and ceiling to reflect as much light as possible. Avoid putting anything in front of the window that will block the light. If you need extra light in the evening, consider adding floor or table lamps or installing recessed lighting.
Of course, none of this is a set of hard and fast rules. Room design is always deeply personal. If you're looking for something more creative, why not use wall sconces in unusual locations or LED lights to create a fun and funky effect? Whatever your style, there are plenty of options available to you. So don't be afraid to get creative and experiment until you find what's right for you.
FAQs
What lighting is best for bedrooms?
The bedroom lighting options are as varied as in any other room. You can pick from wall sconces, pendants, recessed spotlights, ceiling-mounted domes, chandeliers, or LED strips. The trick is knowing which one is right for your room.
Part of knowing which lighting is best for your bedroom is to understand the creation that you want to make. Will it have functional vibes, like a hotel room, where visitors might need to perform a range of tasks, or cosy like an old farmhouse bedroom, where you'll just relax in the bed with a book before sleep? Do you have a personal preference for a minimalist scheme, or are nik-naks and detail that you love most?
Once you figure out what you want from the room, designing the right lighting for the space will come easily.
How do I add better lighting to my bedroom?
There are two main routes to adding better lighting to your bedroom. Firstly, you could look at your existing fixtures and arrange new light shades on existing pendants, complemented by new floor or table lamps. Doing so is budget-friendly and quick to do. In addition, it gives you the power to change your lighting design every time you paint the walls.
For most people, bedroom light fitting ideas can seem like a significant and daunting change, but if you're feeling up to the task, you can look at installing an entirely new set of lights. If you are confident with electricity, check out our guide to installing downlights if that's the way you'd like to go. If you're unsure, plan what you want, and then ask an electrician to take a look and provide a quote.
How do you light a master bedroom?
There is no one answer to this. The master bedroom is your quiet place, where you come to relax, unwind, and lay in repose with any significant others in your life. What suits you is deeply personal. Try to think about spaces you've been in the past, such as hotel rooms, tours of other people's homes, etc. What features could you take away from those experiences that felt like you connected with them?
Their interpretation of what is cosy will be the desired endpoint for most people. It takes all the bedroom elements, including the blinds, paint, furniture, and lights, to design a place where you want to spend time.
Should you put spotlights in a bedroom?
Spotlights come in a variety of types, and some of them give off a very harsh light. For this reason, it's crucial to consider your bedroom's usage before deciding on spotlights. They can be perfect if you want a space to read or work in. However, spotlights might not be the best option if you're looking for a relaxing oasis away from the hustle and bustle of daily life.
If you are tempted to add spotlights to a bedroom, we advise making them one part of a multiple-light source strategy. Use bedside lamps to create pools of light, and then use your spotlights to highlight specific areas. Doing this will allow you to change the atmosphere of your bedroom by simply altering which lights you have on.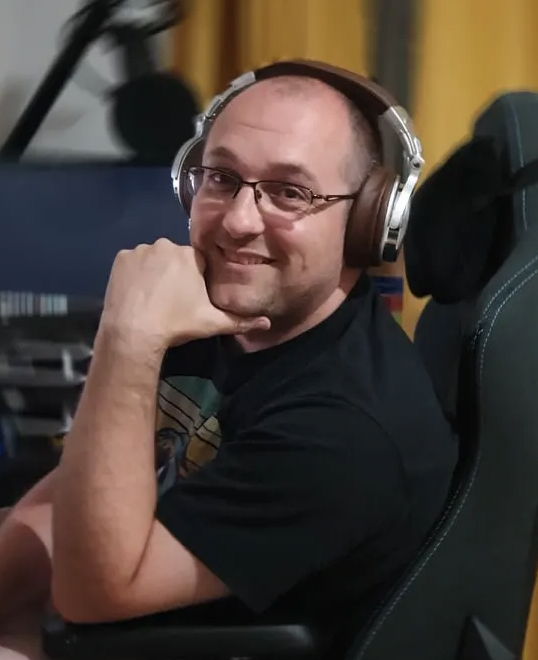 Matt is a professional copywriter and researcher over at https://sucklessatcontent.com/. When he can be prised away from his PC, his wife enjoys setting him DIY tasks around the house.